5 Easy Steps to Get AAA Auto Insurance Quote Online (Photos)
Get AAA auto insurance quote online and purchase a policy in five easy steps. AAA specializes in roadside assistance insurance that is available in packages that start as low as $57 a year.
Free Car Insurance Comparison
Secured with SHA-256 Encryption
UPDATED: Mar 31, 2021
It's all about you. We want to help you make the right coverage choices.
Advertiser Disclosure: We strive to help you make confident car insurance decisions. Comparison shopping should be easy. We are not affiliated with any one car insurance company and cannot guarantee quotes from any single company.
Our partnerships don't influence our content. Our opinions are our own. To compare quotes from top car companies please enter your ZIP code above to use the free quote tool. The more quotes you compare, the more chances to save.
Editorial Guidelines: We are a free online resource for anyone interested in learning more about auto insurance. Our goal is to be an objective, third-party resource for everything auto insurance related. We update our site regularly, and all content is reviewed by auto insurance experts.
Here's what you need to know...
The Automobile Club Group can refer to one of 42 different clubs that are part of the American Automobile Association
AAA specializes in 

roadside assistance

 insurance that is available in packages that start as low as $57 a year
You can get an 

AAA membership

 quote and purchase a policy online, and this guide will walk you through the process
Roadside assistance insurance is an additional policy that doesn't meet state liability requirements, so it's important to have regular auto insurance before you buy AAA
Every driver has heard about (or wished they had!) roadside assistance at some point. Sometimes, it's included as a benefit on a comprehensive auto insurance policy; other times, it's available to purchase as an optional add-on.
One of America's leading roadside assistance providers, the Automobile Club Group, or American Automobile Association, has been serving drivers since 1902 and now covers over 58 million Americans and Canadians.
This guide will help you learn about the various AAA membership packages you can buy to stay safe on the road as well as how to become a member and get an insurance quote from one of AAA's auto clubs in certain states.
If you're browsing the market for car insurance, we can help make the search easier. Enter your zip code above and get matched with free auto insurance quotes from multiple companies near you!
What is AAA?
AAA is comprised of 42 individual clubs with over 1,100 offices in North America in the United States and Canada. Based out of Heathrow, Florida, AAA offers insurance in 14 states:
Connecticut
Delaware
District of Columbia
Indiana
Kansas
Kentucky
Maryland
New Jersey
Ohio
Oklahoma
Pennsylvania
South Dakota
Virginia
West Virginia
Free Car Insurance Comparison
Enter your ZIP code below to view companies that have cheap car insurance rates.
Secured with SHA-256 Encryption
#1 – Which AAA Membership Benefits Packages Should you Choose?

The company offers three different levels of membership plans that range from $57 to $136 annually. All membership tiers have  unique limits with exclusive member benefits, and obviously, a more expensive membership purchase offer greater benefits and additional services. Here's a breakdown of the three AAA insurance packages.
What is AAA Classic Membership – $57 a year?
AAA Classic membership coverage provides you with a basic level of roadside benefits and coverage that will protect you for four service calls and up to 5 miles of towing service.
If you tend to only drive locally, this type of coverage can insure you'll always have access to immediate help 24-hours a day and be able to receive important emergency services like gas delivery (charged at pump price), tire replacement, battery jumpstarts, and vehicle lockout services up to $50.
One truck and driver are covered on unlimited Stuck Truck Coverage. Free identity theft monitoring with ProtectMYID® Essential keeps your name and finances secure with free credit bureau monitoring and email/text alerts.
Classic members also receive up to $500 Trip Interruption Expense Reimbursement, $1,000 Legal Defense Reimbursement, International Travel Guides for up to $13.99 and $7.99 (plus tax) passport photos.
What is AAA Plus Membership– $105.50 a year?
With AAA Plus Membership, AAA Plus members get an additional 95 miles of towing coverage for a total of 100 miles. Rather than paying pump price, gas delivery for Plus members is free.
Battery testing and jumpstarts are always free as well, and lockout services up to $100 are covered.
Drivers who tend to travel a bit more may find that this level of insurance coverage suits their needs and covers their risk level.
All of the Classic benefits of membership are included at this level, but Plus users will also receive limit increases such as up to $100 Travel Interruption Expense Reimbursement and $1,500 Legal Defense Reimbursement.
Free Car Insurance Comparison
Enter your ZIP code below to view companies that have cheap car insurance rates.
Secured with SHA-256 Encryption
What is AAA Premier Membership – $136 a year?
With the most benefits, the AAA Premier membership is the most expensive but also has the highest limits. Premier members are covered for up to five service calls, four twos up to 100 miles and one two up to 200 miles.
Gas delivery, tire changes, jumpstarts and emergency battery assistance benefits are all free.
If you drive a truck and it gets lodged in some mud or a ditch, two trucks and two drivers will be covered. If you're ever locked out of your car, a lockout service of up to $150 on average will be covered for both your vehicle and home.
Premier members also receive $10,000 identity theft insurance protection, $1,500 Trip Interruption Expense Reimbursement and up to $2,000 legal defense reimbursement.
Premier members are also entitled to one free battery replacement per year if an AAA test indicates one is necessary.
#2 – How to Compare All Plans and Pricing
First, visit the AAA site, scroll down, and click "Compare All Plans and Pricing".
On the next page, you'll be able to compare the various services and coverage limits of each membership package. Consider your personal driving habits and how likely you are to actually use certain benefits and how much coverage you would realistically need.
Are you road trip planning for your great American road trip? Are you planning to take the less traveled route to see more of the great outdoors, or are you going to be somewhere you don't know where the gas stations are? Take a trip to national parks, get theme park tickets with the children, or just go to the movies. AAA isn't just for road trippers though. Even in your home town, these road service benefits are likely to come in handy.
#3 – How to Join the Membership Plan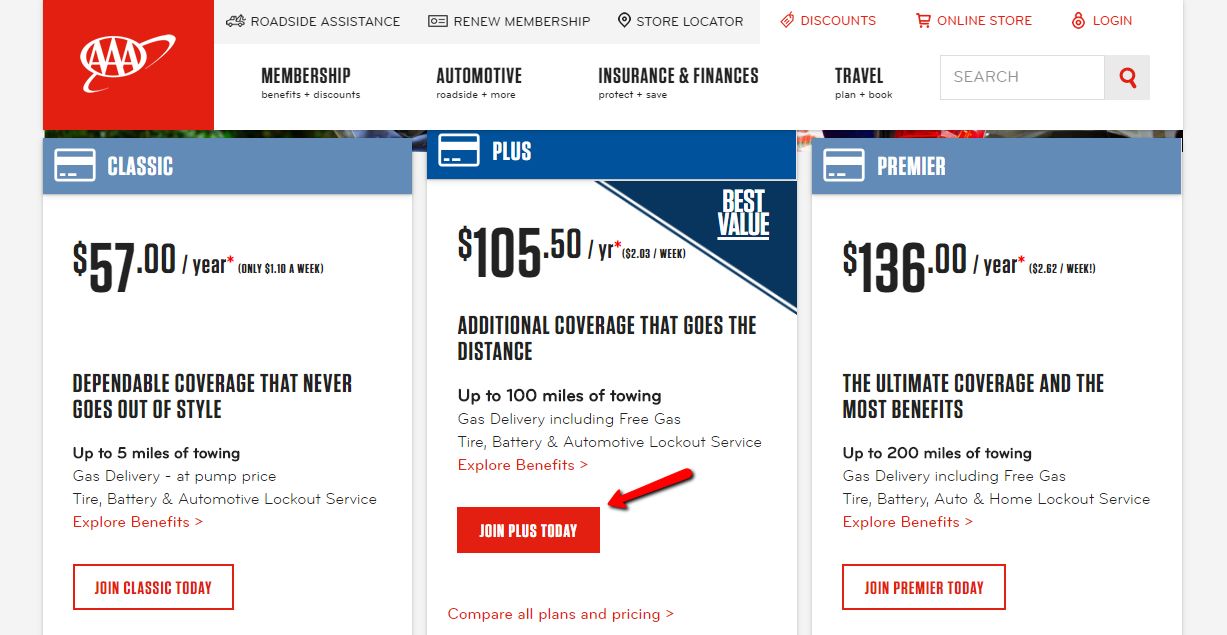 When you decide on a membership, scroll back up and click "Join Today."
Free Car Insurance Comparison
Enter your ZIP code below to view companies that have cheap car insurance rates.
Secured with SHA-256 Encryption
#4 – How to Enter Your Personal Information
On the next page, enter your information. You'll be charged the flat rate of the policy you've chosen as well as a one-time $15 enrollment fee. A $5 auto-renewal discount s automatically applied to your sub-total, but you can choose to remove this.
#5 – How to Add Household Member
You can add household members to your policy by clicking the green button at the bottom of the screen. A pop-up form will appear and you can enter the info for the driver you want to add.
Keep in mind that each membership has its own limits with household members, so it may be advantageous to pick a more expensive policy if you want full coverage for more than just yourself.
How to Get the Coverage You Need by Comparison Shopping
AAA roadside assistance benefits come highly praised, but you need more than just extra coverage on the road. You can find an auto insurance company that has all the coverage you need and benefits you want by shopping around.
Enter your zip code below and we'll help you find the right company for you.