Compare Michigan Car Insurance Rates [2023]
Michigan drivers need to take the time to compare Michigan car insurance rates, as the average cost of Michigan insurance is well above the national average. For example, minimum liability insurance in Michigan costs an average of $99/mo, while full coverage insurance costs an average of $229/mo.
UPDATED: Sep 25, 2023
Fact Checked
Free Car Insurance Comparison
Compare Quotes From Top Companies and Save
Secured with SHA-256 Encryption
Joel Ohman
Founder & CFP®
Joel Ohman is the CEO of a private equity backed digital media company. He is a CERTIFIED FINANCIAL PLANNER™, author, angel investor, and serial entrepreneur who loves creating new things, whether books or businesses. He has also previously served as the founder and resident CFP® of a national insurance agency, Real Time Health Quotes. He has an MBA from the University of South Florida. Jo...
UPDATED: Sep 25, 2023
It's all about you. We want to help you make the right coverage choices.
Advertiser Disclosure: We strive to help you make confident car insurance decisions. Comparison shopping should be easy. We are not affiliated with any one car insurance company and cannot guarantee quotes from any single company.
Our partnerships don't influence our content. Our opinions are our own. To compare quotes from top car companies please enter your ZIP code above to use the free quote tool. The more quotes you compare, the more chances to save.
Editorial Guidelines: We are a free online resource for anyone interested in learning more about auto insurance. Our goal is to be an objective, third-party resource for everything auto insurance related. We update our site regularly, and all content is reviewed by auto insurance experts.
UPDATED: Sep 25, 2023
It's all about you. We want to help you make the right coverage choices.
Advertiser Disclosure: We strive to help you make confident car insurance decisions. Comparison shopping should be easy. We are not affiliated with any one car insurance company and cannot guarantee quotes from any single company.
Our partnerships don't influence our content. Our opinions are our own. To compare quotes from top car companies please enter your ZIP code above to use the free quote tool. The more quotes you compare, the more chances to save.
On This Page
UPDATED: Sep 25, 2023
Fact Checked

Drivers in Michigan must take the time to compare Michigan car insurance rates. Why? Michigan has some of the most expensive car insurance rates in the nation, partly due to the state's no-fault car insurance system. The high no-fault insurance limits required by Michigan law mean costly payouts for insurance companies, so companies charge higher rates.  
If drivers don't take the time to compare rates for their coverages, they'll be stuck paying more than they have to on already expensive insurance. Read on to learn about what coverages you are required to carry in Michigan, how to get the cheapest rates, and more.
Then, when you are ready to start shopping for cheap car insurance in Michigan, you can use our free quote comparison tool to find the best rates.
Michigan Car Insurance Coverage and Rates
Michigan's no-fault car insurance system is different from any other state, including coverage you won't see elsewhere. It can be confusing, especially to new residents used to a fault system of insurance coverage.
We will take the complexity out of it and break it all down, discussing the types of coverage available in Michigan, how much you can expect to pay, and any car insurance coverage limits involved.
Learn more: Car Insurance Coverage Limits: Explained Simply
Here you will find details on all the required coverage for a Michigan auto insurance policy to comply with state laws, as well as what options are available to create a personal protection plan.
Michigan Minimum Insurance Coverage
Every driver in Michigan must be covered by a no-fault insurance policy that is made up of several parts. The system is designed to reduce lawsuits by having each individual's insurance policy cover their own injury and damage costs regardless of who is at fault.
Remember, no-fault doesn't mean no one is at fault! It just governs which insurance coverage is primary.
In addition to no-fault coverage, you are also required to carry a basic amount of liability insurance. This is considered residual coverage, and there are three main situations when this coverage will kick in:
If you are found to be responsible for an accident in which someone is seriously injured or killed
If you are involved in an accident with an out-of-state driver in Michigan
If you are involved in an accident outside of Michigan
In any of these situations, you can be sued for damages, and your liability coverage is there to protect you.
Read more: Compare Liability Car Insurance: Rates, Discounts, & Requirements [2023]
There's one more situation where you can sue another driver. Under the Limited Property Damage or "Mini-Tort" provision, if you are less than 50 percent at fault in an accident, you can recover up to $1,000 for property damage not covered by your policy, such as a deductible. On July 1, 2020, this amount increased to $3,000.
Here are the minimum limits you have to carry for both no-fault and liability coverage in Michigan. This table also reflects the new laws that went into effect on July 1, 2020, under the 2019 insurance reform bill. The biggest changes will be to PIP and liability limits.
And here is a comparison chart of what minimum insurance costs are across the US.
Under the new PIP Choice law, Michigan drivers who are on Medicare will be permitted to opt out entirely of carrying PIP coverage. All other drivers will be able to select from several levels of coverage. Those levels are:
$50,000 (for drivers on Medicaid only)
$250,000
$500,000
Unlimited
Forms of Financial Responsibility
In Michigan, the only acceptable form of financial responsibility is car insurance. With the exception of those with a fleet of 25 vehicles or more, in which case you can be self-insured, every driver must purchase the required policy.
Up until the fall of 2018, drivers in Detroit could compare weekly car insurance and purchase a policy. It was good for just long enough to get the car registered, after which most drivers would let it lapse.
With this policy no longer available, drivers will only have the option of showing they are insured with a policy term of at least six months. Unfortunately, the change doesn't mean much for the uninsured motorist rates since drivers can simply stop making installment payments at any time.
We'll cover the penalties for driving without insurance later, but it's definitely not worth breaking the law. Carry either a paper copy of your proof of insurance or be prepared to present it electronically. Since 2016, Michigan law has allowed the use of a smartphone or other electronic device to display proof of insurance on request.
Premiums as a Percentage of Income
We know the insurance rates in Michigan are really high, but how much of your income can you expect to spend?
In Michigan, the annual per capita disposable income is $36,419.00, or $3,034.92 a month. That's how much money is available to spend after taxes.
The average annual car insurance premium is $1,350.58, or $112.55 a month.
That means Michigan residents spend an average of 3.71 percent of their income on car insurance.
Not at all surprisingly, that places the state well above the national average of 2.37 percent.
Average Monthly Car Insurance Rates in MI (Liability, Collision, Comprehensive)
Core coverage is the basics that make up a full coverage policy for Michigan drivers. Here's a breakdown of what each of the three main parts of a car insurance policy costs on average in Michigan.
As you can see, Michigan drivers are paying more than the national average across the board.
Additional Liability
Michigan requires both personal injury protection and personal liability as part of every legally acceptable insurance policy. There are still some options, however, for additional liability.
We'll take a look at those options as well as how all of Michigan's liability coverage is performing in terms of loss ratios.
Uninsured/underinsured motorist coverage is notable as an optional liability coverage given the fact that at 20.30 percent, Michigan has the fourth-highest number of uninsured motorists in the nation.
You might be wondering why, with so much required no-fault coverage, you would still need to protect yourself from a motorist without insurance.
As noted above, there are situations in which you can still sue the at-fault driver in a crash. If that driver has no insurance and the accident involves serious injury or death, uninsured/underinsured coverage will pay additional costs.
Loss ratios tell us what companies are paying out in claims compared to the premiums they take in. A good loss ratio is neither too high (meaning the company is paying out too much in claims) nor too low (meaning they aren't paying enough.
For both PIP and Uninsured or Underinsured Motorist coverage, Michigan is not far off from the national average.
Add-ons, Endorsements, and Riders
Personal Umbrella Policy (PUP)
Rental Reimbursement
Emergency Roadside Assistance
Mechanical Breakdown Insurance
Non-Owner Car Insurance
Modified Car Insurance Coverage
Classic Car Insurance
Pay-As-You-Drive or Usage-Based Insurance
Currently, several insurance companies offer usage-based car insurance options in Michigan. They include Progressive, Allstate, and Esurance. These plans offer a discount for drivers who enroll in the program and have their driving habits recorded over time.
They're a great choice for combating Michigan's high rates, but a word of caution: Some companies can and will actually increase your rate if the information recorded shows risky driving habits. Progressive's Snapshot program is one of these.
Average Monthly Car Insurance Rates by Age & Gender in MI
As of July 1, 2020, Michigan's new car insurance reform law removed gender and age from the allowable rating factors for car insurance rates. Here's a look at the rates.
Without a doubt, age makes the biggest difference in determining rates.

Seventeen-year-old drivers pay the highest rates due to inexperience, but by age 25, the cost drops dramatically. Decreases are much subtler from that point on.
This data illustrates the importance of shopping around – while some companies' rates for a teen driver are astronomical, others charge a fraction of their counterparts' premiums.
Cheapest Rates By Zip Code
Like other rating factors currently in use, your zip code will no longer have an impact on rates as of July 1, 2020. Currently, zip code is one of the determining factors in car insurance rates.

Take a look at what rates from the top companies look like across Michigan by looking at the most and least expensive zip codes below.
The most expensive zip codes on the list are in Detroit, while the cheapest zip codes on the list below are in the central part of the state.
Highest and Lowest Rates By City
You can also find the lowest rates for the big insurance companies by city in the table below, and see which cities have the highest rates. Like most states, the highest rates are found in the big cities and surrounding areas. In this case, Detroit and the metro area.
The lowest rates are found in St. Louis and Shepherd. While you'd think some of college towns on the list below would have high rates due to all the young drivers around, odds are good that many of the students are insured under a parent's plan – and rated based on their home zip code rather than the school.
Again, location will cease to be a rating factor as of July 1, 2020.
Free Car Insurance Comparison
Enter your ZIP code below to view companies that have cheap car insurance rates.
Secured with SHA-256 Encryption
The Best Car Insurance Companies in Michigan
All of the big-name companies operate in Michigan. This includes nationwide top pick State Farm and the rest of the top three: Geico and Progressive. In addition to national insurers, Michigan drivers can choose from homegrown companies too, including highly-rated Auto-Owners Insurance, which has its headquarters in Lansing.
With so many insurance companies to choose from, it's hard to figure out which one is right for you. You want a great rate, but you also want a company that will be there for you when you have a claim. Comparing them can be overwhelming.
We'll help you make sense of all the information out there and narrow down your choices to the best car insurance companies in Michigan.
Read on for company ratings, financial status, and rates based on multiple different factors including commute distance and credit score – so you can feel confident in your insurance company choice.
The Largest Companies' Financial Rating
AM Best gives insurance companies a letter grade based on their financial stability. Shown below are the ratings for each of the top ten companies in Michigan, all of which have earned either Excellent (A, A-) or Superior (A+, A++) ratings from AM Best.
Also shown are the companies' loss ratios, which if you'll remember from above indicate how much a company is paying out in claims compared to how much it earns in premiums.
There's definitely some concern with a couple of these companies, especially those reporting loss ratios of more than 100 percent. That means they've paid out more than they took in.
Big companies with a lot of business can absorb losses in one area better than a smaller company without a major impact on their bottom line. That explains why a huge company like Allstate can have a high loss ratio but hold on to a good AM Best rating.
Companies With the Best Ratings
Financial ratings are just the beginning. JD Power ratings tell us how a company is performing in terms of customer satisfaction. The company uses a five-factor survey to rate companies overall.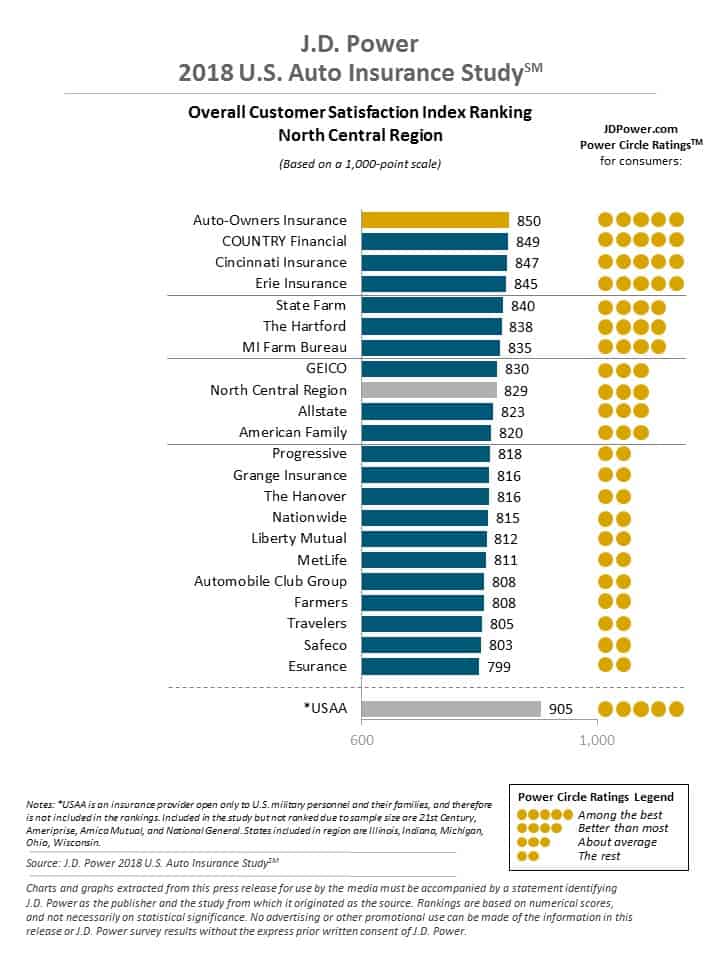 The ratings above tell us that local company Auto-Owners takes the top spot for the region, with the exception of USAA. The small print explains that JD Power rates USAA, but doesn't rank them due to their eligibility requirements.
Both State Farm and Michigan Farm Bureau ranked above the regional average.
Companies With The Most Complaints in Michigan
Which companies have the most complaints in Michigan? We gathered complaints data for the top ten companies in the state.
Pay special attention to the complaint ratio! That tells us how many complaints there were per $1 million in premiums written. A company that writes a lot of policies may well have a complaint number that looks high, but their ratio will actually be a lot lower than their competitors.
State Farm has the highest number of complaints, but one of the lowest ratios because they sell more insurance in Michigan than any other company. The ratio tells us more than the number alone.
Of the top 10, Liberty Mutual has the highest complaint ratio in Michigan.
Cheapest Rates In Michigan
Now the big question: which company is the cheapest in Michigan? We've ranked the top ten largest companies based on their rates below.
USAA is far and away the cheapest option for car insurance in Michigan, with rates around 188 percent below average. Unfortunately, they aren't open to everyone. You need a military connection to get coverage through USAA, and they offer a quiz to determine eligibility. You can learn more by looking at our USAA car insurance review.
Progressive, the next cheapest option, comes in at more than 94 percent below the state average and is open to everyone, which is good news. Learn more by looking at our recent Progressive car insurance review.
Somewhat surprising is the fact that State Farm came in above the average but still holds onto the top spot for market share. Learn more in our State Farm insurance review.
Commute Distance Rates By Company
Commute distance is a factor in car insurance rates, but it may not be as big a difference as you might think. Some companies don't increase rates at all with a longer commute, while at others the difference is minor.

Check out the rates for several top companies using two difference daily commutes and annual mileage estimates.
Rates By Coverage Level
More coverage is a good thing, but a lot of people think it's an expensive thing. Especially in Michigan where rates are already really high. How much can you actually expect to pay for a higher level of coverage?
As you can see, it varies a lot from company to company, adding just a few hundred dollars with some carriers. It's always worth quoting a higher coverage level; it may not be as expensive as you think and is well worth the slight monthly increase.
Credit History Rates By Company
What car insurance companies don't use credit ratings? The use of credit scores in insurance rating has long been a contentious issue. Like many other rating factors, the use of your credit score will no longer be allowed in Michigan after July 1, 2020.
Take a look at how your credit score can impact rates with different companies under current law.
Driving Record Rates By Company
This is the big one – your driving record. Few things have as big an impact on car insurance rates as tickets, accidents, and major violations such as a DUI.
Do all car insurance companies check your driving records? You bet. As of July 1, 2020, driving record will be one of the only rating factors on which insurance companies can base rates. But the good news is that not every company rates these things the same way, so no matter what's on your record you can still shop around a better deal.
Here's an idea of what top companies charge based on different driving records with common violations.
With most companies, a DUI will have the biggest impact on your rates, but that's not always the case. A few companies charge less for a DUI than for an accident, again highlighting why comparing rates from multiple companies is a must.
Largest Car Insurance Companies in Michigan
The top three biggest car insurance companies in Michigan are not that far off from each other in terms of market share. State Farm holds onto the lead by about three percent.

Several local companies make the cut, including Frankenmuth and the Michigan Farm Bureau.
This all adds up to a total of $8,970,665 in direct premiums written in Michigan.
Number of Insurers by State
Michigan has 65 domestic insurance companies operating in the state, domestic meaning that the company is incorporated in Michigan.
There are also 786 foreign insurance companies that are also licensed to do business in Michigan – to be clear, this means that these companies are incorporated in other states, not other countries.
Michigan drivers have more domestic insurers to choose from than many states, and that includes the fourth largest insurer in the state, Auto-Owners.
Michigan Car Insurance Laws
There are a lot of laws on the books governing vehicles and drivers on Michigan's roads.
Understanding all of the laws and keeping up with the changes that seem to happen all the time is confusing and time-consuming. It would be a lot easier to simply have the must-know laws outlined in a straightforward format, without all the legal jargon, right?
We agree, so we've gathered all the basic laws you need to know right here.
Included below are laws regarding car insurance, vehicle and driver licensing, and the rules you need to know when you're on the road.
Car Insurance Laws
You know you need car insurance on the road, and we have already covered the basics of required and optional coverage. But read on, because there's more you need to know!
The Michigan Legislature handles the creation and changes to all of the laws related to vehicles. The current state of car insurance premiums in Michigan has made reform a big topic for legislators.
Michigan finally passed car insurance reform and it was signed into law in June of 2019. This sweeping change is intended to reduce rates for most drivers.
High-Risk Insurance
High-risk drivers are those with a driving record or other issue that makes it difficult to qualify for insurance coverage. Michigan operates the Michigan Automobile Insurance Placement Facility (MAIPF) to help drivers who have been unable to get coverage on the open market.
This plan is a last resort and only for drivers whose record has caused them to be turned down for coverage!
This type of insurance pool exists to see that drivers can get the legal minimum coverage they need even with a driving record that makes insurance companies slam the door. Drivers are assigned to an insurance company, spreading the risk around to the various insurers in the state.
While the pool will get you covered and will keep rates within a certain state maximum, you can bet this coverage won't be cheap. The goal should be to clean up your driving record and get on a standard policy as soon as possible.
Low-Cost Insurance
There is currently no state plan in place to assist low-income families with their car insurance costs.
The last attempt to create a low-income option, Senate Bill 288, was defeated in the house back in 2015.
Windshield Coverage
There are a few laws on the books in Michigan regarding how broken windshield car insurance is handled.
First, you have the right to choose your own repair shop, but you may be required to pay the difference in price if you choose to do so.
Second, insurance companies do have the right to use aftermarket parts in windshield repair. They have to explicitly include it in the estimate, however.
While companies can offer you a specific windshield replacement and repair coverage option on your policy, they're not required to do so. The coverage is otherwise considered part of the comprehensive portion of the policy and is subject to that deductible.
Automobile Insurance Fraud in Michigan
Michigan's unlimited no-fault injury benefits have made the state a target for car insurance fraud.
Fraud costs insurance companies millions, in turn contributing to Michigan's already high insurance costs. The Michigan Department of Insurance and Financial Services estimates that between $5.6-77 billion in buildup claims were paid out in 2012, with 15 percent of claims showing signs of possible fraud.
They also estimate a loss of about $29 billion a year to car insurance companies.
Insurance fraud, including lying about, concealing, or omitting information relating to a claim, is illegal in Michigan.
Insurance fraud is a felony carrying a sentence of up to five years and fines of up to $50,000, along with restitution and other civil penalties.
The 2019 car insurance reform law included the creation of a new anti-fraud unit to investigate fraudulent activities in the insurance industry.
Statute of Limitations
The statute of limitations in Michigan for both bodily injury and property damage claims is three years.
After this time limit, you can no longer make a claim or file a lawsuit.
Michigan Specific Laws
No discussion of driving in Michigan is complete without a mention of the Michigan Left.
Essentially a u-turn, the Michigan Left was created in 1960 in order to reduce the traffic making left turns at major intersections. Rather than turning left right at the intersections, drivers go past it, make a u-turn, and then come back to the intersection to make a right turn.
Drivers are required to follow the Michigan Left laws at intersections where they are present rather than making a standard left turn.
While other cities are picking up on the idea of the Michigan Left, and giving it new names such as the "Thru-Turn", the practice remains Michigan-born and unusual anywhere else.
Vehicle Licensing Laws
Licensing for drivers and vehicles is handled by the office of the Michigan Secretary of State. Let's take a look at some of the pertinent laws.
Penalties For Driving Without Insurance
Michigan has a high number of uninsured drivers on the road, but it's illegal and can result in fines and even jail time.
The law is unusual in that you can be fined simply for failing to provide proof of insurance when asked by an officer, even if you do actually have insurance. That means that the thing you don't want to leave home without in Michigan isn't your American Express card – although you might need that to pay the fine – it's your proof of insurance. What does an auto insurance certificate look like? Make sure you know before you leave the house next time.
Driving without insurance is a misdemeanor and carries possible penalties of:
$200-$400 in fines
Up to one year in jail
License suspension of up to 30 days, or until you provide proof of insurance
$25-$125 reinstatement fee
Proof of insurance can be provided in the form of a paper copy of your insurance card or policy, or in electronic format on your phone or tablet.
Michigan also allows police to run your license plate through a database to determine whether you have insurance on record, which means they may already know you're uninsured when they pull you over.
Proof of insurance can still save the day though; since insurance companies are only required to submit policy information on the first and 15th of each month, a policy taken out in between might not show up, so be prepared to show proof!
Teen Driver Laws
Michigan's Graduated Driver Licensing (GDL) system for teen drivers helps to keep everyone safer on the road by placing restrictions on young drivers as they work on their skills.
There are two segments to driver education and three steps in the licensing process.
Although restrictions are lifted at age 17, a parent or guardian can choose to revoke a teen's permission to drive up until age 18.
Looking for car insurance for your teen driver? Compare car insurance rates for teen drivers right here on our website.
Older Driver License Renewal Procedures
Michigan law requires all drivers to renew their licenses every four years, regardless of age.
Similarly, all ages are permitted to renew either online or by mail every second renewal. There are no renewal laws specific to seniors in Michigan, but you may be able to find over age 55 car insurance discounts.
New Residents
Need advice on handling car insurance when moving to another state? Are you new to Michigan? You'll need to get a Michigan license right away, which you can do at any Secretary of State office.
If you have a current license from another state that is valid or has been expired for less than four years, you won't need to take a written test, but a vision test will be required.
Make sure to bring your current license along with proof of legal presence in the United States and your Social Security Number. Drivers from another country with temporary status in the United States can be issued a temporary license.
Finally, you will need to pay the $25 fee to get your new Michigan license and pose for your new license photo.
License Renewal Procedures
The same license renewal procedures apply to all licensed Michigan drivers.
License renewal is done every four years, and every second time (or every eight years) it has to be handled in person. The one caveat is that only U.S. Citizens can renew online.
Each in-person renewal will require a vision test. You'll need to bring any prescription eyewear to the visit and of course be prepared to pay the fee.
Can you get car insurance with an expired license? Yes, but getting coverage may be more complex than if you simply renewed your license first.
Negligent Operator Points System
Michigan uses a points system to monitor drivers for violations of the law. Points range between two and six depending on the offense.
Here's a sampling of points:
Two points: minor moving violations such as speeding 10 mph or less over the limit, refusing a breathalyzer Under 21), open alcohol
Three points: careless driving, speeding 11-15 mph over, failure to obey traffic lights or stop signs, failure to stop at a railroad crossing
Four points: Drag racing, driving while visibly impaired, speeding 16 mph or more over the limit, any BAC while under 21
Six points: felony involving the use of a motor vehicle (such as manslaughter), driving under the influence, reckless driving, fleeing or evading a police officer
If you accumulate 12 points, your license will be suspended.
Rules of the Road
Before you hit the road in Michigan, make sure you brush up on these important rules of the road!
Fault vs. No-Fault
Michigan is a no-fault state, as we have already covered in previous sections. In fact, the state has some of the most comprehensive no-fault laws in the country.
Michigan is the only no-fault state where injury benefits under PIP are unlimited. This will change in July of 2020 when new laws go into effect and lower PIP limit choices are available..
The new laws that go into effect on July 1, 2020, will allow drivers to sue for excess medical benefits. This is a change from the current law that allows lawsuits only under very specific circumstances.
Seat Belt and Car Seat Laws
Do seat belt laws impact my car insurance? Absolutely, but it varies based on where you live in the country. In Michigan, all passengers (and the driver) over the age of 16 are required by law to wear a seat belt. The fine for failure to do so starts at $25.
The state's child restraint laws apply to those 15 and under:
Children under four must be in the rear seat if available
All children 8 and under and under 4 feet, 9 inches tall must be in an appropriate car seat or booster seat.
All children 8-15 and at least 57 inches tall must use a seat belt in both the front and back seats
The minimum fine for a violation of the child restraint law is $10.
It's illegal in Michigan for anyone under the age of 18 to ride in the cargo area of a truck, unless it's moving at 16 mph or less.
Keep Right and Move Over Laws
Drivers in Michigan are required to keep right except in a few situations:
When passing another vehicle on the left
When making a left turn
In heavy traffic
On a freeway with more than three lanes
Drivers are also required to move over, or if not possible slow down, when passing a stopped emergency vehicle displaying lights.
Speed Limits
A speeding ticket is one of the easiest to avoid; just keep an eye on your speed and know the limits!
Ridesharing
Michigan has a lot of laws that regulate the ridesharing industry. These include requirements that all drivers for services like Uber and Lyft pass background checks and have their vehicles inspected regularly. They also place limits on the driving record of anyone driving for a rideshare company.
When it comes to rideshare car insurance, Michigan law requires rideshare drivers to have $1 million in liability when carrying a passenger, and $50,000 in liability when in between rides but still working for the company,
How does the Michigan no-fault law work with rideshare passengers? In the event of an accident, the passenger's own PIP coverage will be the primary coverage. Only in a situation where the passenger doesn't have any other source of coverage will the rideshare driver or company be responsible for this coverage.
Currently, only Farmers and State Farm offer specific ridesharing insurance endorsements in Michigan.
Automation on the Road
Michigan is home to so many of the nation's car companies that it's no surprise they are at the forefront of autonomous vehicle laws.
It's legal in Michigan to test and deploy autonomous vehicles, but the operator must be licensed and liability insurance is required (you can compare liability car insurance on our website).
Safety Laws
Some of the laws in Michigan are designed to help keep everyone safe on the road by ensuring drivers are in control at all times.
OWI Laws
In Michigan, driving while impaired is legally known as Operating While Intoxicated (OWI). The legal blood alcohol limit (BAC) in the state is 0.08 percent.
There are serious penalties for an OWI conviction.
Marijuana-Impaired Driving Laws
Marijuana is now legal in Michigan, but driving after use is not. Although there is an expectation that the rules may change in the future, currently there no allowable legal amount of THC in the bloodstream of a driver; violators will be subject to OWI penalties. Police can also arrest you based on a field sobriety test, much like with alcohol.
It's worth noting that it's also illegal to smoke marijuana while driving and even to have a passenger in the vehicle smoking marijuana while driving, so leave it at home!
Distracted Driving Laws
There is no statewide handheld cell phone ban in Michigan, with the exception of drivers on a Level 1 or Level 2 graduated license. Two cities – Detroit and Troy – have enacted their own ban on handheld cell phone use while driving, so be aware when you cross city limits.
Texting while driving is illegal for all drivers, and cell phone ticket car insurance rates may burn a hole in your wallet.
Must-Know Facts About Michigan
What does it look like on Michigan's roads when it comes to safety and traffic?
There's a lot of information out there, and it can be hard to make sense of the news stories and statistics to understand what's a real concern and what might be exaggerated. Wouldn't it be a lot easier to have all the relevant information neatly organized for you in an easy-to-read format?
Below you will find just that; all the details of the risks on the road in one place.
You'll get the statistics of vehicle theft, crashes, underage drinking, and what the commute looks like for Michigan drivers too right here.
Vehicle Theft in Michigan
The Chevy Impala is the most commonly stolen car in Michigan. The rest of the top 10 can be seen here:
Search for your city in the table below to find out how many vehicles were stolen in 2017.
Dangers On The Road In Michigan
Next, you'll find details on some of the conditions that cause the most fatal accidents in Michigan.
A total of 1,030 lives were lost in vehicle crashes in Michigan in 2017.
What causes these crashes? Common factors include weather, speeding, and alcohol use.
Fatal Crashes By Weather Condition and Light Conditions
This table outlines how many fatal crashes occurred based on a combination of light and weather conditions.
Fatality Rates by County
Check your county on the table below to see how common fatal accidents are in your area.
Traffic Fatalities Urban Vs. Rural
402 of the fatalities in Michigan occurred in rural areas.
624 fatalities happened in urban areas. That's pretty common; in most states, fatal accidents are more frequent in urban than rural areas.
Fatalities by Person Type
This table provides numbers on the type of person involved in fatal crashes; occupants of vehicles, pedestrians, motorcyclists, and cyclists.
Fatalities by Crash Type
Around half of the fatal crashes in Michigan were single-vehicle accidents, and just under half involved a roadway departure.
Five-Year Trend For The Top 10 Counties
Take a look at the fatality trends for the top ten counties over the past five years. While a few stayed steady or went up a bit, most of the top counties have seen a decrease from 2016 to 2017, a shift in the trend of a general increase for the prior years.
Fatalities Involving Speeding by County
This table allows you to search by county to find out how many fatal crashes involved speeding.
Fatalities in Crashes Involving an Alcohol-Impaired Driver (BAC = .08+) by County
Search by county to find the number of impaired driving fatalities in 2017.
Teen Drinking and Driving
Michigan's teen drunk driving arrest fatality count falls right about the national average. The number of arrests, however, is on the high side, which indicates that law enforcement is catching teens under the influence before a tragedy can happen.
The high number of arrests also signals that teen drinking and driving may be a more common problem in Michigan than in some other states.
EMS Response Time
Not surprisingly, EMS response time is quicker in urban areas than in rural areas.
Transportation
It's home to Motor City, so it's no wonder there are a lot of cars in Michigan! Next, we will look at car and commuter statistics.
Car Ownership
There are twice as many households with a single vehicle vs those that own two. Three-car households are about on par with one-car families.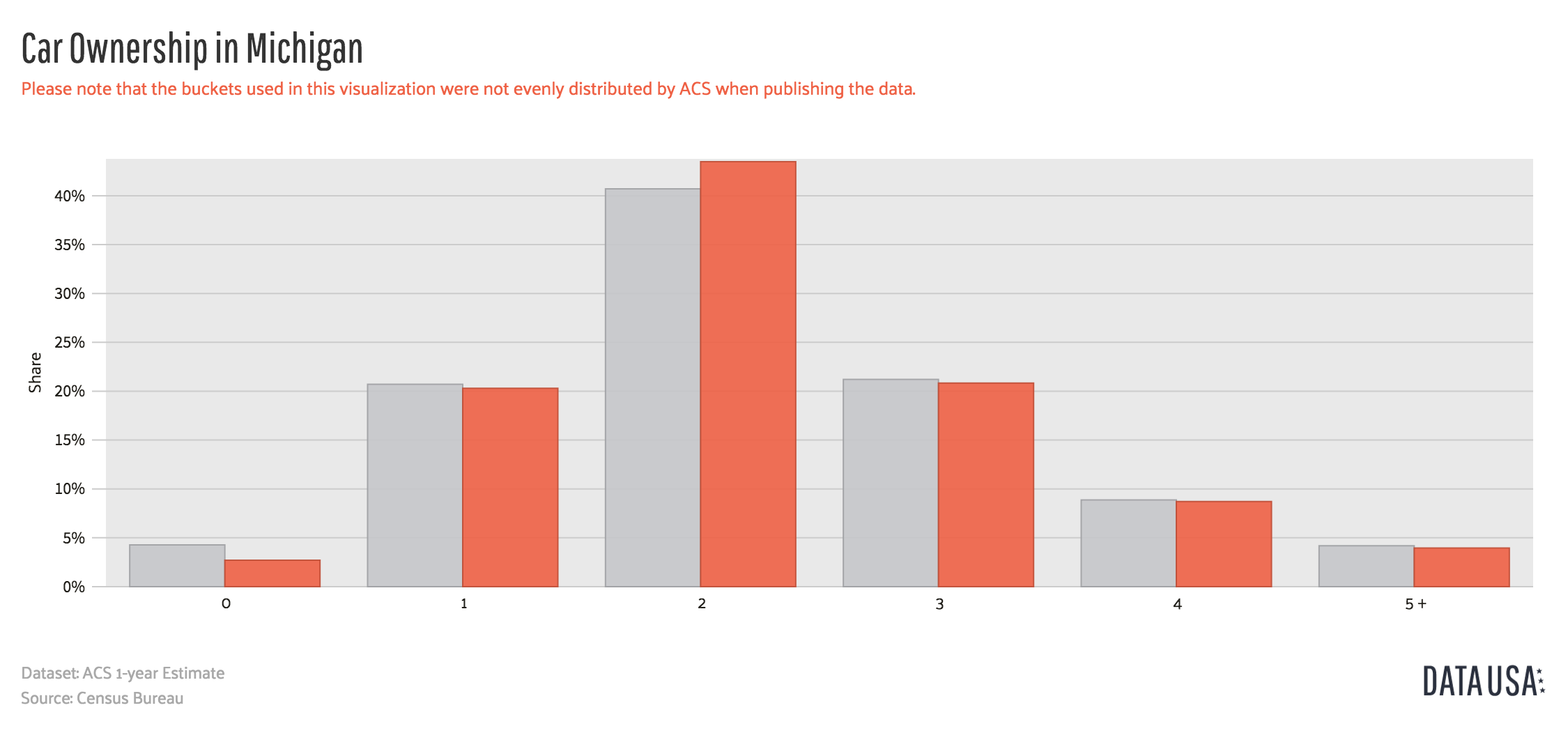 Commute Time
It may not be comforting when you are stuck in traffic, but Michigan actually has a slightly lower average commute time as 23.5 minutes than the national average of 25.3.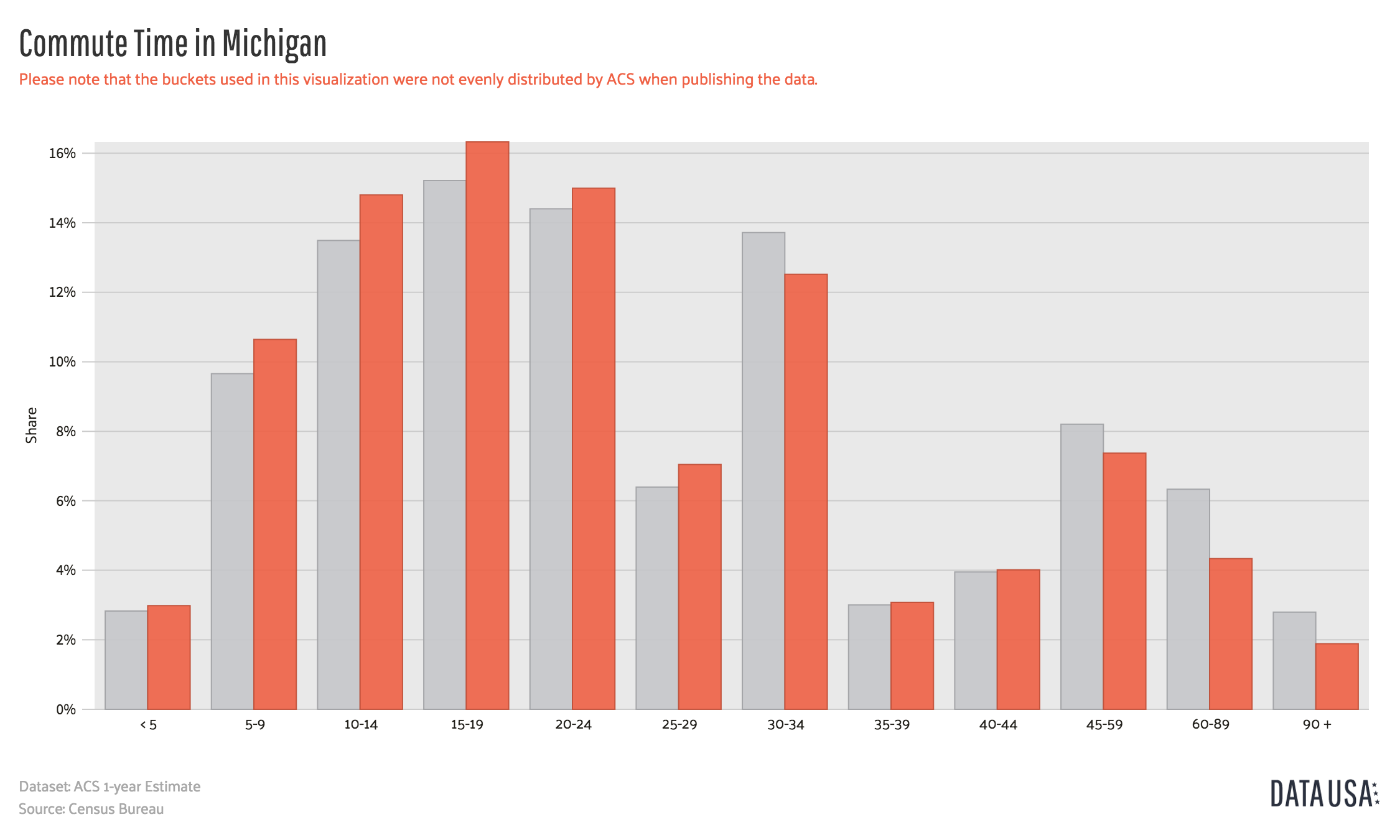 Commuter Transportation
Michigan drivers prefer to get to work in their own vehicle and prefer to drive alone. More than 80 percent of commuters drive solo.
Top Cities for Traffic Congestion
The biggest city in Michigan, Detroit ranks as the 27th most congested city in North America and the 146th in the world.
According to data from Inrix, drivers in Detroit spend an average of 66 minutes in congested traffic each day.TomTom data shows that Detroit drivers have an extra 16 percent of travel time on average. Travel time increases by 23 percent during morning peak traffic and 41 percent during evening peak traffic. On highways, the increase is about 11 percent, while on non-highways, it's an increase of 19 percent.
Extra travel time adds up to 20 minutes per day for a total of 76 hours each year.
After that long commute, you probably don't want to spend much time shopping around for cheap Michigan car insurance, so let us make it easy. Enter your zip code below to compare Michigan car insurance rates now!
Free Car Insurance Comparison
Enter your ZIP code below to view companies that have cheap car insurance rates.
Secured with SHA-256 Encryption