Liberty Mutual Car Insurance Review [2023]
Liberty Mutual car insurance is the sixth-largest car insurance company in the nation. Compare car insurance rates online using our free tool below and save up to 20%
Free Car Insurance Comparison
Compare Quotes From Top Companies and Save
Secured with SHA-256 Encryption
If you've listened to the radio, streamed music through Pandora, Spotify or other similar services, or watched anything on television recently, you've seen or heard an abundance of car insurance commercials from numerous companies.
Liberty Mutual Auto Insurance is no exception. And like most companies, they leave you with one primary idea or thought. In Liberty Mutual's case, they state their insurance is customizable so you "only pay for what you need."
But is Liberty Mutual the best option for you? Do they offer the coverage you need at prices you can afford? Only you can make that determination, but to help you do so, we've collected key data on the company, so you can make an educated decision regarding Liberty Mutual.
We'll provide you with company financial data, how they've positioned themselves for the future, their availability and accessibility, how easy it is to get a quote, and more to help you make a decision.
Keep reading to find out everything you need to know about Liberty Mutual Auto Insurance Company. Ready to start looking for your best insurance policy? Enter your ZIP code into our free online tool to start comparing rates today!
Liberty Mutual's Ratings by Agency
Knowing a company's financial stability and customer service rating is important when making a decision on whether or not an insurance company is right for you. Why?
You want to ensure the company you chose is financially stable (which means they will be around for the foreseeable future and capable of paying out on claims, should you ever need to file one) and is responsive and available whenever you need their assistance with filing a claim, modifying your policy, and more.
One way to find out this information about insurance companies, and in this case, Liberty Mutual Auto Insurance, is to review the ratings from various independent rating agencies. In the below table, we've provided Liberty Mutual's ratings from a variety of financial and consumer ratings companies.
To make sense of the information in this table, we explain what each rating means in the following sections. Keep reading to find out Liberty Mutual's standing among the various rating firms from which we pulled data.
A.M. Best
A.M. Best, which is a global credit rating firm that focuses specifically on the insurance industry, has rated Liberty Mutual Insurance as an A for financial stability. According to their rating structure, any company with an A- rating or better is considered stable, so you can rest easy knowing Liberty Mutual has a solid financial rating and a positive, stable financial outlook for the future.
Better Business Bureau
The Better Business Bureau (BBB) rates companies on a letter scale from A+ to F. Their ratings are mostly based on complaint data (their sources are typically the companies themselves and public sources like the National Association of Insurance Commissioners). They do not include consumer reviews in their rating structure. BBB's rating for Liberty Mutual is an A, which means they have an above-average standing from the perspective of complaint data.
Moody's Rating
Moody's rates Liberty Mutual as an A2, which means they are financially stable, and "not on watch." An A2 rating means the company's financial status is considered to be in the upper-medium grade, and subject to low credit risk. Additionally, this A2 rating puts Liberty Mutual in the Prime-1 (P-1) category, meaning they have "a superior ability to repay short-term debt obligations."
These are all positive signs when considering the financial stability of Liberty Mutual.
S&P Rating
Standard & Poors (S&P) provides credit ratings for companies in a variety of industries. Check out this video for a quick overview of their ratings and what they mean.
S&P rates Liberty Mutual's credit as an A, which means the company has a stable outlook. According to S&P, an A rating from the investment specifically means,
"A strong capability to meet financial commitment, but somewhat susceptible to economic conditions and changes in circumstances."
NAIC Complaint Index
The National Association of Insurance Commissioners (NAIC) collects complaint data from car insurance companies throughout the car insurance market and develops a complaint index number that indicates whether a company has more or less complaints than the average (with the average represented as the number one, and noted as the national complaint index).
The below table provides additional complaint index information (beyond what we provided in the rating summary table at the beginning of this section).
The complaint index (ratio) information for Liberty Mutual indicates that for all three years noted, they received a significantly higher number of complaints than the national average. In fact, their complaint index is an average of 478 percent higher than the national complaint index for the three years listed.
The complaint index number may be somewhat related to the smaller market share Liberty Mutual has across the United States (as compared to the top 4-5 largest companies), which means the complaints are concentrated in a smaller percentage of the market share, rather than spread out. However, keep in mind this complaint index information is at the national level and may vary from state-to-state.
JD Power
JD Power provides customer satisfaction ratings for insurance companies, based on their JD Power Circle Rating system. The below table provides the JD Power Circle Rating for Liberty Mutual in six specific categories, as well as the resulting overall rating.
A rating of three out of five indicates that Liberty Mutual is "about average." Additionally, in the overall customer satisfaction index rating, which is based on a 1,000 point scale, Liberty Mutual received an 857, which is about 1.3 percent lower than the industry average of 868 points.
Consumer Reports
Consumer Reports provides customer satisfaction data across a number of categories. As we noted in the summary table, Liberty Mutual received an overall score of 88, which correlates to a "very good" rating.  The below table provides the individual ratings for Liberty Mutual in each category considered.
Consumer Affairs
According to Consumer Affairs, Liberty Mutual received 1.5 out of five stars for an overall satisfaction rating, based on 160 receives that have been submitted in the past year. The primary concerns from consumers include unexpected rate increases and discounts not being available in all states.
Free Car Insurance Comparison
Enter your ZIP code below to view companies that have cheap car insurance rates.
Secured with SHA-256 Encryption
Liberty Mutual History
Founded on July 1, 1912, as the Massachusetts Employees Insurance Association (MEIA), Liberty Mutual Insurance has remained
"…committed to helping people preserve and protect what they earn, building, own and cherish."
The company's first auto insurance policy was sold in 1918, only six years after Liberty Mutual was founded, and in 1973, the company went international. According to their website, they have continued to focus on the consumer as they've grown, and as they move to the future, they look to "customer-focused innovation."
Knowing a company's history can help indicate whether or not they will remain successful in moving forward. In the next few sections, we'll take a look at their recent history as well as their position for the future, their online presence, employees, and more.
Liberty Mutual Market Share
The NAIC provides market share information on insurance companies across the United States. In the table below, we look at the market share Liberty Mutual has held for the past four years to get an idea of whether they are growing, shrinking, or remaining steady.
From 2015 to 2016, Liberty Mutual's market share grew by about 1 percent, increasing its rank from seventh to sixth in terms of the largest insurance companies in the country. While their market share decreased by about 5 percent from 2017 to 2018, they remained the sixth-largest insurance provider in the country.
Liberty Mutual's Position for the Future
Now that we've taken some time to review Liberty Mutual's financial and customer service ratings, as well as their market share and rank based on company size, what does all this information mean?
No one can see the future, but we can use this information to help us gauge Liberty Mutual's positioning for the future, and whether or not they are prepared.
Based on the evidence we've presented so far, Liberty Mutual appears to be in a solid position moving into the future.
Financially, Liberty Mutual is in good shape for the future. They consistently receive strong ratings from numerous independent financial rating firms.
They have consistently held about 5 percent of the auto insurance market share, which has kept them ranked as the sixth-largest insurance provider in the country for the past three years (prior to that they were ranked seventh).
This increase in rank is also an indicator of incremental growth as a company.
Finally, Liberty Mutual has positioned itself well from a technology perspective. We'll go into this in further detail in a later section, but it is important to note that they have multiple mobile apps, a user-friendly website, and they use social media as a form of customer interaction and communication (in addition to more traditional methods).
Liberty Mutual's Online Presence
Liberty Mutual has a reasonably user-friendly website that offers policy-holders the ability to manage their policies online. They encourage potential customers to use their website to get quotes.
Additionally, using an online account process, you can file claims, update your policy, pay your premiums, get help with your insurance policy (through their FAQs), and more.
You can also use their website to access mobile versions of your insurance cards, report fraud, and review your coverage. However, if you need roadside assistance or would like to work with an agent, you'll need to call customer service at 1-800-290-7933, text them (they provide a widget to do so), tweet or message them on Facebook, or mail them.
Liberty Mutual's Commercials
Liberty Mutual focuses on humor to showcase their company. One example is their LiMu Emu and Doug commercials.
https://www.youtube.com/watch?v=ogtiufGylIQ
Another example is:
https://www.youtube.com/watch?v=8VDrIOtyno8
In both of these commercials (as well as the numerous others you'll see and hear), the primary message Liberty Mutual wants you to receive is that no matter what your insurance needs, they can customize a policy for you, so you only pay for what you need.
Liberty Mutual in the Community
Liberty Mutual is active in the community by supporting philanthropic organizations in three main areas of need:
Accessibility – focused on "advancing access for people with disabilities."
Education – focused on "expanding educational opportunities for underserved students."
Homelessness – focused on "empowering individuals who are experiencing homelessness."
According to their 2018 giving report, over $52 million was donated to nonprofits and causes through a combination of corporate and employee giving. Employees and executive staff spent over a combined 2.6 million hours conducting community service.
Liberty Mutual also funds the Liberty Mutual Foundation (which is over 15 years old), which awards grants in those three primary categories, specifically in communities in Boston, Seattle/King County, and Dallas.
Liberty Mutual's Employees
We've covered a lot of information on what financial credit rating firms and consumer reports say about Liberty Mutual, but what do its own employees say about it? Who works for Liberty Mutual? How long do they work there?
In the below table, we've broken down employee demographics by age/generation.
The largest percentage of employees is millenials by a fairly significant margin (25 percent more than the next most common generation), followed by Gen X. The smallest percentage of employees are baby boomers.
Take a look at this table to see what employee tenure at Liberty Mutual looks like.
Nearly half of the employee population (47 percent) has been at Liberty Mutual for five years or less.
Eighty-three percent of surveyed employees say Liberty Mutual is a great place to work.
Of those employees surveyed by Great Place To Work,
Ninety-one percent said they felt good about the ways the company contributes to the community
Ninety-one percent said employees are made to feel welcome when they join the company
Eighty-nine percent said they are able to take time off work when necessary
Eighty-eight percent said they believe employees are given a lot of responsibility
Eighty-six percent said management is honest and ethical in its business practices
Some of the primary reasons employees said Liberty Mutual is a great place to work include work-life balance, the people, flexibility, and the benefits.
In recent years Liberty Mutual has won a number of awards and accolades, as well as been listed on various "best to work for" lists for being a great place to work. Currently, some of these include:
Number 37 on People Magazine's "companies that care" list for 2019
Number 112 out of 150 for Forbes magazine's America's Best Employers for New Graduates list in 2019
Certified by Great Place to Work US as a 2019 Great Place to Work 
Recognized as Military Friendly® Employer for 2019 (and 2018)
Number 105 out of 300 for Forbes magazine's Best Employers for Women list for 2019 (and 2018)
Rated at 100 percent on the Corporate Equity Index for the Human Rights Campaign Foundation's 17th Annual Scorecard on LGBTQ Workplace Equality
As the statistics and awards show, employees mostly agree that Liberty Mutual is a good place to work, the company is committed to giving back, and it actively supports diversity in the workforce.
Glass Door provides some additional information from employees working for Liberty Mutual. Their data indicates that surveyed employees rank the company as 3.3 out of five stars, based on several categories, which we've summarized in the below table.
– Cheap Car Insurance Rates
When shopping for car insurance, you want to know you're getting the best bang for your buck. We all know its a required expense if you drive or own a car, so making it fit your budget is something every driver must consider.
We've pulled Quadrant data and analyzed it in a variety of ways to help you make decisions regarding whether or not Liberty Mutual is the right fit for you, based on possible rates. However, when looking at this data, it is important to keep in mind that there are numerous factors insurance companies consider when adjusting your rates, and these numbers are averages, so they are a good baseline for what you might pay but are not exact quotes.
Read on to learn more about what Liberty Mutual Insurance costs in your area, how age and gender can affect rates if you purchase a policy with Liberty Mutual, and more.
Liberty Mutual's Availability and Rates by State
Liberty Mutual Insurance is available in all 50 states and the District of Columbia. The average rates for Liberty Mutual Insurance in states across the country are listed in the table below, compared to the respective state average (including all insurance companies) for each state.
For those states with available data (eight of those listed did not have data available), 84 percent of the Liberty Mutual Insurance rates are higher than the state average for insurance coverage.
Comparing the Top 10 Companies by Market Share
Now that we know what the average rate for Liberty Mutual's coverage is across the country, how does it compare to the other companies in each state? In the below table, we've pulled together rate information for the top 10 insurance companies in every state (including Liberty Mutual), compared to the state average.
When we compare Liberty Mutual's insurance rates to the other large companies in each state, we see their rates vary from state-to-state.
In some cases, like Indiana, for example, Liberty Mutual is the most expensive of the top 10, with its rates ranging between 48 and 250 percent higher than those offered by the other listed companies. However, in states like Alabama and Iowa, Liberty Mutual is in the middle of the pack, and in Colorado, Liberty Mutual offers the lowest rates of the companies listed.
Average Liberty Mutual Male vs Female Car Insurance Rates
As we mentioned previously, there are a number of factors insurance companies consider when adjusting rates. One common factor insurance companies often include when adjusting rates is gender. We've compiled national Liberty Mutual average rates for men and women in four different age groups (and also included marital status) in the below table.
It is interesting to note that nationally, Liberty Mutual appears to charge men more for insurance coverage than they do women. At 17, men pay 18 percent more than women, they pay 13.72 percent more at 25, and while married at 35 and 60 they pay 1.4 and 6.8 percent more, respectively.
It is important to keep in mind when reviewing these numbers that they are national averages, and state-specific laws may apply that can affect your rates.
For example, more and more states are changing laws to prohibit the use of gender as a factor in rate adjustments because it is discriminatory toward those who do not identify as gender-binary. At this time, California, Hawaii, Massachusetts, Montana, Pennsylvania, North Carolina, and parts of Michigan have all made it illegal for insurance companies to use gender as a factor.
Average Liberty Mutual Rates by Make and Model
What kind of vehicle do you drive? This is another factor insurance companies typically consider when adjusting your rates. Why? Because insurance companies base rates on the risks associated with the cost of a claim, should it be filed. This means what you drive has an effect from the perspectives of cost/value of your vehicle, how likely it is to be stolen, the potential cost of repairs, and more.
In this table, we compare Liberty Mutual's average national rates for five popular vehicles.
Across the five vehicles, there are minor variations in rates, with the cheapest coverage being for the 2015 Toyota RAV4 XLE and the most expensive coverage being for the 2018 Toyota FVA4 XLE. There is only a 7.19 percent difference between the average coverage rates for these two vehicles.
Average Liberty Mutual Commute Rates
Do you spend a significant amount of time commuting to work each day? If so, this may be a factor for your insurance rates. Essentially, for some companies, the more miles you drive, the higher your insurance rates. Why? Because the more you drive, the higher your likelihood of being in an accident or other events that result in you filing a claim.
In the below table, we've pulled Liberty Mutual's average national rates for insurance based on commute length to see if this may be a factor.
While this may vary from state-to-state, at the national level, Liberty Mutual's rates for longer commutes (an average of 12,000 miles per year) are only about 2.6 percent higher than their rates for shorter commutes (an average of 6,000 miles per year).
Average Liberty Mutual Coverage Level Rates
In general, you can choose to purchase a policy with either high, medium, or low coverage. The decision is often based on your specific needs, risks you may face, and what you can afford, and only you can determine the best fit for your needs. Typically, the more coverage you have, the higher your premiums will be.
Take a look at this table to see Liberty Mutual's average national rates for high, medium, and low car insurance coverage.
As you can see, Liberty Mutual follows the standard approach to coverage levels, and charges more for each increasing level of coverage. The overall difference between high and low coverage is 9.48 percent, while the difference between high and medium coverage is 4.91 percent.
Average Liberty Mutual Credit History Rates
Another factor many companies take into account when adjusting your coverage rates is your credit score because many companies consider this a sign of your overall responsibility (i.e., if you have a good credit score, you will also choose to drive responsibly).
With that in mind, in the below table, we outline Liberty Mutual's average rates for good, fair, and low credit scores.
In looking at this data, keep in mind that according to Experian, the average credit score across the United States is 674, which is considered a good credit score.
A quick breakdown of the credit score categories is below, with an outline of how this can affect your insurance rates if you have a policy with Liberty Mutual.
Good Credit (670+) = average annual premiums: $4,388.18
Fair Credit (580-669) = 28 percent increase: $5,604.24
Poor Credit (300-579) = 101 percent increase: $8,802.22
Average Liberty Mutual Driving Record Rates
As you might expect, many companies also take your driving record into consideration when adjusting your rates. The more traffic violations on your record, the higher risk you are, and the higher your rates will likely be.
Check out this table to see Liberty Mutual's average national rates for various driving record examples.
As you can see, while different traffic violations have differing consequences in terms of how much your rates may increase, it is in your best interest financially (and for the safety of yourself and other drivers on the road), to drive responsibly and maintain a clean driving record.
For a single traffic violation (any of the three listed above), Liberty Mutual increases their rates by an average of 36.28 percent (we averaged the rates for the three traffic violations to calculate this percent increase over a clean driving record).
Coverages Offered
You know, depending on your level of coverage, your insurance rates may vary, but what kind of coverage does Liberty Mutual offer? What are your options? It's important to know this because while knowing how insurance coverage fits into your budget is important, it's just as important to have the right coverage for your needs, to ensure you're financially protected in the event something happens (a car accident, weather damage, etc.).
In the next few sections, we'll discuss the kinds of coverage Liberty Mutual offers that you can purchase or add to your policy through Liberty Mutual, as well as discounts, bundling options, programs, and more.
Types of Coverages Offered
Liberty Mutual's standard liability auto insurance policies (which are focused on meeting the minimum legal coverage requirements) come with the following coverage types:
MedPay – covers you and anyone in your vehicle (up to a certain threshold) for medical treatment, hospital services and funeral expenses regardless of fault
Bodily Injury Liability – covers medical treatment (up to a certain threshold) for anyone you injure in an accident you cause
Property Damage – covers the cost of damages (up to a certain threshold) of other individuals' property (but not yours) in an accident you cause
They also offer a number of add-on coverage types to ensure you have what you need (remember their focus is customizable policies tailored to your needs). These include:
Uninsured Motorist – covers your damages if you are in an accident with an uninsured driver
Personal Injury Protection – covers your medical expenses, lost wages, etc. after an accident (this extends the coverage you already get through MedPay, beyond what is included with that coverage)
Collision – covers the cost of repairing or replacing your vehicle if it is damaged as the result of an accident (you will have to pay your deductible before the coverage kicks in)
Comprehensive – covers the cost of repairing your vehicle if it is damaged by anything besides an accident (for example, if your car is damaged by a hail storm, a flood, or if it is vandalized); like with collision coverage, you will have to pay your deductible first before the coverage kicks in
Liberty Mutual Deductible Fund® – enables you to reduce the amount of your deductible each year by paying an additional annual fee (we'll cover this in more detail in a later section)
Accident Forgiveness – if you are eligible, and have this coverage, your first accident will not result in a rates increase (we'll also cover this in more detail in a later section)
Lifetime Repair Guarantee – if you have this coverage, Liberty Mutual will handle all the logistics of getting your vehicle repaired, and they will guarantee those repairs for the entire time you own the vehicle (the caveat is that your repairs must be completed by one of their Guaranteed Repair Network facilities)
New Car Replacement – with this coverage, you can get a brand new car (equal to the value of your current vehicle's original value) if yours is totaled as the result of a car accident; however, your vehicle must be less than one year old and have fewer than 15,000 miles
Better Car Replacement – if you add this coverage to your policy, and your vehicle is totaled in a car accident, you will be provided with the funds to purchase a new vehicle that is one model newer than your totaled vehicle, and that has 15,000 fewer miles than that vehicle had
Rental Car Reimbursement – including this in your policy means that if your vehicle needs repairs due to a covered loss, Liberty Mutual will cover the cost of a rental car while your vehicle is being repaired (but only if your vehicle is repaired at an approved facility and Liberty Mutual rents the car for you)
Towing & Labor – this coverage is part of roadside assistance (which we'll talk about in a later section) and will cover the cost if your vehicle needs to be towed for any reason
Auto Loan/Lease Gap – this coverage protects you financially if your vehicle is totaled and you are still paying off your car loan by covering the remaining amount on your loan (but only if your car's value is less than what you still owe);
Original Parts Replacement – including this on your policy means you can replace any damaged parts on your vehicle with original manufacturer (or comparable) parts;
Teachers Car Insurance – this coverage provides additional protection for any vandalism or collision that occurs on school property, as well as covers the cost of any school supplies stolen from your vehicle while it is on school property
Mexico Car Insurance – this coverage is necessary if you plan to drive across the border; the level and duration of coverage is up to you, based on your needs
Liberty Mutual's Bundling Options
Liberty Mutual strongly recommends their policyholders consider bundling their insurance.
They primarily focus on home and auto insurance bundles. If you choose to bundle these two, you will save money through their Multi-Policy Discount program. If you have renters insurance with Liberty Mutual, you can also receive a Multi-Policy Discount by bundling it with any other insurance coverage policy you have with the company.
Discounts
We've already discussed that Liberty Mutual offers discounts if you bundle your home and auto (or your renter's insurance and any other policy you purchase). But what other discounts do they offer?
We've compiled the kinds of discounts the company offers as well as the amount you can save if you qualify for these discounts in the below table.
It's important to keep in mind that not all discounts are available in every state. Additionally, you'll need to speak with an agent to find out which discounts you may qualify for when purchasing your policy.
Below, we've explained the potential discounts in a bit more detail.
 – Vehicle Equipment
If you have any safety or theft-related technology included on your vehicle, its worth your while to spend a few minutes discussing those items with your insurance agent, because some of them may mean discounts on your policy. For Liberty Mutual, these include:
Adaptive Cruise Control
Adaptive Headlights
Anti-Lock Brakes
Anti-Theft
Daytime Running Lights
Driving Device/App (like IntlliDrive, SmartRide, Snapshot, or Drivewise)
Electronic Stability Control
Forward Collision Warning
Lane Departure Warning
Passive Restraint
VIN Etching (VIN etched on windows to reduce the value of a stolen vehicle)
Two of particular interest are the adaptive cruise control and lane departure warning. Both of these are somewhat unusual in that not many car insurance companies offer discounts for these two safety-related technologies. With that in mind, if you have either of these on your vehicle, you may want to speak with a Liberty Mutual insurance agent to see what these can do for your rates.
 – Multiples
You already know having multiple policies with Liberty Mutual means you can bundle your policies and save. However, you can also save if you have multiple vehicles insured under the same policy with Liberty Mutual.
 – Young Drivers
As you saw earlier, when we discussed how gender, age, and marital status could affect your rates, the younger you are, the higher your rates will typically be. To help offset this, Liberty Mutual offers a few different discounts for young drivers.
If you are a good student, you may receive some discounts. However, in order to qualify, you typically must be under the age of 25, maintain a "B" average (or a 3.0 GPA), and be in the top 20 percent of your class. To find out specifics for the requirements at Liberty Mutual in your area, you'll need to speak with an insurance agent.
You may also qualify for a discount if you've graduated in the past year (which is not a commonly offered discount among the major insurance companies).
Liberty Mutual also offers discounts to any newly licensed drivers, regardless of age.
If you are a teen driver, you may qualify for a "young driver" discount. In addition, if you take a "teenSMRT " class, which typically costs about $70.00, you may be able to qualify for another discount.
 – Environmentally Friendly
Like many insurance companies, Liberty Mutual offers discounts for environmentally-friendly choices. These include owning a "green" vehicle and electing to use paperless or auto-billing options.
 – Stability
Insurance companies like variables that point to your stability, these can be indicators that you'll be a responsible driver, pay your bills on time, etc. Some of the indicators they consider (and can get your discounts) at Liberty Mutual are listed below.
Full Payment
Homeowner
Married
Membership/Group
The "membership/group" discount is offered to members of participating groups, organizations, associations, etc. Your insurance agent can help you determine if you qualify for this particular discount. Currently, over 14,000 entities are included by Liberty Mutual for this particular discount.
 – Driving record
You already know having a clean driving record will help ensure your rates do not increase. But did you know, having a clean record can also qualify you for discounts on your car insurance premiums? At Liberty Mutual offers discounts for the following:
Claim Free
Defensive Driver
It is important to note that the defensive driver discount is typically only offered to drivers over the age of 50, and the low mileage discount is usually only offered to drivers who log less than 5,000 miles per year. You'll need to speak with an insurance agent to find out the specifics in your area.
Driver's Education
As another sign of making responsible choices, Liberty Mutual (along with a number of other insurance companies) offers discounts to drivers who have at least a four-year college degree. Additionally, you may receive discounts if you are a student or alumnus of certain schools (your insurance agent will be able to tell you if you qualify).
 – Driver's Employment
In some cases, your place of employment (or employment status) may qualify you for certain discounts. Federal employees and active duty military receive discounts from Liberty Mutual, as do recent (within one year) retirees. Speak with an insurance agent to find out what other occupations may qualify you for discounts.
 – New
Liberty Mutual offers some unique discounts for customers, specifically focused on those who have moved to a new address, are new customers, or purchase a new plan.
Similar to many other insurance companies, they also offer a discount for switching from another provider to Liberty Mutual.
Liberty Mutual's Programs
Liberty Mutual offers a number of programs that save you money, add additional protection in the event of an accident or damage to your vehicle, and more.
A specific way in which you can obtain additional discounts when you purchase a policy through Liberty Mutual is to exercise the usage-based applications they offer. These applications track various aspects of your driving to see if you qualify for related discounts.
The HighwayHero application tracks your driving habits and behavior and awards you a score. The better your score, the higher your likelihood of qualifying for discounts.
The ByMile application tracks your monthly mileage. Lower mileage can qualify you for discounts.
The RightTrack Mobile application, similar to HighwayHero, tracks your driving habits and offers driving feedback and tips. Safe driving can qualify you for discounts.
Liberty Mutual's Accident Forgiveness program is structured to save you money by ensuring your rates do not increase after your first car accident. It is considered additional coverage that you must add to your policy. However, in order to qualify for this additional coverage, you must be able to prove you have maintained a clean driving record (free of both traffic violations and car accidents) for at least five years.
The Liberty Mutual Deductible Fund® is a program that allows you to decrease your collision coverage deductible over time gradually. If you enroll in this program, a $30 annual fee will be added to your bill. Each year you remain enrolled in the program, your deductible will be reduced by an additional $100.
This means that if you remain enrolled in the Liberty Mutual Deductible Fund® program for at least five years, you'll reduce your $500 deductible to zero. If you remain enrolled beyond the five years, Liberty Mutual notes that you'll keep earning and saving after you reach the $500 threshold.
Liberty Mutual offers its insureds the option to include  24/7 roadside assistance in their policies. However, a prerequisite to accessing this add-on is including the "Towing & Labor" coverage in your policy. Once you add "Towing & Labor" coverage to your policy, you can add the 24/7 roadside distance coverage. If you need a tow, your battery jumpstarted, a flat changed, or more, all you need to do is call 1-800-426-9898.
What Stands Out, And What's Missing
Liberty Mutual offers a variety of discounts and programs to help its insureds purchase and maintain the coverage they need. Some of the standouts include the Liberty Mutual Deductible Fund® and their wide variety of discounts.
However, there are some gaps worth briefly noting. The company does not currently offer its customers any kind of loyalty discounts or rewards programs. Additionally, they do not offer customers any discounts for owning newer vehicles or safe-driver-specific discounts (though they do have some usage-based applications we previously discussed that can result in good driver discounts).
Free Car Insurance Comparison
Enter your ZIP code below to view companies that have cheap car insurance rates.
Secured with SHA-256 Encryption
Canceling Your Policy
If you need to cancel your insurance policy with Liberty Mutual for any reason, you can do so with the help of one of their insurance agents. However, it's important to keep in mind that if you cancel your policy, you will need to have another policy ready, so there is no gap in insurance coverage.
This is especially important because nearly every state in the country requires you to maintain some amount of minimum insurance coverage, which means to avoid fees, fines, and even the possible suspension of your driver's license, you will need to ensure you do not have a gap in coverage. 
Cancellation Fee
While Liberty Mutual makes it easy for you to cancel your insurance coverage, you may have to pay a cancelation or early cancelation fee. They do not mandate this at a corporate level, but in some states, this is considered standard.
Most of the company's insurance policies are sold in 12-month increments, so if you choose to cancel before the 12-month timeframe is up, you may be required to pay an early cancelation fee.
Whether or not you must pay a cancelation/early cancelation fee and how much that fee will cost you varies from state-to-state, so your best bet is to speak with your insurance agent to find out what specifically applies to you.
Is there a refund?
Liberty Mutual will refund you any prorated policy premiums you've already paid. However, there may be a delay after you cancel before you receive that refund.
How to Cancel (Step-by-Step Guide)
As we've noted, canceling your policy with Liberty Mutual is easy. Before you cancel, you'll want to consider whether or not you have the replacement coverage you need to ensure there is no gap in your insurance coverage (as we already discussed, this can result in fines and even suspension of your diver's license).
Step #1: Obtain Your Policy number
The first step is to have your policy number prepared, so you have the information at the ready when you speak with an agent about canceling your policy.
Step #2: Call Liberty Mutual
When you're ready to cancel your insurance policy, you will need to call Liberty Mutual to initiate the process. The request that you call them at 1-800-290-8858 and ask to speak with a licensed agent.
Step #3: Ask for a Cancelation
When you speak the licensed agent, ask for your insurance policy to be canceled (referencing your policy number). When you request the cancelation, you'll also need to indicate the date on which you want your policy to be terminated.
Step #4: Confirm the Cancelation
Before you end the phone call, request the insurance agent confirm that your cancelation went through and that it will be effective on the date you indicated.
When can I cancel?
You can cancel at any time. However, as we mentioned previously, Liberty Mutual typically sells 12-month policies, so if you cancel before the 12-month policy expires, you may be required to pay a cancelation fee.
The exact amount of this fee and whether or not you'll be required to pay it (and the exact amount) varies based on your location and policy, so you'll need to speak with a licensed agent to find out specifics for your situation.
How to Make a Claim
No one wants to be in a situation that requires filing a claim. However, should this happen to you, Liberty Mutual makes it easy.
If you're not sure whether or not your situation requires filing a claim, they have a free online resource that can help you make the correct decision.
Ease of Making a Claim
If you do need to file a claim, Liberty Mutual has a few options for doing so:
Online through their Claims Center
Through the Liberty Mutual App
Over the phone by calling 1-800-225-2467
By contacting your insurance agent
No matter how you choose to file, it's important to collect the following information:
Time and location of the accident
Photos of the accident
Year, make, and model of the other vehicles involved
Contact information, insurance company, and policy numbers from the other drivers
A brief description of the accident
Names and contact information of witnesses
Liberty Mutual suggests using the Accident & Roadside Assistance function in the Liberty Mutual App to collect this information because when it comes time to fill out the claims submission form, it will pre-populate with the information you already collected.
Premiums Written
Direct premiums written is the dollar amount of policies written and sold to insureds by a company. The direct premiums written for a company dictates how much of the market share a company holds, as well as their rank as compared to other companies (i.e the order, by the size of the company/market share they hold).
Take a look at this table to see Liberty Mutual's direct premiums written (provided by the NAIC) for the past four years, and their resulting market share and rank as a company.
It is interesting to note that the direct premiums written has steadily increased across all of the past four years. However, market share has not increased along the same line. In fact, for 2018, though direct premiums written increased, market share actually decreased slightly.
In addition to indicating company growth (or lack of), we can also use direct premiums written (along with a couple of other important figures) to calculate loss ratio (also provided by the NIAC), which we'll discuss in more detail in the next section.
Loss Ratio
What is loss ratio, and why should you care? Loss ratio is a number the NAIC calculates to indicate whether or not a company is paying out on an appropriate portion of claims.
This is important for you to know, so you can understand whether or not a company from which you purchase a policy is both able and willing to pay out on claims, should you need to file one (and is not paying out on too many claims, thereby losing money).
This loss ratio number is generated by dividing the amount of money a company pays out in claims by the total direct premiums written by that company.
Liberty Mutual's loss ratio for the past four years (along with the same rank, market share, and direct premiums written information we discussed in the previous section) is included in the below table.
So how can you tell if a loss ratio is good? Anything above 100 is too high, meaning a company is paying out more than they are bringing in (which is obviously not a positive situation, financially speaking).
A healthy loss ratio is between 60 and 80 percent, which means Liberty Mutual is in good shape, from the loss ratio perspective. If you need to file a claim, Liberty Mutual is in a good position to pay out on it (should they determine this is appropriate), because their loss ratio ranges between 62 and 67 percent.
How to Get a Quote Online
Step #1 — Start Off with Your Zip Code


From Liberty Mutual's homepage, select "Auto" from the insurance categories and enter your zip code. You can also click on the location marker in the zip code box and hit "Allow" on the popup that appears and Liberty Mutual's site will input the zip code of your current location.
If you want to get a quote for an auto insurance bundle policy, you can click one of the options to add home, renters or condo insurance to your request. This article will cover the process of requesting an auto insurance policy. When you're ready to continue, click "Get a Quote".
Step #2 — Enter Your Address
The first thing you'll see when you begin the first true step of the quote request process at Liberty Mutual is this:

This simple introduction leads you to the first prompt of the process, which is a form for you to enter your address. If you're moving, you can provide your future address.
Your location is a factor in how much you'll pay for car insurance. Each state has its own auto insurance requirements and the average cost of auto insurance in the US varies from state to state and even sometimes county to country.
When you're ready to proceed, hit "Save & Continue".
 Step #3 — Enter Your Name, Email, and Explore Prefill Options
Now it's time to start providing some more personal information that will assist the quotes process and help give you an accurate rate. Enter your legal first and last names followed by your date of birth.
Liberty Mutual explains on the page that your birthdate is used to confirm your identity and current insurance status, but your age is also another important factor when it comes to calculating car insurance costs.
If you'd like, Liberty Mutual can use the address, name, and birthdate provided to find any vehicles registered to you through a third-party. This information can then be automatically added to the system, saving you the time of having to input everything yourself.
If you aren't comfortable with this idea, that's okay. You can click "No" on the question prompt. If you'd like to learn more before you decide, check out the Information Disclosure agreement at the bottom of the screen and read the popup that appears.
You'll also have to enter your email at this stage so Liberty Mutual can use it to send you your quote.
Step #4 — Enter Your Vehicle Information
The Vehicles section of the Liberty Mutual's quote process is straightforward and easy to navigate. You won't be bombarded with a ton of different boxes but instead only have to fill information out one step at a time.
You can, however, preview the type of details you'll have to provide, so now is a good time to make sure you have all the necessary documents and information on your car(s) before proceeding.
You can choose to enter your vehicle's make, model, trim, body type, and other specifics by hand or you can enter your Vehicle Identification Number (VIN). This ID is unique to every car and can tell an insurance provider everything they need to know quickly.
Find your VIN on the side of your driver's side door frame or on the windshield where the glass meets your dashboard.
Step #5 — Don't Be Afraid to Step Away
If you need to take a break and come back later, don't worry. Your quote will be saved right where you left off. If you're inactive for a certain period of time, the system will save your info with a unique quote ID. To resume your progress, just enter your email address and zip code.
Step #6 — Learn About Discounts
In many cases, Liberty Mutual will automatically apply discounts that your vehicle qualifies for once you provide the necessary information.
There are tons of different ways to save money on car insurance, and selecting the safety features that the quotes wizard presents can help you save even more. Anti-lock brakes, anti-theft devices, and additional safety features can all save you money in premiums.
Check out our comprehensive guide to auto insurance discounts so you can bring them up to an agent when you sign up for a new policy.
Step #7 — Round Up Your Driving Experience
The final stage of the vehicle information collection process will require you to specify the year you got your current vehicle, answer whether it's owned, financed, or leased, and the primary use. Most people will select personal, but if you use your car to operate a business or conduct work-related activities like sales calls, then you'll select business.
You will also have to estimate your annual mileage; the Federal Highway Administration found that the average American drives 13,476 miles per year as of March 2018.
Step #8 – Add Drivers

Next, you'll want to list every driver of the vehicle(s) you're requesting quotes for even if they already have their own insurance. If you're married, then make sure you include your spouse's information. Your name and age will already be listed, so choose a gender and answer whether or not you're in a civil union.
You will have to provide additional information for each new driver. As you proceed, you'll have to input your homeownership status, when you were first licensed, and answer whether or not you've been involved in any accidents within the last 5 years.
You can also provide your SSN, but we recommend holding off on this until you're buying a policy.

Step #9 — Find Out if You Qualify to Save More
You can provide additional information that can qualify you for greater discounts; being a college student or graduate, an active duty, reserve member or veteran, and even owning a smartphone can qualify you for discounts.
Step #10 — Provide Insurance Information
If you currently have car insurance and are looking to switch carriers, you'll need to provide information about your current company and policy. Speak to an agent at your current company as well to make sure you're able to transfer coverage or cancel your policy before buying a new one.
Step #11 — Decide if RightTrack is Right for You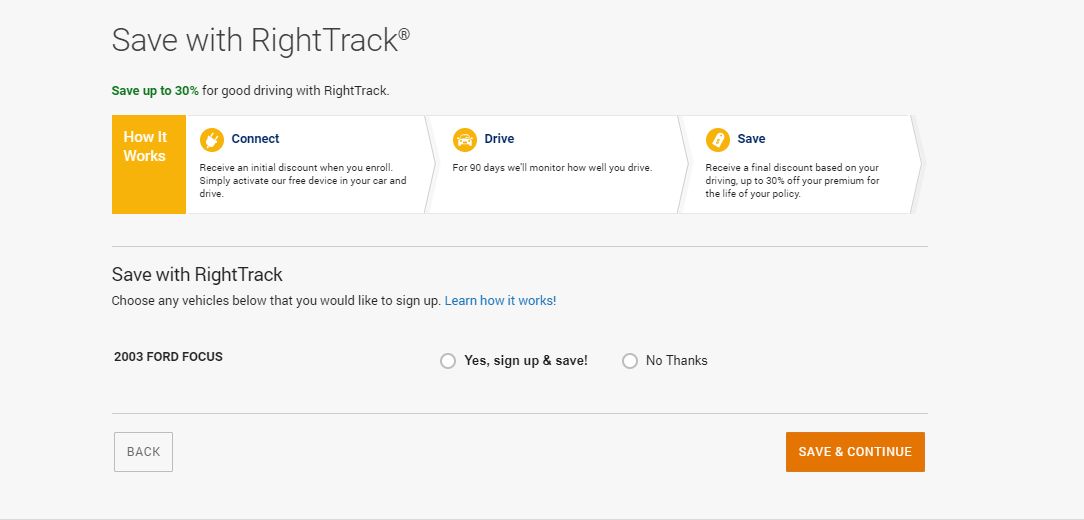 Liberty Mutual's RightTrack program rewards drivers with good records to help them qualify for additional discounts and savings on their auto insurance. Enrolling in the RightTrack program automatically gets you a discount.
You'll have to install the RightTrack device in your car and drive for 90 days; your driving habits and mileage will be monitored and recorded by Liberty Mutual. At the end of the 90-day period, if you've driven responsibility, a discount of up to 30% will be applied to your policy.
Step #12 — Review Your Quote
Your quote estimate will be presented on the next page and broken down in amounts. You'll be able to edit coverages and change information you provided from this screen, as well as chat with a live agent if you have questions or want to move forward with purchasing a policy.
What you'll need to apply
To help you be prepared when you're ready to request a quote, we've included all the information you'll need to provide in the table below.
Information Required
Driver Information
Name
Date of Birth
Street Address
Garaged Address (if different than street address)
Email
Phone Number Home Ownership Status
Vehicle Information
VIN Number
Year
Make
Model
Trim
Body Style
Anti-Theft Devices
Anti-Lock Brakes
Ownership Status (own, lease, finance)
Annual Mileage
Driving History
Age First Licensed
Recent (within the past 5 years) accidents, violations, or auto insurance claims
Free Car Insurance Comparison
Enter your ZIP code below to view companies that have cheap car insurance rates.
Secured with SHA-256 Encryption
Design of Website and App
To ensure easy accessibility, Liberty Mutual maintains both a website and a mobile app. But how user-friendly are these options? Do they meet customer needs? Keep reading over the next few sections to find out details on usability and accessibility of the online and mobile platforms customers of Liberty Mutual are encouraged to use.
Website
For many customers and potential customers, the website the first place you go to find out information, get a quote, obtain contact information and phone numbers, and more. With that in mind, a well-designed and user-friendly website is key. Overall, Liberty Mutual's website is simple, accessible, and usable.
How easy can you find answers?
In general, Liberty Mutual's website is easy to navigate and find information. The homepage immediately offers you the option to get a free quote.
You can find a local agent directly from the homepage, and if you're an existing customer, you can also log in to access your policy.
The menu at the top right-hand corner of the page offers easy-to-navigate options that address commonly-accessed topics on the website.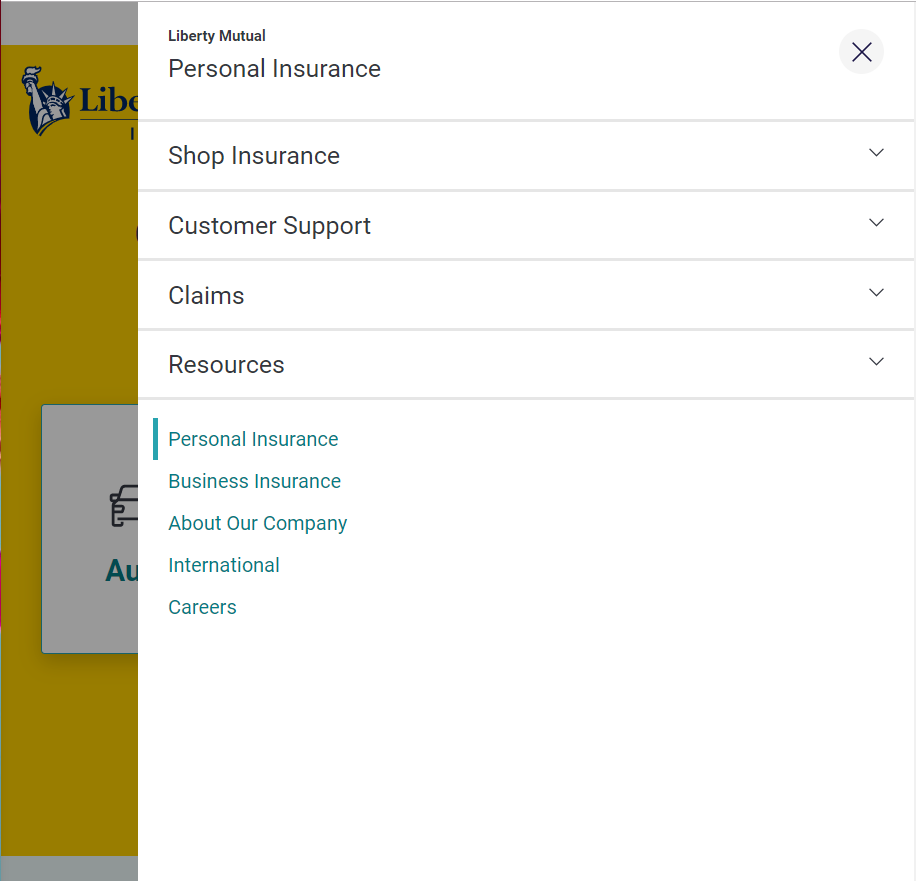 As you can see on the main menu, the website navigation separated into a few primary categories focused on what you as the consumer need. Finding resources like how to reduce your rates, coverage calculators, and links to the Liberty Mutual App is also simple because a tab titled "Resources" is included on the main menu.
If you can't find what you're looking for, the website also has a search function (indicated by the magnifying glass icon at the top right-hand corner of the page) that allows you to search within the website for whatever you're looking for. To see how it worked, we searched "cancel policy," and got the following result:
Mobile access to the website is well-executed. The interface on a mobile device (i.e., phone or tablet) is nearly identical to the interface on a computer but mobile-enabled so the site adjusts smoothly to a smaller screen size
Is the design a plus or minus?
The design for this website is a plus, as it facilitates the ease of use and accessibility. It is simple and clean-looking. The pages are not too text-heavy, and there are relevant images when appropriate.
Mobile App
The Liberty Mutual mobile app is available on all mobile devices. You can download it from either the App Store or the Google Play Store. According to Liberty Mutual, you can use the app to pay your bills, update policy information, file and manage claims, request roadside assistance, and more.
The Liberty Mutual Mobile app has a 4.7-star rating in the Google Play Store and a 4.8-star rating in the App Store (there is a combined total of over 32,000 reviews on the app).
Despite the mostly positive reviews, there are still a few bugs some users have noted.
Some customers have experienced the app freezing, crashing, or showing a blank screen when they try to update their policy information, pay bills, or make other minor account changes.
The fingerprint scanner does not always work.
Logging in does not always work, and some customers noted they could not paste in passwords, and instead have to type them manually.
Updates can cause issues in the app both due to bugs, and because of the resulting user interface changes.
How easily can you manage your account using just the app?
Customers largely state that managing their accounts is simple through the app. However, some of the negative feedback we referenced in the previous section addressed issues related to this. Specifically, making account changes can cause the app to freeze, or the changes to not take effect.
Additionally, there are complaints that you cannot turn off "auto-pay " through the app, even though that is supposed to be an option. Instead, some users said they needed to log into their account through the Liberty Mutual website instead.
Is the design a plus or minus?
Feedback on the app's design is mixed. Before a recent update, most users appeared to like the design of the app. However, since the update, some users stated that the app is more difficult to navigate, and the home screen now includes a number of functions they do not use, but that they have to navigate through and past in order to reach the functions they do use.0
It is important to also keep in mind that the overall user experience for the app has received positive feedback with overall 4.7- and 4.8-star ratings.
Pros and Cons
To close out this review of Liberty Mutual, we'll consider some pros and cons associated with the company.
Picking a provider like Liberty Mutual has many benefits and is widely available (you can purchase a policy from them in all 50 states and the District of Columbia).
The company offers a wide variety of discounts, as we previously discussed. They have discounts in numerous categories, including environmentally friendly, new driver, and good driver. However, they are noticeably missing loyalty discounts, which most insurance companies offer to their long-term customers.
Their policies are highly customizable. When you purchase a basic policy from Liberty Mutual, the only items included are those that are typically required as a part of a state's minimum liability coverage. Beyond that, additional coverage can be chosen based on specific needs.
Unfortunately, Liberty Mutual has received mixed customer service reviews, and their JD Power Circle Rating places them only at "about average." Additionally, their rates, on average, are the most expensive of the top ten insurance companies in the country by a fairly significant margin (though this varies state-to-state). Their average rate is almost 25 percent higher than the next most expensive average rate in the country.
The Bottom Line
Liberty Mutual's consistent market share percentage and rank as the sixth-largest insurance provider in the country indicate that the company is well able to gain and keep customers. Though their rates are on the high end, their numerous and varied discount options help to manage the cost of premiums.
The company also shows a strong commitment to corporate responsibility and donates millions of dollars and hours in local communities each year.
While Liberty Mutual has received some mixed reviews regarding their customer service and mobile app, overall, they present a strong, consistent front that is backed by their long-running history as a company, their market share, rank, and financial ratings.
However, ultimately, only you can decide if Liberty Mutual is right for you and your needs. We recommend getting quotes from a few different companies, to see what your options are, and how well each company can meet your needs and budget.
Now that you've read through the information, you need to decide if Liberty Mutual is right for you, are you ready to start shopping for insurance? As a first step, take a few minutes to enter your ZIP code in our free quote comparison tool today.
Reviews

for Liberty Mutual Insurance