Compare Washington Car Insurance Rates [2023]
What is the average cost for car insurance in WA? Liability coverage is $50 a month. The minimum Washington car insurance requirement is 25/20/10 for bodily injury and property coverage. We'll share how to compare Washington car insurance rates to get the best coverage at the most affordable price.
UPDATED: Sep 2, 2023
Fact Checked
Free Car Insurance Comparison
Compare Quotes From Top Companies and Save
Secured with SHA-256 Encryption
Joel Ohman
Founder & CFP®
Joel Ohman is the CEO of a private equity backed digital media company. He is a CERTIFIED FINANCIAL PLANNER™, author, angel investor, and serial entrepreneur who loves creating new things, whether books or businesses. He has also previously served as the founder and resident CFP® of a national insurance agency, Real Time Health Quotes. He has an MBA from the University of South Florida. Jo...
UPDATED: Sep 2, 2023
It's all about you. We want to help you make the right coverage choices.
Advertiser Disclosure: We strive to help you make confident car insurance decisions. Comparison shopping should be easy. We are not affiliated with any one car insurance company and cannot guarantee quotes from any single company.
Our partnerships don't influence our content. Our opinions are our own. To compare quotes from top car companies please enter your ZIP code above to use the free quote tool. The more quotes you compare, the more chances to save.
Editorial Guidelines: We are a free online resource for anyone interested in learning more about auto insurance. Our goal is to be an objective, third-party resource for everything auto insurance related. We update our site regularly, and all content is reviewed by auto insurance experts.
UPDATED: Sep 2, 2023
It's all about you. We want to help you make the right coverage choices.
Advertiser Disclosure: We strive to help you make confident car insurance decisions. Comparison shopping should be easy. We are not affiliated with any one car insurance company and cannot guarantee quotes from any single company.
Our partnerships don't influence our content. Our opinions are our own. To compare quotes from top car companies please enter your ZIP code above to use the free quote tool. The more quotes you compare, the more chances to save.
On This Page
UPDATED: Sep 2, 2023
Fact Checked
Whether you are going to the beach or the many national parks and forests in the beautiful Evergreen State, you should protect your drive with the best car insurance policy for peace of mind.
With so many choices available in the market, our guide will help you make an informed decision on the best car insurance policy that meets your needs so that you spend less time worrying and more time enjoying your drive to Mt. Rainier National Park.
You can compare Washington car insurance rates from multiple insurance providers in your area by entering your ZIP code in our FREE tool!
Washington Car Insurance Coverage and Rates
To purchase optimum coverage specific to your driving habits, you need to understand the various types of coverage and the associated rates. To enable you to make the most informed decision, we have put together this guide containing all essential insurance fundamentals such as minimum coverage requirements, liability protection, add-on coverage, and also how Washington's rates compare to other states.
What is the minimum car insurance required by each state? It's important to know how these requirements are the same or different in Washington compared to the rest of the country.
Read More: Compare Car Insurance Rates by States
Minimum Car Insurance Coverage in Washington
Does Washington state require car insurance? Washington is an at-fault state, which means that it is mandatory to have minimum auto liability insurance. According to state law, a driver is required to carry proof of minimum auto liability insurance. Electronic proof is acceptable as proof of insurance at a traffic stop.
However, not carrying proof of insurance will attract penalties and fines from law enforcement.
But what is minimum liability insurance, and is it enough? Liability car insurance pays for injuries and damages to the third party in case of an accident caused by you.
Tip: Liability insurance does not cover injuries or property damage sustained by you or your co-passengers.
Here's a real-life example to help you understand the importance of liability car insurance: You are approaching a stop sign a few blocks from your home, and out of habit you failed to stop which resulted in you rear-ending a car that joined the road ahead of you. In this case, your insurer would most probably cover the damage to the third party up to the coverage limit.
Here's a brief video from Allstate Insurance explaining liability insurance:
While minimum liability insurance is mandatory in Washington, it is only the baseline coverage that may not be adequate for your needs. You need to analyze the financial risk that you might expose yourself to if you decide to save on additional coverage. Take a look at the cost of minimum coverage in Washington and elsewhere.
You should buy liability coverage equal to the total asset value. Calculate your total asset value by adding up the dollar values of your house, car, savings, and investments.
Is there any other option besides purchasing insurance that allows you to drive in Washington? Sure, in the next section, we will look at the various forms of financial responsibility accepted in the state of Washington.
Required Forms of Financial Responsibility in Washington
If you own a vehicle registered in Washington, in place of liability auto insurance, you must have one of the following forms of financial responsibility:
Certificate of Deposit: You can apply for a certificate of deposit with the Department of Licensing (DOL) by submitting a Financial Responsibility Application and Affidavit and depositing $60,000 with the DOL.
Liability Bond: You can also purchase a liability bond of $60,000 from a surety bond company authorized to do business in Washington.
Self-Insurance: If you have 26 vehicles or more, you can apply for the self-insurance certificate number.
A liability bond is a line of credit that you pay an annual rate to maintain. In case of a liability claim, you can borrow the required sum of money from the bond; however, you are expected to reimburse the surety company for any losses they may sustain because of your actions.
We established how much liability insurance you should purchase, but you might be wondering how much an average Washingtonian spends on auto insurance. In the next section, we try to answer this question.
Premiums as Percentage of Income in Washington
While Washington boasted of the eleventh-highest average annual disposable income in the country at $45,143, the average insurance premium is roughly on par with the national average at $952.10. Which suggests a larger residual income for weekend trips.
However, here is the kicker: The full coverage premium increased by more than 6.8 percent between 2014 and 2012, while the disposable income increased by only 4.9 percent, increasing the insurance premium to 2.11 percent.
Did you know: Disposable income is the money available after taxes and withholdings are deducted from an individual's income.
The figures we shared are average numbers and do not reflect your annual income, driving record, or preferred car insurance deductibles.
Average Monthly Car Insurance Rates in WA (Liability, Collision, Comprehensive)
How much is car insurance in Washington State? A full policy includes collision and comprehensive car insurance coverage on top of the liability coverage. As per the National Association of Insurance Commissioners, the average Washington car insurance cost is roughly at par with the national average.
Additional Liability Coverage in Washington
You should refer to the loss ratio If you need to figure out if the average rate is expected to increase soon or if the insurer is paying its claims. The loss ratio is the percentage calculated from the total claims a company serviced compared to the total premium it earned.
A high loss ratio might indicate a higher premium in the future because the company is facing higher claims than its income, whereas if the loss ratio is lower than the average it might mean that the company is not paying its claims.
Uninsured and Underinsured Motorists Coverage in Washington
At 17.4 percent, Washington has the seventh-highest number of uninsured drivers in the nation. While it is not mandatory to purchase uninsured coverage, it is prudent to buy the additional coverage given the high number of uninsured drivers in the state.
Do you know: Uninsured motorists coverage is designed to protect you in case of an accident where an uninsured driver is at fault.
See this brief video to know more about uninsured motorist coverage:
Add-ons, Endorsements, and Riders
In addition to options like collision and comprehensive insurance, there are other additional car insurance coverages to consider in creating your insurance policy, such as:
Personal Umbrella Policy (PUP)
Emergency Roadside Assistance
If you're wondering "Do I need additional car insurance coverage?" it's important to talk to your agent about your car insurance needs.
Average Monthly Car Insurance Rates by Age & Gender in WA
Compare car insurance rates for teen drivers for more information. Although with age the insurance rate normalizes, gender remains a factor with female rates lower than male rates on average.
As you can see from the table, a teen will benefit from shopping around to save on premiums. A 17-year-old female driver can potentially save $6,000 by opting for Geico or Allied P&C instead of First National.
Cheapest Rates by ZIP Code in Washington
Let's take a look at what the cheapest and most expensive ZIP codes are in Washington.
As evident from the table, USAA and Allied P&C offer the cheapest insurance across different ZIP codes. Although these are average rates and your insurance rate will depend on your specific case, it would be prudent to get a quote from USAA (if you are eligible) or Allied P&C.
Washington Car Insurance Rates by City
The tables below show which cities have the cheapest and most expensive car insurance rates.
Port Townsend has the cheapest car insurance rates in Washington.
We see from the data that car insurance options in Seattle and Tacoma will have some of the highest average premiums in the state.
Free Car Insurance Comparison
Enter your ZIP code below to view companies that have cheap car insurance rates.
Secured with SHA-256 Encryption
Best Washington Car Insurance Companies
You might be wondering how you should choose your insurer. Purchasing your auto insurance is more than just choosing the cheapest provider. You should include considerations such as the financial health of the insurer, reputation, credit rating, and loss ratio. Fret not as in this guide we will help you figure out which insurer best suits your needs. Find the absolute cheapest car insurance online to get better rates.
Financial Ratings of the Leading Insurance Companies in Washington
The first step in finalizing an insurer is to understand the financial strength of the company. Since not all of us have a business degree to analyze the balance sheet of several insurance providers, we will take the help of financial ratings from AM Best's credit rating.
AM Best is one of the most reputed credit rating agencies in the insurance industry. A sound credit rating of an insurer indicates that a company is financially capable of settling future claim obligations.
Customer Satisfaction Ratings of Car Insurance Companies in Washington
Financial rating is a good objective metric to figure out if a given insurer can meet future claims settlement obligations. However, subjective customer reviews provide valuable insight into factors such as quality of service, response time, claim settlement process, and much more. J.D. Power is the best source to access customer reviews through its customer satisfaction ratings.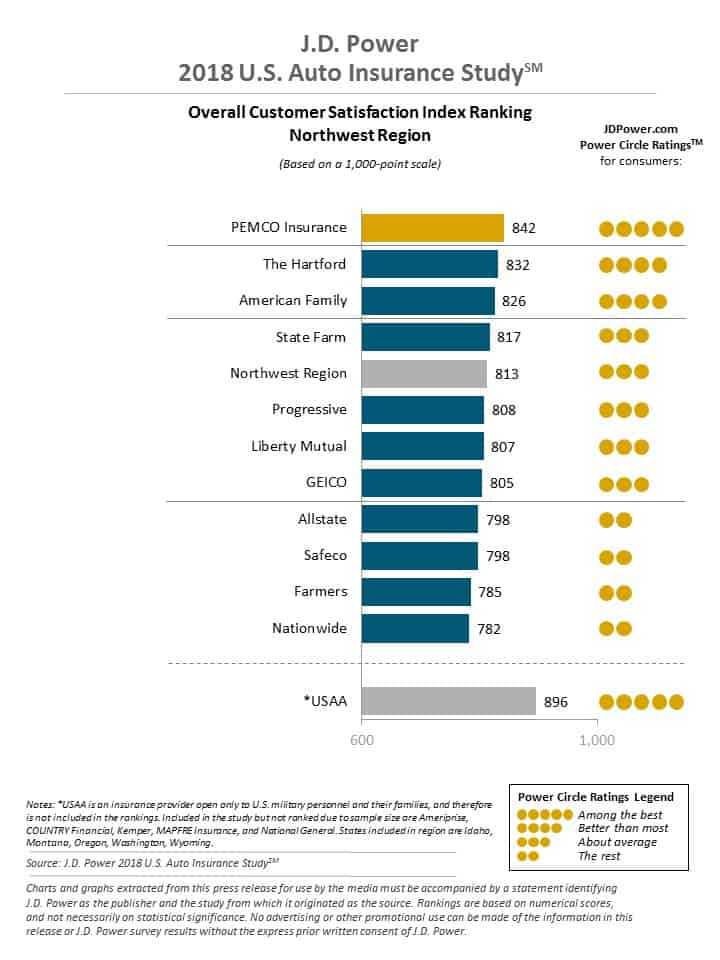 Per the 2018 J.D. Power U.S. Auto Insurance Study,  USAA, PEMCO, and The Hartford have the best customer satisfaction ratings in the northwest region.
Washington Car Insurance Companies with the MOST Customer Complaints
Analyzing complaints data is fundamental to understanding the service quality of an insurer before purchasing a policy. In the competitive market, insurers are trying to retain customers by improving service quality along with lower rates.
However, if you feel dissatisfied with the service provided by the insurer, you can complain to the Office of the Insurance Commissioner. The complaints ratio of the company includes all successful complaints lodged against the insurer.
Do you know: Complaints ratio is simply the number of complaints received per 100,000 policies written. A high ratio for a company compared to peers indicate that the quality of service may be unsatisfactory.
Here's the data for the complaints ratio for top insurers in Washington
Cheapest Car Insurance Companies in Washington
Finding the cheapest car insurance
doesn't have to be difficult. Just enter your ZIP code to get started.
Rates by Annual Commute in Washington
You can sometimes get lower car insurance by driving less, but it doesn't look like this is a factor in Washington. Across insurers, an increase in your annual mileage doesn't seem to have much impact on premium rates. So hop into your car and head to the beautiful Olympic National Park without worry.
Rates by Coverage Level in Washington
For higher coverage, Nationwide and USAA are the cheapest insurers in Washington and can potentially save around $2,000 annually compared to the most expensive insurer.
Rates by Credit History in Washington
Insurers in Washington do consider your credit score when calculating the rates. For a poor credit score, you can consider seeking quotes from Nationwide, Progressive, and Geico as these are the most forgiving of the insurers. If you have a good credit score, State Farm may provide you with the most competitive quote.
Read our State Farm car insurance review for more information. Other companies also may reward you for having good credit. Good credit car insurance discounts are available from many providers.
Do you know: According to the State of the Credit Report by Experian, Washington ranks tenth highest in the nation with an average credit score of 693.
Rates by Driving Record in Washington
Insurers consider your driving record as one of the most critical components in deciding the rate. The insurance companies may increase your rate if you are caught driving under the influence (DUI) as they will deem it to be risky behavior.
However, for regular at-fault accidents, few insurance providers provide accident forgiveness plans that can help keep your insurance rates down. Compare car insurance rates after a DUI for more information.
Largest Car Insurance Companies in Washington
Number of Car Insurers in Washington
State Laws in Washington
We understand that going through state laws can be confusing. But it is also vital as it can help you optimize your insurance policy for the best possible coverage. Knowledge of applicable laws may help keep your driving record clean and keep your rates low. In this guide, we provide a quick overview of the rules and regulations that you should be aware of while driving in the beautiful state of Washington.
Car Insurance Laws in Washington
Washington car insurance laws feature a mandatory liability insurance law that was enacted in 1989 and is under the authority of the Washington State Department of Licensing. The law mandates that you carry liability insurance above the state-mandated minimum coverage.
Let us now review a few rules and regulations that can make your drive safe in the Evergreen State. If you need to know how to find car insurance coverage requirements in your state, ask your agent for some additional information or research online.
Windshield Coverage Laws in Washington
Insurance law in Washington does not mandate insurance companies to provide any exclusive coverage for windshield repair or replacement. However, insurers usually offer glass protection with comprehensive coverage. Insurance may provide aftermarket or used parts as replacements for windshield damage.
You can opt for an OEM part but have to bear the difference in cost. It's important to know about broken windshield car insurance in case you ever need it.
Read more: Does car insurance cover broken car windows?
High-Risk Insurance in Washington
You might face difficulties in purchasing insurance coverage If you have a poor driving record. The Office of the Insurance Commissioner of Washington State recommends that you shop around to seek insurance coverage.
However, if you are denied coverage in the voluntary market, then you can contact the Automobile Insurance Plan to get assigned to an insurance provider. The rates under the Automobile Insurance Plan will be generally higher than the voluntary market, and you also have to submit an SR 22 form with The Washington State Department of Licensing (DOL).
Do you know: SR-22 form is submitted to the DOL on your behalf by the insurer that proves that you valid liability insurance for a certain period of time.
Low-Cost Insurance in Washington
Washington does not have a specific plan for low-cost insurance. The Office of the Insurance Commissioner recommends shopping around for the cheapest rate.
Automobile Insurance Fraud in Washington
Of course, we all know that auto insurance fraud is a crime in Washington. But what might be confusing is what qualifies as a fraud. Is it using a fake address for cheap car insurance? What are the repercussions of committing fraud? And, lastly how to avoid committing fraud unknowingly?
Read more: Can you legally use a different address to get cheaper car insurance?
Auto insurance frauds committed by individuals can be of two types: hard frauds and soft frauds. Hard fraud includes crimes such as claim fabrication or staging accidents to file a claim for damages and injuries that did not happen.
Soft fraud is this type of fraud that is more prevalent, and you must be wary of not committing these frauds unknowingly. Soft frauds include underestimating mileage in an insurance application, reporting a wrong ZIP code to the insurer, claiming garage parking for a discount when the car is parked on the street, etc. However, you can also be a victim of the following insurance frauds: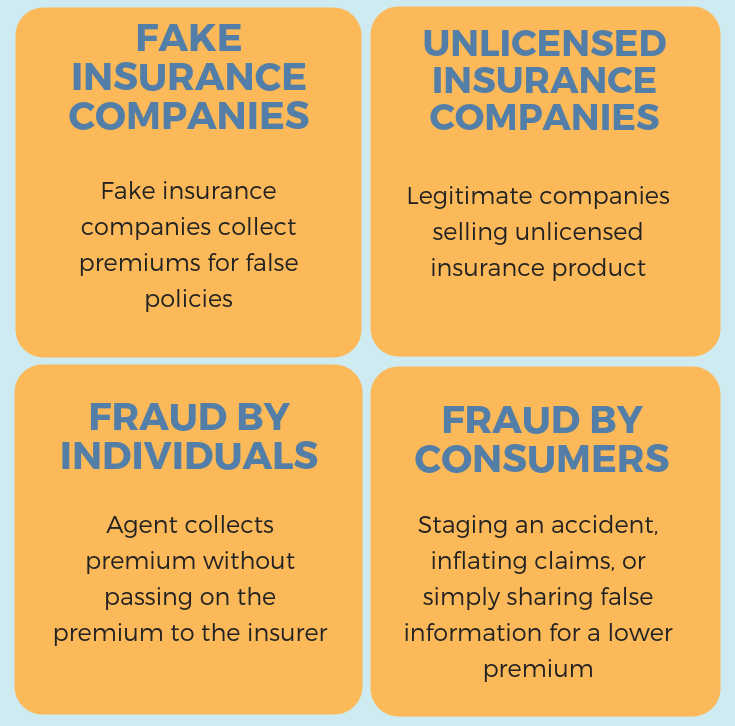 Insurance fraud is a crime classified either as a gross misdemeanor or a felony by the Office of the Insurance Commissioner in Washington. Apart from criminal penalties, the person committing the fraud might also face civil penalties, including fines and revocation of driver's license, etc.
You can report fraud with the Office of the Insurance Commissioner (OIC) online for a reward. The OIC may forward the alleged crime to The Criminal Investigations Unit (CIU) for investigation and possible indictment.
Tip: If you were a victim of insurance fraud, you can contact the following number for help: Insurance Consumer Hotline at 800-562-6900.
Statute of Limitations in Washington
The statute of limitations in Washington is three years for personal injury and property damage.
Do you know: The statute of limitations is time after an accident until which you can bring a lawsuit against a third-party.
Vehicle Licensing Laws in Washington
Is your driver's license expiring soon? If yes, then you might be wondering: Does the Washington State Department of Licensing (DOL) allow online renewals? Do I have to get a REAL ID-compliant driver's license? What is the penalty for driving without car insurance in Washington? Remember it is illegal to drive without a valid driver's license in Washington. You can be fined or jailed for the offense.
Read on to know about the state licensing laws as we answer these important questions!
Real ID Implementation in Washington
The Federal Real ID Act was passed in 2005 and came into effect in October 2020, in which a REAL ID-compliant ID is needed to board domestic flights, enter federal buildings, or cross U.S. border crossings. But what is REAL ID complaint ID and do you need an Enhanced Driver's License?
Here are the following documents in compliance with REAL ID:
US Passport
Foreign Passport
U.S. Military ID
Permanent Resident Card (Green Card)
In case you do not have any of the above documents, you should opt for an Enhanced Driver License (EDL). To apply for the EDL, you need to carry all the documentation to the nearby Driver Licensing Office.
Penalties for Driving without Insurance in Washington
If you are caught driving without insurance, you could be fined upwards of $550. You may have your driver's license suspended if you cause a collision and you can not pay for damages in the absence of liability insurance.
Penalties aside, you can put yourself in substantial financial risk if you caused damages and/or injuries in a collision. Don't make the mistake of driving without insurance. You can use our FREE tool to get quotes now. Just enter your ZIP code to start saving.
Teen Driving Laws in Washington
Licensing laws in Washington provide teens with a multi-stage process to learn to drive and get comfortable under supervision before being allowed to drive on their own.
Can you get car insurance without a license? If you are a teen above the age of 15, you can apply for an instruction permit if enrolled in an approved driving education course. Otherwise, wait till you are 15 years and six months old to get a permit.
The instruction permit is valid for one year and can only be renewed twice with permission from a driver licensing office supervisor. You are expected to use the permit to practice driving under the supervision of a licensed driver who has held a driver's license for at least five years.
To apply for an intermediate driver's license, you have to be at least 16 years old and have passed an approved driver-training course with at least 30 hours of classroom, and six hours of on-the-wheel, instruction driving. You also have to drive at least for 50 hours under the supervision of a licensed driver.
The intermediate license prohibits you from driving between 1:00 a.m. and 5:00 a.m. unsupervised. If your driving record is clean, you can apply for a standard license at the age of 18. Or, better yet, you can apply for an enhanced driver's license to be compliant with the REAL ID Act.
License Renewal Procedure in Washington
Your driver's license in Washington has a validity of six years, and the DOL allows for renewal by mail, online, or in person.
You can renew your license online with the Department of Licensing. However, online renewals are not allowed for people under the age of 24 or above the age of 70. You will have to visit the nearest driver licensing office.
You can renew your license one year before the current license expires or 60 days after it has expired. You need to pay a late fee if you are renewing after 60 days of license expiry.
Can you have car insurance with an expired license? SR-22 certificates might help with this.
Remember: You cannot renew a license if your previous license expired for more than six years. You have to start over. Pay the late fee and renew!
New Residents
First of all, welcome to the Evergreen State. Now that you are a resident of the Evergreen State, you can enjoy the various outdoorsy activities that this beautiful state has to offer. But, before you get on the road, you need to get your driver's license sorted. The law states that as a new resident, you must get a Washington driver's license within 30 days of the date you became a resident.
Learning how to handle car insurance policies when moving out of state can be confusing sometimes. You can exchange your valid out-of-state license for a Washington driver's license. No need to take the knowledge test.
For non-citizens, the licensing process is identical to the described process. However, you have to carry your residency paperwork (including visa and residency status documents) to the Department of Licensing offices.
Rules of the Road in Washington
Knowledge of road rules is critical. It not only helps you be safe on the road, but it also helps you to keep a clean driving record. A clean driving record may mean insurance discounts for you. You must have read about the rules and regulations when you got your license. But, to keep you safe, we wanted to do a quick recap of the critical rules, including speed limits, seat belts, safety laws, etc.
Fault vs. No-Fault
What is the difference between fault vs. no-fault car insurance? Washington follows an at-fault system of auto insurance with Pure Comparative Negligence.
But, what is Pure Comparative Negligence? It is a type of at-fault auto insurance wherein a driver is only liable for his or her percentage of fault. It means that an at-fault driver can also recover damages from you up to the percentage of your responsibility.
Let's understand it by an example: If a car merges in your lane without indication and hits you, he or she might be at fault for the accident. Now suppose you take the other driver to court and the court finds you partially responsible due to overspeeding, then your accident settlement may be reduced according to the percentage of your fault.
Seat Belt and Car Seat Laws in Washington
Seat belts are vital for passenger safety in case of an accident. Washington state law requires all people over the age of 16 driving or riding in a car to wear seatbelts. Washington follows primary enforcement for seat belt laws and the base fine for the first offense is $124.
Do you know: Primary enforcement allows law enforcement to stop and fine you for not wearing seat belts.
The child restraint legislation was amended in early 2019 and now includes the following:
Keep Right and Move Over Laws in Washington
Driving laws in Washington mandates that you should keep right if driving slower than the traffic unless you are passing or taking a left. You should also move off the lane closest to emergency vehicles if it is safe to do so. If not, you are required to slow down within 200 feet before and after a stationary emergency vehicle. This is all part of identifying a safe speed to drive your car.
Speed Limits in Washington
Ridesharing Laws in Washington
Washington implemented a statewide law for ridesharing companies in 2017 requiring companies like Uber and Lyft to pay an annual $5,000 fee to the state. Per the law, drivers are considered independent contractors and will be subject to multijurisdictional and national background checks.
Ridesharing drivers will have to undertake a third-party review of their driving history, and any applicant with serious infractions or felonies will not be allowed to operate as a contractor. The state law also offers tax credits to employers that provide financial incentives to employees who use car-sharing companies. Drivers are to maintain their insurance coverage to drive for ridesharing companies.
Currently, Allstate, Metlife, Metromile, State Farm, and USAA car insurance offer specialized coverage for ridesharing drivers in Washington. The best car insurance for delivery drivers is available through several of these companies if you compare rates online.
Automation on the Road in Washington
Washington allows the testing of driverless cars on the street. The operator is not required to be present in the vehicle, but if an operator is present, he or she must be licensed. The driverless car must have the required liability insurance for a road test.
Safety Laws in Washington
A reckless or impaired driver on the road can cause severe injury or harm to anyone sharing the streets. No one wants such a driver on the road endangering other drivers and pedestrians. Washington also has harsh penalties to discourage people from driving intoxicated or distracted.
DUI Laws in Washington
Washington saw 178 alcohol-impaired fatalities in 2017, which is more than 31 percent of the total deaths in the state. The situation is grim when you consider that more than 30 percent of total under-21 fatalities in the state were alcohol-impaired.
Washington state DUI law has severe penalties to stop people from driving impaired. DUI insurance laws in Washington State are important to learn about. The first four infractions for driving under the influence (DUI) carry a gross misdemeanor charge while any further offense will attract a class B felony charge.
Do you know: DUI charges are applicable if your blood alcohol content (BAC) is higher than 0.08.
The lookback period is seven years in Washington for DUI offenses. The lookback period is the time until which a DUI offense will remain on your record. If you repeat a DUI offense within seven years, it will count as a second or subsequent infraction resulting in harsher penalties.
Here is the summary of all the penalties and fines associated with DUI offenses in Washington State.
Marijuana-Impaired Driving Laws in Washington
According to the Washington State Liquor and Cannabis Board, if you are 21 years or older, it is illegal for you to drive with five ng/ml of THC or more. If you are 21 years or younger, Washington State has a zero-tolerance policy for marijuana.
Distracted Driving Laws in Washington
Washington wants drivers to focus on driving rather than being distracted by their mobile phones or other electronic devices.
It is illegal for all drivers to use hand-held devices or text messaging while driving. If you still use such devices while driving, you are not only putting yourself and others at risk; you would also attract the ire of law enforcement. Will a ticket for talking on a cell phone affect your car insurance rates? It depends on a variety of factors.
Do you know: Since the law allows primary enforcement, a police officer can stop you and book you for using your handheld device.
The law also prohibits instruction permit and intermediate license holders to use any wireless devices while driving.
Driving in Washington
Insurers consider theft and accident data in your area to calculate the rate for a particular policy, and therefore, it has a direct impact on your rate outlay. While driving involves inherent risk, it is always good to know the theft and accident data so that you remain safe.
Vehicle Theft in Washington
The most stolen car in Washington is a 1997 Honda Accord.You can also see the following data, sourced from the FBI, to check the number of vehicle thefts in your city.
Road Fatalities in Washington
Let us now look at detailed data on fatality rates and causes in Washington.
Fatal Crashes by Weather Condition and Light Condition
Fatalities by county for all crashes in Washington
Traffic Fatalities in Washington
Fatalities by Person Type in Washington
Fatalities by Crash Type in Washington
Fatalities Trend for the Counties in Washington
Fatalities Involving Speeding by County in Washington
Fatalities in Crashes Involving an Alcohol-Impaired Driver by County in Washington
Teen Drinking and Driving in Washington
Washington police arrested 167 teens for driving under the influence in 2017. The number of arrests grew from 121 in 2016. In 2016, Washington saw 0.7 under 21 alcohol-impaired driving fatalities per 100,000 population. This is less than the national average of 1.2 deaths per 100,000 population.
Transportation in Washington
Commuters in Washington spend a lot of time on a train or a bus or stuck in a traffic jam. Let us now look at the reasons behind the long commute in Washington, especially the Greater Seattle area.
Car Ownership in Washington
On average, households in Washington own two cars, which is on par with the national average.
Commute Time in Washington
People in Washington spend a lot of time on their commute. Approximately 20 percent of Washingtonians are spending 45 minutes or more in their daily commute.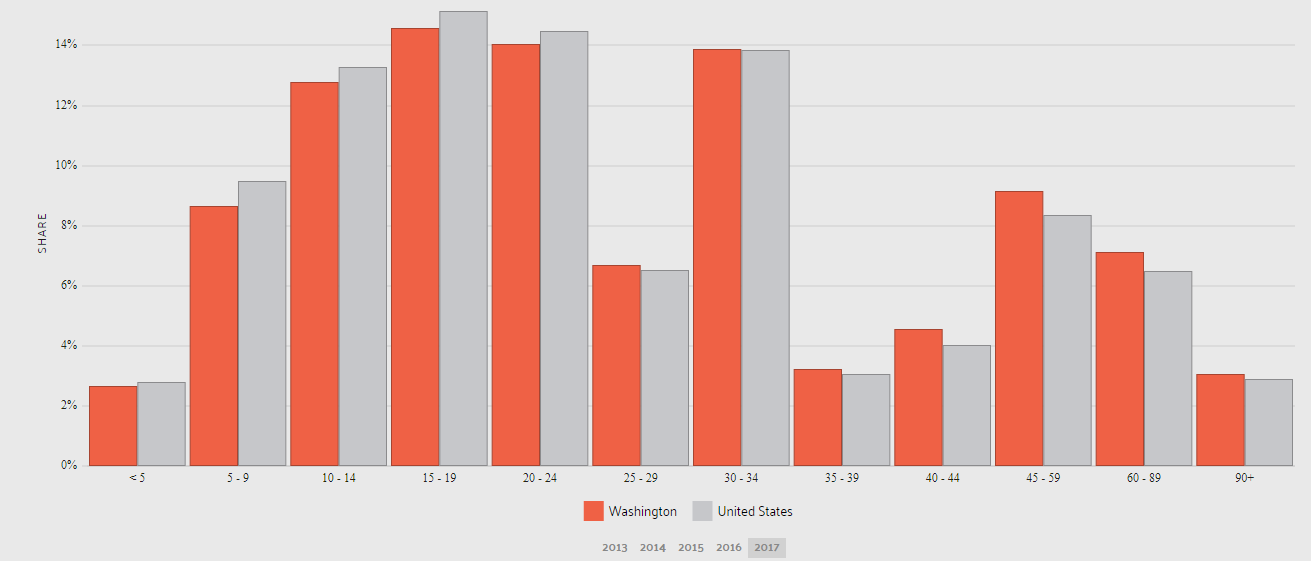 Commuter Transportation in Washington
As per DataUSA, approximately 72 percent of commuters in Washington prefer to drive alone to work, which is less than the national average of 76 percent.
Traffic Congestion in Washington
Seattle is the biggest city in Washington and the sixth most congested city in the nation. The cost of traffic congestion is staggering in Seattle. A driver can lose 138 hours or $1,932 due to traffic congestion.
Since you will be spending so much time in traffic, it is wise to have coverage that keeps you worry-free while on the road. Start saving on your car insurance today. Just enter your ZIP code in the FREE tool to get started.
Free Car Insurance Comparison
Enter your ZIP code below to view companies that have cheap car insurance rates.
Secured with SHA-256 Encryption