Compare Utah Car Insurance Rates [2023]
Utah car insurance requires a minimum of 25/65/15 for bodily injury and property damage coverage and PIP coverage because it is one of the few no-fault states. The average UT car insurance rates are $73/month.
UPDATED: Nov 22, 2022
Fact Checked
Free Car Insurance Comparison
Compare Quotes From Top Companies and Save
Secured with SHA-256 Encryption
Joel Ohman
Founder & CFP®
Joel Ohman is the CEO of a private equity backed digital media company. He is a CERTIFIED FINANCIAL PLANNER™, author, angel investor, and serial entrepreneur who loves creating new things, whether books or businesses. He has also previously served as the founder and resident CFP® of a national insurance agency, Real Time Health Quotes. He has an MBA from the University of South Florida. Jo...
UPDATED: Nov 22, 2022
It's all about you. We want to help you make the right coverage choices.
Advertiser Disclosure: We strive to help you make confident car insurance decisions. Comparison shopping should be easy. We are not affiliated with any one car insurance company and cannot guarantee quotes from any single company.
Our partnerships don't influence our content. Our opinions are our own. To compare quotes from top car companies please enter your ZIP code above to use the free quote tool. The more quotes you compare, the more chances to save.
Editorial Guidelines: We are a free online resource for anyone interested in learning more about auto insurance. Our goal is to be an objective, third-party resource for everything auto insurance related. We update our site regularly, and all content is reviewed by auto insurance experts.
UPDATED: Nov 22, 2022
It's all about you. We want to help you make the right coverage choices.
Advertiser Disclosure: We strive to help you make confident car insurance decisions. Comparison shopping should be easy. We are not affiliated with any one car insurance company and cannot guarantee quotes from any single company.
Our partnerships don't influence our content. Our opinions are our own. To compare quotes from top car companies please enter your ZIP code above to use the free quote tool. The more quotes you compare, the more chances to save.
On This Page
UPDATED: Nov 22, 2022
Fact Checked
[tooltip text="Tooltip Text"]

Home to the Great Salt Lake and majestic canyons, Utah has attracted a population of over 3 million people. With over 2 million vehicles registered to Utah's population, there is an array of information available about Utah car insurance.
Sorting through all this information can be overwhelming and frustrating. Who has the cheapest car insurance in Utah? How much is car insurance in Utah? What car insurance is required?
To help you sift through all the information available and save time, we've put together a comprehensive guide that covers everything you need to know, from car insurance requirements to state driving laws.
So let's jump right into it! Want to start comparing rates from the best car insurance companies today? Enter your zip code in our FREE online tool above!
Utah Car Insurance Coverage and Rates
Since every state has different coverage requirements and every company has different rates, it can be confusing to find the best fit for your needs. Since you are paying hundreds or thousands every year for car insurance, you want to make sure you are receiving the best protection and the best deal!
Don't fear, we are going to help you through the process of picking coverage types and rates in Utah.
Keep reading to learn about Utah's coverages, rates, and more!
Utah Minimum Coverage
Car insurance is a requirement in Utah — driving without insurance is illegal. In Utah, drivers must have bodily injury and property damage liability car insurance coverage, as well as personal injury protection (PIP). Personal injury protection covers medical, rehabilitation, earning loss, and funeral costs.
The MINIMUM coverage allowed is in the following amounts:
$25,000 to cover costs of injury or death per person in an accident
$65,000 to cover total costs of injury or death per accident
$15,000 to cover costs of damage to property per accident
$3,000 PIP coverage per person
If you chose to, you can opt for a combined single limit car insurance policy. If you do this, the minimum amount is $80,000 for bodily injury and property damage coverage (you will still need PIP coverage).
Not having the insurance coverages that Utah requires will result in multiple penalties that we included below.
Suspension of driver's license
Suspension of vehicle registration
$400 minimum fine for a first offense
$1,000 minimum fine for subsequent offenses
To avoid these penalties, make sure to have the required insurance amount on your car. Otherwise, you could lose the right to drive.
Just like average costs, minimum car insurance expenses vary from state to state.

Forms of Financial Responsibility
Because Utah requires car insurance, there has to be a way to check that residents are following the law. This is where forms of financial responsibility come in. A form of financial responsibility proves that you have car insurance.
Anytime you are pulled over in a traffic stop, register a car, or are in an accident, you must provide proof of insurance. If you are unable to provide proof of insurance, your license may be suspended for driving without insurance.
The following are acceptable forms of financial responsibility.
Insurance ID card
Insurance binder
Insurance declaration
Law enforcement can also monitor the status of your car's insurance electronically through Insure-Rite. Your insurance company must report your insurance status to Insure-Rite, so if you don't have insurance you run the risk of receiving multiple penalties if you ignore Insure-Rite's notifications about your car.
Premiums as a Percentage of Income
Your per capita disposable income is the amount of money you have to spend after taxes. To see how much car insurance coverage takes out of the average salary in Utah, we've taken a look at three years of coverage costs and disposable incomes.
Utah's percentage of income going to insurance coverage is actually fairly high (the highest state percentage is almost four percent). However, Utah's percentage has remained fairly consistent, which is good news.
The yearly disposable income, however, took a dip in 2013 and hasn't quite made it back up to the yearly disposable income in 2014. Unfortunately, despite the small dip in income, car insurance coverage costs went up slightly over the years.
Average Monthly Car Insurance Rates in UT (Liability, Collision, Comprehensive)
Core coverage includes all the basics: liability insurance, collision insurance, and comprehensive insurance. The good news is that Utah's average premiums are all under the countrywide averages.

So what do these coverages do? We've talked about liability coverage before, which Utah requires all drivers to have. Collision insurance coverage is optional but is useful in an accident. It will help pay for the costs of repairing or replacing your car if you are in an accident with another car or an object like a mailbox.
Comprehensive car insurance coverage is also optional, and it covers a wide range of mishaps other than an accident. It will help pay for the costs if your car is damaged by natural disasters (fire, etc.), theft, vandalism, or hitting an animal.
https://youtu.be/-Zr63hTicTU
Additional Liability Coverage
Additional liability insurance is coverages like personal injury protection, medical payments (Medpay), and uninsured/underinsured motorist coverage. While Utah doesn't require Medpay and uninsured/underinsured coverages, Utah does require drivers to have personal injury protection.
To see how well these coverages are performing in Utah, we want to take a close look at their loss ratios. What is a loss ratio? A loss ratio shows how well a company is doing financially.
A low loss ratio means a company isn't paying out enough claims and risks losing customers. A high loss ratio over 100 percent means a company is paying out too many claims and risks going bankrupt.
Loss ratios are an important factor to look at when picking out a company. To help give you an overview of Utah's loss ratios, we've collected the loss ratios from the National Association of Insurance Commissioners to give you an idea of Utah's coverage strengths.
While Utah's personal injury protection's loss ratios have remained at a nice, steady rate (neither too high or low), Medpay and uninsured/underinsured payments have both risen over 100 percent.
Because of these high numbers, it is important to look at your insurance company's loss ratios for Medpay and uninsured/underinsured coverages to make sure the company is financially secure. Don't let the high numbers scare you away from these coverages, though!
In Utah, 8.20 percent of motorists are uninsured, ranking Utah as 39th in the U.S. for uninsured drivers.
If uninsured/underinsured drivers are in an accident, they won't be able to pay off all the medical and damage costs from the accident and risk going bankrupt. Uninsured/underinsured coverage makes sure your bills are still paid!
Likewise, Medpay coverage protects you by paying off all the medical costs of an accident for both you and your passengers. From ambulance rides to treatment, Medpay will make sure you are covered.
Add-ons, Endorsements, and Riders
Even if you have a full coverage plan, it can be worth it to look into add-on coverages. These add-ons are affordable and practical, as they can be individually added to create a custom plan for your needs.
Click on any of the below coverages to learn more.
Personal Umbrella Policy (PUP)
Emergency Roadside Assistance
Mechanical Breakdown Insurance
Modified Car Insurance Coverage
So if have a special car or just want someone to change your tire for you, ask your insurance provider about add-on coverages.
Average Monthly Car Insurance Rates by Age & Gender in UT
Demographics actually play a significant role in determining rates. Car insurance rates by age and gender can be vastly different.
Let's take a look at how gender and age impact insurers' rates.

The huge price of teen auto insurance means that many parents choose to add their teen drivers to their parents' insurance plans, which results in a much smaller price increase.
Let's take a closer look at the ranking of demographic rates. The below table will give you an idea of how much different demographics are paying, and what the worst demographic to be is!
60 and 35-year-olds have the best rates, whereas 17-year-olds are charged THOUSANDS more.
Cheapest Rates by ZIP Code
To help give you a snapshot of how area affects insurer's rates, we've included a list of average costs by ZIP code. You will also see the cheapest providers available in your area.

Between the most and least expensive ZIP codes, there is a $1,341 difference. That's quite a price increase!
Cheapest Rates by City
Another example of how area affects rates is the difference in city rates.
Kearns is the most expensive city, costing over $1,000 more than Cedar City. Since Kearns is a little larger of a city than Cedar City, it makes sense that insurance might be higher in Kearns due to increased risk of crashes (more drivers on the road equals higher risk of crashes).
Free Car Insurance Comparison
Enter your ZIP code below to view companies that have cheap car insurance rates.
Secured with SHA-256 Encryption
Best Utah Car Insurance Companies
What insurance company is right for you? With every insurance company promising that they are the best, it can be hard to find an insurance company that actually fits your requirements.
To help you decide, we've broken down companies' rates, financial ratings, market share percentage and much more!

Rather than spending hours researching car insurance companies, let us help you sift through the companies available in Utah.
The Largest Companies' Financial Ratings
An AM Best rating looks at the financial strength of a company. To see how Utah's largest car insurance companies are faring, we've included the AM Best rating for each one.
All of the largest companies in Utah have A++ to A- ratings, which is great (A++ is the highest rating).
AM Best explains its A financial rating scale as the following:
A++ and A+ (Superior). These companies have a superior ability to meet future financial obligations
A and A- (Excellent). These companies have an excellent ability to meet future financial obligations
The companies' loss ratios are also over 50 percent but under 100 percent, which means they are fairly steady financially.
Companies with Best Ratings
We also want to take a look at JD Power's ratings. JD Power calculates customer satisfaction for companies based on five factors.
Interaction
Policy Offerings
Price
Billing Process/Policy Information
Claims
The 2018 study by JD Power looked at responses from 44,622 auto insurance customers to calculate a rating based on these factors. Below, we have included JD Power's graphic detailing Utah companies' ratings.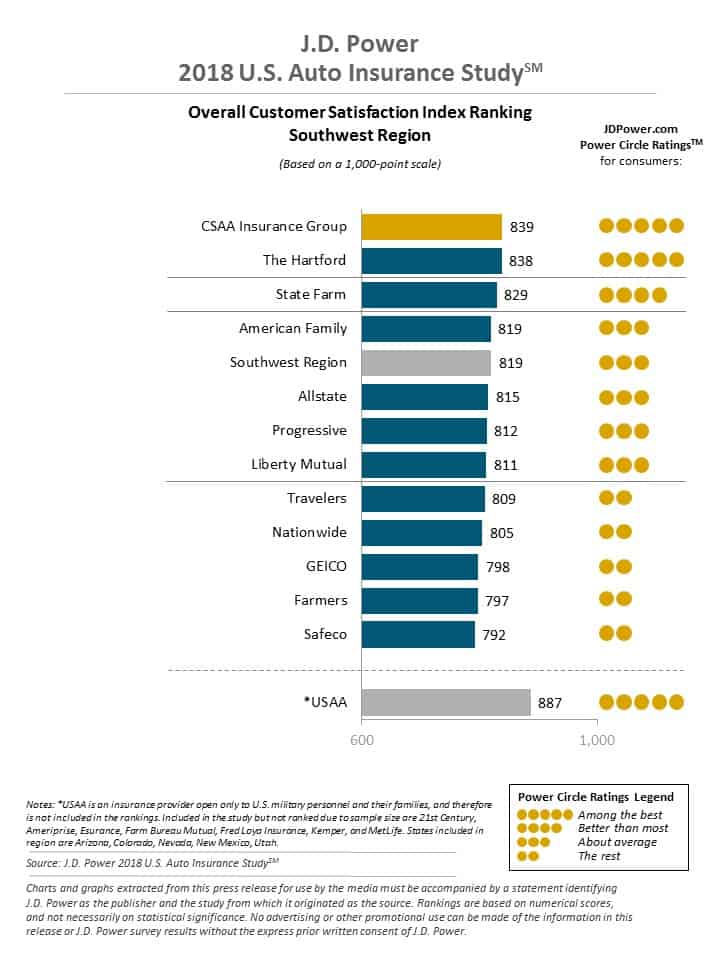 JD Power ranked State Farm, one of the largest companies in Utah, as better than most. This means JD Power considers State Farm to have excellent customer service based on consumer surveys. Visit our State Farm car insurance review for more information about the company.
Companies with Most Complaints in Utah
Now that we've looked at financial ratings and customer service, let's dig deeper into the companies by looking at complaint ratios for 2018.
A high complaint ratio doesn't necessarily mean a company is bad. Rather, how a company deals with complaints is important, which is why you should also look at reports like JD Power's ratings.
Cheapest Companies in Utah
Price is usually forefront on our minds when shopping, and nothing is more exciting than getting a great deal! This attitude also applies to car insurance companies, as we want to pay the least possible for great protection.
So if you want to know the cheapest providers are in Utah, check out the table and chart below.

Clearly, shopping around for car insurance pays off. Geico car insurance and USAA car insurance are significantly below the state average, meaning you will save a few hundred or even a few thousand by picking a cheaper company.
Commute Rates by Companies
Sometimes, how far you drive each day can impact your rates.

While some companies have no change in rates, companies like State Farm will add over $200 to your annual bill! If you drive long distances, make sure you aren't paying more at your provider.
Coverage Level Rates by Companies
Sometimes, the higher price for a higher coverage level can be a deterrent to people. When you compare coverage level costs, though, some companies offer economical increases in coverage level that don't overly strain your funds.
Going from low to high coverage at companies like Geico will cost you an extra $434 a year. This amounts to an extra $36 a month, which is very manageable.
Credit History Rates by Companies
Your credit score is just as important in determining rates as your driving record. If you have a low credit score, you will likely have to pay a significantly higher fee.
The average credit score for Utah residents is 683, which is higher than the national average of 675.
This is good news, as it means that most Utah residents won't have to worry about increased rates because of bad credit scores. If a person does have bad credit, though, rates will increase astronomically.
Bad credit at companies like State Farm will raise your rate five thousand dollars! That's quite a large price difference.
Driving Record Rates by Companies
Besides credit history, your driving history also plays a significant role in how insurers determine your rates. Accidents, DUIs, and speeding violations will all raise your rates.
Getting car insurance after a DUI tends to raise your rates by the THOUSANDS! Accidents tend to be the second most expensive rate changer, with speeding violations impacting rates the least.
The easiest way to avoid such high costs is to try and keep as clean a driving record as possible.
Number of Insurers in Utah
Let's jump into the number of insurance providers to help give you an idea of just how many insurance providers are out there!
Domestic Insurers: 9
Foreign Insurers: 878
The difference between domestic vs. foreign insurers is quite simple. Domestic insurers are based in Utah, whereas foreign insurers are based in other states.
Utah State Laws
People often complain about driving tickets and the hefty fines they have to pay. But what if you could avoid getting a ticket and dipping into your monthly savings?
Knowing your state laws will help you avoid driving tickets and other penalties, but it can often be bewildering to grasp all of Utah's laws. To help you navigate Utah's driving system, we've covered everything from insurance laws to rules of the roads.
So keep scrolling to learn about driving in the state of Utah!
Car Insurance Laws
We've already covered the required minimum insurance amounts, but how are these laws created and how do you follow them?
How State Laws for Insurance are Determined
According to the NAIC, insurers must file rates with the Utah Insurance Department within 30 days of use. An insurance commissioner may disapprove the form after filing within 90 days. The good news is that you don't really need to worry about this technical process — your insurer will file claims with the state department.
Just make sure that your insurance has been approved by Utah before driving with it!
Windshield Coverage
All it takes is one tiny stone hitting your windshield for a crack to start spreading. Since driving with an obstructed view of the road is illegal, you will eventually need your windshield repaired or replaced.
In Utah, the law doesn't require insurers to provide broken windshield car insurance. The good news is that most comprehensive coverage plans will pay for the cost of repairs or replacement.
You are allowed to chose the repair shop, but you may have to pay the price difference. As well, insurers can use aftermarket crash parts to repair or replace your windshield, but they must tell you.
High-Risk Insurance
If you are in an accident, have a DUI, or have a poor driving record, you may be considered a high-risk driver. If so, you will need to fill out an SR-22 car insurance form to purchase high-risk insurance.
Below are some more common reasons that a driver might be high-risk.
Serious violations (such as DUI's or reckless driving)
Being a new and inexperienced driver
Owning a high-risk vehicle (such as sports cars)
Letting your car insurance lapse
Being over 70 years of age
The catch is that companies in Utah are allowed to deny you high-risk car insurance coverage. If you can't find a company to cover you, you must apply to the Western Association of Automobile Plan (WAAIP) through an insurance agent.
This program will help you get insurance, but the rates will be much higher, so it is worth it to shop around at different providers first to see if you can get coverage.
Low-Cost Insurance
Only three states have government assistance for low-income families who need car insurance, and Utah isn't one of them. Though there are still plenty of ways to cut back costs. Ask your provider about the following car insurance discounts, which are offered at almost every provider.
https://youtu.be/t05UI0SgYuA
Good student discount
Multi-car discount
Homeowner's discount
Additionally, most insurance companies will have even more discounts available. So make sure to ask your provider what discounts you are eligible for, as discounts could end up saving you a nice sum!
Automobile Insurance Fraud in Utah
Automobile insurance fraud is illegal in Utah. Since over 4.8 billion was stolen in auto insurance fraud in 2007 according to the Insurance Information Institute (iii), it makes sense that Utah has created a fraud bureau to catch fraudulent claims.
If you commit insurance fraud, you face fines and/or jail time. Car insurance companies will often raise their premiums as well if they have to deal with frequent fraud — meaning that everyone suffers.
So what qualifies as insurance fraud? The two main ways people commit fraud are listed below.
If a person bases a claim on a legitimate accident but then adds in a few false expenses, basically adding "extra" onto a claim.
Staging an accident and creating a false claim for something that never happened
The easiest way to not commit insurance fraud is to always be as honest and accurate as possible on claims.
Statute of Limitations
A statute of limitations is the amount of time you have to file a claim after an accident. Every state has a different statute of limitations, so it is important to know your state's time limit.
Below is the statute of limitations for Utah.
Personal Injury: 4 years
Property Damage: 3 years
Utah's statute of limitations is fairly generous, but it is always best to file claims right away. That way, you can get the process started and are closer to receiving the money you are owed.
Unfair Claim Settlement Practices
Utah has an unfair claim settlement law. This law prohibits insurers from withholding information for clients. Why would insurers do that?
Because in case of a claim, insurers may conveniently ommit a benefit on your policy.
The best way to make sure insurers are following the law is to know your policy inside and out. That way, you will notice if even a small benefit is left out.
Vehicle Licensing Laws
Insurance and driver's licenses are the two most important things to have. If you drive without insurance, you will face serious consequences.
Penalties for Driving Without Insurance
Since Utah requires all drivers to have insurance, there are penalties in place for driving without insurance.
First Offense: $400 fine; license suspension until proof of insurance (maintained for three years) and $100 reinstatement fee.
Second Offense: $1000 fine; license suspension until proof of insurance (maintained for three years) and $100 reinstatement fee.
So not only will you have to pay fines for driving without insurance, but you will have to pay $100 to reinstate your suspended license. As a reminder, here are acceptable forms of proof of insurance in Utah.
Insurance ID card
Insurance binder
Insurance declaration
You need to provide proof of insurance anytime you are pulled over in a traffic stop, register a car, or are in an accident. Law enforcement can also electronically check the status of cars' insurance.
If you violate Utah's car insurance laws, Utah may suspend your car's registration. If this is the case, you will receive official notice of the DMV's intent to suspend registration and must follow the instructions accordingly.
Generally, you will have to turn in your license plate and registration until you can have your registration reinstated.
Teen Driver Laws
Teens in Utah can get their learner's license (also known as a permit) as young as 15 years old. Before a young driver can get a license or restricted license, they must meet the requirements listed below.
If a teen has a restricted license, they must follow the rules below. These rules help keep teens distraction-free in the car, which is necessary for preventing accidents.
Up next, we will cover another age group with special requirements — older drivers.
Older Driver License Renewal Procedures
Older drivers have different requirements than the general population, but the good news is that these requirements aren't too drastically different. In fact, the renewal cycle and online/mail renewal process are the same for both the general and older population.
To see how the license renewal process works, check out the requirements below.
Renewal Cycle: every five years
Proof of Adequate Vision: required at every renewal for those 65-years and older
Mail/Online Renewal: online permitted every other renewal
Older drivers must provide proof of adequate vision at every renewal, which means they must get their eyes checked every five years. One condition to the online renewal, though, is that drivers need to have a good driving record. If they don't, the DMV may ask them to come in person to renew their license.
New Residents
Residents new to Utah must make sure they contact their provider. Updating your provider is important, as your provider will give you updated insurance ID cards with your new address.
Your insurer will also make sure you meet the minimum requirements for Utah, as every state is different and your last state may not match Utah's minimums. As a reminder, here are Utah's minimum insurance amounts.
$25,000 to cover costs of injury or death per person in an accident
$65,000 to cover total costs of injury or death per accident
$15,000 to cover costs of damage to property per accident
$3,000 PIP coverage per person
Finally, new residents must get an updated driver's license as well, so make sure to pay a visit to your new DMV.
License Renewal Procedures
For the general population, the license renewal process is similar to older drivers.
Renewal Cycle: every five years
Proof of Adequate Vision: required when renewing in person
Mail/Online Renewal: online permitted every other renewal
The only difference is that the general population can go ten years without an eye check, as proof of adequate vision is only required for in-person renewals. As well, you must have a decent driving record to renew online.
If you are worried that you might forget when to renew your license, the DMV will notify you 90 days prior to your license's expiration date.
Reckless Driving Law
Driving recklessly in a manner that endangers yourself or others is a crime in Utah. A first reckless driving charge (a class B misdemeanor) comes with the following penalties.
Up to six months in jail
Maximum $1,000 in fines
Possible suspended license for up to three months
80 demerit points to driving record
For a second offense, license suspension is mandatory. As well, a driver's license will be suspended if a driver collects 200 or more demerit points within three years.
If drivers are convicted of a reckless driving charge while drunk, they may be able to plead for a lesser charge known as a wet reckless.
Rules of the Road
All drivers need to know the rules of the road. Drivers who follow the rules help to keep both themselves and others safe. To help you gain a firm understanding of Utah's road rules, we've covered some of the most important rules to know.
Fault vs. No-Fault
Utah is one of the few states that is no-fault. A typical at-fault state would hold the at-fault driver liable for all accident costs, such as property damage or injury costs.
In a no-fault state, though, your own car insurance provider pays for the costs of an accident (rather than the other driver's insurance). This is why Utah requires drivers to have personal injury protection coverage in addition to core coverages, as it is better to have more coverage in a no-fault state.
If you want to file a claim and sue an at-fault driver, you are only allowed to do so if the accident meets certain requirements.
The accident must have caused injuries that cost at least $3,000 in medical bills
Or injuries must be serious (permanent disability, permanent impairment, permanent disfigurement, or dismemberment)
These are the only situations in which a claim may be filed. Otherwise, all accident costs go directly to your insurer, which is why it is so important to have good coverage in a no-fault state!
Seat Belt and Car Seat Laws
According to seat belt laws, wearing a seat belt lowers your chance of being killed in an accident. Not wearing a seat belt in an accident will likely result in the person being thrown from the vehicle and suffering life-threatening injuries.
To protect drivers, Utah has the following seat belt law in place.
For child passengers, there are even more restrictions in place. Make sure child passengers are properly seated according to the law, as proper seating ensures their safety.
Because Utah law doesn't list too many specifics on child car seats, make sure to always follow manufacturers' age and weight guidelines on car seats and booster seats.
There is also a Utah law about riding in the cargo area of a pickup truck. Riding in the cargo area is not permitted, but there are a few exceptions.
Employees on duty
Off-highway operations
People riding in a vehicle space intended for any load
Riding in cargo areas is extremely dangerous, which is why Utah has placed restrictions upon it. People are frequently thrown from cargo areas if the driver is driving too fast.
Keep Right and Move Over Laws
These laws are incredibly simple to follow, but not enough drivers obey them. This leads to accidents and fatalities. To stay safe and protect others, you need to follow the keep right and move over laws.
The keep right law is common sense (the directions are in the name of the law!). If you are traveling slower then general traffic, move over to the right lane.
The move over law keeps vehicle occupants on the side of the road safe. If you see a stationary emergency vehicle, tow truck, or highway maintenance vehicle with flashing lights, you must reduce your speed and move over a lane. If you can't move over, make sure to significantly reduce your speed.
This law prevents motorists from hitting people walking around their cars on the side of the road.
Speed Limits
While no-one likes receiving a speeding ticket, speed limits make sure drivers don't consistently travel at dangerously high speeds. Below, we have posted the MAXIMUM speed limits for Utah's roads.
Remember that these are the maximum speed limits, so pay attention to speed limit signs as speed limits will vary.
Ridesharing
You will need to purchase ridesharing insurance if you want to work for a ridesharing company like Uber or Lyft. While there aren't specific companies that list rideshare insurance in Utah, a ridesharing company will most likely have a list of acceptable insurers for potential employees.
You must also meet the basic requirements listed below.
A properly registered vehicle that has passed inspection
Clean background check
Be 21-years-old or older
At least three years of driving experience
Clean driving record
Different ridesharing companies may have varying requirements, but the above requirements are good guidelines to start off of.
Automation on the Road
Currently, Utah is still in the testing phase and does not have any laws restricting automation on Utah's roads.
Curious what an automated vehicle is? There are multiple levels of automation, from automated features like cruise control to self-driving cars. Generally, most cars today have some level of minor automation.
Safety Laws
There are multiple driving laws that Utah created to help prevent reckless driving practices. Keep reading to learn about these laws and the penalties for breaking them.
DUI Laws
Utah DUI insurance laws carry some of the strictest penalties. Driving while drunk not only puts the drivers at risk but also everyone around them. In 2017, 53 people died from alcohol-impaired accidents in Utah.
Take a look at Utah's DUI law before we dive into the penalties.
The look period means that a DUI, and the resulting increased rates, will remain on your record for ten years. Utah also has a lower BAC limit than other states, as Utah changed the BAC limit from 0.08 to 0.05.
As for penalties for DUIs, they grow steadily worse with each offense.
A fourth offense earns the same penalties as a third offense: license suspension, fines, jail time, and an IID lock.
Marijuana-Impaired Driving Laws
Utah has a zero tolerance law for drivers under the influence of THC and metabolites. A marijuana-impaired driving charge carries many of the same penalties as a DUI.
These penalties can include jail time, fines, and license suspension.
Even if you aren't high while driving, an officer may still find trace amounts of marijuana in your system weeks after use and charge you with impaired driving.
Distracted Driving Laws
Similar to impaired driving, distracted driving hampers the driver's ability to be fully aware of their surroundings and have a good reaction time. Distracted driving can result from activities that range from texting to eating in the car.
All it takes is a second with your eyes off the road for an accident to happen, so Utah created the following law to limit distracted driving.
Texting is prohibited for all drivers, and drivers under 18-years-old aren't allowed to use cellphones at all. Cellphone use is such an issue that apps have been created to detect when you're driving and silence your phone until you get out of the car.
Utah Can't-Miss Facts
In every state, there are certain risk factors you need to be aware of. No one wants to be in an accident, and knowing the major contributors to accidents may help you avoid one.
To stay safer on the roads of Utah, make sure to familiarize yourself with its dangers.
Keep reading to learn about everything from vehicle thefts to major causes of fatalities.
Vehicle Theft in Utah
In every state, the type of vehicles stolen varies. Sometimes the popularity of a stolen vehicle depends on what is most readily available, which is usually dependent on what car providers are in your state, or what the terrain requires (snowy states usually have more vehicles with all-wheel drive).
If you have one of the following vehicles, be aware that it is one of the top 10 stolen vehicles in Utah.
The FBI also put together a 2013 report on crimes that included vehicle theft by cities. Check to see if your city is a hotspot for vehicle theft.
Salt Lake City is the worst place for vehicle theft, with West Valley City coming in as a close second. If you live in these areas, make sure you have comprehensive coverage on your car to cover the costs of vehicle theft or vandalism.
Dangers on the Road in Utah
Risky and harmful behavior — speeding, drunk driving, etc. — is a major cause of dangerous accidents and fatalities. In order to help you understand the dangers of the road, we will go through everything from weather conditions to crash type.
Fatal Crashes by Weather Condition and Light Condition
Weather conditions can play a role in fatal crashes, especially when it is raining or snowing. Read our guide to driving safely in bad weather to learn how to avoid those crashes.
Fatality Rates by City
Where you live can impact the number of fatal crashes — such as traffic conditions and population. The good news is that only one city in Utah, Salt Lake City, was noteworthy enough in its number of fatalities to make the National Highway Traffic Safety Patrol's list.
Traffic Fatalities
Did you know that road type influences fatality rates? Generally, more fatalities happen on rural roads than on urban roads because of the greater speeds reached.
Utah varies each year between rural and urban having the most fatalities, though, which means Utah's urban roads are just as dangerous.
Fatalities by Person Type
By person type, we mean the type of car driven and if the fatality is a car occupant or pedestrian rather than a driver's personality!
Car occupants are not the only victims of crashes. Pedestrians and cyclists are killed each year by drivers. Keeping a wary eye out on the road will help you avoid accidents.
Fatalities by Crash Type
Some crashes are simply more dangerous than others. A rollover accident has a much higher chance of a fatality than backing into a mailbox.
Roadway departures and crashes involving a single vehicle consistently have the highest fatality rates in Utah.
Five-Year Trend for the Top 10 Counties
Below, we have included the data for the top worst counties for traffic fatality rates in Utah. Check to see if your county makes the list!
Salt Lake City County has the most fatalities, with Utah County coming in as second.
Fatalities Involving Speeding by County
Speeding contributes to traffic deaths yearly. To help give you a picture of how many lives speeding takes each year, take a look at the county speeding deaths below.
Once again, the Salt Lake City area has the most fatalities.
Fatalities in Crashes Involving an Alcohol-Impaired Driver (BAC=.08+) by County
Drunk driving is another major problem on Utah's roads. NHTSA collected data on the number of fatal crashes involving alcohol-impaired drivers, which we have included below.
As one of the largest cities in Utah, it makes sense that Salt Lake County yet again has the highest fatality rates.
Teen Drinking and Driving
Despite the risks, many teens participate in drinking and driving. The only upside to Utah's teen drinking and driving stats is that Utah's numbers are below the national average of 1.2 underage alcohol-related deaths per 100,000 people.
In Utah, the average is 0.5 underage alcohol-related deaths per 100,000 people.
Since Utah's fatality rates are lower than the national average, let's take a look at Utah's arrest rates to see how well Utah is doing at preventing teens from driving drunk.
Utah ranks third in the U.S. for its number of underage DUI arrests. This is actually good news, as it means Utah's low fatality rate is probably due to a high number of arrests keeping young, drunk drivers off the street.
EMS Response TIme
Now that we've covered crashes and fatality rates, let's look at what happens after a crash! Take a look below to see Utah's EMS response times in both rural and urban areas.
Utah's urban response times are much better than rural response times. In both cases, though, you will usually be at the hospital in under an hour.
Transportation
Transportation has come a long way since the horse and buggy days. We rely on modern transportation for everything, from going to the grocery store to visiting family and friends.
Keep reading to see how transportation functions in Utah.
Car Ownership
In Utah, most people rely on two or three cars for their transportation needs.
Commute Time
In the U.S., the average commute time is 25.3 minutes. Luckily, Utah's commute time is a whole five minutes less at just 20.3 minutes! That extra five minutes can extremely useful in the mornings.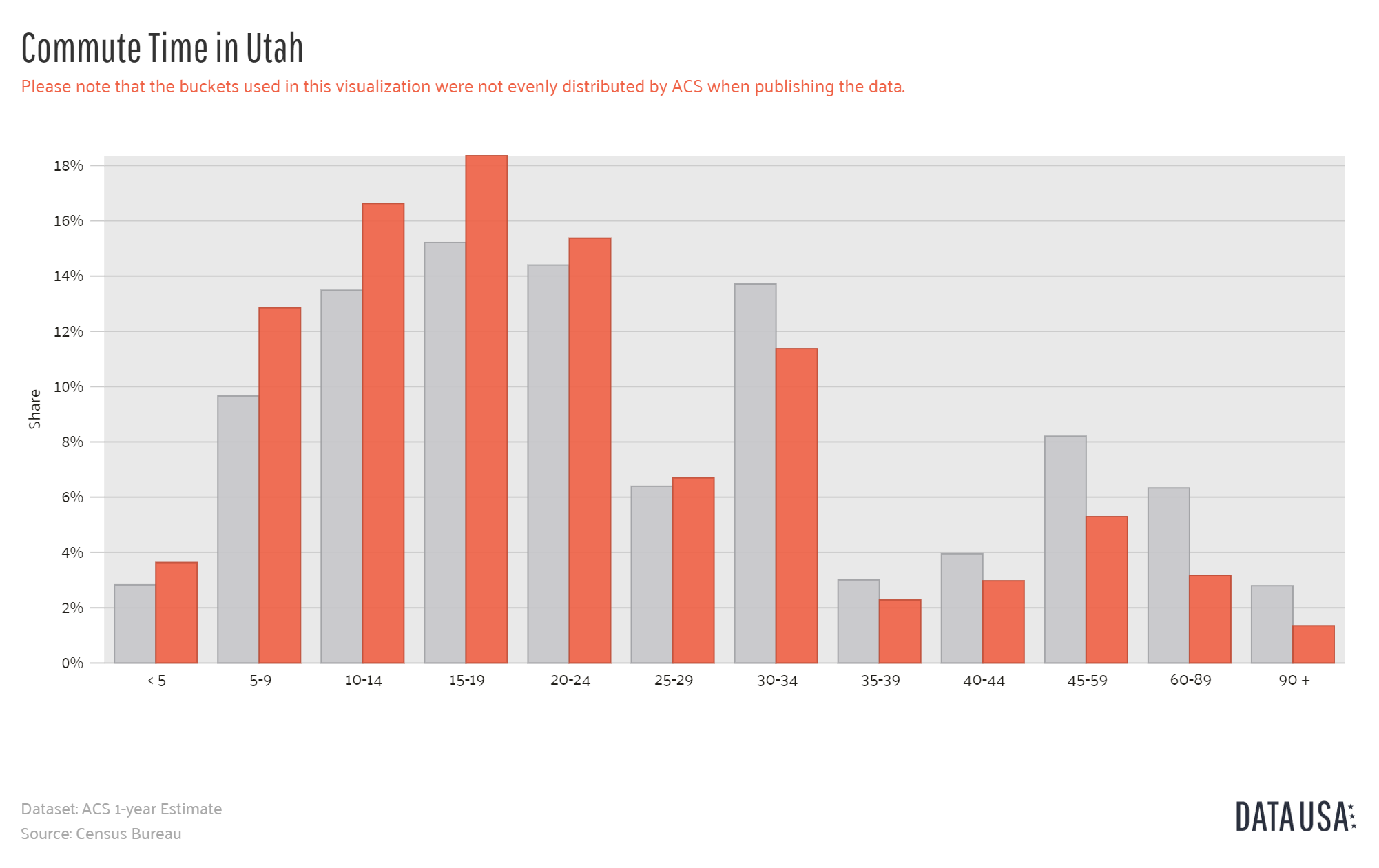 Commuter Transportation
How do you commute each day? In Utah, driving alone is the most common method of commuting.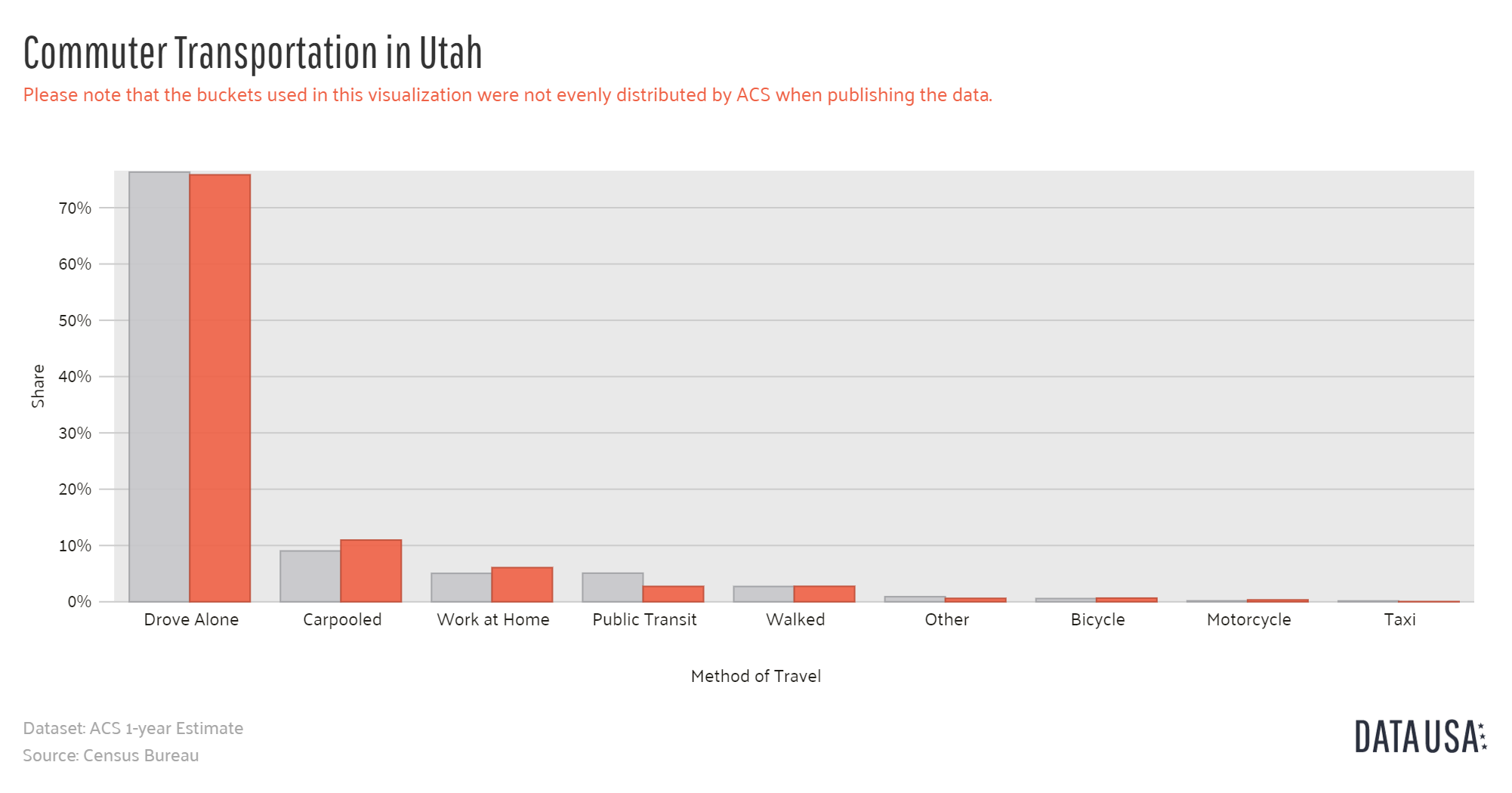 Top City for Traffic Congestion
Only one of Utah's cities made it onto traffic scorecards, which is good news. If you are driving in Salt Lake City, though, be aware that traffic may add a significant chunk of time onto your commute.
Now that you've made it through our comprehensive guide, you are fully prepared to drive in Utah! Enter your zip code in our FREE online tool to start comparing rates today!
Free Car Insurance Comparison
Enter your ZIP code below to view companies that have cheap car insurance rates.
Secured with SHA-256 Encryption