Progressive Car Insurance Review [2023]
The average Progressive car insurance rates range from $181/mo in HI to $465/mo in FL. Progressive car insurance discounts include multi-policy, teen driver, and safe driving with Snapshot discount.
Free Car Insurance Comparison
Compare Quotes From Top Companies and Save
Secured with SHA-256 Encryption
Does car insurance seem like a foreign language to you?
Flo has been translating insurance into plain English for Progressive for over ten years. Have you paid attention to Flo and Jamie? Have you considered Progressive because of their funny commercials? Are you fluent in insurance-speak yet?
Sound familiar? Progressive is another of the large insurance companies which use humor to sell insurance. What started as a single commercial advertising a giant superstore filled with "boxes of car insurance" has turned into a juggernaut of name-brand recognition for the third-largest insurer in the country. The message is simple: bundle and save.
But what if you want to know more than just a simple phrase?
Car insurance is something most of us need, and we want to make sure that you're not spending too much. Saving money is a language we all want to know more about. In this guide, we're going to show you everything you need to know about Progressive, including ratings, company history, coverage options, and more.
Would you like to start comparison shopping today? Take advantage of our FREE online tool to start comparing rates in your area.
Let's get started.
Progressive Car Insurance Rates
We partnered with Quadrant Data to bring you this information. Here are two things to keep in mind.
Many variables can affect what you pay. Your rate will differ from what is listed below
Progressive has discounts and options that may help offset the cost
Progressive Rates By State
Progressive is available in almost every state. Their rates vary, sometimes below and sometimes above average, and can be further affected by factors like driving record and credit history.
The most expensive state to carry Progressive as your insurance provider is Michigan, followed by New Jersey, where rates are thousands above average.
Progressive Rates Compared to Other Companies
Here's a look at Progressive compared to nine other top companies on a state-by-state basis. Progressive has the third-highest rates behind Allstate and Liberty Mutual.
As we've mentioned previously, your rates will vary based on your situation.
Progressive Male vs. Female Car Insurance Rates
Here's how Progressive's annual rates based on demographics compare to other top insurance carriers in the country. These averages are national, so where you live could affect your rates.
As with most other insurance companies, single, male teens pay more for car insurance than any other group.
Progressive Rates by Make and Model
What vehicle you drive can also have an impact on your car insurance. Below, we show you what you can expect to pay for five specific models from Progressive and its competitors.
Good news if you drive a 2015 Toyota RAV4 XLE, because of the vehicles listed, it has the cheapest rates.
Progressive Average Annual Rates by Commute
If you drive more than 12,000 miles a year, you may also see your car insurance rates start to rise.
Progressive customers can expect to pay the sixth-highest rates when it comes to their commute. Other factors such as living in a rural or urban area could also contribute to the cost of your insurance.
Progressive Coverage Level Rates
You might think that having the lowest minimum coverage in your state is the best way to ensure you and your family are protected. But that's not necessarily the case, because sometimes the difference in low to high coverage is less than you think.
Check out the table below to see the differences in coverage in your state.
Progressive Credit History Rates
Besides not being able to secure a car loan or a mortgage, poor credit can also have an impact on how much you pay for car insurance. The table below reflects what you'll pay for car insurance if you have good, fair, or poor credit. Of course, these are estimates, and your rates may be different based on your situation.
The average credit score in the U.S. is 675. If your credit score is lower than this, you may face increased rates on car insurance. In some states, poor credit can raise your rates by thousands of dollars. On average, with Progressive, poor credit can raise your rates by $1,100.
Progressive Driving Record Rates
If you get a speeding ticket, have an accident, or get a DUI, your rates with Progressive will increase in most states.
The table below shows rates with these three violations compared to the rate for a clean record.
One speeding violation with Progressive can raise your rates over $600.
Progressive offers the same coverage as all of the other companies do and in some cases, at a competitive rate. Let's take a look at standard insurance terms and go into detail about what they mean.
Progressive talks a lot about Bundling:
Gary may be excited about bundling with Progressive, while some companies advertise about coverage under every scenario imaginable, but what is that actual coverage called?
We know, it can be confusing, so that's why we've compiled a list of common coverages with a brief explanation. Different coverage types fall into four basic categories:
When you are at fault?
Liability coverage covers the physical damages you inflict upon another vehicle and the bodily injuries sustained by all individuals in the other vehicle.
When you are not at fault?
Uninsured and Underinsured Motorist Coverage covers your expenses if the at-fault driver has little or no liability coverage.
Vehicle Protection
Collision Coverage – covers your vehicle repairs or replacement after an accident
Comprehensive Coverage – includes what most would consider "out of our control" such as storm damage, hitting an animal, and more
Emergency Road Service covers standard roadside services like tire changes, jump starts, and lockout services
Rental Reimbursement Coverage – includes a rental car while yours is getting repaired
Mechanical Breakdown Coverage – covers parts and systems failure of your vehicle that is not caused by normal wear and tear or improper maintenance
Personal Protection
Medical Payments Coverage – covers medical expenses of those in your vehicle
Personal Injury Protection – covers costs incurred from injuries to yourself or others in the vehicle, lost wages and funeral expenses no matter who is at fault
Umbrella Policy – extends your liability coverage to a much higher limit which blankets over multiple policies such as home and auto as well as others
Progressive's extensive list of auto insurance coverages means you can tailor a car insurance plan to meet your needs.
Additional Car Insurance Options from Progressive
Depending on where you live, some of the above may be optional coverages. Progressive also has a good selection of additional coverage, including the most popular options
Collision
Comprehensive
Towing and Roadside Assistance
Rental Reimbursement
Personal Liability Umbrella
To add onto these standard options, Progressive goes a step further an offers a couple of specialty options:
Rideshare Coverage: coverage for anyone working for a ridesharing service (such as Lyft or Uber)
Loan/Lease Payoff Coverage: coverage that helps you pay off the loan/lease of your vehicle if it were to be totaled during a wreck
Progressive's Area of Operation
Progressive is available in all but three of the 50 states in the United States.
Progressive isn't available in Idaho, Minnesota, and West Virginia.
As long as you don't reside in one of these states, you can keep Progressive as your insurance provider.
Progressive's Discounts Offered
Progressive has many discounts and affordability options available to its consumers. Depending on the discount, you could save up to 40 percent.
These discounts aren't available everywhere, so be sure to ask your agent about what options you qualify for based on your situation.
What Stands Out and What's Missing
Let's review what we've learned so far by looking at what stands out about Progressive's offerings and what's missing.
What Stands Out — Progressive has a higher than the average number of discounts. It also has a great variety of add-on coverages and programs that go beyond the basics.
What's Missing — Progressive doesn't have a military discount, which is generally a typical discount at other insurance providers.
For the most part, Progressive has more to offer than what's missing (though it also has higher prices).
Free Car Insurance Comparison
Enter your ZIP code below to view companies that have cheap car insurance rates.
Secured with SHA-256 Encryption
Canceling Your Policy with Progressive
Over time, there may be occasions when you may need to cancel or adjust your insurance policy with Progressive. Here are four examples which may apply to you:
Selling a car and not replacing it
Storing a classic or antique vehicle
A teen is heading to college and will no longer be driving the vehicle
A vehicle has been paid off and no longer requires comprehensive cover
But what if you want to cancel your policy for other reasons such as customer dissatisfaction, rates that are too high, or you're moving geographic locations? Keep reading to learn how to cancel your policy.
How to Cancel Progressive
You'll need to pick up the phone and call 1-800-776-4737 your local agent if you want to cancel your policy. Progressive's website does allow you to modify or change some policies but doesn't allow for canceling a policy.
Progressive does charge a cancellation fee if you cancel your policy early (such as before the next renewal cycle).
This fee is generally around $50.
If you cancel at the end of a renewal cycle, you shouldn't be charged a cancellation fee.
When Can I Cancel?
Don't cancel your policy until you've secured representation with another company. Even a one day lapse in coverage can cause unwanted headaches and possible fines in some states. The cancellation will go into effect at midnight the following day after your policy expires or whatever day you have chosen to end the policy.
How To Make a Claim with Progressive
Uh, oh. You've been in an accident and need to file a claim. How does that work?
Ease of Making a Claim with Progressive
It's easy with Progressive, follow these simple steps:
Online — You can file a claim online at Progressive's website. You will need to have your policy number, contact information, and accident/incident information.
Mobile App — If you have Progressive's mobile app, you can use it to file a claim.
Agent — You can also contact your agent directly to file a claim.
Phone — You can call 1-800-776-4737 at any time (it is available 24/7, seven days a week).
Now, that we've shown you how to file a claim, let's look at how Progressive pays out claims to its customers. Loss ratios can give us some insight into the answer to that question.
Progressive's Premiums Written and Loss Ratio
The information below comes from NAIC and shows the premiums written by Progressive compared to its loss ratio over four years. The company has shown consistent growth over the lookback period, which means it's attracting more customers. The loss ratio decreased slightly, which could mean clients are reporting fewer claims or Progressive isn't paying out as much.
What exactly is a loss ratio?
However, the good news is that Progressive is a stable company and should have no problem paying claims to its customers.
How to Get a Quote Online with Progressive
Step #1 – Learn About Progressive
Progressive has been offering insurance for over 80 years. They're one of the most popular insurance providers in the nation, so it's understandable why you'd want to consider them while shopping around for car insurance.
Progressive has a lot to offer from car to life insurance, so before you even request a quote, take some time to explore their site and get a feel for who they are as a company.
Here's a pathway we suggest: Start off on their About page. Learn about their core values like integrity and respect, then check out their News Releases page to see what they're doing in the world.
One thing many people don't consider when researching a car insurance company is their role in the industry at large; do they only care about you for your money, or are they passionate about car insurance and what that really means — driver safety, affordability, accessibility, and accident prevention?
Once you've learned about Progressive as a brand, check out their Auto Insurance page and read about their coverage options. If you like what you see, it's time to get quotes.
Step #2 – Enter Your ZIP Code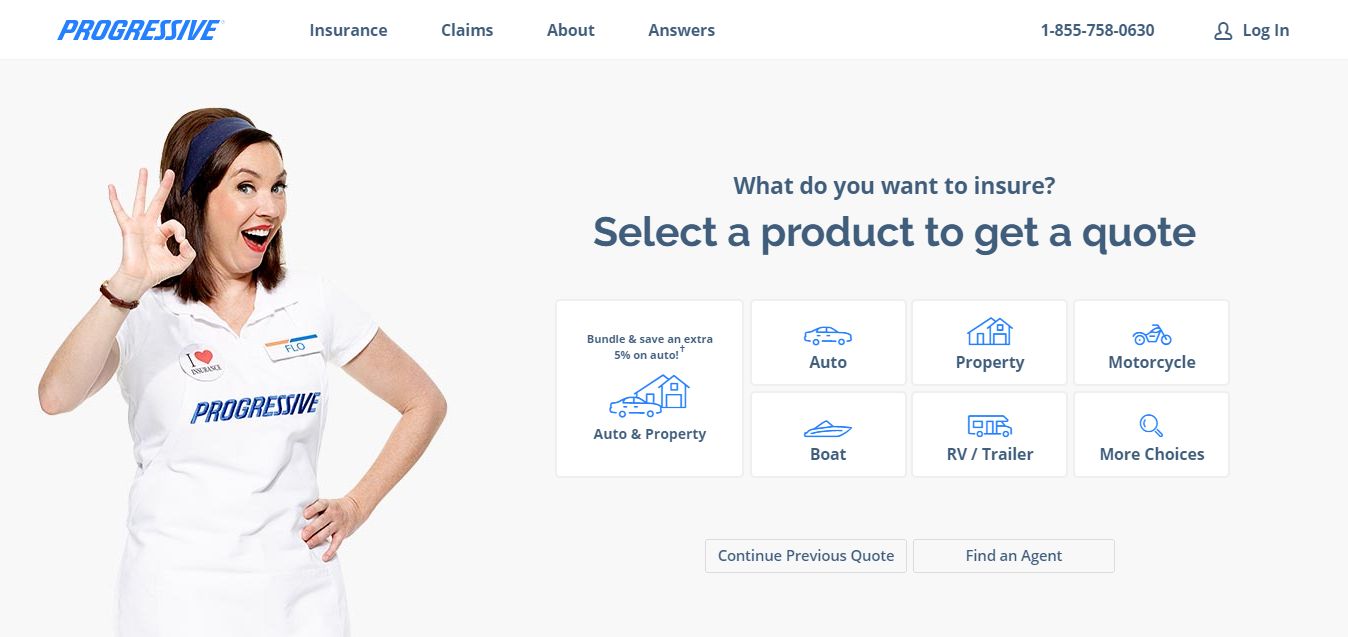 On Progressive's home page, you can select the type of insurance you'd like quotes for (see image above).


Then, you'll be prompted to enter your ZIP code (see image above). Click "Quote Auto" and you'll be redirected to the next page. The search has officially started!
Step #3 – Provide Your Information
In order to connect you with the right agent and give you an accurate quote, you'll have to provide your legal first and last names, current address, and date of birth.
Car insurance rates vary from state to state and person to person. Your age, driving record, and even your gender affects how much you'll pay, so this baseline level of information lays the framework for the quotes Progressive will give you.
Step #4 – Add Vehicles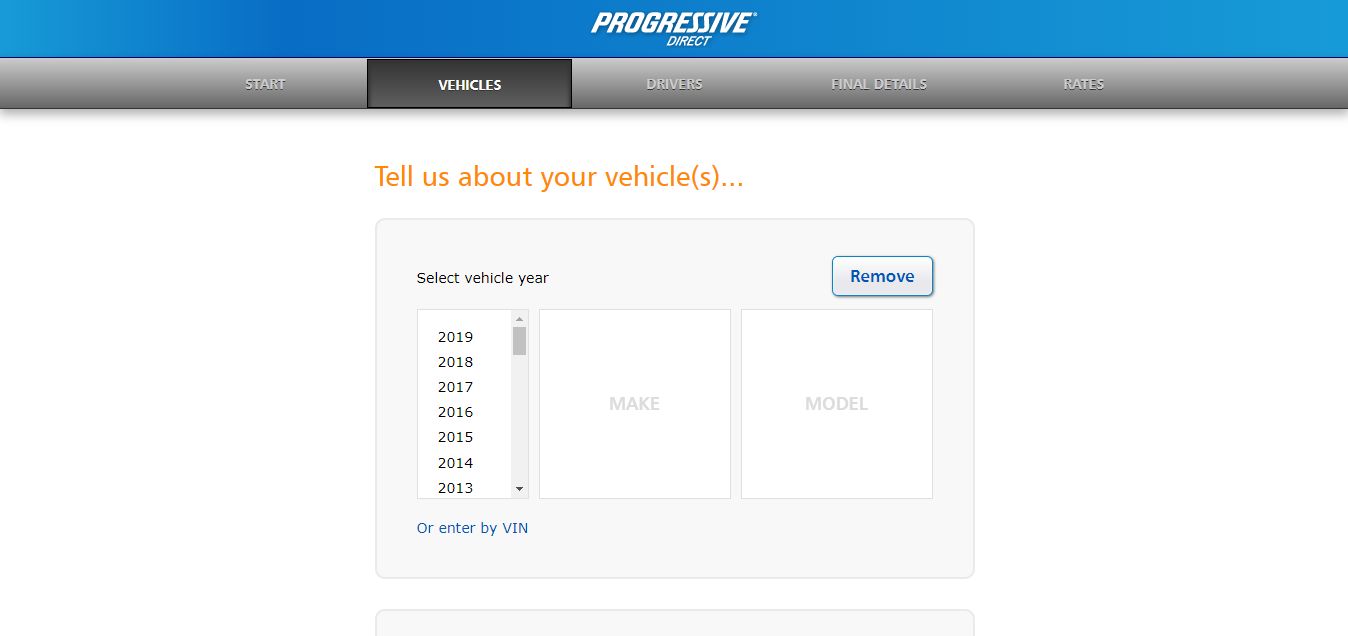 Now, you'll enter information for every vehicle you want to insure. You'll be prompted to input the year, make, and model of each car. You can also enter your car's VIN and have the information generated for you.
If you don't know how to find your car's VIN (Vehicle Identification Number), read this article to learn all about VINs and how to interpret and find your own.
You'll also have to specify how you use each vehicle you enter.
There is a difference in cost and coverage for vehicles that are used strictly for recreation, commuting (errands, to and from school, etc.) and business. Select the option from the choices provided that most accurately summarizes how you use your vehicle on a routine basis.
You can always adjust coverage levels and make changes to your policy once you speak with an agent, but being honest and accurate during the quote process is important in getting the most accurate rates.
Step #5 – Get to Know Your Vehicle
There are a lot of important details you have to know in order to properly fill out the information form. Firstly, you'll need to know exactly what make and model your car is. Just "Toyota" won't work.
So how can you find this info if you aren't sure? Check out this YouTube video (below) that will walk you through the simple process of finding the make and model of your car.
Your Vehicle Identification Number (VIN) is handy because you can input this directly into Progressive's system and it will input all of the information for you.
Step #6 – Understand How You Use Your Vehicle
Once you've entered your car's basic details, you'll be asked to specify its primary use. Many of us think that our car is just our car and is meant for everything unless you're a farmer or business person using your car only for specific tasks. Progressive gives you four options to choose from:
Personal – This is the option most everyday drivers will choose; select this if you drive your car to work or school, use it to run errands, drive around town, etc. In other words, if this car is your typical mode of transportation, this is the right option for you. (Progressive may ask if you commute to a specific state nearby depending on the ZIP code you enter. For example, if you live in Philadelphia, you would be asked if you primarily use your car to commute to New Jersey or New York for work or school.)
Business – Select this option if you mostly use your vehicle to make sales calls, run business errands, drive customers around or perform other work-related activities.
Commercial – Pizza delivers, snow plowers, taxis, and similar workers will select this option. You can also check whether or not you use your car in a rideshare program (like Uber or Lyft).
Farming – If your vehicle is used in agriculture and ranching, then select this option.
Choosing the right option and understanding how you use your car is vital to getting proper coverage. Your insurance needs and state requirements will differ depending on how your car is used, so make sure you're honest and that the information you provide is as accurate as possible.
Have a multi-purpose vehicle? Choose the option that most closely reflects how you use your car 75 percent of the time. You can go over details with an agent and have your quotes readjusted later if you like the initial rates you're presented with.
Step #7 – Save Your Progress
This is a good point to save your progress. After you've added vehicles, the next stage is to provide driver information for you and any additional drivers in your household.
Doing so might require you getting some information you don't have on hand, so click "Save and Return" at the bottom of the screen and enter your email address.
You'll be able to pick up right where you left off anywhere in the process after this for up to 13 months.
Step #8 – Get Fast Answers to Questions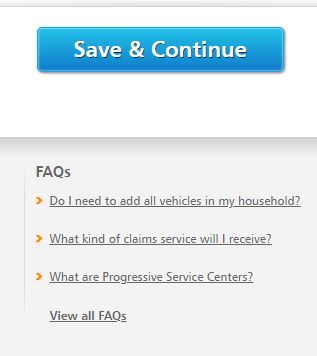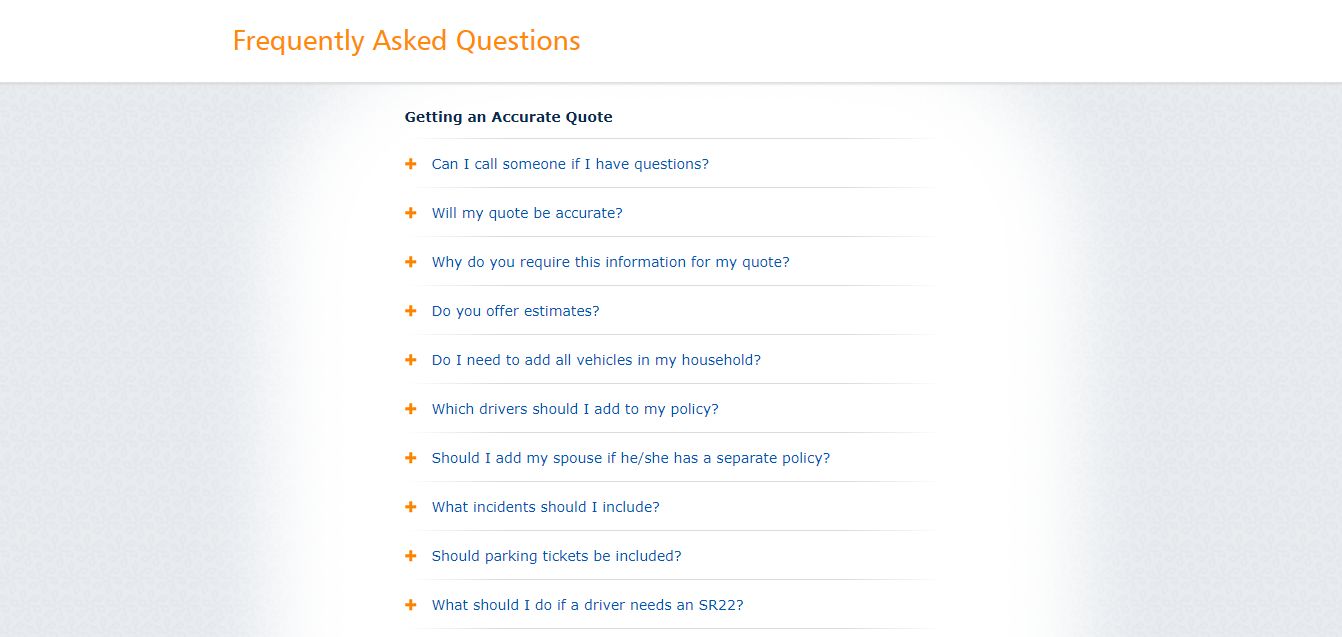 If you have some questions while you work your way through the quotes process, scroll down and check out the FAQ section. Click a question or "View All FAQs." Don't worry, you won't lose any progress and can select "Back" at any time.
The FAQs section is divided into helpful categories — Getting an Accurate Quote, How and Why to Buy Progressive, Snapshot, Comparison Rates, and Security and Privacy.
Whether you want to know how Progressive calculates a rate or how they securely handle the personal information you provide, this is the place to get answers.
Step #9 – Enter Driver Info
Now you'll provide driver information that gives Progressive a brief overview of your driver profile and history. Make sure that you don't withhold any information that you worry will increase your rates; doing so will ultimately only result in the termination of a policy later down the line.
Understanding how car insurance rates are calculated and the multiple factors providers take into consideration can also help you understand which discounts your lifestyle may qualify you for.
Step #10 – Call for Help if You Need It
Before you go through the final step, you want to make sure that you're 100 percent clear on everything you've been asked and have responded with the most accurate information possible.
If you have questions about how to locate certain information or if a particular question or part of the quotes wizard confuses you, you can scroll down and request a call from a live customer service representative or call Progressive yourself at 1-877-776-4266.
Step #11 – Get Your Quotes
The final step to getting quotes requires providing some additional contact info. You can enter your social security number if you want, but it isn't a mandatory step and we don't advise doing so until you're actually purchasing a policy.
Shortly after entering your email, you'll receive your personal car insurance quotes from Progressive, but wait! There's still some more work to be done before you buy coverage.
Step #12 – Go Mobile
Once you've compared car insurance quotes, and if you've decided Progressive is the right company for you, you can download the Progressive app for iPhone or Android.
Most of the features here are for members who want to manage their coverage effectively; you can view policy details, pay your premiums, report a claim, talk to an agent, get roadside assistance, and find a Service Center.
You will then be given additional information after your quote, as well as the option to purchase a policy from Progressive. As a reminder, here is what you'll need to apply.
To get as accurate a quote as possible, be sure to fill out all required information about your vehicle and driving record.
Free Car Insurance Comparison
Enter your ZIP code below to view companies that have cheap car insurance rates.
Secured with SHA-256 Encryption
Progressive's Financial Ratings
All companies advertise how much better they are than the competition. But let's see what multiple independent agencies say about Progressive and if it's the right company for your insurance needs. Comparing the pros and cons is an important factor in determining which auto insurance company is best for you.
Progressive AM Best
An AM Best rating measures the financial stability of a company, with A++ being the highest rating possible. Since Progressive has an A+ rating, it means the company has a stable financial future.
Progressive Moody's
Moody's rating looks at how well a company can pay off its debts (its creditworthiness). Progressive's A2 rating falls into the P-2 category, meaning the company has a "strong ability to repay debts and has a predictable, stable future."
Progressive Standard and Poor's (S&P)
S&P's rating of Progressive is good, though the best grade is AA-. This A rating means that Progressive has a strong capacity to meet financial commitments. It differs from the highest-rated companies by only a small degree.
Progressive Better Business Bureau
This rating looks at multiple aspects of a business, although the most critical element is the company's complaint history. A complaint history shows how satisfied customers are with the service they receive.
Since A+ is the highest rating the BBB gives, the Better Business Bureau views Progressive B- as better than most, but needs improvement.
Progressive J.D. Power
Another essential rating to look at when searching for an insurance company is customer satisfaction levels. J.D. Power rates companies solely on customer satisfaction levels. Progressive received a score of 815 in providing a satisfying purchase experience, ranking it ninth among auto insurers.
Progressive Consumer Reports
Progressive scores extremely well in many of the above categories.
Progressive Consumer Affairs
As for the Consumer Affairs' rating of Progressive, the company has received 4/5 stars on 2700+ reviews. While this is an exceptional overall score, there is room for improvement in multiple categories such as "simplicity of the process" and "agent courtesy."
Progressive NAIC Complaint Index
Progressive Complaint Index

Private Passenger Policies
2021
2022
2023
Total Complaints
32
35
34
Complaint Index
(Better or Worse than National Index)
0.0011 (better)
0.0000 (better)
0.0012 (better)
National Complaint Index

1.47
1.53
1.51
The National Association of Insurance Commissioners (NAIC) measures the number of complaints a company receives. The company's complaint ratio is 0.75 and below the national average of 1.16. One thing to consider is that your experience may be better or worse than these ratings based on your insurance needs.
Progressive's Company History
Since its founding in Cleveland in 1937, Progressive has taken an innovative approach to auto insurance. The company was the first to allow drive-in claims service and also the first to enable customers to pay in installments instead of annually.
The company has grown substantially over the last 75 years and has entrenched itself as the third-largest insurer in the United States. In the 1990s, the company became the first auto insurer to establish a site on the worldwide Web.
According to Progressive's Web site:
Between 1996 and 2005, Progressive grew an average of 17 percent per year, from $3.4 billion to $14 billion.
But many factors make up a company, including how it treats its customer, how it works within the community, and whether it is financially viable enough to weather volatile economic situations.
Why should you care about the history of Progressive? Because looking at a company's history gives you essential data about how successful the company is and what its future is like.
Up next, we are going to dig into everything from Progressive market share to its awards and accolades.
Progressive's Market Share
Below, you will see NAIC's data on Progressive's market share for the last four years.
Below you can see a chart of Progressive's overall market share today.
Accessibility
Progressive has several options if you want to access information or get in touch with someone about your car insurance policy.
Online — You can find quotes and more online at the Progressive website.
Agents — You can talk to agents by texting, calling, or emailing.
Apps — Progressive offers a mobile app, through which you can access your policy information and contact agents.
Commercials
Car insurance companies do whatever it takes to grab your attention through humor, what-if scenarios, and emotional bonding. Progressive is no exception.
Who doesn't love Flo and Jaime? Flo has been the featured spokesperson for Progressive since 2008.
"Flo" in the Progressive Car Insurance commercials
Wondering who the girl that plays "Flo" in the Progressive car insurance commercial is? Lots of different companies have spokespersons that help deliver a message, but not all of them become memorable.
Flo, the Progressive car insurance girl, has become one of the most memorable characters captivating people nationwide. Flo, the often loved but sometimes hated Progressive Superstore cashier, is portrayed by Stephanie Courtney.
Courtney has been an actress for well over 20 years; but, it is only more recently that she began her career as the perky Progressive car insurance girl. Flo has become the Progressive spokesperson and has done an amazing job!
Stephanie Courtney, the Actress
So now we can answer the question, "Who is Flo?" Stephanie Courtney is an actress who was born on February 8th, 1970, in Stony Point, New York. She began her acting career in the first grade and fell in love with it immediately.
Her sister, Jennifer Courtney, is also an actress. On November 25, 2008, Stephanie Courtney married Scott Kolanach, who is the lighting director for The Groundlings.
The Groundlings is a Los Angeles improv theater where Courtney is the main company member. Courtney still performs improv at The Groundlings, but she originally started doing stand-up up in New York.
After graduating from the Neighborhood Playhouse in New York City and doing mostly free theater, Courtney moved to Los Angeles where there were more acting opportunities.
It only took six months of stand up comedy before she was discovered by her current manager.
Her first movie role was that of Kate in "Sweet Bird of You" in 1988. In that same year, she appeared in the television show "Mr. Show with Bob and David." In 2000, Courtney's television career started to gain momentum and by 2003 she was making more feature films.
In 2007 she played Gayla in "The Heartbreak Kid" along with Ben Stiller. You may have seen her in big television hits such as "Angel," "Everybody Loves Raymond," "ER," and "Without a Trace."
Her latest movie was in 2009, where she played Karen Balsac in "Coco Lipshitz: Behind the Laughter". Most recently, Courtney appeared on Jay Leno.
In total, she has had more than sixty movie and television appearances, which does not include all of her commercials or live shows.
Courtney was awarded the Copper Wing Award in 2003 for Best Ensemble Acting. She shared the award with her co-stars of "Melvin Goes to Dinner."
Flo, the Progressive Car Insurance Spokesperson
The character of Flo the Progressive girl was born sometime in 2007 and is played by Stephanie Courtney on a series of television commercials for Progressive car insurance.
Flo's role is that of a cashier selling Progressive car insurance in a bright, white insurance retail store. Capturing the attention of viewers everywhere, Progressive was happy to sign another contract for 12 commercials with Courtney back in 2008 and then again in 2009.
After two hours of getting her hair teased and her makeup applied, Courtney is transformed into her character of Flo.
Although the Progressive car insurance girl is a scripted character, Courtney is allowed to add some improvisation to the role, letting the silly side of the actress spill onscreen a bit.
It seems the big debate about Flo is WHY she is so appealing. She has been described as cute, perky, comical, and sexy in a naughty schoolgirl way. She has also been blasted as dumb and annoying.
However, statistically, the latter group is in the very low numbers and most people are quite fascinated with her.
The debate is mostly what makes Flo so attractive and likable. Some attribute it to her appearance, with the retro look and stark contrasts. Others think her bubbly personality is charming enough to be appealing.
Perhaps the combination of the two is what makes her a growing sensation on the media. Whatever the reason is, the majority of people are mesmerized and want to see more of her. Is Flo from Progressive hot? Of course! Saving money on car insurance is always hot, right?
Progressive has done all that they can to capitalize on the sudden fame of their spokesperson. They even have a "Dress Like Flo" section of their website, which, honestly is a little ridiculous, but, hey, whatever teases your big hair.
But, there is no doubt that Flo from Progressive has become very, very popular — she even has over 5 million likes on her (Progressive official) Facebook page!
One essential ingredient missing in Progressive's advertising is that Progressive relies solely on Flo to advertise its products. There is no catchy jingle or tagline (such as Farmers' "we've seen it and covered it").
While the lack of a catchphrase may make Progressive stick less in people's mind, Progressive has done an impressive job of promoting its brand by developing a mascot that people can relate to when searching for car insurance.
Investment in the Community
Progressive is proud to give back to the community. The video below shows how the company is doing just that.
Community service shows a company cares, and Progressive has involved itself in several programs to give back to the community.
The Progressive Insurance Foundation — Progressive matches employees' donations to eligible charities.
Volunteer Website — Progressive has an internal website where Progressive employees can search and find volunteer opportunities.
STEM Progress Program — Progressive has a program where employees visit schools and help teach skills using insurance concepts.
Progressive also makes an effort to be socially responsible in maintaining a sustainable environment, helping others, and ensuring a better future for generations to come.
How is Progressive Positioned for the Future?
Here's an interview with CEO Tricia Griffith who explains what's ahead for the company.
Working at Progressive
Let's take a look at what employees think of Progressive. This will give us insight into the company's values and employee satisfaction levels.
Let's start by looking at employees' experience ratings according to A Great Place to Work.
Progressive Employee Percentage by Statements

| Statement | Employee Percentage in Agreement |
| --- | --- |
| When you join the company, you are made to feel welcome. | 97% |
| Management is honest and ethical in business practices. | 93% |
| I am given the resources and equipment to do my job. | 93% |
| I am proud to tell others I work here. | 93% |
| People here are given a lot of responsibility. | 92% |
Numbers don't lie. At Progressive, 91 percent of the company's employees say that it's a great place to work.
Here are Glassdoor's ratings.
Progressive received 3.7 stars out of five (from over 2,000 reviews)
70 percent of employees would recommend Progressive to a friend
91 percent of employees approve of Progressive's CEO
Positive reviews about Progressive mention a great work environment, great people, and excellent benefits. Dissatisfied reviews say factors such as long hours, little work/life balance, and the difficulty of working in Progressive's call center.
Awards and Accolades
Let's take a look at the most recent awards and accolades Progressive has earned.
Glassdoor's Top CEOs Award in 2018, 2017, and 2014
Multiple awards for advertising and website/app innovation
Progressive has also earned several awards from Great Places to Work.
The company has a long history of valuing diversity and inclusion and continues to operate on those principles.
Design of Website/App
While other insurance company websites and apps may be difficult to navigate, Progressive's is relatively simple and easy to use. On the website, it is easy to find whatever information you're searching for. Just click from any of the categories on the drop-down menu and go.
At the top of the page, you will see tabs that drop-down into menus with more choices. The explore products tab will give you a full breakdown of what Progressive offers and lead you to more information.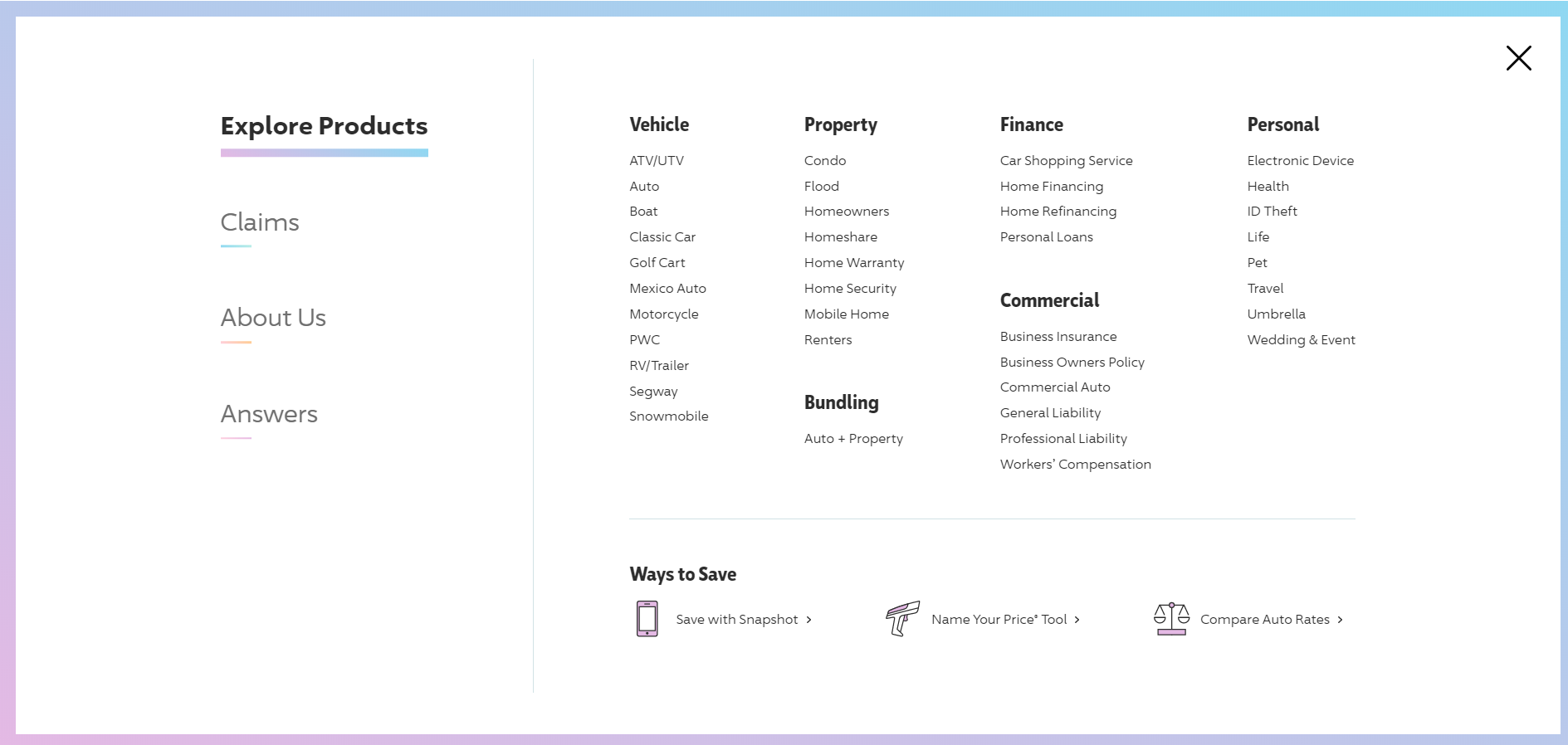 If you can't easily find your answer in the drop-down options, scrolling down to the bottom of Progressive's webpage will show you a search bar.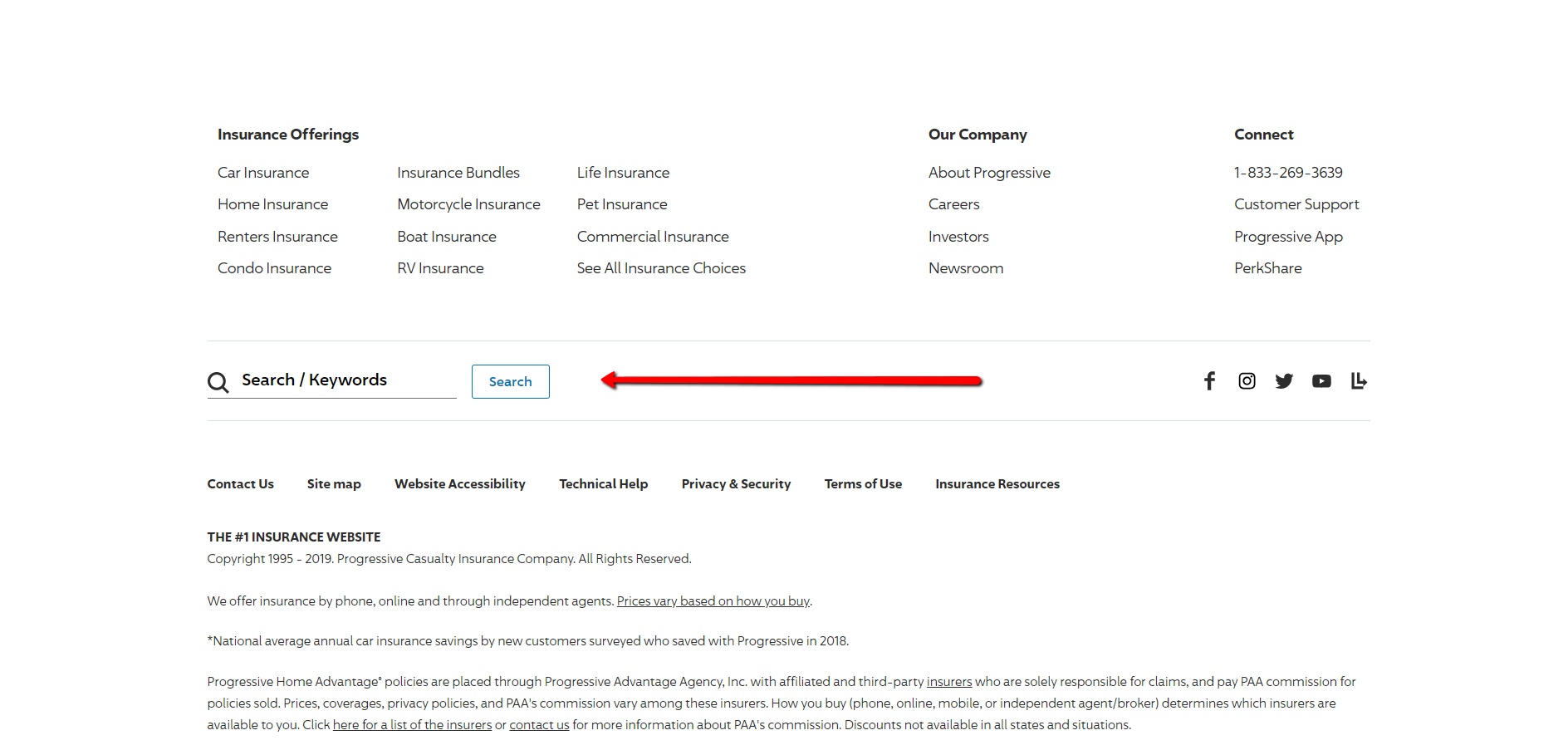 Let's move on and look at Progressive's main app.
The app received 3.4 stars out of five (based on 1.3k ratings). Complaints about the app include the following.
Can't use debit cards for autopay
Trouble signing in with passwords
Other App Features
View your coverages, discounts, ID cards, documents, and policy details
Report a claim and add pictures
Pay bills and view billing history
See Snapshot progress
Get a quote or make a policy change
Request roadside assistance
Contact your agent
One key component missing from the app is the inability to check the status of your claim. For the most part, though, you can check a variety of things on the app.
Free Car Insurance Comparison
Enter your ZIP code below to view companies that have cheap car insurance rates.
Secured with SHA-256 Encryption
Pros and Cons
Now that we have covered everything you need to know about Progressive let's check out the biggest takeaways in terms of pros and cons.
As we can see, there are plenty of benefits to Progressive's coverage, with a handful of reasons being their friendly and reliable customer support, and a plethora of ways to customize your savings.
The Bottom Line
We've shown you everything you need to know about Progressive, so you can decide for yourself whether they are right for you. With Progressive, Flo and Jamie have urged us to bundle and save in every way imaginable.
But don't focus too much on that bundle that you end up paying too much for your car insurance. One thing to consider is that everyone's needs are different, and rates can vary significantly based on individual factors.
As thorough as this guide is, we still strongly suggest that you shop around with your personal details and specific vehicle information before you choose an auto insurance provider.
Get quotes today to find out how much you could save on car insurance. Get started by simply entering your ZIP code in our free comparison tool.
Frequently Asked Questions (FAQ)
Have further questions about Progressive? We've answered a few common questions people have about Progressive below.
What is the Progressive Snapshot?
We've mentioned it briefly in an earlier section but never went into full detail about all of the benefits Progressive's Snapshot program can offer drivers. This program provides you rates based on how you usually drive. You use a telematics device installed into your vehicle, or through the Snapshot mobile app itself.
The device/app then monitors the time you spend driving as well as any habits you may be prone to, such as speeding, sudden braking, and more. It then calculates the rate based on the data it receives. Who has the most to gain from this program?
Anyone confident in their driving abilities! If you think you are a particularly safe driver, you may see a lot of savings using this program.
https://youtu.be/Qp1SlGuL6Eo
Possible Savings of Snapshot
The possible savings for people who use this device to monitor their driving is up to 30 percent off your current policy total.
This discount does not apply to your policy until it is time to renew your policy with Progressive, and Progressive wants you to use the device for at least 30 days before a discount is calculated.
The benefit to this program is that, if you are a great driver but you seem to have hit a stalemate on getting discounts on your auto insurance, you may have the opportunity to actually get a lower rate.
If you turn out to be a terrible driver, Progressive does not increase your rates and will not increase your rates when it comes time to renew your policy with the company.
According to the company, it is not their intention to punish drivers who have a poor driving record.
However, in Rhode Island, the information from Snapshot is used to increase the rates of drivers who prove to be high risk in their driving habits.
Possible Downsides of Snapshot
A major downside to using this device is if you turn out to be someone who the company considers to be an unsafe driver. As mentioned above, the company isn't going to increase your rates when you renew your policy.
However, if you want to add another car to your policy, that's a different scenario altogether.
In addition, if you switch from Progressive and then decide to come back to the company, the data it collected while you were using Snapshot is used to determine your rates.
Perhaps you were getting great rates before, but if your Snapshot shows you to be a high-risk driver, your new rates are going to reflect that.
Another possible downside is simple technology failure.
Many people who use Snapshot claim that it recorded hard braking during times they weren't driving. Someone else plugged in the device and their vehicle stopped working.
It turned out that the device triggered a failure in their computer.
Some people complained that they didn't receive the discount offered in their Snapshot, although they may not have realized that the discount does not apply until after they renewed their policy.
Availability of Snapshot
Because Snapshot is available in so many states, it would be much easier to list the states in which Snapshot is not available.
These states include:
Washington
California
Alaska
North Dakota
New Mexico
Illinois
Indiana
West Virginia
Tennessee
North Carolina
What is the Deductible Savings Bank, and will it help me?
Great question! We also mentioned this briefly in a previous section but didn't get to tell you about how it would benefit you. The deductible savings bank essentially helps you pay your deductible.
Once you add this feature to your policy, you will automatically be subtracted $50 from your collision and comprehensive deductible for every claim-free policy period. So if you go your policy period (six months for example) without making a claim, you get deducted $50 from what you paid for your collision/comprehensive deductible.
So for example, let's say you were to choose a $500 deductible for your comprehensive and collision on your policy. You then go six months (on your policy period) without making a claim.
At the end of that period, your deductible will then drop to $450. Let's say you keep going and the next policy period comes to an end, and you have yet again made no claims, you would then go down an extra $50 to a $400 deductible.
This savings bank allows you to try to get all the way down to $0.
What is the "˜Name Your Price' Tool?
Progressive's name your price tool allows customers to tailor their insurance policy to their budget. You'll input information into the system, and Progressive will give you a range of car insurance coverage options to meet your needs.
To utilize this, you go through three steps:
Get a Quote – You'll give them some necessary information about yourself and your vehicle to determine the lowest and highest possible prices you could get
Use the Name Your Price Tool – After you've gotten all of your information in on your quote, you'll see a Name Your Price option on the page for you to select
See your coverage options and purchase – You'll then see all of your coverage options, you can even adjust your coverages to get the policy you desire.
How does the MyRate tool work?
The way Progressive works is that you must first apply for coverage. Upon applying for coverage, you will receive a quote.
If you decide to purchase insurance from Progressive, you are then given the option of signing up for the "MyRate" tool. If you sign up for the tool, Progressive will give you a 10 percent discount on your first term premium. Then, you are charged $30 for every term to cover the measuring device that is placed in your vehicle.
The device will provide a reading of how, how much, and when you drive.
According to Progressive, the measuring device can save you up to 25 percent on your policy or cost you up to 9 percent more depending on driving habits and patterns.
If you do some research, you'll find proof on the Internet that MyRate from Progressive is saving people money on their auto insurance.
Is the MyRate program available in all states?
The MyRate program is only available in certain states, according to Progressive. Every state's insurance requirements and minimum rates vary. Insurance companies can only discount certain amounts and still meet insurance regulations.
Insurance companies are required to charge a certain minimum rate for insurance.
Insurance companies must keep enough reserves on hand in case of catastrophic payouts. If they charge too little, the reserves will not grow or will become depleted. In certain states, there is less leverage to adjust rates.
Another factor to why the tool is only available in certain states is that insurance discounts must first be approved by the state's insurance department before the company can market it to potential policyholders.
Progressive is currently working on receiving approval from other states' insurance departments so that they can market the MyRate tool in these additional markets.
How is the MyRate program different from other discounts?
The MyRate program is not any different than any other discount offered by an insurance company. For instance, most insurance companies will give you a discount if you drive less than the national average.
Most insurance companies will also give you a discount on how you drive. You can get a lower premium for being a good driver with almost any insurance company.
Lastly, many insurance companies will give you a lower premium if you drive at off times. If you do not drive in rush hour every day for miles to the office, there is a pretty good chance your insurance will be lower than someone who does.
Can I name my own price without the MyRate device?
According to Consumer Reports, you can also name your price without the MyRate tool. Progressive allows you to name your own price by entering an amount in a tool box after the quote has been generated.
However, the website will not allow you to go below a certain level due to industry regulations.
Also, as your amount is adjusted, so is your coverage. Your price will get lower as the insurance coverage decreases or as your deductible increases.
Can I name my own price with another company?
You can name your own price with any insurance company but with certain restrictions. Again, insurance companies are regulated by how much or how little they can charge.
You can lower your premiums by adjusting your coverage. A few adjustments to coverage can save you hundreds of dollars.
You should also ask for or research possible discounts for car safety features, driver's education courses, good student discounts, marital status, or bundling of coverage.
Essentially, when you make these adjustments, you are naming your own price in the insurance industry. After all, you are determining the minimum required coverage for the lowest amount of money.
Remember you should always receive at least three quotes when shopping for car insurance. You should always compare the cost of coverage and be sure you purchase insurance from a reputable company.
Ready to start saving on your car insurance?
Just enter your ZIP code below to get the best rates in your area using our FREE online tool.
Reviews

for Progressive Insurance