Root Car Insurance Review: How to Get Root Insurance Quotes
Root car insurance rates are calculated based on your driving performance which is measured on the Root app using GPS sensors. To see if you qualify for Root car insurance, you must take a test drive.
Free Car Insurance Comparison
Secured with SHA-256 Encryption
UPDATED: Jun 2, 2022
It's all about you. We want to help you make the right coverage choices.
Advertiser Disclosure: We strive to help you make confident car insurance decisions. Comparison shopping should be easy. We are not affiliated with any one car insurance company and cannot guarantee quotes from any single company.
Our partnerships don't influence our content. Our opinions are our own. To compare quotes from top car companies please enter your ZIP code above to use the free quote tool. The more quotes you compare, the more chances to save.
Editorial Guidelines: We are a free online resource for anyone interested in learning more about auto insurance. Our goal is to be an objective, third-party resource for everything auto insurance related. We update our site regularly, and all content is reviewed by auto insurance experts.
Company Details
Address: 80 E Rich St Suite 500
City: Columbus
State: OH
ZIP Code: 43215
Phone Number: 866-980-9431
Year Founded: 2015
Here's what you need to know...
Because Root is all about offering affordable coverage to good drivers, you'll take a test drive before you have to enter any personal information to find out if you qualify for coverage
Root has a robust app that's command center for your coverage, so you'll always have quick access to your billing statement, insurance card, and more
You can pay for Root month-to-month or pay off a six-month 

auto insurance policy

 in one payment
Get Root quotes online to see if you can save money
Note: We are not associated with Root and cannot provide any assistance with Root insurance claims or other issues.
We looked deeper into Root to get a feel for their company and to understand how their auto insurance works. Read on to learn more and find out whether they could be a good fit for you.
It's all about you. We want to help you make the right coverage choices. On the market for better coverage? Click here and enter your zip code to get multiple personalized quotes from local auto insurance providers to save.
What is Root Insurance Company?
Car insurance is expensive, and more drivers are looking for alternative options to traditional auto insurance policies to save money. Root is a new car insurance company that strives to take the work out of getting car insurance with "no agents, no phone calls, no hassle".
One of the most novel aspects about Root is the fact it's entirely app-based. Despite having a great website design chock-full of important information and explanations, all the actual insurance work happens on your Apple or Android device.
Root claims to be able to save good drivers up to 52 percent on car insurance, but how? Can you trust car insurance you bought off an app?
Free Car Insurance Comparison
Enter your ZIP code below to view companies that have cheap car insurance rates.
Secured with SHA-256 Encryption
What Do I Need to Know About Root Auto Insurance?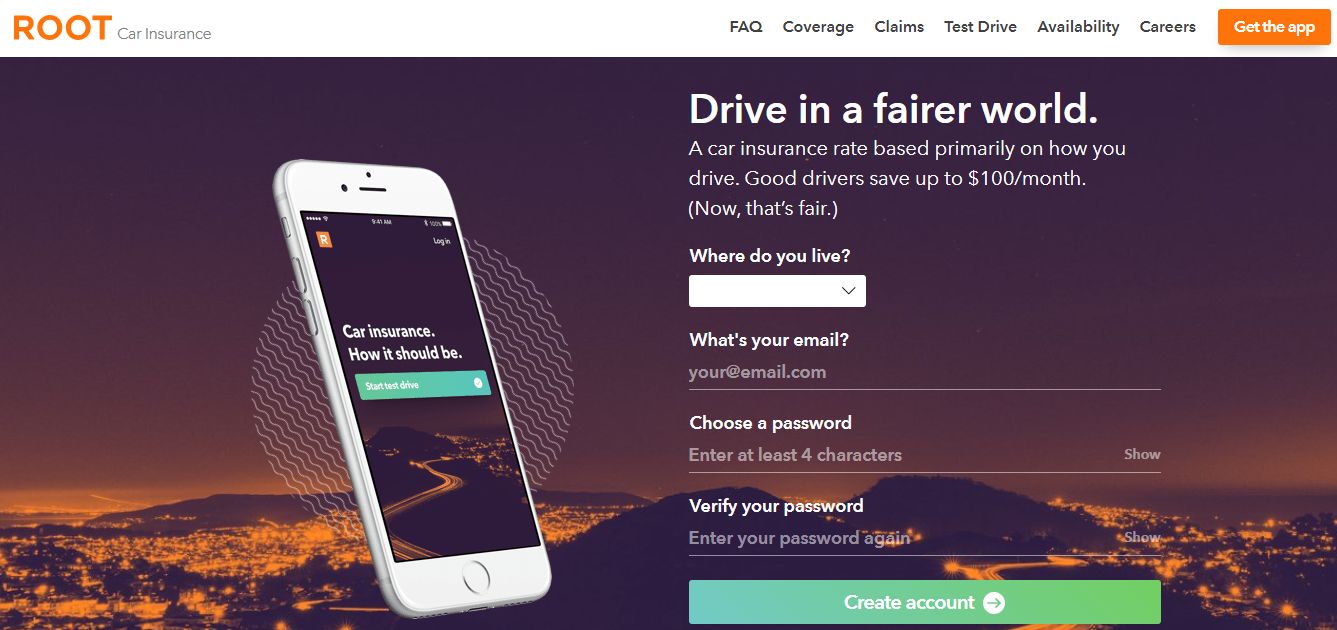 Every car insurance company has their own way of calculating car insurance premiums but all of them are based on a series of criteria such as location, age, and even your job. Root, as its name implies, gets to the origins of what really matters when it comes to what you should pay for premiums— how well you drive.
Dubbed by Forbes as "real-time, context-based" insurance, Root launched as a startup originally for Tesla owners but has since expanded and now offers lower coverage to drivers of any vehicle.
Founder Alexander Timm has over 14 years experience in the insurance industry; he understands what works, and, more importantly, knows where it could be improved. He founded Root to make car insurance less of a hassle and more of an asset.
How Does Root Insurance Work?
Root embraces modern times and uses technology to determine exactly how well you drive and reflects the results in the cost of your car insurance. When you download the app, you'll have to take a test drive to determine your eligibility.
Using your smartphone's GPS and motion sensors, Root will test your driving abilities based off a variety of factors like braking, smoothness, and traffic habits.
Your results will be evaluated by an AI, and the results will determine whether or not Root offers you a quote.
Who Is Root Car Insurance Good for? 
Root is a good choice for people with a good driving record who want to save more on car insurance. Root breaks down how their car insurance pricing works on their site, and we have to say, their algorithm poses a new model that could dramatically cut costs and make insurance a lot more affordable.
Like we said earlier, a lot of factors go into determining car insurance costs. Every company has their own algorithm, but your driving record doesn't play as large of a role as it should in most cases.
After answering tons of questions online, you're ultimately placed in a risk pool that will determine how much you pay from any given company.
Sure, you can save money by qualifying for additional insurance discounts and participating in savings programs like Liberty Mutual's RightTrack and State Farm's Drive Safe & Save. But your driving record and daily habits don't typically influence your premiums the most, which is unfair to a lot of people to say the least.
If you're someone who is typically given high quotes due to your age, gender, or location, Root might be able to cut down major costs and give you a quote that reflects how well you drive and the type of coverage you actually need.
Free Car Insurance Comparison
Enter your ZIP code below to view companies that have cheap car insurance rates.
Secured with SHA-256 Encryption
What States is Root Currently In?
Root is based out of Columbus, OH, and has plans to expand its business across the nation. The company recently started offering coverage in Kentucky and Philadelphia, bringing its availability up to a total of 17 states. Here's the full list of states you can buy Root car insurance in:
Arizona
Arkansas
Delaware
Illinois
Indiana
Iowa
Kentucky
Louisiana
Mississippi
Missouri
Montana
New Mexico
Ohio
Oklahoma
Pennsylvania
Texas
Utah
What Insurance Options Does Root Offer?
They offer a lot of the major types of car insurance coverages required by state and needed by drivers. Here's a full list of their offerings:

Root offers liability coverage required in every state as well as additional coverages every driver should have like comprehensive and collision. There are also additional offers that will keep you secure in the event of an accident like under/uninsured motorist coverage and Personal Injury Protection (PIP).
Roadside assistance is included with every package, so you'll never have to worry about being stranded. There's also optional rental insurance that will make it easier to afford to get back on the road while your car is in the shop.
Does Root Offer Any Discount Opportunities?
You know about discount programs at other auto insurance companies. The difference between Root and its larger competitors is that their entire model is based off giving you discounts.
Instead of having to install a device, download a separate app or wait an entire policy period to find out what you can save, Root offers instant discounts on car insurance coverage all from their main app, and your savings are applied to all your coverages as soon as you're eligible.
Free Car Insurance Comparison
Enter your ZIP code below to view companies that have cheap car insurance rates.
Secured with SHA-256 Encryption
Does Root Offer Pay-as-You-Go Car Insurance?
Some people only need temporary coverage; Root's auto insurance allows you to pay-as-you-go. You can sign up and pay for your insurance monthly or switch to one payment every 6 months. If you switch to a six-month payment plan, you won't be able to switch pack until your policy's 6-month renewal.
Even if you choose a later start date for your policy, payments are deducted immediately, so make sure you're serious about switching to Root before you buy from them.
Is Root Car Insurance Legit?
It's understandable that you'd be skeptical of a car insurance policy you bought on an app. In case you're worried this could all be a scam, we did our homework. Root is accredited by the Better Business Bureau and has a rating of A+.
Customer opinions matter, too. At the time of this review, Root was rated 4.5 stars on the App Store and 4.4 on Google Play Store with over almost 10,000 combined ratings.
How Do I Get a Root Insurance Policy Online?
Root wants to take the work out of car insurance. Everyone needs it, but that doesn't mean it should be such a chore (or a bore).
You'll find out whether or not you're eligible for coverage, and then Root will walk you through the buying process. It's fast, easy, and by far the most modern car insurance company we've seen so far.
Of course, just because Root's coverage is easy to access doesn't mean you should immediately buy it. You still need to employ the smart shopping skills that can save money without cutting back on coverage.
Free Car Insurance Comparison
Enter your ZIP code below to view companies that have cheap car insurance rates.
Secured with SHA-256 Encryption
How Do I Get A Root Insurance Quote?
Download the Root app on the Apple App or Google Play store and sign up for a test drive.
Can I Save Money and Get Better Car Insurance by Comparison Shopping?
Enter your zip code below and get matched with personalized auto insurance quotes. Why enter the same information over and over again on car insurance websites when you can be one and done with our site? We encourage you to take some time, explore our articles and learn about car insurance coverage and the buying process.
Like Root, we believe auto insurance should be easy to find and cheap to keep. Good drivers deserve fair premiums. We're glad you've stopped by. Now stay and start saving.
Can I Compare Cheap Root Auto Insurance Quotes Online?
Root calculates your 

insurance premium

 based off how you drive
For those who have a good driving record and are tired of the traditional insurance model, Root might be the right choice
To get a quote from Root, you'll have to take a driving test using your smartphone
Root car insurance is a new company that is changing the system. Technology is changing the landscape of every industry, and insurance is no exception.
Check out our Root car insurance review to find out if Root is a good car insurance company.
Don't want to take the driving test? Didn't make the cut? That's okay. There are still plenty of other options out there to explore. Enter your ZIP code above to get free car insurance quotes from multiple insurers.
Free Car Insurance Comparison
Enter your ZIP code below to view companies that have cheap car insurance rates.
Secured with SHA-256 Encryption
Step #1 – Get the Scoop on Root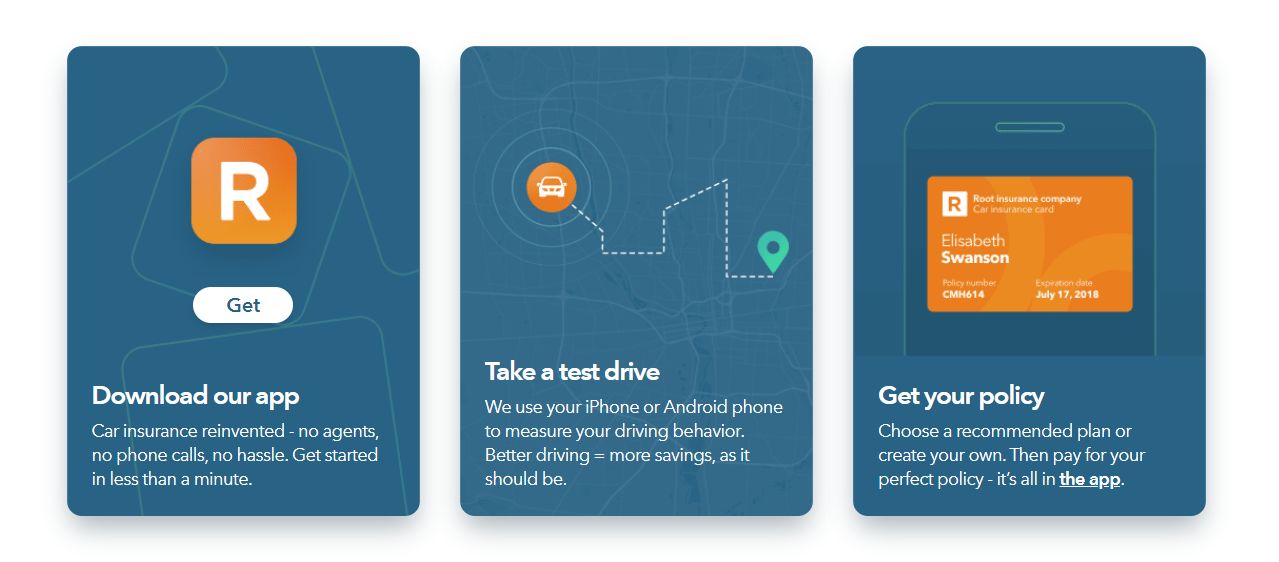 Visit Root's site to find out what makes them tick. Their site is easy to follow and offers a clear breakdown of the quote and purchase process.
Step #2 – Explore Coverage Options

There's no point in applying for a quote without knowing what it's for, right? Check out Root's auto insurance coverage options page and learn a thing or two about the different types of auto insurance they provide (as well as policies you may not have even known of!)
Step #3 – Make Sure Your State is Covered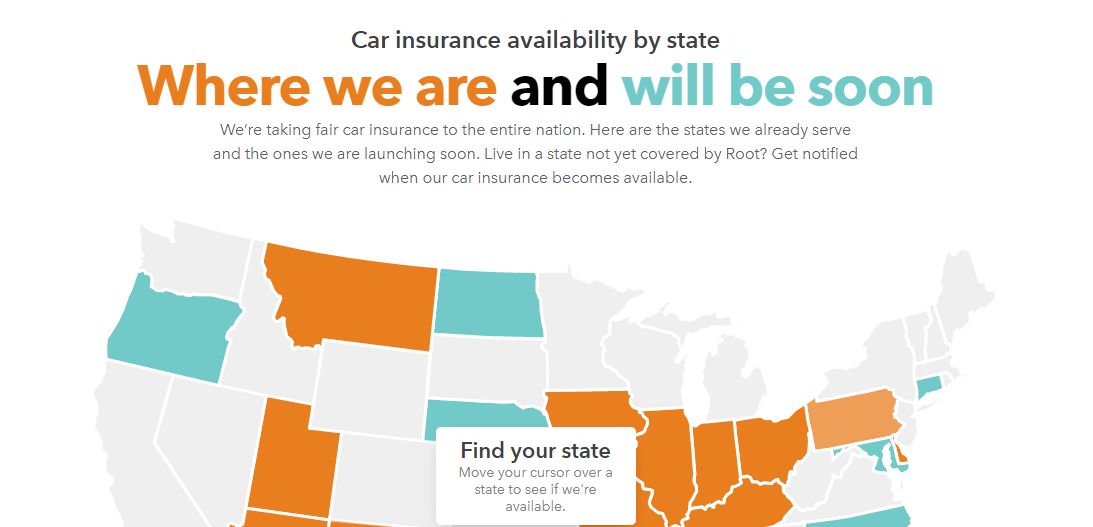 Root is a growing company, so it isn't available in every state yet. On the Availability page, you can get a full overview of all the states that Root currently services and get a glimpse at where they're headed next.
They're currently available (summer 2018) in:
Arizona
Arkansas
Delaware
Illinois
Indiana
Iowa
Kentucky
Louisiana
Mississippi
Missouri
Montana
New Mexico
Ohio
Oklahoma
Pennsylvania
Texas
Utah
Free Car Insurance Comparison
Enter your ZIP code below to view companies that have cheap car insurance rates.
Secured with SHA-256 Encryption
Step #5 – Create an Account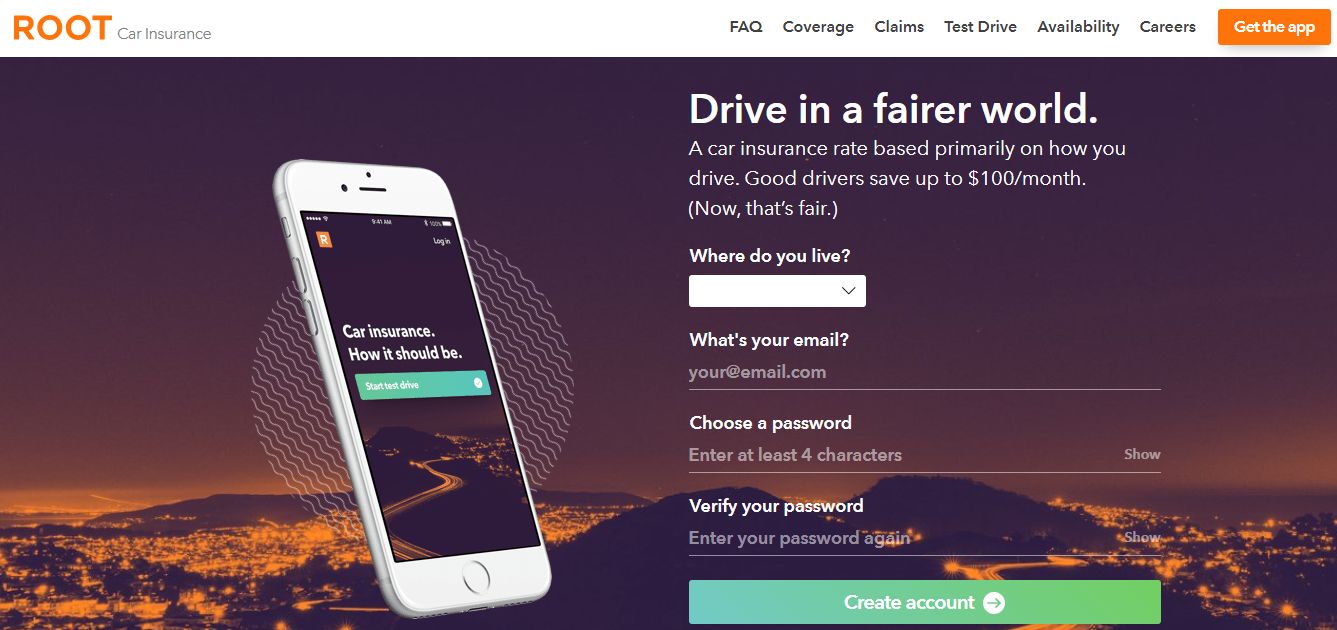 You can sign up for a Root account on the site and use it to log in to the app, which you'll need to get your quote.
Step #6 – Download the Root App for Car Insurance
Head over to the App or Google Play Store (depending on your phone) and download the Root Car Insurance app.
Step #7 – Take the Driving Test
Rather than have you waste time answering a bunch of questions to give you a generic rate, Root calculates your premium based off how well you drive.
The Root test drive
Step #8 – Buy a Policy
Root auto insurance policies are renewed on a month-to-month basis. If you've been looking for temporary car insurance, this company is a great option.
Step #9 – Customize Your Coverage
When you buy a policy, Root lets you choose different types of  insurance coverage and adjust the limits of each. You can check out your state's requirements, but we suggest going higher than the bare minimum so you have guaranteed coverage in the event of an accident.
Step #10 – Find More Ways to Save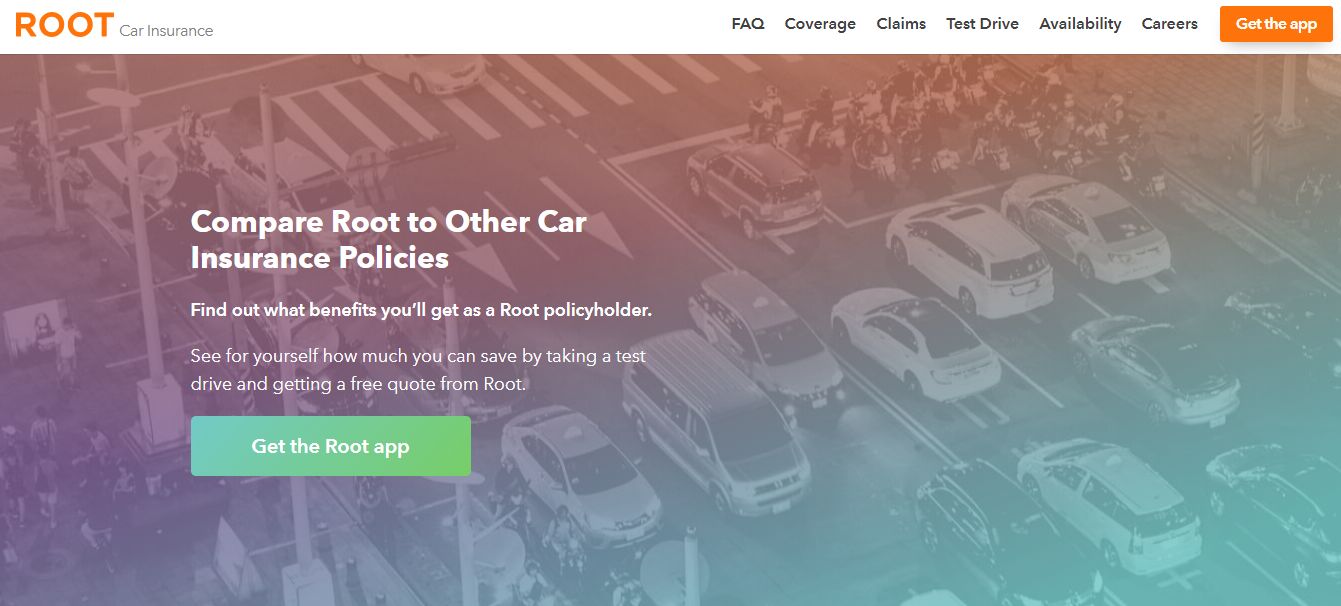 Root has a comparison page that showcases their best features against the competition.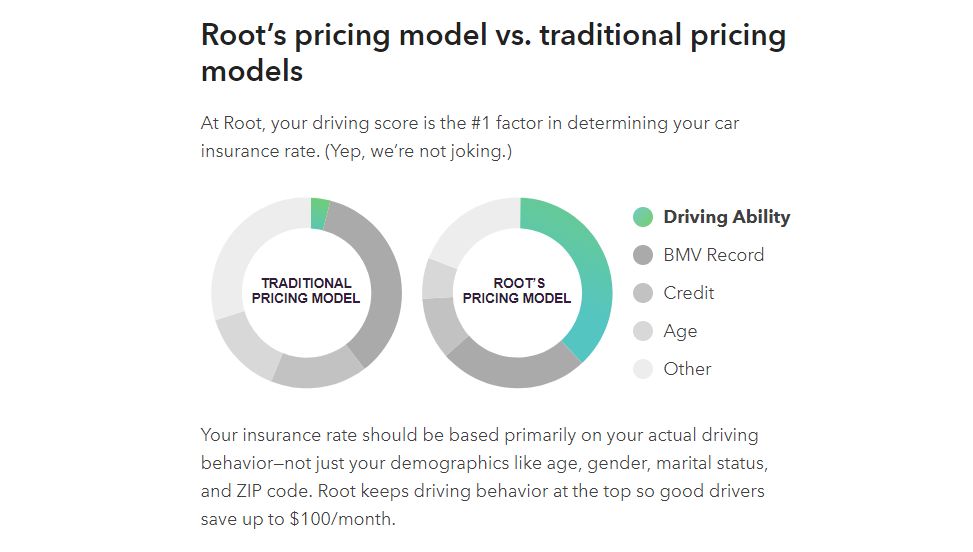 Their services and ratings are clearly displayed, along with different measurements they use to gauge themselves against other car insurance companies.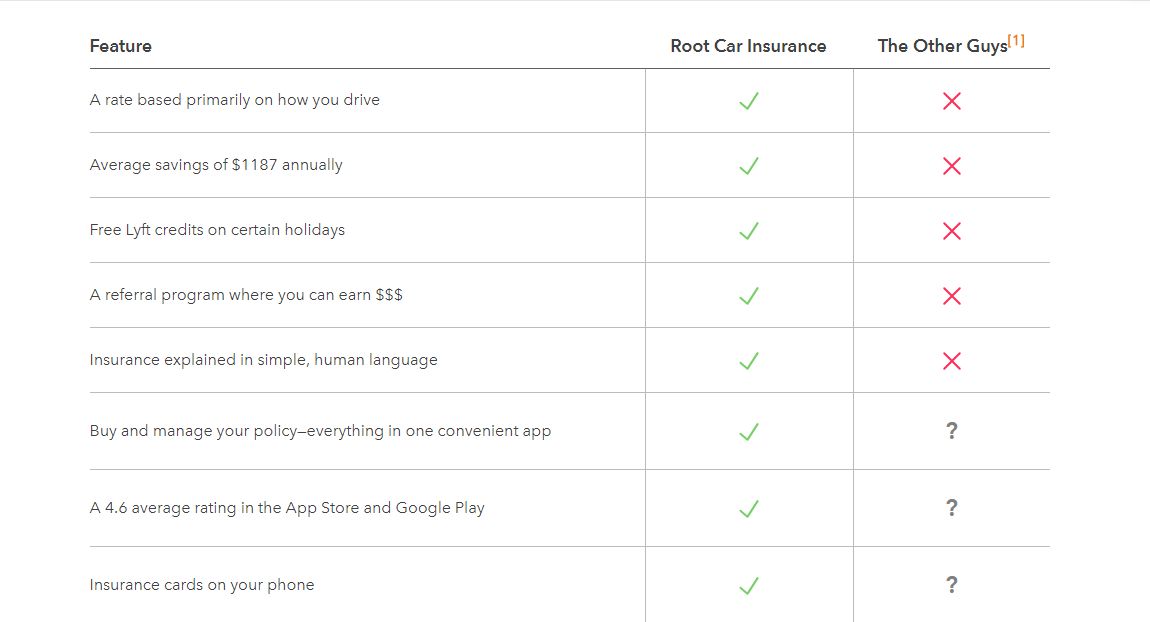 It's a relatively unbiased and helpful presentation that can highlight some key comparison topics you may overlook on your own.
If you're not convinced or still want to see what's out there, let us help. Enter your ZIP code on our site to get free car insurance quotes.
We can also help you get in touch with an insurance agent right away and get one-on-one counseling to find the perfect coverage for you.
Reviews

for Root Insurance