State Farm Car Insurance Review [2022]
The average State Farm car insurance rates range from $156/mo for a 60-year-old female to $610/mo for a 17-year-old male. State Farm car insurance has an A++ rating from A.M. Best.
Free Car Insurance Comparison
Secured with SHA-256 Encryption
Like a good neighbor, State Farm is there. But what if that neighbor plays loud music, lets his pot-bellied pig Petunia trample your petunias, and fetches Amazon deliveries in his barely-there speedo? Will they still be a good neighbor?
The same goes for State Farm. How good are they? Do they settle claims quickly? Do they answer the telephone when you need to speak to someone? In this guide, we're going to find out exactly how friendly State Farm is and provide you with everything you need to know, including company history, ratings, coverage options, and more.
Want to start comparison shopping today? You can take advantage of our FREE online tool to start comparing rates in your area.
Let's get started.
What are State Farm's Financial Ratings?
The benefits of State Farm include their financial strength ratings. State Farm says they are a good neighbor, but let's see what multiple independent agencies have to say about them and whether it's the right company for your car insurance needs. Comparing the pros and cons is an important factor in determining which auto insurance company is best for you.
Free Car Insurance Comparison
Enter your ZIP code below to view companies that have cheap car insurance rates.
Secured with SHA-256 Encryption
– AM Best
An AM Best rating measures the financial stability of a company, with A++ being the highest rating possible. Since State Farm has an A++ rating, it means the company has a stable financial future and a superior ability to meet its ongoing financial obligations.
– Better Business Bureau
This rating looks at multiple aspects of a business, although the most critical element is the company's complaint history. A complaint history shows how satisfied customers are with the service they receive.
Since A+ is the highest rating the BBB gives, the Better Business Bureau views State Farm B- as better than most, but needs improvement.
– Moody's
Moody's rating looks at how well a company can pay off its debts (its creditworthiness). State Farm's Aa1 rating falls into the P-2 category, which signifies that the entity's obligations are of "high quality, and subject to very low credit risk."
Free Car Insurance Comparison
Enter your ZIP code below to view companies that have cheap car insurance rates.
Secured with SHA-256 Encryption
S&P's ratings
 range from an AAA to its highest, to a D at its lowest. State Farm has earned an AA, which represents "a strong capacity to meet financial commitments."
– NAIC Complaint Index
The National Association of Insurance Commissioners (NAIC) measures the number of complaints a company receives. The company's complaint ratio is 0.57 and below the national average of 1.16. One thing to consider is that your experience may be better or worse than these ratings based on your insurance needs.
– J.D. Power
Another essential rating to look at when searching for an insurance company is customer satisfaction levels. J.D. Power rate companies solely on customer satisfaction levels. State Farm received a score of 829 in providing a satisfying purchase experience, ranking it in the top 10 among auto insurers.
The chart below show's rankings for State Farm from across different areas of the United States.
The numbers reveal that State Farm's Customer Satisfaction Index Ratings range from 820 to 853 points out of 1,000.
Satisfaction rates vary by state but customers in the Southwest region (Arizona, Colorado, Nevada, New Mexico, and Utah), rated State Farm  the highest Power Circle Rating distinction — "Among the Best."
Free Car Insurance Comparison
Enter your ZIP code below to view companies that have cheap car insurance rates.
Secured with SHA-256 Encryption
– Consumer Reports
Consumer Reports is an independent nonprofit company that utilizes customer insight to help inform purchase decisions. The company received a Consumer Reports reader score of 89 out of 100.
Our table below shows how well State Farm performed in several categories:
Clearly, State Farm excels in customer satisfaction and simplicity of the claims process.
What's State Farm Company History?
State Farm's history began in 1922 in Bloomington, Indiana and increased over time. The video below tells the story of how State Farm partnered with the United States Postal Service to handle its ever-increasing correspondence between consumers and the company.
But many factors make up a company, including how it treats its customer, how it works within the community, and whether it is financially viable enough to weather volatile economic situations.
Why should you care about the history of State Farm? Because looking at a company's history gives you essential data about how successful the company is and what its future is like.
Up next, we are going to dig into everything from State Farm market share to its awards and accolades.
State Farm's market share dipped from 2016 to 2018, but it's still several percentage points ahead of its closest competitor, Geico (at 13.41 percent).
Free Car Insurance Comparison
Enter your ZIP code below to view companies that have cheap car insurance rates.
Secured with SHA-256 Encryption
What's State Farm's Position for the Future?
Here's what we know:
Several organizations not only continue to affirm State Farm's financial health, but they also continue to place a great deal of confidence in its abilities to meet its financial obligations.
Customers appear to be satisfied with State Farm's overall experience, even though some regions rated the company as "About Average" in J.D. Power's study.
Although Geico continues to make gains in its market share, it still has a long way before it catches up to, or overtakes, State Farm as the largest insurance provider in the United States.
Finally, State Farm's many commitments to the community are evidence that the company is not planning on leaving the US any time soon.
What's State Farm's Online Presence?
State Farm has several options if you want to access information or get in touch with someone about your car insurance policy.
Online — You can find quotes and more online at the State Farm website.
Agents — You can talk to agents by texting, calling, or emailing.
Apps — State Farm offers a mobile app, through which you can access your policy information and contact agents.
How Do State Farm's Commercials Work?
Car insurance companies do whatever it takes to grab your attention through humor, what-if scenarios, and emotional bonding. State Farm is no exception.
The what-if scenario:
https://youtu.be/k29ogXL_S2U
State Farm continues to lead the way among the insurance giants, so their advertising philosophy seems to be working.
Free Car Insurance Comparison
Enter your ZIP code below to view companies that have cheap car insurance rates.
Secured with SHA-256 Encryption
Does State Farm Care About the Community?
Community service shows a company cares, and State Farm has involved itself in several programs to give back to the community. State Farm is challenging itself to do 100 Acts of Good before its 100th anniversary in 2022.
This video below shows an act of good:
Beyond the 100 Acts of Good program, state Farm says its community involvement generally falls into one of the following categories:
Auto and home safety programs and activities
Disaster preparedness and recovery programs and services
Education, economic empowerment and community development projects, programs and services
The video below shows another way to become involved in your local community:
State Farm encourages its employees to get involved in their community, and the simplest way is to start.
What Do State Farm's Employees Think About the Company?
Let's take a look at what employees think of State Farm. This will give us insight into the company's values and employee satisfaction levels.
Here are Glassdoor's ratings:
Folks at Payscale.com say:
Employees have given the company an average rating of 3.3 out of 5 in Overall Satisfaction
Employees gave State Farm the highest marks in Manager Relationships (4/5), followed by Manager Communication (3.8/5), and Learning and Development (3.6/5)
As with most large companies, it appears State Farm employees have had their fair share of both positive and negative experiences. Your interactions with the company may be better or worse.
Let's move on to see what awards State Farm has won for being the largest insurance company in the country.
Recent awards include:
2019 Top 100 Most Military Friendly Employer
2019 National Recognition for Equality
2019 Top Companies for Executive Women
2019 Most Admired Company by Fortune Magazine
Does State Farm Has Cheap Car Insurance Rates?
We partnered with Quadrant Information Services to bring you this information. Here are two things to keep in mind.
Many variables can affect what you pay. Your rate will differ from what is listed below
State Farm has insurance discounts and options that may help offset the cost
Free Car Insurance Comparison
Enter your ZIP code below to view companies that have cheap car insurance rates.
Secured with SHA-256 Encryption
What's State Farm Availability and Rates by State?
State Farm is available in every state. Their rates vary, sometimes below and sometimes above average, and can be further affected by factors like driving record and credit history.
The most expensive state to carry State Farm as your insurance provider is Michigan, followed by New Jersey, where rates are thousands above average.
How to Compare the Top 10 Companies by Market Share
Here's a look at State Farm compared to nine other top companies on a state-by-state basis.
.
On average, State Farm is in second place when it comes to cost, trailing USAA  by less than $250. Geico follows closely behind with rates averaging only $340 more than State Farm.
What are the Average State Farm Male vs. Female Car Insurance Rates?
Here's how State Farm's annual rates based on demographics compare to other top insurance carriers in the country. These averages are national, so where you live could affect your rates.
As with most other insurance companies, single, male teens pay more for car insurance than any other group.
What are the Average State Farm Rates by Make and Model?
What vehicle you drive can also have an impact on your car insurance. Below, we show you what you can expect to pay for five specific models from State Farm and its competitors.
Good news if you drive a 2015 Honda Civic Sedan, because of the vehicles listed, it has the cheapest rates.
What are the Average State Farm Commute Rates?
If you drive more than 12,000 miles a year, you may also see your car insurance rates start to rise.
State Farm customers can expect to pay the third-highest rates when it comes to their commute. Other factors, such as living in a rural or urban area, could also contribute to the cost of your insurance.
What are the Average State Farm Coverage Level Rates?
You might think that having the lowest minimum coverage in your state is the best way to ensure you and your family are protected. But that's not necessarily the case, because sometimes the difference in low to high coverage is less than you think.
Check out the table below to see the differences in coverage.
With State Farm, the difference between low and high coverage is only $400. So, if you are considering upgrading to provide more coverage for your family, the cost is roughly $33 monthly.
What are the Average State Farm Credit History Rates?
Besides not being able to secure a car loan or a mortgage, poor credit can also have an impact on how much you pay for car insurance. The table below reflects what you'll pay for car insurance if you have good, fair, or poor credit. Of course, these are estimates, and your rates may be different based on your situation.
The average credit score in the U.S. is 675. If your credit score is lower than this, you may face increased rates on car insurance. In some states, poor credit can raise your rates by thousands of dollars. On average, with State Farm, poor credit can raise your rates by $2,700.
What are the Average State Farm Driving Record Rates?
If you get a speeding ticket, have an accident, or get a DUI, your rates with State Farm will increase in most states. The table below shows rates with these three violations compared to the rate for a clean record.
One accident with State Farm can raise your rates over $1,100.
What Types of Insurance Coverage are Offered?
State Farm offers the same coverage as all of the other companies do and in some cases, at a competitive rate. Let's take a look at standard insurance terms and go into detail about what they mean.
State Farm talks a lot about bundling:
Types of Coverage Offered
We know, it can be confusing, so that's why we've compiled a list of common coverages with a brief explanation. Different coverage types fall into four basic categories:
– When you are at fault:
Liability coverage covers the physical damages you inflict upon another vehicle and the bodily injuries sustained by all individuals in the other car.
– When you are not at fault:
Uninsured and Underinsured Motorist Coverage covers your expenses if the at-fault driver has little or no liability coverage.
– Vehicle Protection:
Collision Coverage – covers your vehicle repairs or replacement after an accident
Comprehensive Coverage – includes what most would consider "out of our control" such as storm damage, hitting an animal, and more
Emergency Road Service – covers standard roadside services like tire changes, jump starts, and lockout services
Rental Reimbursement Coverage – includes a rental car while yours is getting repaired for a covered loss
Mechanical Breakdown Coverage – covers parts and systems failure of your vehicle that is not caused by normal wear and tear or improper maintenance
– Personal Protection:
Medical Payments Coverage – covers medical expenses of those in your vehicle
Personal Injury Protection – covers costs incurred from injuries to yourself or others in the vehicle, lost wages and funeral expenses no matter who is at fault
Umbrella Policy – covers your liability coverage to a much higher limit which blankets over multiple policies such as home and auto as well as others
State Farms's extensive list of auto insurance coverages means you can tailor a car insurance plan to meet your needs.
– Additional Car Insurance Options
Depending on where you live, some of the above may be optional coverages. State Farm also has a good selection of additional coverage, including the most popular options
Collision
Comprehensive
Towing and Roadside Assistance
Rental Reimbursement
To add onto these standard options, State Farm goes a step further an offers a couple of specialty options:
Rideshare Coverage: coverage for anyone working for a ridesharing service (such as Lyft or Uber)
Loan/Lease Payoff Coverage: coverage that helps you pay off the loan/lease of your vehicle if it were to be totaled during a wreck
What is Their Area of Operation?
State Farm is available in all of the 50 states in the United States.
State Farm is also available in Washington, D.C.
Wherever you live in the United States, you can elect to choose State Farm as your insurance provider.
What Type of Discounts are Offered?
State Farm has many discounts and affordability options available to its consumers. Depending on the auto insurance discount, you could save up to 50 percent.
These discounts aren't available everywhere, so be sure to ask your agent about what options you qualify for based on your situation.
Which Factors Affect Your Rates?
According to State Farm, these seven factors determine auto insurance premiums:
Your policy and deductibles
The vehicle model you drive
How often you drive, and how far is your commute
Your geographic location
Your driving record
Your credit history
Your age, sex, and marital status
These factors are common among all insurance providers, but new laws and regulations are being passed, which have changed some of the ways which companies can determine your rates.
Other states like Michigan have passed new laws, so be sure and check with your provider if you think you're paying too much for your car insurance.
How to Get the Best Rate with State Farm
The easiest way to ensure you are getting the best rate with State Farm is to speak to an agent about what your insurance needs are and how much you can afford to spend. Some factors, such as where you live and your past driving record, are beyond your control, but be sure and ask about any of the discounts mentioned above.
What Programs Does State Farm Offer?
Wondering about ways to save on auto insurance, consider one of State Farm's insurance programs:
Another excellent way to save money on car insurance with State Farm is their State Farm Steer Clear® Safe Driver Discount program for young drivers. Both of these programs can save you hundreds, perhaps even thousands on your car insurance premiums.
How to Cancel Your Policy
Over time, there may be occasions when you may need to cancel or adjust your insurance policy with State Farm. Here are four examples that may apply to you:
Selling a car and not replacing it
Storing a classic or antique vehicle
A teen is heading to college and will no longer be driving the vehicle
A vehicle has been paid off and no longer requires comprehensive cover
How to Cancel (Step-by-Step Guide)
State Farm allows you to cancel your policy by phone, by mail or fax, and in person.
By Phone:
You'll typically need to have the following: policy number, name, date of birth, and Social Security number. If you're canceling because you've sold your car, you'll likely need proof of your vehicle's plate forfeiture or bill of sale.
Cancellations by phone are typically valid immediately, or you can schedule it for a date in the future.
Many states require you to inform the DMV when you cancel or change your auto insurance. Check your state's guidelines.
If you're switching providers, you may need to provide new provider's name, policy number, and effective date.
By Mail or Fax
By mail or fax. Write a letter that includes:
Your name, address, and phone number.
Your State Farm policy number and the date and time you want your policy to end.
If you're switching providers, your new insurer's name, policy number, and policy start date.
If you've sold your vehicle, proof of plate forfeiture or your bill of sale.
Sign, date, and mail your letter at least two weeks before your intended cancellation date to:
Corporate Headquarters
State Farm Insurance
One State Farm Plaza
Bloomington, IL 61710
Or fax: 888-633-0405 or 905-750-5002.
In-person
Bring the following:
Your name, address, and phone number.
Your State Farm policy number and the date and time you want your policy to end.
If you're switching providers, your new insurer's name, policy number, and policy start date.
If you've sold your vehicle, proof of plate forfeiture or your bill of sale.
When can I cancel?
You can your insurance policy with State Farm at any time, make sure you have new coverage on your vehicle before your current plan expires.
How to Make a Claim
Uh, oh. You've been in an accident and need to file a claim. How does that work?
What are the Methods of Making a Claim?
Claims can be filed with State Farm:
By calling 800-SF-CLAIM (800-732-5246) (available 24/7)
By contacting your agent.
With the mobile app
Here's out to file online:
When you make a claim, you'll need the following:
Date and time of the incident
Vehicles involved
Description of the incident
Description of damages
Location of incident
Now, that we've shown you how to file a claim, let's look at how State Farm pays out claims to its customers. Loss ratios can give us some insight into the answer to that question.
What's the Number of Premiums Written?
The information below comes from NAIC and shows the premiums written by State Farm compared to its competitors over four years.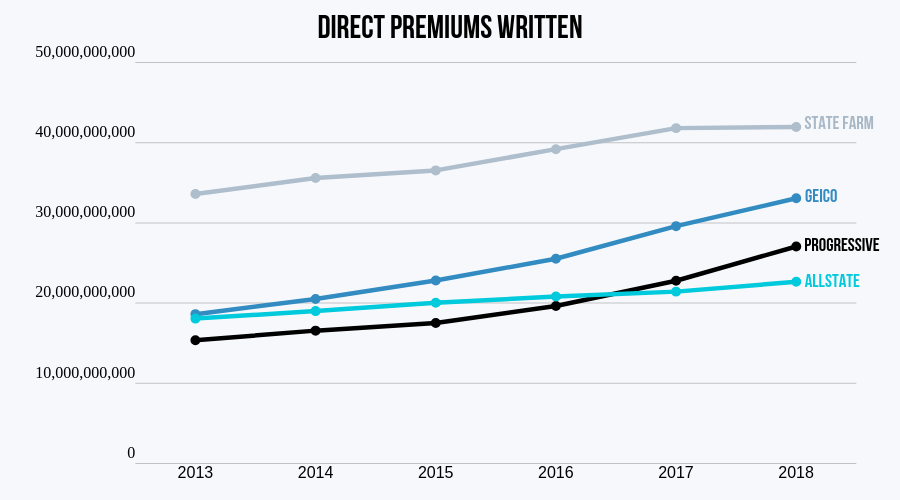 What's the Loss Ratio?
Now, let's talk about State Farm's loss ratio.
State Farm's direct premiums have gone up, and its loss ratio has gone down — both good signs for the company.
How to Get a Quote Online
Ready to get a quote? Up next, like a good neighbor, we're going to show you how to get a quote online in simple, easy to follow steps.
Step #1 — Ask About State Farm
Who is State Farm, exactly? You may have seen one of their commercials or had them suggested by a family member or friend. If you asked someone about car insurance companies in the US, State Farm would probably be in the top three. As it turns out, they're actually the largest auto insurance provider in America.
But what does that mean for you? You may think it makes them extremely trustworthy, or you might be skeptical that they'll be too commercialized and lack the personalized attention and care you can get from a small, local provider.
Some online research is the best way to get a feel for State Farm before you request a quote.
Check out their About Us page. You can read their story and learn how they rose from humble beginnings in 1922 to dominate the market after almost a century in business.
You can read news from State Farm and learn what their latest developments are, and, uniquely, read about their community involvements to learn how they try their best to live "like a good neighbor."
You can also check out their auto insurance policies and learn about how they handle coverage. If you like what you see, it's time to request a quote.
Step #2 — Enter Your ZIP Code
Head over to State Farm's website and enter your ZIP code. This is the first step toward getting connected with your local State Farm office.
Auto insurance will be selected by default, but if you're interested in bundling or an umbrella policy, you can request separate quotes by repeating the process and choosing from the variety of other insurance policies offered through State Farm like life, homeowners, and small business insurance.
Talking to an agent from your nearest agency (who you'll be connected with early-on in the quote process) will help you learn whether or not State Farm is a good fit for more than just your auto insurance coverage.
Step #3 — Enter Your Information
State Farm asks your first and last names, date of birth and home address. Enter the information in the boxes provided and click "Next" to proceed.
Step #4 — Agree to the Privacy Policy
Before you proceed, take a look at State Farm's privacy policy and make sure you agree to their terms and conditions. You can click on the "Notice of Privacy Policy" and learn about State Farm's privacy principles, how they use the customer information they collect, and how that information is used.
Step #5 — Get Your Car Info Ready
You'll need to add information about your car's make and model. Doing so will help State Farm present you with the best variety of coverage options based off your state's requirements and your car's value; insuring two or more cars can qualify you for a multi-car discount with State Farm that can help you save up to 20 percent on your policy.
Joining the Drive Safe & Save program with your car's OnStar technology can save you up to 50 percent on your insurance rates!
Step #6 — Determine Your Car's Make and Model
The type of car you drive impacts how much you'll pay for car insurance; if you don't know the exact model of your car, you can select "Don't see your body style?" and State Farm will either offer alternative options or put you in touch with an agent who can help you get the most accurate figure.
You could, alternatively, enter your car's Vehicle Identification Number (VIN). This 17-character code is a unique identifier of your vehicle. The easiest way to find your VIN number is to check the driver's side of your vehicle where the dashboard meets the windshield.
If you don't see it there, open the driver's side door and look for a sticker on the inside of the door frame.
Step #7 — Save Your Progress
Saving your progress by entering your email address will allow you to stop and gather any information you're missing or just come back later.
Step #8 — Add Drivers

Once you've input all of your household's vehicles, you'll be asked to provide information about the drivers of each car. If it's just yourself, that's fine! Make sure the names and date of birth displayed are correct, then enter your driver's license number or social security number to proceed.
Word of Advice: Although State Farm is a secure site, it's better to keep your SSN to yourself unless you're buying a policy. Since you can enter your driver's license number instead, we recommend going with that alternative.
Step #9 — Get Help if You Need It
On the left-hand side of the screen, during any time, you can access help by requesting a call from an agent, calling State Farm directly or reading through FAQs. Remember that you can save your progress at any point and return to it when you're ready. It takes time to find quality coverage, and it pays to research.
Step #10 — Get Your Personalized Quotes
By entering your contact information, you'll get an up-to-date State Farm quote that you can compare with quotes from other companies.
Finally, you'll be provided with a set of customizable quotes, each representing varying levels of coverage.
What You'll Need to Apply
We've compiled the documents you'll need to get a quote:
How Does the Design of Website and App look like?
Website
While other insurance company websites and apps may be difficult to navigate, State Farm's is relatively simple and easy to use. On the website, it is easy to find whatever information you're searching for. Just click from any of the categories on the drop-down menu and go.
How Does the Mobile App Work?
State Farm has a Mobile app designed to help manage your accounts, get roadside assistance, file a claim, and more.
The app can be found in the Apple App Store, Google Play, or by texting MOBILE to 78836 to get a link.
What Are the Customer Ratings?
In looking at customer ratings for the app, we quickly discovered they were overwhelmingly positive — averaging 4.8 out of 5 stars in Apple's App Store, and 4 out of 5 stars in Google Play. Many customers praised its options, ease of use, and convenience.
However, that doesn't mean the app isn't without criticism. In reviewing the comments, we found some common complaints included incompatibility with software updates, the inability to set reminders for bills, and some difficulty navigating multiple policies.
What You Can Do on the State Farm App
How Easily Can you Manage your Account using just the App?
You can also manage your account:
As with most technological advances, ease of use will depend on the user and their technical prowess. We encourage you to explore State Farm's website and mobile app to see which works best for you.
What are the Pros and Cons?
Now that we have covered everything you need to know about State Farm, let's check out the biggest takeaways in terms of pros and cons.
State Farm is available in every state, so if you move, you can remain with the company. However, your rates can change based on your new location. State Farm is also missing typical discounts such as the federal employee discount and green vehicle discount which other top competitors offer.
What's the Bottom Line?
We've shown you everything you need to know about State Farm, so you can decide for yourself whether they are a good neighbor or not.
But don't focus too much on being neighborly that you end up paying too much for your car insurance. One thing to consider is that everyone's needs are different, and auto insurance rates can vary significantly based on individual factors.
As thorough as this guide is, we still strongly suggest that you shop around with your personal details and specific vehicle information before you choose an auto insurance provider.
Get quotes today to find out how much you could save on car insurance. Get started by simply entering your ZIP code in our free comparison tool.
State Farm Car Insurance FAQs
Can I get copies of my State Farm ID card online?
Yes. You can view, print, and email a new insurance card, or request a mailed ID card through the State Farm website. You can also pull up your ID through the mobile app.
Can I make payments to State Farm online?
Yes, you can make payments through the State Farm website, and you can even pay using a phone number, policy number, payment plan account number, or key code.
Does State Farm coverage include windshield repair?
You'll need to check your policy to verify whether you're covered for repairs. That being said, State Farm covers both windshield repairs and replacements, depending on the extent of the damage. Your deductible may apply. Click here to learn more.
How much liability car insurance should I get with State Farm?
The minimum amount of liability coverage you're legally required to have varies by state. You may also decide to purchase liability coverage beyond your state's minimum requirements. The State Farm agent who handles your policy will be able to advise you on your state's minimum requirements.
Does State Farm cover flooding?
If your car floods, it would be covered under comprehensive coverage.
Does State Farm offer accident forgiveness?
Yes, but there are stipulations. Accident forgiveness at State Farm only applies to customers who have been accident-free at State Farm for nine years.
How do I show proof of insurance to authorities?
State Farm's mobile app allows you to pull up your insurance ID card on your phone. You should also keep a printed version in case of technical difficulties, such as your phone dying the minute a police officer pulls you over.
Will Drive Safe and Save penalize me for bad driving?
Since the app records safe driving habits, some people worry that bad driving will hike up their rates. While bad driving may result in you not getting a discount one month, the app only subtracts from your costs, and it doesn't add on.
Do I have to register at statefarm.com to use the app?
You can use the State Farm app without registering on statefarm.com. Features available without registering include:
Get a Quote
Find an Agent
Roadside Assistance
ATM Locator
I am a current auto insurance customer. Why can't I get a quote for another auto policy online?
Current State Farm auto policyholders may do the following to get a quote:
Log into your account.
Choose your current auto policy.
Click Quote/Replace a Vehicle.
The request will be forwarded to your agent for processing.
Ready to start saving on your car insurance?
Just enter your ZIP code below to get the best rates in your area using our FREE online tool.
Related Articles
Pros of Using State Farm for Your Car Insurance Needs
Reviews

for State Farm Insurance