Tennessee Car Insurance [Rates + Cheap Coverage Guide]
The average rates for Tennessee car insurance are $83/month. Tennessee requires that you purchase a minimum of 25/50/15 for bodily injury and property damage car insurance.
Free Car Insurance Comparison
Compare Quotes From Top Companies and Save
Secured with SHA-256 Encryption
UPDATED: Jun 2, 2022
It's all about you. We want to help you make the right coverage choices.
Advertiser Disclosure: We strive to help you make confident car insurance decisions. Comparison shopping should be easy. We are not affiliated with any one car insurance company and cannot guarantee quotes from any single company.
Our partnerships don't influence our content. Our opinions are our own. To compare quotes from top car companies please enter your ZIP code above to use the free quote tool. The more quotes you compare, the more chances to save.

If shopping for car insurance sounds like the very last thing on earth you want to do—you're not alone.
The reality is, with so many auto insurance providers on the market touting why they stand out above the competition, it's often difficult to identify which carriers are worth your consideration from those that just don't meet the mark.
If you're one of the approximately 6.72 million individuals currently residing in the state of Tennessee, finding car insurance in your state to cover all the drivers in your household is one of the most crucial decisions you'll ever make.
If your policy renewal is coming up, and you're thinking of switching Tennessee car insurance companies but don't know where to start—this guide is for you.
Satisfied overall with your current carrier, but want to make sure you're getting the best rates and understand what your options are? Or maybe you're wondering:
Is car insurance expensive in Tennessee?
What is the average cost of car insurance in Tennessee?
Who has the cheapest rates?
You won't want to miss our complete guide to Tennessee car insurance coverage, carrier rates, driving laws, road safety facts, and more.
So let's get down to business! Want to start comparison shopping for Tennessee car insurance providers in just seconds? Simply enter your ZIP code in our FREE online tool above to get started.
Tennessee Car Insurance Coverage and Rates
Between the incredible music of Nashville and Memphis, stunning outdoor landscapes like the Great Smoky Mountains National Park, tourist hotspots like Graceland, and endlessly beautiful trails and valleys, Tennessee has no shortage of things to see and enjoy for residents and visitors alike.
Tennessee is one of a mere handful of states in the country that don't charge or barely charge income tax. Tennessee's income tax structure is known as Hall Tax, involving a flat tax only on dividends and interest.
U.S. News and World Reports ranked Tennessee number 26 out of all 50 states to live in their 2018 rankings while ranking the state number 30 overall in criteria like infrastructure, economy, opportunity, and fiscal stability.
Christened The Volunteer State, Tennessee's infamous nickname goes all the way back to the War of 1812, when the volunteer soldiers from the state showed remarkable courage and fortitude during the Battle of New Orleans.
Whether you're considering relocating to The Volunteer State or are a lifelong resident, it's key to understand your requirements and options for Tennessee car insurance so you can make the best choice for your needs.
Tennessee Minimum Car Insurance Coverage Requirements
Tennessee's Financial Responsibility Law mandates that all drivers in the state purchase and maintain at least the minimum levels of liability car insurance coverage listed in the table below. You must also be able to show proof of insurance if you are ever pulled over by a law enforcement officer. Tennessee is one of 48 states that currently accept electronic proof of insurance.
Let's take a closer look a what these Tennessee car insurance requirements mean for you:
$25,000 per person — to cover the bodily injury or death of an individual resulting from an accident you cause
$50,000 per accident — to cover the total bodily injury or death liability resulting from an accident you cause
$15,000 property damage liability coverage — to cover the total costs of another party or party's property damage resulting from an accident you cause
These minimum liability coverages come into play to cover the costs of medical bills, property damage, and other losses incurred by passengers or pedestrians as the result of an accident you cause. Your insurance will cover these expenses up to and until your coverage limits are exhausted.
If your limits are exhausted and the other party's bills are still mounting, you could be held personally liable to cover the rest. This is why it is critical to consider taking out higher policy limits than the state required minimum to safeguard your assets in the event of a severe crash.
Your liability insurance also applies to authorized individuals or family members who you permit to operate your vehicle. However, your liability insurance doesn't cover any damages or injuries you may sustain after an auto accident.
It is worth considering adding other coverages to your policy (such as collision coverage) to protect yourself if you sustain losses in the crash.
It is important to note that Tenessee adheres to the traditional system of assigning fault in auto accidents regarding financial responsibility for damages sustained, such as lost wages, injuries, property damage, etc.
In simple terms, this just means that whoever caused the accident is also responsible for covering any damages or injuries that result. Technically, the at-fault driver's Tennessee car insurance company will cover these losses until policy limits are exhausted.
Forms of Financial Responsibility in Tennessee
Under Tennessee car insurance laws, you must not only maintain the minimum coverages specified above but have proof of financial responsibility to provide to law enforcement upon request.
You must be ready to show proof of insurance if you are involved in a collision resulting in injury, death, or property damage exceeding $400, or if you are pulled over for a routine traffic stop.
Acceptable forms of financial responsibility in Tennessee include:
Your insurance policy binder
Your insurance card from an insurer licensed and authorized to do business in the state
Your insurance policy declaration's page
Electronic proof of insurance
Failure to provide proof of financial responsibility upon request is categorized as a Class C misdemeanor. Penalties include suspension of your driver's license, fines, and potentially being unable to renew your vehicle registration if a "STOP" is put on your car.
You could also be required to file an SR-22 Proof of Financial Responsibility document with the Tennessee Department of Motor Vehicles, which is essentially a promise from your insurer that you will carry and maintain the state-mandated coverages for a minimum period of five years.
You may have the SR-22 filing requirement lifted following three year's time if you have not received any additional suspensions during that period.
Premiums as a Percentage of Income in Tennessee
Have you ever wondered how much of your annual income is being eaten up by Tennessee car insurance rates? Check out the table below, illustrating the residents' average disposable incomes between 2012 and 2014 as compared to the percentage of their earnings they paid out in annual premiums.
As you can see from the table above, residents' disposable income didn't go up much during that three-year period, but the cost of coverage did increase by .11 percent between 2012 and 2014. Your disposable income is what you have remaining to spend or save once taxes are taken out.
However, if you look at the stats for premiums as a percentage of residents' disposable income in bordering Mississippi, you'll see that Tennessee's figures aren't so high after all.
As of 2014, the average Mississippian's total disposable income was $31,365.00, which was around $5,500 less than what the average Tennessee worker took home that year. In addition, workers in Mississippi paid approximately $957.59 for full coverage in 2014, meaning that insurance premiums comprised roughly 3.05 percent of the average workers' income.
Curious to see how much of your personal income is going to pay for your annual Tennessee car insurance premiums? Use the calculator below to find out!
Average Monthly Car Insurance Rates in TN (Liability, Collision, Comprehensive)
The table above reveals the most recent data collected by the National Association of Insurance Commissioners regarding the average cost of Tennessee car insurance. You should expect rates to increase in 2019 and moving forward.

Let's dig deeper into the additional liability coverage options you'll want to consider when structuring your policy.
Additional Liability Coverage in Tennessee
The table we have here indicates the average insurer loss ratio in Tennessee, based on the most recent study conducted by the National Association of Insurance Commissioners. A company's loss ratio is the percentage of losses they sustain compared to the premiums they are writing.
If a Tennessee car insurance company shows a loss ratio exceeding 100, this means they are paying out more in insureds' claims than what they are getting back in premiums. As you can imagine, if this trend continues, it can spell disaster for the insurer.
The loss ratios revealed in the table above show that Tennessee car insurance companies are seeing healthy gains to losses overall for MedPay and uninsured/underinsured motorist coverage.
In the state of Tennessee, uninsured/underinsured motorist, comprehensive, and collision coverage are all optional policy add-ons.
Consider this, however.
Tennessee currently ranks number five in the entire nation for the largest number of uninsured drivers, with approximately 20 percent of motorists in the state getting behind the wheel without coverage.
It's true that you might pay steeper premiums in the short-term for higher coverages. However, if you are one of the unlucky motorists to get into a collision with one of these uninsured drivers and are injured as a result, you want to ensure you won't have to worry about covering the costs of medical bills and other expenses.
Any of these optional policy coverages are there to protect you in case of an unanticipated collision or emergency.
Add-ons, Endorsements, and Riders
If you're on the hunt for Tennessee car insurance, here are some important add-ons, endorsements, and riders you may decide to include on your policy:
Male vs Female Annual Car Insurance Rates in TN
It's generally assumed that male drivers pay more for car insurance than female motorists do. But, is this really the case?

Let's see what our researchers discovered—
Demographic and Insurance Carrier
If you take a look at the table above, you'll see that the age and marital status of the driver are often more important than just their gender.
Not surprisingly, both male and female teen drivers are charged the highest rates of all by each carrier without exception, with the teen male demographic paying a bit more teen female motorists.
Let's look at a few examples. For instance, Allstate charges single, teen male drivers almost $9,000 more in annual rates then they do to married, 35-year-old male motorists. However, the gap isn't so wide with all insurers.
In the case of State Farm, they charge teen male drivers about $4,500 higher premiums than 35-year-old male drivers. That rate increase is still notable, but not as significant as it is with a carrier like Allstate.
If you're wondering how something as seemingly unrelated as your marital status could affect your car insurance premiums, the answer is simple. Car insurance companies view marriage as a sign of stability, responsibility, and maturity. They deduce that married drivers are likely to translate these qualities into safe driving habits, which makes them far less of a risk to insure.
Depending on the Tennessee car insurance carrier in question, once drivers reach a certain age, their average annual rates could be the exact same, regardless of gender. If you take another look at the table above, you'll notice that State Farm charges 35 and 60-year-old insureds the exact same rates, whether they are male or female.
By fostering safe and responsible habits on the road early on and utilizing a cognizant, defensive driving approach whenever you get behind the wheel, you're not just looking out for your own wellbeing. You're also looking out for the welfare of other motorists on the road and incidentally could secure much lower rates down the line as well.
Rank by Demographic and Insurance Carrier
Use the search bar to navigate the table above and see how your Tennessee car insurance company ranks according to the average annual rates they charge based on age and gender demographics. As you can see, Safeco makes it to the number one ranking position, charging the highest rates of all to single, 17-year-old male drivers.
If you scroll down a bit, you'll see that State Farm charges the cheapest male teen driver rates with average annual premiums of $6,139.77, which is approximately $10,400 less than what Safeco charges to the same driver demographic.
At the end of the list is Travelers, who charges the cheapest rates of all—to 60-year-old male drivers.
The moral of the story here is that the carrier you pick can significantly determine the rates you will end up paying. When looking at different Tennessee car insurance companies, consider the rates they charge to your particular age, gender, and marital status demographic to see which carrier best fits your needs.
Highest and Lowest Rates in Tennessee by ZIP Code
Did you know that that the area you live in can have a notable impact on the rates carriers assess for your policy? The tables below show the highest and lowest Tennessee car insurance rates based on ZIP code.
Take a look to see what rates top carriers in the state are charging where you live. Bear in mind, that the overall statewide average for Tennessee car insurance is $3,660.89.
Most Expensive/Least Expensive Carrier Rates by City
Likewise, the tables below reveal the most and least expensive cities for Tennessee car insurance.
It is interesting to note how the size of the city you live in can affect your auto insurance rates. For example, if you compare a smaller city like Bristol with a larger one like Memphis, you'll note that residents in Memphis pay almost $1,600 more annually for car insurance.
That's hardly small change. Where does your city rank on these lists?
Free Car Insurance Comparison
Enter your ZIP code below to view companies that have cheap car insurance rates.
Secured with SHA-256 Encryption
Best Tennessee Car Insurance Companies
With so many Tennessee car insurance companies trying to snag your business, how do you know which ones will fulfill their promises and which will fall short?
We've got you covered! Keep reading for the 10 largest Tennessee car insurance companies' financial ratings, carriers with the best ratings, customer complaint data, and so much more.
Let's dive right in.
The 10 Largest Tennessee Car Insurance Companies' Financial Ratings
One very essential aspect to take into account when considering a Tennessee car insurance carrier is the financial strength rating of the company. A company's financial strength rating not only indicates it's financial state but also reveals its ability to continue to fulfill its obligations to insureds.
AM Best is a global rating entity which releases financial strength ratings for carriers across the insurance market. Companies assigned an A+ or A++ rating are revealed to have a superior ability to fulfill their ongoing obligations to insureds. An A rating means the company has an excellent ability to fulfill their financial obligations to consumers.
Take a look at the table below, revealing AM Best's ratings for the 10 largest Tennessee car insurance companies.
Tennessee Car Insurance Companies with the BEST Customer Ratings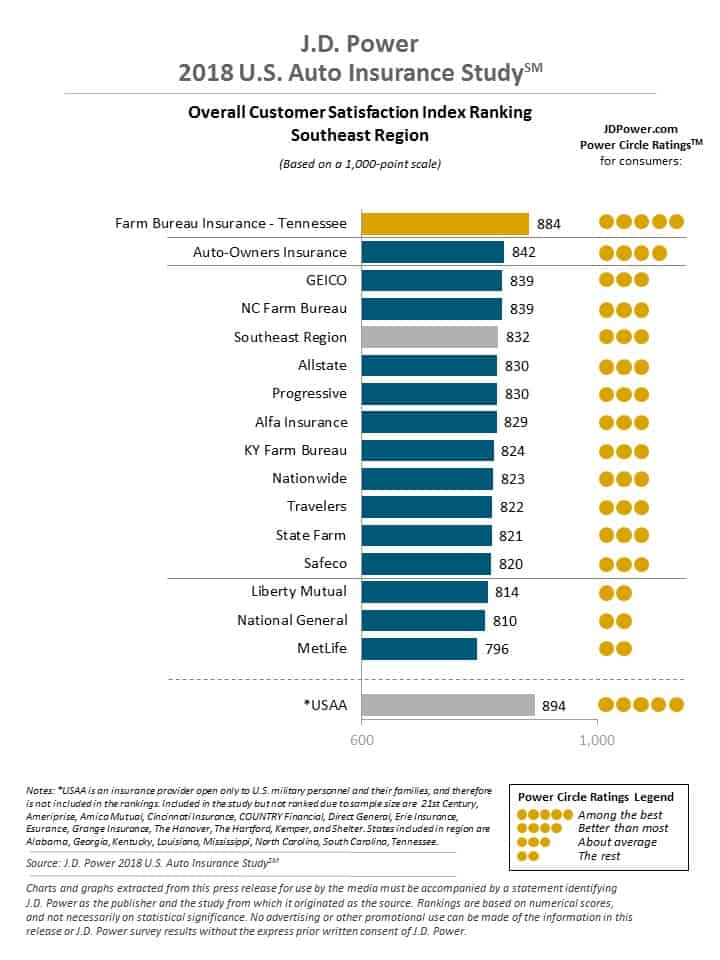 The 10 Largest Tennessee Car Insurance Companies' Complaint Ratio
The table above reveals the most recent complaint data released by the National Association of Insurance Commissioners regarding the 10 largest Tennessee car insurance companies.
Bear in mind, complaint data reveals overall consumer satisfaction and should be a singular factor out of many that you use to determine which company is right for you.
The Cheapest Tennessee Car Insurance Companies
The table above indicates the cheapest Tennessee car insurance companies statewide with a comparison of their rates to the overarching state average of $3,660.89.

During the extensive research process, our team discovered that Safeco charges the highest rates and State Farm the lowest, with an approximate $3,600 rate gap between the two carriers.
Commute Rates
Did you know that the length of your commute can also affect your Tennessee car insurance rates? Some, but not all, insurers will raise your rates if you have a longer commute. Let's see what the data our researchers found revealed, as shown in the table below.

It's pretty fascinating to see how different carriers assess consumer premiums based on the length of their commute. You'll notice that insurers like Farmers and Liberty Mutual charge insureds the exact same rates, no matter what the length of their commute is.
On the other hand, a company like Travelers charges consumers with 25-mile commutes about $200 more per year than insureds with only a 10-mile commute. It really all comes down to the carrier you select.
Coverage Level Rates
It shouldn't be all that surprising that Tennessee car insurance companies will adjust your rates based on whether you select low, medium, or high levels of coverage. Check out the table below to see how top carriers in the state raise or lower insureds' premiums based on the coverage levels they opt for.
As you may have already noticed, some companies charge you noticeably higher rates for higher coverage levels, but some show a fairly narrow premium gap for high vs. low levels of coverage.
Let's look at a few examples.
Liberty Mutual charges insureds with high coverage levels approximately $400 more per year than individuals with low levels of coverage. However, a carrier like Nationwide only charges consumers with high levels of coverage about $20 more per year than insureds with low coverage levels.
In addition, State Farm charges the cheapest rates for high coverage levels of all the Tennessee car insurance companies listed.
Credit History Rates
Except for a very few states where the practice is illegal, car insurance companies can and do factor your credit history into the picture when assessing your rates. Tennessee car insurance carriers are no exception.
A recent study by Experian reported that the typical Tennessee resident has a VantageScore of 662, with 2.77 credit cards apiece and an average balance of $5,975. This Vantage Score is a bit under the nationwide highest average credit score of 675.
Check out the table below to see how top Tennessee car insurance carriers assess consumer rates based on their credit score.
If you start at the left column and work your way right, you'll see that the worse a person's credit history is, the higher their rates will be. Liberty Mutual has the most notable gap in rates for good vs. poor credit, as they charge insureds with poor credit roughly $4,600 more per year than individuals with good credit.
The company that seems to be the most forgiving of poor credit history is Travelers, which charges insureds with poor credit about $5,400 less than a carrier like Liberty Mutual does.
Driving Record Rates
You likely already know that your driving record is one of the most critical factors Tennessee car insurance carriers will look at when determining your rates. Whether or not you have a clean driving record correlates directly with how much of an insurance risk you pose to any given carrier.
Some companies are definitely more forgiving of a poor driving record than others, as evidenced by the data our researchers gathered above.
You'll note that a carrier like Allstate charges insureds with one DUI almost $1,800 more annually than they do consumers with a clean record.
With a carrier like Progressive, the yearly rate difference is only roughly $200. Progressive actually charges the highest rates to drivers with one accident on their record, tacking almost $1,000 more onto insureds' yearly premiums if they have had a single collision vs. a clean record.
The 10 Largest Car Insurance Companies in Tennessee
Number of Car Insurance Providers in Tennessee
Driving Laws in Tennessee
In addition to securing the best rates for your Tennessee car insurance coverage, another important element motorists need to be aware of are the state's driving laws. In order to stay safe behind the wheel and keep your premiums down, you which laws govern motorists and how they apply to you.
Keep reading for the lowdown on everything from Tennessee car insurance laws to vehicle licensing laws to rules of the road and beyond.
Tennessee's Car Insurance Laws
Car insurance laws can fluctuate widely from state to state, and Tennessee is certainly no exception. From high-risk insurance options to the statute of limitations governing personal injury actions in the event of a collision—it's all here.
Without further ado—let's jump right in.
High-Risk Insurance
If you have a history of auto accidents or traffic violations, insurance companies could view you as too high a risk to insure and you could find it extremely challenging or even impossible to secure coverage through the voluntary insurance market.
If this scenario applies to you, you could be eligible to secure coverage through the state's high-risk program, known as the Tennessee Automobile Insurance Plan (TNAIP). Since it's inception in 1949, TNAIP has existed to offer coverage to drivers who are unable to obtain insurance through the voluntary market.
TNAIP doesn't provide coverage, but is a state-sponsored organization that assigns high-risk motorists to carriers across Tennessee. Any carrier that wishes to write premiums in the state must agree to take on part of the high-risk driving population.
TNAIP assigns high-risk drivers to carriers based on the company's share of the insurance market. For example, if Geico represented 10 percent of the total auto insurance market in Tennessee, they would receive 10 percent of all high-risk drivers in the TNAIP program.
Bear in mind, that you won't be able to choose your carrier through TNAIP. Instead, the program assigns an insurer to you.
Assuming you hold a current Tennessee driver's license and have a car registered (or soon to be registered) in The Volunteer State, you are technically eligible to apply for coverage through TNAIP.
To qualify, you must also fulfill the following criteria:
You must confirm in your application that you have tried to secure insurance through the voluntary market during the past 60 days but were unsuccessful in doing so.
You must complete the application thoroughly and truthfully. If a carrier has trouble validating your driver information, this could be enough for them to refuse you coverage.
If you haven't fulfilled a carrier premium during the 12 months prior to your application, TNAIP mandates that you pay this before moving your application forward.
If you want insurance to cover physical car damage, you must allow your vehicle to undergo an inspection, or that part of your insurance could be denied.
If you have any issues with your initial TNAIP application, such as outstanding bills, you can reapply to the program once the matter or matters have been resolved.
However, if the insurer deems that the information you submitted on your application was not completely truthful (such as leaving out important pieces of information), it is at their discretion to deny coverage. In that case, you would have to wait another 12 months before you could apply to TNAIP again.
Your coverage through TNAIP will be very much like the insurance you would obtain through the voluntary market, with the difference being that your premiums will be higher. After an insurer is assigned to you, your policy will be in force for a period of three years following.
You can use this window of time to work on your driving record so that it is possible for you to secure coverage through the voluntary market at lower rates. You must also stay up to date with your monthly auto insurance payments.
If you do find that you are able to secure better coverage before the three year period is completely up, you have the option to notify your insurer and switch over.
Your assigned insurer would then provide a refund of the premium remaining, in addition to a 10 percent surcharge for early policy termination.
On the other hand, if the three year period ends and you are still considered a high-risk driver, you can always re-apply to the program for coverage.
You have three different options to pay your auto insurance premiums through TNAIP, which are as follows:
Pay 100 percent of the premium at the outset.
Pay 30 percent of the premium at the outset when you submit your application, and the rest after 30 days.
Pay 25 percent of the premium at the outset, then the remainder over the course of five monthly payments of equal amounts. The full premium would then be paid off after six months.
Installment plans do carry a four dollar processing fee. Any insurance agent licensed to do business in the state can tell you more about TNAIP if you are interested and can assist you with applying through the electronic program EASi.
Visit TNAIP's website or contact the Tennesee Department of Commerce for additional information.
Low-Cost Insurance
Only a few states offer sponsored low-cost insurance programs to drivers who meet certain eligibility factors for coverage. However, Tennessee doesn't have one of these programs at this time.
Windshield Coverage
Some states require a waived deductible if you need repairs done on your car, while others make it mandatory to use only original manufacturer replacement parts.
Currently, The Volunteer State doesn't have any laws in place unique to windshields, such as a preferred repair shop choice or the use of original manufacturer parts instead of aftermarket ones.
Automobile Insurance Fraud in Tennessee
As is the case in other states nationwide, Tennessee car insurance fraud is a very grave offense that can carry very steep penalties for offenders.
Essentially, insurance fraud is when someone tries to receive benefits or make money in the course of an insurance transaction that they would not otherwise be due, such as by lying or misrepresenting the facts of the scenario.
Both insurers and insureds can be found guilty of committing insurance fraud, but for the purposes of this guide, we will focus solely on consumer auto insurance fraud.
Tennessee laws governing insurance fraud in the state include Tennessee Code Title 56 Chapter 53 and Tennessee Code Section 39-14-133.
It is a crime to with full knowledge and intent defraud an insurer for money or some other benefit and engage in insurance transactions containing misrepresentation of facts, such as on your renewal, payment, or policy application. Knowingly supplying a false claim or documents for insurance benefits is also banned.
The penalties for insurance fraud are as follows, based on the severity of the offense at play:
Fraudulent acts involving $500 or under for property or services acquired are categorized as a Class A Misdemeanor, punishable by under 11 months and 29 days imprisonment and fines up to $2,500.
Fraudulent acts involving $500 to $10,000 acquired are categorized as a Class E Felony, punishable by 1-6 years imprisonment and up to $3,000 in fines.
Fraudulent acts involving $1,000 to $10,000 acquired are categorized as a Class D Felony, punishable by 2-12 years imprisonment and up to $5,000 in fines.
Fraudulent acts involving $10,000 to $60,000 acquired are categorized as a Class C Felony, punishable by 3-15 years imprisonment and up to $10,000 in fines.
Fraudulent acts involving $60,000 or more acquired are categorized as a Class B Felony, punishable by 8-30 years imprisonment and up to $25,000 in fines.
If convicted of insurance fraud, the individual may also be obligated to pay restitution back to the injured parties.
Insurance fraud is no joke. Don't commit insurance fraud, and you can rest easy that none of these penalties will ever apply to you.
Statute of Limitations
If you get into an auto accident in the state of Tennesee and are injured as a result, you have a period of one year from the date of the collision to file a lawsuit with the courts against the at-fault driver. This one-year window is known as your statute of limitations.
You must pursue your case within that one-year period, or be forever barred from doing so. Note that the statute of limitations for bringing forward a property damage lawsuit is three years from the date of the collision.
It is also worth noting that a case's statute of limitations is not to be confused with the period in which you should file a claim with your insurer following a collision. Most carriers want you to notify them of an accident within a few days, or at most a few weeks after the fact.
Tennessee's Modified Comparative Fault Rule
There may be times when a driver gets into an auto accident in Tennessee, pursues a case or files suit, and is accused by other parties of having been totally or partially at fault for the wreck themselves.
Under Tennessee's modified comparative fault rule, courts in the state can reduce or eliminate the person's total awarded damages based on the amount of fault they bear for the collision.
Let's look at an example.
Imagine that you are at a red light when another driver rear-ends your vehicle. When the accident occurred, one of your brake lights was on the fritz.
As a result, the court rules that you are 30 percent at fault for the collision and the other driver bears 70 percent of the blame.
Let us also suppose that your total damages are $20,000. Since you were determined to bear 30 percent of the fault for the accident, the modified comparative fault rule means that your damages would be cut by 30 percent, or $6,000. You would still be eligible to be awarded the remaining $14,000.
However, you can only be partially at fault for a collision and still collect damages if you are less 50 percent to blame. If your fault totals 50 percent or more, you will not be able to recover any damages at all.
Tennessee's Vehicle Licensing Laws
The REAL ID Act sets certain security standards in place for the issuance of licenses and bars Federal agencies from accepting IDs for certain purposes (such as boarding a domestic flight) if they do not fulfill the REAL ID criterion.
Tennessee is currently in compliance with the REAL ID Act, which means that Federal agencies can accept IDs and drivers license from the state at nuclear power plants and other Federal facilities.
The Department of Homeland Security began enforcing REAL ID standards in January of 2018, but any individual wishing to travel via air will require a REAL ID-compliant license or similarly accepted ID form like a passport by October 1, 2020, in order to fly domestically.
Let's take a closer look at the key vehicle licensing laws in Tennessee.
Penalties for Driving Without Insurance
If you wish to get behind the wheel in Tennessee, you must carry and maintain at least the state-mandated minimum car insurance coverages and carry proof of insurance with you at all times.
You can provide proof of insurance in the following ways:
Your insurance policy binder
Your insurance card from an insurer licensed and authorized to do business in the state
Your insurance policy declaration's page
Electronic proof of insurance
Being caught driving without insurance in The Volunteer State means you could face fines up to $300, in addition to being charged with a Class C Misdemeanor which could see you having your vehicle towed, license suspended, and registration suspended.
You may also be obliged to file an SR-22 document with Tennessee's Department of Insurance every year for three years following the offense, which your insurer will charge you additional filing fees for.
To have your registration and/or license reinstated, you will need to fulfill a $65 restoration fee, pay $50 to the Commissioner of Safety, and potentially pass a driver's licensing exam again.
The state of Tennesee implements an online insurance verification system to check for consumer coverage. If a driver comes back as uninsured, the Department of Revenue will submit a notice to the driver asking them to furnish proof of insurance within 15 days time.
If you can provide proof of insurance within that window, the charge will be dismissed. If you cannot, however, you will be required to pay at $25 coverage failure fee within 30 days time.
If you do not pay this fee within 30 days, you will be charged an additional $100 continued coverage failure fee, plus the revocation of your license and registration. Reinstatement necessitates you to pay a $115 fee, which is $50 to the Commissioner of Safety and $65 in restoration fees.
If you get into an accident resulting in bodily injury or death to other parties involved, you could be charged with a Class A Misdemeanor carrying even steeper penalties under Tennessee's Financial Responsibility Laws.
A conviction carries fines up to $2,500 and up to 11 months and 29 days in jail, not to mention other expenses you will have to cover if the injured party decides to take legal action.
Long story short, don't get behind the wheel without auto insurance. Ever.
Teen Driver Laws
Here's what you need to know about teen drivers laws in Tennessee.
Teen drivers must be at least 15 years of age to obtain their learner's permit. To move to an intermediate license, they must:
Hold their learner's permit for at least six months
Complete a minimum 50 hours of supervised driving, 10 of which must be at nighttime
To graduate to the intermediate licensing stage, you must be at least 16 years old. Restrictions during the intermediate stage include:
Unsupervised driving is not allowed between the hours of 11 P.M. and 6 A.M.
No more than one non-family member passenger
The nighttime and passenger restrictions can be lifted after 12 months or once the driver turns 18, whichever happens first. The teen driver must be at least 17 years old for these restrictions to be lifted.
Older Driver and General Population License Renewal Procedures
Here's a quick overview of the license renewal procedures in your state. For both the general and older driving population, you must:
Renew once every eight years
Proof of adequate vision is not required
Either mail or online renewal is permitted
In the state of Tennessee, it is also at the insurance commissioner's discretion to issue an initial license or renewal that is in force from three to eight years, to make the transition for a five-year to eight-year license.
New Residents
If you are considering a move or just relocated to The Volunteer State, here's a breakdown of what you'll need to provide to obtain your new Tennessee driver's license.
As a new resident, you must provide:
Your current driver's license or other acceptable ID or certified copy of driving record. If you provide a certified copy of your driving record, called a Motor Vehicle Record or MVR, the record must be original and have been issued a maximum of 30 days before the date of your application.
Proof of name change if applicable, such as a marriage certificate, certified court order, or divorce decree.
Two forms of Proof of Tennessee residency including your name and residential address. Documents must be from the past four months.
Proof of U.S. Citizenship, Lawful Permanent Residence Status, Proof of Authorized Stay, or Temporary Legal Presence in the U.S.
Your Social Security Number or a sworn affidavit stating that you haven't been issued one
Visit the Tennessee Department of Safety and Homeland Security's New Residents page for more information.
– Negligent Operator Treatment System
Reckless driving examples include:
Driving with blatant disregard for the well being of other people or their property
Driving into a clearly marked flooded area
Penalties for reckless driving in Tennessee can be steep, ranging from up to six months in jail and up to $580 in fines. Two reckless driving convictions within a one year period could lead to a full years suspension of your driver's license.
Each reckless driving conviction adds six demerit points to your driving record. Gathering 12 or more points in a year's time could lead to a six to 12-month license suspension.
Tennessee's Rules of the Road
Check out the important rules of the road governing all drivers in Tennessee. Don't miss these if you want to stay safe and informed when you next hit rubber to the road.
Fault vs. No-Fault
Remember, Tennessee adheres to the traditional system of assigning fault when it comes to auto accidents and any resulting damages. The at-fault driver is responsible for covering the costs of medical bills, lost income, property damage, and other damages resulting from a collision they caused.
In reality, the at-fault driver's insurance company will cover these losses up to and until the policy limits are exhausted. At that point, the at-fault driver could be held personally liable for remaining damages yet unpaid, which is why it is always advisable to carry coverages above the state required minimum amounts.
Keep Right and Move Over Laws
Tennessee's "Slow Poke Law" or Keep Right Law went into effect back in 2016, barring drivers from operating their vehicle in the passing lane on a multilane divided highway with three or more lanes on each side or on an interstate except if they are passing or overtaking a car in the non-passing lane.
Violations incur a $50 fine.
Tennessee's Move Over Law requires drivers nearing a stationary emergency vehicle, municipal vehicle, utility vehicle, tow truck or recovery vehicle, or road maintenance vehicle with flashing lights going the same direction, to lower their speed and move over to the closest lane if safe to do so.
Speed Limits
The maximum posted speed limits in the state of Tennessee are as follows:
70 mph on rural and urban interstates
70 mph on other limited access roads
65 mph on other roads
Seat Belt and Carseat Laws
Tennessee's seat belt law covers passengers 16 years and up in the front seat. Failure to wear a seat belt could incur fines up to $30 for first-time offenders.
Children younger than one year or who weigh 20 pounds or less must be secured in a rear-facing child safety restraint. Children between the ages of one and three years old who weigh over 20 pounds or more may be secured in a forward-facing child restraint.
Children between the ages of four and eight who are less than 4'9 in height may be secured in a booster seat. An adult belt is permissible for children between the ages of 9-15, as well as any child 12 or younger who is taller than 4'9.
The maximum base fine for first-time violations is $50. It is also important to note that Tennessee law states a preference for the rear seat.
Children 8 years of age and under who are less than 4'9 tall must be secured in the rear seat if available and the rear seat is advised for children between 9 and 12.
Tennessee law also imposes restrictions on who may ride in the cargo bed areas of pickup trucks. Situations where these restrictions do not apply include:
Individuals 12 years of age and older
Individuals between the ages of six and 11 if the vehicle is being used off the interstate or state highways
A parade provided the vehicle is operating under 20 mph
Agricultural activities
On county or city roads unless banned by local laws
Ridesharing
Rideshare providers like Lyft and Uber require all their drivers to carry auto insurance policies that meet at least the minimum state standards for coverage.
Drivers rarely carry their own commercial coverage, instead being covered under the rideshare service's commercial policy to protect both passengers and drivers.
Automation on the Road
Tennessee has currently authorized the deployment of autonomous vehicles. The operator does not need to be licensed or in the vehicle but must maintain liability insurance of at least $5,000,000.
Tennessee's Safety Laws
Here's what you need to know about Tennessee's major safety laws to protect you whenever you're behind the wheel.
DUI Laws
Here are some figures for DUI laws in Tennessee and how they affect your insurance
Marijuana-Impaired Driving Laws
Tennessee doesn't currently have a marijuana-specific drugged driving law in force.
– Distracted Driving Laws
As of July 1, 2019, a hand-held device ban while behind the wheel will go into effect for all drivers. Young drivers with a learner's permit or intermediate license are barred from any cell phone usage. There is also a texting ban in force for all drivers.
Fascinating Facts Every Tennessee Driver Needs to Know
Before we send you on your way, it's crucial to know how safe the roads in your state are for motorists.
From vehicle theft rates to traffic fatalities, let's dig deeper.
Vehicle Theft in Tennessee
According to the FBI's 2016 Crime in the United States report, there were 1,728 motor vehicle thefts in the Nashville metro area alone that year. The table below reveals the top 10 stolen vehicles in the state of Tennessee as of 2016, along with the most popular model year stolen for each manufacturer listed.
Risky/Harmful Driving Behavior
The following tables reveal the latest driving statistics from the National Highway Traffic Safety Administration (NHTSA) illustrating the top road dangers for drivers in the state of Tennessee.
Rather than scaring you, let these statistics serve as a reminder of the importance of safe, cognizant driving while educating you regarding potential risky behaviors you could encounter from other motorists on the road.
Traffic Fatalities by Weather Condition and Light Condition
Fatalities by County
2017 Traffic Fatalities
Fatalities by Person Type
Fatalities by Crash Type
Five-Year Trend for the Top 10 Counties
Fatalities Involving Speeding by County
Fatalities in Crashes Involving an Alcohol-Impaired Driver by County
Teen Drinking and Driving
EMS Response Time
Transportation
Did you know that the typical Tennessean has an average commute time of 23.9 minutes? This travel time is actually a bit under the national median at 25.5 minutes.
Data USA's 2017 study revealed that just 2.04 percent of workers in the state have commutes categorized as "super commutes" exceeding 90 minutes in length.
Commute Time

Car Ownership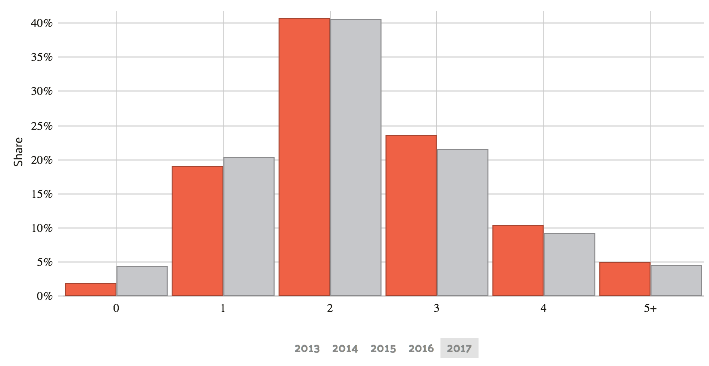 Commuter Transportation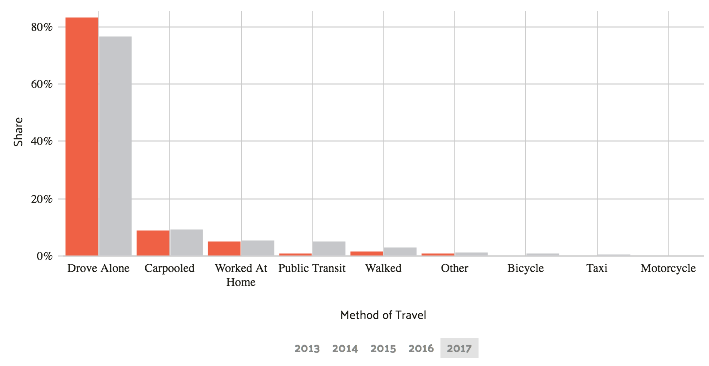 The Top Two Cities in Tennessee for Traffic Congestion
The table above indicates the top two cities in Tennessee for traffic congestion according to INRIX's 2018 Global Traffic Scorecard. Not surprisingly, Tennessee's two largest cities in terms of the population made it to the top of the list.
Don't spend time in traffic worrying about car insurance. Start comparison shopping today the quick and easy way.
Get your FREE quote in seconds with our online rate tool. Just enter your ZIP code below to get started.