Compare Oklahoma Car Insurance Rates [2023]
At a monthly average of $163 per month, Oklahoma car insurance rates usually match the national average. However, car insurance in Oklahoma is affected by several factors, including your age, vehicle, and location. To find the best policy for you, make sure to compare Oklahoma car insurance rates.
UPDATED: Nov 27, 2023
Fact Checked
Free Car Insurance Comparison
Compare Quotes From Top Companies and Save
Secured with SHA-256 Encryption
Jeffrey Manola
Licensed Insurance Agent
Jeffrey Manola is an experienced insurance agent who founded TopQuoteLifeInsurance.com and NoMedicalExamQuotes.com. His mission when creating these sites was to provide online consumers searching for insurance with the most affordable rates available. Not only does he strive to provide consumers with the best prices for insurance coverage, but he also wants those on the market for insurance to ...
UPDATED: Nov 27, 2023
It's all about you. We want to help you make the right coverage choices.
Advertiser Disclosure: We strive to help you make confident car insurance decisions. Comparison shopping should be easy. We are not affiliated with any one car insurance company and cannot guarantee quotes from any single company.
Our partnerships don't influence our content. Our opinions are our own. To compare quotes from top car companies please enter your ZIP code above to use the free quote tool. The more quotes you compare, the more chances to save.
Editorial Guidelines: We are a free online resource for anyone interested in learning more about auto insurance. Our goal is to be an objective, third-party resource for everything auto insurance related. We update our site regularly, and all content is reviewed by auto insurance experts.
UPDATED: Nov 27, 2023
It's all about you. We want to help you make the right coverage choices.
Advertiser Disclosure: We strive to help you make confident car insurance decisions. Comparison shopping should be easy. We are not affiliated with any one car insurance company and cannot guarantee quotes from any single company.
Our partnerships don't influence our content. Our opinions are our own. To compare quotes from top car companies please enter your ZIP code above to use the free quote tool. The more quotes you compare, the more chances to save.
On This Page
UPDATED: Nov 27, 2023
Fact Checked
Oklahoma car insurance quotes tend to match the national average fairly closely. Full coverage Oklahoma car insurance rates cost an average of $163 per month, while minimum insurance costs about $50 per month.
While finding the cheapest car insurance in Oklahoma doesn't take much work, some drivers will see higher rates than others. For example, Oklahoma car insurance costs more for drivers with an accident in their driving record or a low credit score.
Read on to learn more about the best car insurance in Oklahoma, including how to find the lowest rates. Then, compare Oklahoma car insurance rates to find the best policy for your vehicle.
Compare Oklahoma Car Insurance Rates by ZIP Code
Then again, we can't forget one of the tenets of life: it's all about location, location, location. How is your ZIP code impacting your Oklahoma car insurance costs? Take a look.

Someone living in Tulsa, then, is going to be paying more for her car insurance coverage than someone in Oklahoma City, even if the two have coverage costs that are fairly close to one another.
That minor difference and all the others in between is what makes researching and comparing available car insurance companies so important, especially when you're just moving into a new area and need to update your car insurance.
Just the mention of Oklahoma conjures visions of bright blue skies, golden and rocky landscapes, and miles upon miles of open road. That opportunity to satisfy your wanderlust isn't the only variety that the great state of Oklahoma has to offer.
For every mile of interstate, there's a car insurance company offering the state's 3,943,079 residents coverage and rate options meant to keep those roadways busy.
Sometimes, though, variety can be overwhelming. As you sift through Oklahoma's available car insurance providers and their policies, you'll likely find yourself wondering:
Which provider is going to protect my car most effectively?
Who has the cheapest car insurance in Oklahoma?
How carefully should I drive in order to stay within the letter of my policy and Oklahoma's driving laws?
Is car insurance mandatory in Oklahoma?
The good news is that you don't have to answer those questions on your own.
It's important to find the best rates and coverage for your car, and we're more than happy to help guide you along your car insurance adventure. You can start comparison shopping today with our FREE online tool! Just enter your ZIP code in order to get started.
Compare Oklahoma Car Insurance Coverage and Rates
Traveling through Oklahoma is a treat. The "Sooner State" is home to some of the most beautiful natural attractions in the United States, and its cities are bustling with energy. Oklahoma City, after all, was ranked among the top 100 places to live by US News as of 2018.
When you opt to settle in the expanse of the Sooner State, though, you'll have to have a handle on the average vehicle operating costs and the way the state's coverage and cost may impact your lifestyle, especially when compared with the other states.
The most difficult part of auto insurance research is finding a place to start. Let's find our feet by breaking down your Oklahoma car insurance options.
Oklahoma, at a minimum, requires its drivers to have liability insurance on hand. That coverage consists of bodily injury and property damage coverage, as seen below.
Oklahoma Car Insurance Requirements
Liability car insurance is the insurance you'll need in order to be compensated for property damage or injuries that come as a result of a car accident for which you or anyone you're insuring are responsible.
If you happen to be the driver at fault, you'll fall under Oklahoma's "at fault" legislation, as the state makes the driver at fault liable for any injuries caused by or property damaged in an auto accident.
Minimum liability coverage in Oklahoma, as noted above, needs to consist of:
$25,000 to cover the injury or death per person
$50,000 to cover the total injury or death per accident
$25,000 to cover damage to personal property per accident
It's worth noting again that this is the absolute minimum coverage required of drivers by the state of Oklahoma. If, after an accident, it's possible that your minimum liability coverage won't provide you with enough funds to take responsibility for any injuries or property damage.
In order to prevent placing yourself in an awkward situation, you'll want to consider adding additional coverage to your plan.
Oklahoma's Required Forms of Financial Responsibility
When driving or owning a car in Oklahoma, you'll have to keep proof of coverage with your vehicle at all times in order to comply with the state's legislation requiring proof of vehicular financial responsibility. There are three different forms available to you that serve as acceptable insurance proof.
These include:
Valid Liability Insurance ID Card(s)
Copies of your current car's insurance policy
Valid Insurance Binder (this is a temporary form of car insurance and should not be substituted for a form of financial responsibility in the long term)
If you live and drive in Oklahoma, you must have at least one of the above-listed approved forms of proof of financial security on your person or in your glove box while operating your vehicle.
Without one of these forms, you are likely to face legal consequences. If you're caught driving uninsured or without proof of insurance, you risk the following:
Fine up to $250
30 days in jail
Suspension of your driver's license
Suspension of your vehicle's registration
Most, if not all, insurance providers make it easy for you to print out verification of your policy. Don't procrastinate or dawdle! Driving without proof of insurance in Oklahoma isn't worth the hassle.
Compare Oklahoma Car Insurance Rates as a Percentage of Income
In 2018, Oklahoma residents reported that the annual per capita disposable income for their state stood at $39,740, according to a study issued by the NAIC.
What is disposable personal income, or DPI? DPI serves as the amount of money available to a single person that can be spent post-tax payments.
What does this mean for the folks in Oklahoma? Well, after tax season passes, the majority of Oklahoma residents will have $3,311 available to them on a monthly basis that can be spent on general necessities, including food, rent, and utilities.
That's not too much of a budget to operate on, which means that an Oklahoman has to think carefully about what kind of car insurance she wants to invest in.
The careful Oklahoman can spend up to 2 percent of their DPI on monthly car insurance payments, or $82 per month. That means that, over the course of a year, residents of Oklahoma will spend an average of $986 on comprehensive car insurance.
If you're trying to figure out how to divvy up your paycheck with that kind of payment in mind, don't fret. American Consumer Credit Counseling recommends that you save 20 percent of every paycheck you get in order to ensure that you have a little bit of wiggle room in your budget each month. If we take the average Oklahoman DPI in mind, that percentage comes in at $662 a month.
Even so, you'll want to do everything you can to make sure that you're getting the best cheap car insurance coverage for the most forgiving price. That's why we're here to help you make sure you're considering all of your options from every angle.
Compare Oklahoma Car Insurance Rates by Coverage Types
The annual costs in the table above reflect the amount of money you might expect to spend to maintain liability, collision, comprehensive, or combined car insurance over the course of a year.
You can see below how monthly costs vary from state to state.
What do you do in the face of rising insurance costs? Remember: At an absolute minimum, Oklahoma drivers and vehicle owners are required to apply for and operate with liability coverage.
However, because Oklahoma is an "at-fault" state and will pin you, if you're the driver at fault, with the check for any injuries or property damage done unto another driver, you'll want to put a little more money down on your vehicular future.
Oklahoma's Additional Liability Coverage
MedPay and Uninsured or Underinsured Motorists coverage are some of the most popular coverage options to add to a standard car insurance policy. Why? Let's break them down.
MedPay, to start, will cover any medical payments you may have to make after an accident, meaning that the coverage will make it easier for you to afford any hospital bills that another driver may receive.
Uninsured and Underinsured Motorist coverage will have your back in case you're in a car accident with someone who doesn't have enough insurance to cover your expenses. This is an especially important add-on to consider, as 10.5 percent of drivers in Oklahoma were uninsured as of 2015.
Oklahoma as a whole ranks 31st in the United States for the number of uninsured motorists it has operating on the road.
Do yourself and another driver a favor, then, and look into UM — it could keep both of you from going bankrupt after an accident.
Oklahoma Loss Ratios
Another thing worth noting: overall, car insurance providers in Oklahoma have lower loss ratios than most. In 2015, loss ratios across the nation ranged from 94-112 percent. Comparatively, Oklahoma's loss ratios have decreased in the past several years.
How does that apply to you? Well, car insurance providers who have higher loss ratios are statistically noted to pay out more claims than those with low ratios.
That higher loss ratio serves as a double-edged sword – you'll receive a payment if you're in an accident, yes, but your car insurance provider is also losing money, overall, and risking bankruptcy.
Comparatively, car insurance providers with loss ratios on the lower end are not paying out on claims. Again, we're stuck between a rock and a hard place. You might not receive as much or any payment when you get in an accident, but at least the company will still be able to cover you in the long run.
Our best advice to you is to avoid signing with car insurance providers who have loss ratios on the high or low side of things. In this case alone, finding a company that's average is your best course of action.
Oklahoma Add-ons, Endorsements, and Riders
Those aren't the only insurance add-ons that you can consider as an Oklahoman. There are additional affordable and efficient extras that you can include in your coverage without a problem.
If you're looking to expand your car insurance coverage as an Oklahoma citizen, you have the option of including:
Emergency Roadside Assistance
Compare Oklahoma Car Insurance Rates by Age and Gender
One driving myth claims that male drivers — and particularly younger male drivers — are likely to pay more for their insurance coverage due to a perceived recklessness on the road. This isn't necessarily the case, but some insurance companies keep it in mind.
As you can see, the coverage rates in Oklahoma reflect that sentiment, showing that males often pay more for their auto coverage than females. It might surprise you to learn, though, that the reverse is true in many other states.
Oklahoma is one of only a few states wherein males are charged more for their car insurance than females, suggesting a dismissal of that pesky, gender-based driving myth.
In fact, Oklahoma is even making moves towards lessening the difference between the cost of car insurance for males and the cost for females.
Even so, be aware of how your gender might impact how you're charged for your insurance. Your driving record, though, still remains the most important factor in determining overall coverage costs.
Compare Oklahoma Car Insurance Rates by City
You don't have to take the numbers down to your ZIP code, though – you can sometimes distinguish a difference in coverage cost just by looking at different cities.
Tulsa, once again, has the most expensive rates.
So: you've got the costs of coverage listed out by city and ZIP code. Who's got the best coverage in the whole state, and who has the worst?
Free Car Insurance Comparison
Enter your ZIP code below to view companies that have cheap car insurance rates.
Secured with SHA-256 Encryption
Best Oklahoma Car Insurance Companies
When you move to Oklahoma, you're going to have dozens and dozens of provider options. Choosing one to stick with isn't easy, especially when you're not in the mood to spend hours comparing rates and policies yourself or using a car insurance calculator.
That's where we come in, and your life gets a little easier. We've taken a look at all of the car insurance providers in the state of Oklahoma, broken down their financial ratings, and pitted them against each other so that you can see which provider will serve you best. We've also included AM best ratings, market share percentages, and customer complaints, just for kicks.
So, what are you waiting for? Take a look at the best insurance companies in Oklahoma and see if your perfect provider is on one of our lists.
Ratings of Oklahoma's Top Ten Largest Car Insurance Providers
Customer service might not be as statistically driven as a provider's loss ratio or financial standing, but it's an essential factor to consider when you're trying to find your best car insurance fit. It's customer service, after all, that builds the reputation of a company.
Car Insurance Companies with Best Ratings in Oklahoma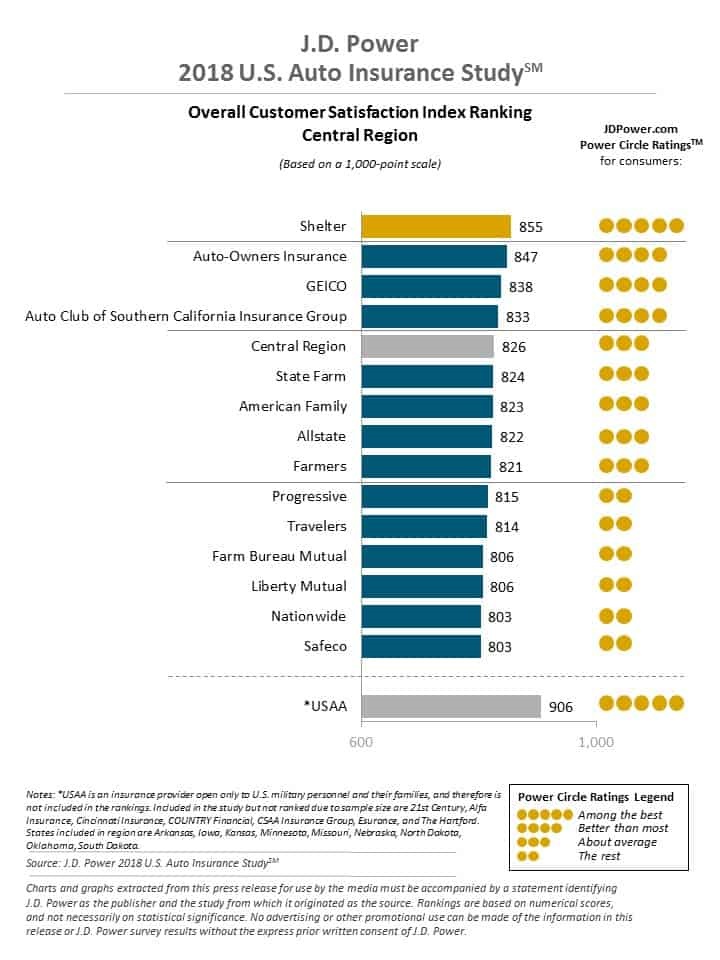 The above graph builds on the aforementioned importance of customer service. It's easy to see how much of a priority the car insurance providers in Oklahoma place on their ability to interact positively with the drivers they represent.
Car Insurance Companies with Most Complaints in Oklahoma
Comparatively, take a look at the insurance providers who've garnered the most complaints in the state of Oklahoma. The worst car insurance companies in America often have lots of complaints.
While these complaints aren't necessarily reflective of a company's ability to provide for those whom it insures, it does reflect a provider's ability to communicate with individuals and resolve issues with coverage.
Oklahoma Car Insurance Rates by Company as Compared to the National Average
But how do these companies stack up when their rates are compared?
As you can see, for drivers in Oklahoma, State Farm Mutual and USAA have annual rates that are significantly lower than the national average, meaning that they'll be more affordable in the long run.
Comparatively, Progressive Northern and SAFECO Insurance of America have rates that expand on or are higher than the national average rate of coverage.
Coverage Cost as Determined by Different Annual Commutes
Some of the time, your commute can add a few extra dollars to your car insurance coverage, but that really depends on where you're living. As you can see, the car insurance providers in Oklahoma don't put too much stake in the difference between a 10-mile commute and a 25-mile commute.

USAA, Geico, and State Farm, however, stand out by adding roughly one hundred dollars to your bill when you insure a longer commute. If your morning drive goes on for a little longer than you'd like, then you may want to consider how it'll impact your annual car insurance costs. You can purchase usage-based car insurance if you prefer to be charged by the amount you drive.
Compare Oklahoma Car Insurance Rates by Coverage Level
How will these rates change based on the amount of coverage you have? The usual correlation sees costs go down as you seek out less coverage. Keep in mind, though, that even though registering for only the state minimum coverage may be cost-effective, it could serve you poorly in the long run.
Take a look at the listed carriers' coverage costs throughout the state of Oklahoma and see what kind of coverage and rates suit your budget best.
Compare Oklahoma Car Insurance Rates by Credit History
No matter what level of coverage you seek out upon moving or seeking registration in Oklahoma, a provider is going to want to take a look at your credit score before making you an offer. Naturally, the higher your credit score is, the more likely it is that you'll receive a great rate through your provider of choice. You may receive a good credit discount. 
For example, companies like Liberty Mutual will reward a great credit score. The average annual rate for a driver with an average or good credit score comes in at around $4,724.
Comparatively, a driver with a less impressive credit score may have to pay for coverage at a rate of $9,874. That $5,150 difference is nothing to sniff at, which means that as you seek out coverage, you should be keeping an eye on your credit and any potential rate bumps you might run into.
Oklahoma Can't-Miss Fact: the average credit score for drivers in the state of Oklahoma is 656, leaving Oklahoma among the top 10 states in America with the lowest credit scores.
Compare Oklahoma Car Insurance Rates by Driving Record
Naturally, your driving record will also impact your annual car insurance rate. Violations ranging from DUIs, minor accidents, and speeding violations can all raise your premium by a notable degree. Take Liberty Mutual as an example. Drivers with a clean record will only pay $4,623.23 a year for their coverage.
Comparatively, drivers who've been caught speeding will pay $6,369.71 a year. For speeding alone, your coverage costs could jump nearly $2,000! Stay careful on the road, then, and keep some of your hard-earned cash in your wallet.
Number of Insurers in Oklahoma
Oklahoma's State Laws
So: we've talked about coverage, average annual rates, and the potential ways you can increase or decrease your overall insurance payments. One of the best ways to avoid a spike in the payments your provider requires of you is to comply with your state's driving laws.
Now, state laws can be challenging to get a grip on, especially if you're a new resident. Each state has its own policies on speed limits, seat belt usage, and driving under the influence of either alcohol or marijuana.
You can't defend yourself from an insurance bump or a legal fine, though, by pleading ignorance. When you familiarize yourself with Oklahoma's state laws, you're doing preventative work that'll save your wallet in the long run.
We've done some of that work for you here. Take a look at our compact guide to Oklahoma's state laws, and do what you can to stay out of trouble. You sometimes should consult a car insurance attorney for more legal advice.
Oklahoma's Car Insurance Laws
We've mentioned that Oklahoma requires minimum insurance coverage for any drivers who live in the state as residents or who have vehicles registered with the state's DMV. As an Oklahoma resident or driver, you're also required to have proof of financial responsibility for your vehicle on you while driving.
What happens, though, if you move to Oklahoma with a driving record that isn't so stellar? It doesn't matter if you happen to own a car. Car insurance providers do not have to provide you with coverage if they think that your driving record will cost them an exceptional amount of money in the long run.
In other words, no car insurance company is required to cover a "high-risk" driver.
Luckily, the Oklahoma DMV recommends that drivers who can't find coverage through a car insurance provider can turn to Oklahoma's Automobile Insurance Plan. With that kind of option available to them, drivers in Oklahoma have no excuse for not having coverage.
Oklahoma's High-Risk Insurance
Accidents, though, are called accidents for a reason. Some of us are going to end up with marks on our driving records, no matter how careful we are. In Oklahoma, drivers with accidents on their driving records are considered "high-risk drivers." These drivers need to file an SR-22 form in order to apply for high-risk insurance.
You'll need to file an SR-22 form if:
Your license has been suspended or revoked due to a DUI/DWI
You have no insurance and are in a vehicular accident
You have been involved in an accident that's caused severe injury to another driver
You are caught driving while uninsured
There are a significant number of points on your driving record
Low-Cost Oklahoma Car Insurance Coverage
Unfortunately, Oklahoma does not provide its low-income families with a government-sponsored car insurance program, meaning that if you can't afford car insurance, you cannot rely on the state government to support you.
Some states offer their low-income families this level of support, but that's no need to fret! By carefully examining your needs and comparing the providers available to you, you can find a car insurance plan that fits your lifestyle.
Oklahoma Windshield Coverage Laws
Oklahoma does not require you to replace your windshield when it gets cracked or broken. Insurers, too, are not required to replace your windshield for you if it is compromised. A comprehensive plan can see your windshield replaced with aftermarket or used parts, but that will depend on the provider and plan that you've sought out. Broken windshield car insurance sometimes costs more money.
Automobile Insurance Fraud in Oklahoma
Car insurance fraud is defined in two different ways. There is both hard fraud and soft fraud.
Deliberate falsehoods regarding insurance claims or accident is considered hard fraud.
Soft fraud, comparatively, occurs when an accident has genuine happened, but the victim has padded their claim.
As of 2018, Oklahoma authorities recovered $345,924 from falsified auto insurance claims, as reported by the Oklahoma Department of Insurance. These findings accompanied 1,286 complaints of fraudulent claims and $152,456 submitted findings for criminal prosecution.
While you might be tempted to get all that you can once you've been in an accident, falsifying your accident claims is a) illegal, and b) not worth the consequences.
Statute of Limitations
Once you've been in an accident, you need to move quickly in order to get the compensation from your insurance that you need to repair your car or pay any other necessary fees. Oklahoma, as you will see, allows you two years to file your claim.
State Specific Laws
Oklahoma also makes itself unique from other states in its implementation of an Unfair Claims Settlement Practices Act. This piece of legislation makes insurers to clients – that is to say, you – precisely what your policy with the insurer will cover. That way, you know exactly what you can use your insurance for and how much money you should have available to you if you seek compensation.
That is to say, the Unfair Claims Settlement Practices Act keeps your insurer from overlooking or deliberately ignoring a part of your coverage that might cost them significant sums of money. This move towards fairness keeps you in the black and ensures that your provider remains as honest as possible.
Vehicle Licensing Laws in Oklahoma
Now, if you're pinching pennies, you may think that forgoing insurance is the way to save money. However, in Oklahoma, driving without insurance and getting caught can result in some significant fees.
We've touched on viable proof of insurance previously, but for a refresher, they include:
A valid liability insurance ID card
A copy of your car's up-to-date insurance policy
A valid insurance binder, which serves only as temporary car insurance
Without proof of insurance, you risk Oklahoma authorities suspending your car's registration. If your registration is suspended, you'll get a letter from the Oklahoma government, and you'll have to provide proof of insurance before your registration can be reinstated.
Proof of insurance is essential not only to drive a car but to register that car in the state of Oklahoma. You'll be required to present proof of insurance when you go to secure an Oklahoma license plate.
If you are ever pulled over by a police officer, either for speeding, possession, or something else, you'll be required to provide proof of vehicle insurance along with your driver's license to the officer in question. Knowing how police check car insurance will help you stay ready if you're ever pulled over.
Teen Driver Laws
Most teens are excited to turn 16 because it means they can start practicing to earn their driver's licenses. However, in Oklahoma, teenagers can get their driver's permit at 15 1/2 years old. They have to sit through a mandatory holding period of six months before applying for a license, of course, but the ability of a young person to practice their driving is hardly a bad thing.
Teenagers in Oklahoma also have to consider other restrictions on their driver's licenses. These restrictions will be lifted within 12 months of the driver receiving her license or at age 18. If a young driver opts to take driver's education classes, though, these restrictions will be removed twice as quickly!
Oklahoma Older Driver License Renewal Procedures
As unpleasant as the DMV is, it is a necessary evil for everyone, no matter how long you've had your license. Oklahoma residents who've lived in the state for a long while need to make sure to renew their driver's licenses every four years, which serves as a constant renewal point for drivers all across the United States.
You are not able to renew your license over the Internet or by mail. The good news, though, is that while you do still have to visit the DMV in person, older drivers in Oklahoma don't have to pass a vision test in order to renew their licenses.
New Oklahoma Residents
If you're new to Oklahoma and intend to stay in the state for a good, long while, you'll need to secure a license plate and car insurance policy within the state. Share your new address with your provider and make sure that you have the minimum coverage required in Oklahoma.
You'll also want to check in with your provider to see if you need to take your car to the Oklahoma Department of Public Safety (DPS) or Oklahoma Tax Commission (OTC). A representative at either of these agencies will be able to double-check your vehicle identification number in order to ensure that you're the proper owner of the car. After that, you'll be good to go.
Rules of the Road
Oklahoma also has state-specific road laws that you'll need to consider when taking to the interstate. Keep these in mind in order to keep your driving record as clean as possible.
Fault vs. No-Fault
As we've mentioned, Oklahoma is an at-fault state. That means that when you get in an accident in Oklahoma, one of the drivers will be determined to be at fault. Whoever is determined to be at fault will be responsible for paying for any damages, medical expenses, or other costs that result. Knowing about no-fault car insurance is also valuable.
Keep Right and Move Over Laws
The left lane on the highway is reserved for drivers who go a bit faster than average. If you're going under the speed limit, either due to a flat tire or personal preference, you cannot drive in the left lane.
This means that if you intend to pass, you need to use your turn signal and make sure that it's safe to pass first.
Speed Limits in Oklahoma
Speeding laws vary throughout Oklahoma, but in general, exist as follows:
Seat Belt and Car Seat Laws
Oklahoma also takes care to enforce seat belt policies. Seat belt laws impact car insurance. If you choose to drive or ride without a seat belt, keep in mind the following consequences:
Car seat laws work similarly. The first time you violate Oklahoma's car seat laws, you not only put your child at risk, but you risk a $50 or more fine.
Oklahoma Ridesharing
With the popularity of Uber and Lyft on the rise, you may be interested in registering your car to rideshare. Only the following insurers in Oklahoma allow drivers to use their cars for ridesharing:
Allstate
Farmers
Geico
Mercury
State Farm
USAA
Even so, these insurers each have different specifications for the ridesharing they're willing to cover.
Oklahoma Safety Laws
We've touched on drunk driving and its consequences before. Oklahoma has severe DUI laws in place to dissuade drivers from driving while under the influence.
Driving While Impaired, you'll notice, registers as a misdemeanor – but only the first time. If you get caught driving under the influence a second time, you earn yourself a felony.
For the sake of your health, not to mention your wallet, do what you can to avoid driving drunk. The consequences are the same for driving under the influence of marijuana, as Oklahoma has not yet legalized the use of THC for medical or recreational purposes.
Distracted Driving Laws
Distracted driving, while different from driving while intoxicated, has consequences that can be just as severe.
No text is worth getting into a car accident, as you risk more than an increase in your insurance payments. There is not a single text that's worth your life.
Driving in Oklahoma
Whenever you head out on the road, you want to do your best to stay safe. If you've just moved to a new home or an entirely new state, though, you might not know about some of the local laws or trends that might impact the roadways.
That's why you have us. Below are all of the vehicular trends that have a presence in Oklahoma and should influence the way you drive around your new — or old — home.
From fatality rates to the areas most prone to vehicular left, you can count on us.
Vehicle Theft in Oklahoma
It seems like the bigger your car is in Oklahoma, the more likely it is to draw attention — the bad kind as well as the good kind.
If you have a pickup, try to keep an eye on it or install an additional security system, especially if you're visiting one of the upcoming worst cities for vehicular theft in Oklahoma, as reported by the FBI.
Naturally, Oklahoma City, as one of the state's biggest cities, is more prone to vehicular theft than some of the smaller towns in the area.
This doesn't mean that you have to be hyper-paranoid as an Oklahoma City local, but it does encourage you to be cautious.
Fatality Rates in Oklahoma
On an equally lighthearted note, let's address the primary causes of driver fatalities in Oklahoma.
You'll note that just two cities make the NHTSA report: Oklahoma City and Tulsa. Some of this has to do with the varying risks that arise in urban areas versus rural areas.
However, you'll also note that the more rural parts of Oklahoma are less kind to interstate drivers. The congestion of rural roads has nothing on the speeding that open rural roads encourage.
But that's not all. Different types of people are prone to different kinds of fatalities. Pedestrians will endure different fatalities than a car's occupants, so let's dig into that divide.
Do your best to keep an eye on the road while you're driving in Oklahoma. Passenger cars are the most likely to be involved in a car crash in the state, with pickup trucks just behind. Bicyclists and walking pedestrians, too, are at additional risk, so you'll want to keep your eyes open.
But what types of crashes and crash fatalities are most likely to occur in Oklahoma?
Most recently, then, the majority of car crashes that have occurred in Oklahoma involve a roadway departure, with single-vehicle accidents following in a close second.
That's a lot of variables to consider. We haven't yet taken into account, though, the counties in Oklahoma that are home to the most traffic fatalities.
Some of these statistics may seem overwhelming. When you compare Oklahoma's fatality numbers to those of other states, though, these rates are comparatively low.
The nearby New Mexico, for example, is rated second among the top-10 worst states for drivers.
Even so, speeding is still a pretty pervasive problem throughout the state. It can result in being a dangerous state for pedestrians, too.
Tulsa, you'll note again, comes in at number one for counties that have notable speeding problems and, in turn, fatalities. Urban areas, then, require your increased awareness.
There is another threat, though, that puts Oklahomans at risk: intoxicated drivers.
Despite widespread information dissuading people from drinking and driving, drunk driving remains one of the most common causes of driver fatalities throughout the whole of the United States.
Fatalities in Crashes Involving an Alcohol-Impaired Diver by County
This kind of drunk driving is often undertaken by teenagers. The combination of driving inexperience and the discombobulation of alcohol results in a startling number of fatalities.
Oklahoma's underage fatalities as a result of intoxicated driving rank at 1.3 fatalities, placing the whole of the state slightly above the national average, which is 1.2 fatalities. Luckily, EMS response time is fairly good in Oklahoma. This means that no matter how severe the accident, help will arrive quickly should you be hurt.
With a response time between four and nine minutes, calling for help is the best thing you can do if you find yourself in an accident. Urban response time is naturally a bit faster than rural response time, but it's still reassuring to know that, in case of an unfortunate incident, help is always nearby.
Transportation
Do you own more than one car? In general, Oklahoma residents own an average of two cars. If you have any more than that, well, we're jealous.
While commuting isn't the worst thing in the world, it's certainly not what most people would willfully choose to go through at 8 a.m. on an average morning. For the employed living in Oklahoma, though, things aren't so bad. The average commute to work in Oklahoma is reported to take less than 25 minutes, the national average.
How is that commuting being done? Most people in Oklahoma prefer to get to work by car, but that's not the only mode of transportation available. Public transportation is an entirely viable option for Oklahoma residents, as is carpooling or heading to work via motorcycle.
Oklahoma's Top Cities for Traffic Congestion
That said, there are some cities wherein the troubles of traffic are unavoidable. You'll want to plan your morning drive pretty carefully if you live in either Tulsa or Oklahoma City.
While the state doesn't make the specific percentage of time spent in congestion during the day's peak hours available, you can tell pretty readily that driving through Tulsa or Oklahoma may be slow going right before work begins and just as the day ends.
Even so, there's no need to fret! Of all of the cities in Oklahoma, only these two make the list. The rest of the state is able to maneuver its roadways with ease, barring construction, and thereby spend a little less time getting stressed out by the other drivers in the area.
So: if by now you're not an expert on Oklahoma's car insurance, driver laws, and the ways you can compare insurance providers and save, never fear. Compare car insurance rates now by entering your ZIP code below in our FREE online tool!
Free Car Insurance Comparison
Enter your ZIP code below to view companies that have cheap car insurance rates.
Secured with SHA-256 Encryption
Best Oklahoma Car Insurance Companies
Licensed drivers in the state of Oklahoma are required to carry the minimum liability coverage protecting themselves and their passengers in the event of a car accident.
Those who have 25 or more vehicles registered under their names can take out a self-insurance policy. The average car insurance premium in Oklahoma is $1,811.23. Rates vary from state to state.
Drivers who live in Tulsa pay approximately $1,931.54 for coverage. The average premium for car insurance in Oklahoma City is $1,805.90.
Car insurance rates in Oklahoma run just above the national average. Costs may also vary from one insurer to another. Comparing auto insurance quotes online is the fastest and easiest way to find a company that sells flexible policies at affordable rates.
Oklahoma follows a tort system, which is why most insurance companies recommend drivers to purchase additional coverage.
Reading customer reviews and shopping around can help you get a good deal on car insurance.
Compare car insurance rates with our free comparison search by entering your ZIP code above!
Some Car Insurance Options for Oklahoma
Here is a list of auto insurance providers that offer extensive coverage at reasonable rates:
Cole, Paine & Carlin Insurance Agency, Inc.
Cole, Paine & Carlin Insurance Agency offers home, auto, flood, business, and general liability coverage. This independent insurance provider represents different insurance companies with a strong reputation.
If you buy coverage for your car from Cole, Paine & Carlin Insurance Agency, you will be able to make payments, update your contact information, and file claims online.
The company offers teen rewards, safe driver discounts, and other special savings.
LeBlanc Family Insurance
Founded in 2002, LeBlanc Family Insurance is a local agency that works with well-established insurance companies such as State Farm, Allstate, and Safeco.
Oklahoma residents can purchase an auto, homeowners, mobile home, motorcycle, flood, and boat insurance.
The company also sells business insurance plans, including commercial auto general liability coverage. LeBlanc Family Insurance offers free auto insurance quotes.
If you are interested in buying coverage for your car, visit the company's website and complete the application form.
As an independent Oklahoma insurance agency, LeBlanc Family Insurance offers multiple quotes from different providers.
State Farm
State Farm has been selling auto insurance policies since 1922.
The company handles over 35,000 claims per day and has more tan 68,000 employees throughout the U.S. and Canada.
Customers have access to a wide range of insurance products, including business, life, auto, homeowners, health, and life insurance.
This auto insurance provider operates in 50 states, including Oklahoma. Drivers can opt for bodily injury and property damage liability coverage, collision coverage, personal injury protection coverage, emergency road service coverage, and uninsured/underinsured motorist protection insurance.
State Farm offers low-cost auto insurance policies specifically designed for safe drivers, good students, and new teen drivers. You can read our State Farm car insurance review for more information.
Safe Auto
Established in 1992, Safe Auto is a top insurance provider that operates in 16 states, including Indiana, Ohio, Oklahoma, and Illinois. The company has a network of licensed insurance agents that are ready to help customers find affordable car insurance policies.
Unlike most auto insurance providers, Safe Auto does not check your credit history. Customers can pay online, by email, or by phone. Other payment options include checks, money orders, and Western Union.
Oklahoma drivers can pay their auto insurance rates in full, bi-monthly, or monthly.
In addition to the minimum car insurance requirements, Safe Auto offers additional types of coverage at affordable rates. Customers can obtain free auto insurance quotes, fill claims, and manage their policies through the company's website.
ACE Cash Express
ACE Cash Express specializes in payday loans, title loans, and personal auto insurance. Oklahoma drivers can choose from liability coverage, medical payment coverage, personal injury protection, and uninsured/underinsured motorist protection insurance.
The company also provides car rental reimbursement, comprehensive, and collision coverage. Customers can pay at any ACE Cash Express location, online, or over the phone.
Unlike other insurance companies, ACE Express offers competitively priced auto insurance plans to those with a less-than-perfect driving record. The company requires no credit checks.
Most payment plans have discount options. The policies are flexible and can be customized to fit your individual needs. Getting an online car insurance quote from ACE Cash Express takes less than 15 seconds.
MetLife
MetLife has been in business for more than 140 years. This global insurance company is rated "A+" by A.M. Best, "Aa3" by Moody's Investors Service, and "AA-" by Standard & Poor's.
With over 90 million customers in 50 countries, MetLife is a leading provider of auto, life, dental, homeowners, and disability insurance.
This auto insurance company features comprehensive plans that include enhanced rental car damage coverage, safe driver credits, and special discounts for safe drivers.
The policies available at MetLife go beyond basic liability and collision coverage.
Customers benefit from free identity theft protection services and guaranteed repairs to their vehicles.
MetLife offers multi-policy auto insurance discounts, safe driver discounts, and special group discounts.
Knights Insurance Agency
Knights Insurance Agency has been offering auto, life, motorcycle, and homeowners insurance since 1992. This local insurance provider features affordable policies, low monthly payments, low down payments, and massive discounts.
Even those who have had car accidents or received speeding tickets can apply for free car insurance quotes. The company offers instant proof of insurance.
For an extra fee, customers receive roadside service nationwide. Shopping for car insurance requires time and effort.
Before you make a decision, contact the Department of Insurance to find out if a company is licensed in Oklahoma. Provide correct and complete answers when applying for free car insurance quotes.
Make sure you know what type of auto coverage suits your needs. Search for information about the main types of auto insurance, check the minimum coverage requirements in your state, and calculate your monthly rates.
Our website provides an online rate car insurance calculator and free quote comparison tools.
With a few mouse clicks, you can find a comprehensive policy that includes optional services such as roadside assistance and multiple payment options. Compare at least three auto insurance quotes before choosing a specific plan.
Find out what factors may affect your premium and ask about the current discounts. The competition is tight in the auto insurance industry, so make sure you get the best deal out there.
Find cheap car insurance when you enter your zip into our free comparison quote tool!
Oklahoma City Car Insurance Laws
Oklahoma follows the Tort system, which means that one of theindividuals involved in an accident has to be at fault.
The minimum reqirements for car insurance in Oklahoma are as follows:
$25,000 for the injury or death of one person in one accident
$50,000 for the injury or death of more than one person in one accident
$25,000 for any property damaged in an accident
Non-compliance with car insurance laws results in harsh penalties. If one is unable to supply proof of insurance or is charged with not carrying the minimum amount required, then he could end up facing up to $250 in fines, 30 days in jail, and even the possibility of having his license and registration suspended.
If the insurance policy is canceled, then one has thirty days to notify the Oklahoma Department of Public Safety of the new policy. Failure to do this can result in the car registration being suspended.
Additionally, the state needs to be notified if there's a change in the place of residence. Should the department find out that the address is not current, the registration can be suspended.
While uninsured or under-insured policies are not mandatory in Oklahoma, some people do drive without insurance, and if one is in an accident with an individual without insurance, then they are protected.
Free Car Insurance Comparison
Enter your ZIP code below to view companies that have cheap car insurance rates.
Secured with SHA-256 Encryption
Oklahoma City Car Insurance Companies
Consumers in Oklahoma City have dozens of insurance companies to select from when they are seeking car insurance coverage.
Obviously, finding the right insurer involves more than finding the cheapest insurance provider.
When searching for an insurance provider, it is a good idea to shop around and compare the various options available.
There are some steps that can be taken to reduce the premiums when searching for insurance in the Oklahoma City market.
Every driver should try to maintain a spotless driving record, and if you get a ticket, try to have it expunged from the driving history by attending traffic school.
Having low deductibles is good if you are involved in an accident. However, you need to be sure that you can afford to pay out of pocket.
Remember to ask for any special discounts, as most insurers offer discounts for things like making the car theft-proof or insuring a car that has a high government rating for safety. You may have to shop for car insurance to cover the theft of items from your vehicle.
Oklahoma City Average Car Insurance Rates
Oklahoma City motorists pay an average of $1,806 for car insurance a year.
This is 0.88 percent less than what insurers pay in some of the neighboring counties, but 18.80 percent more than the average rate in Oklahoma State.
Driving and talking on a cell phone or texting while driving is dangerous and is the cause of a significant number of accidents in Oklahoma City.
Unlike some places, however, there is no statewide ban on the use of cell phones while driving.
Driving under the influence of alcohol is another major cause of accidents, according to Oklahoma City statistics; hence, drivers are prohibited from having open alcohol.
Compare Oklahoma City Car Insurance Quotes
Comparing car insurance rates online is one of the best ways to find the cheapest rates from the best companies.
Once the online search yields two or three promising insurance providers, it is a good idea to see what their financial standing is.
Standard & Poor's is one of the world's leading credit ratings providers, helping individuals and organizations around the globe make better financial decisions
The Fitch Ratings Insurance Group provides ratings for insurance and insurance-related companies
Every state has a Department of Insurance that keeps information about companies public
Enter your ZIP below, and start saving today by finding affordable car insurance!
Free Car Insurance Comparison
Enter your ZIP code below to view companies that have cheap car insurance rates.
Secured with SHA-256 Encryption