Compare Louisiana Car Insurance Rates [2023]
Compare Louisiana car insurance rates with an average of $117/month. Louisiana's minimum liability requirements are 15/30/25 for bodily injury and property coverage. When stopped by the police, proof of insurance is essential, including an insurance card, policy copy, declaration page, $30,000 securities, or bond.
UPDATED: Nov 27, 2023
Fact Checked
Free Car Insurance Comparison
Compare Quotes From Top Companies and Save
Secured with SHA-256 Encryption
Brad Larson
Licensed Insurance Agent
Brad Larson has been in the insurance industry for over 16 years. He specializes in helping clients navigate the claims process, with a particular emphasis on coverage analysis. He received his bachelor's degree from the University of Utah in Political Science. He also holds an Associate in Claims (AIC) and Associate in General Insurance (AINS) designations, as well as a Utah Property and Casual...
UPDATED: Nov 27, 2023
It's all about you. We want to help you make the right coverage choices.
Advertiser Disclosure: We strive to help you make confident car insurance decisions. Comparison shopping should be easy. We are not affiliated with any one car insurance company and cannot guarantee quotes from any single company.
Our partnerships don't influence our content. Our opinions are our own. To compare quotes from top car companies please enter your ZIP code above to use the free quote tool. The more quotes you compare, the more chances to save.
Editorial Guidelines: We are a free online resource for anyone interested in learning more about auto insurance. Our goal is to be an objective, third-party resource for everything auto insurance related. We update our site regularly, and all content is reviewed by auto insurance experts.
UPDATED: Nov 27, 2023
It's all about you. We want to help you make the right coverage choices.
Advertiser Disclosure: We strive to help you make confident car insurance decisions. Comparison shopping should be easy. We are not affiliated with any one car insurance company and cannot guarantee quotes from any single company.
Our partnerships don't influence our content. Our opinions are our own. To compare quotes from top car companies please enter your ZIP code above to use the free quote tool. The more quotes you compare, the more chances to save.
On This Page
UPDATED: Nov 27, 2023
Fact Checked
Driving in Louisiana may drive you crazy, but it doesn't mean that searching for car insurance should drive you crazy along with it!
Relax, and let the good times roll because we have put together a guide that has all the car insurance information that you'd ever want to know about Louisiana: coverage and rates, car insurance providers, state laws, and lots of other stuff.
Comparing rates is a great way to put money back into your pocket with big, big savings. Start today with just your ZIP code.
Louisiana Car Insurance Coverage and Rates
Laissez rouler les bons temps…let the good times roll. And in Louisiana, there is no shortage of places to go, things to do, and cool jazz to listen to.
Before you get too much into these cool beats, take a moment to sit down and go over the requirements of car insurance in Louisiana.
Minimum Car Insurance Requirements in Louisiana
Liability car insurance pays anyone owed compensation when there is an accident you caused.
Louisiana follows the typical "fault" model. This means if an accident was your fault, you're responsible for all the damages.
Louisiana requires that you carry, at the minimum, the following amounts:
$15,000 – covers injury/death per person.
$30,000 – covers injuries or death per accident.
$25,000 – covers property damage per accident.
Remember, these are the minimum requirements and do not cover injury, death, or damage to yourself or your own passengers!
Liability kicks in, however, no matter who is driving your car.
If you're from out of state, your minimum car insurance requirements and rates could change! Take a look.
Required Forms of Financial Responsibility in Louisiana
By law in Louisiana, you are required to have valid liability insurance to be able to register your car or renew your registration. If you have renewed your registration online or bought a car from a dealer and registered it, the Louisiana Office of Motor Vehicles (OMV), can verify your car insurance electronically. If you are stopped by law enforcement, you are required, by law, to show proof of insurance.
Louisiana accepts the following as proof of insurance or financial responsibility:
Insurance card.
Copy of your insurance policy.
A copy of your policy declaration page.
Cash/unencumbered negotiable securities worth $30,000.
Surety bond worth $30,000.
OR a statement from your insurer that must:
Be on your car insurance company's letterhead.
Be signed by your insurance agent or a representative of the company.
Have a complete description of your vehicle.
Have your vehicle identification number (VIN).
Being caught without proof of insurance in Louisiana can give a police officer the authority to give you a Temporary Vehicle Use Authorization, or impound your vehicle.
Premiums as Percentage of Income in Louisiana
So, how much will you have to spend in Louisiana after all the necessities are taken care of?
In 2014, the annual per capita disposable personal income in Louisiana was $37,787.
Disposable personal income (DPI) is the total amount of money available for an individual to spend (or save) after their taxes have been paid.
The average annual cost of car insurance in Louisiana is $1,364, which is almost 4 percent of the average disposable personal income.
The average Louisiana resident has $3,148 each month to buy food, pay bills etc. The car insurance bill alone deducts about $113 out of that — much more if you have a less-than-perfect driving record.
Why is getting the best deal on car insurance so important?
American Consumer Credit Counseling suggests saving 20 percent of every paycheck. With Louisiana's DPI, that's a whopping $630 each month! How much are you setting aside for savings?
Average Monthly Car Insurance Rates in LA (Liability, Collision, Comprehensive)
The above table illustrates the most recent data provided by the leading source on the matter, the National Association of Insurance Commissioners. Expect car insurance rates in Louisiana to be significantly higher for 2019 and on.
Louisiana has seen several car insurance increases, as recently as last year.
Don't forget: Louisiana has minimum requirements for liability coverage, but experts suggest drivers purchase more than what state law requires, especially when the state is an "at-fault" state like Louisiana.
You may be wondering: Why get more coverage than required? Louisiana has no snow, and no slippery roads to make for dangerous driving conditions (though it does have poor road conditions, ranked at the 40th worst roads in the United States). It is also a state that is highly rural, as opposed to urbanized.
Well, Louisiana tends to have more friendly judges willing to pay out more for bodily injury claims. According to USA Today, Louisiana has a large number of bad drivers making big claims and suing each other in front of friendly judges. This leads to high insurance payouts, which in turn leads to higher rates.
With this mind, in case you end up in court, you may want comprehensive coverage.
We can also easily how average car insurance rates in Louisiana compare with other states.
Let's make a case and talk about the most popular coverage options to add to a basic car insurance policy.
Additional Liability Coverage in Louisiana
A loss ratio shows how much a company spends on claims to how much money they take in on premiums. A loss ratio of 60 percent indicates the company spent $60 on claims out of every $100 earned in premiums.
It is assumed that drivers in Louisiana will have uninsured or underinsured motorist coverage:
"Louisiana's uninsured motorist coverage differs from other states' laws. Louisiana assumes that motorists have uninsured motorist coverage unless it is specifically rejected. It's a subtle difference that becomes very important when filing a lawsuit"
Louisiana ranked 20th in the nation in 2015 for uninsured or underinsured drivers.
If you notice, loss ratios in Louisiana are high. If they go past 100 percent, it means that the insurance company is losing money, and these assumptions of having coverage might be the reasoning behind the high loss ratios for insurance companies in Louisiana. And it CAN be proven in court that you may not have rejected coverage, as Louisiana lawyer Tim Young told FreeAdvice.com:
"…we have absolutely handled cases where we're able to show that the individual purchasing the policy never rejected such coverage. Courts will hold that they are entitled to UM or underinsured coverage unless they have specifically signed off on the rejection form."
Long story short: if you don't want the coverage, sign the rejection form.
Add-ons, Endorsements, and Riders
We know getting the complete coverage you need for an affordable price is your goal.
Good news: there are lots of powerful but cheap extras you can add to your policy.
Do you know what's crazy? Louisiana has hot summers, with temperatures reaching upward of almost and over 90 degrees.
As the weather can be wildly unpredictable, it's best to be prepared for whatever Mother Nature throws at you.
Don't get blown away by high car insurance premiums! Start comparison shopping today using our FREE online tool. Enter your ZIP code above to get started!
Here's a list of other useful coverage available to you in Louisiana:
Average Monthly Car Insurance Rates by Age & Gender in LA
A popular myth: men pay more for car insurance. However, this myth mainly seems to hold true if you are a 17-year-old male in Louisiana. All other ages, it varies.

Cheapest Louisiana Car Insurance Rates by ZIP Code
Where you live influences how much you pay for car insurance.
Hornbeck residents, depending on the ZIP code, have the cheapest annual rates when it comes to car insurance! However, there are some areas where you will pay much more for car insurance than Hornbeck residents.
New Orleans has a majority of the most expensive ZIP codes.
Louisiana Car Insurance Rates by City
The table below shows which cities have the cheapest car insurance rates. Unsurprisingly, Hornbeck is the cheapest city.
If you live in New Orleans, you don't really luck out when it comes to prices on car insurance. You are paying some of the most expensive rates, with prices ranging from $7,000 – $9,000!
Free Car Insurance Comparison
Enter your ZIP code below to view companies that have cheap car insurance rates.
Secured with SHA-256 Encryption
Louisiana Car Insurance Companies
So many car insurance carriers compete for your business these days, that it can be hard to know which ones are the most reliable.
No need to worry, we've got you covered! Keep scrolling to find out who the 10 largest providers are across Louisiana.
Ready? Then allons-y!
The 10 Largest Louisiana Car Insurance Companies' Financial Rating
AM Best gives insurance companies financial ratings. A good score means they are highly likely to stay solvent and have the ability to pay customer claims.
There are a lot of factors that go into picking the best Louisiana car insurance company. Customer praise and complaints should be two of those factors.
Car Insurance Companies with the Best Ratings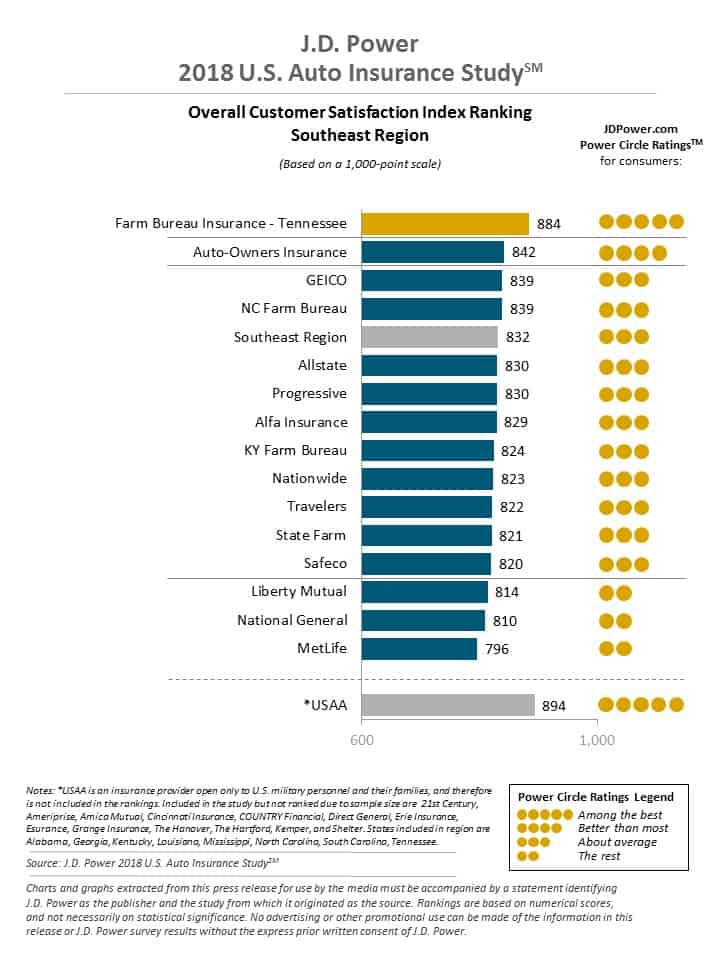 The company that receives the most praise, located in the state of Louisiana (on this list), is Geico.
Companies with Most Complaints in Louisiana
It is interesting to note that, according to this Gallup poll, Millenials are the "least likely" to be fully engaged with their auto insurance provider.
Regardless of age, it doesn't necessarily equate to dissatisfaction. Most dissatisfaction has to do with the quality of service. According to a resident from Metairie, Louisiana, this resident was less than satisfied with his or her insurance:
"I had an accident in April, here it is August and they still haven't paid my claim. UN-BE-FREAKIN-LIEVABLE. I saved 55 dollars a month" for this?"
Bear in mind, some complaints are based on general customer satisfaction, so factor that into your final decision.
If you happen to have a complaint, go to the Louisiana Department of Insurance and fill out their online forms.
Best Car Insurance Rates by Company
USAA is the least expensive in Louisiana when it comes to annual rates for car insurance. The most expensive company, annually, is Allstate. Read our Allstate car insurance review for more information.
Best Commute Rates in Louisiana
It is interesting and of note that Progressive and Allstate offer the same annual rates, no matter the commute.
Commute times are not the only factors considered when increasing or decreasing rates.

Best Coverage Rates in Louisiana
Progressive is the most expensive when it comes to high coverage, and USAA is the least expensive when it comes to high coverage.
Best Credit History Rates in Louisiana
Having good credit pays off if you are a USAA or a State Farm customer, as they offer the best rates. Those with poor credit can still find good rates at USAA, though it is almost doubled from if you have good credit.
Best Driving Record Rates in Louisiana
USAA has the best rates if you have a perfect and clean driving record.
The 10 Largest Car Insurance Companies in Louisiana
Number of Car Insurance Providers in Louisiana
And when it comes to domestic versus foreign insurers in Louisiana, there are 34 domestic insurers compared to 819 foreign insurers.
Laws in Louisiana
In order to keep your car insurance rates low, you have to know the laws in your state so you're not blindsided by a fine.
Don't worry! We're here to help.
Keep reading to learn about the laws specific to the state of Louisiana.
Louisiana's State Laws
Car insurance laws vary from state to state, and Louisiana is no different.
State laws for insurance are determined under Title 22, otherwise known as the Louisiana Insurance Code.
High-Risk Insurance
Drivers with a history of accidents or traffic violations may find themselves unable to purchase coverage from an auto insurance carrier. This is where a type of insurance known as high-risk insurance comes into play.
But, don't fret.
The Louisiana Automobile Insurance Plan was created to provide automobile insurance coverage to eligible risks who seek coverage and are unable to obtain such coverage through the voluntary market.
Low-Cost Insurance
Louisiana does not have any special low-cost programs for people who don't have insurance. It is up to you, as the consumer, to shop around for the lowest rate. You can't afford to NOT have insurance!
Windshield Coverage
In terms of windshield coverage, Louisiana does not have any laws specific to this. Insurers may use non-OEM aftermarket parts if mentioned on the estimate. Also, it's important to note that the maximum comprehensive deductible (what you can claim on this) is $250.
Automobile Insurance Fraud in Louisiana
The Louisiana Automobile Theft and Insurance Fraud Prevention Authority (LATIFPA) "combats motor theft, insurance fraud, and other criminal acts."
Insurance fraud is a felony in the state of Louisiana.
In 2008, the Coalition Against Insurance Fraud estimated that insurance fraud costs Americans at least $80 billion annually, nearly $950 a year per family.
According to the Louisiana Department of Insurance, the penalty for insurance fraud, whether it's hard (deliberate criminal acts) or soft (little white lies), is severe:
"A person convicted of insurance fraud can be sent to jail for up to five years, with or without hard labor, and/or fined up to five thousand dollars for each count of insurance fraud."
Long story short: don't do it.
Statute of Limitations
A statute of limitations is the limit on the amount of time you have to bring a lawsuit to court. Different states have different statutes of limitations for personal injury and property damage matters.
If you are ever in an auto accident involving extensive injuries and damages, you need to know your rights in the matter.
Louisiana CC 3492 states you have up to one year following an accident to file charges in court.
Louisiana's Vehicle Licensing Laws
Now, we all know that you can't drive a car without a license. Let's find out what Louisiana's mandatory vehicle licensing laws are.
Penalties for Driving Without Insurance
Louisiana has strict rules for driving without insurance. If you knowingly drive without insurance, you are subject to fines of $500 to $1,000. You're also subject to having your driving privileges suspended and revoked for up to 180 days.
If you falsely claim to have insurance, your license can be revoked anywhere from 12-18 months.
With a law known as "No Pay, No Play", you are prohibited from collecting the first $25,000 in property damages and the first $15,000 in personal injuries (regardless of who causes the accident) if you are uninsured.
Teen Driver Laws
Teens are at a higher risk of being involved in an auto accident and are up to 50 percent MORE likely to be in an accident in the first month of driving alone.
With teen drivers and licensing teen drivers, Louisiana takes the following precautions:
Older Driver License Renewal Procedure
New Residents
If you are about to make the move to Louisiana, here's what you need to know:
You need to register your out-of-state car with the OMV.
You need to obtain a Louisiana driver's license.
You need to register to vote in your new county.
If you're active duty military stationed in Louisiana, you may be exempt from these requirements.
Vehicle Negligent Injury
When it comes to Louisiana and their negligence laws:
Under R.S. 14:30.1 of Louisiana driving law, vehicle negligent injury is inflicting any injury by an operator of any motor vehicle, aircraft, water-craft, or other means of conveyance when the offender is under the influence of alcohol or drugs and/or the offender's blood alcohol concentration is 0.10 percent or more. Penalties for violations of these Louisiana traffic laws include fines of not more than $1,000 or imprisonment for not more than six months, or both.
Louisiana's Rules of the Road
Now, before you get out on the open road in the Pelican State, you need to know the rules so you can stay safe and keep your car insurance rates down.
Fault vs. No-Fault
The first thing to know is that Louisiana follows a traditional fault-based system when it comes to financial responsibility for losses stemming from a crash: that includes car accident injuries, lost income, vehicle damage, and so on.
Keep Right and Move Over Laws
Louisiana is one of the few states that does have Keep Right laws. According to RS 32:71, you must keep right except to pass. You also must move right if blocking overtaking traffic.
Maximum posted speed limits are 75 mph on rural interstates, 70 mph on urban interstates, 70 mph on limited access roads, and 65 mph on all other roads.
Car Seat and Cargo Area Laws
All children five years and younger or less than 60 pounds must be restrained in a child safety seat.
Violation of Louisiana's child seat law may not only put the child in danger, but could result in a fine of $100.
Children 6 years old and up who weigh 60 pounds or more are allowed to sit in all seats with no preference for the rear seat.
Louisiana imposes restrictions on who can ride in pickup truck cargo areas. There are gaps in coverage if you are 12 years of age on a non-interstate highway; if you are in a parade moving less than 15 mph, or if there is an emergency that requires you to be in the cargo area.
Ridesharing
Rideshare services like Uber and Lyft mandate that all their drivers carry personal car insurance policies that align or exceed the minimum coverages dictated by state law. Drivers rarely carry their own commercial insurance coverage. There are a few options for drivers in Louisiana if they wish to carry rideshare insurance.
Automation on the Road
According to the Insurance Institute for Highway Safety (IIHS),
"Automation is the use of a machine or technology to perform a task or function that was previously carried out by a human. In driving, automation involves using radar, camera and other sensors to gather information about a vehicle's surroundings, which is then used by computer programs to perform parts or all of the driving task on a sustained basis."
Currently, Louisiana has no restrictions on autonomous vehicles.
Louisiana's Safety Laws
But wait, there's more! Let's dig deeper into Louisiana's safety laws to protect you on the open road.
DWI Laws
Louisaina's laws for driving while intoxicated are just as strict in adjacent states.
Marijuana-Impaired Driving Laws
There are no marijuana-specific impaired driving laws in the state of Louisiana.
Distracted Driving Laws
In Louisiana, "192 people were killed from 2011 – 2015 because of some distraction either inside or outside the vehicle, and another 26,977 people were injured," according to the Louisiana Highway Safety Commission. In an image from the LHSC, it says there are three types of distracted driving:
Louisiana has enacted legislation that bans texting for all drivers (which is a primary offense), hands-free usage in school zones, and no cell phone usage (including hands-free) for drivers under the age of 16.
Louisiana: Fascinating Facts You Need to Know
Do you want to know how safe it really is for drivers in Louisiana?
Well, the data our researchers found might surprise you.
Let's take a look-see…
Vehicle Theft in Louisiana
Here are the top ten types of stolen cars in Louisiana:
Risky/Harmful Driving Behavior
The best way to stay safe while driving is to always keep your eyes on the road and stay aware of common risky driving issues in your state.
Let's delve into this a bit further.
Traffic Fatalities
Only three cities in Louisiana topped the list for most traffic fatalities: New Orleans, Shreveport, and Baton Rouge. It makes sense, as they are the three biggest cities in Louisiana.
Traffic Fatalities by Person Type
In rural areas, the number of traffic fatalities was lower than in urban areas (though not by much): 369 in rural areas versus 390 in urban areas.
Fatalities by Crash Type
Five-Year Trend for the Top 10 Counties
Fatalities Involving Speeding by County
Fatalities in Crashes Involving an Alcohol-Impaired Driver by County
Teen Drinking and Driving
EMS Response Time
Both rural and urban areas in Louisiana have fast EMS Notification times. It is in all the other categories where they greatly differ.
Transportation
If you live in Louisiana, chances are you live in a two-car, or more, household, drive alone to work, and spend a hefty amount of your day commuting!
Car Ownership

Commute Time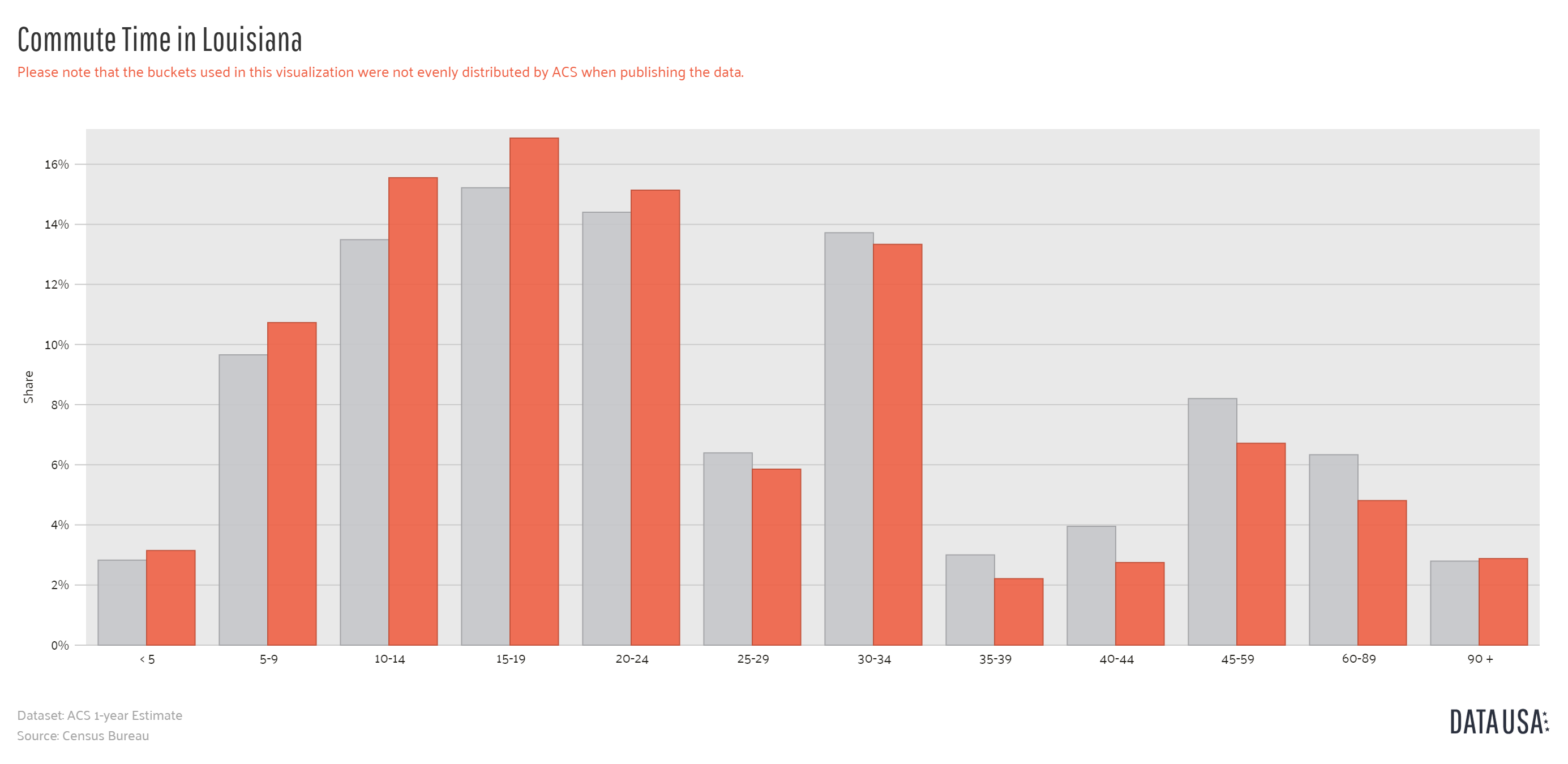 With an average commute time of 24.2 minutes, Louisiana ranks below the national average of 25.3 minutes, but not by much.
Some Louisiana residents–2.88 percent, to be exact–suffer through a "super commute" — spending in excess of 90 minutes in the car!
Commuter Transportation
Most people in Louisiana like to drive in to work alone, with carpooling the second most popular option.
Traffic Congestion
Is traffic a major problem in Louisiana?
According to the INRIX Scorecard, a traffic study that ranks cities globally in terms of worst traffic congestion, the only city to make it to the list is New Orleans, ranked at 137 in the world for worst traffic, and 73 hours lost in congestion. That is fewer hours lost in congestion than in 2017, where 156 hours were lost in congestion. However, the ranking for worst traffic went up five spots: 142 in 2017 versus 137 in 2018.
Au revoir. We hope this guide for Louisiana car insurance has helped you.
Don't waste another minute while you wait. Start comparison shopping car insurance rates today.
Free Car Insurance Comparison
Enter your ZIP code below to view companies that have cheap car insurance rates.
Secured with SHA-256 Encryption