Maine Car Insurance [Rates + Cheap Coverage Guide]
Maine car insurance requires a minimum of 50/100/25 for bodily injury and property damage and Uninsured Motorist and MedPay coverage. The average rates for ME car insurance is $59/month.
Free Car Insurance Comparison
Secured with SHA-256 Encryption

Car insurance rates got you down?
Whether it's monthly, quarterly, or biannually, finding a letter in your mailbox or inbox from your insurance company is never a good thing. Mainers paid an average of $703.82 for car insurance in 2015.
Were you one of them?
Or did you pay a lot more? No one likes to pay too much for anything, let alone, paying too much for car insurance. But where do you start? What if you could find all of the information you need in one spot? Would you invest the time? What if it would save you money? A LOT of money. I bet you would.
This guide will tell you everything you need to know from the cheapest rates to Maine car insurance laws and so much more. Start comparison shopping today for Maine car insurance rates using our FREE online tool. Enter your ZIP code below to get started.
Maine Car Insurance Coverage and Rates
The median household income in Maine in 2016 was over $54,221. In 2015, drivers, on average paid over $704 for car insurance. Now, we're no math genius or anything, but however you work it out, consumers in the Pine Tree State are spending way too much of their hard-earned money on car insurance.
There has to be a better way.
Below, we have provided information and helpful advice so you can get the best coverage options for your needs.
Okay, you've read the numbers, but what do they mean?
What is 50/100/25?
Bodily injury?
Accidents?
We hope you never have to deal with any of these situations or end up in one of these:
But if you do, the basic minimum requirements in Maine that all motorists must have for liability insurance are:
$50,000 to cover the death or injury per person
$100,000 to cover the total death or injury per accident
$25,000 to cover property damage per accident
Liability insurance pays all individuals — drivers, passengers, pedestrians, etc. — who are owed compensation for property damage and/or injuries resulting from a car accident that you or anyone under your policy causes. If you cause a wreck, liability insurance pays everyone affected by the accident other than you.
This minimum can cost more or less depending on the state you live in.
Maine is different from other states because it requires drivers to have uninsured/underinsured (UM and UIM) insurance and Medpay insurance in addition to the usual coverages.
These required amounts are only for the minimum amounts. Since these coverages pay you rather than the other driver, you may want to carry additional coverage because in the event of an accident your payout to injured victims could quickly run out.
Further below, we will show you additional coverage options to help you make the best decision.
Required Forms of Financial Responsibility in Maine
What is financial responsibility? Basically, financial responsibility is proof that you have Maine's minimum liability coverage. Maine law requires every driver and owner of a vehicle to have proof of financial security at all times.
Here are a few acceptable forms of proof of financial security in Maine:
Valid liability insurance ID cards
Copy of your current car's insurance policy
Valid insurance binder (a temporary form of car insurance)
Picture of proof of insurance on your smartphone
Important: Maine law requires drivers to have at least one form of proof of financial security on their person when operating a vehicle. Fortunately, for those who are constantly misplacing papers, Maine now accepts a smartphone picture as proof of financial responsibility.
You must provide proof of financial responsibility in the following situations:
A traffic stop
Registering your vehicle
A collision
Reinstating your license
Not having the minimum requirements of car insurance in Maine may result in fines and other penalties. Make sure to purchase the minimum insurance amount required by the state before driving your car.
Premiums as a Percentage of Income in Maine
In Maine, the per capita disposable income is $37,049. On average, residents spend $689 a year on car insurance. To put this amount in perspective, the countrywide, annual average for car insurance is $981. This means people in Maine pay $292 less than the countrywide average.
That's cash you can spend however you want to!
Average Monthly Car Insurance Rates in ME (Liability, Collision, Comprehensive)
The National Association of Insurance Commissioners, a leading source on insurance coverage, is the source for the above data. Car insurance rates in Maine will likely be higher for 2019.
See how Maine's average coverage rates compare to other states.

Remember, Maine also requires Uninsured/Underinsured and Medpay insurance, so the overall cost will be higher than the one listed above.
Additional Liability Insurance
These numbers can be very confusing. The Medpay loss ratio looks great, but the Uninsured and Underinsured loss ratios aren't. Here's why these numbers are good and bad.
High Loss Ratio — If companies have high loss ratios (over 100 percent), they are losing money from paying out too many claims to customers and risk going bankrupt.
Low Loss Ratio — If companies have low loss ratios, they are paying out too FEW claims to customers.
So while Medpay coverage is paying out a decent amount of claims, Uninsured and Underinsured coverages are paying out too few claims. The top companies usually have loss ratios over 90 percent, and Medpay coverage in Maine is steadily reaching that number.
Now that we've tackled loss ratios, let's look into WHY the state of Maine requires you to have these coverages.
The video above explains why these coverages are important in an accident, and we have further explained the coverages below.
Medpay coverage — This coverage will cover your medical expenses after an accident. It pays a limit that you choose per person for you and anyone in the vehicle with you.
Uninsured/Underinsured coverage — This coverage will protect you if you're in an accident with someone who either has no insurance or not enough insurance. If they are at fault, they will be unable to pay your accident costs, which is where this coverage comes into play.
Now that we've covered the liability and additional liability insurance Maine requires, let's look at some optional coverages.
Add-ons, Endorsements, and Riders
Have you considered adding extra coverages to your policy? Do you even know what is available? Choosing from a list of options can be daunting, and we know you want the best options for your family at the best price.
To help you decide, we've made a list of affordable options to add to your policy. Click on the selections below to learn more about them:
Guaranteed Auto Protection (GAP)
Personal Umbrella Policy (PUP)
Modified Car Insurance Coverage
Low-Mileage Discount
Any of the above coverages would be great to add to a policy, so make sure to discuss any options you are interested in with your insurance provider.
Average Monthly Car Insurance Rates by Age & Gender in ME
You may be surprised to learn that gender plays a large role in deciding how much your car insurance rates are? In fact, females typically pay more than males for car insurance, but Maine is one of five states that this isn't the case.
https://youtu.be/bZj2y4W-xNg
In fact, gender discrimination in car insurance rates is such a problem that California and other states banned gender discrimination and created gender neutral insurance plans.
In addition to gender and age, where you live can affect your car insurance rates. We've collected data on the most and least expensive ZIP codes, so search to see where your ZIP code lands on the list. You will also see providers' costs next to your ZIP code, providing a helpful snapshot into what you should be paying.
Highest and Lowest Maine Car Insurance Rates by ZIP Code
We have also collected data on car insurance rates by city. Below is a list of the most expensive and least expensive cities for car insurance. Simply enter your city in the search box to see your city's cost.
Maine is a great place to live for cheaper car insurance rates. Surrey is the most expensive, while Fort Fairfield is the least expensive, and only $382 separates the highest and lowest rates.
Free Car Insurance Comparison
Enter your ZIP code below to view companies that have cheap car insurance rates.
Secured with SHA-256 Encryption
Maine Car Insurance Companies
You've seen the commercials. You've seen the ads. But what's really behind the curtain of most insurance companies? Can you really save money with a 10-minute phone call?
But who wants to spend time doing all of that searching? That's why we've researched the best car insurance companies in Maine, so you can make the best choice for your situation. We've looked at companies' financial ratings, AM's best ratings, and which companies have the most complaints.
Below are also the largest companies' market shares in Maine.

Keep reading to learn about Maine's auto insurance providers.
Ratings of the Largest Car Insurance Companies in Maine
What does an A.M. Best rating mean? Essentially, an A.M. Best rating measures the financial health of an insurance company.
From the below table, you can see that every company has a loss ratio above 50 percent. A large part of a company's success is its loss ratio, which we covered earlier in this guide.
Customer service is an important part of any company, from restaurants to car insurance providers. That's why we have looked at companies with the best customer satisfaction ratings.
Allstate ranks near the top of the list — showing that Allstate is great at customer satisfaction. One thing to consider, cost shouldn't be your only concern when searching for car insurance. You should also be looking at how the insurance provider treats its customers and resolves claims and complaints.
Companies with the MOST Complaints in Maine
The Department of Professional and Financial Regulation collected data on complaint ratios for Maine's car insurance companies. The complaint index means the following:
Average: complaint index of one
Better than average: complaint index LESS than one
Worse than average: complaint index GREATER than one
Keep in mind that a high complaint index doesn't necessarily mean you should avoid a company. Make sure to also look at a company's customer satisfaction ratings because how a company deals with complaints is also important.
Maine Car Insurance Rates by Company
In order to save money on car insurance, make sure you are shopping around for rates. Below is information about rates across different companies.
Looking at different companies can save a lot of money. For example, State Farm is more than $400 BELOW the state average, which over time, could add up to over several thousand dollars.
Cost of Different Annual Commutes by Maine Companies
At some companies, how far you drive each day influences your insurance rates.
Most company rates don't change when the drive is shortened to a 10-mile commute, except for Geico and Liberty Mutual, both of whom have rate reductions over a $100.
Commute is just one of a number of factors that could increase your rates.

Up next, a break-down of coverage level rates in Maine.
Coverage Level Rates
The more you pay, the better coverage you will receive. Don't let higher rates discourage you from purchasing better coverage, as some companies have economical increases in rates. For example, the data below shows Geico has only an $80 increase from low to high coverage!
| Group | Coverage Type | Annual Average |
| --- | --- | --- |
| Liberty Mutual | High | $4,434.80 |
| Liberty Mutual | Low | $4,280.23 |
| Liberty Mutual | Medium | $4,280.23 |
| Progressive | High | $3,784.62 |
| Progressive | Medium | $3,578.24 |
| Progressive | Low | $3,571.22 |
| Farmers | High | $2,971.75 |
| Allstate | High | $2,775.99 |
| Farmers | Medium | $2,678.87 |
| Allstate | Medium | $2,674.94 |
| Allstate | Low | $2,673.88 |
| Farmers | Low | $2,661.47 |
| Travelers | High | $2,322.46 |
| State Farm | High | $2,276.74 |
| Travelers | Medium | $2,221.73 |
| Travelers | Low | $2,217.68 |
| State Farm | Medium | $2,176.08 |
| State Farm | Low | $2,143.52 |
| Geico | High | $1,559.36 |
| USAA | High | $1,505.15 |
| Geico | Medium | $1,489.97 |
| Geico | Low | $1,481.10 |
| USAA | Medium | $1,441.85 |
| USAA | Low | $1,430.61 |
| | #blank# | #blank# |
Credit History Rates
The quality of your credit score impacts your insurance rates. In Maine, the average credit score is 689, which is slightly above the countrywide average of 675.
Specifically, this means Maine residents have a better chance of getting great rates because of their above average credit scores.
As you can see from the table above, poor credit scores can add thousands to your annual cost. A bad credit score at Liberty Mutual changes your annual cost from $3056 to $6031.
That's an extra $3000 a year.
Driving Record Rates
A clean driving record is the EASIEST way to keep rates down. As you can see from the information below, at Liberty Mutual, just one DUI can raise your rate by over three thousand dollars.
A better record equals better rates. We encourage you to NOT drink and drive.
Number of Insurers in Maine
In Maine, there are only nine domestic insurance providers but 696 foreign insurance providers. What is the difference? Honestly, there isn't much of one. Domestic insurance means a company is formed under Maine's state laws, whereas a foreign provider is formed under the laws of any state in the U.S.
You might think of the difference as an insurance company chain that is in multiple states (foreign) versus a local, small-town provider that is located only in Maine (domestic).
Maine State Laws
We all enjoy celebrating the holidays every year, but it's against state law in Maine to keep your festive lights up after January 14. And if you decide you no longer want to fly on a plane once it's in-flight…well, that's against the law, too.
State laws are confusing and vary from state to state. New residents may sometimes receive tickets for laws they didn't know existed. Well, nobody should have to worry about any of those outdated laws, and the same thing goes for Maine's driving laws. We've done the work for you, scroll down to read our roundup of Maine's state driving laws.
Maine Car Insurance Laws
Forms and rates have to be filed with Maine's state insurance department AND approved before they can be used. This is to make sure that Maine's residents are meeting the minimum insurance requirements.
In Maine, form filing has a deemer provision. A deemer provision means that a form is approved if it is not denied within a set number of days.
So make sure that your insurance is valid and approved BEFORE driving in Maine. Now that you know how the filing process works, let's look at the different types of insurance and how they can affect your rates.
High-Risk Insurance
In certain instances, Maine will require drivers to fill out an SR-22 form to purchase high-risk insurance. We have listed the main reason below for why you may need to purchase high-risk insurance.
Drivers who commit serious traffic-related incident will need to fill out an SR-22 form. These traffic incidents include the following: driving under the influence, driving with a suspended license, and driving without insurance in Maine.
You'll need to contact your insurance company to have your company include an SR-22 form on your policy. Your company may require you to pay higher rates because of the SR-22.
If you DO NOT file an SR-22 form you won't have your driving privileges reinstated. Your license will be suspended, additional fines will be assessed, and your vehicle's registration will be suspended.
If you are a high-risk driver, remember to fill out an SR-22 form. Not doing so will result in the loss of the right to drive altogether.
Low-Cost Insurance
Maine doesn't have a low-cost insurance program, unlike some other states. However, there are additional ways to cut back on insurance costs.
The DMV recommends asking Maine insurers about the following discounts:
Good student discount
Safety device discount
Anti-theft device discount
Low mileage discount
Multiple vehicles discount
Multiple policies (auto and home) discount
Driver education discount
You can also reduce rates by shopping around for an economical provider in your area. Just make sure that economical rates DOESN'T equal poor coverage!
Windshield Coverage
In Maine, state law does NOT require insurers to replace cracked or broken windshields. However, comprehensive coverage usually covers the cost of a windshield repair or replacement (yet another reason why more complete coverage is the best option).
Listed below are some of the particular requirements for windshield replacement in Maine.
Insurers can use aftermarket (used) parts unless you want to pay the price difference for a new part
You may choose the repair vendor but may have to pay the price difference
Repairing your windshield is important because driving with a cracked or broken windshield is illegal under the following circumstances:
The repair blocks/obstructs a driver's view of the road
The crack is greater than six inches
The crack blocks/obstructs a driver's view of the road
Any of the violations listed above can result in fines and your vehicle not passing inspection.
Automobile Insurance Fraud in Maine
What is automobile insurance fraud?
Adding "extra" costs onto a claim that is legitimate
Creating a claim for damages or injuries that NEVER occurred (such as faking an accident)
Committing insurance fraud can result in fines and/or jail time. Don't risk it.
Statute of Limitations
In Maine, if you're in an automobile accident, there is a statute of limitations if you want to file a claim.
Basically, a statute of limitations is the amount of time you have to file a claim after an accident. This ticking clock starts the day of your accident, so make sure that you are familiar with Maine's statute of limitations.
Vehicle Licensing Laws
We all love the feeling of driving down the open road with the windows down and the smell of the Maine coastline wafting in on an ocean breeze. But if you're not careful, that bright light you see in your rearview mirror won't be from one of Maine's many lighthouses, but a highway patrol officer pulling you over for speeding, or worse, driving while uninsured.
For a first offense, you will have to pay a fine of $100-$500. Authorties will also suspend your license and registration until you can provide proof of insurance.
Let's review what types of documents are acceptable for proving financial security in the state of Maine. Any time you are pulled over or are in an accident, you must provide one of the following:
Valid liability insurance ID cards
Copy of your current car's insurance policy
Valid insurance binder (a temporary form of car insurance)
Electronic proof from a smartphone is acceptable
If you violate car insurance laws in Maine, the state can also suspend your car's registration. You will receive notification of the intent to suspend registration.
Teen Driver Laws
Teenagers in Maine can apply for a learner's license (also known as a learner's permit) at age 15.
After teenagers have gone through the mandatory learner's license period and met all the requirements, they can apply for a regular or restricted license.
If a driver has a restricted license, there are further rules in place.
Older Driver License Renewal Procedures
Older residents in Maine (65 years old and older) must renew their licenses every FOUR years. This is more often than the general population, who are only required to renew their licenses every six years.
Here are two more rules for older drivers that differ from the general population.
Drivers 62 years old and older MUST have proof of adequate vision at every renewal
Drivers 62 years old and older are NOT allowed to renew their licenses online or through the mail
To sum it up, older drivers must visit-in-person every four years to renew their licenses and have proof of adequate vision.
New Residents
If you are a new resident in the state of Maine, you must contact your current insurance provider for updated rates and updated insurance id cards. One thing to remember: you need Maine's minimum liability insurance, NOT the minimum liability rates of your last state.
Maine requires bodily injury, property damage, uninsured motorist, and medical payments coverage.
Make sure to also get an updated license and car registration, which are both basic items on most peoples' moving to-do list.
License Renewal Procedures
The basic renewal procedures for the general population are as follows.
Renewal Cycle: You must renew your license every SIX years if under the age of 65 years old
Online/mail Renewal: You MAY renew your license online or through the mail if under the age of 62 years old,
Proof of Adequate Vision: You must provide at first renewal after age 40 and at every other renewal until 62 years old
Maine's online and mail renewal system means you can go many years without standing in line at the DMV. Just remember that you must provide proof of adequate vision at every other renewal (every 12 years) if you are older than 40.
Maine Rules of the Road
Everyone has to follow the rules, but if you're new to the Pine Tree State, there may be laws you're unfamiliar with. That's why we've compiled a list of several important laws to keep you in good standing and on the road.
Fault vs. No-Fault
Maine is an at-fault state. This means that if you are at-fault in an accident, you may be held liable for injury and property damage costs. The at-fault driver will have to pay all medical expenses, damages, and other costs that occurred from the accident.
This means that if you don't have insurance OR the right coverage, your resources will quickly be drained. The last thing you want is to go bankrupt due to an accident.
Keep Right and Move Over Laws
Maine's keep right law is easy to follow. Drivers must stay in the right lane unless they are passing another vehicle in an area where the speed is greater than 65 mph OR when they are making a left turn.
The move over law is important to understand and follow. All motorists must move over to safely pass by vehicles that are on the side of the road. Emergency responders in Maine have started deploying temporary speed bumps to slow drivers down.
The vehicles you need to move over for include the following:
Law enforcement
Firefighters
Ambulances
Utility workers
Tow-truck drivers
Drivers with hazard lights on
Respect the safety of others and move over as soon as you can.
Speed Limits in Maine
Every state has differing speed limits, and violating a state's speed limits may result in tickets and fines. Below are Maine's maximum speed limits for different road types. Remember, these are the MAXIMUM speed limits. Speed limits will vary from road to road and your speed could vary due to specific road and weather conditions.
Seat Belt and Car Seat Laws
Do you know Maine's seat belt laws? Different states have different laws, and knowing Maine's laws will help you avoid a fine.
Primary enforcement means law enforcement officers can pull you over if they see you aren't following the seat belt laws.
There are also important rules in place regarding the safety of children. If you have a child, make sure to follow the laws below.
Maine also has restrictions on riding in the cargo areas of pickup trucks. You may not ride in the cargo area of a pickup truck unless you meet the following exceptions:
People aged 19 years old and older
Agricultural workers and hunters aged 18 years old and younger
Parades
People in OEM installed seats outside the passenger compartment
Follow the rules above to stay safe and keep you and your family on the road.
Ridesharing
You may be familiar with ridesharing companies like Uber and Lyft. If you want to rideshare, you must purchase ridesharing insurance from one of the following providers in Maine:
In addition to ridesharing insurance, it's also important to have the state minimum coverage Maine requires. Ridesharing companies will also require that your vehicle is currently registered/inspected and is safe to drive.
After all, you aren't just driving yourself around. So make sure you meet all the requirements for ridesharing by following a company's guidelines carefully and purchasing ridesharing insurance.
Automation on the Road in Maine
What is automation? IIHS defines it as the following:
"Automation is the use of a machine or technology to perform a task or function that was previously carried out by a human. One example is adaptive cruise control, which maintains a set speed."
In Maine, the only law required if you have an autonomous vehicle is liability insurance.
Start your search for insurance by entering your ZIP code in our FREE online search tool.
Safety Laws
DUI Laws
Drunk driving has catastrophic results for everyone involved, that's why strict laws are in place to prevent such occurrences. In Maine alone, drunk driving caused 50 deaths in 2017. Each state is different in how they address drunk driving and therefore have different penalties.
Below, we've listed the details about Maine's impaired driving laws.
The penalties get worse with each successive offense.
Please don't drink and drive!
As for marijuana-impaired driving in the state of Maine, there are no specific laws in place. This does NOT mean you can get away with using marijuana and driving.
Law enforcement can still charge you with impaired driving, even though there isn't a specific law in Maine against marijuana-impaired driving.
Distracted Driving Laws in Maine
Distracted driving can happen at any time. If you're distracted and not watching the road around you, an accident is bound to occur. Maine has restricted cellphone use inside the car, and there are also apps to prevent texting in the car.
Maine has created the following cellphone use laws to help prevent accidents.
Remember, primary enforcement means an officer can pull you over just for being on your cellphone. Stay with us, because we're going to jump into Maine's can't-miss facts next.
Maine Can't-Miss Facts
Now that you have a good understanding of the laws in Maine, let's jump into Maines's can't-miss facts.
You now know the rules of the road, but do you know the risks of owning and operating a vehicle in Maine?
It's difficult to remember all of the risks associated when driving your favorite sports car, and really, who wants to? While insurance is important, it's also crucial to know what to keep your eyes out for on the road.
We've laid out everything you need to know about the risk factors in Maine, from vehicle theft to crash reports, so that you can be aware of what's around you and get home safely.
Vehicle Theft in Maine
In every state, there are certain vehicles that are stolen more than others.
Where you live also plays a role in the number of vehicle thefts. The FBI created a 2013 report on Maine's vehicle thefts by cities, which are listed below.
Traffic Fatalities
Road type does affect the number of fatalities. Generally, rural roads see more fatalities than urban roads. This is partly because of the greater speeds reached on rural roads, which mean the impacts are far greater and far deadlier.
Another factor that shows trends in fatalities is the type of person. We don't mean demographic information, but rather the type of vehicle that is being driven and if the person is an occupant in the car, a pedestrian, or a cyclist.
The type of crash can also play a role in fatality rates.
Up next, we have a five-year trend for Maine's top-10 counties that have the highest fatality rates.
Did you know speeding is a major cause of driving fatalities? Below, are listings by county of the most speed-related fatalities in Maine.
Have you ever wondered about the amount of drunk driving going on in your county? Check out the table below to see fatalities in crashes that involved an alcohol-impaired driver with a BAC over .08.
Let's move onto the last depressing statistics — teen drinking and driving. In 2016, law enforcement arrested 28 teenagers (under the age of 18) for drunk driving.
This number places Maine as the 19th worst state in the U.S. for underage drinking and driving.
In the U.S. the average number of underage drinking deaths per 100,000 people is 1.2 deaths. Maine has 2.3 underage drinking and driving deaths per 100,000 people. This number is nearly two times the national average, and it places Maine within the top ten WORST states for underage drinking and driving fatalities.
EMS Response Time
If you or someone you know is in an accident, you want help to arrive as FAST as possible.
Response times in Maine are excellent. It takes less than 50 minutes in both rural and urban settings to arrive at the hospital.
Transportation in Maine
When you drive through your neighborhood, do you ever take note of how many cars are sitting in your neighbors' driveways? Usually, we can tell if someone is visiting by that extra car parked outside the house.
How much time do you spend commuting to work every day? In Maine, the average commute time is 22.5 minutes, which is slightly below the national average of 25.3 minutes.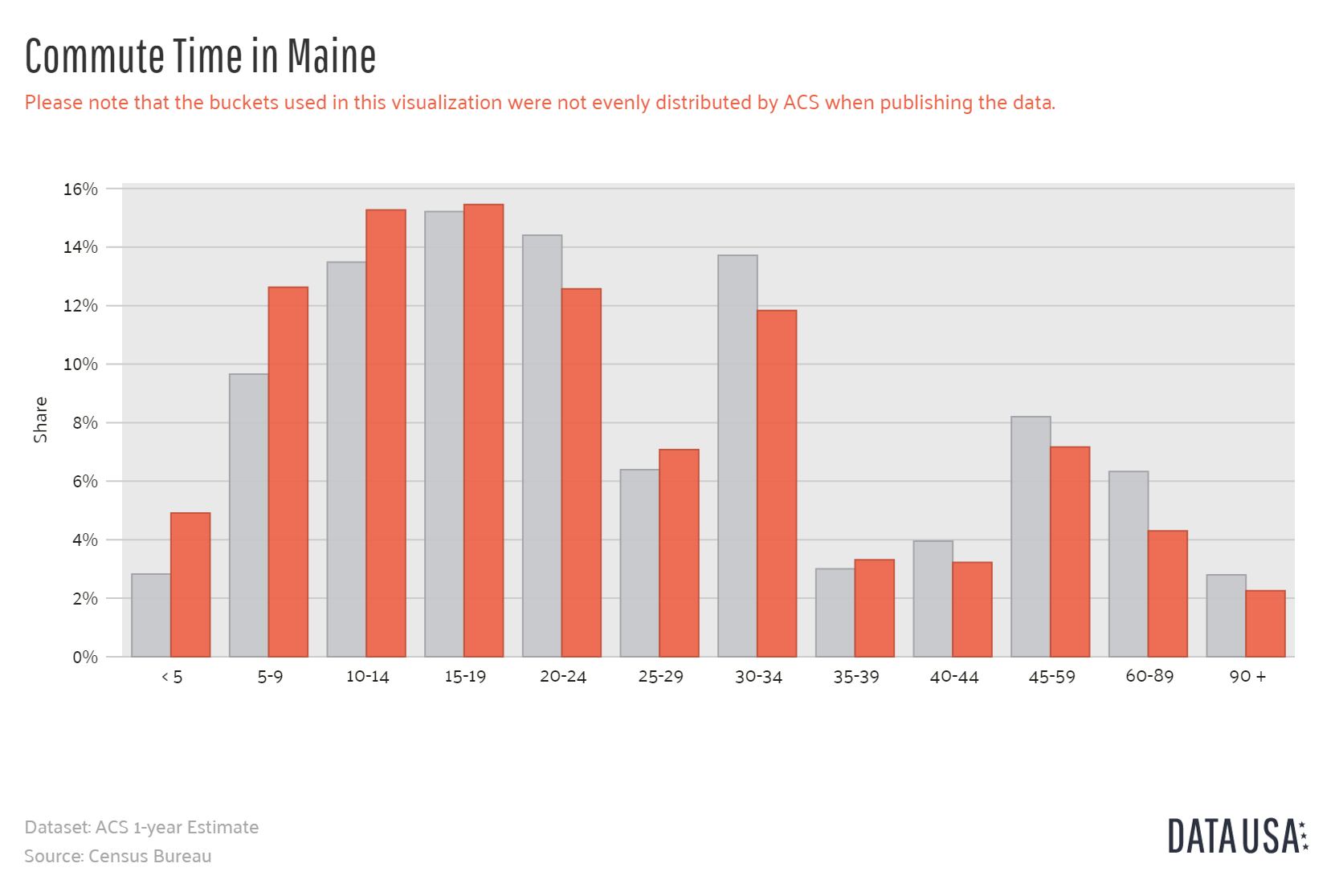 Finally, let's take a look at methods of commuter transportation in Maine.
As in most states, the most common transportation method is driving alone to work, followed by carpooling and working from home.
Now that you have read through this comprehensive guide, you are ready to hit the roads in Maine and enjoy the ride. Start comparing car insurance today by entering your ZIP code below in our FREE online tool!