Farmers Car Insurance Review [2021]
The average Farmers car insurance rates are $349.52/mo, but Farmers offers discounts for safe driving and good grades. Use our quote comparison tool to find the lowest Farmers car insurance rates.
Free Car Insurance Comparison
Secured with SHA-256 Encryption
Read this Farmers insurance company rating and review to decide if Farmers insurance is the best option for you. Be sure to compare Farmers insurance quotes online with multiple options before buying car insurance. We believe that getting a car insurance comparison is the best way to save money.
"We've seen a thing or two and covered it."
That's the clever tagline behind Farmers Insurance. We hope you are never involved in any of the situations depicted above. But if you are, it's good to know that your insurance company is going to stand behind you.
But are they? Wouldn't you like to know what's really behind those catchy jingles and funny commercials? In this guide, we're going to provide you with everything you need to know about Farmers Insurance, including company history, auto insurance ratings, insurance coverage options, and more.
Car insurance is something most of us have to have, and we want to make sure that you're not spending too much.
Want to start comparison shopping today? You can take advantage of our FREE online tool to start comparing rates in your area.
Let's get started.
What are the Farmers Auto Insurance Discounts?
We've already learned that Farmers' basic rate is more expensive than some other insurance companies. This is why we want to look at possible discounts offered Farmers Insurance.
Free Car Insurance Comparison
Enter your ZIP code below to view companies that have cheap car insurance rates.
Secured with SHA-256 Encryption
What are the Farmers Car Insurance Discounts Offered?
Discounts can help bring insurance costs down, making car insurance more affordable. Below is a list of possible discounts from Farmers.
Adaptive Headlights
Anti-lock Brakes
Anti-Theft
Claim Free
Continuous Coverage
Daytime Running Lights
Defensive Driver
Distant Student
Driver's Ed
Early Signing
Electronic Stability Control
Family Plan
Farm Vehicle
Federal Employee
Full Payment
Garage Storing
Good Student
Green Vehicle
Homeowner
Low Mileage
Military
Multiple Policies
Multiple Vehicles
Newer Vehicle
Occupation
Paperless Documents
Paperless/Auto Billing
Passive Restraint
Senior Driver
Safe Driver
Utility Vehicle
Switching Provider
Vehicle Recovery
VIN Etching
These discounts aren't available in all states, so be sure to ask your agent about what options you qualify for based on your situation.
Farmers car Insurance company offers discounts to individuals who work in certain professions
They offer discounts for combining policies
You may be eligible for a discount for becoming a new parent
Safety features on your vehicle may qualify you for a premium discount
Farmers Insurance offers several different car insurance discounts for policyholders. These discounts help reduce the overall cost of insurance premiums.
Are you looking to save money on car insurance? Enter your ZIP code above in our search tool to find car insurance rates in your area!
Many discount products are available to all customers, and there are additional discounts depending on your state.
What are the Farmers Car Insurance Discounts for Retirees?
The Farmers Insurance Group recommends that customers contact their agent directly about vehicle discounts, as there may be some that the policyholder qualifies for that they may not know about.
This review will focus on the auto discounts that individuals can currently receive from the Farmers Insurance Group.
Individuals who work in certain professions are automatically given a discount on their car insurance premium.
These professionals include actively working or recently retired teachers, policemen and women, physicians, nurses, dentists, and firefighters, as well as others.
Anyone who has worked during their lifetime and is retired can also receive a discount on their car insurance premium.
What Are Farmers Multi-Policy, New Parent, and Safety Feature Discounts?
The Farmers Insurance Group also offers other discounts. Here are a few ways to be eligible for a discount:
multiple airbags
anti-lock brakes
an active alarm
Vehicle Identification Number etching
Free Car Insurance Comparison
Enter your ZIP code below to view companies that have cheap car insurance rates.
Secured with SHA-256 Encryption
What are Farmers Car Insurance Discounts for Families with Teenage Drivers?
There are a couple of ways that teenagers can help their parents earn care insurance premium discounts.
Young drivers are eligible for a discount on their parents' policy by maintaining good grades.
The good student discount applies to any licensed student (the age depends on the state) who maintains a "B" or higher (or the numerical equivalent of a "B" or higher, depending on the school) grade point average and a clean driving record with no tickets or accidents.
In addition to the good student discount, Farmers also offers a safety education program for all teen drivers, no matter what their grade point average is.
The Farmers Insurance Group created a program known as "YES", an acronym for "You're Essential to Safety," which is an education program offered to all teenagers who have parents that are insured through Farmers.
The YES program is facilitated by a Farmers insurance agent and helps teach teen drivers about the importance of safety, their role as a driver, and how to be prepared for the dangers of driving.
The ultimate goal is for the teen to learn what it takes to make good decisions while driving, and to steer away from poor decisions.
What are Other Ways to Earn Car Insurance Discounts with Farmers Insurance?
Depending on the state where you live, there are even more discounts available. Some of these discounts include:
Alternative fuel – Premium reductions for vehicles that utilize alternative fuel, or for hybrid cars and trucks.
Affinity – Farmers Insurance Group also has several affinity programs in place where employees of certain organizations or graduates of certain colleges and universities can earn an additional discount on top of any other discount for which they have qualified.
Full payment – Policyholders who pay their car insurance premium in full are also entitled to a discount, although those savings are attributed to not paying installment fees.
Automatic payment – In addition, setting up automatic payments through an electronic funds transfer from a valid checking or savings account can also save money off the total premium cost.
New car – New cars also qualify for a discount
Defensive Driver – Any individual who takes a state-recognized and approved defensive driver course can qualify for at least an additional 10% discount on their premium.
Safe driver – Finally, individuals who maintain a clean driving record with no major moving violations and no at-fault or no-fault accidents over a three-year period automatically receive an additional discount.
As the discounts available depend on the driver and the situation, it is best to always compare car insurance rates with different companies and speak to a live agent if you have specific questions. Start by finding car insurance quotes here! Just type in your ZIP code!
Is the Farmers Fast Quote Service Accurate?
And, how do I get a Farmers car insurance quote?
The Farmers Fast Quote Service can provide a quote in minutes but is only as accurate as the information you provide. Compare multiple quotes to find the best deal.
The majority of car insurance providers get new business by way of free online car insurance quotes
Some companies openly compare rates with their competitors, while others offer the most discounts
Consumers want to get as many auto insurance quotes as possible, and the Farmers Fast Quote Service services a wider range of customers
Most drivers believe that filling out lengthy car insurance quote applications will help them to get the most accurate rate comparisons.
Free Car Insurance Comparison
Enter your ZIP code below to view companies that have cheap car insurance rates.
Secured with SHA-256 Encryption
How Do I Get A Farmers Car Insurance Quote?
The Farmers Insurance Company developed the Farmers Fast Quote Service to help consumers get rate information in five minutes or less.
By asking specific questions that are designed to help motorists get the most savings in the shortest period of time, Farmers Insurance Company is able to offer car insurance quotes in less time than most of its competitors.
If you have a few minutes to spare, you can use the Farmers Fast Quote Service to get a personalized auto insurance quote.
Once you have received the information requested, you can go on to buy a Farmers car insurance policy or continue to compare rates elsewhere.
Enter your ZIP into the FREE tool at the top of this page and get car insurance quotes now!
What Types of Questions Do you Have to Answer to Use the Farmers Fast Quote Service?
In order to make use of the Farmers Fast Quote Service, you will need to answer a few standard questions.
The first thing that you need to provide is your zip code which will help the Farmers Insurance Company to pinpoint your location and calculate your insurance risks.
After you input your age, gender, and details about the cars, you will be well on your way to getting a fast auto insurance quote.
The National Highway Traffic Safety Administration lists information on how drivers can navigate dangerous roadways more safely.
Remember that the Farmers Fast Quote Service asks general questions in order to get a better idea of how safely you drive.
More thorough information on rates can be found by completing a more detailed online car insurance rate inquiry form.
Is the Farmers Fast Quote Service Reliable?
Compared to other online car insurance rate comparison portals, the Farmers Fast Quote Service is fairly accurate.
Some discounts may not be applied to your policy because of the limitations of this online auto coverage quote request form, but you will still find out right away if Farmers Insurance can help you to save on your premiums.
The Farmers Fast Quote Service is available online 24 hours a day, so you will be able to use it at your leisure.
If you receive a quote via the Farmers Fast Quote Service, you will have the ability to lock in your rates. As long as you answered all of the questions truthfully, your Farmers Insurance agent will be able to get you a new car insurance policy.
Even if the Farmers Fast Quote Service supplies you with a quote that is higher than you have received from other companies, you might be able to save more money by asking about additional discounts.
Free Car Insurance Comparison
Enter your ZIP code below to view companies that have cheap car insurance rates.
Secured with SHA-256 Encryption
Do Other Car Insurance Companies Offer Fast Online Auto Coverage Quote Services?
Several other car insurance providers also have online car insurance quote portals that give drivers information on rates within a few minutes.
Make sure that you are visiting the official website of your preferred auto insurance company or an authorized partner so that your personal information will not be compromised.
Other car insurance companies may call their fast online car insurance quote systems by different names but, essentially, they all provide similar results.
The only information that will vary is the actual quote that you receive.
Are Fast Online Car Insurance Quotes Services Accurate?
The more questions that you answer when applying for a car insurance quote, the more accurate the results.
Of course, your rates will vary with different car insurance providers.
Fast online car insurance quotes may be convenient, but sometimes important details can be left out.
It is always best to give as much information as you can when applying for a car insurance quote.
Get a quick quote when you want a general idea about rates, but fill out the longer form when you are actually ready to buy a new policy.
Compare online car insurance rates once you submit your ZIP code into the FREE tool at the bottom of this page!
What are Farmers Insurance Financial Ratings?
All companies tout how better they are than the competition. But let's see what multiple independent agencies have to say about Farmers Insurance and whether it's the right company for your situation. Comparing the pros and cons is an important factor in determining which auto insurance company is best for you.
Free Car Insurance Comparison
Enter your ZIP code below to view companies that have cheap car insurance rates.
Secured with SHA-256 Encryption
What is Farmers Insurance AM Best Rating?
An AM Best rating measures the financial stability of a company, with A++ being the highest rating possible. Since Farmers has an A rating, it means the company has a stable financial future.
What is Farmers Insurance Moody's Rating?
Moody's rating looks at how well a company can pay off its debts (its creditworthiness). Moody's A2 rating falls into the P-2 category, meaning the company has "a strong ability to repay short-term debt obligations."
What is Farmers Insurance Standard and Poor's (S&P) Rating?
S&P's rating of Farmers is good, though the best grade is AAA. An A rating means that Farmers has a strong capacity to meet financial commitments, but may be susceptible to adverse economic conditions and changes in circumstances.
Free Car Insurance Comparison
Enter your ZIP code below to view companies that have cheap car insurance rates.
Secured with SHA-256 Encryption
What is Farmers Insurance Better Business Bureau Rating?
This rating looks at multiple aspects of a business, although the most critical element is the company's complaint history. A complaint history shows how satisfied customers are with the service they receive.
Since A+ is the highest rating the BBB gives, the Better Business Bureau views Farmers as better than most.
What is Farmers Insurance J.D. Power Rating?
Another important rating to look at when searching for an insurance company is customer satisfaction ratings. JD Power rates companies solely on customer satisfaction levels. Farmers JD Power ratings are good averaging 4/5 in most areas, but there is room for improvement.
What is Farmers Insurance Consumer Reports Rating?
Consumer Reports is another great company that measures customer satisfaction ratings. The company based the overall score of 89 on the following category scores.
---
Farmers score well in many of the above categories.
What is Farmers Insurance Consumer Affairs Rating?
As for the Consumer Affairs' rating of Farmers Insurance, the company has received 2/5 stars on 56 reviews in 2019. Customers like the agents and several other features but complain that the company raises rates every year.
What is Farmers Insurance NAIC Complaint Index?
The National Association of Insurance Commissioners (NAIC) measures the number of complaints a company receives. The company's complaint ratio is fairly normal and is slightly above the national average of 1.16. One thing to consider is that your experience may be better or worse than these ratings based on your insurance needs.
What is Farmers Insurance Company History?
Since its founding, Farmers Insurance has been dedicated to helping its customers whenever accidents or disasters happen. But many factors make up a company, including how it treats its customer, how it works within the community, and whether it is financially viable enough to weather volatile economic situations.
Why should you care about the history of Farmers Insurance? Because looking at a company's history gives you essential data about how successful the company is and what its future is like.
Up next, we are going to dig into everything from Farmers' market share to its awards and accolades.
Below, you will see NAIC's data on Farmers' market shares for the last four years.
The company's market share has decreased steadily over the last four years. Several factors could be in play, such as increased premiums, customer dissatisfaction, and more brand recognition from competitors.
How to Access Farmers Insurance
Farmers has several options if you want to access information or get in touch with someone about your car insurance policy.
Online — You can find quotes and more online at Farmers' website.
Agents — You can talk to agents by texting, calling, or emailing.
Apps — Farmers offers a mobile app, through which you can access your policy information and contact agents.
What's Farmers Approach to Advertising?
Car insurance companies do whatever it takes to grab your attention, and Farmers is no exception.
This form of advertising is a great way to tell a story. Even though your situation might not be as extreme as some of these examples, humor can forge an emotional bond between a consumer and a company.
The company's general approach to advertising is to present itself as the company that can be trusted because it's been around forever and covered just about anything imaginable.
What's Farmers Investment in the Community?
Farmers is proud to give back to the community.
Farmers has a long history of community involvement through corporate giving and community outreach programs. They have created what is known as Farmers Pillars of Corporate Responsibility, including assisting with disaster resilience, education, and civic engagement.
The company also supports a unique program called Suits for Soldiers that provides professional clothing to veterans and military members to ease the move back to civilian life.
What's the Employee Demographics?
Almost 60 percent of Famers employees have been with the company for up to 10 years, according to Great Places to Work. Fourteen percent have been with the company for more than 20 years.
Company employees, in general, have a good impression of the company. The company made the 2019 Fortune list of the Best Places to Work at number 91 and ranked at number 26 among insurance and financial services companies.
83% of Farmers employees surveyed say it's a great place to work.
The workforce is relatively diverse in terms of age, with 39 percent born before 1997, and 40 percent born between 1965 and 1980.
What are Farmers Insurance Awards and Accolades?
In 2018, Insurance Nexus named Farmers their Carrier of the Year, an award presented to the company that has shown exceptional innovation in claims in the previous year.
According to Comparably.com, in 2017, the company also won awards for:
Top company rated culture
Top company CEO
Top company for women
The company prides itself on helping its employees and helping others in the community.
How Do I Get Farmers Insurance Cheap Car Insurance Rates?
We partnered with Quadrant Data to bring you this information. Here are two things to keep in mind.
Many variables can affect what you pay. Your rate will differ from what is listed below
Farmers has discounts and options that may help offset the cost
What are Farmers Insurance Rates By State?
Farmers is available in every state. Their rates vary, sometimes below and sometimes above average, and can be further affected by factors like driving record.
We'll take a look at several samples of the insurance provider's rates covering a variety of scenarios to see where they offer their cheapest premiums.
The most expensive states to carry Farmers Insurance are Michigan and New Jersey where rates are thousands higher than lower-priced states like Ohio and Tennessee.
What are Farmers Insurance Rates Compared to Other Companies?
Here's a look at Farmers compared to nine other top companies on a state-by-state basis.
Michigan and New Jersey have the highest rates under Farmers insurance plans, nearly $5,000 above some states.
What are Male vs. Female Farmers Car Insurance Rates?
Here's how Farmers' annual rates based on demographics compare to other top insurance carriers in the country. These averages are national, so where you live could affect your rates.
What are the Rates by Make and Model?
What vehicle you drive can also have an impact on your car insurance. Below, we show you what you can expect to pay for five specific models from Farmers and its competitors.
What are the Average Annual Premiums by Commute?
If you drive more than 12,000 miles a year, you may also see your car insurance rates start to rise.
What are the Coverage Level Rates?
You might think that having the lowest minimum coverage in your state is the best way to ensure you and your family are protected. But that's not necessarily the case, because sometimes the difference in low to high coverage is less than you think.
Check out the table below to see the differences in coverage in your state.
Up next, we discuss how your credit score could affect what you pay for car insurance with Farmers.
What are the Farmers Insurance and Credit History Rates?
Besides not being able to secure a car loan or a mortgage, poor credit can also have an impact on how much you pay for car insurance. The table below reflects what you'll pay for car insurance if you have good, fair, or poor credit. Of course, these are estimates, and your rates may be different based on your situation.
What are the Driving Record Rates?
If you get a speeding ticket, have an accident, or get a DUI, your rates with Farmers will increase in most states.
The table below shows rates with these three violations compared to the rate for a clean record.
What Coverage is Offered By Farmers?
Farmers offer the same coverage as all of the other companies do, and in some cases, at a higher rate. Let's take a look at standard insurance terms and go into detail about what they mean. Some companies advertise about coverage under every scenario imaginable, but what is that actual coverage called?
Infinity and beyond coverage?
We know, it can be confusing, so that's why we've compiled a list of common coverages with a brief explanation. Different coverage types fall into four basic categories:
When you are at fault:
Liability coverage covers the physical damages you inflict upon another vehicle and the bodily injuries sustained by all individuals in the other vehicle
When you are not at fault:
Uninsured Motorist Coverage and Underinsured Motorist Protection cover your expenses if the at-fault driver has little or no liability coverage.
What's Farmers Insurance Vehicle Protection?
Collision Coverage – covers vehicle repairs or replacement after an accident
Comprehensive Coverage – includes what most would consider "out of our control" such as storm damage, hitting an animal, and more
Emergency Road Service – covers standard roadside services like tire changes, jump starts, and lockout services
Rental Reimbursement Coverage – includes a rental car while yours is getting repaired for a covered loss
Mechanical Breakdown Coverage – covers parts and systems failure of your vehicle that is not caused by normal wear and tear or improper maintenance
What Type of Personal Protection Do They Offer?
Medical Payments Coverage – covers medical expenses of those in your vehicle
Personal Injury Protection – covers costs incurred from injuries to yourself or others in the vehicle, lost wages and funeral expenses no matter who is at fault
Umbrella Policy – extends your liability coverage to a much higher limit which blankets over multiple policies such as home and auto as well as others
Farmers' extensive list of auto insurance coverages means you can tailor a car insurance plan to meet your needs.
Are There any Additional Farmers Car Insurance Options?
Depending on where you live, some of the above may be optional coverages. Farmers also have a good selection of additional coverage, including the most popular options
Collision
Comprehensive
Towing and Roadside Assistance
Rental Reimbursement
New Car Replacement
Rideshare insurance
Classic and collector car coverage
Customized Equipment
Personal Liability Umbrella
Accident Forgiveness
Loss of Use (flat fee coverage)
Glass Buy-Back
Original Equipment Manufacturer (OEM) Parts
Farmers' list of options is more extensive than some other providers and includes some unique options. The Loss of Use coverage, in particular, stands out since it will pay not just for a rental vehicle, but also for costs like taxi or rideshare fares.
It pays out one flat amount you can use however you like to get around while your car is being repaired for a covered loss.
Also, exclusive to Farmers is the Farmers Car Shopping Service TRUECar, which is the company's vehicle purchasing service. This program helps make shopping for a new or used car more manageable and can provide a lower purchase price as well as other benefits.
The Farmers Guaranteed Repair Program connects customers with approved auto repair shops that will offer guaranteed work and direct claims service.
What's the Area of Operation?
Farmers insurance company provides auto insurance policies in all 50 states. Policies and discounts vary by state, but you shouldn't have any trouble locating a Farmers insurance branch near you.
What's Missing at Farmers
We know that Farmers offers a lot of discounts, but the company is notably missing a significant discount that most other providers give.
Farmers doesn't have a discount for having good credit, which is an option that is available at most providers.
How Can I Cancel My Farmers Insurance Policy?
Over time, there may be occasions when you may need to cancel or adjust your insurance policy with Farmers. Here are four examples which may apply to you:
Selling a car and not replacing it
Storing a classic or antique vehicle
A teen is heading to college and will no longer be driving the car
A car has been paid off and no longer requires comprehensive cover
But what if you want to cancel your policy for other reasons such as customer dissatisfaction, rates that are too high, or you're moving geographic locations?
Here's what you need to know:
How to Cancel Farmers Auto Insurance 
You'll need to pick up the phone and call your local agent if you want to cancel your policy. Farmers' website does allow you to modify or change some policies but doesn't allow for canceling a policy.
Is There a Cancellation Fee?
Farmers don't generally charge a cancellation fee but could if state law allows it. The company will also prorate any unused portion of your paid premium and refund you the difference.
When Can I Cancel?
Don't cancel your policy until you've secure representation with another company. Even a one day lapse in coverage can cause unwanted headaches and possible fines in some states. The cancellation will go into effect at midnight the following day after your policy expires or whatever day you have chosen to end the policy.
How Do I Make a Farmers Insurance Claim?
Uh, oh. You've been in an accident and need to file a claim. How does that work?
What are the Methods of Making a Claim?
Well, Farmers makes it easy with these simple steps:
Online through the Farmers website
Via the Farmers mobile app
Calling the 24/7 claims phone number at  1-

800-345-7764

Find an agent locally to get help with your claim.
Now, that we've shown you how to file a claim, let's look at how Farmers pays out claims to its customers. Loss ratios can give us some insight into the answer to that question.
How many Farmers Insurance Premiums are Written and What's the Loss Ratio?
The information below comes from NAIC and shows the premiums written by Farmers compared to its loss ratio over four years.
What exactly is a loss ratio?
The decrease in Farmers' loss ratio could mean that the company is paying out fewer claims, or it could mean that in those years, Farmers' customers were in fewer accidents. Conversely, the industry total loss ratio also dropped in that period from 71.84 percent to 64 percent.
How Do I Get a Farmers Car Insurance Quote Online?
Farmers online quoting system allows you to compare their rates to other companies before you buy, and without the need to call an agent.
Is the Farmers Fast Quote Service accurate?
The Farmers Insurance Company developed the Farmers Fast Quote Service to help consumers get rate information in five minutes or less.
By asking specific questions that are designed to help motorists get the most savings in the shortest period of time, Farmers Insurance Company is able to offer car insurance quotes in less time than most of its competitors.
If you have a few minutes to spare, you can use the Farmers Fast Quote Service to get a personalized auto insurance quote.
Once you have received the information requested, you can go on to buy a Farmers car insurance policy or continue to compare rates elsewhere.
Have Your Info Ready
Quotes can be started right from the Farmers home page. Before you begin the process, it may be helpful to have the following information on hand to assure the accuracy of your quote:
License plate number
Driver's license number
Vehicle identification number (VIN)
Odometer reading
Purchase date
Current insurance information
Enter Your Personal Information
The next page will ask you to enter your name, address, date of birth, and gender, and also ask if you are currently insured.
Farmers will then use this information to pull up records for your name and address, starting with the information about your vehicles. You can select from the list of vehicles or add any that aren't listed.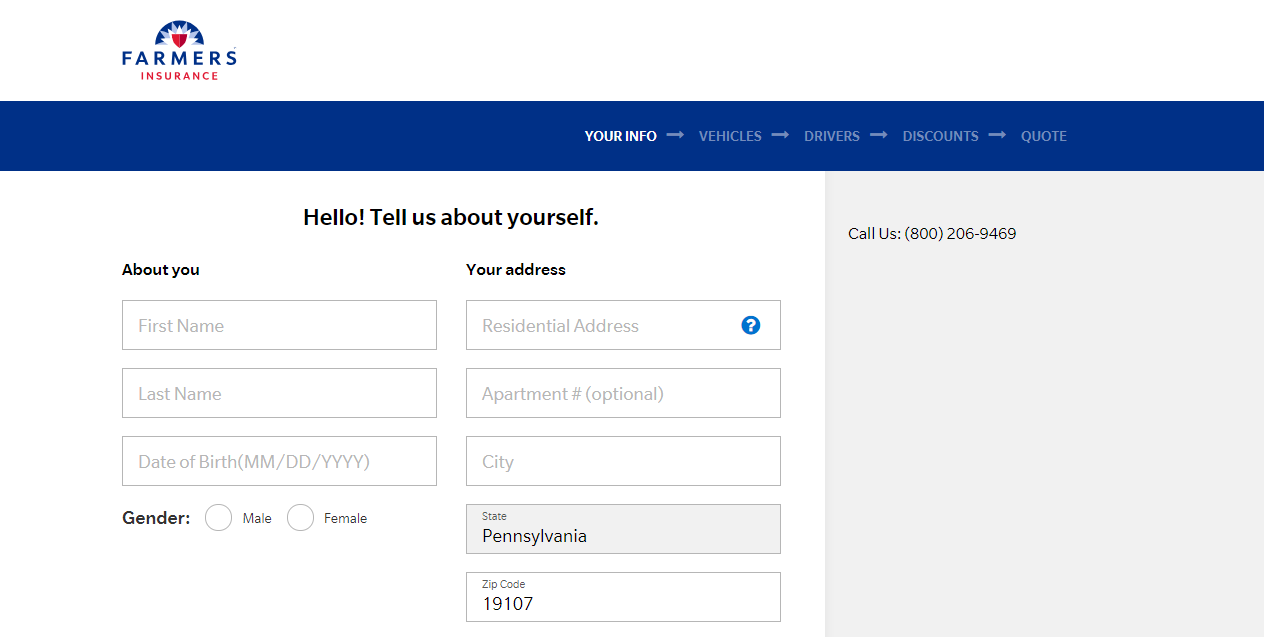 Enter Driver Information
Next, you will confirm driver information, and after this, the quoting system will ask for your email address and your phone number. To get as accurate a quote as possible, be sure to fill out all required information about your vehicle and driving record.
Connect to a Local Farmers Insurance Agent
At this point, Farmers will pass your contact information to the local agent assigned to your quote, and they'll follow up either on the phone or via email.
Like most agent-driven insurance companies, Farmers counts on agents to close the deal.
If you aren't willing to enter your contact information here, you won't be able to complete the quote online. This step is also the point where Farmers will ask for your social security number, but entering it is optional.
How Does Farmers Website and App Look Like?
Farmers Website
The Farmers website is well-designed, and it's easy to locate the most common pieces of information. Drop-down menus take visitors directly to product details, claims procedures, and company information.
The front-page quote box takes you right to the quote system if you're looking for numbers.
The website does lack some detail, particularly in the area of insurance products details. The site doesn't provide a lot of clear information on the coverage options, and we found we had to dig a bit for discount information. Even then, the amount of each discount wasn't listed.
Farmers Mobile App
The Farmers® Mobile App can be downloaded free for iPhone or Android. It offers the following features:
Access to policy details
Electronic proof of insurance
Claims filing and tracking
Billing and payments
Agent contact
The app has a 4.8 rating in the iTunes app store, and a 3.9 rating on the Google Play store. Most users declare it easy to use, although a few report difficulty with launching the app and registering for an account.
What are the Other App Features?
According to the Farmers' website, here are other convenient options available on the app:
Stay connected to your agent
Go Paperless
Report a claim
Receive billing alerts via push notification
What are Farmers Insurance Pros and Cons?
Now that we have covered everything you need to know about Farmers insurance let's check out the biggest takeaways in terms of pros and cons.
What's the Bottom Line?
We've shown you everything you need to know about Farmers, so you can decide whether they are right for you. With Farmers, they may have seen it all and covered it, but you certainly don't want to pay too much for something you may never need.
One thing to consider is that everyone's needs are different, and rates can vary significantly based on individual factors.
As thorough as this guide is, we still strongly suggest that you shop around with your personal details and specific vehicle details before you choose an auto insurance company.
Frequently Asked Questions (FAQ)
Do you have some questions about Farmers? We have a few more common questions and answers here, and you can head over to the Farmers website for more.
How do I qualify for the Farmers Insurance Good Student Discount?
Farmers offer the Good Student discount to anyone who has less than nine years of driving experience and meets one or more of the following criteria:
maintains a B average
Has a GPA of 3.0 or higher
Is in the top 20 percent of their class
Is on a Dean's List or Honor Roll
You'll need to present proof in the form of transcripts or other documentation and re-qualify at regular intervals.
Can I choose my own Farmers agent or change agents?
Yes. You can select a different agent from the one chosen for you before taking out a policy. You can also request that your policies, once in force, be transferred to a different agent.
After you do take out a policy with a specific agent, Farmers won't change your agent without your permission, unless your agent is no longer working with Farmers.
Can I quote my auto and home together to see the discount?
Yes, Farmers' quoting system allows you to run quotes for both your cars and your home at the same time. You will be able to see what the discount would be for the auto policy while also comparing rates on home insurance.
Now that you've made it through our extensive review of Farmers, you are prepared to decide if they are the right company for you.
Get quotes today to find out how much you could save on car insurance. Get started by simply entering your ZIP code in our FREE comparison tool.