Compare Vermont Car Insurance Rates [2023]
The average car insurance cost in Vermont is $64 a month. Vermont car insurance requirements are 25/20/10 for bodily injury and property damage coverage. We'll detail Vermont car insurance laws, reveal who has the cheapest car insurance in Vermont, and show how to compare Vermont car insurance rates online.
UPDATED: Nov 27, 2023
Fact Checked
Free Car Insurance Comparison
Compare Quotes From Top Companies and Save
Secured with SHA-256 Encryption
Brad Larson
Licensed Insurance Agent
Brad Larson has been in the insurance industry for over 16 years. He specializes in helping clients navigate the claims process, with a particular emphasis on coverage analysis. He received his bachelor's degree from the University of Utah in Political Science. He also holds an Associate in Claims (AIC) and Associate in General Insurance (AINS) designations, as well as a Utah Property and Casual...
UPDATED: Nov 27, 2023
It's all about you. We want to help you make the right coverage choices.
Advertiser Disclosure: We strive to help you make confident car insurance decisions. Comparison shopping should be easy. We are not affiliated with any one car insurance company and cannot guarantee quotes from any single company.
Our partnerships don't influence our content. Our opinions are our own. To compare quotes from top car companies please enter your ZIP code above to use the free quote tool. The more quotes you compare, the more chances to save.
Editorial Guidelines: We are a free online resource for anyone interested in learning more about auto insurance. Our goal is to be an objective, third-party resource for everything auto insurance related. We update our site regularly, and all content is reviewed by auto insurance experts.
UPDATED: Nov 27, 2023
It's all about you. We want to help you make the right coverage choices.
Advertiser Disclosure: We strive to help you make confident car insurance decisions. Comparison shopping should be easy. We are not affiliated with any one car insurance company and cannot guarantee quotes from any single company.
Our partnerships don't influence our content. Our opinions are our own. To compare quotes from top car companies please enter your ZIP code above to use the free quote tool. The more quotes you compare, the more chances to save.
On This Page
UPDATED: Nov 27, 2023
Fact Checked
High insurance rates got you down? Are you spending too much of your hard-earned cash on car insurance when you could be spending it on something fun like a trip to Hawaii? Now, we're not saying you're going to save enough for a trip to Maui, but how do you know unless you shop around? Whether it's monthly, quarterly, or biannually, those bills from the insurance company never seem to stop coming. If you're like us, receiving a letter from your insurance company is never a good thing. Consumers in the Green Mountain State paid an average of $764.02 for car insurance in 2015. Were you one of them? Or did you pay a lot more? Nobody likes to pay too much for anything, let alone, overpaying for car insurance. But where do you start? What if all of the information you needed to save money on your car insurance was in one spot? We've compiled everything you need to know about comparing and buying car insurance in Vermont in this comprehensive guide. Enter your ZIP code below to get started.
Vermont Car Insurance Rates
The median household income in Vermont in 2017 was over $57,153, and drivers, on average paid over $764 for car insurance. Now, we're no math genius or anything, but that's a lot of greenbacks you could be spending on something sweet like maple syrup, instead of pricey car insurance. This amount does vary from state to state. There has to be a better way.
Minimum Car Insurance Coverage in Vermont
Below, we have provided information and helpful advice so you can get the best coverage options for your needs.
Okay, you've read the numbers, but what do they mean? What is 25/50/10? Bodily injury? Accidents? We hope you never have to deal with any of these situations. But if you are in an accident, the basic coverage requirements in Vermont which all drivers must have for liability car insurance are:
$25,000 to cover the death or injury per person
$50,000 to cover the total death or injury per accident
$10,000 to cover property damage per accident
Liability insurance pays all individuals, drivers, passengers, pedestrians, etc. who are owed compensation for property damage and/or injuries resulting from a car accident that you or anyone under your policy causes. If you cause a wreck, liability insurance pays everyone affected by the accident.
Average Monthly Car Insurance Rates in VT (Liability, Collision, Comprehensive)
The main concern of most every motorist in Vermont is the cost of insurance.
The National Association of Insurance Commissioners, a leading source on insurance coverage, is the source for the above data.
Rates by ZIP Code in Vermont
Loss Ratios
To gauge the financial health of insurance companies, you should look at their loss ratios. Loss ratios are explained as: the money insurance companies pay out on claims compared to the money they take in on premiums is the loss ratio.
For example, if an auto insurer collects $100,000 of premiums in a given year and pays out $45,000 in claims, the company's loss ratio is 45 percent ($45,000 incurred losses/$100,000 earned premiums).
Add-ons, Endorsements, and Riders
No one wants to be in a wreck, but if you are, do you have enough protection for yourself and your family? Have you considered adding extra coverages to your policy? Do you even know what's out there? Choosing from a list of options can be daunting, and we know you want the best options for your family at the best price. To help you decide, we've made a list of affordable options to add to your policy. Click on the selections below to learn more about them:
Personal Umbrella Policy (PUP)
Emergency Roadside Assistance
Mechanical Breakdown Insurance
Modified Car Insurance Coverage
Any of the above coverages would be great to add to a policy, so make sure to discuss any options you are interested in with your insurance carrier.
Average Monthly Car Insurance Rates by Age & Gender in VT
In The Battle of the Sexes, the movie about tennis greats Billie Jean King and Bobby Riggs starring Emma Stone and Steve Carell, the battle over which sex is better than the other one was supposed to have been settled over a friendly tennis match. Needless to say, that didn't happen and arguments have ensued over the years that gender plays a major role in determining rates for both sexes in numerous consumer categories including car insurance. In fact, females typically pay more than males for car insurance. Actually, gender discrimination in car insurance rates is such a problem that California and other states banned gender discrimination and created gender-neutral insurance plans.
Below, we show you rates that various folks in Vermont pay for car insurance.
As you can see, in some cases, teen drivers pay thousands more than older drivers do for teen car insurance. In addition to gender and age, where you live can affect your car insurance rates. We've collected data on the least and most expensive ZIP codes, so search to see where your ZIP code lands on the list. You'll also see providers' costs next to your ZIP code, providing a helpful snapshot into what you should be paying.
We've also collected data on car insurance rates by city. Below is a list of the least expensive and most expensive cities for car insurance. Simply enter your city in the search box to see your city's cost.
As you can see from the table, where you live can impact your wallet when purchasing auto insurance. Folks in rural areas pay hundreds less than those in a major city like Burlington.
Free Car Insurance Comparison
Enter your ZIP code below to view companies that have cheap car insurance rates.
Secured with SHA-256 Encryption
Best Vermont Car Insurance Companies
Can you really save money with a 10-minute phone call? What about an asteroid falling from space and crushing your car? Are you really covered? We've heard this and other commercials from car insurance providers so often we can sing their jingles by heart. Car insurance is mandatory in every state except New Hampshire, so why do companies spend so much on advertising and trying to be funny? What's really behind those catchy jingles and laugh-out-loud TV ads? Are they hiding something? But who wants to spend endless hours doing all of that searching, when we'd rather be checking out the state's iconic covered bridges or digging into a bowl of ice cream at the Ben & Jerry's Factory? That's why we've done all of the work for you and researched the best insurance carriers in Vermont, so you can make the best choice for your situation. Keep reading to learn about Vermont's auto insurance providers.
Ratings of the Largest Car Insurance Companies in Vermont
What does an A.M. Best rating mean? Basically, an A.M. Best rating measures the financial health of an insurance company.
The table below shows the financial rating of the top auto insurance providers in Vermont.
A good financial rating means the provider has the funds available to pay any claims. You can see how the largest companies make up the market in Vermont below.
But customer service is also an important part of any company, from restaurants to car insurance companies. That's why we've looked at companies with the best customer satisfaction ratings. Just because a company has a good rating for financial stability doesn't mean its customers are always happy. Let's check out their record of official complaints.
Car Insurance Company Complaints
Keep in mind that a high complaint index doesn't necessarily mean you should avoid a company. Make sure to also look at a company's customer satisfaction ratings because how a company deals with complaints is also important.
If a car insurance company's complaint index is lower than one, they are better than the average. If the index is higher than one, they are worse than the average.
Cheapest Companies in Vermont
Nobody wants to be considered cheap, but when it comes to car insurance, finding cheaper rates is something everyone wants. In order to save you money, make sure you are shopping around for rates. The table and chart below display the top carriers in Vermont with their average rate for all drivers and compares it to the state average of all companies.
Looking at different companies can save a lot of money. For example, Geico car insurance is over $1000 BELOW the state average, which, over time, could add up to thousands of dollars saved.
Commute Rates
At some companies, how far you drive each day influences your insurance rates. Beyond location, gender, age, marital status, and carrier, other factors that affect your quoted rates from each company are those that are specific to your individual situation such as how much coverage you want, credit history, and driving record.
The tables below compare such factors based on each carrier.
Most company rates don't change when the drive is shortened to a 10-mile commute, except for State Farm car insurance, which offers rate reductions of over $300. Up next, a breakdown of coverage level rates in Vermont.
Coverage Level Rates
Do you want better coverage? You might have to pay more. But don't let higher rates discourage you from purchasing better coverage, as some companies have economical increases in rates. For example, the data below shows State Farm has slightly over a $400 increase from low to high coverage.
Credit History Rates
The quality of your credit score impacts your insurance rates. In Vermont, the average credit score is 712, which is above the countrywide average of 675. Basically, this means residents in the Green Mountain State have an excellent chance of getting great rates because of their above-average credit scores. The table below shows what you can expect to pay yearly on car insurance based on your credit history.
If you have insurance through Liberty Mutual and have poor credit, you can expect to pay nearly double for your car insurance.
Driving Record Rates
A clean driving record is the EASIEST way to keep rates down. As you can see from the information below, at Geico, just one speeding violation can raise your rate by over $300. Even the best car insurance companies for people with speeding tickets will have higher rates.
A better record equals better rates. We encourage you to obey posted speed limit signs and NOT drink and drive.
Number of Property and Casualty Insurance Companies in Vermont
Domestic insurance means a company is formed under Vermont's state laws, whereas a foreign provider is formed under the laws of any state in the U.S.
Laws in Vermont
Does your child use a pacifier or some other "comforting" tool to go beddy-bye? Well, according to an arcane law in Vermont, it is illegal to give a baby a "comforter." Yeah, we're pretty sure that the folks who wrote that law never had any children. We know, state laws are odd and sometimes confusing and vary from state to state. New residents may receive tickets for laws they didn't know existed. Next, we help you uncover what the laws are, so check out our roundup of Vermont's driving laws.
Vermont's Car Insurance Laws
Insurance companies are subject to certain rules and regulations. Let's look at some of the specific laws for consumers regarding car insurance.
Windshield Coverage
Some insurance companies may offer broken windshield car insurance with comprehensive coverage, but Vermont laws have no regulations that are unique or specific to windshields. You may insist that your auto insurer use original manufacturer parts as a replacement after a crash, but you may be forced to pay the difference. Compare car insurance rates now and see which company offers you the coverage you want at the best price. Enter your ZIP code in our FREE online search tool to get started.
Read more: Does car insurance cover broken car windows?
High-Risk Insurance
If you have a bad driving record, it may be difficult to find an insurance company that is willing to give you high-risk car insurance. Luckily, in most states, insurance companies have made programs available to provide affordable coverage for those who are high-risk drivers. In Vermont, this program is known as the Vermont Automobile Insurance Plan. According to Vermont's DMV:
"The plan is a voluntary agreement between the state and all auto insurers licensed in Vermont. The deal is that if an insurer wants to do ANY auto insurance business in Vermont, then that insurer must agree to cover a share of high risk drivers when they are assigned."
Low-Cost Insurance
Some states have programs set up for those who receive benefits from government assistance programs, or those who have a combined family income that is below the poverty level. Unfortunately, Vermont has no such plan in place. In order to obey the law, you must carry the minimum amount of liability insurance coverage required.
Automobile Insurance Fraud in Vermont
What is automobile insurance fraud?
Creating a claim for damages or injuries that NEVER occurred (such as faking an accident)
Adding extra costs onto a claim that is legitimate
Committing insurance fraud can result in fines and/or jail time.
Statute of Limitations
If you are in a car accident in Vermont, there is a statute of limitations if you want to file a claim.
Vermont's Vehicle Licensing Laws
Vermont, just like every other state, has mandatory licensing laws in addition to the statute of limitations and car insurance laws, which we previously covered.
REAL ID
Vermont is in full compliance with the REAL ID Act passed by Congress and enforced by Homeland Security. This means that a driver's license or state ID issued by the Green Mountain State is an acceptable form of identification at federal facilities, airports, and nuclear power plants. As of October 1, 2020, anyone wishing to fly on a commercial flight or enter a federal facility must have a REAL ID-compliant form of identification.
Penalties For Driving Without Insurance
If you are arrested for driving without insurance in Vermont, you can be fined up to 500$ for the first offense. Drivers may also have their driver's license suspended until proof of insurance is presented to law enforcement professionals. Don't risk incurring these penalties, make sure you have the required minimum coverage for your situation.
Teen Driver Laws
Older Driver and General Population License Renewal Procedure
New Residents
When a new resident applies for a Vermont Driver's License and possesses a valid out-of-state license or an out-of-state license that has been expired for one year or less, an eye examination will be required.
Bring your valid or expired (1 year or less) license from your home state.
You must also bring proof of Identity, date of birth, Lawful status in the United States, Social Security number, Vermont residency, and current residential address. If your home state license is not valid, have someone who has a valid license drive you to the Department of Motor Vehicles.
When your Vermont license is issued, your out-of-state license must be surrendered.
Vermont Rules of the Road
We all should follow the rules, but if you're new to the state, there may be laws you're unfamiliar with. That's why we've assembled a list of several important laws to help keep you in good standing and on the road.
Fault vs. No-Fault
Vermont is a fault-based state which means if you are the cause of a car accident, you are responsible for any damage caused.
Seat Belt and Car Seat Laws
According to seat belt laws, all passengers in the front seat of a vehicle driven in Vermont must be wearing a seat belt. Additionally, children 18 years and younger are required to be properly restrained no matter where they are sitting. Currently, there are no restrictions in Vermont regarding riding in the cargo areas of pickup trucks.
Keep Right and Move Over Laws
Vermont traffic laws mandate that you must keep right when traveling slower than the average speed of traffic around you. According to AAA:
State law requires drivers approaching a stationary law enforcement vehicle, ambulance, fire fighting vehicle, a vehicle used in rescue operations, or a towing and repair vehicle displaying signal lamps, and traveling in the same direction, to reduce speed and, if safe to do so, vacate the lane closest to the stationary vehicles.
Speed Limits
Maximum posted speed limits are 65 mph on rural interstates, 55 mph on urban interstates, 50 mph on limited-access roads and 50 mph on all other roads.
Ridesharing in Vermont
You may be familiar with ridesharing companies like Lyft and Uber. If you want to rideshare, there are no state-mandated requirements for rideshare car insurance coverage, so be sure and check with your local provider for any additional coverage you may need.
Automation on the Road in Vermont
What is automation? IIHS defines it as the following:
Automation is the use of a machine or technology to perform a task or function that was previously carried out by a human. One example is adaptive cruise control, which maintains a set speed.
Presently, Vermont hasn't yet begun addressing automation on the road.
Safety Laws
Up next, we take a closer look at the safety laws in Vermont, so you can arrive alive. Please don't drink and drive.
Impaired-driving Laws in Vermont
Driving while impaired has disastrous results for everyone involved, that's why strict laws are in place to prevent such tragedies. In Vermont alone, drunk driving caused 18 deaths in 2017. Each state differs in how they address drunk driving and therefore have different penalties. Below, we've listed the details about Vermont's impaired driving laws.
The cost of car insurance after a DUI is just one of the consequences. The penalties get worse with each subsequent offense.
Marijuana Impaired Driving Laws
Vermont currently has no marijuana-specific impaired driving laws.
Distracted Driving Laws
Text messaging and the use of hand-held devices is prohibited for all drivers and carries a fine. Next, we delve into some facts about Vermont you might not know.
Driving in Vermont
Now that you have a good understanding of Vermont state laws, let's dive into some facts that you might not know. While insurance is important, it's also crucial to know what to keep your eyes out for on the road. We've laid out everything you need to know about the risk factors in Vermont, from vehicle theft to crash reports, so you can drive safely and enjoy your time on the road.
Vehicle Theft in Vermont
When you decide to purchase a car, consider this list of the top ten stolen vehicles in Vermont.
Where you live also plays a role in the number of vehicle thefts. The FBI created a 2013 report on Vermont's vehicle thefts by cities, which are listed below.
Dangers on the Road In Vermont
Accidents happen, and up next we're going to show you statistics for different kinds of accidents in Vermont. It's helpful to know that Vermont ranks as the 4th-worst state for snow-related crashes, which is just one of the statistics we share in our article about how to drive safely in bad weather.
Fatal Crashes by Weather Condition and Light Condition
As you can see, most accidents occur during daylight hours.
Fatalities (All Crashes) by County
Here are the Vermont counties with the most fatalities over the past five years.
Fatalities by Roadway
Next, we have a 10-year comparison of traffic fatalities on urban vs. rural roadways.
Fatalities by Person Type
The type of crash can also play a role in fatality rates.
Fatalities by Crash Type
U
p next, we have a five-year trend for Vermont's top-10 counties that have the highest fatality rates.
Five-Year Trend For The Top 10 Counties
Fatalities Involving Speeding by County
Below, are listings by county of the most speed-related fatalities in Vermont.
Alcohol-Impaired Fatalities by County
Check out the table below to see fatalities in crashes that involved an alcohol-impaired driver with a BAC over .08.
Teen Drinking and Driving
In 2016, Vermont law enforcement arrested 8 teenagers (under the age of 18) for drunk driving.
This number places Vermont as the 30th worst state in the U.S. for underage drinking and driving.
Below are the facts concerning underage (under 21 years old) drinking-related fatalities:
0.7 fatalities per 100,000 people in Vermont
1.2 fatalities per 100,000 people national average
EMS Response Time
If you or someone you know is in an accident, you want help to arrive as FAST as possible.
Transportation in Vermont
When you drive through your neighborhood, do you ever notice how many cars are sitting in your neighbors' driveways? Usually, we can tell if someone is visiting by that extra car parked outside the house. The information for car ownership, commute time, and commuter transportation provided from DataUSA.io in conjunction with the Census Bureau.
Car Ownership
The average household in Vermont has two cars.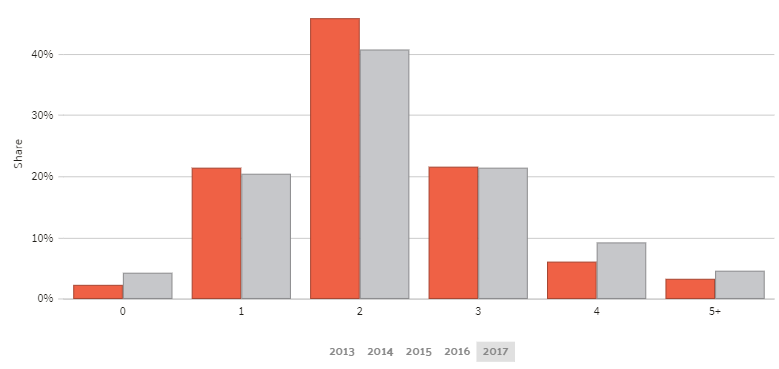 Commute Time
The average commute time in Vermont is 21.6 minutes, which is shorter than the national average of 25.3 minutes. The chart below represents the commute times in Vermont compared to the national average. Now, let's take a look at methods of commuter transportation in Vermont.
Commuter Transportation
As in most states, the most common transportation method is driving alone to work, followed by carpooling and working from home. Now that you've read through this comprehensive guide, and know everything there is to know about buying car insurance in Vermont, it's time to hit the road. Enter your ZIP code below to get a free quote comparison.
Free Car Insurance Comparison
Enter your ZIP code below to view companies that have cheap car insurance rates.
Secured with SHA-256 Encryption