Alabama Car Insurance [Rates + Cheap Coverage Guide]
Alabama car insurance rates are $32.85/mo. The minimum liability coverage requirements for Alabama car insurance are 25/50/25 for bodily injury and property damage.
Free Car Insurance Comparison
Compare Quotes From Top Companies and Save
Secured with SHA-256 Encryption
UPDATED: Jun 2, 2022
It's all about you. We want to help you make the right coverage choices.
Advertiser Disclosure: We strive to help you make confident car insurance decisions. Comparison shopping should be easy. We are not affiliated with any one car insurance company and cannot guarantee quotes from any single company.
Our partnerships don't influence our content. Our opinions are our own. To compare quotes from top car companies please enter your ZIP code above to use the free quote tool. The more quotes you compare, the more chances to save.

Famously known as the "Heart of Dixie", Alabama offers a balanced mix of urban and rural areas to live in. Wherever you live in Alabama, the low cost of living is music to anyone's ears, and here's the best part – Alabama ranked at number 36th for average auto insurance expenditure amongst all the US states in 2016!
We love informing you that auto owners in Alabama pay only $769.20 annually on average for their auto insurance policy. Before reading further, you can use our comparison tool to find the cheapest auto insurance provider in Alabama.
Start comparison shopping today using our FREE online tool. Enter your ZIP code above to get started!
Are you required to have car insurance in Alabama? What is the average cost of auto insurance in Alabama? Who has the cheapest car insurance in Alabama? Stick with us as we answer these questions and more below.
When it comes to buying an auto policy, the research revolving around the best rates, coverage, and insurance carrier can be a time-consuming and daunting task for all of us. The ocean of information on the internet is difficult to wade through, and that's why we have collated this comprehensive guide for you.
Keeping the best of your interest in our minds, we would help you to navigate the online car insurance landscape with ease!
What do you need to know about Alabama coverage and rates?
To start with – you must be aware of the minimum insurance coverage in your state, without which it would be illegal for you to drive. The minimum coverage not only protects you from paying hefty damages in the event of an accident but also saves you from state penalties and the possibility of losing your license. Let's look at Alabama's car insurance requirements.
Minimum Auto Insurance Requirements in Alabama
Liability for bodily injury and property means that you're liable to pay the cost of harm/damages to people and property caused by you. In the event of an accident, your insurer would pay $25,000 per person towards medical expenses and a maximum of $50,000 overall. For damage to property, the insurer would pay a maximum of $25,000.
Remember – Liability car insurance only covers the other party and doesn't pay for medical expenses/damages to you/your co-passengers or your property.
Free Car Insurance Comparison
Enter your ZIP code below to view companies that have cheap car insurance rates.
Secured with SHA-256 Encryption
Would the state minimum requirement really cover your damages in the event of an accident?
Though the state minimum for Alabama isn't on the lower side, those numbers wouldn't be enough to cover the medical expenses and property damages if you're involved in a serious accident. Also, if you end up in an accident with a high-value or luxury car, your property damage cost would be much higher than what your state minimum coverage could pay.
Liability insurance also only covers the other person's damages. If you want your own damages covered after an accident, you would need to add collision coverage.
A policy containing liability, collision, and comprehensive coverage is called full-coverage car insurance.
Penalty For Not Carrying Auto Insurance in Alabama
What is the penalty for not having car insurance in Alabama? If a driver is found in violation of Alabama's Mandatory Liability Insurance law, he/she could be charged a fine up to $500 on the first offense. Any subsequent violations can lead to a fine of $1,000 and/or a license suspension for a period of six months.
In addition, you would also have to face vehicle registration suspension, meaning a $200 reinstatement fee for the first time. If you drive uninsured the second time, registration reinstatement would cost you $400 and a mandatory suspension of four months.
Here's the worst part – You would end up paying significant damages if you're involved in a serious accident without auto insurance.
Optional Auto Coverage in Alabama
Even after you have bought the necessary auto coverage to protect yourself from an unfortunate accident, you might find yourself in a situation that leaves a lasting impact on your bank balance.
Take for example the tornado outbreak of 2011 during which Alabama witnessed around 64 tornadoes in a day. Do you think your auto insurance would cover the damage to your car from those tornadoes? The short answer – Collision and liability insurance doesn't cover damages from natural calamities.
Let's take another example – While driving, you get hit by another motorist who is found to be at fault. Naturally, you would feel relieved in a situation like this. But, what if the other motorist is uninsured or underinsured?
Alabama ranks at number 6th amongst the top worst states with the highest percentage of uninsured motorists. This should be a cause of worry if you're driving in Alabama since the uninsured motorist percentage hovers around 18.4 percent.
To know about how you can protect yourself from these above-mentioned scenarios, we would explain other optional coverages that you must know about. We are here to help you uncover all facets of auto insurance coverage.
Uninsured/Underinsured Motorist Coverages – Uninsured Motorist Coverage pays the damages of your physical injury or property in an accident when the at-fault motorist is uninsured or underinsured.
Comprehensive Coverage – Comprehensive Insurance covers the repair or replacement cost of your car in the event of damage not resulting from a collision. This includes events such as fire, tornadoes, falling objects, vandalism etc.
Premiums as Percentage of Income in Alabama
These stats would definitely make you happy! After all, Alabama ranked at number 36th for average auto insurance expenditure in America in 2016.
In 2014, the annual per capita personal disposable income in Alabama was $33,535 while the average full coverage auto premium was $837 annually. The average premium was around 2.5 percent of the disposable income.
Don't worry, we have done the math for you.
On an average, if you're a driver in Alabama, your monthly premiums for a full auto coverage would be around $69.76.
Disposable income is the money at your disposal after you have paid your income tax. Do make sure that you budget smartly to accommodate for the cost of auto insurance premiums.
Free Car Insurance Comparison
Enter your ZIP code below to view companies that have cheap car insurance rates.
Secured with SHA-256 Encryption
Core Car Insurance Coverage in Alabama
The table above illustrates the average cost of covering collision, liability and comprehensive auto premiums in the year 2015 sourced from the leading authority on the insurance industry. The numbers in this table would offer you a more realistic idea of the auto insurance cost.
The premiums illustrated in this table are the actual average premiums with varying coverage limits starting from state minimum liability requirements to full coverages. Keep in mind that your auto premiums would depend on the coverage you choose.
Should you consider additional liability coverage in Alabama?
Apart from the basic coverage, there are additional liability coverage options that offer you protection under different circumstances. Medical Expenses, Uninsured and Underinsured Motorist Coverage – Though the state of Alabama doesn't require motorists to buy coverage for medical expenses and uninsured motorists, it's recommended to consider these while exploring additional coverage options. In the event of an unforeseen accident, you would be covered for damages irrespective of who is at fault, and you wouldn't need to worry if the at-fault motorist is uninsured/underinsured.
Alabama ranks at number 6th amongst the top worst states with the highest percentage of uninsured motorists.
In case you wish to understand about the optional coverages (Collision, Comprehensive, Medical, Uninsured/Underinsured) that would protect you from circumstances that most people are unaware of, you should watch this 3-minute video for a quick refresher.
What add-ons, endorsements, and riders should you consider?
Apart from the coverage options explained in the video, there are few add-ons and riders that may help you during certain circumstances, such as engine protection or roadside assistance in case of a breakdown.
By now, you must be concerned about the additional cost of these optional coverages and riders. That's why we have designed a highly-intuitive car insurance comparison tool to help you get the cheapest rate in your state.
To get a detailed overview of all the optional add-ons and riders that you can buy along with the state minimum coverage, do browse the following quickly:
Free Car Insurance Comparison
Enter your ZIP code below to view companies that have cheap car insurance rates.
Secured with SHA-256 Encryption
Male vs Female Average Car Insurance Rates in Alabama
Usually, young male drivers in their 20's are believed to pay higher premiums compared to their female counterparts in the same age group because they cause more accidents. Our internal research data strengthens that belief as young male drivers are charged more by almost all carriers in Alabama.
In the 60-year-old age group, the average insurance premiums are more or less the same for males and females in the state of Alabama.
Point to note: Do remember that your driving record and coverage limits play a huge role in determining your annual premiums.
Average Annual Rates Rank by Demographic and Company in Alabama
Most Expensive/Least Expensive Rates by ZIP Code
Free Car Insurance Comparison
Enter your ZIP code below to view companies that have cheap car insurance rates.
Secured with SHA-256 Encryption
Most Expensive/Least Expensive Rates by Cities
Your results will vary if you're looking for cheap car insurance in Birmingham, AL, versus cheap car insurance in Montgomery, AL. Yes, the city you live in makes a big difference in the rates you will be offered. Below is a table comparing auto insurance rates by city in AL.
Alabama Car Insurance Companies
Remember that location is not the only factor used when an auto insurance company sets your rates. They will also look at your age, driving record, credit score, gender, and marital status. Drivers with a poor credit history or bad driving record will generally pay a higher insurance premium.
If this applies to you, make sure to ask your provider about any insurance discounts you might be eligible for. Most major insurance companies offer a wide variety of discounts, like the safe driver discount, good student discount, defensive driving course discount, and more.
If you're shopping for coverage, ask about discounts when you get an auto insurance quote.
When I had to buy insurance for my car, I used every research methodology known to man to find out the best provider in my state. Although a cheap quote was one of my criteria in narrowing down the list of carriers, I also wanted to focus on ratings, claims settlement history, and customer service.
While considering an insurance carrier, do remember to check for customer reviews, financial ratings and their overall image in the market. Although USAA car insurance has the lowest average annual premium in AL, there are many factors to consider when choosing the best carrier for you.
To make the process effortless for you, we have done the necessary research so that your decision to purchase coverage from a carrier is based on facts – historic data that helps if you have to file a claim in the future.
Let's dig deep to find out the best providers in Alabama!
What are the best auto insurance providers in Alabama?
Free Car Insurance Comparison
Enter your ZIP code below to view companies that have cheap car insurance rates.
Secured with SHA-256 Encryption
Financial Ratings of Largest Auto Insurance Providers in Alabama
Source: 2008 Alabama Independent Insurance Agents Report
Financial ratings are determined by noteworthy credit rating agencies that assess whether the company has the financial strength to pay-off claims. An A.M. Best Rating of A++, A+ means that an insurance provider has a superior ability to meet their current insurance obligations.
Customer Ratings of Alabama's Insurance Companies
As a consumer, the level of service you receive during the end-to-end claims settlement process matters the most because that's the reason people buy insurance. After an accident, nobody wants to deal with multiple customer service representatives to explain what happened over and over again.
J.D. Power, a trusted source in auto insurance ratings, conducted a survey to assess the best auto insurance companies when it comes to auto claims satisfaction.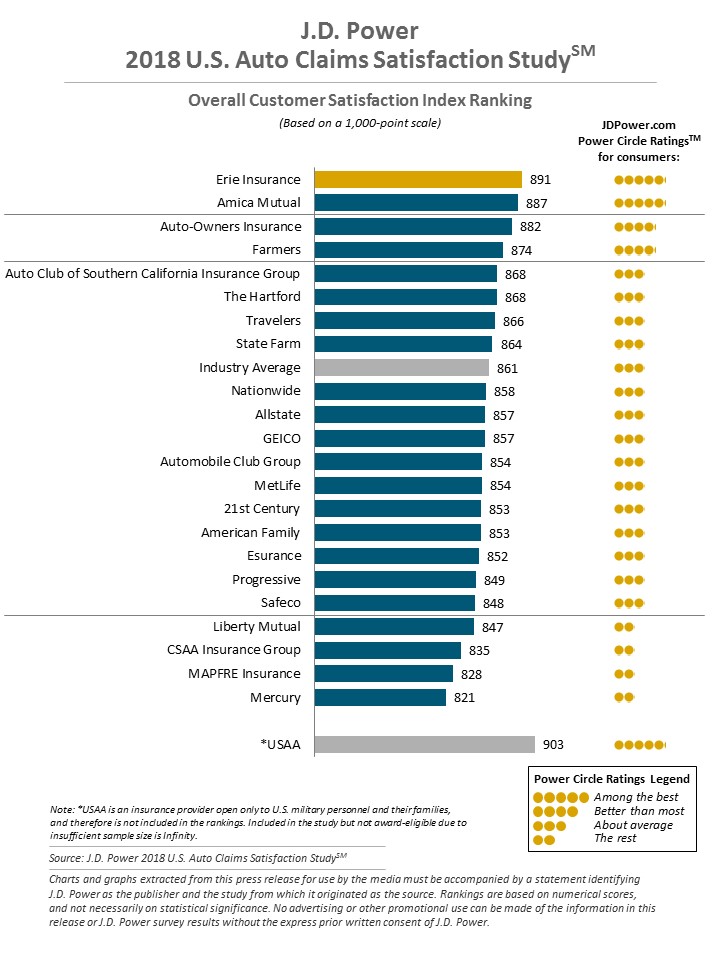 Before buying coverage, you must check the customer satisfaction rating of your prospective insurance carrier. There are many carriers who might offer a cheap quote but have a bad reputation in claims settlement.
Alabama's Car Insurance Companies with the Least Complaints
Another important data point to look at while browsing for insurance companies is the complaint data. Though this is subjective, based on individual opinions, you must take a look to strike off any company that racks up numerous complaints.
Please note that we have mentioned the combined complaint numbers for all business lines of an insurance carrier in the US.
Free Car Insurance Comparison
Enter your ZIP code below to view companies that have cheap car insurance rates.
Secured with SHA-256 Encryption
Largest Car Insurance Companies in Alabama
To get more details about other players in the market, you can check the official website of the Alabama Department of Insurance with information about each carrier's market share.
Best Auto Insurance Companies in Alabama
Now that you have absorbed all the important details about coverage requirements and types of coverage, we want to highlight the average premiums charged by auto insurance carriers in Alabama.
We have collated a list of the cheapest and most expensive providers in your state to make the process of buying cheap coverage easy for you. Keep in mind that USAA auto insurance is only available to military personnel and their families.
Average Premiums by Commute Rates in Alabama
As you can see from the table, the premium rates remain more or less the same even when the annual mileage being driven is different. Except for State Farm, all the insurance carriers offer the same quote for different commute rates.
Coverage Level Rates in Alabama by Company
Number of Car Insurance Providers in Alabama
What do you need to know about Alabama's laws?
Keeping a tab on the state laws with respect to driving can save you from unexpected fines and license suspensions which have an impact on your auto insurance rates.
Keep reading to learn about the laws specific to the state of Alabama.
Alabama's Texting and Mobile Phone Usage while Driving Laws
Talking on a mobile phone while driving is allowed for most of the drivers in Alabama, except those who are under 18 and drive with a Stage II License. For these drivers, state laws prohibit the use of any handheld communication device while driving.
Fines and Penalty: For violations by an underage driver, the state levies a fine in the range of $150 to $350, along with two points on the driver's record.
While talking on the phone is allowed for most drivers, Alabama completely prohibits text messaging while driving on a public road or highway for everyone. If found in violation, a fine of $25 is levied on the first instance, $50 on the second instance, and $75 for the third and any subsequent violations thereafter. And, it also adds two points to the driving record.
Alabama Car Insurance for High-Risk Drivers
Motorists who have filed a claim, been at fault in an accident, or were cited for a severe moving violation are considered high-risk drivers and may/may not be subjected to higher premiums. The increase in premiums for drivers with a bad record depends on many other factors as well, such as the insurance carrier's internal policies, state laws, and the driving history.
In Alabama, if a motorist is unable to obtain coverage due to a bad driving record, the Alabama Automobile Insurance Plan can provide insurance for eligible risks.
As a motorist, you must also know about SR-22 filings. If the state of Alabama determines that you're a dangerous driver (based on your driving history, DUI incidences or accumulated points on the driving record), you must file an SR-22 with your Insurance.
As a motorist, you must also know about SR-22 filings. If the state of Alabama determines that you're a dangerous driver (based on your driving history, DUI incidences or accumulated points on the driving record), you must file an SR-22 with your Insurance.
– You must be thinking now, what is an SR-22 Insurance?!
An SR-22 filing is an assurance that you have the necessary coverage to pay-off any obligations in case you're involved in a dangerous accident. This also helps in reinstating your license, if it was suspended due to your dangerous driving habits.
– Who is required to carry an SR-22 filing in Alabama?
A motorist is required to file an SR-22 under the following circumstances:
If a motorist was caught driving under the influence of alcohol
If a motorist was involved in an accident that caused damage/injuries
If a motorist didn't have the Mandatory License Insurance
If there were more than the necessary number of points on a motorists' driving record
Windshield Damage Law in Alabama
The tiny chips and cracks on your car's windshield might not be visible to our eyes but can be dangerous at times. However, there aren't any specific laws in Alabama that penalizes motorists who are driving with a damaged windshield.
If you're replacing your windshield, the state of Alabama requires you to replace your windshield with another of similar quality and kind.
Automobile Insurance Fraud in Alabama
In August 2012, Act 12-429 was enacted which classified insurance fraud as a felony crime. Under the law, any fraud under the amount of $1,000 would be a Class C Felony, while any amount over that would be a Class B Felony.
The law also requires insurance carriers to report any instances of insurance fraud.
The Statute of Limitations in Alabama
Have you been injured personally in an accident or had your vehicle damaged and you wanted to file a claim or sue the other party?
The statute of limitations in Alabama states the deadline within which you need to file your claims or press charges.
Alabama's Vehicle Licensing Laws
As buyers of coverage, we are pretty uninterested in the idea of spending money on something that may or may not reap any benefits in the future. That's why some motorists might decide to not buy insurance coverage.
If you choose to not buy coverage in Alabama, you're in violation of the Mandatory Liability Insurance Law that has several penalties for violators:
On the first violation, you may be fined up to $500 and up to $1,000 for the second and any subsequent violations
Suspension of driver's license for six months
Vehicle impoundment
In addition, the motorists vehicle registration would also be suspended attracting more fee for reinstatement.
On the first violation, you would need to pay $200 for vehicle registration and driving license reinstatement
On second and subsequent violations you would need to pay $400 for reinstatements
Note: You would be able to get your registration and license reinstated only if you show proof of current insurance coverage.
In 2017, Alabama implemented a mandatory auto insurance law that allows the state to slap fines up to $200 on the first offense if caught driving without an auto insurance policy.
Teen Driver License Laws in Alabama
In the state of Alabama, teens can get a learner's license at the age of 15. There are some specific laws and restrictions for teen drivers in the state of Alabama.
Learner's Permit: At the age of 15, one can obtain a learner's permit by passing a written knowledge test and vision test. However, the permit allows the teen driver to drive only if accompanied by a licensed driver in the front seat who's 21 or older.
To get a restricted license, teens must complete 30 hours of driving with a parent or legal guardian or complete a driver education course approved by the state Department of Education.
Restricted License: Once a teen obtains a restricted license, he/she can drive unaccompanied. However, the state doesn't allow them to drive between the hours of 12-6 AM to ensure safety. The law also doesn't allow restricted permit holders to drive with more than one passenger, except when the accompanied passengers are family members.
The restricted license can be obtained at the age of 16 after having the learner's permit for six months.
Unrestricted License: At the age of 17, the state of Alabama allows teens to obtain an unrestricted license if they have held a restricted driving permit for six months without any violations.
License Renewal Procedures in Alabama
After you have obtained a license, it needs to be renewed from time to time. See below the timelines you must follow in Alabama.
Since the state allows people to renew their licenses online, it's not much of a hassle. Also, there's no need to provide proof of adequate vision on renewals.
New Residents in Alabama [Points to Remember]
If you're new to Alabama, you must remember a few important points about the auto insurance laws in the state.
Alabama uses the tort system which puts someone at fault if an accident occurs, so your insurance company would be liable to pay all damages if you're held responsible for an accident.
The minimum auto insurance requirement for drivers in Alabama is $25,000 for bodily injury per person/$50,000 for bodily injury per incident, and $25,000 for property damage liability.
Since auto insurance is an expensive purchase, you must gather as much information as possible before buying coverage. If you're unaware of the laws in Alabama, be a smart consumer and refer to this consumer guide.
Rules of the Road
Knowing the rules of the road helps you in passing your written knowledge test, driving safely on the road and avoiding any violations that might attract fines.
Fault vs. No-Fault
Alabama uses the tort system which places one party at fault if an accident happens. The at-fault party is required to pay the damages and medical expenses arising from personal injuries to the other party.
Keep Right and Move Over Laws
The traffic laws in Alabama require motorists to move to the right lane if driving slower than other vehicles on the road. Passing a vehicle from its right side is permissible under a few circumstances.
Recently, Alabama passed a new law that allows law enforcement to ticket drivers who stay in the left lane for over a mile without passing other drivers. This new law is meant to reduce road rage by reserving the left lane for passing only.
Alabama also has a move over law. Anytime there is a vehicle parked on the side of the road with flashing lights, you must move over a lane or slow down.
Some examples of vehicles to move over for are below.
Law enforcement
Fire trucks
Ambulances
Utility vehicles
Tow trucks
The move-over law is meant to protect workers who may be walking around the vehicle.
Speed Limits
Speed limits vary from state to state and it's a good practice to keep tabs while driving. Or just notice the speed limit signs posted on roads.
Seat Belt Laws
Wearing seat belts protects motorist and passengers from injuries in an event of an unfortunate accident.
While the old seat belt law in Alabama only required all front-seat occupants of a vehicle to wear a seat belt, a new law went into effect on September 1st, 2019, that requires back seat passengers to also wear seat belts.
If cited for a violation, the state can slap a fine of $25 for children and adults.
Alabama Child Restraint Law
All children under the age of 6 should be placed in an appropriate restraint system while being driven on any street – the restraint system varies with age and size of the child. For specific details about the car seat requirements, please refer to the Alabama Department of Health guide.
Ridesharing Law in Alabama
In 2016, the Alabama Legislature passed a rideshare law to close the insurance gap after experiencing growth of transportation network companies in various major cities.
The new law, SB262, requires the drivers to buy coverage that would protect them as well as the riders from the time they pick a ride to the moment they drop their ride.
In July 2018, a new law in Alabama allowed ridesharing organizations, such as Lyft and Uber, to operate across the state.
Automation on the Roads in Alabama
While federal and state regulators have been working continuously to allow research and testing of autonomous vehicles, not every state allows the full deployment of self-driven automobiles. Alabama is amongst the 19 states where automation has been implemented for large trucks.
Safety Laws
Driving safely on the road not only saves you from any unfortunate accident but is also required by the law. Though each state has its own blood alcohol concentration limit, you should completely avoid the consumption of anything alcoholic or toxic while driving.
DUI Laws in Alabama
The look-back period in the table signifies the total time period during which the drunk driving offense would reflect on your driving record. Apart from the penalties on your record, you would also have to pay significant penalties. Let's just decide to steer away from drunk driving.
Distracted Driving Laws in Alabama
We might think that texting or calling while driving doesn't distract us, but the truth is it might take us off-guard when we least expect it.
The state law of Alabama imposes a texting ban on all drivers and a cellphone usage ban for those under 18 who have held an intermediate license for less than 6 months.
Alabama Can't-Miss Facts
Our detailed guide on insurance in Alabama must have broadened your knowledge with many facts and good-to-know information that would help you in buying coverage for yourself and your family members.
If you wish to compare the best rates in your ZIP code, you can use our comparison tool. And, don't worry, we wouldn't push you to buy coverage.
Before we complete this guide, we would like to enlighten you with some more information about road safety that would help you in making a more informed decision.
How common is vehicle theft in Alabama?
In Alabama, Chevrolet pickups were the most-common stolen vehicle in the year 2015.
Vehicle Theft in Alabama [By City]
In case you're wondering which cities are most vulnerable to vehicle thefts, we have collated the data for you.
The number of vehicles stolen is significantly higher in the first four cities i.e. Birmingham, Montgomery, Huntsville, and Mobile which are also the most popular cities in Alabama.
Traffic Fatalities in Alabama
Moving on from vehicle thefts, another factor that might impact your insurance rates are the traffic fatalities number in your state.
Below are the cities in Alabama that have witnessed the highest death rates from traffic fatalities.
We have also the data for the top-10 counties with the highest fatality rates in Alabama.
Now, we will look at the number of fatalities by person type – which type of vehicles were involved or how many pedestrians were affected?
Fatalities by Crash Type in Alabama
What kind of crashes is actually causing these fatalities? Here's a five-year trend for the crash type in Alabama.
Teen Drinking and Driving
As parents, you must be careful of teen drunk driving laws in your state since the penalties and suspensions can severely impact your child's driving record at an early age.
The death rate for alcohol-impaired driving fatalities under the age of 21 was quite high for the state of Alabama as compared to the national average of 1.2 per 100,000 in the year 2016.
EMS Response Time in Alabama
EMS Response Times
Rural
Urban
Time of Crash to EMS
Notification
9.45
6.25
EMS Notification to
EMS Arrival
13.32
6.83
EMS Arrival at Scene
to Hospital Arrival
35.28
27.03
Time of Crash to Hospital
Arrival
56.82
39.50
#blank#
#blank#
Transportation
Now that you are aware of the fatality rates in your state, let's get to the transportation details – how many cars are owned by households in your state, what are the commuting times or which cities have the highest traffic congestion?
Car Ownership
In Alabama, most of the households own two cars on an average.
In 2016, 19.4 percent of households in Alabama had one car, 40.5 percent had two, and 22.6 percent had three. The image below reflects the four-year trend comparing Alabama to the U.S. average:
Commute Time in Alabama
The average commute times for employees in Alabama is 23.8 minutes which is lower than the U.S. average of 25.3 minutes.
Here's an image of the commute times in Alabama compared to the U.S. average in different time buckets.
Commuter Transportation
Around 86 percent of commuters in Alabama drive alone! As evident from the image above, other modes of transportation are fairly uncommon in the state.
Since the percentage of people driving alone is that high, it's bound to lead to some traffic congestion, at least in the major cities.
As per traffic congestion data, the rising congestion on roads is a grave matter of concern for the residents of Alabama as it costs them time and money. The annual cost for congestion is around $1.2 billion in the state due to the lost hours and extra fuel consumption.
Now that you're well informed about everything you need to know about auto insurance – let's get you started with a car insurance rate comparison.