Virginia Car Insurance [Rates + Cheap Coverage Guide]
Average Virginia car insurance rates are $841/yr. or $70.08/mo. Virginia car insurance requirements are 25/50/20 for bodily injury and property damage coverage.
Free Car Insurance Comparison
Secured with SHA-256 Encryption

Virginia may be for lovers, but there's nothing to love about high car insurance rates.
Whether it's monthly, quarterly, or biannually, those bills from the insurance company never seem to stop coming. If you're like us, getting a letter from the insurance company is never a good thing.
Consumers in Virginia paid an average of $842.67 for car insurance in 2015.
Were you one of them?
Or did you pay a lot more? Nobody likes to pay too much for anything, let alone, spending too much for car insurance. But how do you get started? What if all of the information you needed to save money on your car insurance was in one spot? Would you invest the time?
What if it would save you money? A LOT of money. I bet you would, and your family would love you for it. Everything you need to know about buying cheap car insurance in Virginia is in this comprehensive guide. Enter your ZIP code below to get started.
Virginia Car Insurance Coverage and Rates
The median household income in Virginia in 2017 was over $71,535, and drivers, on average paid over $843 for car insurance. There's certainly nothing to love about that.
We think consumers in the Old Dominion State are spending way too much money on car insurance.
There has to be a better way.
Minimum Coverage Requirements in Virginia
Below, we have provided information and helpful advice so you can get the best coverage options for your needs.
Okay, you've read the numbers, but what do they mean?
What is 25/50/20?
Bodily injury?
Accidents?
We hope you never have to deal with any of these situations or end up in one of these:
But if you do, the basic coverage requirements in Virginia which all motorists must have for liability insurance are:
$25,000 to cover the death or injury per person
$50,000 to cover the total death or injury per accident
$20,000 to cover property damage per accident
Liability insurance pays all individuals — drivers, passengers, pedestrians, etc. — who are owed compensation for property damage and/or injuries resulting from a car accident that you or anyone under your policy causes. If you cause a wreck, liability insurance pays everyone affected by the accident.
Required Forms of Financial Responsibility in Virginia
What is financial responsibility? Basically, financial responsibility is proof that you have Virginia's minimum liability coverage. State law requires every driver and owner of a vehicle to have proof of financial security at all times.
Here are a few acceptable forms of proof of financial security in Virginia:
Valid Insurance ID Card
Electronic proof on a smartphone
Proof that you paid the UMV fee
According to the Virginia DMV:
The $500 Uninsured Motor Vehicle (UMV) fee, which is paid to the Department of Motor Vehicles (DMV), does not provide any insurance; it only allows you to drive an uninsured vehicle at your own risk.
It expires with your registration and must be paid at renewal. If you are driving an uninsured vehicle and are involved in an accident, the other driver may notify DMV that your vehicle is uninsured as part of reporting the accident to DMV.
Premiums as Percentage of Income in Virginia
In Virginia, the per capita disposable income is $43,904. On average, residents spend $843 a year on car insurance. To put this amount in perspective, the countrywide, annual average for car insurance is $981. This means people in Virginia pay less than the countrywide average and less than neighboring states, New York and Pennsylvania who pay yearly amounts of $1,328 and $953, respectively.
You can also use our calculator to know how much you're spending on premiums.
Average Monthly Car Insurance Rates in VA (Liability, Collision, Comprehensive
The main concern of most every motorist in Virginia is the rising cost of insurance? The table below shows data provided by the
National Association of Insurance Commissioners
, which is an agency dedicated to keeping up with the changing costs of car insurance.
Up next, we take a look at loss ratios and what they mean to a company's bottom line.
Additional Liability Coverage in Virginia
To gauge the financial health of insurance companies, you should look at its loss ratios. Loss ratios are explained as: the money insurance companies pay out on claims compared to the money they take in on premiums is the loss ratio.
For example, an auto insurer collects $100,000 of premiums in a given year and pays out $35,000 in claims, the company's loss ratio is 35 percent ($35,000 incurred losses/$100,000 earned premiums).
Check out the loss ratio for these two types of coverage in Virginia.
You may want to consider adding additional coverage to your insurance plans, to avoid paying out of pocket in the event of an accident. Without this additional coverage, medical bills and payments could reach well into the thousands of dollars for those affected by an uninsured driver.
Add-ons, Endorsements, and Riders
No one wants to be in an accident, but if you are, do you have enough protection for you and your family? Have you considered adding extra coverages to your policy? Do you even know what's out there? Choosing from a list of options can be daunting, and we know you want the best options for your family at the best price.
To help you decide, we've made a list of affordable options to add to your policy. Click on the selections below to learn more about them:
Any of the above coverages would be great to add to a policy, so make sure to discuss any options you are interested in with your insurance carrier.
Average Monthly Car Insurance Rates by Age & Gender in VI
According to an article on Inc.com, women pay $100,000 more for the same products as men do. In fact, gender discrimination in car insurance rates is such a problem that California and other states banned gender discrimination and created gender neutral insurance plans.
https://youtu.be/bZj2y4W-xNg
Below, we show you rates that various folks in Virginia pay for car insurance.
As you can see, in some cases, teen drivers pay thousands more than older drivers do for car insurance. Rates are somewhat consistent with male and female teen drivers, as, on average, each company has close to a $3000 spread from lowest to highest on yearly premiums. Unfortunately, for parents, those rates are thousands higher than what they pay.
Highest and Lowest Rates by ZIP Code
In addition to gender and age, where you live can affect your car insurance rates. We've collected data on the least and most expensive ZIP codes, so search to see where your ZIP code lands on the list. You'll also see providers' costs next to your ZIP code, providing a helpful snapshot into what you should be paying.
The next table shows the most expensive ZIP codes.
Highest and Lowest Rates by City
We've also collected data on car insurance rates by city. Below are lists of the least expensive and most expensive cities for car insurance.
East Lexington has the cheapest rates for car insurance.
As you can see from the tables, where you live can impact your wallet when purchasing auto insurance. Folks in rural areas pay hundreds less than those in a major city like Mount Vernon.
Free Car Insurance Comparison
Enter your ZIP code below to view companies that have cheap car insurance rates.
Secured with SHA-256 Encryption
The Best Virginia Car Insurance Companies
Can you really save money with a 15-minute phone call? We've heard this and other funny commercials from insurance companies so often we can sing their jingles by heart.
Car insurance is mandatory in all states except one, New Hampshire, so why do insurance providers spend so much on advertising and trying to be funny? Are they hiding something? What's really behind the catchy jingles of most insurance companies?
But who wants to spend time doing all of that searching? That's why we've done all of the work for you and researched the best insurance carriers in Virginia so that you can make the best choice for your situation. We've looked at companies' financial ratings, AM's best ratings, and which companies have the most complaints.
We can even show you which companies dominate the market.
Keep reading to learn about Virginia's auto insurance providers.
The Largest Companies' Financial Ratings
If you recall, loss ratios play a large part in how secure a company is doing financially. That's why we want to include AM Best ratings, which look at loss ratios to determine if a company has solid financial security.
So to see how the ten largest companies in Virginia are doing, we've included the AM Best ratings for each.
Companies with the Best Ratings
A good financial rating means the provider has the funds available to pay any claims. But customer service is also an important part of any company, from restaurants to car insurance companies. That's why we've looked at companies with the best customer satisfaction ratings.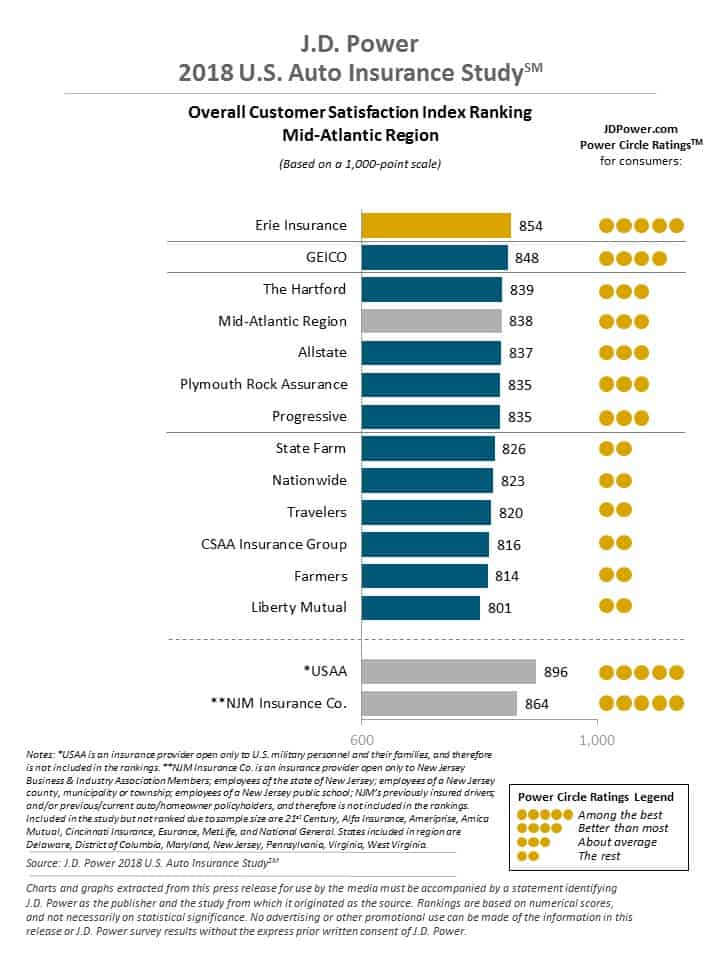 Allstate ranks near the top of the list — showing that Allstate is excellent at customer satisfaction.
Just because a company has a good rating for financial stability doesn't mean their customers are always happy.
Let's check out their record of official complaints.
Companies with the Most Complaints in Virginia
Keep in mind that a high complaint index doesn't necessarily mean you should avoid a company. Make sure to also look at a company's customer satisfaction ratings because how a company deals with complaints is also important.
If a car insurance company's complaint index is lower than one, they are better than the average. If the index is higher than one, they are worse than the average. Progressive and Liberty Mutual have the highest complaint ratios out of the top ten largest companies.
Cheapest Companies in Virginia
Nobody wants to be considered cheap, but when it comes to car insurance, finder cheaper rates is something everyone wants. In order to save you money, make sure you are shopping around for rates. The table and chart below display the top carriers in Virginia with their average rate for all drivers and compares it to the state average of all companies.

Looking at different companies can save a lot of money. For example, Geico is $285 BELOW the state average, which, over time, could add up to thousands of dollars saved.
Commute Rates
At some companies, how far you drive each day influences your insurance rates. Beyond location, gender, age, marital status, and carrier, other factors that affect your quoted rates from each company are those that are specific to your situation such as how much coverage you want, credit history, and driving record.
The tables below compare such factors based on each carrier.
Most company rates don't change when the drive is shortened to a 10-mile commute, except for Allstate, who offers rate reductions over $200.
Companies generally don't charge much more for commute distance. They do, however, increase their rates drastically for some other factors.
Up next, a break-down of coverage level rates in Virginia.
Coverage Level Rates
Do you want better coverage? You might have to pay more. But don't let higher rates discourage you from purchasing better coverage, as some companies have economical increases in rates.
For example, the data above shows multiple providers have less than $300 increases from low to high coverage.
Credit History Rates by Companies
The quality of your credit score impacts your insurance rates. In Virginia, the average credit score is 680, which is slightly above the countrywide average of 675. This means motorists have an excellent chance of getting great rates because of their above-average credit scores.
The table below shows what you can expect to pay yearly on car insurance based on your credit history.
If you have insurance through Allstate and have poor credit, you can expect to pay nearly $1400 more for car insurance than someone with good credit.
Driving Record Rates
A clean driving record is the EASIEST way to keep rates down. As you can see from the information below, at Nationwide, just one speeding violation can raise your rate by over $250.
A better record equals better rates. We encourage you to obey posted speed limit signs and NOT drink and drive.
Number of Property and Casualty Insurance Companies in Virginia
Domestic insurance means a company is formed under Virginia's state laws, whereas a foreign provider is formed under the laws of any state in the country.
Domestic Insurers: 19
Foreign Insurers: 908
Laws in Virginia
"Honey, I'm going to go wash the mule," is something not many of us have ever said before. We've heard of washing your car, but what about washing a mule? Maybe in the 1800s. But in Virginia, it is illegal to wash a mule on a sidewalk. What are they afraid of–hoof prints in the hopscotch game?
We know, state laws are odd and sometimes confusing and vary from state to state. New residents may receive tickets for laws they didn't know existed.
Next, we help you uncover what the laws are, so check out our roundup of Virginia's driving laws.
Virginia's Car Insurance Laws
Insurance companies are subject to specific rules and regulations.
Let's look at some of the specific laws for consumers regarding car insurance.
Windshield Coverage
Has something bounced off the road and fractured your windshield? In Virginia, if the crack meets any of the standards below, it must be repaired.
A scratch greater than six inches by 1/4 inch in the area cleared by windshield wipers
A crack above the bottom three inches of the windshield that is larger than 1 by 1/2 inches in diameter
Multiple cracks in the same area if any crack is longer than 1 to 1/2 inches long
Multiple cracks in the same area if above bottom three inches of the windshield
High-Risk Insurance
If you have a bad driving record, it may be challenging to find an insurance company that is willing to insure you as a driver. Luckily, in most states, insurance companies have made programs available to provide affordable coverage for those who are high-risk drivers.
According to Virginia's DMV, the following are reasons you may need to fill out an SR-22 Form:
Unsatisfied judgements
Uninsured motor vehicle suspension
Failure to provide proof of insurance associated with insurance monitoring
Falsifying insurance certification
Driver license suspension as a result of a conviction for:

Voluntary or involuntary manslaughter resulting from the operation of a motor vehicle.
Perjury, making a false affidavit to DMV regarding the registration of motor vehicles or making a false statement on any driver's license application.
Any crime punishable as a felony under the motor vehicle law or any felony in the commission of which a motor vehicle is used.
Failure of a driver of a motor vehicle, involved in an accident resulting in death or injury to another person, to stop and disclose his identity at the scene of the accident.
Operating or permitting the operation, for a second time, of a passenger automobile for transportation of passengers for rent or for hire, without a license.
If motorists are convicted of driving under the influence or driving with a suspended license because of a conviction, they must fill out an FR-44 and purchase insurance that is higher than the minimum amounts.
Low-Cost Insurance
Some states have programs set up for those who receive benefits from government assistance programs, or those who have a combined family income that is below the poverty level. Unfortunately, Virginia has no such plan in place. In order to obey the law, you must carry the minimum liability coverage.
Automobile Insurance Fraud in Virginia
What is automobile insurance fraud?
Creating a claim for damages or injuries that NEVER occurred (such as faking an accident)
Adding "extra" costs onto a claim that is legitimate
In 2018, the Virginia State Police Insurance Fraud Program created a report on insurance fraud in Virginia. A total of 82 arrests were made, and below you will see the number of notifications the police department received for automobile fraud.
Property Fraud – 931
Injury/Casualty Fraud – 188
Committing insurance fraud can result in fines and/or jail time.
Statute of Limitations
If you are in a car accident in Virginia, there is a statute of limitations if you want to file a claim.
Below, you will see Virginia's statute of limitations.
Virginia Unique State Laws
Unlike other states, in Virginia, it is against the law to have any type of device designed to prevent or evade detection by the police. Radar detectors must be completely inaccessible to drivers (such as stored in the trunk of a car) and police officers can fine you even if it's turned off or broken
Another law unique to Virginia is an unfair claim settlement law, which means insurers are legally required to disclose all information on policies. This ensures that insurers don't "forget" benefits when you file a claim. This law also prevents insurers from ignoring your claim or refusing to pay reasonable claims. While insurers are ethically required to follow these practices anyways, the law places extra emphasis on these guidelines.
Virginia's Vehicle Licensing Laws
Virginia, just like every other state, has mandatory licensing laws in addition to the statute of limitations and car insurance laws, which we previously covered.
REAL ID
Virginia is in full compliance with the REAL ID Act passed by Congress and enforced by Homeland Security. This means that a driver's license or state ID issued by the Old Dominion State is an acceptable form of identification at federal facilities, airports, and nuclear power plants.
https://www.youtube.com/watch?v=ZBMndSYvS38
As of October 1, 2020, anyone wishing to fly on a commercial flight or enter a federal facility must have a REAL ID-compliant form of identification.
Penalties For Driving Without Insurance
Drivers may drive while uninsured if they have paid the yearly UMV fee for driving uninsured. If you haven't paid the UMV fee and don't have the minimum liability insurance, you will receive an intent to suspend car registration letter.
Proof of financial responsibility must be provided anytime you are pulled over in a traffic stop, register a vehicle, or are in an accident. Below, are the acceptable forms of proof of financial responsibility.
Valid Insurance ID Card
Proof that you paid the UMV fee
Virginia also has an electronic verification system that authorities use to check the status of vehicles.
Teen Driver Laws
To begin driving in Virginia, teens must be 15 and a half to apply for a learner's license. Before teens can apply for a regular license or a restricted license, the Insurance Institute for Highway Safety (IIHS) specifies that teens must meet the requirements below.
Older Driver License Renewal Procedures
Older drivers in Virginia have different license renewal procedures than the general population. Drivers 75 and older must follow the requirements listed below.
License Renewal Cycle — Every five years
Proof of Adequate Vision — Required at every renewal
Mail or Online Renewal — Not permitted
Older drivers must visit in person every five years and provide proof of adequate vision at every license renewal.
New Residents
Considering a move to Virginia? You need to make sure their insurance is updated to meet Virginia's minimum liability insurance. To do so, new residents will need to contact their current insurance provider to provide updated address information.
Providers will make sure new residents have the proper coverage in the amounts below, as well as providing updated insurance ID cards.
Bodily Injury: $25,000 per person and $50,000 per accident
Property Damage: $20,000 per accident
Uninsured Motorist Bodily Injury: $25,000 per person and $50,000 per accident
Uninsured Motorist Property Damage: $20,000 per accident with a $200 deductible for hit-and-run accidents
New residents may choose to opt out coverage, but need to pay the $500 UMV fee. This option is riskier because motorists will still be held liable for any accident costs and will have to cover all the bills themselves.
License Renewal Procedures
For the general population, license renewal procedures are fairly basic. Generally, the DMV will notify drivers well before their licenses expire, so that drivers have time to plan a trip to the DMV and prepare the necessary paperwork.
License Renewal Cycle — Every eight years
Proof of Adequate Vision — Required when renewing in person
Mail or Online Renewal — Both permitted, every other renewal
Virginia's licensing system means that drivers can go 16 years without an in-person trip to the DMV! This is quite a bit longer than most states. Just make sure to have proof of adequate vision ready when renewing in-person.
Comparative Negligence
Virginia is one of the few states that still observes contributory negligence laws. Contributory negligence only allows damages if one party wasn't any way responsible for the accident. Comparative negligence allows both parties to be found at fault, and any compensation that is awarded is determined based on the degree of fault.
Virginia Rules of the Road
We all should obey the rules, but if you're new to the state, there may be laws you're unfamiliar with. That's why we've assembled a list of several relevant laws to help keep you in good standing and on the road.
Fault vs. No-Fault
Virginia is a fault-based state, which means if you are the cause of a car accident, you are responsible for any damage caused.
Seat Belt and Car Seat Laws
All passengers in the front seat of a vehicle driven in Virginia must be wearing a seat belt. Additionally, children 18 years and younger are required to be properly restrained no matter where they are sitting.
Currently, passengers 16 and under are not allowed to ride in the cargo areas of pickup trucks.
Keep Right and Move Over Laws
Virginia traffic laws mandate that you must keep right when traveling slower than the average speed of traffic around you. Generally, the right lane is for faster traffic and passing.
Speed Limits
Maximum posted speed limits are 70 mph on rural interstates, 70 mph on urban interstates, 65 mph on limited access roads and 55 mph on all other roads.
Ridesharing
Rideshare services like Uber and Lyft mandate that all their drivers carry personal car insurance that meets the minimum requirements. However, if drivers wish to purchase a commercial insurance policy, these are the companies who provide coverage.
Allstate
Erie
Geico
Liberty Mutual
Automation on the Road
According to the Insurance Institute for Highway Safety (IIHS),
"Automation is the use of a machine or technology to perform a task or function that was previously carried out by a human. In driving, automation involves using radar, camera and other sensors to gather information about a vehicle's surroundings, which is then used by computer programs to perform parts or all of the driving task on a sustained basis."
Currently, Virginia has no restrictions on autonomous vehicles.
Safety Laws
Up next, we take a closer look at the safety laws in Virginia so that you can arrive alive. Please don't drink and drive.
DUI Laws
Driving while impaired has disastrous results for everyone involved, that's why strict laws are in place to prevent such tragedies. In Virginia alone, drunk driving caused 246 deaths in 2017. Each state differs in how they address drunk driving and therefore have different penalties.
Below, we've listed the details about Virginia's impaired driving laws.
The penalties get worse with each subsequent offense.
Drivers convicted of a DUI must also fill out an FR-44 form. This form requires drivers to purchase liability insurance that is higher than Virginia's required minimum amounts. Please don't drink and drive.
Marijuana-Impaired Driving Laws
Virginia currently has no marijuana-specific impaired driving laws.
Distracted Driving Laws
Text messaging and emailing while driving is prohibited for all drivers.
Driving in Virginia
Now that you have a good understanding of Virginia state laws, let's dive into some facts that you might not know. While insurance is essential, it's also crucial to know what to keep your eyes out for on the road.
Vehicle Theft in Virginia
Believe it or not, over 4,428 vehicle thefts occurred in 2016 alone in Virginia. When considering your next car purchase, one thing to consider is that certain vehicles are stolen more frequently, and thus, may have higher insurance rates.
Here's a list of the top ten stolen vehicles in Virginia.
Vehicle Theft by City
Where you live also plays a role in the number of vehicle thefts. The FBI created a 2013 report on Virginia's vehicle thefts by cities, which are listed below.
Road Fatalities in Virginia
Accidents happen, and next, we're going to show you statistics for different kinds of accidents in Virginia.
Fatal Crashes by Weather Condition and Light Condition
As you can see, most accidents occur during daylight hours.
Fatalities (All Crashes) by County
Here are the Virginia counties with the most fatalities over the past five years.
Fatalities by Roadway
Next, we have a 10-year comparison of traffic fatalities on urban vs. rural roadways.
Fatalities by Person Type
The type of crash can also play a role in fatality rates.
Five-Year Trend for the Top 10 Counties
Fatalities Involving Speeding by County
Alcohol-Impaired Fatalities by County
Check out the table below to see fatalities in crashes that involved an alcohol-impaired driver with a BAC over .08.
Teen Drinking and Driving
In 2016, Virginia law enforcement arrested 97 teenagers (under the age of 18) for drunk driving.
This number places Virginia as the 38th worst state in the U.S. for underage drinking and driving.
Below are the facts concerning underage (under 21 years old) drinking-related fatalities:
1.1 fatalities per 100,000 people in Virginia
1.2 fatalities per 100,000 people national average
EMS Response Time
If you or someone you know is in an accident, you want help to arrive as FAST as possible. Check out the response times for emergency personnel in rural and urban areas.
Transportation
When you drive through your neighborhood, do you ever notice how many cars are sitting in your neighbors' driveways? Usually, we can tell if someone is visiting by that extra car parked outside the house.
The data for Car Ownership, Commute Time, and Commuter Transportation was sourced from the Census Bureau via DataUSA.io.
Car Ownership
The average household in Virginia has two cars.
Commute Time
The average commute time in the U.S. is 25.3 minutes. Unfortunately, Virginia's average commute time is slightly above this at 27 minutes.
Commuter Transportation
In every state, driving alone is the most common commute option, though people are beginning to turn to other commute options like carpooling and working from home.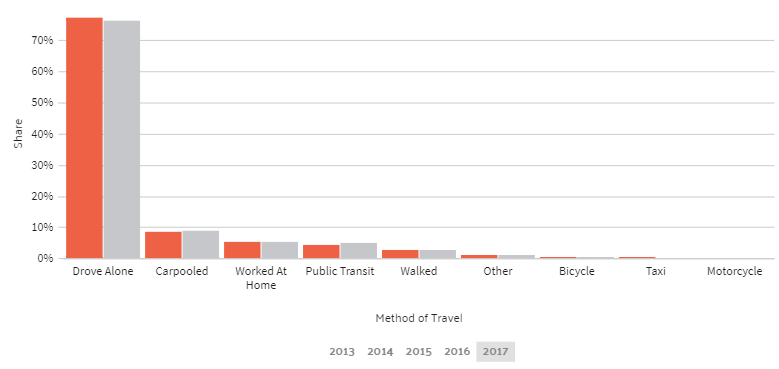 Traffic Congestion in Virginia
Only Norfolk City made the list of the traffic congestion cities in the state of Virginia.
Now that you've read through this comprehensive guide, and know everything there is to know about buying car insurance in Virginia, it's time to hit the road. Enter your ZIP code below to get a free quote comparison.