Compare Wisconsin Car Insurance Rates [2023]
Wisconsin requires drivers to carry liability car insurance in the amount of 25/50/10. If you compare Wisconsin car insurance rates, a minimum liability insurance policy is the cheapest at an average of $32/mo. Full coverage Wisconsin insurance is still affordable, though, as it averages $101/mo.
UPDATED: Aug 24, 2023
Fact Checked
Free Car Insurance Comparison
Compare Quotes From Top Companies and Save
Secured with SHA-256 Encryption
Joel Ohman
Founder & CFP®
Joel Ohman is the CEO of a private equity backed digital media company. He is a CERTIFIED FINANCIAL PLANNER™, author, angel investor, and serial entrepreneur who loves creating new things, whether books or businesses. He has also previously served as the founder and resident CFP® of a national insurance agency, Real Time Health Quotes. He has an MBA from the University of South Florida. Jo...
UPDATED: Aug 24, 2023
It's all about you. We want to help you make the right coverage choices.
Advertiser Disclosure: We strive to help you make confident car insurance decisions. Comparison shopping should be easy. We are not affiliated with any one car insurance company and cannot guarantee quotes from any single company.
Our partnerships don't influence our content. Our opinions are our own. To compare quotes from top car companies please enter your ZIP code above to use the free quote tool. The more quotes you compare, the more chances to save.
Editorial Guidelines: We are a free online resource for anyone interested in learning more about auto insurance. Our goal is to be an objective, third-party resource for everything auto insurance related. We update our site regularly, and all content is reviewed by auto insurance experts.
UPDATED: Aug 24, 2023
It's all about you. We want to help you make the right coverage choices.
Advertiser Disclosure: We strive to help you make confident car insurance decisions. Comparison shopping should be easy. We are not affiliated with any one car insurance company and cannot guarantee quotes from any single company.
Our partnerships don't influence our content. Our opinions are our own. To compare quotes from top car companies please enter your ZIP code above to use the free quote tool. The more quotes you compare, the more chances to save.
On This Page
UPDATED: Aug 24, 2023
Fact Checked
Taking the time to compare Wisconsin car insurance rates from the best car insurance companies will ensure you get the best rates on your insurance policy. While it may be tempting to carry the bare minimum of insurance in Wisconsin, full coverage provides complete protection for you and your vehicle.
Read on to learn about what coverages you should carry, Wisconsin car insurance laws, and more. If you want to jump right into finding cheap Wisconsin car insurance, enter your ZIP code to get car insurance quotes in Wisconsin today.
Wisconsin Car Insurance Rates
Trying to wade through the waters of confusing laws and jargon about the hundreds of car insurance companies in Wisconsin is a tough and uncomfortable task. Mercifully, we've mucked our way through all the discomforting data and details, so you don't have to.
We will show you all the relevant facts and figures you need to make your choice for your car insurance needs. We'll help you to understand the requirements of Wisconsin, what you may want for coverage, and where you can get it at the best rates.
Wisconsin Minimum Coverage
Wisconsin is a traditional, "at fault" state, meaning that the person who was at fault for causing the car accident is also responsible for any resulting harm and damages. All drivers in Wisconsin are required to carry minimum liability car insurance coverage levels of 25/50/10 to satisfy basic overage. This means that car owners must carry the following minimum levels of liability insurance:
$25,000 for bodily injury or death per person in an accident caused by the owner of the insured vehicle
$50,000 for total bodily injury or death per accident caused by the owner of the insured vehicle
$10,000 for property damage per accident caused by the owner of the insured vehicle
The state of Wisconsin requires its residents to carry the following limits for uninsured/underinsured motorist coverage:
$25,000 for injury per person for both UM and UIM
$50,000 for injury per accident for UM and UIM
Motorists who are unable or unwilling to provide proof of insurance at a traffic stop or after an accident may face a $10 fine, but driving without insurance at all can result in a fine of up to $500.
How much risk you're willing to assume is solely up to you. You must do a cost-benefit analysis to decide whether the basic, legal minimums required by the state of Wisconsin are enough to protect your current and future assets. Know, too, that the cost for minimum coverage is unique from state to state.
Drivers that have substantial wealth to protect should purchase liability coverage with increased limits of 100/300/50.
Moving on, we will look at the amount of money that motorists in Wisconsin spend on auto insurance. The amount you will actually pay will more than likely differ from these given amounts; however, this data should serve as an informative baseline that you can use to draw conclusions about your personal circumstance.
Premiums as a Percentage of Income
There is a saying about the American tax law that states the following: "The guy who said that the truth never hurts never had to fill out a form 1040."This anonymous one-liner highlights the major impact of income taxes on Disposable Personal Income (DPI). Your DPI is the amount of money you get to keep after taxes are taken out by the government.
The best full coverage car insurance policy will include liability, comprehensive, and collision insurance. Here's a peek at the average cost of each individual element:
Now that we have sorted through some data about auto insurance costs to the individual consumer, let's take a look at some important statistics about the Wisconsin car insurance companies themselves.
Loss Ratio
First, let's take a look at loss ratio and how it affects your insurance. The insurance loss ratio is the proportion of incurred losses compared to earned premiums expressed as a percentage.
A high loss ratio means that an insurance company has paid out too many claims, which will subsequently lead to a rise in future premiums for all consumers.
For example, if an auto insurer collects $100,000 of premiums in a given year and pays out $55,000 in claims, the company's loss ratio is 55 percent ($55,000 incurred losses/$100,000 earned premiums).
Add-ons, Endorsements, Riders
According to the Insurance Information Institute, a little over 14 percent of drivers in Wisconsin (14.3 to be exact) are driving without insurance, which ranks as just the 15th highest percentage in the nation.
Pay-per-mile car insurance plans offered by companies like Metromile are growing in their popularity, unfortunately, they are not yet active in Wisconsin. Other usage-based auto insurance programs (UBI) are active and available to drivers in Wisconsin.
You can read about UBI programs in our American Family KnowYourDrive program review to learn about the discounts offered to drivers based on their driving habits and capabilities.
In addition to these add-ons, there are several more optional enhancements that you can explore to decide which ones may be right for you:
Personal Umbrella Policy (PUP)
Emergency Roadside Assistance
Mechanical Breakdown Insurance
Non-Owner Car Insurance
Modified Car Insurance Coverage
Classic Car Insurance
Average Monthly Car Insurance Rates by Age & Gender in WI
Let's take a look at the table below to see which gender would enjoy the more affordable rates as drivers.
Here's a look at the Most Expensive Demographic rates in Wisconsin. Which company offers the best value for you and your loved ones?
Car insurance for young male drivers is typically the most. For example, a married 35-year-old male in Wisconsin will pay $1,428.00 annually on his premiums with Geico compared to $3,785.31 with AMCO.
Wisconsin Insurance Rates by ZIP Code
Are you more likely to get higher car insurance premiums in Madison or Milwaukee? Do the residents of Green Bay enjoy lower premiums than citizens in Appleton? To answer these questions, we need to take a look at the most expensive ZIP codes in Wisconsin. Here are charts with the average annual premiums in Wisconsin broken down by zip code for each insurance carrier:
Next, the most expensive zip codes.
Wisconsin Insurance Rates by City
Where did your hometown rank statewide? Do the co-eds at Marquette University in Milwaukee fare better than the politicians in Madison? Let's see how your city and neighborhood compare to the state average. These are the lists of the least expensive and most expensive cities in Wisconsin.
The most expensive cities are next.
Free Car Insurance Comparison
Enter your ZIP code below to view companies that have cheap car insurance rates.
Secured with SHA-256 Encryption
The Best Wisconsin Car Insurance Companies
The late, great Packers QB Bart Starr was a class act on and off the field. His reputation as a leader on the gridiron and as a mentor in the community is above reproach. Unfortunately, we all can't be Bart Starr. And very few people on the planet, never mind a car company, can boast a public reputation as stellar as Bryan Bartlett Starr.
The public perception of a car insurance company can be a leading indicator of the kind of rates and service it provides to its consumers. We'll show how the top companies in Wisconsin rate in the areas of financial stability and customer satisfaction.
Financial Ratings
AM Best is a credit rating agency. It evaluates insurance companies and grades them based on their financial stability. The table below shows the ten largest insurance companies in Wisconsin as measured by direct premiums written with their AM Best rating.
Customer Satisfaction Ratings
Companies in Wisconsin with the Most and Least Complaints
Some relationships start out with the best intentions, but they slowly begin to waste away or drift apart under the pressures that life throws their way. Other relationships feature unlikely unions of disparate parts that, at first glance, would threaten to produce a monstrous disaster; yet, instead, that unexpected grouping results in something extraordinary that will stand the test of time.
Whatever the initial status of the relationship may have been, when the consumer's experience with an insurance company has transformed into a dark, twisted fantasy of a nightmare, he or she can file a complaint. Those complaints, justified or not, contribute to a company's complaint ratios.
The complaint ratio is how many complaints a company receives per one million dollars of business written.  The Wisconsin Office of the Commissioner of Insurance will respond to each complaint in the order in which it was received.
Largest Car Insurance Companies in Wisconsin
This chart gives a visual representation of the top car insurance companies with the largest market share in Wisconsin.
There are 987 car insurance companies registered in the state of Wisconsin. Of the 987, 174 of them are homegrown; while 813 are foreign.
Wisconsin Car Insurance Rates by Company
Now, we're going to compare and contrast the top car insurance companies to see which of them gives the best rates on average in Wisconsin.
Wisconsin Rates by Carrier and Commute
Wisconsin Rates by Carrier and Coverage Level
Wisconsin Rates by Carrier and Credit History
Wisconsin Rates by Carrier and Driving Record
Needless to say, having cups and cups of alcohol before driving is a reckless decision that will endanger the lives of those around you and will significantly increase your car insurance premiums if you need to get car insurance after a DUI.
How much your rates increase due to accumulating points on your license will be up to the discretion of each individual insurer. Each insurance company uses its own underwriting protocols when assessing risk.
Here is a summary of how top car insurance companies in Wisconsin penalize various driving infractions:
Wisconsin Rates by Carrier and Demographic
Note: The company you choose should provide the best quality coverage based on your specific needs. Be sure to make all your dreams of saving money on your car insurance premiums come true by doing it your way, based on your own situation and nobody else's. Compare and contrast rates from multiple car insurance companies to make sure you're getting the best deal on your auto insurance.
Another way to keep your premiums low is to maintain a spotless driving record. Knowing the traffic laws and following them will help your record to stay as clean as possible. We'll review the laws of the land in Wisconsin to help you keep your driving record impressive. High-risk car insurance comes with a high price.
Wisconsin Car Insurance Laws
Thumbing through page after page of all the state traffic statutes would be hardly the best use of your time. We've compiled the most relevant rules and regulations for you to know when driving in Wisconsin.
Car Insurance Laws
State insurance commissioners are afforded lots of leeway and authority to administer laws and regulations on the auto insurance industry in their respective commonwealths. Each state determines the type of tort law and threshold (if any) that applies in the state, the type and amount of liability insurance required, and the system used for approval of insurer rates and forms.
Insurance companies in Wisconsin are subject to the regulations set by that state's insurance commissioner. Ultimately, all rates and regulations must meet the fair competition standards set by the National Association of Insurance Commissioners (NAIC).
High-Risk Insurance
If you are the owner of an uninsured vehicle and had only your registration privileges withdrawn under the safety responsibility law, you are required to carry SR-22 car insurance for all vehicles owned by you.
Windshield Coverage
Wisconsin law places no specific requirements on insurance companies to provide broken windshield car insurance; however, the companies can choose to offer such protection along with their comprehensive car insurance coverage.
The insurance companies can choose aftermarket parts for the windshield if the parts are at least equal in like, kind, and quality in terms of fit, quality, and performance. The insurer has the right to select the repair vendor. The customer has the right to choose the repair vendor but may have to pay the difference in the quote.
Automobile Insurance Fraud in Wisconsin
Insurance fraud is the second-largest economic crime in America. Premium rates are raised dramatically by insurance companies and passed on to consumers in attempts to combat fraud. There are two classifications of fraud: hard and soft.
 Hard Fraud – A purposefully fabricated claim or accident
 Soft Fraud – A misrepresentation of information to the insurance company
Soft fraud is more common than hard fraud. Twenty to 40 percent of consumers admitted to lying to their insurer about one of the following:
Number of annual miles driven
Number of drivers in the household
How the vehicle would be used
Insurance fraud is a crime no matter how you slice it. Even the "little, white lie" you tell to get a lower rate can lead to harmful consequences. That kind of willful misrepresentation of facts is called known as "rate evasion" and is a $16 billion annual expense to auto insurers. If you suspect insurance fraud or have been the victim of fraud, you can contact the Wisconsin Department of Health Services.
Statute of Limitations
Wisconsin's statute of limitations for filing a claim is three years for both personal injury and property damage.
Vehicle Licensing Laws
Wisconsin's DMV, which is a division of the Department of Transportation (WisDOT), has an online portal where residents can perform tasks such as renewing their registrations and driver's licenses, updating or changing their addresses, and retrieving their driving history.
Proof of Financial Responsibility
Wisconsin's statutes regarding Proof of Financial Responsibility, which can be found on the Wisconsin Department of Transportation website, require all drivers to show proof of financial responsibility whenever requested by a law enforcement officer. Failure to provide such proof may result in a citation or fine.
Teen Driver Laws
In Wisconsin, driver's education is required for permit applicants younger than 18. During the learner's stage, permit holders may carry three passengers if supervised by a driving instructor in a dual-control vehicle. Permit holders 16 and older may carry one passenger 25 or older who has been licensed for at least two years. Driver's education is mandatory for all license applicants under the age of 18 in the Badger State.
The safety of teenage drivers is a top priority of the Wisconsin DOT. The Department of Transportation has curated a handful of additional resources and information to assist teenage drivers and their families.
Older Driver License Renewal
The state of Wisconsin practices equal opportunity when it comes to its license renewal procedures. All drivers must renew every eight years. Drivers of all ages must show proof of adequate vision at every renewal. And no renewals are yet eligible to be done online or through the mail.
New Resident Licensing
New Wisconsin residents with an out-of-state driver's license or nondriver license have 60 days to register for a Wisconsin license and must provide the following documents:
Proof of name and date of birth
Proof of identity
Proof of citizenship or legal status in the U.S.
Proof of Wisconsin residency
Proof of Social Security Number
For additional information regarding new resident licensing and registration, visit this webpage.
REAL ID
Wisconsin is in full compliance with the REAL ID Act passed by Congress and enforced by Homeland Security. This means that a driver's license or state ID issued by the Badger State is an acceptable form of identification at federal facilities, airports, and nuclear power plants.
As of October 1, 2020, anyone wishing to fly on a commercial flight or enter a federal facility must have a REAL ID-compliant form of identification.
Penalties for Driving Without Insurance in Wisconsin
The Department of Transportation makes the rules in Wisconsin. Your job is to make sure you follow those rules or face serious consequences.
You can be caught one of three ways for driving without insurance in Wisconsin. The first way is through your lender. They check your insurance policy regularly to ensure you have one. If you don't, they send you a notice requiring immediate action or they issue a policy for you.
You can also be caught driving without insurance if you're pulled over for any reason or involved in a car accident. If either of these things occurs, you're facing serious penalties.
If you are caught driving without insurance, you're forced to pay up to $510 in fines.
Your license and registration are then suspended until you buy insurance and prove you have a policy. Once you do this, you can pay a $60 fee to reinstate your license with the state. You are then required to prove you have a valid insurance policy every month for three years. If you are caught driving without insurance because you are involved in an accident, the penalties are worse.
The fines are the same
You're also required to pay for repairs to your car
You have to cover your medical bills
You could become the victim of a lawsuit if the other driver chooses to sue
Your license and registration are suspended for up to three years
If this happens, you don't get to purchase insurance and then reinstate your license at your own pace. You must purchase insurance and prove it monthly for three years, but you must also wait out the terms of your suspension. Once your suspension is lifted, you may reinstate your license and registration for $110.
Rules of the Road
Wisconsinites are known as polite motorists, but that doesn't necessarily mean that driving through the Badger State is without its share of hazards. Whether you're driving in perfect conditions or trying to drive safely in bad weather, here's what you need to know about the traffic laws in Wisconsin.
Keep Right and Move Over Laws
Wisconsin law requires drivers to keep right if driving slower than the average speed of traffic around you unless passing or turning left.
WisDOT created a handy brochure to help Wisconsin residents better understand its "Move Over" Law.
Speed Limits
Seat Belt Laws
Seat belt laws require the driver and all front-seat passengers aged 8 and older to wear a seat belt.
Read more: Do seat belt laws impact my car insurance? 
Car Seat Laws
Children younger than one-year-old and all children who weigh less than 20 pounds are required to be in a rear-facing car seat. Children ages 1-3 years old who weigh at least 20 pounds but less than 40 pounds must be in either a rear-facing or a forward-facing car seat.
Children who are between the ages of 4-7 who both weigh at least 40 pounds but less than 80 pounds and who are less than 57 inches tall are required to be in a forward-facing car seat or booster seat.
Pickup Trucks Cargo Area
Wisconsin law prohibits or puts restrictions on riding in the cargo areas of a truck with the following exceptions: farm operations, parades, deer hunting; employees, and people riding in truck bodies in spaces intended for merchandise.
Safety Laws
Promoting safety and preventing chaos are the ultimate goals of any traffic laws. The Wisconsin Department of Transportation (WisDOT) has developed resources and initiatives in the hopes of reducing roadway fatalities and injuries.
Also, WisDOT's Traffic Safety division has developed resources such as training videos and mobile apps and initiatives such as "The Power of Zero" to promote traffic safety and stem the tide of vehicular fatalities in the state. The Badger State has produced its Strategic Highway Safety Plan in accordance with the National Highway Traffic Saftey Administration (NHTSA).
DUI Laws
The Blood-Alcohol Content (BAC) limit in Wisconsin is 0.08 percent; the High BAC limit is between 0.17 percent and above. The OWI (Operating While Impaired) penalties in the state of Wisconsin can be found in the underneath table.
Being convicted of a DUI in Wisconsin has serious consequences. The difficulty of getting car insurance after a DUI is one such consequence. The lesson here is simple: don't drink and drive!
Drug-Impaired Driving Laws
At present, Wisconsin has a zero-tolerance policy for THC only.
Wisconsin Can't-Miss Facts
Here are some fascinating trinkets of knowledge about Wisconsin, the Badger State.
Vehicle Theft in Wisconsin
Home is where the heart is, but it's also where most auto thefts take place. Here is the chart of the top stolen vehicles in the state of Wisconsin.
As you can see, motor vehicles manufactured in either the United States or Japan are the prime targets for larceny in the state of Wisconsin.
Vehicle Theft by City
The table below gives a breakdown of the top cities for auto theft within the state.
Risky and Harmful Behavior
Below is a harrowing statistics of all driving-related fatalities in Wisconsin.
Fatality by Speeding and OWI
Fatal Crashes in Top 10 Counties (Five-Year Trend)
Fatality Rates Rural vs. Urban
Fatalities by Person Type
Transportation
Here is a chart of the details car ownership stats in Wisconsin.
Car Ownership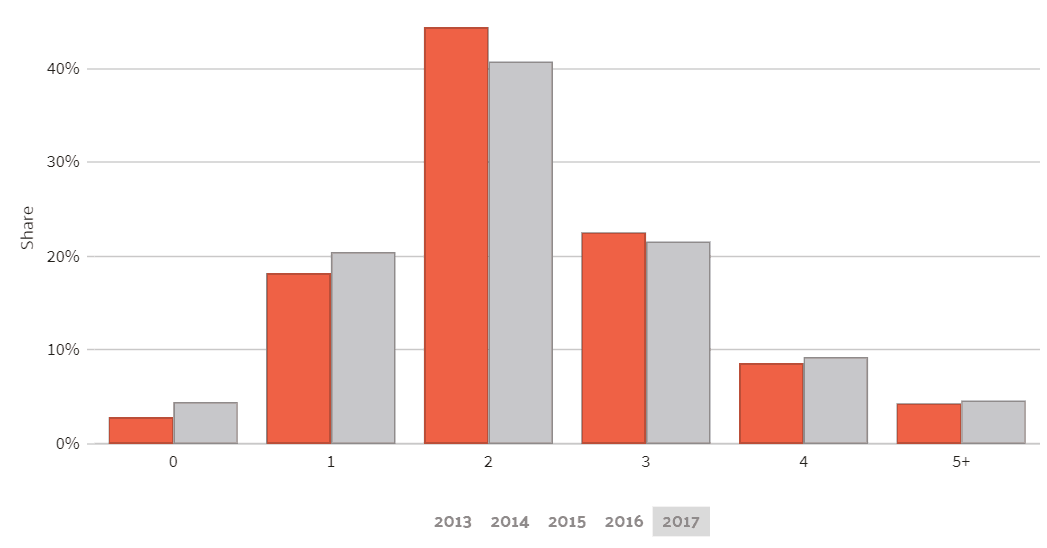 Commute Time
At 21.1 minutes, drivers in Wisconsin have significantly less commute time than the national average of 25.3 minutes. Only 1.62 percent of drivers in Wisconsin experience a "super commute" of 90 minutes or more.
According to Inrix, Milwaukee is the 37th most congested city in the United States and ranks 171st in the world. Drivers in Madison spent 61 hours in congested traffic in 2018.
Commuter Transportation
You are now fully caught up on all the relevant stats and statutes concerning auto insurance in the state of Wisconsin.
Now that you know how to compare Wisconsin car insurance rates, enter your ZIP code to get started on finding affordable Wisconsin car insurance.
Free Car Insurance Comparison
Enter your ZIP code below to view companies that have cheap car insurance rates.
Secured with SHA-256 Encryption