Compare Los Angeles, CA Car Insurance Rates [2023]
The average Los Angeles car insurance rates are $605.08/mo. California minimum coverage requirements are 15/30/5 of bodily injury and property damage for Los Angeles car insurance.
UPDATED: Nov 13, 2023
Fact Checked
Free Car Insurance Comparison
Compare Quotes From Top Companies and Save
Secured with SHA-256 Encryption
Dani Best
Licensed Insurance Producer
Dani Best has been a licensed insurance producer for nearly 10 years. Dani began her insurance career in a sales role with State Farm in 2014. During her time in sales, she graduated with her Bachelors in Psychology from Capella University and is currently earning her Masters in Marriage and Family Therapy. Since 2014, Dani has held and maintains licenses in Life, Disability, Property, and Casualt...
Licensed Insurance Producer
UPDATED: Nov 13, 2023
It's all about you. We want to help you make the right coverage choices.
Advertiser Disclosure: We strive to help you make confident car insurance decisions. Comparison shopping should be easy. We are not affiliated with any one car insurance company and cannot guarantee quotes from any single company.
Our partnerships don't influence our content. Our opinions are our own. To compare quotes from top car companies please enter your ZIP code above to use the free quote tool. The more quotes you compare, the more chances to save.
Editorial Guidelines: We are a free online resource for anyone interested in learning more about auto insurance. Our goal is to be an objective, third-party resource for everything auto insurance related. We update our site regularly, and all content is reviewed by auto insurance experts.
UPDATED: Nov 13, 2023
It's all about you. We want to help you make the right coverage choices.
Advertiser Disclosure: We strive to help you make confident car insurance decisions. Comparison shopping should be easy. We are not affiliated with any one car insurance company and cannot guarantee quotes from any single company.
Our partnerships don't influence our content. Our opinions are our own. To compare quotes from top car companies please enter your ZIP code above to use the free quote tool. The more quotes you compare, the more chances to save.
On This Page
UPDATED: Nov 13, 2023
Fact Checked

La La Land.
The city of angels.
Tinseltown.
Los Angeles has a number of nicknames, many derived from the presence of the film industry, where people vie for cameras and lights, and many migrants hope to gain access to, regardless of age or gender.
But these nicknames don't encapsulate The Entertainment Capital of the World, its history, or its residents.
People assume, hey, you live in LA—you're trying to get into the entertainment industry.
But there's much more to it.
From the diverse neighborhoods to the beaches of Santa Monica to the city's pair of NBA teams, LA has a little something for everyone.
Including some of the more trying parts, like the traffic.
This is a car insurance guide and if you're on here, you're either looking for insurance for yourself, a family member, or a friend.
And you should look around, as car insurance premiums in LA are high.
And you (legally) need to be covered.
But you may have found in your car insurance search that a lot of the terms are, well, confusing.
There are deductibles and premiums, comprehensive and collision insurance, GAP insurance coverage, and anti-theft discounts.
It may give you a headache.
We feel your pain.
We understand.
Car insurance can be confusing, and in this guide, we aim to do the opposite.
We take the complicated terms and simplify them.
We take complicated theories and make them easier to understand.
By the end of this guide, you'll know everything from the general car insurance rates in Los Angeles by age, gender, marital status, and more; to what highways to avoid in LA and what neighborhoods are the safest.
And there are many topics in-between.
This is the rates and comparison guide for car insurance in Los Angeles.
Lights—camera—action. Ready to compare rates? Try our FREE online tool.
The Cost of Los Angeles Car Insurance in CA
The cost of car insurance is high in Los Angeles: $7,261 on average.
But, did you know, your car insurance may be significantly less than that?
There are numerous factors influencing your car insurance rates:
Your gender
Your age
Whether you're single or married
Your zip code
And more.
Car insurance companies have their own way of determining rates, often using a secret formula to determine how much you fork over, even if that is much less than your neighbor.
So, what are these factors and how much do they affect your rates?
Which city you live in will have a major affect on car insurance. That's why it's essential to compare Los Angeles, California against other top US metro areas' auto insurance rates.
Male vs Female vs Age
The first factor to consider that insurance companies use to determine your rates is age. The younger you are, generally, the worse driver you are, at least according to insurance companies. The reasons are numerous: they include lack of experience and temperament to take risks, to name two. So insurance rates are often higher for young or new drivers, but you can find cheap car insurance for young drivers to help offset some of the cost.
These states no longer use gender to calculate your auto insurance rates — Hawaii, Massachusetts, Michigan, Montana, and North Carolina, Pennsylvania. But age is still a big factor because young drivers are considered high-risk drivers in Los Angeles. California does use gender, so check out the average monthly auto insurance rates by age and gender in Los Angeles, CA.
The median age in Los Angeles is 35.8.
This means that the average person's car insurance premium is going to fall into the second least expensive age bracket, per our calculations.
The cheapest rates are for 60-year-olds. Male and female rates differ as well. Insurance companies believe, and perhaps rightly so, that women are safer, better drivers than men.
This is because men have:
A higher probability of filing a claim
A higher probability of getting in an accident (and fatal ones too)
And a higher probability of getting a citation
Because of that, men generally have higher premiums but some studies have shown that's not always the case. If you do find your premiums higher, there are options for cheap car insurance for young male drivers out there.
Average male premium in LA: $5,344.94
Average female premium in LA: $5,088.38
It's important to note that while California has banned using gender as a way to set car insurance rates, the same factors that lead to gender being a factor (mentioned above) can still affect you.
Whether you're married or single matters to insurance companies as well.
Insurance companies believe that a married person is more responsible, more financially secure, and less likely to speed down the freeway, weaving in and out of traffic, though this may or may not be the case.
Here, 60-year-old men and women have the lowest premiums—by about $400 less than their male and female 35-year-old counterparts. The difference between a 17-year-old single male and a 60-year-old married woman is significant: $8,000, or about the price of a good-quality used car. The average total here is around $5,350, which is still above the other three categories; that's how high insurance premiums are for 17-year-olds.
Find out more: the cost of married car insurance vs. single car insurance.
Los Angeles, CA auto insurance rates by company and age is an essential comparison because the top auto insurance company for one age group may not be the best company for another age group.
Cheapest Zip Codes in Los Angeles
There's the story of the two neighbors who lived side-by-side but in different zip codes.
Find more info about the monthly Los Angeles, CA car insurance rates by ZIP Code below:
The difference in their car insurance premiums?
Into the hundreds.
It may seem like malarky but insurances claim that zip codes help them predict the likelihood of someone filing a claim.
The average premium in one may be higher for numerous reasons.
The zip code has higher vehicle theft
The zip code has other bad drivers who've already filed claims
The zip code has more people being ticketed than its neighboring zip code
In LA, with so many different zip codes, there is a stark difference between the highest average premium and the lowest average premium.
90732, which is near the harbor, has an average premium of around $5,400, which is the lowest in the area.
90010, which is between downtown LA and Beverly Hills, has an average premium of around $8,500, the highest in the area and over $3,000 higher than the lowest.
What's the Best Car Insurance Company in Los Angeles?
The best car insurance company.
The cheapest Los Angeles, CA auto insurance company can be discovered below. You then might be asking, "How do those rates compare against the average California auto insurance company rates?" We cover that as well.
The one that handles all the claims, is there when you need them, and of course, is reasonably priced.
And that price varies—sometimes a lot—by certain factors in your driving history, how much you drive, and even what coverage level you choose. It can be confusing.
We understand.
That's why we have this section to break it all down.
Cheapest Los Angeles Car Insurance Rates by Company
Insurance companies vary their rates for numerous reasons:
The cost of doing business (such as employee salaries, operational costs)
The likelihood their clients will file a claim
What each insurance coverage offers, different than similar coverages= from other competitors
Hence, there will be a lot of variance between the average premiums for each company.
There are three companies with premiums $6,900 or above: Farmers, Nationwide, and Allstate.
There are two companies that are mid-range options: State Farm at $5,800 and Travelers at $5,000.
There are three companies with premiums around $4,000-$4,100: Progressive, Liberty Mutual, and Geico
There is one company that clearly is the cheapest: USAA at $3,500.
The difference between the highest (Farmers) and the lowest (USAA) is significant: about $3,800. Find out more about both these providers at Farmers car insurance review and USAA car insurance review.
While there are almost certainly factors involved in this beyond just demographics, each of the top-three companies charges extreme rates for the 17-year-old group, whether the driver is male or female:
Over $12,000 per driver, with Farmers topping all of them at $21,000 for a single 17-year-old male.
That's compared with a general $5,800 rate for USAA and around $7,700 rate for Geico, same categories.
These numbers are important, as they give a quick glimpse into the rates for each company.
However, there are more than just demographics (and zip code) in play when insurance companies determine your rates.
Best Los Angeles Car Insurance for Commute Rates
One of those factors is your commute rate or how far you drive in a given year.
For insurance companies, the logic is likely very simple: The more you drive, whether on the way to work or totally in a year, means you're more likely to get into accidents, get citations, or file a claim.
All eight companies change their rates depending on how much you drive.
Nationwide has the largest change at $1,800, though Farmers and Allstate ($1,400 apiece) are not far behind.
State Farm (not USAA) has the lowest change, around $350.
The average driver in California accumulates 13,414 miles in a year, meaning a lot of people are paying that second category for insurance.
Best Car Insurance for Coverage Level Rates
How much coverage you get—your coverage level—also influences your rates.
Your coverage level will play a significant role in your Los Angeles, CA auto insurance rates. Find the cheapest Los Angeles, California auto insurance rates by coverage level below:
Coverage level can depend on many factors, including:
Whether you get additional coverages, such as comprehensive or collision insurances
What your upper limit on your coverages are; a $30,000 limit for bodily liability will cost less than a $60,000 limit for instance
Coverage level can also vary between companies, depending on what they offer and how much they charge for those coverages or limits. If this all seems overwhelming, take a moment to learn and understand the types of car insurance.
In general, companies stay within $1,000 costs between their high-level and low-level coverages.
The exceptions are:
Nationwide ($1,400 difference)
Travelers ($1,250 difference)
State Farm ($1,100 difference)
The smallest differences are USAA and Liberty Mutual, both around $600.
Best Car Insurance for Driving Record Rates
And, of course, how you drive affects your rates.
Your driving record will affect your Los Angeles auto insurance rates. For example, a Los Angeles, California DUI may increase your auto insurance rates 40 to 50 percent. Find the cheapest Los Angeles, California auto insurance rates by driving record.
Whether you have a DUI, a speeding ticket, or an accident can all jump your rates by hundreds, if not thousands of dollars.
Four companies have rates above $9,000 if you get one DUI: Nationwide, Farmers, Allstate, and State Farm
The cheapest company for someone with a DUI infraction is Liberty Mutual at $4,383.
The cheapest company for someone with a speeding ticket infraction is USAA at around $2,500.
The cheapest company for someone who has gotten into an accident is USAA at around $3,500.
So, which are the cheapest and most expensive infractions?
On the whole, DUIs are the most expensive infraction, with a $3,500 jump from a clean record.
It's also over $2,000 more expensive than the next nearest infraction—accidents at $5,400.
Speeding tickets are the least costly infraction; however, they are still expensive, coming in about $1,000 higher than a clean record.
The average for all infractions is about $5,500, which is near the jump in rates for an accident, and over $1,500 more than a clean record.
Everyone makes mistakes and sometimes those mistakes cost hundreds or thousands of dollars.
There are additional consequences of each: an accident resulting in a ticket or a DUI resulting lawyer costs, just to name two.
Mistakes when operating a vehicle can be very costly, but you can get car insurance when you've had a DUI.
California and the Future of Setting Rates
California is a unique state. It has one of the most diverse populations in the country, with large populations of Hispanics and Asians. There's Silicon Valley as well with its vast array of cutting-edge companies.
California is progressive and has been for decades, which extends to car insurance.
As written above, California became just the seventh state to ban the practice of using gender to set rates. As Dave Jones, the state insurance commissioner as of January 2019 said to the New York Times:
[The new regulations] ensure that auto insurance rates are based on factors within a driver's control, rather than personal characteristics over which drivers have no control.
While the goal is leveling the playing field, it actually won't be women benefiting from this change.
According to the Washington Post, it's inexperienced young men who will benefit the most, as insurance premiums for men and women begin to meet in the middle. But California has gone further than that.
Before banning gender as a factor in setting car insurance rates, it banned using a credit score, educational status, or job situation to set rates. For many, these have been long overdue moves that have been called for in many places across the country.
The push is to solely use driving record to set rates, eliminating the discriminatory factors that lead to high rates correlated with race and economic status. In the end, demographic factors may get phased out, which would level the playing field and put the focus where it needs to be—on driving.
https://www.youtube.com/watch?v=bZj2y4W-xNg
Car Insurance Factors in Los Angeles
Los Angeles is known for Rodeo Drive, the Hollywood Walk of Fame, and the Hollywood sign, of course. But there are other aspects to it as well, including a burgeoning economy and housing prices that are, well, very, very high. So, what does Los Angeles look like when you look at more than Hollywood?
Factors affecting auto insurance rates in Los Angeles, CA may include your commute, coverage level, tickets, DUIs, and credit. Controlling these risk factors will ensure you have the cheapest Los Angeles, California auto insurance.
Metro Report
Every year, the Brookings Institution, a non-profit organization in Washington D.C., does a report assessing the prosperity and growth of 100 metro areas in the country.
The metros range from the largest (Los Angeles and New York) to some of the smallest (McAllen-Edinburgh-Mission, in Texas).
The LA metro includes Long Beach and Anaheim and ranks as the 30th largest metro in the world and the 2nd largest in the United States.
So, how does the LA metro stack up?
Between 2005 and 2015, it ranks 11th overall in prosperity, which is broken down into three major categories—productivity, the standard of living, and the average annual wage.
Productivity: +10.9 percent (10th of 100)
Standard of living: +9.2 percent (9th of 100)
Average annual wage: +8.9 percent (34th of 100)
The LA metro outperformed the national average in productivity and standard of living significantly. It was about par with the national average for annual wage.
It ranked 49th in overall growth, which looks at three major categories—growth in jobs, growth in gross metropolitan product, and jobs at young firms.
Jobs: +3.2 percent (62nd of 100)
Gross metropolitan product (GMP): +14.5 percent (31st of 100)
Jobs at young firms: -16.3 percent (51st of 100)
According to the Brookings Institution and its projection for the LA metro over the 10-year-period, the LA metro underperformed by 3.5 percent for expected job growth.
Some of the areas that performed below expectations were the motion picture and video industries (a 7.3 percent swing), employment services (9.9 percent swing), and local government (5.4 percent swing).
Because of this, the LA metro performed below the national average for job growth.
Jobs at young firms was about even with the national average, while GMP was a little above the national average.
It is possible that the addition of streaming services has led to decreased revenue and job growth with the entertainment industry.
Median Household Income
Cost of living, especially for a young professional, in LA (just the city) is high, with a one-bedroom apartment going on average for $2,000.
A two-bedroom isn't much better at $2,850, which is 147 percent higher than the national average.
On the flip side of such housing prices, it makes sense that the overall income level for people living in LA to be higher than the national average as well, equalizing the cost of living.
The median income level of residents of Los Angeles?
$60,197, which is around the national average and less than the county and metro as a whole.
(Note: All of the following graphs are taken from DataUSA.io)
The income distribution in LA varies from bracket to bracket, with the majority of people clustered between $50,000 and $125,000.
There is a sizable portion above $200,000 and a steady number of people below $50,000, with a little over 6 percent of people earning less than $10,000 per year.
Now, we here at CarInsuranceComparison.com, use a handy statistic to measure how much residents of a city are paying on average for their car insurance; it's called premium as a percentage of income (PaPI).
The PaPI for residents of the city of Los Angeles is 12.06 percent, which is fairly high.
Both residents of Anaheim and Long Beach pay less for their premiums as a percentage of their income. This suggests a few things, which we will get to later, including driving habits in LA, road conditions, and vehicle theft.
To find out how much you're paying on car insurance as a percentage of your income, plug your information into this calculator below.
CalculatorPro
Homeownership in Los Angeles
There are 1.38 million households in Los Angeles, which means there are a lot of houses and a lot of apartment complexes.
So, which units are occupied by homeowners and the others by renters?
The LA city rent to own ratio (how many are occupied by renters versus owners) is 36.6 percent in 2017, which is up from 35.9 percent in 2016.
Although LA city is not listed in this graph, 36.6 percent is far less than Los Angeles County (45.9 percent) and the larger metro (48.6 percent).
It is also much lower than the United States as a whole, where owners occupy their property 63.9 percent of the time.
Part of this is likely due to the transient nature of LA, with more young people migrating there each year to pursue fields within the entertainment industry in the hope of making it big.
Another, likely, is the extreme height of housing prices.
The median property value in LA for 2017 was $647,000, which is a steep increase from the 2016 average value of $593,500.
Either way, it's hard for a local barista making $12 an hour to buy that home or even some a couple of rungs up on the latter at MGM.
Education in Los Angeles
Education is a big industry in Los Angeles.
There are three major universities that do big business, educate a lot of young (and old) people, and hand out thousands of degrees:
University of Southern California: (15,664)
University of California-Los Angeles: (12,961)
California State University-Northridge: (9,890)
In general, the degrees are split pretty well, with some social sciences having good chunks, with hard sciences and business right there as well.
The top three degrees awarded in 2016 were General Business Administration & Management (around 2,800 degrees), General Psychology (2,000 degrees), and Sociology (1,800 degrees).
Concentrations for post-secondary 1-2 year certificates were a little more imbalanced, with heavy chunks coming from the Liberal Arts & Sciences (2,800 degrees awarded) and Medical Assistant (1,000 degrees awarded) at the top.
Generally, starting salaries for all of these professions wouldn't equal buying a house, putting more weight on renters than on owners of homes, and their overall income level would be likely less than the median income in LA.
And with job growth performing worse than expected, new grads might have problems. However, there is always the possibility of making it in the film industry.
Wage by Race & Ethnicity in Common Jobs
As is typical across the United States, some races or ethnic groups earn more than others, which many say is a sign of wage inequality.
Although miscellaneous managers have the highest wages, they are the most imbalanced.
Also, the wages for the races vary according to the job, so that no particular race or ethnicity is ahead to the rest in all of them.
The differences in PaPI are significant for the miscellaneous manager category with the top race/ethnicity paying 5.66 percent of their income while the lowest is paying 11.16 percent.
With teachers, the numbers are far more balanced.
With driver/sales worker & truck drivers, the numbers are fairly balanced as well, with just a $6,500 difference between the lowest paid race/ethnicity to the highest.
Generally, people will adapt to the circumstances of having to pay less for car insurance. That can mean, however, going with a company that might be less reputable or having to get less coverage, which can cause problems later.
Wage by Gender in Common Jobs
The gender pay gap has been well-documented, as women only earn on average 79 cents to every dollar men make.
Los Angeles is no different.

Across the board, women earn less than men, with a significant drop in managerial positions and even in the female-dominated industry of teaching.
In terms of PaPI, women pay about 2 percent more of their income on premiums than men do when they are managers and about 1 percent more when both are teachers.
Of course, the gender pay gap is worse for some women than others; Latina or Hispanic women make around 53 cents per every dollar men make and black women make around 61 cents.
And with the demographics of LA, those numbers have a significant impact.
Poverty by Age and Gender
It's one of LA's ugly problems, something that takes away from the Beverly Hills, Rodeo Drive, hipster bars, and 16-year-olds driving Ferraris to their driving tests.
Homelessness is rampant in LA, with 20.4 percent of people living below the poverty line.
That's 7 percent higher than the national average.
Famous for Skid Row, there are legitimate economic reasons why this occurs. These include LA being a starting point for migrants and the rise in housing prices pushing long-time homeowners out of their properties.
Females between the ages of 25-34 are the demographic with the highest percentage living in poverty, with females between 35-44 and females between 18-24 following close behind.
In almost all age brackets, more females are in poverty than males, with the exception of those 14 years or younger.
There are many reasons why some estimate women are 35 percent more likely to fall into poverty than men, including violence and abuse, lack of a safety net, and that gender pay gap.
Poverty by Race and Ethnicity
Poverty rates vary by race and ethnicity as well, though a graph like this means brushing up on LA's demographics.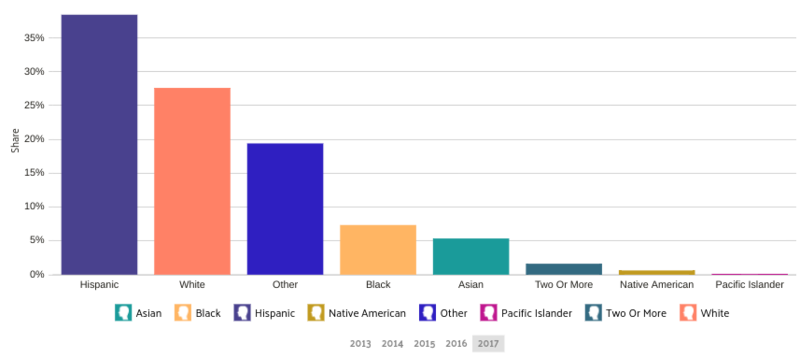 Percent share, in this case, is based off the ratio between categories: All categories need to add up to 100 percent, making this not representative of the ratio of people within a category who are in poverty.
In general, the races are roughly in line with their population shares in LA, with the Other category being an unidentifiable outlier.
The race that is actually underrepresented — in less poverty than their population share — is Asians.
They makeup 11.7 percent of LA's population but have just a 5.28 percent poverty share.
Employment by Occupations
When people think of LA, usually movie sets, exploding cars, and chases through the street come to mind. They probably don't think of the paperhangers or the cartographers. LA has a diverse economy with hundreds of different jobs, all looking to be filled to cope with the high housing prices and the rising cost of living.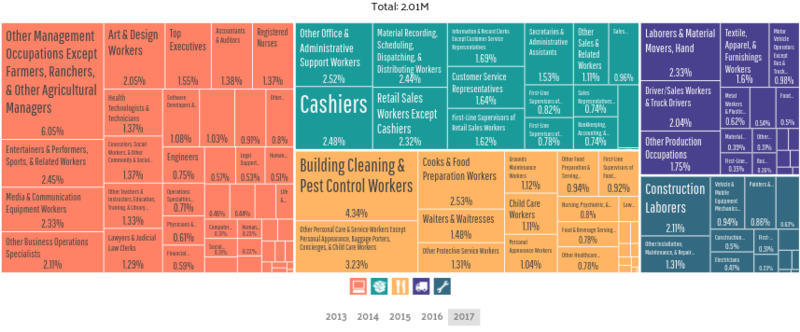 Like the diverse economy, the jobs in LA are fairly varied, with no category having more than 6 percent (other management occupations except farmers, ranchers, and other agricultural managers).
The largest categories are those managers, building and pest control workers (4.34 percent), and other office and administrative support workers (2.52 percent).
Because the stereotype is that people looking for fame or a break in the movie industry work at restaurants and do other service-oriented jobs, we took a look at the service industry.
Building cleaning and pest control workers (20.5 percent), other person care and service workers (15.2 percent), and cooks and food preparation workers (11.9 percent) are the three largest categories.
Waiters and waitresses are a distant fourth at 6.98 percent. There are many options to make ends meet while pursuing your dream.
Free Car Insurance Comparison
Enter your ZIP code below to view companies that have cheap car insurance rates.
Secured with SHA-256 Encryption
Driving in Los Angeles
We're sure you've certainly heard the stories. Or you live there now and experience it personally. There's nothing quite like driving in Los Angeles.
From the traffic that stretches for miles to the drivers who should probably go back to school, from the array of highways leading from place to place to that hour-long trip during rush hour from one side of the city to the next…
Driving in LA is an adventure. Being stuck in traffic may make you want to bang your head against the window.
We understand. We've got you covered.
In this section, you'll find information about the major highways in Los Angeles, how bad the traffic actually is, vehicle theft rates, and how safe the roads are—by looking at fatality statistics.
Jump in your car and start it up. We're taking a little ride around the City of Angels.
Roads in Los Angeles
Have you ever driven down the road at night, one with limited visibility, and suddenly you see a dip in the road ahead?
You break and swerve, but your tire falls in anyway. You hear a loud scrape and crunch from the front of the car. And you thought, that sounded expensive.
There's very little as frustrating as spending hundreds if not thousands of dollars of your hard-earned money on car repairs because your own city couldn't keep the roads up.
Road conditions are important. From major highways and popular road trips to road conditions and red light cameras, this section is all about the gravel beneath your wheels—and problems you can encounter when you drive on it.
Major Highways
The LA metro is home to 13.4 million people, with the Great LA area having 18.7 million as of 2015.
Those people (and you, if you live there) have to get around, and there are numerous places to go to. Downtown LA, Beverly Hills, Santa Monica, Glendale, Burbank. So what routes do you take if you need to get somewhere? Well, there are a few.
Fortunately, people in LA have nicknamed their highways for easy reference as to where they go.
In total, the eight major highways and interstates that run through LA amass more than 4,500 miles nationwide.
These include I-10, which runs across the country, ending up in Florida, and the 101, which runs up the west coast to Washington.
Although none of them are toll roads, it's possible you'll run into some as you travel throughout California.
They are State Routes 73, 133, 241, and 261 in Orange County (adjacent to Los Angeles County) and State Route 125 in San Diego.
There are also some smaller towns with toll roads and some expressways that have them throughout the state.
To pay for the State Route toll roads, you have two options: FasTrak and ExpressAccount (though ExpressAccount will get phased into FasTrak in October).
FasTrak: Works by sending you a transponder that you attach to your vehicle. It is connected to a debit or credit card, from which you deposit funds into your account. When you pass through the toll station, a machine reads the transponder and deducts the payment automatically from your account.
ExpressAccount: Works by reading the license plate of your car and automatically charging the toll fee to the credit or debit card that's associated with that license plate. There is no need for a transponder and you still receive the benefits of FasTrak, like billing information and using an app. Note: Doesn't appear to be usable on SR-125.
Toll rates vary according to which toll road you use, day of the week, the time of day, the numbers of axles, and whether you are an account holder or not.
But, as a barometer: On SR-261, on the Irvine Ranch mainline, it costs $3.19 to travel during rush hour (5 pm to 5:59 pm) either direction, presumably per toll station. – never presume
Popular Road Trips/Sites
Need a break from the traffic, smog, and entertainment-focused LA?
Then it's time to put those highways to good use.
The next four destinations are just hours from LA and they have everything from outdoor activities to Danish square dancing.
Solvang: A tiny Danish-like town that is home to boutique shopping and 20 wine-tasting rooms, Solvang is something like few else in America—a little slice of Denmark ensconced in a beautiful setting, with plenty to eat and drink.
Temecula: Everyone knows you have Napa in Northern California, one of the greatest wine-producing areas in the world. But if you're in LA looking for a wine-tasting day trip, there's Temecula with over 40 wineries and an old town. You can even try your look at the Pechanga Resort Casino.
Big Bear Lake: If you're in need of a break from the city life, Big Bear Lake may be just what you need. Just a short drive from LA, Big Bear Lake has numerous outdoor activities—mountain biking, hiking, fishing, zip-lining, and more.
Catalina Island: At Catalina Island, relaxation and respite go hand in hand with drinks with fuzzy umbrellas. Whether you're interested in zip lining, a boat tour, a scenic drive, or socializing at the club, Catalina will have all the relaxation you need.
Road Conditions
Back to those road conditions. LA has some of the worst.
The majority of the roads in LA fall under the poor category, with just 21 percent being fair or better.
What does a poor road look like?
The law firm Edgar Snyder & Associates has a good description:
Clear zone issues: Items fixed that are obstructing part of the roadway
Positive guidance: Signs that are hidden or lines that have been poorly painted or are broken
Potholes: Where a hole has developed in the road, leading to flat tires and accidents
Wheel ruts: When a road hasn't been resurfaced in a while, leading to grooves where tires dig in and struggle to get out
In the case of LA, the cost to operate a vehicle is over $900, which is more than 10 percent of what the average insurance premium is in the city.
Does Your City Use Speeding or Red Light Cameras?
Speeding and red-light cameras capture an individual committing a traffic violation (speeding or running through a red light) without the needed presence of a police officer.
However, are they active in Los Angeles?
The answer, it seems, is no.
For the red light cameras, the Los Angeles City Council voted to terminate the program in 2011, following a great deal of controversy.
Some of these issues were judicial, others hurting drivers too much for small infractions:
California Supreme Court not enforcing in all cases the necessary penalties
The fact that most of the infractions were for turning right at a red light
And the negative impact on credit scores from individuals who were caught.
There is a general question, however, like all red-light programs it seems, that they are ineffective at best and at worst unconstitutional.
Speeding cameras have gained a little bit of traction in California since 2017, with cities as big as San Francisco considering implementing them.
Vehicles in Los Angeles
In a city (and county) where destinations are so spread out, cars and vehicles are popular ways of getting around.
So, what cars are the most popular in LA and what are vehicle theft rates?
In this section, you'll find answers to both questions and more.
Most Popular Vehicles Owned
Trying to figure out what cars are the most popular in a city can be difficult.
Fortunately, YourMechanic has some answers: a dataset, huge by their own admission, of cars serviced by their mechanics and in what locations.
LA ranks high in many categories, including hybrids.
Mitsubishi Montero as the most unusually popular car
1.8 percent of cars serviced were hybrids, good for 5th in the rankings
12.4 percent were muscle cars, good for 48th
.8 percent were Suburus, good for 48th
.3 percent were Porsches, good for 9th
The hybrid index isn't necessarily surprising, as California has passed legislation to reduce the amount of air population in the state and even has car rebates for individuals wanting to buy a plug-in hybrid or electric vehicle.
How Many Cars Per Household
It'd make sense that in an area as large as Los Angeles, where people need to get around by car, that each household would have at least one, usually more.
In the case of LA, the highest percentage share of households (37 percent) own two cars, with the next largest category being one car (27.4 percent), then three (17.1 percent).
Looking at national averages, there are fewer LA households that own more than one car than the norm, with more LA residents owning one car or none than the United States on average.
Household Without a Car
Being without a car is difficult, especially in one of the most spread-out cities like Los Angeles.
In 2016, 12.2 percent of households didn't own a car, compared with 12.1 percent in 2015.
Owning a car is often a problem with those living under the poverty line, as they are faced with mobility challenges, including having to carpool, take public transportation, or walk to work.
This can magnify in larger cities.
In the cities of Atlanta, Los Angeles and New York City, individuals in the $100,000+ income group travel 14, 12.8, and 3.36 more daily miles respectively than those in poverty
It helps, however, to have some degree of transportation and housing sprawl: People can find a place to live closer to work (or vice-versa), making it easier to travel back and forth.
Speed Traps in Your City
There's little worse than driving along, humming to the radio, putting your foot on the gas, then seeing a police officer behind the tree with a radar gun.
Fortunately, Speedtrap.org (and we) have your back.
The good news?
LA isn't listed on their Top 10 Worst California Cities for speed traps.
The bad news?
There are still speed traps ongoing, as a quick look at the LA speed traps page suggests.
Some of the more current ones:
Tampa Ave. and Chatsworth St.: A motorcycle cop with LIDAR is on the southwest side of the intersection. There is a large tree on the north side of Chatsworth so one might not see him from afar.
110 freeway fast track lanes between downtown and 105 freeway: California Highway Patrol hides in the bus stations with radar guns. Watch that you do not go over 70 mph.
Grand (Between 7th and 8th): If you are going south on Grand (it is one way in this stretch) there is a pedestrian crossing with a traffic light which blinks red lights. If you do not stop and treat this light as if it were a "stop sign" you may be ticketed.
La Brea and Coliseum: Coming down from the hill on La Brea when you are approaching Coliseum, there is a motorcycle cop with a radar gun there. He says its a 40 mph zone but everyone is going beyond 50 mph most of the time.
Some of these are dated, but often the transportation infrastructure in cities don't change, and neither do the speed traps.
Vehicle Theft in Los Angeles
Getting your vehicle stolen is stressful, even if you're not in the car. While there are methods of stopping a car from getting stolen, often it is a matter of need and opportunity for the criminal. So, what are the statistics about motor vehicle thefts in Los Angeles?
These numbers come from NeighborhoodScout, which looks at crime, real estate numbers, schools, and demographics for different U.S. cities.
With just under 20,000 vehicles stolen in 2017, Los Angeles is somewhat of a hotbed for vehicle thefts—the rate of cars getting stolen in LA is over twice the national average. And see how these numbers in LA compare to the 15 states with the highest vehicle theft rates.
If you want to reduce the risk of your car getting stolen, you can always move to the safest neighborhoods in the city.
Safest Los Angeles Neighborhoods
Many of these are in a pocket between the city center (downtown) and Malibu, stretching out west. The total crime rates and numbers aren't particularly kind to Los Angeles residents either.
Overall, there were nearly 31,000 violent crimes in LA in 2017, for a rate of eight, meaning a person has an eight in 1000 chance of being a victim of violent crime. Property crimes number over 100,000 and a person has a 25 in 1000 chance of being a victim of property crime in Los Angeles.
A closer look at violent crime reveals a city that has a much higher rate—whether murders, robberies, or assault—than the average city in America.
With 282 murders, LA's murder rate is .02 higher than the national average.
With nearly 11,000 robberies, LA's robbery rate is nearly triple the national average.
And with around 17,000 assaults, LA's assault average is around 60 percent higher than the national average.
It is important to note that like most major cities, the crime is generally concentrated in certain areas.
For LA, these neighborhoods are concentrated in the south side, though there are some scattered around in different areas, including downtown with Skid Row.
Avoiding crime is a matter of research and learning tips.
For instance, if you want to keep your car from getting stolen:
Traffic
If there's one thing LA is known for, aside from Hollywood, it's the traffic.
There are pictures, possibly in movies or television shows or just simple news broadcasts or articles, that show rows and rows of cars lined up on the highways, stretched with no end in sight. And for someone driving in it, it can be frustrating.
We understand.
This section uncovers how bad the traffic actually is in Los Angeles, from congestion to transportation methods. And, of course, safety.
Traffic Congestion in California
The verdict is in: Traffic in LA is bad.
In fact, it's the worst in the United States, and good for 24th worst in the world.
Want to know why?
Let's take a look at the statistics.
TomTom, a global traffic rating company that works to reduce traffic congestion and make the streets safer, looks at numerous statistics to come to its conclusions.
To get its rating, TomTom overviewed around 13 billion kilometers of highways and non-highways in Los Angeles.
They found the following statistics:
Congestion was higher on highways than non-highways (45 percent to 39 percent)
The best day was December 25th; the worst was November 14th
This is not necessarily surprising, as December 25th is Christmas Day and November 14th starts to approach Thanksgiving, which is consistently one of the heaviest trafficked holidays in America.
The rush hour statistics were not pretty.
The most congested times were 8 am and 5 pm, typical rush hour times
During the morning, the congestion levels increased 64 percent, leading to an extra 19 minutes being spent in the car (per 30-minute drive)
During the evening, the congestion levels increased 80 percent, leading to an extra 24 minutes being spent in the car (per 30-minute drive)
In general, Tuesdays, Wednesdays, and Thursdays are the worst for traffic.
Transportation
DataUSA.io isn't shy about sharing the statistics about commute times in LA as well.
It's a surprisingly varied group.
A good chunk of people have commutes between ten minutes and 24 minutes.
Another good chunk has commute times between 45 minutes and 89 minutes (near the border for the 90-minute super commute group).
However, the category that takes it all is the 30 to 34 minute commute time, with just over 20 percent of LA's population.
The average commute time in LA is 29.8 minutes, which is longer than the U.S. average (25.1), California (27.2), the LA metro (28.4), and LA County (29.2).
With all that traffic and those distances to travel (remember: urban sprawl), it would make sense if more people carpooled to work or found ways to work nearer to home.

And it's true: Fewer people drove to work alone in LA compared to the United States average (76.4 percent to 69.7 percent).
More people carpooled, though statistically, the difference is not very significant (8.9 percent to 9.11 percent).
More people took public transit (by about four percent difference) and worked from home (about one percent difference).
Overall, whether it's the traffic, the long commute distances, or access to public transportation, LA residents get to work slightly differently than the rest of America.
Busiest Highways
If LA has the worst traffic (and the metro with over 13 million people), it makes sense that the city would be home to some of the biggest highways in the country.
That is, in fact, correct.
I-405: Known as the San Diego Freeway, this highway runs over 72 miles and has a total of 14 lanes at its widest point.
I-5: Known as the Golden State Freeway & Santa Ana Freeway near LA, this highway runs 308 miles up to Washington and has a total of 12 lanes at its peak.
SR-91: Known by nicknames for each city it runs through, this highway runs 59 miles and has 12 lanes at its peak.
I-110: Known as the Santa Monica & San Bernardino near LA, this highway runs 2500 miles (from Florida to the west coast) and has 12 lanes at its peak.
Of course, the number of lanes on these highways don't stop LA or LA county from becoming congested.
How Safe Are Los Angeles's Streets and Roads?
With traffic as bad as it is, it's important to understand the other problems that are ailing LA roads, most notably traffic fatalities.
The numbers in these statistics are taken from the National Highway Traffic Safety Administration and cover from 2013 to 2017 the fatalities of different categories for five counties: Los Angeles, Orange, San Bernadino, Riverside, and Ventura.
For this statistical analysis, it's important to know the populations for each county.
Los Angeles County: 10.2 million
Orange County: 3.19 million
San Bernardino County: 2.16 million
Riverside County: 2.42 million
Ventura County: 850,000
Essentially, Los Angeles has about 1.5 million more people than its surrounding counties combined (10.2 million to 8.6 million).
It's important to note, before we start, that fatalities can be labeled into more than one category, meaning the second table and the following tables won't add up to the totals in the first table, which is total fatalities.
There were 3,400 total traffic fatalities in Los Angeles County between 2013 and 2017, which is actually less compared to its surrounding counties, which total around 3,800 fatalities.
This even though they have less population than LA County.
It's the same for alcohol-impaired crashes.
They, however, vary in Los Angeles County quite a bit, shooting up and falling sometimes by 40.
Again, LA County has fewer total fatalities than the other four counties combined. LA County single-vehicle fatalities follow the pattern of alcohol-impaired: Jumping up and down, sometimes by 10 percent.
It seems, when it comes to LA County being less than the others combined, the culprits are San Bernardino and Riverside Counties, which have more than their share of fatalities. Even though they have significantly less population than Orange (2.42 million for San Bernardino and 2.42 for Riverside, compared to 3.19 for Orange), they are much higher, percentage-wise, with fatalities.
Again, same deal with LA County compared to the surrounding counties.
However, San Bernardino and Riverside Counties are high again, more than doubling Orange County's total, even with significantly less population.
Roadway departures are often a problem in rural areas as two-thirds of traffic deaths in rural areas are roadway departures.
This has been a particularly large issue as over half of traffic fatalities occur in rural areas, even though just 19 percent live there.
California doesn't rate San Bernardino or Riverside as rural counties; in fact, they are quite built up and have their own traffic issues.
However, they are part of the Inland Empire and have a mountain range to contend with.
With intersection-related fatalities, Los Angeles County clears them all by about 300, which is accurate for their population distributions. One of the primary reasons for these numbers is that LA County is far more urbanized than any of the other four. This leads to more accidents at intersections and more fatalities.
These numbers are more even, with LA County just a little above the other four combined. LA County's total dropped suddenly from 2016 to 2017 (decreased by a total of 80 deaths). On the other hand, Riverside's totals have steadily increased from 88 in 2013 to 113 in 2017.
Here, with pedestrian deaths, LA County outstrips the other four combined by about 270, which is accurate for the population distribution.
The high level of pedestrian deaths (1140 in five years for LA alone) is a testament, first, to how many people walk the streets, but also to the need for stronger protections for pedestrians.
San Francisco, as shared in a previous section, is thinking about installing speed cameras to help prevent pedestrian deaths.
If it works, maybe LA County and the rest will follow suit.
The numbers stay pretty even here, both in terms of trends (upward or downward) and with population distribution comparing LA County to the rest.
This data comes from FARS and encompasses all the traffic fatalities in California for 2017, based on the type of roadway. In this case, most of the fatal crashes occurred on arterial roads, rather than freeways and interstates (1,165 to 755).
The Federal Highway Administration classifies major arterial roads as:
These roadways serve major centers of metropolitan areas, provide a high degree of mobility and can also provide mobility through rural areas.
And minor arterials:
Minor Arterials provide service for trips of moderate length, serve geographic areas that are smaller than their higher Arterial counterparts and offer connectivity to the higher Arterial system.
They are essentially roads that feed into highways and interstates, meaning they have a relatively high-speed limit and move a lot of people.
There were 90 railway incidents in Los Angeles County between 2012 and 2016, which is a high number.
Use the search bar or use the Next arrow to see if one of those incidents happened near you.
Allstate America's Best Drivers Report
So, it's clear that traffic is an issue in Los Angeles.
Intersection-related fatalities as well.
But what about the drivers?
Allstate does a report every year ranking the drivers in 200 American cities.
LA ranked 195 in 2019 and was ranked 194 in 2018.
So, they're going backward. – it's. There is only one LA
LA residents have an average of 5.8 years between claims, which is five years less than the national average.
Part of this is likely to do with the vehicle theft rates, which are significantly higher than the U.S. average.
As there are no hard-braking statistics, it's hard to quantify is LA drivers are really that bad; however, 195 out of 200 is not a pretty number.
This is likely driving up car insurance rates as well.
Ridesharing
Ridesharing is a popular option for people who don't have cars or those wanting to have a fun night out without the dangers of drinking and driving. If you choose to work in rideshare, you will need rideshare insurance to make sure you are fully covered.
The options within Los Angeles are fairly large; there's more than just Uber and Lyft.
For this scenario, we took an imaginary trip from LAX to the Griffith Observatory, which is about 27 miles away, and recorded the options for sedans.
Uber: X $46 | Select $102 | Black $139 | Lux $205
Lyft: Regular $47 | Premier $105 | Luxury $144
RideYellow (traditional taxi): $86
Taxi (traditional taxi): $86
Flywheel (traditional taxi): $87
Curb (traditional taxi): $88
Carmel (traditional taxi or limo): $106
That's quite a few options, though some of the prices are significantly high when compared to the distance.
E-star Repair Shops
When you purchase insurance through Esurance.com, you get access to its E-star repair program, which matches you with numerous high-quality facilities in your area, if your car were to be damaged.
That's just the shortlist.
Within a 50-mile radius of Los Angeles, there are 84 shops to choose from.
Each, as part of the program, will send you daily pictures of the progress of the repairs or whatever work is being done, along possibly with daily update emails.
Weather
Everybody knows: Weather in Southern California is basically a dream come true.
Sunny days, cloudless skies, a nice, balmy temperature of 70 to 80 degrees, pretty much year-round.
It's something of a paradise.
In general, LA's temperature varies just slightly, only 15 degrees throughout the year. It's low is, well, not very low at 56 degrees.
284 days of sunshine.
However, there is one issue: disasters.
The number of natural disasters in Los Angeles County (52) is a lot greater than the US average (13).
A sitting president declared 26 of the 52 natural disasters major disasters.
Three were declared as emergencies.
According to City-Data.com, there are 80 causes of natural disasters (a disaster can be assigned to more than one category).
Fires: 34
Floods: 14
Storms: 9
Landslides: 5
Winter Storms: 5
Mudslides: 4
Earthquakes: 3
Freeze: 1
Heavy Rain: 1
Hurricane: 1
Snow: 1
Tornado: 1
Wind: 1
One of the biggest concerns? An earthquake.
There are five major fault lines running directly under LA, with many more minor fault lines.
A major earthquake (a 7 magnitude or higher) could cause untold lives lost and millions of dollars in property damage.
Fortunately, the California Earthquake Authority has put together ways to be prepared, including insurance policies and ways to prepare your house.
Public Transit
Although some people are not high on the public transport in Los Angeles, there are many public transport options, if you're without a car and in need.
One of the most-used options is the Metro.
Metro Bus: An extensive network of 165 bus routes in the county, the Metro Bus system can take you almost anywhere. There are four options for buses, depending on where you're going and how fast you want to get there. Payment is with exact change or the TAP card.
Metro Rail: The rail is extensive with 93 stations in the system, all connecting to the bus system. The rail takes passengers to San Fernando Valley, Santa Monica, South Bay, Eastside, and San Gabriel Valley, with LA the central point. Its fares are listed here with a one-way ticket going $1.75.
According to Metro's website, over 60 percent of riders qualify for discounts. These include:
Seniors
People with disabilities
College/vocational students
K-12 students
If you don't want to ride the Metro, you can always try DASH by the LA Department of Transporation.
DASH serves 33 local communities in the area, delivering passengers by small, shuttle buses.
Soon, they will even have an on-demand service for four service areas: Palms, Mar Vista, Venice, and Del Rey.
There are also local municipal buses in certain smaller cities to choose from, and if you're in need of a shuttle or other transport to the airport, you can contact FlyAway, which is an LAX-provided service.
Alternate Transportation
Scooters and electric bikes are popular options for people looking to get around short distances, without having to take an Uber.
In particular, they are popular in congested areas—downtowns, cultural hubs, places where restaurants and places of interest are closer together, and walking would take just a little too long.
In September of 2018, LA passed regulations to allow for scooters and bikes in the city, though there were some restrictions.
There are numerous places where you can ride–West Hollywood and Westside, in particular—but there are places where you can't, such as Beverly Hills.
Bird and Lime offer scooters and in some cases bikes (dockless, electric, and/or smart).
The city of LA offers electric bikes as well, as part of the Metro Bike program.
Costs for all of these services is generally $1-$2 per trip, with additional fees for length.
There are often daily, weekly, monthly, and longer passes if this is something you use or think you'll use often.
Parking in Metro Areas
There are quite a few ways to navigate the parking situation in Los Angeles.
Garages are plentiful, though with the number of people in Los Angeles, they are likely to fill up quickly.
According to DowntownLA.com, parking fees may vary from a few dollars per hour to upwards of eight, depending on the spot.
Many charge max fees for the day, ranging from $10 to $16 or higher.
For street parking, it's hard to find a spot in downtown LA, free or not.
When parking, if you find a spot, it's important to know the signs near the spot: They can restrict parking to certain times, based on street cleaning hours, hourly parking limits, and more.
There are over 40,000 metered parking spaces in LA, with prices ranging from 50 cents per hour to $4 per hour, depending on the location of your parking spot.
You can pay with cash or LA Express Park, which is the city's app.
On its site, you can find the street parking that available, how much it will cost, and so forth.
It can also be adjusted to where you can search for spots based on location and price point, with the range extending to outlying communities such as Venice.
Air Quality in Los Angeles
Air quality is a serious issue in California in general, to the point where the California government created AirNow so locals could track the air quality in their area or wherever they're heading.
Some common causes of air pollution have to do with exhaust from cars:
Carbon monoxide
Hydrocarbons
Nitrogen oxides
Particulate matter
These sources of matter can cause problems with the ozone layer, leading to air pollution in cities.
This can cause eye issues, cancer, and asthma or respiratory problems.
That said, Los Angeles has a reputation for being one of the most polluted cities in America.
Part of this is due to the surrounding geography, including the mountains, but cars and machines emitting pollutants contribute to air pollution as well.
Broken down:
In 2018, there were 108 total unhealthy days.
In 2017, there were 122.
In 2018, there were 110.
That means nearly a third of the days in a calendar year for all three years were considered unhealthy according to the Environmental Protection Agency's study.
There are some initiatives starting that could reduce the amount of air pollution in LA, mostly focusing on zero-emission equipment.
City officials want it reduced 25 percent in time for the 2028 Summer Olympics, which would be good on the whole.
The end-game with pollution?
Military/Veterans
Being an active military service person can be difficult, with the constant demands of the job, the rigorous schedules, even the possibility of deployment.
What shouldn't be difficult?
Finding your car insurance.
That's why we've put together this section—to guide military service people through the process of getting insurance, to show what options they have, and what discounts are offered.
Ready?
Veterans by Service Period
Veterans are often treated with a certain respect, especially if they have served in a war, such as Vietnam.
There are approximately 1.8 million veterans living in California, the most in any state.
In LA, there are more Vietnam Vets than from any other conflict (nearly 28,000 in total).
The Gulf Wars (1990s and 2001-present) veterans number around 26,000 combined, still less than the single Vietnam war.
Whereas however, those three wars above have less than the percentage shares compared to the national averages, there are more World War II and Korean vets in LA than typical.
Military Bases Within an Hour
The nearest military base to Los Angeles is the Los Angeles Air Force Base, home to the 61st Air Base Wing and support to the Air Force Space Command's Space and Missile Systems Center.
The base is home to many programs and initiatives including the space-based infrared system, the launch enterprise systems directorate, the Blue Grit podcast.
It writes:
The center is responsible for on-orbit check-out, testing, sustainabilitiy and maintenance of military satellite constellations and other Department of Defense space systems.
It is the only active military base in Los Angeles County and supports all the active-duty personnel in the Greater Los Angeles area.
Military Discounts by Provider
There are only four insurance companies that offer discounts to military personnel in Los Angeles:
For more information, check out the websites for each of the companies.
USAA Available in State
Military personnel (and their immediate family) have access to an insurance no one else can get: the United States Automobile Association (USAA).
They are generally the most affordable car insurance across the board; so, how do they fare in Los Angeles?
The average premium for USAA is around $2,700, which is nearly $1,000 below the average for all companies, or 27 percent below.
USAA gives servicemembers the options of adding their children and spouse to their plan; though, more extended family such as parents, siblings, cousins, grandparents cannot be added. See more at USAA car insurance review.
Free Car Insurance Comparison
Enter your ZIP code below to view companies that have cheap car insurance rates.
Secured with SHA-256 Encryption
Unique City Laws
Every city has unique, strange, and sometimes backward laws stuck in the 1800s.
Los Angeles is no different.
Here, we took a look at four categories that affect most drivers and certain subsets of residents—those who like food trucks and those who like tiny homes.
Hands-Free Laws
In 2017, California passed one of the strictest laws regarding cell phones use in cars across the country.
Bill 1785 made it illegal to operate a cell phone while driving unless that cell phone was attached to a dashboard or in voice activation mode.
So, essentially, as hands-free as hands-free gets.
Anyone who is found to be operating a cell phone otherwise outside of these circumstances will be subject to a $20 first fine, followed by a $50 fine for every subsequent infraction.
There's little wonder California has enacted one of the country's strictest laws: previously, the California Office of Traffic Safety found that 80 percent of crashes in the state involved some kind of driver inattention.
Food Trucks
Food trucks have been around, or became known, in LA around 2008-2009, with their popularity steadily growing as more entrepreneurs started food trucks instead of restaurants.
They came up with a whole host of new flavors and versions of food along the way, creating a culture that fit well in the multi-cultural LA for the decade since.
Even though they may be on the downhill, they are still popular and might be a viable path for an LA entrepreneur.
So, what are the steps you need to take?
First, the LA Business Portal put together a checklist on the matter, with items like registering your business, storing your food truck overnight, getting ready to open, bringing on staff and more.
Also, you might want to know that the Los Angeles City Council passed the Safe Sidewalk Vending Act (SB 946) that fully legalized food trucks, while also adding many regulations on them:
In city parks, there will be a two vendor per acre rule.
Vendors will be required to obtain a business license, tax, and health permits.
There is no cap on the number of vendors.
Food trucks are going nowhere, as people love the concept and the food, and full legalization, even with regulations, can't hurt.
Tiny Homes
In Los Angeles, tiny homes (unless they are on wheels) are categorized as Accessory Dwelling Units (ADUs) and are legal depending on zoning requirements.
According to the Planning Department of LA, an ACU can be built if the following requirements are met:
The zoning of the property is R-A, R-1, R-2, R-3, R-4, A-1 or A-2 (or any other zone where single-family homes are allowed)
One legal single-family residence exists on-site
The ADU complies with the development standards of the provided summary.
The summary provides regulations about the size of the tiny home (both square footage and height), the issues with fire hazards, and accessories like porches.
You'll need to submit a site application to the Department of Regional Planning, with copies of the building description and building permits.
Parking Laws
Parking is serious business in Los Angeles, with so many people and limited public space, especially in congested, cultural hub spots.
Because of that, the LA Department of Transportation created a page with helpful ordinances to educate the general public from, you know, parking on top of a fire hydrant.
Some common parking violations include:
Parking within 15 feet of a fire station driveway or fire hydrant
In front of a public or private driveway
On a sidewalk
There are some exemptions for national holidays and national polling days.
You might also want to know these signs.
Los Angeles Car Insurance FAQs
Why is Los Angeles called La La Land?
La La Land originated in the 1970s and 1980s, referring to Hollywood as a place out of touch with reality and picturing fantasies and worlds like in a semi-dream state. It gained traction during the past few years due to the movie La La Land, which fell just short of an Oscar for Best Picture. It also describes some people who move there, enchanted with finding fame and celebrity.
What happens if I get into an accident in Los Angeles?
California is considered an at-fault state, meaning that the person who is found responsible for the accident is held liable for all the property damage and medical bills/lost pay for the other driver. This underscores the importance of having insurance, as even a minor accident can cost hundreds of dollars and if you can't pay, the other driver can sue you.
In which area of Los Angeles is the University of Southern California?
For those looking to attend or teach at USC, one of the areas largest employers at 21,000 employees, you'll want to know where USC is. The main campus is in the heart of downtown Los Angeles in the Downtown Arts and Education Corridor. You may, however, find a job at one of its satellite centers in Marina Del Rey, Orange County, and other Greater LA areas.
I'm a high-risk driver. How do I get car insurance in Los Angeles?
If you've been caught driving without insurance, gotten a DUI, or amassed several dangerous moving violations, your local government may require you to get an SR-22, which is a certificate of insurance for high-risk drivers. You'll need to talk to an insurance company or several; it's costly, so you might want to shop around. If nothing else, you can contact the California Automobile Assigned Risk Plan as a last resort.
What is the cost of living in Los Angeles?
The cost of living is expensive, sometimes very expensive depending on where you live or where you want to live. Average rent prices are hundreds of dollars more than the national averages, utilities are on par with New York, New York, and a gallon of gas will run you around $4 per gallon. While money can be saved on produce, your cup of coffee and meal outs will cost more.
What is the minimum car insurance needed in Los Angeles?
What is the minimum car insurance required by each state? Minimum insurance in California is a 15/30/5 insurance: $15,000 for the injuries per person, $30,000 for the total injuries per accident, $5,000 for property damage per accident. These values are fairly low as accidents can get fairly expensive quickly, so more protection wouldn't hurt. Always search around for the best deal or refer to this guide.
Now you're set. You should have all you need to make an informed decision about car insurance in Los Angeles. Clear eyes, full hearts. Happy driving.
Ready to compare rates? Try our FREE online tool.
Free Car Insurance Comparison
Enter your ZIP code below to view companies that have cheap car insurance rates.
Secured with SHA-256 Encryption