12 Simple Steps for Progressive Car Insurance Quotes Online (Pictures)
Getting car insurance quotes online is easy when you (1) report accurate information, (2) read third-party customer service reviews, and (3) compare quotes from multiple companies.
Free Car Insurance Comparison
Compare Quotes From Top Companies and Save
Secured with SHA-256 Encryption
UPDATED: May 4, 2022
It's all about you. We want to help you make the right coverage choices.
Advertiser Disclosure: We strive to help you make confident car insurance decisions. Comparison shopping should be easy. We are not affiliated with any one car insurance company and cannot guarantee quotes from any single company.
Our partnerships don't influence our content. Our opinions are our own. To compare quotes from top car companies please enter your ZIP code above to use the free quote tool. The more quotes you compare, the more chances to save.
Here's what you need to know...
Progressive insures over 18 million people and is one of the nation's leading auto insurance providers
Progressive was the first company to offer drive-in claims and allow customers to pay their insurance premiums in installments
Customers have access to 24-hour support and both in-person and online options for managing their policies
Comparing auto insurance quotes online is the best way to determine which company is right for you
Progressive opened its doors in 1937 and has been a staple of the American insurance industry ever since; with their highly iconic mascot, Flo the Progressive Agent, and 24-hour customer service, Progressive continues to pioneer affordable auto insurance coverages.
To start your search for free quotes, head over to progressive.com. We'll walk you through the process step-by-step, but don't forget to compare the rates from Progressive with other companies too.
You can enter your zip code on our site and receive free online quotes.
Step #1 – Learn About Progressive
Progressive has been offering insurance for over 80 years. They're one of the most popular insurance providers in the nation, so it's understandable why you'd want to consider them while shopping around for a car insurance policy.
Progressive has a lot to offer from car to life insurance, so before you even request a quote, take some time to explore their site and get a feel for who they are as a company.
Here's a pathway we suggest: Start off on their About page. Learn about their core values like integrity and respect, then check out their News Releases page to see what they're doing in the world.
One thing many people don't consider when researching a car insurance company is their role in the industry at large; do they only care about you for your money, or are they passionate about car insurance and what that really means— driver safety, affordability, accessibility, and accident prevention?
Once you've learned about Progressive as a brand, check out their Auto Insurance page and read about their coverage options. If you like what you see, it's time to get quotes.
Free Car Insurance Comparison
Enter your ZIP code below to view companies that have cheap car insurance rates.
Secured with SHA-256 Encryption
Step #2 – Enter Your Zip Code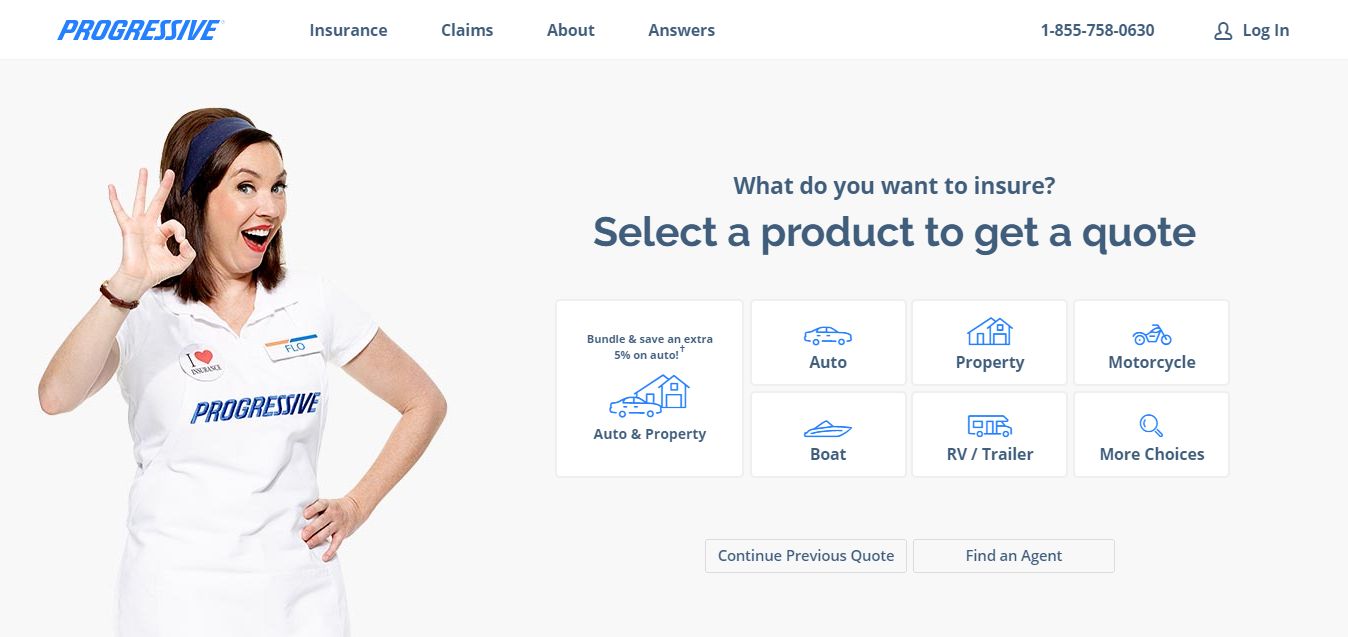 On Progressive's home page, you can select the type of insurance you'd like quotes for (see image above).

Then, you'll be prompted to enter your zip code (see image above). Click "Quote Auto" and you'll be redirected to the next page. The search has officially started!
Step #3 – Provide Your Information
In order to connect you with the right agent and give you an accurate quote, you'll have to provide your legal first and last names, current address, and date of birth.
Car insurance rates vary from state to state and person to person. Your age, driving record, and even your gender affects how much you'll pay, so this baseline level of information lays the framework for the quotes Progressive will give you.
Step #4 – Add Vehicles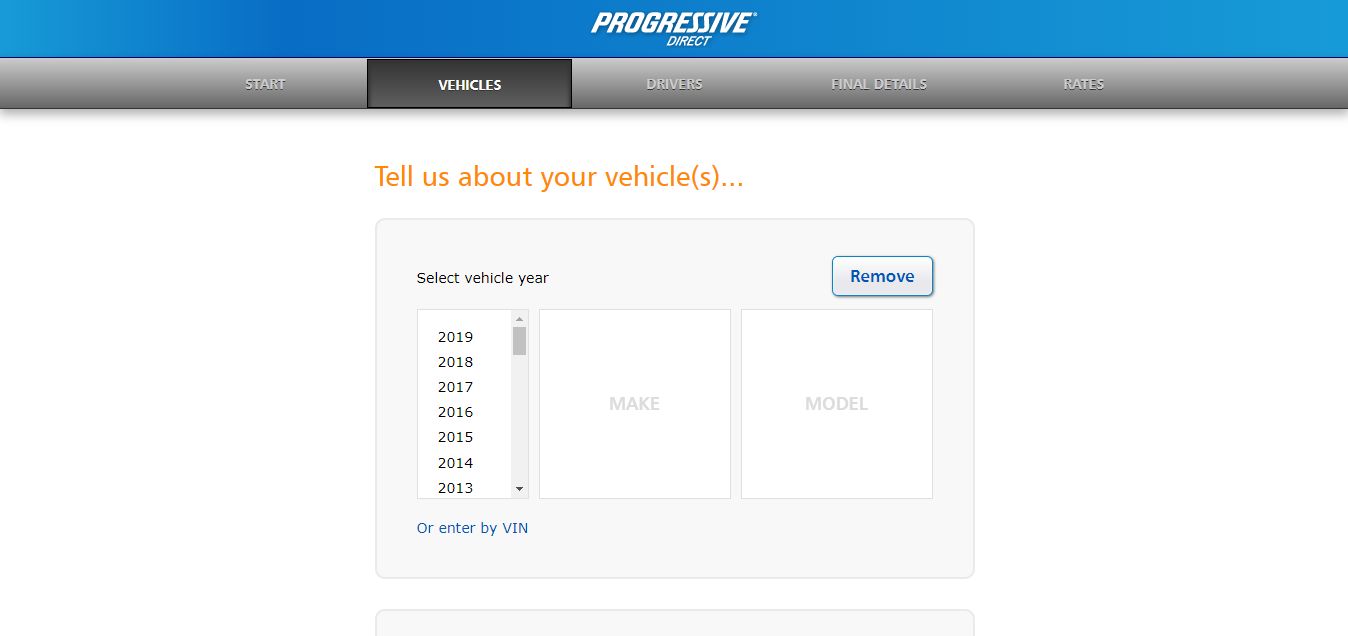 Now, you'll enter information for every vehicle you want to insure. You'll be prompted to input the year, make, and model of each car. You can also enter your car's VIN and have the information generated for you.
If you don't know how to find your car's VIN (Vehicle Identification Number), read this article to learn all about VINs and how to interpret and find your own.
You'll also have to specify how you use each vehicle you enter.
There is a difference in cost and coverage for vehicles that are used strictly for recreation, commuting (errands, to and from school, etc.), and business. Select the option from the choices provided that most accurately summarizes how you use your vehicle on a routine basis.
You can always adjust coverage levels and make changes to your policy once you speak with an agent, but being honest and accurate during the quote process is important in getting the most accurate rates.
Free Car Insurance Comparison
Enter your ZIP code below to view companies that have cheap car insurance rates.
Secured with SHA-256 Encryption
Step #5 – Get to Know Your Vehicle
There are a lot of important details you have to know in order to properly fill out the information form. Firstly, you'll need to know exactly what make and model your car is. Just "Toyota" won't work.
So how can you find this info if you aren't sure? Check out this YouTube video (below) that will walk you through the simple process of finding the make and model of your car.
Your Vehicle Identification Number (VIN) is handy because you can input this directly into Progressive's system and it will input all of the information for you.
Step #6 – Understand How You Use Your Vehicle
Once you've entered your car's basic details, you'll be asked to specify its primary use. Many of us think that our car is just our car and is meant for everything unless you're a farmer or business person using your car only for specific tasks. Progressive gives you four options to choose from:
Pleasure –This is the option most everyday drivers will choose; select this if you drive your car to work or school, use it to run errands, drive around town, etc. In other words, if this car is your typical mode of transportation, this is the right option for you.
Commuting – Progressive may ask if you commute to a specific state nearby depending on the zip code you enter. For example, if you live in Philadelphia, you would be asked if you primarily use your car to commute to New Jersey or New York for work or school.
Business –Select this option if you mostly use your vehicle to make sales calls, run business errands, drive customers around or perform other work-related activities.
Commercial – – Pizza delivers, snow plowers, taxis, and similar workers will select this option. You can also check whether or not you use your car in a rideshare program (like Uber or Lyft).
Farming – If your vehicle is used in agriculture and ranching, then select this option.
Choosing the right option and understanding how you use your car is vital to get proper protection from your coverage. Your insurance needs and state requirements will differ depending on how your car is used, so make sure you're honest and that the information you provide is as accurate as possible.
Have a multi-purpose vehicle? Choose the option that most closely reflects how you use your car 75 percent of the time. You can go over details with an agent and have your quotes readjusted later if you like the initial rates you're presented with.
Step #7 – Save Your Progress
This is a good point to save your progress. After you've added vehicles, the next stage is to provide driver information for you and any additional drivers in your household.
Doing so might require you getting some information you don't have on hand, so click "Save and Return" at the bottom of the screen and enter your email address.
You'll be able to pick up right where you left off anywhere in the process after this for up to 13 months.
Free Car Insurance Comparison
Enter your ZIP code below to view companies that have cheap car insurance rates.
Secured with SHA-256 Encryption
Step #8 – Get Fast Answers to Questions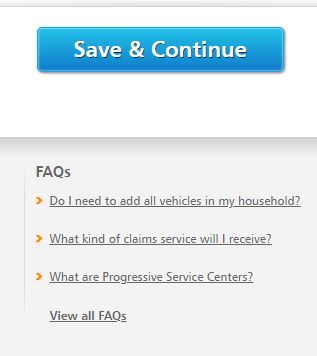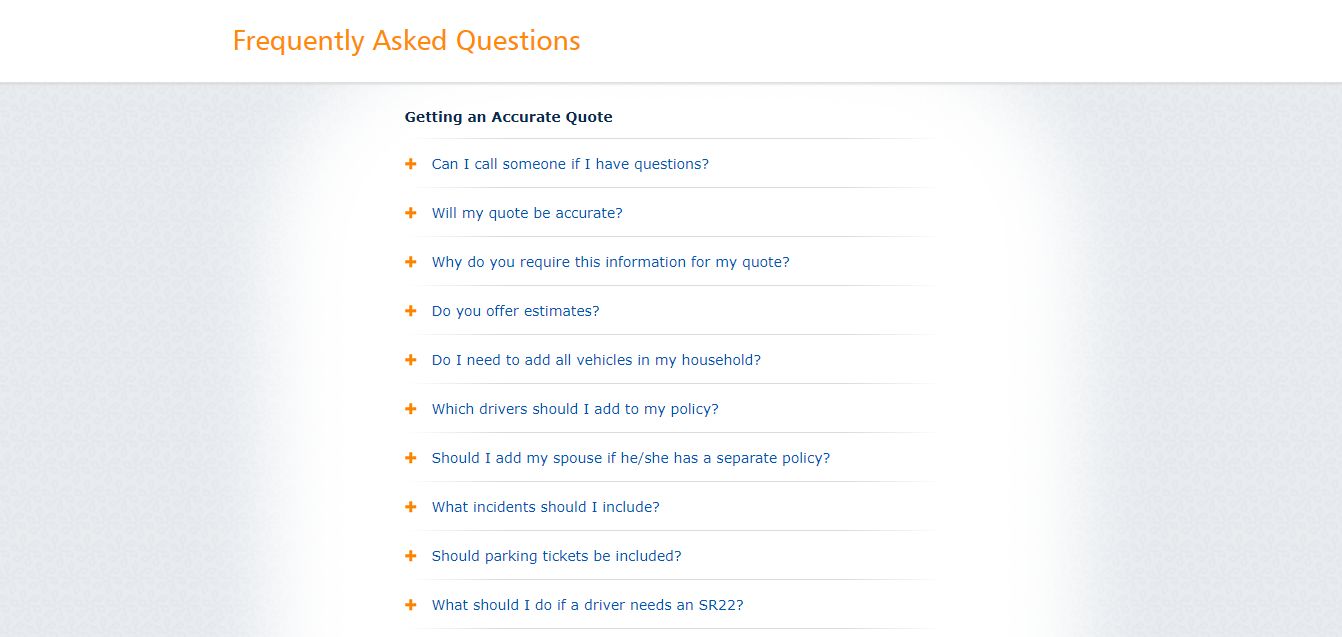 If you have some questions while you work your way through the quotes process, scroll down and check out the FAQ section. Click a question or "View All FAQs." Don't worry, you won't lose any progress and can select "Back" at any time.
The FAQs section is divided into helpful categories Getting an Accurate Quote, How and Why to Buy Progressive, Snapshot, Comparison Rates, and Security and Privacy.
Whether you want to know how Progressive calculates a rate or how they securely handle the personal information you provide, this is the place to get answers.
Step #9 – Enter Driver Info
Now you'll provide driver information that gives Progressive a brief overview of your driver profile and history. Make sure that you don't withhold any information that you worry will increase your rates; doing so will ultimately only result in the termination of a policy later down the line.
Understanding how car insurance rates are calculated and the multiple factors providers take into consideration can also help you understand which discounts your lifestyle may qualify you for.
Step #10 – Call for Help if You Need It
Before you go through the final step, you want to make sure that you're 100 percent clear on everything you've been asked and have responded with the most accurate information possible.
If you have questions about how to locate certain information or if a particular question or part of the quotes wizard confuses you, you can scroll down and request a call from a live customer service representative or call Progressive yourself at 1-877-776-4266.
Free Car Insurance Comparison
Enter your ZIP code below to view companies that have cheap car insurance rates.
Secured with SHA-256 Encryption
Step #11 – Get Your Quotes
The final step to getting quotes requires providing some additional contact info. You can enter your social security number if you want, but it isn't a mandatory step and we don't advise doing so until you're actually purchasing a policy.
Shortly after entering your email, you'll receive your personal car insurance quotes from Progressive, but wait! There's still some more work to be done before you buy coverage.
Step #12 – Go Mobile
Once you've compared car insurance quotes, and if you've decided Progressive is the right company for you, you can download the Progressive app for iPhone or Android.
Most of the features here are for members who want to manage their coverage effectively; you can view your auto insurance policy details, pay your premiums, report accidents and make a claim, talk to an agent, get roadside assistance, and find a Service Center.
Compare at least three to four quotes from various companies to ensure that you score the best deal on auto insurance. Enter your zip code below and we'll provide you with multiple quotes.
Editorial Guidelines: We are a free online resource for anyone interested in learning more about auto insurance. Our goal is to be an objective, third-party resource for everything auto insurance related. We update our site regularly, and all content is reviewed by auto insurance experts.