11 Simple Steps to Get a Metromile Car Insurance Quote Online (Photos)
Follow these 11 steps to get a Metromile car insurance quote through their app, or use our free tool below to compare multiple quotes and lower your rates by up to 20%.
Free Car Insurance Comparison
Secured with SHA-256 Encryption
UPDATED: Jun 2, 2022
It's all about you. We want to help you make the right coverage choices.
Advertiser Disclosure: We strive to help you make confident car insurance decisions. Comparison shopping should be easy. We are not affiliated with any one car insurance company and cannot guarantee quotes from any single company.
Our partnerships don't influence our content. Our opinions are our own. To compare quotes from top car companies please enter your ZIP code above to use the free quote tool. The more quotes you compare, the more chances to save.
Editorial Guidelines: We are a free online resource for anyone interested in learning more about auto insurance. Our goal is to be an objective, third-party resource for everything auto insurance related. We update our site regularly, and all content is reviewed by auto insurance experts.
Here's what you need to know...
Metromile is part of the rising trend of app-based car insurance companies
You only pay for as much as you drive so coverage doesn't go to waste
Metromile will charge you a different rate every month depending on how far you drove
Finding affordable car insurance is tough, and it can even be tempting to forgo coverage altogether when you never use the coverage you have.
Going without car insurance isn't a smart choice for a few reasons. For starters, it's illegal to drive without standard liability coverage in every state. The penalties for driving without insurance are far worse than the cost of an auto insurance premium.
Second, it only takes one small accident without coverage to send you into financial ruin. Third, insurance keeps you safe in more ways than one; it can pay for your medical costs if you're injured in a collision, cover the cost of your car if it's stolen, broken into, or vandalized, and get you back on the road with a rental if your car is ever in the shop.
Our Metromile insurance review looks at a unique insurance startup. If you're looking for affordable car insurance that gives you good coverage for only as long as you need it, Metromile is a good auto insurance option.
This guide will walk you through the process of requesting a quote from the pay-per-mile auto insurance company. If you want to compare more free car insurance rates online, click here and enter your zip code!
Step #1 – Learn About Metromile
Established in 2013, Metromile is a newer car insurance company that wants to help drivers save on coverage by only charging them for how much they drive.
Check out our Metromile car insurance review to get the low-down on all their insurance coverage options and quote algorithm.
Take some time to explore their site and read about the company in its own words. As of this review, Metromile is accredited by the Better Business Bureau and sports an A+ rating.
Free Car Insurance Comparison
Enter your ZIP code below to view companies that have cheap car insurance rates.
Secured with SHA-256 Encryption
Step #2 – Explore Metromile's Auto Insurance Options
Usually, less money translates to less coverage, but not so with Metromile. They're "designed to over-deliver" and offer all the benefits of a full car insurance policy for less than their competitors.
They have coverage that includes
Bodily injury
Property damage
Uninsured and underinsured motorist
Collision
Comprehensive
PIP/MedPay
Rental Reimbursement
Roadside Assistance
Deductibles starting as low as $250
You can customize your policy according to your individual needs and preferences, but the fact the company offers so much right off the bat is worth noting.
Step #3 – Evaluate Your Own Driving Habits
Metromile charges drivers per mile, so before you request a quote, assess your typical commute. Most car insurance companies will want to know how much you drive one-way and your annual mileage.
As a smart app startup using a digital insurance platform, Metromile uses a telematics device called Pulse to track driver history and your miles per day. According to Metromile's website, they offer the best rates to infrequent drivers. A low-mileage driver will see the most affordable rates.
Metromile makes you consider things a bit differently since your rates will change depending on how far you drive. If you typically tend to go on road trips or have long commutes for work or school, pay-per-mile insurance might not be the best choice.
Then again, depending on how high your current policy is, Metromile still might be able to save you money.
Step #4 – Learn How the Monthly Payment Process Works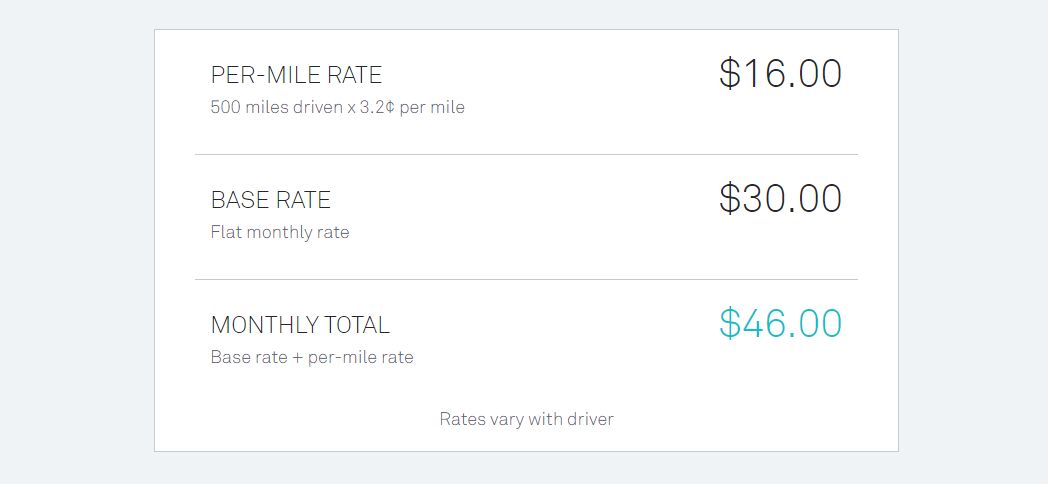 Metromile Insurance Company will offer you coverage on a monthly basis. Every billing period, you'll get a new premium comprised of a base rate and a figure based off your mileage.
If you're only looking into monthly car insurance because you're on a tight budget, consider the cost of unexpected travel and a higher bill from Metromile. For many drivers, the one-time premium for a 12-month policy is an easier finance to manage.
Free Car Insurance Comparison
Enter your ZIP code below to view companies that have cheap car insurance rates.
Secured with SHA-256 Encryption
Step #5 – Review the App and Start Your Quote
You can request a quote online (like this guide will show you) or on the app. If you decide to purchase a Metromile policy, you'll use the app to pay your bill, manage your policy, as well as gain access to unique benefits and features.
After you've read through the App page, you'll reach a quote box. This is the place to start your request. Here's the link if you'd like to head to the quote page directly: metromile.com/insurance-quote/
Step #6 – Enter Your Name
Metromile is minimal when it comes to personal information. To get started, you'll just need your legal first and last names.
Step #7 – Specify Your Location
Provide your residential address.
Free Car Insurance Comparison
Enter your ZIP code below to view companies that have cheap car insurance rates.
Secured with SHA-256 Encryption
Step #8 – Enter Your Age
Provide your date of birth and make sure you agree to the Terms of Use and Metromile Privacy Policy linked in the fine print.
Step #9 – Talk About Your Car
Add your car's year, make, and model using the menus provided. You'll need to estimate your annual mileage to give you a projection for your average monthly costs.
You'll need to repeat this process for every vehicle you'd like to have insured.
Step #10 – Add Drivers (And Your Own Details)
Metromile Auto Insurance Company will ask you to add information about every member in your household (whether they drive your vehicle and are insured). You can then include and exclude individuals from your policy and quote.
Free Car Insurance Comparison
Enter your ZIP code below to view companies that have cheap car insurance rates.
Secured with SHA-256 Encryption
Step #11 – Get Your Estimate
Review the estimate that Metromile gives you. From here, you can either go on to enroll and buy a policy or take note of your quote and continue to compare other companies.
Compare Quotes for Free
You can enter your zip code on our site to get free auto insurance quotes online. We'll only ask for information we need to personalize your quotes. When you're finished, we'll send you a list of rates you can compare in order to find the right deal for you.
How do they measure up against Metromile? There's only one way to find out.