11 Easy Steps to Get an Esurance Car Insurance Quote (Photos)
Get your free Esurance car insurance quotes online in 11 easy steps. Follow this guide to learn more about Esurance insurance quotes and how your driving record will impact what you pay for your Esurance car insurance policy. Enter your ZIP code below to compare Esurance auto insurance quotes against other companies so you know you're getting the best rate.
Free Car Insurance Comparison
Compare Quotes From Top Companies and Save
Secured with SHA-256 Encryption
UPDATED: May 4, 2022
It's all about you. We want to help you make the right coverage choices.
Advertiser Disclosure: We strive to help you make confident car insurance decisions. Comparison shopping should be easy. We are not affiliated with any one car insurance company and cannot guarantee quotes from any single company.
Our partnerships don't influence our content. Our opinions are our own. To compare quotes from top car companies please enter your ZIP code above to use the free quote tool. The more quotes you compare, the more chances to save.
Here's what you need to know...
Esurance is a part of Allstate Insurance
You can bundle your Esurance car insurance quote and home insurance quote for a discount
Esurance's Coverage Counselor can help you find out exactly how much coverage you really need
If you want to get car insurance online, you have to be prepared to spend some time researching. Although getting a quote is faster and easier than ever before, it still requires some due diligence on your end to guarantee you get the best coverage for your budget.
This guide will explain what Esurance, an Allstate Insurance company is. It will then walk you through the process of getting an Esurance auto insurance quote and then help you compare your quote with others to settle on the perfect policy.
Ready to compare now? Enter your zip code above and get free car insurance quotes.
Step #1 – Meet Esurance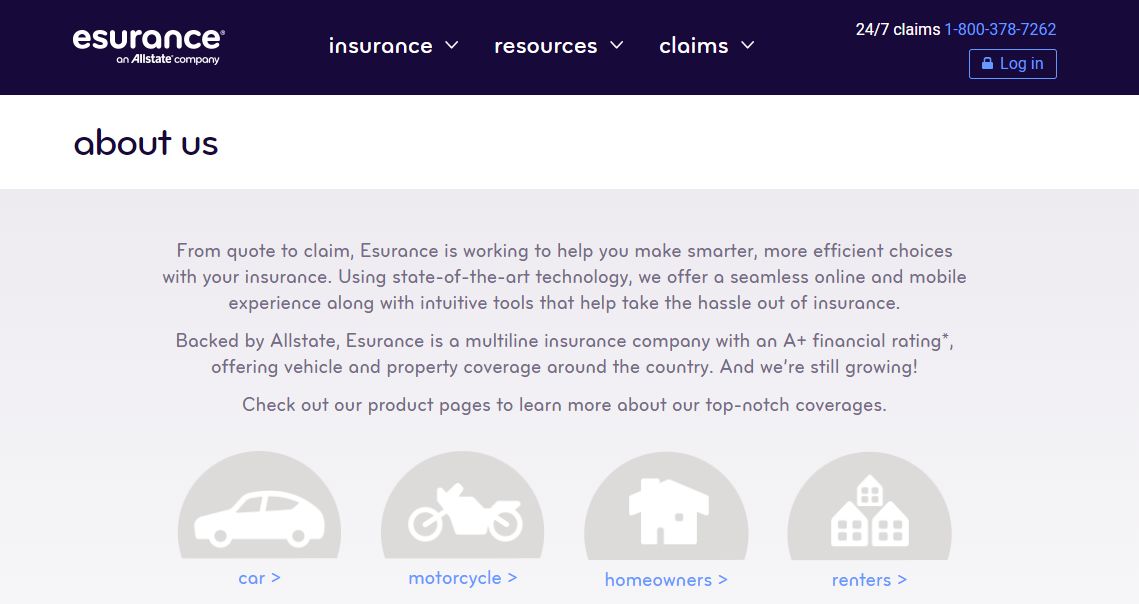 Read about Esurance on their About page. Get to know the company and find out what makes them tick. Don't hesitate to take some time checking out reviews online, either.
It pays to investigate. Just like people, every insurance provider is different and has a unique personality.
Getting to know potential insurers is a good way to screen their sincerity and dedication to their customers – two qualities you don't want to skimp out on when it comes to the company in charge of your car insurance.
Free Car Insurance Comparison
Enter your ZIP code below to view companies that have cheap car insurance rates.
Secured with SHA-256 Encryption
Step #2 – Learn About State Coverage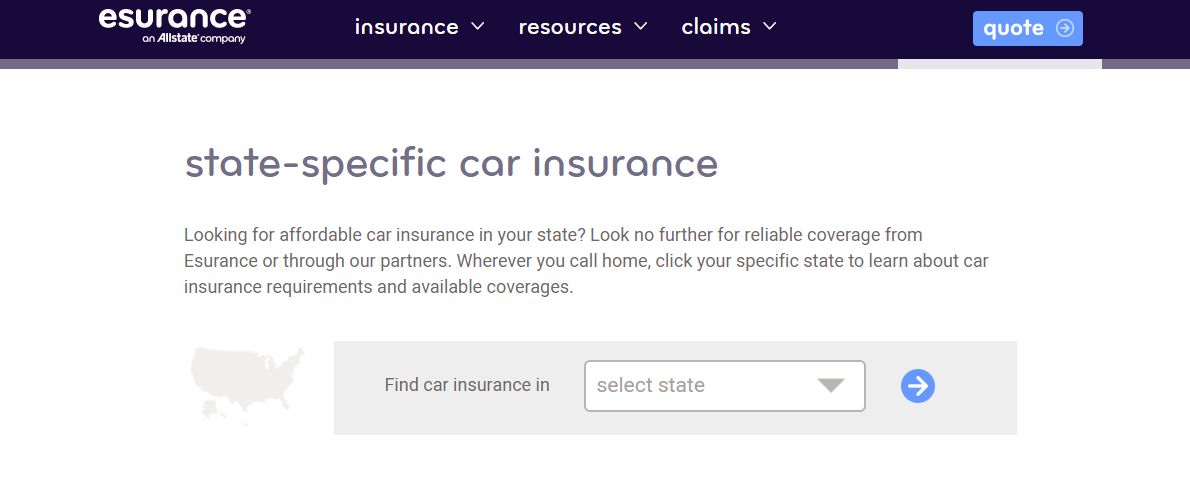 Select your state from the drop-down menu on this page to read about its individual liability requirements. Auto insurance is always mandatory, but limits and additional coverages like Underinsured/Uninsured Motorist Coverage and Personal Injury Protection vary.
Knowing exactly what you need helps establish a baseline to build on as you explore your options.
Step #3 – Read About Esurance Car Insurance Policies

Esurance has a dedicated car insurance guide that will teach you all the different types of policies they offer and types of coverage you might be asked about when you buy.
Learning about the ins and outs of auto insurance now will make buying a policy much easier.
Step #4 – Discover Discounts

Who doesn't like to save money? Discounts are a bonus for some drivers and essential for others. No matter how generous or tight your budget might be, you can benefit from learning about all the different car insurance discounts a company offers.
Reading about discounts before you request a quote is another exemplary way to gauge how much a company values its customers. Do they go out of their way to offer savings, or are the opportunities to cut costs zero to none without sacrificing security and coverage?
Check out Esurance car insurance discounts here.
Free Car Insurance Comparison
Enter your ZIP code below to view companies that have cheap car insurance rates.
Secured with SHA-256 Encryption
Step #5 – Use the Coverage Counselor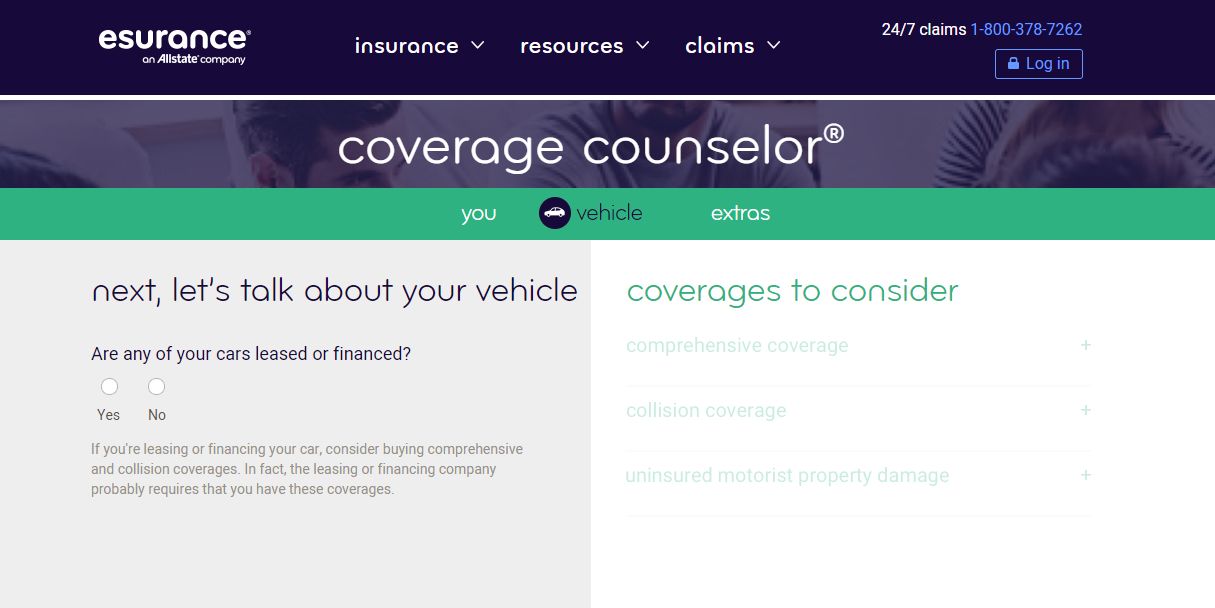 Still unsure how much coverage you actually need? Esurance has a free, interactive Coverage Counselor built into their site that will help you strike gold on your next policy limits.
Step #6 – Get Ready for Coverage Your Way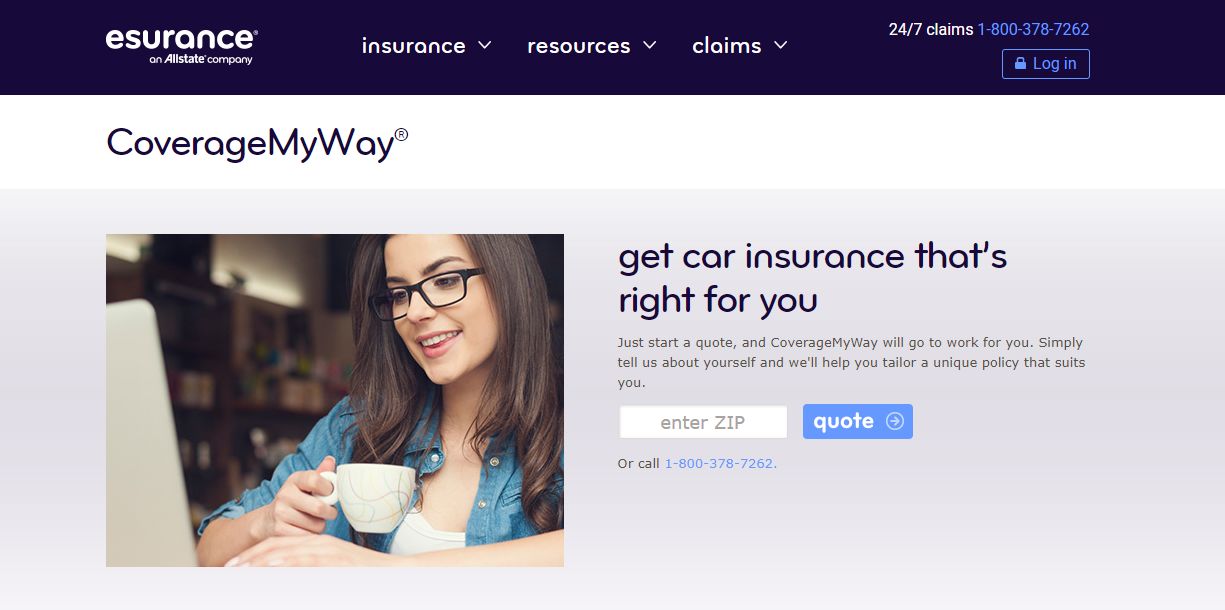 Esurance has another helpful tool for potential buyers. CoverageMyWay is a program that uses technology, algorithms, and your answers to tailored questions to provide helpful suggestions and coverage recommendations during the quote application process.
Just enter your zip code to get started.
Step #7 – Provide Personal Info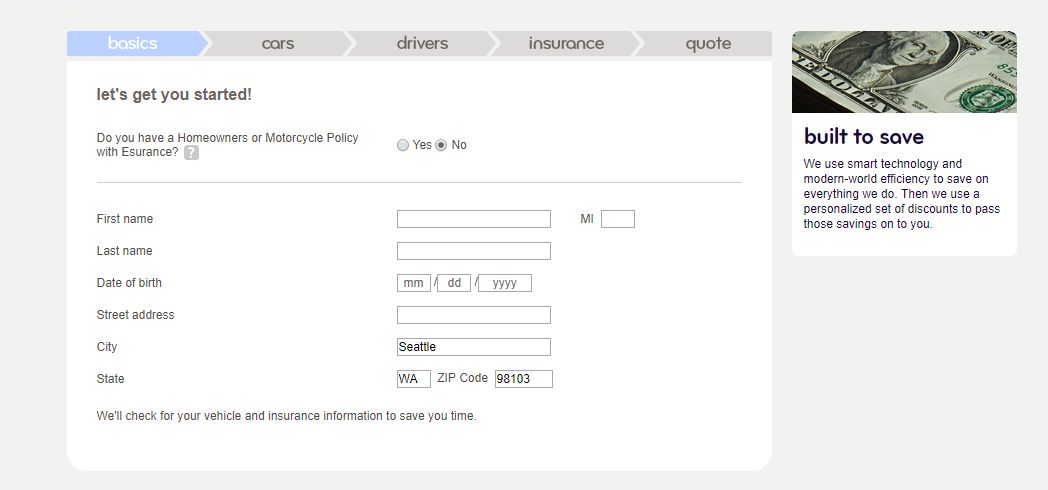 Get the basics squared away by entering your name, birth date, and address. Esurance will use this information to save you time filling out additional details.
Free Car Insurance Comparison
Enter your ZIP code below to view companies that have cheap car insurance rates.
Secured with SHA-256 Encryption
Step #8 – Add Vehicles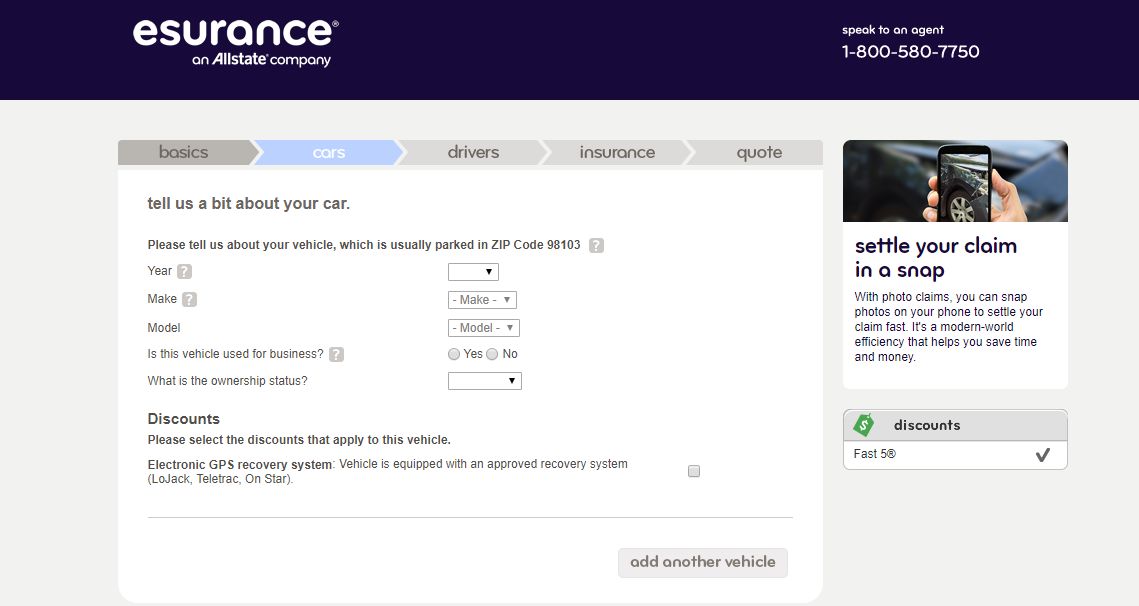 If Esurance can't pull up details from public records, you'll have to provide car details for each vehicle in your household that you want to insure.
Step #9 – Add Drivers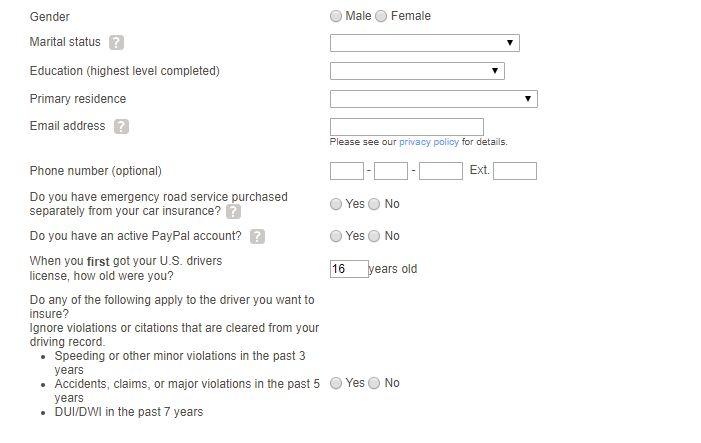 Add details for every driver in your household that you'd like added to your future policy. Anyone who regularly drives your vehicle(s) and any household members 14 and older must be listed.
Even if younger members or additional household members don't drive your car(s) or are unlicensed, you should still list them. You'll be able to include and exclude specific individuals if you decide to purchase a policy.
Step #10 – Explain Your Insurance Situation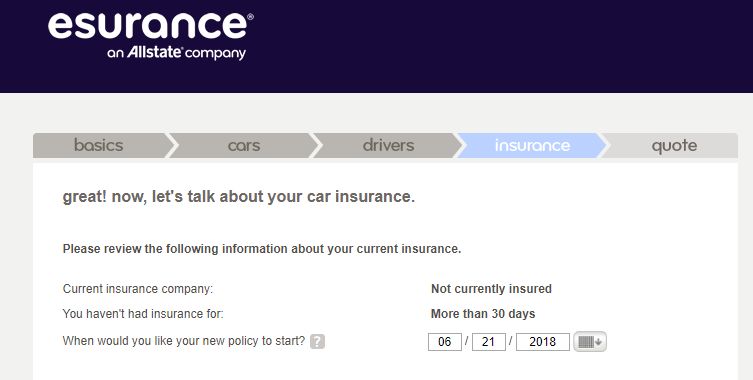 Review the information listed about your insurance. If Esurance did not find any insurance records for you, then you can still continue with the process and update the information with an agent if you buy a policy.
Free Car Insurance Comparison
Enter your ZIP code below to view companies that have cheap car insurance rates.
Secured with SHA-256 Encryption
Step #11 – Get Your Esurance Insurance Quote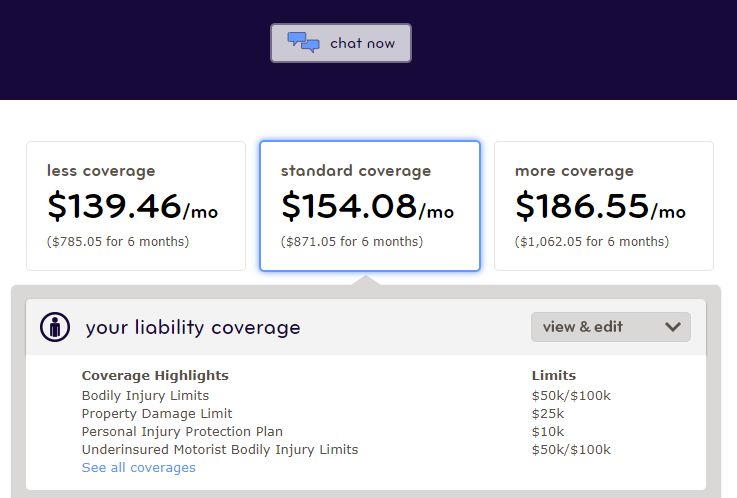 Your personalized quote will be presented with three options to choose from, each with different limits and price adjustments.
You can choose to buy a policy now, or print your policy and save it for future reference. We recommend the latter. If you save a quote, you can keep it close by and compare it with others before making a final decision.
Enter your zip code below to use your free quote tool and get free car insurance quotes from local providers by answering some simple questions!
Editorial Guidelines: We are a free online resource for anyone interested in learning more about auto insurance. Our goal is to be an objective, third-party resource for everything auto insurance related. We update our site regularly, and all content is reviewed by auto insurance experts.