11 Simple Steps to Get a Mercury Car Insurance Quote Online (Photos)
Follow these 11 steps to get a Mercury car insurance quote from their website, or enter your ZIP code into our free tool below to get multiple car insurance quotes for free. Mercury car insurance quotes can include a variety of discounts and most will automatically be applied to your quote.
Free Car Insurance Comparison
Compare Quotes From Top Companies and Save
Secured with SHA-256 Encryption
UPDATED: Jun 2, 2022
It's all about you. We want to help you make the right coverage choices.
Advertiser Disclosure: We strive to help you make confident car insurance decisions. Comparison shopping should be easy. We are not affiliated with any one car insurance company and cannot guarantee quotes from any single company.
Our partnerships don't influence our content. Our opinions are our own. To compare quotes from top car companies please enter your ZIP code above to use the free quote tool. The more quotes you compare, the more chances to save.
Here's what you need to know...
Mercury Insurance offers auto insurance in select states
There are a variety of discounts at Mercury that can help you save, and most will be automatically applied to your quote
If your state isn't covered, Mercury will redirect you to EverQuote to match you with local agents and insurance providers near you
Mercury Insurance is one of the many car insurance companies out there drivers can choose from. There are a lot of things to consider besides just price when you're looking for a new policy.
The company counts as much as its insurance coverages. You want to feel valued as a client and be able to trust the people behind your policy.
Reading reviews online, checking out customer reviews and testimonials, and looking for ratings through agencies like the Better Business Bureau and A.M. Best are all great ways to gauge whether or not a company is trustworthy.
Getting a Mercury Car Insurance Quote Online
Mercury Insurance offers free auto insurance policy quotes online on their site, which you can complete in under 10 minutes. If you want to save time shopping and get more rates in one place, enter your zip code below to compare free quotes using our secure, fast system!
Free Car Insurance Comparison
Enter your ZIP code below to view companies that have cheap car insurance rates.
Secured with SHA-256 Encryption
Step #1 – Check if Your State is Covered
Mercury offers auto insurance, home, condo, renters, umbrella coverage, and more, but availability varies by state.
Step #2 – Enter Your Zip Code to Get Started
If your state is on the list of one's Mercury services, you can enter your zip code and request your quote. If your state isn't listed, you can still enter your zip code.
You'll be redirected to EverQuote, a Mercury partner, and be able to get quotes from agencies that offer insurance in your area.
Step #3 – Read the Privacy Statement
Although it's at the bottom of the page, you should read the Mercury Insurance Privacy Statement and Consumer Disclosure before you enter any information.
Understand how the company will use your information, what third parties may access that information and how it will be used.
You should never provide your personal information to any company online that does not have a privacy policy and ensures your identity will be protected. 
Free Car Insurance Comparison
Enter your ZIP code below to view companies that have cheap car insurance rates.
Secured with SHA-256 Encryption
Step #4 –Enter Your Information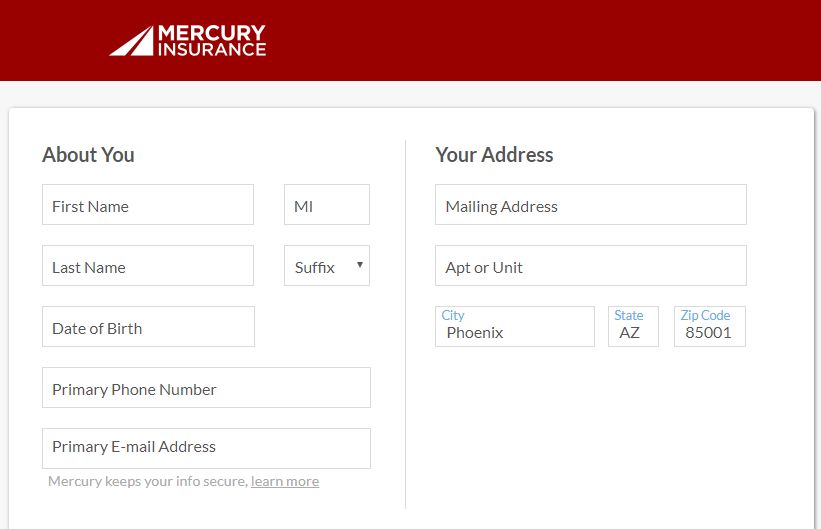 If you agree to let Mercury access your information and use it to get an insurance rate with a personalized quote, start by providing your name, date of birth, contact details, and residential address.
Step #5 – Save Your Quote (And Get Help if Needed)
If you have any questions, you can use the number on the right side of the screen to call Mercury directly. You should also take note of your unique quote ID, which can be used to resume the quote request process if you need to step away at any point.
Your progress is automatically saved every time you advance to a new step.
Step #6 – Choose Existing Car
Mercury will present you with vehicles it's able to find registered to your address. If any of them are correct, hit "Add to Quote". If you want to add additional cars or none of the suggestions match yours, then simply click "Add a Vehicle" to begin adding details.
Free Car Insurance Comparison
Enter your ZIP code below to view companies that have cheap car insurance rates.
Secured with SHA-256 Encryption
Step #7 – Add Cars On Your Own
You can add your car's information manually or have it automatically inputted by providing its VIN.
The drop-down menus make it easy to fill out the information manually, so you won't have to remember your car's body type off the top of your head.
You'll also need to answer questions related to your usage and mileage, so make sure you consider each option carefully and answer as accurately as possible.
Step #7 – Add Drivers
You'll need to provide details on your license status, marital status, living situation, and gender. These small details are all calculated into Mercury's algorithm to customize your premium estimate.
You will be asked questions related to SR-22 insurance and your driving record.
You can add additional drivers to your policy here, but you will need to know the answers to the same questions you were asked, so make sure you have all of their information on-hand.
Step #8 – Qualify for Discounts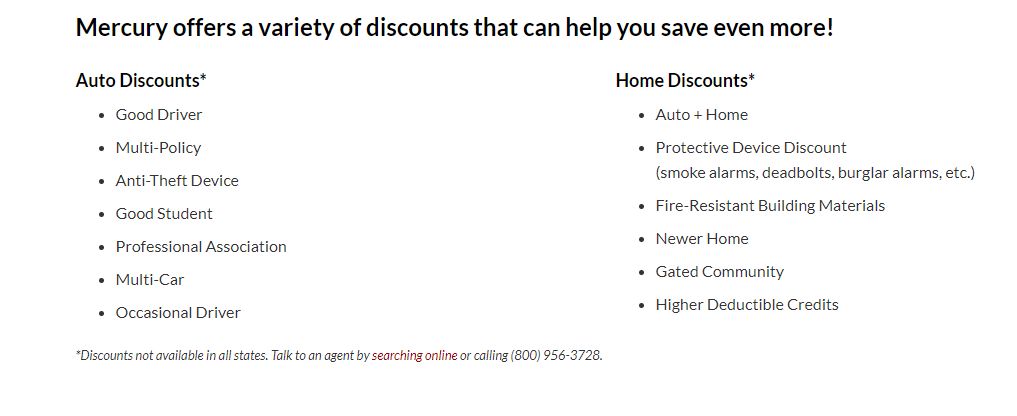 Mercury has a variety of driver discounts that can automatically apply to your quote as you work through the request application.
Some of their auto insurance discounts include:
having Anti-theft devices
a Multi-car discount
a good driver discount
There are also discounts for those who have homeowners insurance with the insurance company. Discounts can be applied for bundling both car and home insurance; as well as discounts for your home if you qualify. Making sure you qualify for these discounts can really reduce your insurance premiums.
You may qualify for additional car insurance discounts depending on your job. You can use the menus provided on the "Drivers" portion of the application to find your title or the position that most closely matches it.
Free Car Insurance Comparison
Enter your ZIP code below to view companies that have cheap car insurance rates.
Secured with SHA-256 Encryption
Step #9 – Add Final Details
Before you get your quote, Mercury will check whether you can save additional money on auto insurance by asking if you have a home, renters, or condo insurance policy with them. Policy bundling is a common discount offer at many insurance companies.
If you received a promotion or referral code, you will be able to enter it at this stage of the application.
Step #10 – Review Your Quote
Mercury will present you with two quotes at the end of the process: one for a six-month policy with monthly premiums and another for a 12-month policy that can be paid in-full.
Step #11 – Choose a Plan
Scroll down to review the coverage limits and car insurance products included in your estimate.
You can adjust the limits to change the price of your quote.
Any additional details will have to be made by speaking to an agent. We recommend saving your quote from Mercury and comparing it to others before making a final choice.
Free Car Insurance Comparison
Enter your ZIP code below to view companies that have cheap car insurance rates.
Secured with SHA-256 Encryption
How to Save Before You Buy a Car Insurance Policy
Many people feel like they don't have any choices when it comes to car insurance. While it is required by law, there is freedom to search and discover the right company for you and your needs.
A tight budget might mean less coverage, but limited funds don't have to equal poor coverage.
Enter your zip code below and provide us with some details about who you are and what you're looking for. We'll match you with free auto insurance quotes from multiple providers that you can compare and use to find the perfect match.
Editorial Guidelines: We are a free online resource for anyone interested in learning more about auto insurance. Our goal is to be an objective, third-party resource for everything auto insurance related. We update our site regularly, and all content is reviewed by auto insurance experts.