11 Simple Steps for Allstate Car Insurance Quotes Online (Pictures)
Get your free Allstate car insurance quotes online in 11 easy steps. Follow this guide to learn more about Allstate car insurance rates and how your driving record will impact what you pay for your Allstate car insurance policy. Enter your ZIP code below to compare Allstate car insurance coverage against other companies so you know you're getting the best rate.
Free Car Insurance Comparison
Compare Quotes From Top Companies and Save
Secured with SHA-256 Encryption
UPDATED: Jun 2, 2022
It's all about you. We want to help you make the right coverage choices.
Advertiser Disclosure: We strive to help you make confident car insurance decisions. Comparison shopping should be easy. We are not affiliated with any one car insurance company and cannot guarantee quotes from any single company.
Our partnerships don't influence our content. Our opinions are our own. To compare quotes from top car companies please enter your ZIP code above to use the free quote tool. The more quotes you compare, the more chances to save.
Here's what you need to know...
Allstate quotes are fast, free and easy to obtain
You can get multi-car quotes through Allstate's website
Allstate gives you contact information for a local agent before you even finish the quote request
Allstate is one of the nation's leading car insurance agencies, so it's a great idea to get quotes from them to compare during your search for coverage. Allstate's site is easy-to-use, but we'll help walk you through the process so there's no confusion along the way.
Head over to Allstate's quotes page and follow this guide to get your insurance quotes today!
You can also start comparing coverage from several providers by entering your zip code above!
Step #1 – Do you know about Allstate?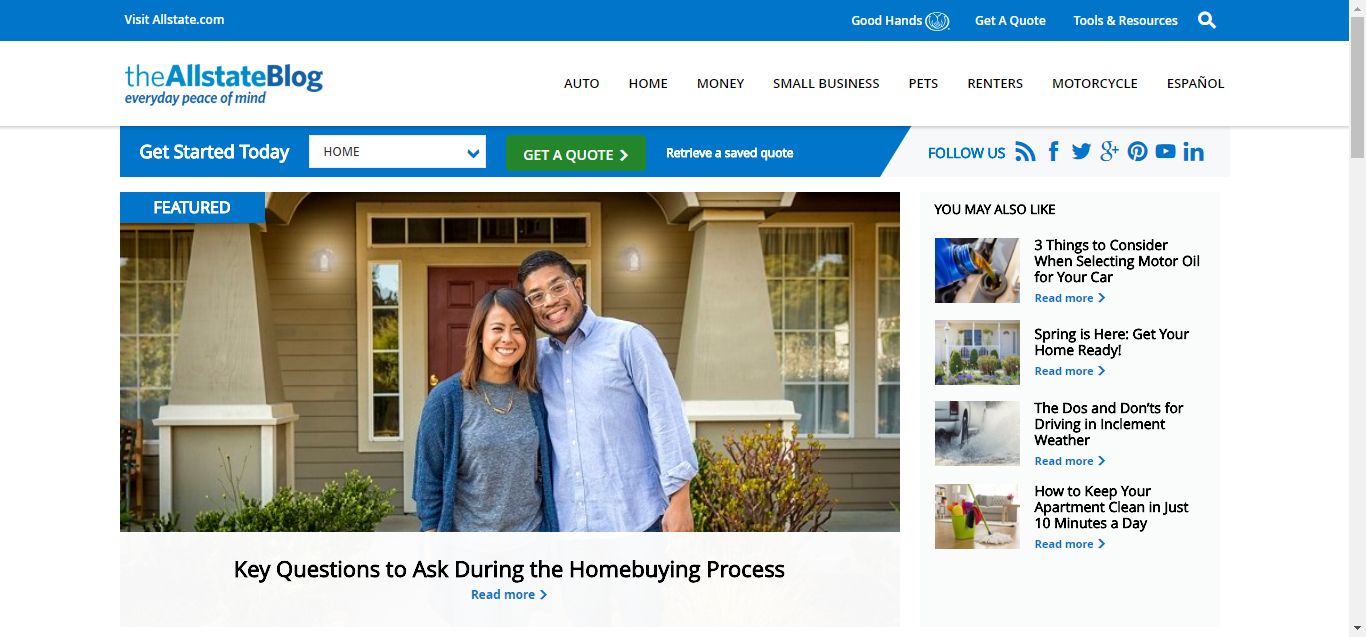 Before you even begin to request a quote, visit Allstate's site and poke around. Learn about the different types of coverage they offer, and use the website to get a feel for the company and see if you like how they present themselves.
Allstate also offers other types of policies such as homeowners insurance, renters insurance coverage, and life policies. Additional coverages for your vehicle include: uninsured motorist and underinsured motorist coverage, personal umbrella policy, rideshare insurance, and more.
Even though Allstate is one of the top car insurance providers in America, they aren't for everyone. The great thing about car insurance coverage in the United States is the sheer amount of companies that offer great coverage.
You'll get a better understanding of where Allstate's focus lies as a company and can determine whether or not you think they'd be a good fit for your needs.
Free Car Insurance Comparison
Enter your ZIP code below to view companies that have cheap car insurance rates.
Secured with SHA-256 Encryption
Step #2 – What is your ZIP code?
When you enter your zip code, Allstate will present you with all the locations in your vicinity. Select your coverage type, enter your zip code and click "Get a Quote".
Step #3 – What is your info?
Enter your first and last name, date of birth, and current address. When you enter your personal info, you give Allstate permissions to draw from consumer records and collect relevant driving records and related information in order to provide you with an accurate quote.
Step #4 – Agree to Allstate's Privacy Terms and Conditions
At the bottom of the page, you'll find a brief description of Allstate's Privacy Policy, which you agree to by continuing the quotes process. By clicking "continue", you give Allstate permission to give the information you provide to a third-party in order to provide you with an accurate quote estimate.
Click "View Privacy Policy" to learn more about Allstate's terms and conditions; you can also download a copy of the Privacy Policy if you want to review it later.
Free Car Insurance Comparison
Enter your ZIP code below to view companies that have cheap car insurance rates.
Secured with SHA-256 Encryption
Step #5 – Have Important Information Ready
There are many ways you can improve the accuracy of your quotes and speed up the request process; have important information about your car(s) on-hand like the Vehicle Identification Number (VIN), make and model, and mileage. You can estimate figures you aren't 100% certain about, but it's best to gather details before you start looking for car insurance quotes to ensure the rates you receive are accurate.
Step #6 – What are your vehicle details?
Using the information you provided, Allstate's system will pull up vehicles associated with your address from records. If you see your vehicle, select it and entire the information prompted. If you do not see your vehicle listed, you can add one yourself by clicking the box at the bottom of the screen.
Once you reach this part of the quote request, you'll see a local Allstate agent profile listed on the right side of the screen. If you run into trouble or have questions, you can contact them directly using the number provided.
If your car has anti-theft devices, Allstate's system will detect this and inform you of potential discount opportunities. You can find out more about this and other parts of the process by clicking "Learn More" whenever it appears on the screen.
Step #7 – Get Help
If you find yourself with questions or stuck somewhere along the process, you can click the "Chat" button located on the right side of the screen.
A box will appear; enter the full name you provided on the previous screen and your email address to receive live help.
You'll be connected with an Allstate chat support specialist who can answer any questions you have about coverage, adding a vehicle or other steps of the quote process.
If you want to end the chat at any time, simply click the X and answer "Yes" to the confirmation prompt that appears.
Free Car Insurance Comparison
Enter your ZIP code below to view companies that have cheap car insurance rates.
Secured with SHA-256 Encryption
Step #8 – How do you use your car?
There are three options for car usage to choose: pleasure, commuting to work/school, and coverage for business owners. You may consider your car's primary use pleasure even if you drive it to and from work every day, but there is a difference in an insurance provider's eyes.
The type of insurance and level of coverage will differ depending on what you use your car for since different uses expose drivers to different accident risks.
Pleasure
This option means you only drive your car for fun; it's not your primary means of communication to work or school and typically isn't driven daily or considered your main mode of transportation.
Commute
Choose this option if you mostly use your car to drive your car to and from work and/or school (high school or college). It's okay if you also use this car to drive to and from the store, run errands, etc., but if it's main use is getting to and from work, then you'll want to select this choice.
Business
A business vehicle is used to provide business services; if you primarily use your car to make sales calls, drive to various locations pertaining to a business operation and/or the vehicle is leased from your company, this is the option you should choose.
Step # 9 – Learn as You Go
Throughout the Allstate quotes wizard, you'll notice words that are highlighted and underlined. Sometimes, you'll also have the option to "see details." When you click this, you'll be given more information on what a highlighted term means and how it can affect your car insurance rates; in other cases, you'll learn why you're being prompted for certain information.
This feature helps you learn more about Allstate's endorsements and discounts as you move through the wizard, allowing you to make a more informed decision after you've received your quote and are comparing rates among companies.
Step #10 – Add Driver Info
Enter driver information for your vehicle(s). You can add multiple drivers, and you may qualify for a multi-car discount if there is more than one car in your household. Make sure that all information entered is 100-percent true and accurate, otherwise, you won't receive an accurate quote.
Free Car Insurance Comparison
Enter your ZIP code below to view companies that have cheap car insurance rates.
Secured with SHA-256 Encryption
Step #11 – Get Your Quote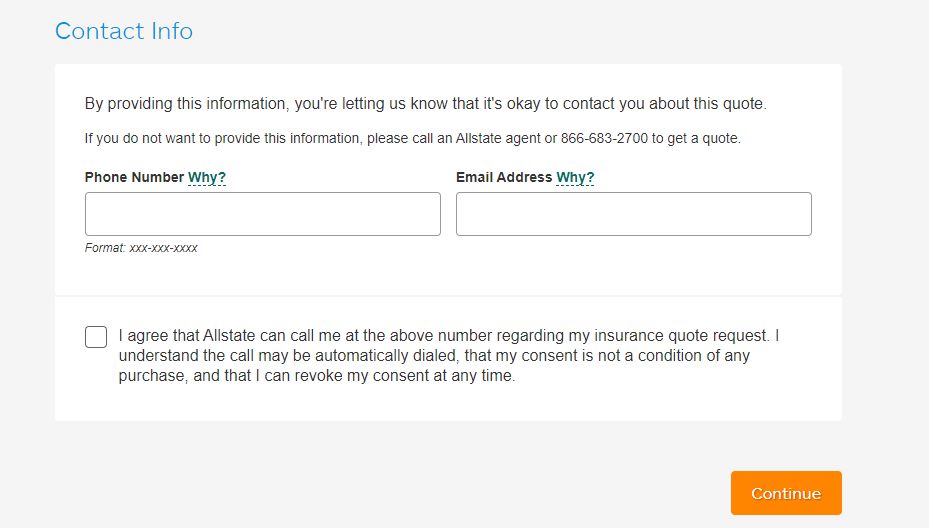 Your Allstate car insurance quote will be delivered to you once you enter a contact phone number; you aren't obligated to sign up for a policy after receiving a quote.
A good place to start researching Allstate and getting a feel for who they are as a provider is in our blog. Here, you can sift through a ton of topics relating to insurance and lifestyle tips; there's everything from travel advice to home buying tips, so take some time to relax and read some interesting articles. You may also find helpful resources on topics like:
Getting started – Learn why people choose Allstate when looking for car insurance.
Insurance basics – Find out what types of policies are available at Allstate.
Car insurance reviews – Read real customer experiences with Allstate.
Auto insurance news – Keep up to date with industry trends at Allstate.
Learn More About Your Options With Us Today
It's a good idea to shop around and compare prices from local providers even if you like what you see at Allstate. Time, patience and a bit of research pay off big time when it comes to car insurance.
Just enter your zip code below to compare quotes from several companies.
Editorial Guidelines: We are a free online resource for anyone interested in learning more about auto insurance. Our goal is to be an objective, third-party resource for everything auto insurance related. We update our site regularly, and all content is reviewed by auto insurance experts.