11 Steps to Get an Amica Mutual Car Insurance Quote Online (Photo)
Get an Amica Mutual car insurance quote in 11 easy steps. There are plenty of discount options that can help you save on an Amica Mutual car insurance quote, and rates average $115/mo.
Free Car Insurance Comparison
Secured with SHA-256 Encryption
UPDATED: Jun 2, 2022
It's all about you. We want to help you make the right coverage choices.
Advertiser Disclosure: We strive to help you make confident car insurance decisions. Comparison shopping should be easy. We are not affiliated with any one car insurance company and cannot guarantee quotes from any single company.
Our partnerships don't influence our content. Our opinions are our own. To compare quotes from top car companies please enter your ZIP code above to use the free quote tool. The more quotes you compare, the more chances to save.
Editorial Guidelines: We are a free online resource for anyone interested in learning more about auto insurance. Our goal is to be an objective, third-party resource for everything auto insurance related. We update our site regularly, and all content is reviewed by auto insurance experts.
Here's what you need to know...
Amica Mutual has been offering insurance for over 100 years
There are plenty of discount options that can help you save on an Amica policy such as the multi-car discount, anti-theft discount, and Defensive Driver discount
Amica offers dividend policies that returns money you've already paid on auto insurance, and rates average $115/mo.
Shopping for car insurance is easier than ever, keeping more and more people safe in case accidents come their way on the road. In a matter of minutes, you can get a free, personalized quote online by providing some basic information and details such as cost, level of protection you'll receive, and what you can expect in terms of customer care. It's a consumer's world – customer service is half the battle!
You can be looking into quotes for any number of reasons. Whether your policy lapsed, you're perusing the market for a new policy, or you're a first-time buyer, you can get auto insurance online by following a few simple steps.
Before you buy, make a decision to compare at least three to five insurance quotes from multiple providers. Don't worry, it's a free process, no payments for these quotes will be necessary.
Amica Mutual is the oldest provider of mutual auto insurance in America and also provides life, home, marine, personal, and theft coverage. They offer a variety of coverage options as well as discounts and dividends that can save you money without giving up the security of a good policy.
Follow this walkthrough and find out how to get your free Amica Mutual quote online. You can also enter your zip code in a box like the one above to get matched with multiple quotes sent directly to you today.
Step #1 – Learn About Amica Mutual

You can go directly to Amica's site and visit their 'about us' page to read about the company in its own words. Their 'about us' page offers customer testimonials, a link to their services page, which then outlines their guiding principles on customer support, and information about Amica's involvement within its community.
You can also take some time to explore the auto insurance portion of their site. Here, you'll find reasons to choose Amica, highlighting some of their greater discount options, as well as links to the types of policies they offer and ways you can save money. It's understandable that someone shopping for such an important policy is going to want immediate access to information such as what it will cost them, and what features they'll be able to buy. Having online options puts you in the fast lane.
From this page, you can click Get a Quote to start your request.
Free Car Insurance Comparison
Enter your ZIP code below to view companies that have cheap car insurance rates.
Secured with SHA-256 Encryption
Step #2 – Select Your Insurance and State
The first thing you'll need to do is specify what type of insurance you want and your state. For this instance, we'll select the 'auto' option, but take note of the bundling option advertised on the right-hand side of the screen. Bundling is a great way to save money if you need more than one type of policy. Sometimes having a bundle reduces what you might pay when it comes to insurance premiums because companies want to give you an incentive to have more open policies with them.
If you are a homeowner, you can bundle Amica's home and auto policies and save up to 15 percent.
Step #3 – Answer Qualifying Questions
The first question Amica will ask you is whether or not you're currently insured by them. If the answer is yes, you'll be asked what type of policy you have. You'll then be asked several questions relating to your recent driving record.
If you or a related household member have been convicted of a major driving offense or had driving privileges suspended or revoked, you will be turned down for an online insurance quote. 
You can call their helpline at 800-242-6422 and explain your situation for more info.
If you're interested in bundling, you can opt to include a homeowner's policy quote with your auto insurance. This will result in a multi-line discount that will be reflected in your quote.
Step #4 – Get Help
From the first page of the quotes wizard, you'll be able to click one of the information symbols and get clarification on a particular topic. You can also call the help number listed on the right of the page.
If you have questions about Amica's coverage or how they calculate your rate, it's better to call a representative sooner than later so you don't lose time filling out information for a quote you may not even find useful. Their website offers you a look into some of their customer reviews, so if you're worried about what their customers service is like, take a look there before you call to see what you can expect.
Free Car Insurance Comparison
Enter your ZIP code below to view companies that have cheap car insurance rates.
Secured with SHA-256 Encryption
Step #5 – Agree to the Information Disclosure
Before you fill out any personal details, we recommend scrolling to the bottom of the page and reading the Information Disclosure.
You can click on the highlighted 'privacy policiy' to read how Amica will handle your information before you request a quote. Below that, you can also click and view their 'security pledge' and gain a better understanding of how they'll protect your personal details online. Because customer satisfaction is something that should be taken seriously, many websites now offer these pledges and disclosures as a way to garner trust with potential customers.
Step #6 – Enter Your Details
Follow the on-screen prompts and provide your basic information. This will be the foundation of your driver profile.
Step #7 – Choose the Easy Road (Or Not)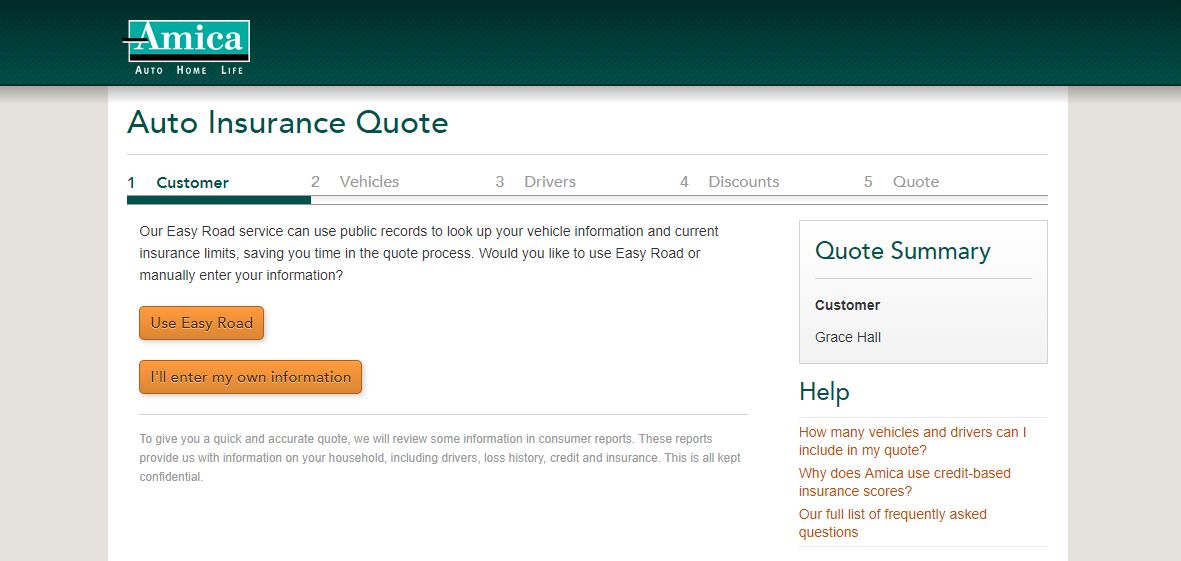 You can allow Amica to access public records using the name, birth date, and address you've provided to search local public records and enter your vehicle details and current insurance limits. For the sake of this guide's completeness, we'll walk you through the manual route.
Free Car Insurance Comparison
Enter your ZIP code below to view companies that have cheap car insurance rates.
Secured with SHA-256 Encryption
Step #8 – Enter Vehicle Details
Follow the prompts and enter your car's year, make, model, purchase history, and usage.
Step #9 – Select Your Coverage
The two questions presented at the bottom of the vehicles page are asked to determine whether you'd like to add a comprehensive and/or collision policy to your quote.
Amica offers a wide range of auto coverages so you can mix and match options to fine-tune your policy. Basic coverage is going to of course be the cheapest, but if you have a new or incredibly expensive car, chances are you're going to want more than just the standard coverage options.
Step #10 – Get Discounts
Since it is a consumer market out there, if a business wants to have competitive rates, it means they need to be offering consumers ways in which they can save money. Amica will inform you of any discounts you qualify for based on the information you provided, and there will be additional discounts listed below that you may be able to add to your policy later.
For example, you can save money with a dividend policy. Amica offers dividend auto insurance policies that provide a reimbursement for the money you've spent on auto insurance. Typically, drivers can receive between five to twenty percent of their annual premium back, and though this type of policy costs more upfront, it's a nice option for those looking to get their money's worth on car insurance.
Free Car Insurance Comparison
Enter your ZIP code below to view companies that have cheap car insurance rates.
Secured with SHA-256 Encryption
Step #11 – Save Your Quote and Compare it With Others
Once you get your Amica quote, write it down and navigate to the sites of other companies you'd try to get affordable rates from. There are many out there who will offer you an online quote. We have guides just like this one for many of America's top providers like State Farm, Progressive, and Liberty Mutual.
If you want to compare all in one place, enter your zip code below and we'll match you with personalized rates from multiple local providers.