12 Steps to Get a Liberty Mutual Auto Insurance Quote Online (Photos)
Free Car Insurance Comparison
Secured with SHA-256 Encryption
UPDATED: Jan 21, 2021
It's all about you. We want to help you make the right coverage choices.
Advertiser Disclosure: We strive to help you make confident car insurance decisions. Comparison shopping should be easy. We are not affiliated with any one car insurance company and cannot guarantee quotes from any single company.
Our partnerships don't influence our content. Our opinions are our own. To compare quotes from top car companies please enter your ZIP code above to use the free quote tool. The more quotes you compare, the more chances to save.
Editorial Guidelines: We are a free online resource for anyone interested in learning more about auto insurance. Our goal is to be an objective, third-party resource for everything auto insurance related. We update our site regularly, and all content is reviewed by auto insurance experts.
Here's what you need to know...
Liberty Mutual has been insuring Americans for over 100 years
Car insurance discounts and the RightTrack savings program can help you save money on auto insurance with Liberty Mutual
Policy bundling with homeowners, rental and condo insurance policies are possible with Liberty Mutual
Founded in 1912, Liberty Mutual has spent the last 106 years becoming a leading insurance provider in the United States. They're currently the fourth largest property and casualty insurance company in America. From personal to business coverage, Liberty Mutual offers plenty of options for business and homeowners, renters, and drivers across the nation.
Whether you've seen one of the many catchy Liberty Mutual commercials or got a suggestion from someone you know, there's lots to learn about Liberty Mutual.
If you're looking to save money on auto coverage through bundling, the company is especially worth investigating as they offer auto insurance bundles with home, renters and condo insurance.
Before we jump into quotes, though, take some time to learn about Liberty Mutual. On the official site for the Liberty Mutual Group, you can learn about the company's cultures and values, awards and recognition and read about how they're striving to continuously innovate the insurance industry.
If you're on social media, check out the official Liberty Mutual Twitter and YouTube channel. Here, you can see how the brand engages with its clients and promotes itself in a much more natural, conversational fashion.
If you like what you see, head over to LibertyMutual.com to start getting your free quote.
Smart shoppers compare prices; enter your zip code on our site to compare quotes from multiple insurers.
Step #1 — Start Off with Your Zip Code


From Liberty Mutual's homepage, select "Auto" from the insurance categories and enter your zip code. You can also click on the location marker in the zip code box and hit "Allow" on the popup that appears and Liberty Mutual's site will input the zip code of your current location.
If you want to get a quote for an auto insurance bundle policy, you can click one of the options to add home, renters or condo insurance to your request. This article will cover the process of requesting an auto insurance policy. When you're ready to continue, click "Get a Quote".
Free Car Insurance Comparison
Enter your ZIP code below to view companies that have cheap car insurance rates.
Secured with SHA-256 Encryption
Step #2 — Enter Your Address
The first thing you'll see when you begin the first true step of the quote request process at Liberty Mutual is this:

This simple introduction leads you to the first prompt of the process, which is a form for you to enter your address. If you're moving, you can provide your future address.
Your location is a factor in how much you'll pay for car insurance. Each state has its own auto insurance requirements and the average cost of auto insurance in the US varies from state to state and even sometimes county to country.
When you're ready to proceed, hit "Save & Continue".
Step #3 — Enter Your Name, Email, and Explore Prefill Options
Now it's time to start providing some more personal information that will assist the quotes process and help give you an accurate rate. Enter your legal first and last names followed by your date of birth.
Liberty Mutual explains on the page that your birthdate is used to confirm your identity and current insurance status, but your age is also another important factor when it comes to calculating car insurance costs.
If you'd like, Liberty Mutual can use the address, name, and birthdate provided to find any vehicles registered to you through a third-party. This information can then be automatically added to the system, saving you the time of having to input everything yourself.
If you aren't comfortable with this idea, that's okay. You can click "No" on the question prompt. If you'd like to learn more before you decide, check out the Information Disclosure agreement at the bottom of the screen and read the popup that appears.
You'll also have to enter your email at this stage so Liberty Mutual can use it to send you your quote.
Step #4 — Enter Your Vehicle Information
The Vehicles section of the Liberty Mutual's quote process is straightforward and easy to navigate. You won't be bombarded with a ton of different boxes but instead only have to fill information out one step at a time.
You can, however, preview the type of details you'll have to provide, so now is a good time to make sure you have all the necessary documents and information on your car(s) before proceeding.
You can choose to enter your vehicle's make, model, trim, body type, and other specifics by hand or you can enter your Vehicle Identification Number (VIN). This ID is unique to every car and can tell an insurance provider everything they need to know quickly.
Find your VIN on the side of your driver's side door frame or on the windshield where the glass meets your dashboard.
Free Car Insurance Comparison
Enter your ZIP code below to view companies that have cheap car insurance rates.
Secured with SHA-256 Encryption
Step #5 — Don't Be Afraid to Step Away
If you need to take a break and come back later, don't worry. Your quote will be saved right where you left off. If you're inactive for a certain period of time, the system will save your info with a unique quote ID. To resume your progress, just enter your email address and zip code.
Step #6 — Learn About Discounts
In many cases, Liberty Mutual will automatically apply discounts that your vehicle qualifies for once you provide the necessary information.
There are tons of different ways to save money on car insurance, and selecting the safety features that the quotes wizard presents can help you save even more. Anti-lock brakes, anti-theft devices, and additional safety features can all save you money in premiums.
Check out our comprehensive guide to auto insurance discounts so you can bring them up to an agent when you sign up for a new policy.
Step #7 — Round Up Your Driving Experience
The final stage of the vehicle information collection process will require you to specify the year you got your current vehicle, answer whether it's owned, financed, or leased, and the primary use. Most people will select personal, but if you use your car to operate a business or conduct work-related activities like sales calls, then you'll select business.
You will also have to estimate your annual mileage; the Federal Highway Administration found that the average American drives 13,476 miles per year as of March 2018.
Free Car Insurance Comparison
Enter your ZIP code below to view companies that have cheap car insurance rates.
Secured with SHA-256 Encryption
Step #8 – Add Drivers

Next, you'll want to list every driver of the vehicle(s) you're requesting quotes for even if they already have their own insurance. If you're married, then make sure you include your spouse's information. Your name and age will already be listed, so choose a gender and answer whether or not you're in a civil union.
You will have to provide additional information for each new driver. As you proceed, you'll have to input your homeownership status, when you were first licensed, and answer whether or not you've been involved in any accidents within the last 5 years.
You can also provide your SSN, but we recommend holding off on this until you're buying a policy.

Step #9 — Find Out if You Qualify to Save More
You can provide additional information that can qualify you for greater discounts; being a college student or graduate, an active duty, reserve member or veteran, and even owning a smartphone can qualify you for discounts.
Step #10 — Provide Insurance Information
If you currently have car insurance and are looking to switch carriers, you'll need to provide information about your current company and policy. Speak to an agent at your current company as well to make sure you're able to transfer coverage or cancel your policy before buying a new one.
Free Car Insurance Comparison
Enter your ZIP code below to view companies that have cheap car insurance rates.
Secured with SHA-256 Encryption
Step #11 — Decide if RightTrack is Right for You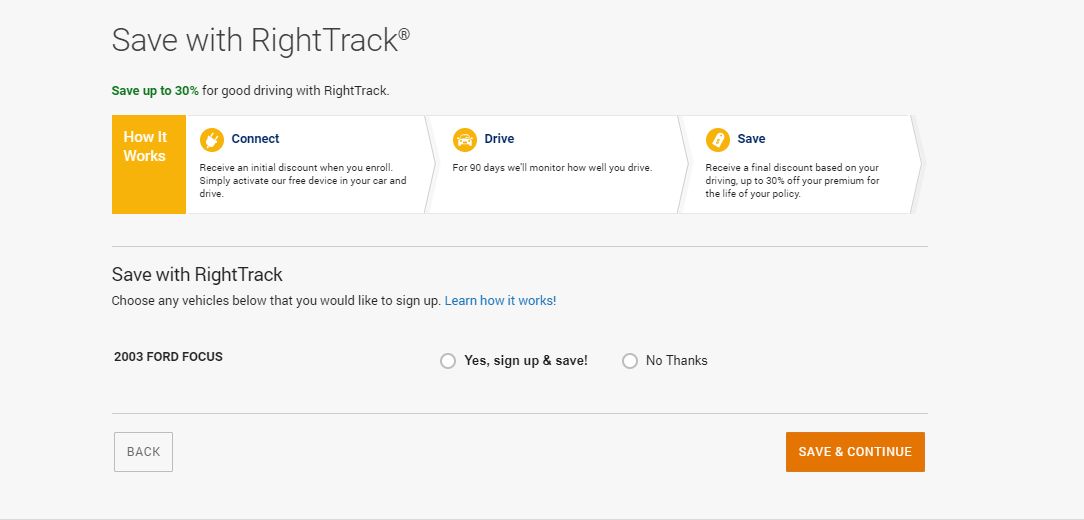 Liberty Mutual's RightTrack program rewards drivers with good records to help them qualify for additional discounts and savings on their auto insurance. Enrolling in the RightTrack program automatically gets you a discount.
You'll have to install the RightTrack device in your car and drive for 90 days; your driving habits and mileage will be monitored and recorded by Liberty Mutual. At the end of the 90-day period, if you've driven responsibility, a discount of up to 30% will be applied to your policy.
https://www.youtube.com/watch?v=kEFtLm8pZZM
Step #12 — Review Your Quote
Your quote estimate will be presented on the next page and broken down in amounts. You'll be able to edit coverages and change information you provided from this screen, as well as chat with a live agent if you have questions or want to move forward with purchasing a policy.
Our suggestion? Keep your quote and enter your zip code below to get several others for comparison. It pays to shop around, and since auto insurance varies from providers, it's a good idea to compare at least three before making a final decision.