How to Get a MAPFRE Car Insurance Quote Online
MAPFRE car insurance is available in 17 states. This step-by-step guide will tell you how to find a MAPFRE car insurance quote online.
Free Car Insurance Comparison
Compare Quotes From Top Companies and Save
Secured with SHA-256 Encryption
UPDATED: Jun 2, 2022
It's all about you. We want to help you make the right coverage choices.
Advertiser Disclosure: We strive to help you make confident car insurance decisions. Comparison shopping should be easy. We are not affiliated with any one car insurance company and cannot guarantee quotes from any single company.
Our partnerships don't influence our content. Our opinions are our own. To compare quotes from top car companies please enter your ZIP code above to use the free quote tool. The more quotes you compare, the more chances to save.
Here's what you need to know...
MAPFRE is a Massachusetts-based insurance agency owned by the Spanish MAPFRE Group
You can get a free auto insurance quote through MAPFRE's site
There are a variety of discounts and value programs MAPFRE clients can use to save money on their premiums
They rely on their team of over 4,200 agents across the U.S. to help customers find the right coverage
Drivers looking for a car insurance policy generally spend time to research which insurer is going to be right for them. This MAPFRE car insurance review will help with that search. We've been researching companies, writing reviews, and putting together guides like this one to make it easier than ever to get quality coverage for a low cost.
Gone are the days when you had to pick up a phone and listen to a sales pitch to try and decipher whether or not an insurance company was really worth your money. From the comfort of your own home, you can now look at prices, get quotes, and discover various types of coverage you may not have known existed before now.
MAPFRE is one of the many insurance providers that will provide you with a quote. They're great if you live in Massachusetts, since that's where they're headquartered, but they have over 4,200 agents across the nation.
Follow this guide to learn how to get a MAPFRE car insurance quote from the comfort of your own home.
Step #1 – Read Our MAPFRE Insurance Review
Our MAPFRE car insurance review explores the company's history, ratings, coverages, discount options, and more. If you want to save time researching and get all the essential facts on MAPFRE in one place, our review can help.
Once you've taken a look at our review, and you think you want to get a quote, head to MAPFRE's website.
Free Car Insurance Comparison
Enter your ZIP code below to view companies that have cheap car insurance rates.
Secured with SHA-256 Encryption
Step #2 – Click "Get a Quote" and Select Your State
You can get started right from the homepage or conveniently click the "Insurance" tab from the top of the main menu to access MAPFRE's quote system anytime.
Once you start your quote, you'll have to choose your state from the list of states the company currently offers insurance in. The options right now are:
Arizona
California
Florida
Massachusetts
New York
Ohio
Pennsylvania
Puerto Rico
Rhode Island
Washington
If your state isn't covered and you're not able to get MAPFRE car insurance, that's okay. Use your ZIP code on our site to get matched with multiple local car insurance agencies free of charge. There are plenty of companies out there with a wide variety of policies available.
Step #3 – Enter Your Basic Details
You naturally want to guard your personal information, but some details are necessary to customize a MAPFRE car insurance quote. This could be said about many companies as well.
Check out each company's Privacy Policy, Terms & Conditions, and information disclosures before you submit anything online. We make sure the companies featured on our site are trustworthy and your information is secure.
Step #4 – Add Your Vehicles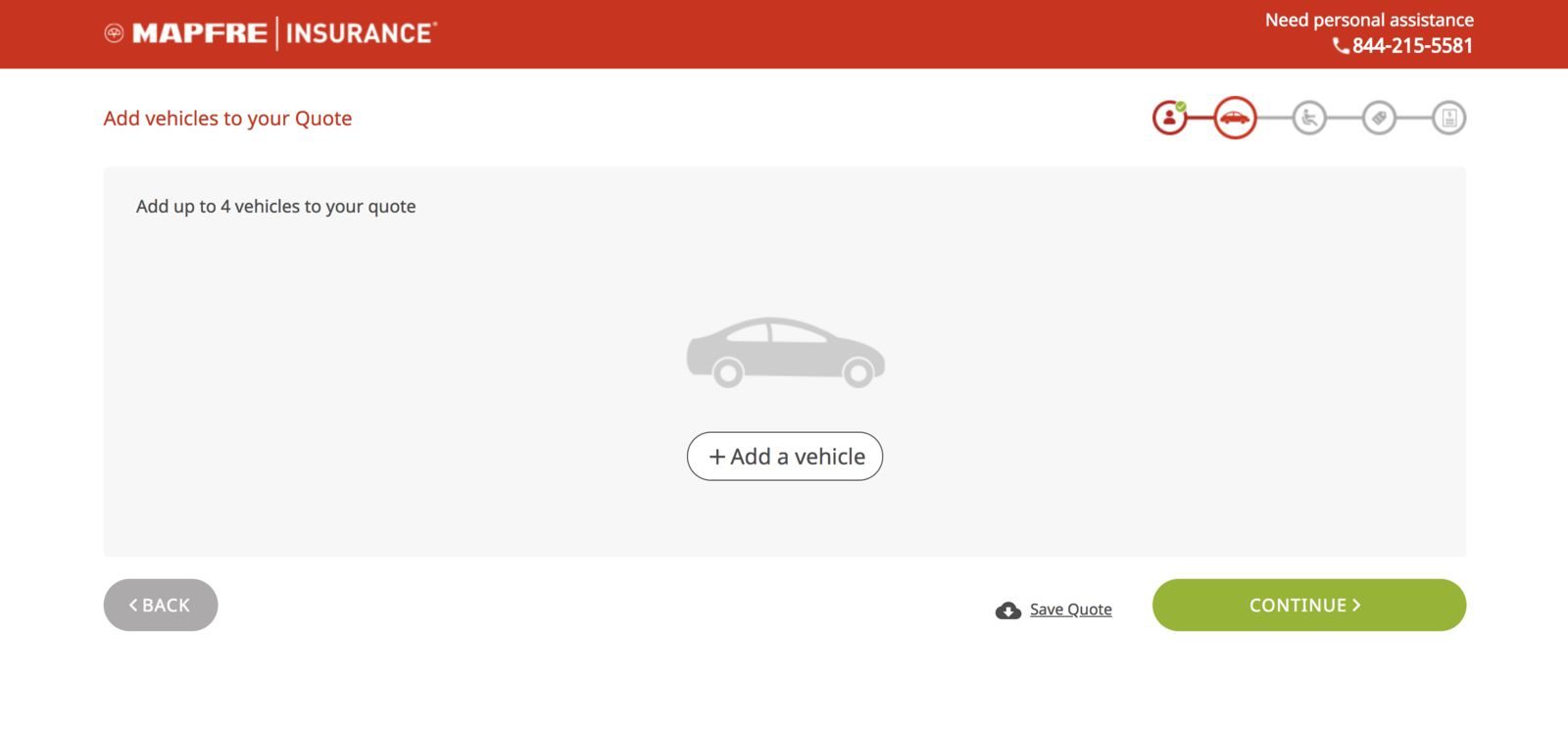 Now it's time for the most important facet of your car insurance, which is the vehicle you're looking to insure. You can add multiple vehicles to your MAPFRE quote, and you can save your quote and return to it later if you need to run errands or leave and collect details.
Free Car Insurance Comparison
Enter your ZIP code below to view companies that have cheap car insurance rates.
Secured with SHA-256 Encryption
Step #5 – Get Specific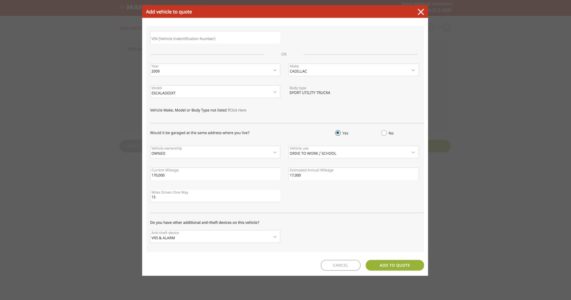 Your car's year, make, and model are always going to be required for an accurate quote, but you'll need to consider some other points you may not frequently address like whether you use your car strictly for personal use or if it would classify as a business vehicle.
Most companies consider your driving habits, even when you're just looking for a quote. If you drive your vehicle for business purposes, you may end up needing a commercial policy, which is going to be different than a standard car insurance policy.
Step #6 – Get Personal Help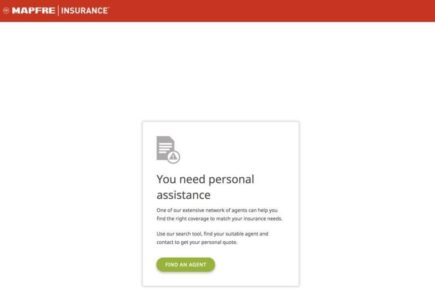 We tried multiple times to get a full quote online from MAPFRE, but at some point during each of our attempts, we were offered assistance from an agent.
The company highly values its customer service team, and you can easily get in touch with a local representative to help you finish your car insurance quote and even buy a policy.
Talking to a representative from the website can offer peace of mind to drivers who aren't sure how to proceed.
Step #7 – Find an Agent Near You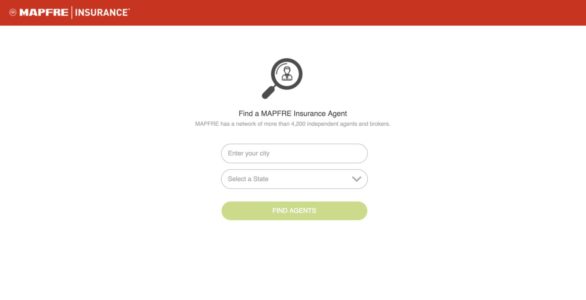 You can find a MAPFRE auto insurance agent in your area using the Agent Locator. Simply enter your city and select your state to get a list of local agents and agencies along with their contact information and directions.
Editorial Guidelines: We are a free online resource for anyone interested in learning more about auto insurance. Our goal is to be an objective, third-party resource for everything auto insurance related. We update our site regularly, and all content is reviewed by auto insurance experts.