Car Insurance in Akron, Ohio [Rates + Comparison Guide]
Rates for car insurance in Akron, Ohio are $235.76/mo. The minimum liability coverage requirements for car insurance in Akron are 25/50/25. The cheapest car insurance in Akron is from American Family and USAA.
Free Car Insurance Comparison
Secured with SHA-256 Encryption

Akron is one of the largest cities in Ohio. In fact, Akron is large enough that it has a zoo right in the city.
In such a large city, there are plenty of drivers. To protect yourself on the road, you'll need car insurance on your vehicle.  Car insurance is confusing, though. With hundreds of insurers to choose from, it is difficult to determine which company is the best for your needs. Whether it's the Allstate insurance company, a GEICO insurance agency, or you speak to a variety of independent agents, you deserve to have competent insurance services.
We are going to help you through the process of finding insurance for drivers in Akron, Ohio. We are also going to cover everything you need to know about driving, living in the city, and obtaining Akron insurance.
Keep reading to see if Akron, Ohio, is the place for you.
Want to start comparing car insurance rates today? Try out our free online tool above.
What is the average cost of auto insurance in Ohio?
Every city is different in how much insurers charge for car insurance. This is partly because of location issues, such as crime or natural disasters. The last thing you want is to move to a place where you pay higher auto insurance premiums and have to worry about storms destroying your car.
To make sure the cost of driving in Akron, Ohio, is reasonable, we are going to go through everything that affects rates. From gender, safe driving habits, to employment rates, every rate factor is covered here. We've partnered with Quadrant to bring you the following information.
Male vs. Female vs. Age
Age and gender are two important factors for insurers. However, some states are starting to ban insurers from using gender as a rating factor.
The following states have banned insurers from basing rates on gender: California, Hawaii, Massachusetts, Montana, Pennsylvania, North Carolina, and parts of Mississippi.
Because Ohio allows insurers to base rates on gender, Akron residents have the following differences in price.
Female Driver: $2,899
Male Driver: $3,063
As you can see, males pay about $200 more than females in Akron. Insurers look at accident data to determine gender rates and have found that males are riskier to insure.
Age, on the other hand, has had no controversy surrounding it. The younger the driver, the less experience they have. The median age in Akron, Ohio, is 36.7, which means most residents will have average rates for 35-year-old drivers.
Let's see what insurers in Akron are charging drivers based on age.
35-year-old drivers have the second-cheapest rates in Akron. Now that we know the prices based on age, let's combine gender to get a full picture of demographic rates.
The data shows that males consistently pay more for car insurance; however, this difference decreases as drivers age. While there's over a $1,000 difference between teen genders, there's less than a $100 difference between 60-year-old drivers.
Marital status also plays a part in coverage rates. Rates for drivers who are married couples will be less than unmarried couples. The insurance industry assumes folks with families are going to be involved in less auto accidents because they are more apt to exercise caution on the road.
Cheapest Zip Codes in Akron
Insurance prices can vary within a city. Some areas are more prone to accidents or crime, so insurers charge more.
Below is a list of the cheapest zip codes in Akron.
The price difference between Akron's most and least expensive zip codes is awesome. It's only about $400. In other cities, the price increase between zip codes can be well over $1,000.
Free Car Insurance Comparison
Enter your ZIP code below to view companies that have cheap car insurance rates.
Secured with SHA-256 Encryption
What's the best car insurance company in Akron?
Since picking out an insurance provider is hard, we are going to go through Akron's providers to see which have the best rates. We will cover what changes rates at companies, from commute distances to driving records, so you can have a good idea of insurers will charge you.
Let's get started.
What Insurance Company has the Lowest Rates?
Price is an important factor in most customer's decisions. Below are the average prices for drivers in Akron.
It's important to know what an insurer charges for your demographic. While American Family's average premium is lower than USAA's, American Family's rates for teen drivers are slightly higher than USAA's rates.
This means that shopping around based on your age and gender could save you a bit of money.
What is the best car insurance for commute rates?
About half of insurers in the U.S. will charge drivers more for a longer commute. This can be frustrating to most drivers, as drivers with long commutes are already paying more for gas. Long commutes mean more wear and tear on a car, meaning repairs might cost a little more, as well.
In Ohio, the average licensed driver travels 14,245 miles a year. Insurers place drivers who travel over 12,000 miles in the category of long commutes. 
Check out which insurers charge more for long commutes in Akron.
The following insurers do not charge more for a longer commute: Allstate, Farmers, Liberty Mutual, Nationwide, Progressive, and Travelers.
Out of the insurers who do charge more, State Farm has the largest price increase at $139. This isn't terrible, as it's only an extra $11.50 a month. Still, all these little extra charges insurers tack onto premiums can add up to a significant amount at the end of the year.
Best Car Insurance for Coverage Level Rates
High coverage gives you the best chance of having to pay nothing out of pocket after an accident.  Some companies' prices for high coverage, though, are too costly. Let's take a look at which companies have the best prices for a coverage upgrade.
The majority of insurers in Akron have incredibly economical price increases for upgrades. At American Family, for example, the upgrade from low to high coverage only costs $55.
We can't stress enough how low this is. Often, the upgrade from low to high coverage costs around $1,000. So if you live in Akron, make sure to take advantage of the low costs and upgrade to high coverage.
Free Car Insurance Comparison
Enter your ZIP code below to view companies that have cheap car insurance rates.
Secured with SHA-256 Encryption
Best Car Insurance for Credit History Rates
Insurers care about drivers' creditworthiness. Those with poor or fair credit scores will have higher insurance rates.
At most insurers in Akron, the drop from good to poor credit costs around $1,000. The exception is Liberty Mutual, where going from good to poor credit will cost drivers $3,539.
So if you have poor credit, Liberty Mutual is probably not the right insurer for you as they view you as having less financial strength.
Best Car Insurance for Driving Record Rates
Drivers with DUIs, high accident history, or speeding tickets on their record are high-risk drivers. Depending on the company, a driving offense will raise insurance rates hundreds or thousands of dollars, but everyone deserves acceptable insurance. There most likely will be coverage limits for someone other than the average driver.
If you have a poor driving record, make sure to shop around based on your offense. For example, Farmers penalizes drivers the most for a speeding ticket, while Allstate charges the most for a DUI. It is in the best interest of all consumers to ensure they have clean driving records.
What other factors for car insurance are there in Akron?
It's not just driving records and credit scores that affect drivers' rates. Everything from a city's prosperity to residents' average incomes can influence how much insurers charge.
To get a better idea of what the economy is like in Akron, we are going to go through everything you need to know about the city's growth and wages.
Let's begin.
Growth & Prosperity
Growth and prosperity are essential factors in determining if a city's economy is flourishing or failing. People don't want to move to a city with a poor economy and few jobs.
Let's start by looking at Brookings Metro Report's information on Akron's prosperity (prosperity measures the average wealth and income of residents) from 2016 – 2017.
Prosperity Index: 61 – 80 (65th of 100)
Standard of living: 41 – 60 (53rd of 100)
Average annual wage: 81 – 100 (91st of 100)
In this case, a higher score means the city's prosperity is poor. Akron is definitely behind other cities in terms of prosperity.
Let's take a look at Akron's growth.
Growth Index: 81 – 100 (87th of 100)
Jobs: 81 – 100 (91st of 100)
Gross metropolitan product (GMP): 61 – 80 (70th of 100)
Jobs at young firms: 81 – 100 (83rd of 100)
Akron's growth is also rather dismal. The city is lagging on job opportunities, which isn't good news.
Median Household Income
Now that we've learned Akron is struggling in terms of growth and prosperity, we want to look at Data USA's information to see what the average Akron household earns.
The average income in Akron is $55,418. This income is slightly higher than Ohio's average income of $52,407. However, Ohio's average income is below the U.S. average income, so Ohio is lagging a bit behind.
Since car insurance in Akron costs $2,682, the average Akron household is spending 4.84 percent of their annual income on car insurance.
This isn't bad. Car insurance in Akron is fairly economical, which means it cuts less into people's budgets and allows for more affordable rates.
Want to calculate what percentage of income you spend on car insurance? Try out our free calculator below.
Homeownership in Akron
Homeowners often get discounted rates, as insurers offer home and auto bundling discounts. Let's see how many homeowners are in Akron.
51 percent of residents in Akron own their homes. This is less than the national average of 63.9 percent homeownership.
Akron's rate of homeownership is over 10 percent less than the national rate. To see if the cost of living has something to do with Akron's lower rate, we want to take a look at the median value of homes in Akron.
Akron's data is in red, while the national averages are in grey.
Akron's median property value is $80,100, which is on the lower side. 10.8 percent of households in Akron have houses that cost 80 – 90 thousand, while only 3.39 percent of U.S. households own houses at this price range.
As you can see, the higher the price grows in Akron, the lower Akron's percentage of homeowners drops.
Education in Akron
Thinking of continuing your education in Akron? There are a few higher education schools in Akron, making access to a local campus easy.
The schools awarded a total of 5,892 degrees in 2016, although the University of Akron awarded 5,620 of these awards.
Akron also has a small community college, Herzing University. The college offers the following areas of study for one- to two-year accreditation programs.
Nursing
Healthcare
Business
Technology
Public safety
Legal studies
The college also offers online courses for busy students.
Wage by Race & Ethnicity in Common Jobs
While we've touched on average incomes, we want to look further into Akron's incomes. Below are the average incomes by race and ethnicity for miscellaneous managers in Ohio.
Other races or ethnicities are the highest paid in Ohio, which means they spend less than 3 percent of their income on car insurance. Still, the percentage of income going to car insurance for the lowest-paid race or ethnicity (Native Americans) isn't bad either, as it's less than 5 percent.
Wage by Gender in Common Jobs
Gender is another demographic factor that shows differences in average incomes.
The graph above clearly shows that males earn more than females, even in the same job fields.
Ohio Male Average Salary: $61,819
Ohio Female Average Salary: $45,809
Male employees in Ohio earn an average of $16,010 more than female employees. This means that while male drivers spend an average 4.34 percent of their income on car insurance, females spend 5.86 percent on car insurance
Poverty by Age & Gender
It should come as no surprise that poverty (like wages) also shows differences between genders and ages.
In the majority of the age ranges, there are more females than males living in poverty. The largest demographic living in poverty are the following:
Females 25 – 34
Females 18 – 24
Females 45 – 54
Poverty is prevalent in Akron, as 24.1 percent of those stricken with poverty live below the poverty line. This percentage is higher than the national average of 13.4 percent.
Poverty by Race & Ethnicity
Like gender poverty rates, certain races and ethnicities struggle more with poverty in Akron.
Whites struggle the most with poverty in Akron, with 21,449 whites living in poverty. Blacks have the next highest number living in poverty (20,627 people). Other races and ethnicities in Akron are well below whites' and Blacks' poverty numbers in Akron.
Employment by Occupations
Now that we've looked at incomes and poverty levels, let's see what the most common occupations are in Akron.
The most common occupations in Akron are the following:
Office and Administrative Support Occupations (13,034 people)
Sales and Related Occupations (10,524 people)
Production Occupations (8,820 people)
The employment in Akron also grew 2.27 percent from 2016 – 2017, which is good news. The number of employees increased from 88.7 thousand employees to 90.8 thousand employees.
Hopefully, continued growth in the employment field will help boost Akron's growth and prosperity numbers.
Free Car Insurance Comparison
Enter your ZIP code below to view companies that have cheap car insurance rates.
Secured with SHA-256 Encryption
What is driving in Akron like?
City driving is different from driving in the suburbs. There are more drivers and intersections, which can make for a frustrating and confusing drive. To prepare you for driving around Akron, we are going to go through everything from roads in the city to traffic patterns.
Keep reading to see how difficult (or easy) it is to navigate Akron.
Roads in Akron
The first aspect is the roads. Most drivers don't want to deal with poorly maintained roads or confusing highway ramps.
So let's take a look at what Akron's roads are like.
Major Highways
Ohio has 25 active routes crisscrossing the state and making up 727 miles of roadway. Three of these active routes (I-76, I-77, and I-277) run right through Akron.
So if you live in Akron, you'll have easy access to major highways. The good news is that none of these highways have toll roads near Akron.
The main toll road in Ohio is the Ohio Turnpike. If you have to travel on this turnpike, you may want to invest in an E-ZPass.  An E-ZPass allows you to go through a toll booth without having to fish for change. Tolls will be automatically charged to your account.  If you travel through tolls frequently, an E-ZPass will lessen the hassle.
Popular Road Trips & Sites
Wondering where you can go on Akron's highways? While there are activities to do within the city, such as visiting the Stan Hywet Hall and Gardens, sometimes it's good to get out of the city.
Below is a list of fun road trips to take in Ohio.
As you can see, there is plenty to do around Akron. With so many attractions near the city, you should never run out of things to do.
Road Conditions
We want to take a look at Akron's road conditions. If you've ever lost a tire to a pothole, you know how frustrating poorly maintained roads can be.
Poor Share: 49 percent
Mediocre Share: 12 percent
Fair Share: 14 percent
Good Share: 25 percent
Vehicle Operating Costs (VOC): $837
Unfortunately, nearly 50 percent of Akron's roads are in poor condition. The vehicle operating costs are also a little higher in Akron than in other cities across the U.S.  Hopefully, Akron will soon add road repairs to its list of improvements.
Does Akron use speeding or red-light cameras?
According to the Insurance Institute for Highway Safety (IIHS), Ohio uses both red-light and speeding cameras. While not all Ohio residents are happy with these cameras, so far the state has not attempted to ban them.
So when you drive in Ohio, be aware that cameras are placed throughout the state to catch you speeding or running a red light. However, Ohio is working on updating its traffic camera laws by requiring officials to place signs letting drivers know about the cameras.
 – Vehicles in Akron
Owning a vehicle allows for independence, but it also comes with headaches. From speeding tickets to theft, a vehicle could end up costing you a significant sum after the initial purchase of the vehicle.
Being prepared, though, can help you get smoothly through the rough patches of car ownership.  To see what you need to be prepared for in Akron, we will go through everything from the most popular vehicles owned to vehicle theft.
Most Popular Vehicles Owned
YourMechanic listed the most popular vehicles in Akron.
The most popular car in Akron is the Chevrolet Impala.
YourMechanic also recorded the percentage of vehicle types that are serviced in Akron.
There are very few hybrid vehicles in Akron, which could make finding an electric charging station a challenge.
Akron Cars Per Household
Now that we know what types of cars Akron residents own, let's see how many cars most households have (Akron is in orange, while the U.S. averages are in grey).
The majority of households (42.7 percent) in Akron own two cars, while a small number (1.9 percent) own five or more cars.
Akron Households Without a Car
Let's take a look at what Akron residents depend on ridesharing or public transportation to get around the city.
The number of households without vehicles dropped in 2016, which means more households gained a car.
Speed Traps in Akron
Since speeding is illegal, cities will set up speed traps to catch drivers breaking the law. Some cities are worse than others, though, for hiding cops with radar guns around the corner.  Unfortunately, Akron is one of the top 10 worst cities in Ohio for speed traps.
There are three known speed traps in Akron. Make sure to follow the speed limits to remove the chance of getting an expensive ticket and raised insurance rates.
Vehicle Theft in Akron
Unfortunately, there is always the potential of vehicle theft wherever you live.  The FBI's crime report recorded 755 stolen vehicles in 2017. This number hasn't changed much, as NeighborhoodScout reported 762 stolen vehicles in 2018.
If you want to make sure your vehicle has the best chance possible of staying in your possession, NeighborhoodScout says the safest neighborhood is Pigeon Creek.
Other safe neighborhoods are:
Ghent
N Revere St/Woodsmill Rd
Copley
N Portage Path/Eaton Rd
Merriman Rd/N Portage Path
Copley Junction
W Bath Rd/Riverview Rd
Cottage Grove/Infant of Prague Villa
Portage Lakes
Living in one of these areas is safer. But how much violent crime goes on in Akron? The last thing you want is to move to a city with a reputation for crime.
Now that we've shown you the numbers, you may be wondering how likely it is that you will experience violent crime.
If you live in Akron, you have a one in 143 chance of being the victim of a violent crime.
This isn't great, especially considering that Ohio's chance of being the victim of a violent crime is one in 336.
Akron's crime index rating is only five, meaning Akron is only safer than 5 percent of all U.S. cities. Now that we know Akron isn't the safest place to be, let's look at the total number of crimes that occur.
A high number of property crimes occur in Akron, making for a high crime rate overall in the city. Because of this, make sure to live in a safer neighborhood and use caution when traveling around the city.
Traffic
Traffic is a normal part of living in a city. Because cities have more people living in a small area, there is naturally more congestion on the streets.  To help prepare you for Akron's traffic, we are going to go through information from congestion levels to traffic risks.
Let's begin.
Traffic Congestion in Akron
According to TomTom, a traffic congestion rating site, you'll have to contend with the following traffic congestion in Akron.
This is not bad. Akron has very little traffic congestion for a city, which means you only need to allow for a few extra minutes for your commute.
Transportation
While we know Akon has low traffic congestion levels, we want to see how long most Akron residents spend commuting each day (Akron's averages are in orange, and the U.S.'s averages are in grey).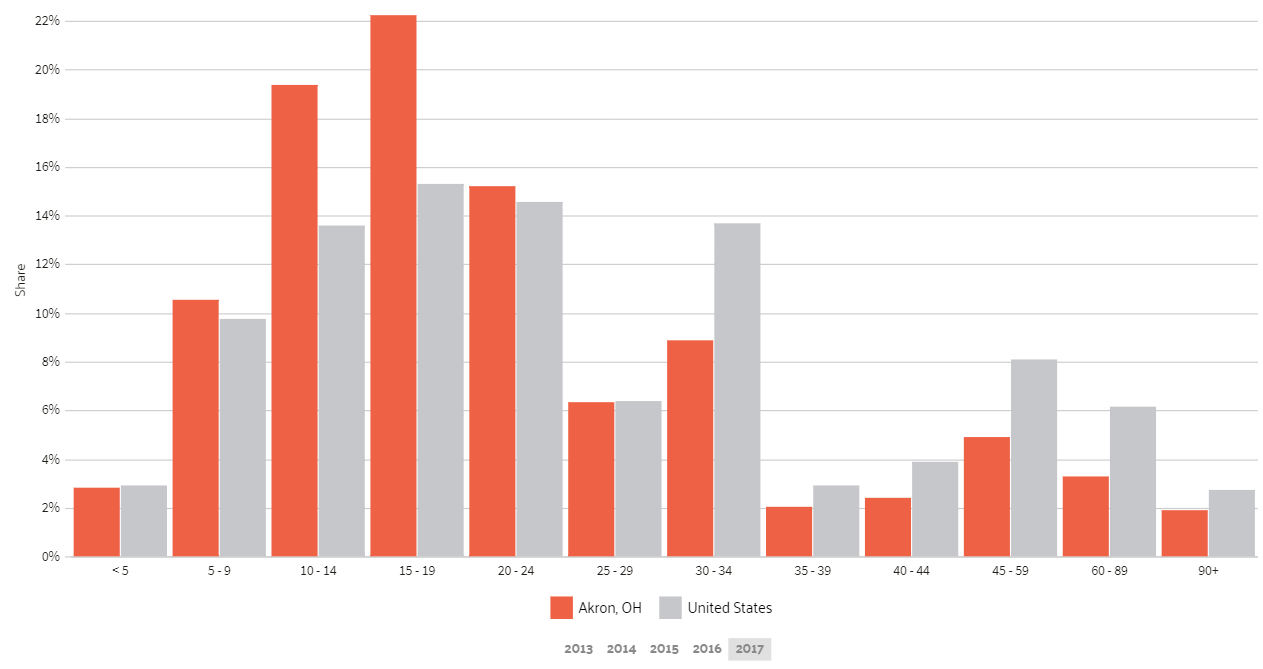 Akron's average commute time is 21.1 minutes, or 42.2 minutes a day. This is a few minutes shorter than the U.S. average commute time (25.1 minutes). However, 1.89 percent of Akron residents spend over 90 minutes commuting, which is over three hours a day.
So how do Akron residents arrive at work?
The three most common methods of transportation in Akron are the following:
Driving Alone: 81.3 percent
Carpooling: 9.57 percent
Public Transit: 4.2 percent
There is no recorded use of Akron residents using bicycles, motorcycles, or taxis to regularly get to work. The majority of people seem to either travel by private or public transit, although a few work from home. For those, usage-based insurance may be worth looking into.
How safe are Akron's streets and roads?
Just how safe are you when you drive down Akron's roads?  To see what risks are out there, we are going to go through the National Highway Traffic Safety Administration's (NHTSA) information on crashes in Akron.
Let's start by looking at the total number of crashes that occurred in Akron (Summit County).
The number of fatalities increased significantly in 2016 and 2017. To see if there is a specific factor that caused this spike in fatalities, we want to break down the fatalities by crash cause.
Alcohol-related fatalities decreased in 2017, but a number of other factors increased in fatalities. While there were only 19 roadway departure fatalities in 2013, there were 30 roadway departure fatalities in 2017.
Now that we know what's causing these fatalities, we want to look at the person types taken by these crashes.
The number of passenger car occupant and pedestrian deaths have increased in Summit County. While pedalcyclist deaths have been at zero for some years, there were two deaths in 2016.
Now that we've covered the why and who of fatalities in Akron, let's look at the where. Below is the NHTSA's data on the most fatal highways in Ohio.
So what do these road types mean?
An arterial road is a major, high-traffic road like a highway, so a minor arterial road is just a heavy-traffic road. A collector arterial takes local traffic to an arterial road.
These two road types have some of the highest crash numbers out of Ohio's road types, so be cautious when on high-traffic roads and when merging onto highways.
Since we know highways see a high number of crashes in Ohio, we want to look closer at highway crash statistics. Below is the US Department of Transportation's  (US DOT) information on railroad and highway crash incidents.
Evans Avenue in Akron has seen a few railroad and highway crashes. Always pay attention to when trains are coming and stop behind the white line.
Allstate America's Best Drivers Report
Allstate does a report every year on which cities have the safest drivers (based on accident data).
Akron received the following scores from Allstate.
Years Between Claims: 10.48 
Likelihood of Claim Compared to National Average: -0.001
Drivewise Hard Braking Events Per 1,000 Miles: 16.84
The average time between claims is fairly long in Akron. Either most drivers aren't getting in any accidents at all for a decade, or the accidents are minor enough that they aren't reported.
The number of hard braking events is also normal. Drivers may brake hard to avoid an accident from someone else's careless driving, so hard braking isn't necessarily a reflection on the drivers themselves.
Ridesharing
Sometimes, there are cases where you don't want to deal with parking or need a ride to the airport. In cities, there are numerous ridesharing services available to customers. However, rideshare trips can be expensive.
Below are the main rideshare companies in Akron, listed in order from least to most expensive.
Taxi — Surprisingly, a traditional taxi tends to be the cheapest option in Akron.
Uber— An Uber X is the next-cheapest option. However, using Uber Select or Uber Black costs more.
Curb — Curb is similar in price point to Uber and Lyft.
Lyft — Lyft Premier and Lyft Lux will cost more than other options.
Most of the rideshare options are similar in price, unless customers choose ride upgrades at Uber and Lyft.
E-star Repair Shops
Need your car repaired but aren't sure where to take it? Esurance has a repair shop program, where shops who pass Esurance's criteria earn the badge of an E-star rated shop.
Below is a list of E-star-rated shops in Akron.
There are several repair shops directly in Akron, making it easy to find a highly rated repair shop when something goes wrong with your vehicle.
Weather
The weather in a city is more important than most of us think. There are sometimes even health implications to consider, such as seasonal mood disorders like SAD. If people hate winter and the cold, then moving to a state like Minnesota probably isn't the best option.
Let's take a look at Akron's average weather.
Annual high temperature: 60.2°F
Annual low temperature: 42.9°F
Average temperature: 51.55°F
Average annual rainfall: 36.06 inch
Ohio isn't exactly the warmest state. The annual high temperature is only 60°F. While it will be warmer than this in the midst of summer, don't expect any boiling hot days.
One last weather aspect we want to look at is natural disasters. There has been a total of 10 natural disasters in Summit County.  This is less than the U.S. average of 13 natural disasters, which is good news for those that live in Akron.
Some of the natural disasters that happened in Summit County include storms, floods, and tornadoes.
To make sure your vehicle is protected in case of a natural disaster, consider purchasing comprehensive coverage.
Public Transit
The city of Akron has a public bus transit system. The fares for using Akron's bus system are below.
Single Ride Pass: $1.25
One-Day Pass: $2.50 
Seven-Day Pass: $15
31-Day Pass: $50
These are the rates for general passengers. Seniors and people with disabilities are eligible for ride discounts.
Alternate Transportation
Currently, Akron doesn't have the bike and scooter rentals Bird or Lime. Both of these companies are working on expanding to other cities, though, so they may expand to Akron.
If you prefer alternate transportation for short trips, you may want to look into a bike or scooter. These methods are also great for adding a bit of exercise to your day.
Parking in Metro Areas
If you don't take public transit, you'll have to deal with city parking. The city of Akron has coin-metered parking, which means you'll need to bring some spare change.  The meters operate on weekdays from 8:00 a.m. – 6:00 p.m (except on holidays).
However, Akron's street parking is only for short-term parking. This means that it's illegal to continue feeding a meter all day. If you are planning on being somewhere for a while, you need to use a parking lot. Luckily, there are over 10 parking garages in downtown Akron, so you should have no trouble finding somewhere to park.
As for satellite parking, this is available at the Akron-Canton Airport. Anywhere else, you'll have to park and walk.
Finally, we want to cover if Akron has places you can park and charge your electric vehicle. With the growing focus on going green, cities need to start accommodating fuelless vehicles.  Luckily, Akron has a total of 44 charging stations, 25 of which are free.
Air Quality in Cities
Air quality is an important topic, especially since vehicles contribute significantly to air pollution. Breathing in air pollutants each day can have a negative effect on our health.
The air in cities can be markedly worse than in rural, country areas. Below is the Environmental Protection Agency's (EPA) information on air quality in Akron.
Akron's air quality isn't bad for a city. In three years, there were only two days unhealthy for sensitive groups. There were also zero unhealthy and very unhealthy days.
Are there any discounts for members of the military and veterans?
Military and veterans are often eligible for benefits at car insurance providers. However, sometimes it can be confusing when deciding which provider has the best benefits and rates.  To help military members navigate car insurance benefits, we will cover everything from veterans in Akron to USAA availability.
Keep reading to see what you could save.
Veterans by Service Period
Before we dive into discounts and providers, we want to take a look at how many veterans are in Akron.
There are 3,879 Vietnam veterans in Akron, making up the largest share of total veterans. A small number of WWII veterans (580) also live in Akron.
Military Bases Within an Hour
There are no military bases within an hour of Akron. There is only one military base in Ohio, the Wright-Patterson Air Force Base.  This base is about three hours from Akron, so it's a long drive if you want to visit.
Military Discounts by Providers
Below are Ohio insurers that offer military discounts.
*USAA also has a discount for military garage.
Not all insurers in Ohio have a discount. Still, make sure to ask. A local provider that's not on our list of major insurers may have a discounted rate.
USAA Availability
USAA is one of the best insurers for military personnel and their families. Why? Because USAA has great rates. Below is USAA's average rate compared to major competitors in Ohio.
USAA is the cheapest provider in Ohio, as it's rates are well below the state average. So, make sure to look into USAA if you are military personnel.
Free Car Insurance Comparison
Enter your ZIP code below to view companies that have cheap car insurance rates.
Secured with SHA-256 Encryption
Are there any unique laws in Akron that drivers should be aware of?
Cities have different legislation regulating driving habits. If you aren't familiar with Akron's laws, you could end up with a ticket.  Unfortunately, ignorance of a driving law usually isn't enough to get out of an expensive ticket.
So stick with us as we go through everything from cell phone use laws to parking laws.
Hands-Free Laws
Like most states, Ohio has laws regulating cell phone use in the car. Drivers under 18 aren't allowed to use cell phones at all.  Drivers over age 18 are allowed to cell phones but not for texting. Texting while driving is illegal in Ohio (as in all U.S. states) and will result in a ticket.
Akron doesn't have any additional laws added onto the state law, so follow Ohio's cell phone use driving law and you'll be fine.
Food Trucks
Food trucks must follow local safety and health laws. If not, they'll be shut down. In Akron, food trucks must apply for a license.
For the license to be approved, the trucks must first pass a health and safety inspection, and owners must pass a food safety quiz. Once the county approves the food truck for operation, owners can hit the streets.
However, food trucks must make sure to follow local ordinances on zoning laws. Food trucks can't park where they block fire hydrants or intersections.
If owners follow the county's health laws and parking laws, though, food truck owners should have no problem.
Tiny Home
Tiny homes generally fit into the same laws as mobile homes. If you are looking to downsize in Akron, you'll need to know Akron's tiny home laws.  Because a tiny home is considered a mobile home, you'll have to park it in a mobile home park or receive permission to park it on private land.
The county will also require safety inspections, as houses need to have access to water, sewage, and other safety precautions.
You'll need to make sure to register your house, as you'll be taxed on your tiny home in Ohio. So make sure to register your tiny home as soon as you move to Ohio.
Parking Laws
In any state, it is illegal to park facing the wrong direction. What does this mean? If you are driving down a street and see a parking spot on the other side of the road, you have to turn around to get the spot.
Too often, drivers whip into a spot on the wrong side of the street, resulting in their car facing the wrong way. To get out, wrong-direction parkers must pull into oncoming traffic, which is dangerous for everyone on the road.
If you want to make sure you'll have parking, you can reserve a spot at a local parking garage. This way, you won't worry about having time to turn around to grab the last open parking spot.
What are some frequently asked questions about Akron car insurance?
Though we are near the end of our guide to Akron, we know you may still have questions. Moving and living in a new city can be confusing, especially when you also have to navigate new roads and rules.
To see what others are asking about Akron, check out our list of frequently asked questions below.
Hopefully, these questions will clear up any confusion you may have left.
What's in Akron, Ohio?
If you are easily bored, you'll want to move to a city with plenty to do. In Akron, Ohio, there are a few major attractions, such as the Akron Zoo, multiple museums, and a ski resort.  The city also features multiple festivals throughout the year, perfect for those who love pumpkin festivals or music festivals.
Akron residents should find plenty to explore if they keep up to date on what's going in their city.
What airport is near Akron, Ohio?
The Akron-Canton Airport is about 20 minutes away from Akron (depending on traffic). It is situated in Akron's neighboring city in North Canton.
If you travel frequently, you won't have to drive over an hour to reach the airport if you live in Akron. This also means that you have the option of ridesharing to the airport to avoid paying for satellite parking.
How safe is Akron, Ohio?
Unfortunately, Akron doesn't have the best safety rating. It is only safer than 5 percent of all U.S. cities.
Akron residents also have a higher crime chance of being the victim of a violent crime than in other areas of Ohio. So if you move to Akron, make sure to pick a neighborhood that has decent safety ratings.
What happens if I'm in a car accident in Akron, Ohio?
If you cause a car accident in Akron, you'll be responsible for the other driver's injury and property damage costs, because Ohio is an at-fault state. So make sure to have great insurance in case of an accident, so you aren't paying out of pocket for another driver's accident costs
How much snow will Akron, Ohio get?
Akron gets quite a bit of snow each year but not in an excessive amount (although snow can make driving difficult into the roads are cleared). The norm is one inch, which means you won't have to trudge through knee-deep snow.
Still, make sure to pack a warm winter coat.
We've finally reached the end of our comprehensive guide, and we hope it proved useful to you. If you want to start comparison shopping today, you can enter your zip code in our free online tool below.