Car insurance in Chicago, Illinois [Rates + Comparison Guide 2022]
The average rates for car insurance in Chicago, IL, are $317.77/mo, but you can compare quotes for free below to reduce your rates by up to 20%.
Free Car Insurance Comparison
Compare Quotes From Top Companies and Save
Secured with SHA-256 Encryption
UPDATED: Jun 22, 2022
It's all about you. We want to help you make the right coverage choices.
Advertiser Disclosure: We strive to help you make confident car insurance decisions. Comparison shopping should be easy. We are not affiliated with any one car insurance company and cannot guarantee quotes from any single company.
Our partnerships don't influence our content. Our opinions are our own. To compare quotes from top car companies please enter your ZIP code above to use the free quote tool. The more quotes you compare, the more chances to save.

With so much to see and do, Chicago really is a city on the move.
Visitors and tourists alike can spend the day taking in the sights and sounds of Navy Pier or browsing the halls of the Field Museum made famous by the Indiana Jones movie franchise.
The Windy City hosted nearly 58 million visitors in 2018 alone according to the Chicago Tribune. When added to the nearly 2.8 million residents that call Chi-town home it is no wonder that traffic can sometimes be a nightmare.
Should your traffic woes turn into a car accident it will be a comfort to know that you have a car insurance company who will have your back. Choosing the right car insurance company that will give you the best price means doing a little research and shopping around. That's where we come in.
We have collected all of the data you need to find the perfect car insurance provider to suit all of your needs. Enter your zip code above to get started and then keep reading to find out more about all of the ways that we want to help you and your family save money.
How much does car insurance cost in Chicago?
According to the Illinois Department of Transportation:
In 2017, there were 311,679 crashes involving motor vehicles in Illinois. Injury crashes accounted for 21.5 percent of these crashes (66,889), while fatal crashes (998) accounted for less than 1 percent of these crashes.
If you are ever involved in a car accident you will want to know that your damages and injuries will be covered by your insurance company.
Which city you live in will have a major affect on car insurance. That's why it's essential to compare Chicago, IL against other top US metro areas' auto insurance rates.
Illinois state law requires you to purchase a minimum amount of car insurance to drive legally on public roads. You must have liability insurance (bodily injury liability and property damage liability) as well as uninsured/underinsured motorist coverage to drive in Chicago.
Part of choosing a car insurance provider that is a perfect fit for you as a driver in the Windy City means understanding how each factor these providers will impact your rate.
Some of these factors include your gender, age, commute rate, and even your zip code. Keep scrolling to find out how each one affects the price that you will pay.
Male vs. Female vs. Age
With age comes experience. This is especially true for life behind the wheel. As we age though sometimes things like our reaction time or eyesight start to fail us. These are things that no one like to think about even though car insurance providers certainly are.
These states no longer use gender to calculate your auto insurance rates — Hawaii, Massachusetts, Michigan, Montana, and North Carolina, Pennsylvania. But age is still a big factor because young drivers are considered high-risk drivers in Chicago. Illinois does use gender, so check out the average monthly auto insurance rates by age and gender in Chicago, IL.
Car insurance providers are not just looking at your age either as they set your rates. They are also considering your age.
Chicago, Illinois auto insurance rates by company and age is an essential comparison because the top auto insurance company for one age group may not be the best company for another age group.
A study 2017 conducted by Consumer Federation of America (CFA) revealed that:
Female drivers with perfect driving records often pay significantly more for auto insurance than male drivers with identical driving records and other characteristics the insurers use to price auto insurance.
This comes as a bit of a shock to most people because it goes against the commonly held belief that men, and teen males in particular, often take more risks behind the wheel.
In fact, CFA reported that when people were asked who they thought paid more for car insurance almost 48 percent of Americans thought that men did.
Now that you know that both and gender can make a huge impact on the price that you could end up paying for car insurance you can see why it is so important to shop around.
Take a look at the table below to see how your age could be impacting your rate in the Windy City.
As you can see, age and experience in Chi-town do have a way of lowering your car insurance rates. That is not the full picture though.
The table below reveals how adding gender into the mix can shift the cost of your premiums up or down.
The data reveals that teenaged boys are still the most expensive age and gender demographics to insure. Knowing that it could cost you almost $2,000 more to cover your son than your daughter on your auto insurance policy demonstrates why it is so important to do your research before purchasing car insurance.
Cheapest Zip Codes in Chicago
While age and gender are factors that most people recognize as ones that will have an impact on their car insurance rate many don't realize that the neighborhood they love can end up costing them big when it comes time to purchase their car insurance policy.
Find more info about the monthly Chicago, IL car insurance rates by ZIP Code below:
Chicago really is a city of neighborhoods too which is why it is so important to understand how your zip code can impact your rates.
The table below reveals how your neighborhood compares to the ones around you when it comes to the price that you will pay for car insurance.
As you can see, if you live in Lake View or Lake View East you enjoy some of the cheapest car insurance rates in Chi-town.
Residents of the Lower West Side also have rates that fall right in the middle of averages while Chicagoans who live in Back of the Yards or West Englewood have the highest rates in the Windy City.
Chicago residents love their neighborhoods though so picking up and moving to save a few bucks on car insurance isn't even an option. How do you save money then? By comparing rates and finding the best car insurance company in the Chicago area.
Free Car Insurance Comparison
Enter your ZIP code below to view companies that have cheap car insurance rates.
Secured with SHA-256 Encryption
What is the best auto insurance company in Chicago?
Finding the best car insurance company in Chicago depends on your individual needs. Some companies might be cheaper for you and your family based on the neighborhood you live in while others might offer a better rate if you have a short commute or have a better driving history or credit score.
The cheapest Chicago, IL auto insurance company can be discovered below. You then might be asking, "How do those rates compare against the average Illinois auto insurance company rates?" We cover that as well.
The only way to know which company is best for you then is to shop around and compare these factors. Not to worry though. We are here to help. Keep scrolling to find out how.
Cheapest Car Insurance Company by Rates
You have already seen how your age and gender can impact the price that you will pay for your car insurance policy in the Chicago area but did you know that your marital status can also be a factor?
Take a look at the table below to see which companies have the cheapest rates when age, gender, and marital status are taken into account.
Looking at the average premiums, you can see that a 25-year-old female driver will pay between $1,000 to $2,000 a year more for their car insurance policies than their 35-year-old married counterparts.
With this much money involved shopping around becomes super important.
Best Car Insurance for Commute Rates
Getting married and getting older are not the only things that can shift the price that you will pay for car insurance up or down.
The distance that you travel each day can also have a significant impact on your car insurance rates. Take a look.
As you can see, commuting 12,000 miles per year can cost you over $1,000 in some instances. This is important to keep in mind given that residents of Illinois put an average of 8,373,565 miles under their wheels in 2014 alone according to the Federal Highway Administration.
All of those miles means an increased chance for a car accident. If the worst should befall you then it will be good to know that you did your homework and got the best price on your car insurance policy.
Best Car Insurance for Coverage Levels
The amount of coverage that you purchase can also affect the price that you will pay for car insurance in the Windy City.
Your coverage level will play a significant role in your Chicago, IL auto insurance rates. Find the cheapest Chicago, IL auto insurance rates by coverage level below:
This means that if you only purchase what the State of Illinois requires you could save a few dollars. Purchasing car insurance isn't that simple though as you have discovered.
Sometimes where you live in Chicago increase your chances of vehicle theft or vandalism. If this is the case then adding comprehensive coverage to your policy might be worth the extra money.
We have provided you with a few statistics below so that you can see how your premiums could shift according to the coverage amounts that you chose.
As expected, the more coverage you purchase the higher your premiums will be. The added costs could save you money in the long run if your car is ever damaged or stolen.
Best Car Insurance for Credit History Rates
Factors such as how far you commute each day and how much coverage you purchase are some of the more common things that can impact your rates.
Your credit score will play a major role in your Chicago, IL auto insurance rates unless you live in these states where discrimination based on credit is not allowed: California, Hawaii, and Massachusetts. Find the cheapest Chicago, IL auto insurance rates by credit score below.
Did you know that your credit rating could also be a factor in determining how much you pay for your car insurance policy though?
It's true. In fact, Consumer Reports published a study in 2017 that revealed how car insurance providers are using your credit rating to set the price of your premiums.
In it, Consumer Reports state that:
Car insurers are also rifling through your credit files…to predict the odds that you'll file a claim.
Considering this, one of the best ways to minimize the impact on your wallet when it comes time to purchase your car insurance policy is to monitor your credit report.
As a consumer, you are entitled to one free copy of your credit report from each of the three major credit reporting agencies:
Monitoring your credit report and asking each of these reporting agencies to remove false or outdated information on it can go a long way towards saving you money one everything from purchasing a new car to car insurance.
Best Car Insurance for Driving Records
Cleaning up your credit report isn't the only way to save money if you live in the Chicago area. You can also save a few bucks by keeping a clean driving record
Your driving record will affect your Chicago auto insurance rates. For example, a Chicago, Illinois DUI may increase your auto insurance rates 40 to 50 percent. Find the cheapest Chicago, IL auto insurance rates by driving record.
Just how much can a few dings to your driving record cost you in the Windy City? Take a look at the table below to find out.
Just one speeding ticket could raise your rates by hundreds of dollars as you can tell. Why take the risk when you can simply slow down or leave the house a bit earlier?
You should also monitor your driving record to make sure that outdated or false information is removed. You can do this by requesting a copy of your Illinois driving record through the portal provided by the Office of the Illinois Secretary of State.
If you have poor credit or a bad driving record, make sure to look for auto insurance discounts. Most major insurers offer a variety of discounts, including the safe driver discount, good student discount, multi-policy discount (for bundling an auto policy with homeowners insurance or renters insurance), automatic payments discount, and the defensive driving course discount.
You might also look into a usage-based insurance program. These programs use a mobile app or plug-in device to monitor your driving habits and you receive a discount for driving safely.
When you're shopping around for auto insurance quotes, don't forget to take note of which companies offer the best discounts.
Car Insurance Factors in Chicago
Now that you know how the smaller factors like your driving record and credit report can impact the price of your car insurance policy its time to start thinking big picture.
Factors affecting auto insurance rates in Chicago, IL may include your commute, coverage level, tickets, DUIs, and credit. Controlling these risk factors will ensure you have the cheapest Chicago, Illinois auto insurance.
Getting the best deal for car insurance means understanding how things like the growth and prosperity of Windy City drive pricing in the overall Chicago car insurance market place.
This growth and prosperity are directly connected to you as a resident of Chi-town since everything from your education level to your status as a homeowner or renter goes into it. Keep reading to see what we mean.
Growth and Prosperity
The Brookings Institute ranked the Chicago-Naperville-Elgin area as 51st in growth and prosperity nationwide in the period between 2005 and 2015.
During this period job growth rose by 2.8 percent which was lower than the expected job growth of 5.9 percent which was predicted.
Employment Services saw the largest actual growth during this period as well. Productivity was also on the rise between 2005 and 2015 as the Windy City saw a 2.9 percent increase in this area over that period.
The amount of job growth and prosperity that Chicago residents enjoyed between 2005 and 2015 drove the standard of living up in the Windy City by 2.7 percent keeping the metro area on par with national productivity and standard of living trends.
Steady growth and prosperity throughout Chicago translate into a car insurance market that has pretty stable pricing. This is good news for you as you shop for car insurance because it indicates a competitive market for car insurance providers which helps to keep your costs down.
Median Household Income in Chicago
As the growth and prosperity of Chicago continue to trend upward it makes purchasing things such as a new car or house a real possibility. This is because with city growth and prosperity comes a rise in the median household income for residents of Chicago.
According to Data USA, the median household income in Chicago stands at $55,295.
This is below the national average which means that residents of the Windy City really need to keep track of every penny they spend.
Looking at the breakdown of the median income for Chicagoans and how that translates to the amount that they spend monthly for car insurance you really see why every penny counts.
With a median income of $55,295 and the average annual cost for insurance standing at $3,813, residents of the Windy City are spending approximately $318 of their $4,608 monthly budget on car insurance. That breaks down to 6.9 percent of their yearly income being spent just to maintain their car insurance policies.
You can use the calculator below to see just how much of your annual income is being dedicated to your car insurance premiums each year.
Now that you know how much of your annual budget is being spent on car insurance you can see why it is so important to shop around.
Home Ownership in Chicago
Data USA reported that in 2017 44.9 percent of the residents in Chicago owned their homes.
As you can see from the chart above this rate of homeownership is lower than the national average of 63.9 percent.
Owning a home could save you money though when it comes to purchasing your car insurance policy though according to Money Magazine.
Part of the reason for this is that you can bundle your car and homeowner insurance policies.
Another reason that homeownership translates to bigger savings on your car insurance policy is that many car insurance companies see homeownership as a mark of financial stability,
According to Consumer Federation of America (CFA):
Auto insurance companies' use of homeownership status in pricing disadvantages low- and moderate-income Americans.
This is because lower-income individuals are more likely to have lower credit scores and/or the financial means to pay out-of-pocket rather than fling a claim in the case of an auto accident.
Regardless of how much money you make, owning a home is still part of the American Dream for most people.
If you want your slice of the American Dream in the Windy city be aware that the median value of homes in the Windy City stands at around $255,900.
Owning a home is not the only way to lower the cost of your car insurance policy if you live in the Chicago metro area. Keep reading to find out about some of the many other ways that you could save a few bucks.
Education in Chicago
Just like credit scores, many people in Chi-town have no idea that their education level is impacting their car insurance rates.
In fact, Consumer Federation of America (CFA) released a study in 2013 which revealed that:
Major auto insurers charge higher rates to drivers with less education and lower-status jobs.
If advancing your career or looking towards self-fulfillment through higher-education is in your future plans then why not take a look at how much this decision could save you on car insurance?
Information provided by Data USA reveals that universities in the Windy City awarded approximately 64,000 degrees in 2016 alone.
The most popular major in the Chicago area was also General Business and Administration.
Chicago also has plenty of places to study if you are interested. Some of these institutions include:
Harold Washington College
Kennedy–King College
Malcolm X College
Olive–Harvey College
Columbia College at Chicago
School of the Art Institute of Chicago
VanderCook College of Music
And Wheaton College
The Windy City also has several Universities that award graduate degrees including:
Chicago State University
Northeastern Illinois University
The University of Illinois at Chicago
DePaul University
East–West University 
Loyola University of Chicago
North Park University (Chicago)
Northwestern University 
Roosevelt University 
And Saint Xavier University
Chicago also has the John Marshall Law School and Rush Univerity if studying law or medicine is your passion.
Women in Chi-town are the gender group to seek out higher education in the Windy City.
Of the over 64,000 degrees awarded in 2016 36,617 were awarded to women.
So how does all of this information help you get a better price for your car insurance policy? Well if you are a student already you can ask your agent about good student discounts that can be applied to your policy.
Not enrolled yet? Knowing that there are good student discounts out there to be had, and that car insurers are looking at your education level when setting your rates could change your mind.
Wage by Race and Ethnicity
With all of this talk about how higher education can impact your car insurance rates, you can see how your annual income could be pushing your out-of-pocket expenses up or down.
Wages are sometimes based on race and ethnicity as well unfortunately which is another reason to take a look at these factors when shopping for car insurance. Take a look at the chart provided by Data USA to see what we mean.
As you can see, Asians are generally the highest-paid workers in the Windy City in the professions being reported here.
More annual income also translates to less percentage of income that must be dedicated to car insurance premiums. Take a look at the table below to see what we mean.
As you can see, the less money you make the higher the percentage of your annual income that you must dedicate to maintaining the validity of your car insurance policy.
This is why it is so important to gather all of the facts as you look around for the best deals on car insurance.
Wage by Gender in Common Jobs
As we discussed earlier, your gender can also have an effect on your car insurance rates. Gender also impacts your earning potential as well which can cost you big when it comes time to pay out for car insurance.
Take a look at the wages for common jobs in the Chicago area by gender according to Data USA.

Looking at the table below also reveals that when gender and occupation combine as factors for determining the price of your car insurance policy the difference can really be seen by examining the percentage of annual income that a man versus a woman must dedicate to car insurance.
On average there is a 3-5 percent difference in the percentage of annual income spent on car insurance by men and women in the Windy City.
Knowing that factors such as your gender and occupation can combine to impact your car insurance rates in such a huge way is reason enough to shop around.
Poverty by Age and Gender
Statistics collected by Data USA also give insight into how your gender and your annual income combine to cost you more for car insurance.
The largest demographic living in poverty in Chi-town is women who are between the ages of 25 to 34.

This is also the group of women that our section on Men vs. Women above revealed as the ones who are paying the most for car insurance save teenagers.
This means that if you are a woman you really need to be comparing insurance companies in order to guarantee yourself the best rate for your policy.
Poverty by Race and Ethnicity
Data USA's statistics also reveal that BLacks are among some of the poorest residents of Chicago followed by whites.
This gap in wages between races and ethnicities translates into higher percentages of annual incomes being spent on car insurance by some of the most susceptible residents of Chicago.
A report put out by ProPublica also demonstrates how gender and ethnicity combine to make things even worse for some of the people who are in the worse need of help in the Chicago area stating that:
Some major insurers charge minority neighborhoods as much as 30 percent more than other areas with similar accident costs.
Until legislation is passed to prevent such practices as using education level and credit history these trends are likely to continue.
No matter who you are or where you live, we want you to keep as much of your hard-earned money in your pocket as we can by getting the best rate on for car insurance.
Employment by Occupation
Data USA looked at employment by occupation in the Windy City and found that between 2016 and 2017 employment grew 0.41 percent.
The data collected also revealed that most of these jobs were in the office and administrative field.

It often comes as a surprise to many that car insurance companies are looking at occupation as they set your rates.
Money Crashers revealed that:
Auto insurance companies may also make correlations between a person's risk of accident and their profession, and they can adjust your premium accordingly if they think you're more likely to get in an accident.
Some of the occupations which are most at risk for this are delivery drivers, sales representatives, and journalists who spend a good deal of time on the road for work.
More jobs in general in the Chicago metro area also means more people on the road who are trying to get to work.
This increase in traffic can lead to an increased chance that you might become involved in a traffic accident.
Should the unfortunate happen it will bring you a small amount of comfort to know that you have the right car insurance provider on your side.
Free Car Insurance Comparison
Enter your ZIP code below to view companies that have cheap car insurance rates.
Secured with SHA-256 Encryption
What do you need to know about driving in Chicago?
Between the congestion and the nose, driving in the Windy City can sometimes be a headache.
Add to that road construction, pedestrians, and bicyclists and you can see why it is so important to remain vigilant when you are behind the wheel.
While defensive driving goes a long way towards keeping your premiums low it isn't the only thing that can help you keep your car insurance rates down.
Knowing a little about what you might face as you head out on the road in Chi-town can go a long way towards preventing a traffic incident. That's where we come in. Keep scrolling to find out more.
Roads in Chicago
The city streets of Chicago are filled with historical landmarks like Buckingham Fountain and the Chicago Water Tower.
Unfortunately for drivers in the Windy City, the streets are also filled with crowding, construction, and potholes.
There isn't much Chicagoan can do about the series of freezing and thawing that causes major potholes to form on city streets. Being aware of where they are and how to avoid them though can help you keep your overall vehicle operating costs down.
Keep reading to find out more about how you can avoid damage to your car and save some money on car insurance at the same time.
Major Highways in Chicago
The city of Chicago is surrounded by major highways that all lead to the place where the Windy City is nestled along the banks of Lake Michigan.
Some of these highways and expressways include:
I-190: Kennedy Expressway
I-290: Eisenhower Expressway
I-294: Tri-State Tollway
I-355: Veterans Memorial Tollway
I-55: Stevenson Expressway
I-80: Kingery Expressway
I-88: Ronald Reagan Memorial Tollway
I-90: Chicago Skyway
I-94: Kingery Expressway
Bishop Ford Memorial Freeway: I-94
Dan Ryan Expressway: I-90, I-94
Ronald Reagan Memorial Tollway: I-88
Edens Expressway: I-94
Eisenhower Expressway: I-290
And the Elgin O'Hare Expressway: I-390
With so many expressways and major interstates leading into Chicago getting around can be a slow and painful process. This is especially true in wintertime when heavy snow can bring traffic to a standstill and cause a whole lot of major accidents. Driving around the Windy City any time of year can also cost you a pretty penny in tolls on such arteries and the Reagan Memorial or the Veteran's Memorial Expressways.
Want to avoid these costs? Just check out the Illinois Tollway website to see the location and cost of each when mapping your route.
Residents of Illinois can also purchase an I-PASS or E-ZPass and pay one annual fee rather than racking up a bunch of small toll charges over time.
Things like saving money on both car insurance and tolling costs can really help you keep your vehicle operating costs down.
Popular Road Trip Destinations in Chicago
While the city of Chicago certainly has some of the best food and entertainment options within its limits, sometimes it is nice to just get out of town.
Some of the more popular day trips for residents of Chi-town include trips to places like Naperville and Six Flags Great America.
These day trips give you a chance to take a breather and relax; even if getting there involves getting out on the open road and dealing with other drivers.
Whether you are traveling inside or outside the city you should always go to the Chicago Traffic Tracker provided by the City of Chicago before leaving the house.
Knowing where the traffic jams, construction problems, and road closures are can help you get where you want to go safely and with a minimal hassle.
Less of a hassle also means less of a chance of your being involved in a traffic incident that could force you to file a claim as well.
Road Conditions in Chicago
Between the brutal cycles of winter freezing and thawing and the sheer amount of people who use the roadways that surround the Windy City, it is no wonder that 28 percent of them are in poor shape according to Tripnet.org.
The streets in Chi-town have even become so bad that average citizens have jumped in to help city crews get a handle on things.
Potholes can really add to your bottom line if you hit one of them too. In fact, Tripnet.org reported that the average vehicle operating cost that each Chicagoan shells out each year stands at $627.
These costs include things such as vehicle maintenance from the pothole and other damage, fuel costs, and the cost of maintaining valid car insurance.
You can see how shopping around for your car insurance policy could help put some money back in your pocket then.
Does Chicago Use Red Light Cameras?
Putting money back into your pocket isn't just shopping around for the best rate. It also means being aware of the traffic laws and enforcement procedures in your area as you head out to face the day.
One of these enforcement procedures in the Windy City includes the use of red-light cameras.
According to the City of Chicago:
Red Light Camera Enforcement is designed to increase safety on Chicago streets by reducing the most dangerous types of crashes at intersections.
The City of Chicago also reported that between 2005 and 2016 T-Bone accidents were down 66 percent, pedestrian crashes were down 33 percent, and rear-end collisions fell off by 46 percent.
Some places in Chi-town are more prone to ticketing residents for red-light violations as well.
While many residents feel that the red-light camera system is a scam the reality is that red-light cameras can save lives.
An Insurance Institute for Highway Safety (IIHS) study found that:
Cameras reduced the fatal red light running crash rate of large cities by 21 percent and the rate of all types of fatal crashes at signalized intersections by 14 percent.
This backs up the City of Chicago's findings for the period between 2005 and 2016.
Vehicles in Chicago
Ch-town used to have a thriving car culture but, like with so many other things, Millennials are changing this dynamic.
The Chicago Tribune reported that:
Only half of millennials bother to get their driver's licenses by age 18.
Why? Because Millennials are more likely to opt into ridesharing or public transit. Millennials are not the only occupants of the Windy City though.
In fact, many Generation X and Baby Boomers in Chicago own and/or collect cars.
Chicago even hosts the nations largest car show every year. The Chicago Auto Show boasts entries of all kids from hybrids to concept vehicles.
If new vehicles aren't your thing then Drive Chicago has a list of classic car events that might interest you. If you are the lucky owner of one of these beauties it might benefit you to look into classic car insurance to keep your prized possession protected against loss or damage.
Most Popular Vehicle Owned in Chicago
According to YourMechanic.com, the most unusually popular vehicle in Chicago is the Chevy Monte Carlo.
Whether you prefer the classic beauty seen above or a newer model, the Chevy Monte Carlo will cost you some money in gas.
Averaging 19.3 MPG, the Chevy Monte Carlo was manufactured for 12 years and can cost you around $1,800 just in fuel each year according to OfficialData.org.
Given its size and weight, it is no wonder that this baby costs so much to feed at the pump. The size and weight make it one of the safest vehicles to own though.
The National Highway Transportation and Safety Administration (NHTSA) even gave it five stars for many of the years that it was in production.
Cars Per Household in Chicago
The choice of the Chevy Monte Carlo as Chicago's most popular is not the only thing that makes the car culture in the city unique.
Residents of the Windy City also prefer to own one car versus the national average of two.
Owning a car means purchasing car insurance to meet the minimum Ilinois State requirements though no matter how many are sitting in your driveway.
Chicago Households Without Cars
Governing.com reported that 27.5 percent of Chicago residents did not own a car in 2016. Just because you don't own a car doesn't mean that you shouldn't be thinking about ways to save on car insurance.
Many car insurance companies have ways of protecting yourself and your passengers even if you are driving a friends car to get around. One of these ways is through the purchase of a non-owner car insurance policy.
This type of policy gives you limited liability coverage in the event of an accident which can help you pay your friend back if you wreck their car.
Speed Traps in Chicago
One of the most common reasons for car accidents is speed. Being cited for speed can also raise your car insurance rates costing you a lot of headache and heartache in the long run.
In an effort to prevent speeding, the City of Chicago actively uses speed cameras.
These traps are meant to slow Chicago drivers down and save lives which is why their use has been expanded in school zones according to the Chicago Tribune.
The City of Chicago points out that:
A pedestrian hit by a car traveling 20 mph – the speed in a school zone – has a 95 percent chance of living. That same person hit by a car traveling more than 40 mph has an 80% chance of dying.
Arriving on time is not worth the risk to your life or someone else's.
You should also be aware that if you are caught blowing through a school zone by one of these devices it will cost you $35 if you are traveling between 6-10 mph over the posted speed limit while in a safety zone.
If you are traveling 11 miles or more per hour over the speed limit it will cost you a cool $100.
That is just in fines. Your need for speed could also cost you hundreds of more dollars in car insurance premiums so slow down or leave the house earlier.
Vehicle theft in Chicago
Speeding is not the only thing that can cost you money as a car owner.
Sometimes just parking in the wrong place in the wrong time can cause your vehicle to disappear and your frustration and anger to show up in spades.
The Chicago Police Department reported that in 2018:
Motor vehicle thefts were…down 11 percent in 2018, compared to 2017.
This is good news overall, but let's face it: some neighborhoods are safer than others when it comes to parking your car. You can find out about the safety of neighborhoods like yours by looking at the crime statistics gathered by such sites as Neighborhood Scout.
Take a look at the table below to get an idea about how safe the Windy City is on the whole.
| Chicago Annual Crimes | Violent | Property | Total |
| --- | --- | --- | --- |
| Number of Crimes | 29,766 | 89,294 | 119,060 |
| Crimes (per 1,000 residents) | 10.96 | 32.87 | 43.83 |
| | #blank# | #blank# | #blank# |
As you can see, Chicago has its fair share of crime like any major city. Sometimes these crimes can become violent as well.
| Chicago Violent Crimes | Murder | Rape | Robbery | Assault |
| --- | --- | --- | --- | --- |
| Report Total | 653 | 1,764 | 11,897 | 15,452 |
| Rate per 1,000 | 0.24 | 0.65 | 4.38 | 5.69 |
| | #blank# | #blank# | #blank# | #blank# |
Living in Chicago is not all bad news. In fact, many residents wouldn't trade their beloved city for any other place in the world. Living in any major city just means that you must be mindful about your surroundings and where you park sometimes though.
Being vigilant is one way to protect your property and person. Another good way is to purchase comprehensive car insurance. This type of coverage will protect you against loss or damage in the case of vehicle theft and/or vandalism or a natural disaster.
Chicago Traffic
Residents of Chicago lose an average of 138 hours to congestion each year ranking their beloved city as 3rd worst in the nation when it comes to congestion according to INRIX.
INRIX also estimates that all of this congestion costs each driver in Chicago an average of $1,920 a year.
Some residents of the Windy City save a few dollars by switching to public transit whenever possible, but public transit isn't always an option for others.
Either way, you choose to get around eventually you will find yourself facing delays.
Most of these delays occur between the hours of 7:30 AM and 9:30 AM or between 4 to 6 PM. During this time even the trains can get off schedule as commuters cram onto platforms and into train cars just trying to make it to and from places.
The prospect of sharing such a confined space as a crowded train or bus is why many Chicagoans chose to travel by personal vehicle.
If you are one of the thousands of Chicago residents who commute by personal automobile then you know how important it is to get a good deal on car insurance.
If driving really is not for you though then Chicago is a great place to live.
Transportation
No matter how you choose to commute it is going to take you a while to get where you are going.
According to Data USA, the average commute time in the Windy City is 33.1 minutes. This is longer than the 25.5-minute national average.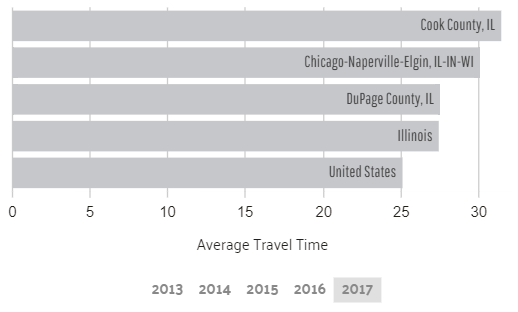 Chicago is not unlike other major cities when it comes to commute times for the most part though.  In fact, just like the residents of New York City, a lot of Chicagoans take what is called a 'Super Commute' each day meaning that they spend over 90 minutes just trying to get where they are going.
Data USA also reported that 48.6 percent of Chicago residents also preferred to drive alone as of 2017.
Spending 90 minutes in a car is a long time. The more time that you spend behind the wheel the greater your chances become of being in an accident as well.
Accidents translate into insurance claims which could raise your rates so it really does pay to get the best deal that you can for your car insurance policy.
Busiest Highways in Chicago
As a driver in the Chicago area, you already know that some highways are busier than others.
According to the Federal Highway Administration (FHWA), Chicago has one of the busiest roadways in all of Illinois along ROute 53 which boasts 12 lanes just to keep pace with the traffic.
More lanes translate into more of a chance that you might have a collision with one of them though. You can help keep yourself safe by driving defensively and slowing down.
How Safe are Chicago Streets and Roads
Road fatalities are a possibility that no one likes to think about even though they are a possibility every time that you get behind the wheel.
Some counties are more prone to fatal car crashes than others, and knowing which ones are the most dangerous could help you be more aware when traveling through them.
Take a look at the table below to see how Cook County compares to its neighbors according to the National Highway Transportation and Safety Administration (NHTSA).
As you can see, Cook county leads the way when it comes to traffic fatalities reported by county. There were 287 traffic deaths in 2017 alone.
Some of these traffic deaths could have been prevented by designating a driver or drinking more responsibly. Take a look.
Of the 287 fatal crashes in Cook County reported by NHTSA, 109 were attributed to drinking and driving. Getting behind the wheel isn't the only thing that caused such high rates of fatalities in Cook County though.
Speed was also a factor in many of the fatal car crashes for 2017.
The year 2017 saw 143 residents of Cook county lose their lives to accidents involving speeding. Some of these were single-vehicle accidents while others involved multiple drivers.
There were 161 single-vehicle fatal crashes in Cook County in 2017. While some were attributed to alcohol consumption or speed, others were the result of roadway departure.
Some of the 100 roadway departure fatalities that Cook County witnessed in 2017 could have been prevented if these drivers g=had simply refrained from distracted driving or slowed down during hazardous road conditions.
Other traffic fatalities for 2017 could have been prevented by paying more attention at intersections.
Unfortunately, 111 people lost their lives at an intersection in 2017 within Cook County. The amount of passager car occupant fatalities in Cook County for 2017 was also high.
There were 120 passenger car occupant deaths in 2017 which was up from the 98 reported for the year before.
Fatal crashes in Cook County didn't just involve passengers or drivers. Sometimes these fatal accidents involved a collision with a pedestrian.
Cook County has seen a marked increase in pedestrian deaths from the 53 recorded for 2013 to 76 reported for 2017 alone. Many pedalcyclists lost their lives to traffic accidents as well in Cook County.
These numbers look grim for Cook County but they should stand as a reminder to always drive defensively, keep your hands on the wheel and eyes on the road, always designate a driver, and slow down.
Knowing which types of roadways in Illinois report the most fatalities could also save a life. Take a look at the data provided by NHTSA below.
As you can see, the two types of roadways statewide that saw the most fatalities were minor arterials and collector arterials.
It doesn't matter which type of roadway you are traveling on. Paying attention and driving responsible could not just save you money on car insurance; it could save a life.
The Illinois Commerce Commission also noted that 333 million vehicles cross railroad tracks and that 271 people lost their lives to collisions with trains just in 2018.
It also takes 18 football fields for a freight train traveling at 55 MPH to come to a stop so keep that in mind the next time you think it is a good idea to race the train.
The Illinois Commerce Commission also noted that just in Illinois in 2018:
There were 109 collisions at highway-rail crossings that resulted in 17 people losing their lives.
This is why it is always a good idea to pay attention, look, and listen before crossing railroad tracks.
Allstate America's Best Driver's Report
Not all drivers in the Chicago metro area are bad. In fact, the Windy City ranks as the 133rd safest driving city in 2019 according to Allstate America's Best Driver's Report.
On average, Chicago drivers usually go 8.3 years between filing car insurance claims, and they encounter a hard braking incident approximately every 28,8 miles.
With so many people in such a condensed area, this really isn't too bad.
You can reduce the possibility of a hard-braking incident, and possible rear-end collision, by keeping your eyes on the road at all times.
Ridesharing in Chicago
Sometimes it is best just to leave the driving to professionals. When this occurs you may find yourself in need of a rideshare company or taxi cab.
There are several options to choose from in Chi-town too according to Ride Guru.
Some of the companies operating in the Windy City include:
Arro
Blacklane
Carmel
Curb
Lyft
Uber
and the conventional Taxi services
If you are looking to become a rideshare driver in Chicago you should be aware that you will need to notify your car insurance provider of your intentions to use your car as a rideshare vehicle.
Your provider can talk you through the endorsements that you might need or how to purchase rideshare coverage that can protect both you and your passengers in the event of an accident.
EStar Repair Shops
Owning a car means keeping it in good mechanical working order. It also means wanting quick and quality repairs should you ever find yourself involved in a car accident.
Choosing an EStar Repair Shop to handle this can help you kill both of these birds with one stone.
So how does EStar work?
First, you and your representative will choose the nearest EStar shop and then the two of you will work together to get things done with as little pain as possible for you.
Here are a few EStar Shops closest to the city center.
Didn't see one nearby? Just use the handy EStar locator Tool.
Weather in Chicago
Chicago winters can be rough on your car. They can also make roadways a dangerous place to be when conditions deteriorate.
The Chicago metro area receives 39.04 inches of precipitation annually according to U.S. Climate Data. That amounts to 119 days a year with some type of moisture on the road.
The average annual temperature in the WIndy City hovers around 59 degrees as well.
Chi-town is no stranger to natural disasters either according to City-Data.com. In fact, Cook County has seen 19 natural disasters in its history which is higher than the national average of 13.
Most of these disasters are the result of floods and storms.  Living along one of the Great Lakes though this is par for the course.
Should Mother Nature turn nasty and your car become damaged having comprehensive coverage ahead of time could minimize the impact to your wallet.
Public Transit in Chicago
If your car is ever in the shop you might find yourself in need of public transit. Should that ever be the case it is nice to know that the Chicago Transit Authority has provided you with lots of options for getting around.
Fares are pretty reasonable too, and there are discounts available in some cases. A ride on the 'L' train will cost the average Joe $2.50 and hopping on the bus is just $2.25.
You can also purchase a 1-Day CTA PAss for $10 and see the city for one great price. Trips to and from O'Hara may cost you a bit more though so be sure to plan ahead.
Alternate Transportation in Chicago
Chicago's world-famous 'L' Train and the many bus routes provided by CTA are not the only way to get around in the Windy City.
Residents of Chi-town can also rent a bike or scooter from many of the public and private business operating within the city limits.
According to CBS Chicago, some of these options include:
Lakeshore Bike
Bobby's Bike Hike
Bike and Roll Chicago
and Divvy Bikes
No matter which one you choose you are sure to have a great time in Chicago.
Parking in Metro Areas in Chicago
Given the amount of rainfall in Chicago biking may not always be the best option for tooling around town.
Wet weather can also make navigating the CTA system a bit of a struggle. When this happens it is nice to just hop in your car and head downtown.
Parking can be a bit of a challenge on occasion, but sites like Parkopedia can help you find a spot closest to your destination for as little as $10 for reserve parking or as much as $46 depending.
Parking near Wabash St. on the South Loop? There are spots nearby for as little as $8 for two hours.
Air Quality in Chicago
All of the public transit vehicles, business traffic, and private passenger cars on the roads in Chicago can really make it hard to breathe on some days.
Take a look at the three-year air quality trends for the Chicago-Naperville-Elgin area according to the EPA.
Even though global warming has serious consequences for future generations sometimes you just have to drive. There are ways that you can help reduce your carbon footprint though even if it is not by reducing your commute.
Some of these things include:
Using energy-efficient light bulbs
Recycling more
Maintaining proper tire pressure
Driving less
Planting a tree
Pumping gas at the cooler part of the day
You can also look into purchasing a hybrid or electric model vehicle which will not only reduce your carbon footprint; it could also save you some money on car insurance.
Military Members and Veterans
Hybrid and electric cars are a nice investment, but they aren't the only way to get a discount on your car insurance policy. You could be eligible for a nice discount if you are an active-duty military member or veteran as well.
This is good news if you are one of the 75,405 veterans that call Chicago home according to the U.S. Census Bureau. Data USA also reports that most of these veterans are from the Vietnam war.
The Windy City is also home to the Great Lakes Training Center Naval Base in North Chicago which means that plenty of active-duty military members and their families call this area their home as well.
Active-duty members and veterans deserve to be rewarded for your service so if this includes you then be sure to ask your car insurance agent about any military discounts that you might qualify for.
Some of the providers in your area that offer these types of discounts include:
Allstate
Farmers
Geico
Liberty Mutual
MetLife
Safeco
USAA
Not all benefits are offered to both active military and veterans alike from these providers. The discount amounts can also vary so be sure to ask your agent for the specifics.
Free Car Insurance Comparison
Enter your ZIP code below to view companies that have cheap car insurance rates.
Secured with SHA-256 Encryption
Unique Chicago Laws
Chicago has its own unique personality and it really shows in some of its laws. For instance. it is against the law to fire a cannon without permission in the city limits.
No shows are allowed to be put on from windows either so if you are looking to put on a show it might be better to shuffle it down to one of Chicago's historical theaters.
Like most major cities, Chicago is also a hand-free city. The law states that you must also yield to pedestrians and change lanes whenever possible in a construction zone to give workers some room.
TripSavvy also notes that if you are going to merge onto the freeway or expressway you should do it with intention.
You should also make your intentions know to your car insurance company if you intend to use your personal vehicle as a food-truck.
Tiny houses also have specific insurance requirements in Illinois so you should check with your agent to see if you simply need RV insurance or something more depending on where you are going to park your home.
Chicago Car Insurance FAQs
Whether you have lived in Chicago all of your life or you are looking to make the Windy City your new home we all have questions. Here are some of the most frequently asked ones when it comes to living, working, and driving in Chi-town.
What school district do I live in?
Settling the kids into a new school can be tough after a move. The Chicago Public School system has made it a little bit easier for you though by providing you with an easy to use district locator tool on their website. Just type your school name, address, or zip code in and hit go.
How do I find the closest CTA stop to my house?
The Chicago Transit Authority (CTA) has maps of its entire system provided free of charge on their website that make finding the nearest stop to you as easy as a click of a button.
How do I get to the Airport?
Chicago has five major airports that service the areas surrounding the Windy City, and several smaller airfields. Not sure which one you need or how to get there? SkyScanner can help. This site has hyperlinks from its hub =page that allow you to scan each airport for its location and the types of flights that it services.
Where is the nearest library?
The Chicago Public Library system has more locations than you could possibly ever need. Just visit their website, look through their database, or skim the map in order to find the one that is most convenient for you to visit.
What are the minimum requirements for insurance coverage in the state of Illinois?
The state of Illinois has the following minimum coverage requirements:
$20,000 bodily injury per person per accident
$50,000 total bodily injury per accident
$25,000 property damage liability
$20,000/$50,000 uninsured motorist bodily injury
$25,000/$50,000 underinsured motorist coverage
$25,000 with $250 deductible uninsured motorist property damage
Who do I contact to get my utilities turned on or transferred?
The City of Chicago has gathered all the information you need to turn your utilities off and on or simply have them transferred in one easy to navigate spot on their website. If you still have more questions after a visit there you can check out these links to find out more:
Should I purchase extra coverage for my antique or classic car?
The decision to purchase extra insurance coverage is a personal one. If you live in a high crime area then comprehensive coverage might be a good idea. If your neighborhood has low crime statistics but is notoriously bad for a specific type of car accidnet then collision coverage could be right for you.
Taking the time to read through all of the information that we have provided for you above can help you make a wise investment in your car insurance policy.
What are the minimum requirements to operate a food truck in Chicago?
Food trucks in the Windy City require their operators to have a license. Those who use propane or gas also require specific types of insurance to protect themselves and their clients in case of an accident. In order to ensure that you have all your papers and insurance requirements in order you should check with your car insurance agent and let them point you in the right direction.
Do I need special insurance to drive for a rideshare company?
If you want to drive for a rideshare company you should definitely talk to your car insurance company first. After that, you should check with the rideshare company to see what their insurance coverage requirements are.
Once you know what the rideshare company can offer you in the way of coverage you will be better informed to speak with your agent again and purchase the right amount of coverage to cover you and your passengers in case of an accident.
Now that you have the basics down its time to put your knowledge to the test as you head out into the car insurance market in search of the best deal. If you get lost along the way or just have more questions stop back by or enter your zip code below to get started.