Car insurance in San Antonio, Texas [Rates + Comparison Guide]
Average San Antonio car insurance rates are $2,503.43/yr. or $208.62/mo. Texas car insurance requirements are 30/25 for bodily injury and property coverage.
Free Car Insurance Comparison
Secured with SHA-256 Encryption

Whether you've come to this great city to explore the Riverwalk, cheer on the Spurs, or to remember the Alamo, one thing is for certain: You should make the best of it.
San Antonio is home to 1.5 million people and is our nation's seventh-largest city. It is well known for its friendliness, offering glimpses into Spanish and Spanish-American cultures through costumes, food, and a variety of festivals and attractions.
With so many sites to see and things to do, we know the streets are filled with taxis, pedestrians, city buses, and all makes and models of vehicles, which, in turn, can make driving hazardous. Accidents can and do happen, all of which can make your car insurance rates go up.
In this comprehensive guide, we're going to show you rates, company comparisons, and other specific factors that make San Antonio a city that everyone will remember.
Check out this video to learn more:
Want to start comparison shopping today? You can take advantage of our FREE online tool to start comparing rates in your area.
Let's get started.
The Cost of Car Insurance in San Antonio
The average cost of car insurance in San Antonio is over $2,500 per year. Car insurance rates are based on many factors, including your age, marital status, and whether you live in Castle Hills or closer to Woodlawn Lake.
We know there are ways to save money on your car insurance.
In this section, we're going to show you specific rates on what folks pay for their car insurance in San Antonio based on some of these factors. Of course, these rates are average, and your rates can be higher or lower, depending upon your circumstances.
Male vs. Female vs. Age
Age plays a significant role when it comes to the cost of car insurance. Not only do people 55+ get discounts on everything from food to hotels, but they also pay less for car insurance.
Not so for young drivers, especially male teen drivers who pay more for their car insurance than any other demographic. The good news is that San Antonio does not allow insurers to consider gender when calculating rates. Excluding seven states (CA, HI, MA, MT, PA, NC, and parts of MI), insurance rates differ by gender across the country.
According to DataUSA, the mean age in San Antonio is 33.6 years.
Let's review the average rates charged by insurance companies in San Antonio for different age groups.
As we mentioned previously, teen and young drivers pay thousands more than mature drivers.
Cheapest Zip Codes in San Antonio
Where you live in San Antonio can also impact how much you pay for car insurance.
 Large metropolitan areas have certain areas plagued with poverty, crime and decay. If you live in those neighborhoods, you can expect to pay more for your car insurance.
Check out the table below to see how much you pay for car insurance based upon where you reside.
| Zip Code | Average Annual Rate |
| --- | --- |
| 78266 | $5579.30 |
| 78239 | $5761.53 |
| 78230 | $5801.51 |
| 78258 | $5832.82 |
| 78263 | $5834.17 |
| 78223 | $5850.17 |
| 78219 | $5856.54 |
| 78215 | $5865.70 |
| 78253 | $5873.39 |
| 78261 | $5875.18 |
| 78244 | $5875.63 |
| 78209 | $5880.92 |
| 78222 | $5886.08 |
| 78248 | $5888.65 |
| 78233 | 894.15 |
| 78264 | $5912.76 |
| 78210 | $5914.36 |
| 78204 | $5928.52 |
| 78212 | $5936.12 |
| 78234 | $5942.34 |
| 78235 | $5953.79 |
| 78203 | $5957.36 |
| 78232 | $5961.26 |
| 78259 | $5975.73 |
| 78224 | $5987.32 |
| 78254 | $6003.84 |
| 78247 | $6022.20 |
| 78205 | $6024.09 |
| 78256 | $6032.68 |
| 78213 | $6035.49 |
| 78221 | $6046.72 |
| 78257 | $6057.61 |
| 78251 | $6060.77 |
| 78249 | $6065.98 |
| 78218 | $6068.94 |
| 78255 | $6069.18 |
| 78250 | $6077.79 |
| 78214 | $6083.96 |
| 78245 | $6086.29 |
| 78220 | $6097.07 |
| 78231 | $6111.56 |
| 78202 | $6115.45 |
| 78208 | $6116.22 |
| 78225 | $6135.93 |
| 78260 | $6137.10 |
| 78240 | $6143.83 |
| 78242 | $6161.81 |
| 78238 | $6169.16 |
| 78217 | $6170.55 |
| 78228 | $6193.53 |
| 78227 | $6210.05 |
| 78211 | $6212.83 |
| 78207 | $6213.98 |
| 78237 | $6248.73 |
| 78216 | $6251.61 |
| 78252 | $6256.80 |
| 78226 | $6276.38 |
| 78229 | $6337.46 |
| 78243 | $6356.88 |
| 78241 | $6407.63 |
| 78285 | $6725.14 |
| 78284 | $6752.74 |
| 78206 | $6843.52 |
| | #blank# |
Residents living near the Alamodome neighborhood pay the most for their car insurance with yearly rates of over $6,440 per year.
What's the best car insurance company in San Antonio?
Who is the best car insurance company in San Antonio? The word best can mean different things to different people. In the sections below, we'll explain what's considered best, in various categories, to see if it can help you save on your car insurance.
Cheapest Car Insurance Rates by Company
We're all looking for cheap car insurance. But, we're also looking for the best cheap car insurance. Most of the top providers are licensed in San Antonio, for your convenience, we listed those companies, and the average annual cost, in the table below.
Of the top providers, USAA has the cheapest car insurance rates. One thing to remember about USAA is that you must be affiliated with the military to be a customer. For non-military drivers, State Farm has the lowest rates, so if "best" means cheap rates, they are the company for you.
Best Car Insurance for Commute Rates
In Texas, according to the Federal Highway Administration drivers average more than 15,533 miles driven each year. How far do you commute? Did you know your daily commute has an impact on your car insurance rate?
We partnered with Quadrant Data Solutions to understand the impact of an above-average commute on your insurance. Check out the chart below to see how your commute stacks up against what others pay.
Allstate and Geico have the largest difference when it comes to commute rates, but most companies have the same rates no matter the length of your commute.
Best Car Insurance for Coverage Level Rates
You might think that having the lowest minimum coverage in San Antonio is the best way to ensure you and your family are protected. But that's not necessarily the case, because sometimes the difference in low to high coverage is less than you think.
Check out the table below to see the differences in coverage.
If you're a customer with Geico, it's good news because there's only a $400 difference between low and high coverage. However, the news isn't so good if you're an American Family customer because their rates are more than $1,400 higher between low to high coverage.
You might ask, what is high or low coverage?
Low coverage is the state-mandated minimum coverage required to drive legally in Pennsylvania.
The minimum auto insurance coverage required in Texas is:
Bodily Injury Liability – $30,000 for one person and $60,000 per accident
Property Damage Liability – $25,000 per accident
Personal Injury Protection – $2,500 unless you reject this coverage
However, you should consider adding important coverages for increased protection.
For high coverage, you can consider increasing your liability limits and opting for the following relevant coverages:
Best Car Insurance for Credit History Rates
You've seen all of the commercials to check your score, but have you ever wondered why?
Besides not being able to secure a car loan or a mortgage, poor credit can also have an impact on how much you pay for car insurance. The table below reflects what you'll pay for car insurance if you have good, fair, or poor credit.
The average credit score in the U.S. is 675. If your credit score is lower than this, you may face increased rates on car insurance. In some states, poor credit can raise your rates by thousands of dollars. If your insurance provider is State Farm and you have poor credit, your rates can be $2,500 more than someone with good credit.
If you get a speeding ticket, have an accident, or get a DUI, your rates will probably increase in most situations.
The table below shows rates with these three violations compared to the rate for a clean record.
Having one too many can not only land you in jail, but it can cost you thousands on your car insurance. For example, a DUI will increase your rates by $4,000 if you have car insurance through American Family. Your rates will vary, and we encourage you never to drink and drive.
Car Insurance Factors in San Antonio
Car insurance rates are not based solely on the driver-specific factors which we've mentioned above. Rates are also calculated on city-specific factors such as your zip code, economic prosperity in your city, and average income levels.
In this section, we'll discuss how these external factors influence your car insurance rates in San Antonio.
Metro Report – Growth & Prosperity
According to Brookings, the San Antonio metro area is the seventh-largest commercial center in the country. The Gross Metropolitan Product of the San Antonio metro area in 2017 grew at +21.3 percent. The city is 60th in growth and 91st in prosperity out of the largest 100 metro areas in the country. The metro area of San Antonio has registered steady job growth over the past few years.
When it comes to prosperity in San Antonio, here are the numbers as of 2017:
Productivity: +5.6 percent (8th of 100)
Standard of Living: +9.6 percent (11th of 100)
Average Annual Wage: +4.3 percent (50th of 100)
Growth in San Antonio is reflected in the following numbers. These numbers make the city eighth in the nation in terms of growth:
Jobs: +14.9 percent (20th of 100)
Gross Metropolitan Product (GMP): +21.3 percent (7th of 100)
Jobs at Young Firms: +15.8 percent (13th of 100)
San Antonio relies on income produced from the military sector, the medical industry, and the tourism sector. Tourism alone provided over 130,000 jobs and added $13.6 billion to the city's economy. Also, the hospitality industry received $195 million due to hotel occupancy.
Median Household Income
According to DataUSA, the median household income of San Antonio is $50,044, whereas the national median household income is $60,336.
However, in 2016, the average median income in San Antonio was $49,268. This means income has increased by 1.58 percent.
If you want to compare your insurance as a percentage of your income, use the calculator below to get started.
Homeownership in San Antonio
Owning your own home is a dream many of us have and may impact what rates you pay for insurance. Homeownership indicates the general health of the local economies and insurers usually consider it to be a good indicator of your financial stability.
Being a homeowner won't directly impact your auto insurance rates or your ability to qualify for a plan. But there may be additional discounts you are eligible for so be sure and check with your provider.
In San Antonio, the average property value is $148,200, whereas the national average is $217,600. While property in the city is cheaper than the national average, property in the metro area ($240,700) is slightly more expensive, than the national average.
Education in San Antonio
There are many colleges and universities in and around the San Antonio area that offer a varied assortment of programs and degrees.
Several top schools make their home in San Antonio:
The University of Texas at San Antonio:  6,149 degrees rewarded in 2016.
San Antonio College:  3,516 degrees rewarded in 2016.
Northwest Vista College:  3,331 degrees rewarded in 2016.
Two of the top three colleges are community colleges.
When it comes to the economy in the city, San Antonio's primary industries are military, health care, government, civil service, financial services, oil/gas, and tourism.
Here are the top community colleges in San Antonio:
St. Philip's College.
Palo Alto College. 
Northeast Lakeview College. 
If a four-year degree isn't something you're searching for, then community colleges, which offer two-year degrees as well as technical certificates and diplomas might be a better option.
Wage by Race & Ethnicity in Common Jobs
According to DataUSA, Asians were the highest-paid ethnicity in San Antonio.
The following chart shows the break down of wages by common job types.
Wage by Gender in Common Jobs
For every dollar a man earns, a woman earns just 79 cents. Although the wage gap is closing among male and female workers, there is still room for improvement.
According to DataUSA, the average male salary in San Antonio is $65,834, while the average female wage is $47,183.
The following chart shows the wage gap across professions in San Antonio: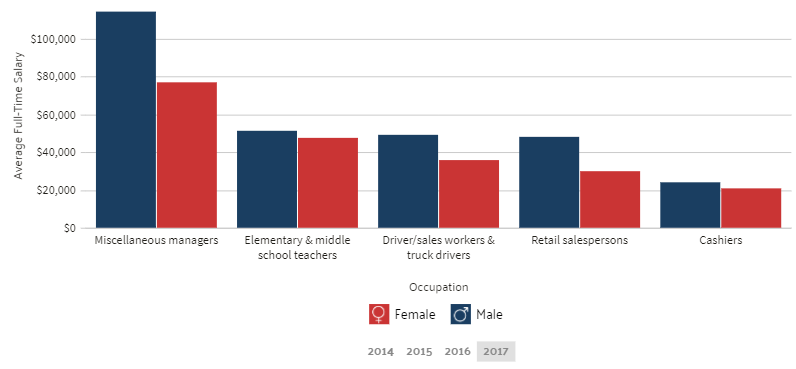 Based on the wages mentioned above, we can calculate the percentage of income that you would have to shell to maintain car insurance in San Antonio.
Professional females have to shell out a higher percentage of their income no matter which profession they're in, which can affect their ability to pay high car insurance rates.
Free Car Insurance Comparison
Enter your ZIP code below to view companies that have cheap car insurance rates.
Secured with SHA-256 Encryption
Poverty by Age and Gender
In San Antonio, 18.6 percent of the city's population lives below the poverty line, whereas the national average is 13.4 percent.
Females, aged 18-34 are the largest demographic living below the poverty line, while males in the same age group face similar challenges.
Poverty by Race & Ethnicity
Take a look at the following chart to understand how poverty is affecting people across age groups, ethnicity, and gender: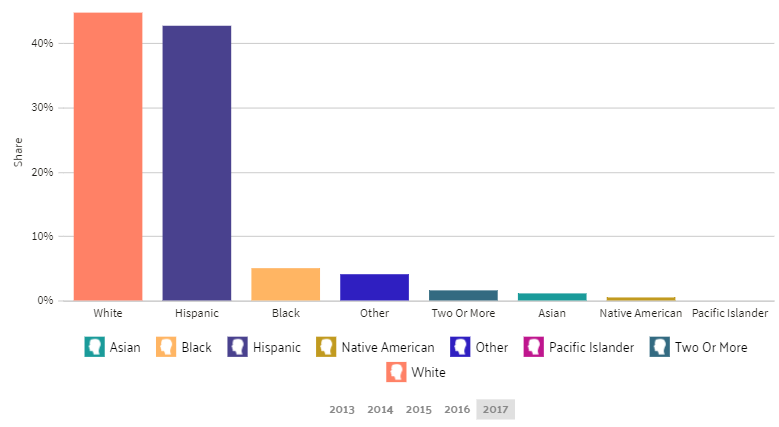 The most common racial/ethnic group to be in poverty in San Antonio is White (44.7 percent). Hispanic and Black are second and third (42.6 percent and 5.14 percent, respectively).
Employment by Occupations
San Antonio employs more than 706,000 people across different industries. The largest employers in the city are education, healthcare, and retail.
The following chart shows the most common jobs in San Antonio:
Free Car Insurance Comparison
Enter your ZIP code below to view companies that have cheap car insurance rates.
Secured with SHA-256 Encryption
Driving in San Antonio
We've mentioned that your driving record, credit score, education level, and other factors contribute to what you pay for car insurance. But insurance companies also base rates on the car your drive, traffic congestion in your area, road conditions, crime report, and so much more.
Roads in San Antonio
With a city as large as San Antonio, there are bound to be certain roads that are confusing and disorienting if you're new to the city. Your GPS wants you to turn left, but somehow, you've managed to turn into a dead-end street, and your device goes into "recalculating mode."
In this section, we'll cover the highways and interstates and help you calculate which way you need to go so you'll never make another wrong turn.
Major Highways in San Antonio
San Antonio is located nearly 200 miles west of Houston and 80 miles southwest of Austin. The major interstates in San Antonio are I-10 (East and West), I-35 (North and South), and I-37.
Here's the map of interstates and highways connecting San Antonio:
Let's look at the specific roads in San Antonio.
The main toll road going through San Antonio is State Highway 130. It's a nonstop, faster alternative to I-35, and meant to relieve congestion along the Austin-San Antonio corridor.
Toll costs are based on what kind of vehicle you have and how far you drive. If you have a TxTag, you pay 33 percent less on Highway 130.
Popular Road Trips/Sites
.We've mentioned the Alamo is in San Antonio, but what other attractions and sites are available for tourists to discover and enjoy?
Here are some must-see places in San Antonio:
.There's something for everyone in San Antonio, as well as many top restaurants and shops offering local cuisine and plenty of shopping options.
Road Conditions in San Antonio
According to TRIP, a national transportation research group, here are the road conditions in San Antonio:
Poor Condition:  29 percent
Mediocre Condition:  31 percent
Fair Condition:  11 percent
Good Condition:  29 percent
Vehicles in San Antonio
Your insurance rate is also dependent on vehicular factors such as what car you drive and if it is in the theft list. In this section, we will cover these topics and more.
Vehicles Most Popular Vehicles Owned
According to Your Mechanic, the most popular car in San Antonio is the Chevrolet Suburban.
This video explains more:
The safety features on the Chevy Suburban 1500 include airbags (no matter where a person is sitting), four-wheel ABS and disc brakes, brake assist, daytime running lights, traction control, electronic stability control, and child safety locks.
If fuel efficiency is what you are looking for, you will not find it in the Chevy Suburban 1500. It gets 15 city / 22 highway miles per gallon. It does have a 26-gallon gas tank, so drivers can go up to 500 miles before needing to stop for fuel.
How many cars per household
As many large cities do, San Antonio has a large and well-developed transit system which is utilized daily by thousands of commuters. But this doesn't mean that everyone takes the bus. In San Antonio, most households have two cars.
Households without a Car
In San Antonio, 24,000 households have no car and utilize public transportation to get around the city.
Speed traps in San Antonio
You should always obey posted speed limits as it protects you and others around you. It can also prevent you from getting a ticket. San Antonio ranks sixth in the state for the most number of speed traps, with eight total speed traps in the city.
As we discussed earlier, a speeding ticket can increase your car insurance rates. If Geico is your insurance provider, your premium can go up by $1,000 if you are caught for speeding.
Vehicle Theft in San Antonio
According to the FBI,  6,577 vehicle thefts occurred in San Antonio in 2017. When considering your next car purchase, one thing to consider is that certain vehicles are stolen more frequently, and thus, may have higher insurance rates.
San Antonio has one of the lowest crime rates in the country. The crime index is four out of 100, which means that only 4 percent of other cities in the nation is safer than San Antonio.
According to Neighborhoodscout, here are the safest neighborhoods:
Fm Road 2696 / Midnight Dr
Route 211 / Route 16
American Legion Memorial Hwy / Oakland Bend
Smithson Valley Rd / Laurie Michelle
E Borgfeld Dr / Dal Cin Dr
Mesa Ranch / Mesa Ridge
Route 90 Service Road / Ray Ellison Dr
E Evans Rd / Angostura Blvd
W Fm 471 / Gass Rd
Fm 1560 N / W Fm 471
The chart below tells more about specific crimes in the city:
Traffic in San Antonio
Waiting. Stressing. Aggravation. We've all been there.
Traffic. It's the worst.
Traffic Congestion
San Antonio ranks 163rd in the world as the most congested city, according to Inrix.com. Drivers in San Antonio spend over 60 hours annually stuck in traffic which ranks 34th in the nation.
Is it costly?
Yes. Congestion costs each driver $832.
Transportation
.According to DataUSA, the average commute time in San Antonio is 23.6 minutes, which is lower than the national average of 25.5 minutes.
The most common method of travel for workers in San Antonio, TX, was driving alone, followed by those who carpooled and those who work at home.
How safe are San Antonio streets and roads?
The state of Texas had 3,722 traffic fatalities in 2017. Bexar County, which San Antonio is a part of accounts for 1641 of those deaths.
The chart below shows various accident types, and how many occurred.
.
Allstate America's Best Drivers Report
In 2019, Allstate created a list of the top cities where drivers are least likely to get into a car accident. San Antonio drivers have room for improvement ranking 138th out of 200 cities.
Needless to say, more accidents equal more insurance claims, thus driving up premiums.
An average driver in San Antonio spends 8.2 years between claims, whereas the national average is 10.6 years.
Ridesharing
Maybe you've decided that owning a vehicle isn't compatible with your lifestyle any longer, but you still need to get to work and other places. Check out this list of ridesharing companies in San Antonio to keep you mobile:
EStar Repair Shops
Has your car broken down and you're not sure where to take it? Esurance created an E-star repair shop network that provides a list of reputable and top-quality repair shops near your location.
Here's the top 10 for zip code 78201, which is the center of San Antonio:
Service King Ingram
Service King Southside
Caliber – San Antonio – San Pedro
Service King Bandera
Service King Broadway
Service King Babcock
Caliber – San Antonio – Culebra Express
Caliber – San Antonio – IH-10
Service King de Zavala
Service King Perrin Beitel
Weather in San Antonio
The weather. Everyone's favorite topic. What's the weather like in San Antonio, you may be wondering?
Annual high temperature:  79.8 F
Annual low temperature:  78.6 F
Average temperature:  68.7 F
Average Sunshine:  N/A
Average annual precipitation:  32.91 inches
If you live in San Antonio, you can expect some form of precipitation 83 days of the year.
Public Transit in San Antonio
It's easy to get around in San Antonio when you use public transit. VIA operates a network of buses that transport San Antonians wherever they need to go.
This video explains:
Regular one-way bus fare is $1.30. Weekly, monthly, and other passes are available through the VIA goMobile App, VIA Online Store, or other retail establishments.
Cost of Alternate Transportation in San Antonio
Another option for getting around San Antonio is a B-Cycle.
The rates for the B-Cycle are as follows:
30-minute trip:  $3.25
24-Hour Day Pass:  $12.99
Monthly Membership:  $19.49
Annual Membership:  $100.
Parking in San Antonio
There are lots of parking options in San Antonio. According to the video below, there are 26,453 parking spaces in the city center, most of which are only two blocks from top attractions.
When it comes to meters and parking:
Parking meters are free after 6 p.m. Monday – Saturday. It is free all day on Sunday.
There is free parking during business hours at the Auditorium Circle.
Downtown Tuesdays:  free parking after 5 p.m. at ANY city lot, garage, and meter.
Another great option in San Antonio is to reserve and pay for parking ahead of time. Visitors can do just that with the SAPark mobile app available in the App Store.
Air Quality in San Antonio
Many large cities have problems with pollution, and San Antonio is no exception. The city's Air Quality Index (AQI) was slightly above average, with the national average at 82.8.
Although the emergence of alternative and green vehicles has alleviated some of the problems, traditional transportation contributes to air pollution by releasing particulate matter, volatile organic compounds, nitrogen oxide, and other such compounds.
The Environmental Protection Agency showed the following data for San Antonio in 2018:
Days with good air quality:  251
Days with moderate air quality:  103
Days with unhealthy air for sensitive groups:  10
Days with unhealthy air:  One
Military/Veterans
Many insurance companies offer additional discounts to active duty military personnel, their extended families, and veterans.
In this section, we will discuss the rates and discounts that the men and women in uniform can expect from insurance companies operating in San Antonio.
In San Antonio, the majority of military personnel and veterans have served in Vietnam and the Second Gulf War.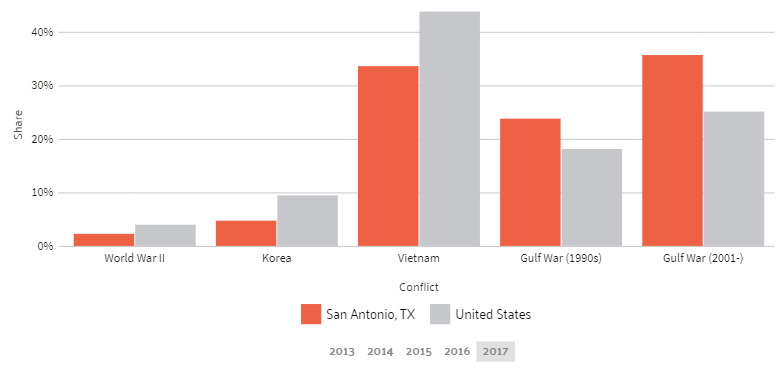 If you are a veteran or in the military, the following providers offer military discounts:
Allstate
Farmers
Geico
Liberty Mutual (you must be active duty)
MetLife
Safeco (for both active and retired)
USAA (you, your spouse or your parents must be active or retired military to get USAA auto insurance)
San Antonio has numerous military bases including Fort Sam Houston, Camp Bullis, and Kelly Field.
To all military personnel, we salute you and thank you for your service.
Unique San Antonio Laws
If you're new to San Antonio, there may be some laws that you are unfamiliar with including this unique San Antonio law: It's illegal to flirt using your eyes or hands.
Here are some other laws that may help you navigate around the city:
– Hands-Free Laws
San Antonio law states that using a cell phone while driving is illegal. This law took effect on January 1, 2015.
State legislation also banned cell phone usage for those under the age of 18 and if you are driving through school zones.
– Food Trucks
Food trucks are only allowed at certain spots in San Antonio known as the Downtown Central Business District.
To register your food truck with the city of San Antonio, you need to fill out an application.
– Tiny Homes
Tiny homes are popular in San Antonio.
Here are the regulations to make sure you are not breaking the law: the home needs to be 400 square feet or less.
To see where you can park your tiny home, call the San Antonio planning and zoning department to ask about local ordinances.
Your home needs to be up to code (plumbing, stairs, minimum ceiling height of six feet, eight inches, emergency exits, and windows).
– Parking Restrictions and Laws
It is illegal to park in the following areas in San Antonio:
in an intersection, on a sidewalk, crosswalk, or railroad track.
in front of any driveway.
within 15 feet of a fire hydrant.
within 20 feet of a crosswalk.
within 30 feet of a yield sign, stop sign or traffic signal.
There are also additional "No Parking Anytime Zones":
Where traffic safety or traffic mobility goals make it necessary to prohibit parking.
On residential streets where nearby commercial properties create a condition that leads motorists to park adjacent to nearby residential properties.
Near intersections where parked vehicles have limited, to an unsafe degree, motorists' visibility of approaching traffic.
On residential streets where a petition has been received, signed by representatives of adjacent properties, including at least one corner lot.
Free Car Insurance Comparison
Enter your ZIP code below to view companies that have cheap car insurance rates.
Secured with SHA-256 Encryption
San Antonio Car Insurance FAQs
We've covered a lot of ground in this comprehensive guide to car insurance in San Antonio, but you may still have some questions. Our last section looks at some commonly asked questions about the great city of Antonio.
– How difficult is it to get around by car in San Antonio?
Remember the average commute in San Antonio is about 23 minutes. There are a lot of drivers, which equals a lot of traffic.
– Do I even need a car in San Antonio?
No. If you do not want a car, there are alternate modes of transport, such as the VIA, B-Cycle, taxi, bicycles, or even walking.
– How much is car insurance in San Antonio?
The average cost of car insurance in San Antonio is $2,503
– What is the minimum amount of car insurance I need in San Antonio?
You need, at the very least the state requirements of 30/60/25. This translates to:
$30,000 of bodily injury liability per person at $60,000 per accident.
$25,000 of property damage.
– What if I want to travel to Mexico?
Your car insurance policy you purchased in San Antonio will not work in Mexico. Check with your insurance agent to see about coverage for your car while you are in Mexico.
– How does the weather affect driving in San Antonio?
The climate in San Antonio is humid and sub-tropical, with hot summers, wet springs and falls, and mild winters.
Thunderstorms are frequent in San Antonio, and rain-slicked roads can make driving treacherous.
Do you want to start comparing car insurance rates today? Use our FREE online tool now. All you need is your zip code to get started.