Nationwide Car Insurance Review [2021]
The average Nationwide car insurance rates across all eligible states are $287.50/mo. Nationwide car insurance offers discounts for good students, safe driving, and anti-theft devices.
Free Car Insurance Comparison
Secured with SHA-256 Encryption
Have you ever run into this situation?
You're in your fourth year of a contract with your current insurance company—let's call them James' Insurance. James' Insurance has been giving you problems. They're raising your rates, not paying out on claims, and you think the woman over the phone is more concerned about her pet peacock than you. You want to switch but don't know how.
You're looking at all the top companies, their commercials, their webpages, but it all just seems so confusing.
We feel your pain.
Nothing is more confusing than searching for car insurance, reading all the nomenclature, and sifting through the facts presented by insurance companies, not knowing if they're true or not.
It's frustrating. That's why we're here to help.
By the end of this guide to Nationwide Insurance, you'll have a knowledge of the company's financial rating, its car insurance rates in every state, rates depending on credit history and driving record, and how it treats its employees.
Even more, we'll give you a run-by-run breakdown of how to apply for a quote and how to navigate its website.
Ready to compare rates? Try our FREE online tool!
Cheap Car Insurance Rates
We've all been there. Maybe you've gotten a ticket or into an accident. Maybe you've just moved from one part of town to the next. Maybe you've gotten married or divorced. That letter is just sitting there on your kitchen counter — the logo of the car insurance brand you've gone with. You open it and those numbers in bold jump out at you.
How did they get that, you say.
We understand how valuable money is and how important it is to keep that premium to a smaller amount.
That's why we've put together this section—Nationwide rates according to a number of factors, such as by state, whether you're male or female, what your driving record is, or if you've stacked on a ton of debt and are missing payments.
We wrote this section so that:
The insurance rates would be straightforward, with no frills or bells and whistles
The 'whys' would be easy-to-understand and put into simple terms
That you would know, after this section, what it's going to cost you, as specifically as possible
Oh, yeah, and we all want to save that money—because your next vacation isn't going to buy itself, right?
Nationwide Availability and Rates by State
Rates can vary significantly according to the state (or even ZIP code) that you live in.
The mean value, when all the premiums per states are averaged, is $3,450. The highest average rate is in Wisconsin, at $5,224.99. The lowest is North Dakota, at $2,560.35.
There's a $3,000 spread overall between states.
So what goes into these numbers?
Often, the single most important factor for an insurance company is whether you're going to file a claim.
A claim costs them money; in fact, it can cost them quite a bit. Many insurance companies bank on the fact that the vast majority of consumers won't file a claim each year; that's how they make money.
When it comes to filing a claim, a number of factors are weighed to determine your (or your neighbor's) likelihood to file. These include:
Driving record
Credit history
Being a male or female
The ZIP code you live in
Whether you have a higher education
And many more. We'll touch on some of these here in a minute.
Comparing the Top 10 Companies by Average Premium
Nationwide has an average premium of $3,187.20.
Compared to the rest of the major companies, it's a bargain.
Liberty Mutual is the most expensive, with an average premium of nearly $5,300. Allstate ($4,500), Progressive (around $3,900) and American Family (around $3,700) are next. Nationwide is closest to Geico, making up the lower-middle bracket, before there are two big drops in State Farm and USAA.
There are many factors that go into an average premium.
These are not just on the consumers' ends; all those factors we mentioned.
The companies themselves have operating costs, salaries to pay out to employees, expansions and falls in terms of business revenue, and more. Essentially, this is the cost of doing business, which influences an average rate.
Average Nationwide Male vs Female Car Insurance Rates
Being male or female plays a role in your car insurance rate. Reason being: Insurance companies believe that males are inherently riskier drivers, more apt to get tickets, into accidents, and arrested for DUIs.
They are not necessarily wrong about this.
As the Insurance Institute for Highway Safety writes:
Men typically drive more miles than women and more often engage in risky driving practices including not using safety belts, driving while impaired by alcohol, and speeding.
As Good notes, however, women are likely to pay more for car insurance in 25 states.
In the case of this graph, age and marital status are added to the male/female mix:
Age is generally a good barometer for insurance premiums. The older you are, the less you pay. Doubly so if you're married.
Why married?
Insurance companies believe that if you're married, you're more likely to be responsible, more financially secure, and more likely to make payments.
And it helps, at least with Nationwide, to be a woman, though the rates (after 17) are not significantly lower.
The practice of using gender to determine rates is going out of vogue; California is the latest state (6th) to ban the practice.
Average Nationwide Rates by Make and Model
The make and model of your vehicle can influence your car insurance rates.
There are many reasons for this:
A more expensive car is likely going to cost more to insure, as it can occur more financial damage
A newer car may cost more or less, depending on the value and whether the newer car has safety features
A big, boxy vehicle may cost more because it has a higher likelihood of hitting something
And, (although this may or may not be factored in) there's a higher likelihood of some cars of getting a ticket.
Average Nationwide Commute Rates
Commute rates (and annual mileage) affect car insurance rates for simple probability: The more likely you are to drive, the more likely you are to get into accidents, get speeding tickets, and get other driving citations.
This affects men more than women, as men drive more than women.
For Nationwide, there isn't much of a difference between a 10-mile commute (or 6,000 miles driven annually) and a 25-mile commute (or 12,000 miles driven annually).
Average Nationwide Coverage Level Rates
What coverage level you choose also affects your rates.
Nationwide has roughly a $100 difference between its low-level coverage cost and high-level coverage cost.
The difference between low-level coverage and high-level coverage often amounts to coverage limits:
The coverage limits on a low-level plan might be near the minimum amounts for the state, while high-level may have higher limits for issues like general liability or property damage. While there may not be much of a difference in the cost between the two, having the higher level can keep you from paying out of pocket, in the case of a dangerous accident.
Average Nationwide Credit History Rates
Your credit history affects your car insurance rate for the following reason: Your car insurance company wants to know if you'll pay them back.
| Annual Rate with Good Credit | Annual Rate with Fair Credit | Annual Rate with Poor Credit |
| --- | --- | --- |
| $2,925.94 | $3,254.83 | $4,083.29 |
| | #blank# | #blank# |
There's over a $1,000 difference between Nationwide's average premiums for good credit and poor credit respectively. This is actually a low number, as some companies (like Liberty Mutual and Allstate) have much wider gaps.
Average Nationwide Driving Record Rates
Your driving record affects your rates as well, even more so if you've had to make a claim, such as being in an accident, or had a major violation, such as a DUI.
The least expensive infraction is a speed ticket, which jumps your rates by about $350, while an accident jumps it about $600. DUI is the most expensive infraction, as your rates jump up about $2,000, though there are other costs associated with a DUI (court costs, lawyer costs, governmental fees).
Free Car Insurance Comparison
Enter your ZIP code below to view companies that have cheap car insurance rates.
Secured with SHA-256 Encryption
Coverages Offered
In all of this, you may have wondered: What coverages does Nationwide offer and how can I score a discount? We know how difficult it can be to find information about all this, how frustrating it can be, especially when you're looking for a straight answer.
We've got you covered.
In this section, you'll learn about everything from the types of car insurances Nationwide offers, what Nationwide's operational states are, what discounts are offered (and how to get them if you're eligible), and the all-in: What stands out and what's missing, compared to other companies.
Types Besides Car Insurance
The formal company name of Nationwide is Nationwide Mutual Insurance Corporation, and it holds true to that name.
Most of their ads don't focus specifically on car insurance; it has a wide range of insurance options, from home, life, renter's, flood, accidental medical, and even for scooters. Here is a quick look at the majors:
Homeowner's: Homeowner's insurance with Nationwide covers much more than your dwelling. Items not attached to the house (like clothing), personal injuries (personal liability insurance component), building your home up to current ordinances, and more are options with this type of insurance coverage. It also can be bundled with auto insurance for a discount.
Life: Life insurance through Nationwide is generally offered as a term; meaning that there is a set period for the life insurance policy (20, 30 years, etc.), though they offer options that are more expensive. It is what it sounds like: If you pass away, a cash payout is given to the beneficiaries. You get a better rate if you get a policy younger.
Umbrella: With auto insurance, the minimum coverage needed is often personal liability (personal damage liability and bodily injury). The question though always is—what happens if my accident is so serious that the damage or medical bills of the other person exceed my coverage limits? That's where umbrella policies come in. They extend the personal liability coverage to high heights (Nationwide gives the example of $1 million on their page).
Specialty Liability: Specialty liability under Nationwide insures people who have unconventional jobs, such as caterers, managers of amateur sports leagues, martial arts schools. It's like general liability (personal liability) but for specific situations—so that if you kick an adult in the head and they have a concussion and sue you, you're protected.
Accidental Medical: This is the nightmare situation for many people entering surgery—that the surgeon botches it and you're left with significant injuries. Or you die. In both of these incidents, an accidental medical plan through Nationwide works to cover out-of-pocket expenses and benefits for injuries or death. Generally, it's for one activity.
Those are some of the major non-auto insurance coverages that Nationwide provides. It also offers coverages for a number of recreation vehicles like snowboards, scooters, and golf carts.
Types of Car Insurance
There are many, many types of car insurance, to the point where it's easy to be confused. Fortunately, Nationwide is fairly transparent about the coverages it offers, and those coverages are not crowded completely in insurance jargon, so they're easy to figure out.
They can be divided into personal auto coverages, vehicle coverages, and special auto coverages.
The personal auto coverages are fairly standard; most of those are common for other major insurance companies as well.
Also, policies that are fairly typical of other companies. The towing and labor package is particularly useful if you have a roadside problem; There isn't much worse than sitting in the car in the pouring rain while cars rush by you, worried about the price of a tow.
Three of these are somewhat special to Nationwide (other companies offer roadside assistance as an add-on).
They all are fairly useful, especially if you're a good driver (vanishing deductible) or if you're a good driver who has one slip up (accident forgiveness).
The total loss deductible waiver is interesting, as the last thing you want when your car is totaled is to pay your hundred or thousand dollar deductible for collision or comprehensive insurance.
Operational States
When you're choosing an insurance company, one factor that is worth considering is how many states the company is active in.
In the case of Nationwide, it's active in 42 states. The ones it isn't:
Alaska
Indiana
Lousiana
Maine
Massachusetts
New Jersey
Oklahoma
West Virginia
Fortunately, Nationwide is active in more than 80 percent, meaning that if you move, you're able to keep your Nationwide insurance.
Keep in mind, however, as we've covered, rates can vary according to state, sometimes significantly.
They can vary by ZIP code as well.
Additional
There are some additional, specialized insurance coverages Nationwide offers.
Ridesharing: Nationwide just rolled this out in 2019. While many companies offer rideshare insurance as an additional, fixed payment to their monthly premium, Nationwide offers a usage-based service. Basically, when you turn on the ride-sharing app, it starts. Etc. when you log off. You're charged for how much you drive.
Classic car: Nationwide separates this from their regular auto insurance and it's easy to see why. Classic car insurance is a specialized service, where, with Nationwide, car insurance premiums are up to 43 percent less, while the entire value of the vehicle is covered. They've partnered with Hagerty as well, which gives you access to state-of-the-art repairs at classic car repair facilities.
Motorcycle: Motorcycle coverage is similar to traditional auto insurance coverage; you get a comprehensive, collision, liability, and med pay plans, along with underinsured/uninsured motorist. However, with Nationwide's motorcycle insurance, you get an OEM endorsement and custom equipment endorsement, meaning you choose what you replace your parts with.
Nationwide also offers RV, personal watercraft, snowmobile, and ATV insurances. Essentially, anything you ride with a motor: Nationwide is on your side.
Discounts Offered
Everyone believes (and probably rightly so) that their insurance coverages are higher than they could be. That's why we've put together this section on discounts that Nationwide offers. It offers a total of 35, which is a high number for an auto insurance company.
A couple of notes here.
The SmartRide Program: It lasts between four and six months and involves two different options for tracking your driving: A mobile device or a device sent to you. The mobile device uses their app, where you're tracked for idle time, nighttime driving, hard braking incidents, and miles that are driven. Same deal with Nationwide's device.
The Affinity Program: It involves a network of organizations that are partners with Nationwide. If you're a member of one of these organizations, you're eligible for a discount, as well as access to thousands of agents across the country and general ease of use of its website.
Nationwide also has additional driver, vehicle, and policy discounts that are a little harder to find.
Some of these go in-line with what we've covered: That if you have good credit, are married, or are a homeowner, you get an additional discount. Keep in mind: There is a big push to remove demographic data from factors determining car insurance rates. Some politicians are advocating for car insurance rates to be solely dependent on driving record, which would lower rates dramatically in some areas.
Insurance companies like anti-theft devices (see above), vehicle recovery devices, and VIN etching procedures (this due to the fact that the car can easily be identified if it is stolen).
However, in some cases, it depends on the type of tool being used.
With many of these discounts, it's a matter of fitting into a demographic: Married, homeowner, student away from home, family for the family plan. Others are more active: VIN etching, anti-theft devices, low mileage. Then there are the easy, process ones: advanced quote and paperless documents.
If you think you're qualified for one, make sure to ask an agent.
A little money saved is a little closer to that dream vacation, nice car, or lowered credit card debt.
What Stands Out and What's Missing
What Stands Out: Nationwide offers near-comprehensive coverages for different motorized vehicles, including numerous (often extra) coverages for auto insurance. It has a great number of discounts, ranging from demographics to process.
What's Missing: Nationwide has no military discount; while that's not uncommon for insurance companies (Geico and Liberty Mutual are two that have one), it certainly is a gap in its discounts, considering so many it has already.
Rating Agency
Whether you're choosing a new tire for your car or checking out a new restaurant, one of the first things you might do is look for a rating.
Ratings for products can mean many things:
Measures for durability
Ease of use
Quality of products
Safety concerns
For companies, there are ratings too—both customer and financial.
Customer ratings are simple: It's how customers rate a product (or a company).
There are many parts of that rating:
Customer service
Trustworthiness
Complaints about a product
For financial ratings, companies look at numerous factors:
How much debt a company has
How likely are they to pay it back
Is its balance sheet game strong
Here, we've compiled a list of ratings about Nationwide from eight elite institutions. Some are financial, some are consumer-oriented, some are solely based on complaints.
A breakdown:
J.D. Power is a financial services company that has a long history rating cars and insurance companies.
Three out of five isn't particularly good here and a closer look at the factors that went into the rating really a, well….bland assessment.
Consumer Reports is a consumer advocacy company that reviews everything from baby strollers to mid-sized SUVs. An 88 is not necessarily the highest (even among car insurance companies) but it's not bad either.
Nationwide scores well with Agent Courtesy; something you might want to know if you ever have to file a claim. Lastly, Consumer Affairs is a site where consumers can air their grievances, or give a great review (which probably doesn't happen often). Nationwide has a 1.6 rating based off 66 reviews.
Take it with a grain of salt. Generally, people that take the time to seek out a place to write a review are not in the happiest state of mind
Company History
It began with a problem. In the summer of 1925, rural farmers in Ohio were being charged higher rates for car insurance compared to urban drivers even though they were less likely to get into accidents or have speeding tickets. This problem found a solution: The Farm Bureau Mutual Automobile Insurance Company.
A man from Massachusetts, Murray Lincoln, founded the group, which, before officially forming, needed 100 policyholders. They set out with that goal in mind and found 1,000 in four days.
Then, the insurance company that would become Nationwide was born.
Formally Nationwide Mutual Insurance Corporation, Nationwide does business in a variety of sectors:
It is a financial institution, capable of handling your banking, investments, and retirement funds
It is a life-planning and advising company, providing resources for people aged 18 to ever
It is a top-10 insurance company, with weight in the life, home, and auto spheres
It is popular and it is large.
So what about all the other things it does, aside from business, you might ask?
We've got you covered.
This section takes a look at everything from the awards it's won to what their employees think of it; from how much of a market share it has to what its marketing pitches are (we've got commercials).
Market Share
Market share is an essential determiner whether a company is big or small, whether it is doing big business or not. Whether it grows or declines, determines how a company is doing in its market. These numbers are taken from the NAIC's 2015, 2016, 2017, and 2018 market share reports.
Overall, for both categories all four years, Nationwide is ranked 8th, 9th, or 10th overall. In neither case is that bad; however, 2.73 percent market share in 2018 (private passenger auto) pales next to the 17 percent for State Farm and 13.4 percent for Berkshire Hathaway (Geico).
Nationwide, on both the total lines and the private passenger auto, declines every year from 2015 to 2018. That is a sign of a weakening company or at least one that is losing market share to other, more powerful competitors. Private passenger auto declines the most: about one percentage point. They went from writing 7.5 million premiums in 2015 to 6.7 million in 2018.
That's rough.
Service Type
If you need information from Nationwide, there are many ways to reach out and contact the company directly.
Online: Here on its website, you get a wide range of information, from its services to company history, to business statistics, and much more. It also lists all the resources for the next few methods of communication.
Agent: You can always call or email a local Nationwide agent, which may give a more personal touch and allow you to establish a relationship (or just seek more information, meeting in person, which some like more than other communication means)
Phone: Nationwide lists a contact number here so you can reach an agent and talk with them about whatever problems you are having, and even get help filing a claim. Nationwide, as mentioned earlier, was rated excellent in agent courtesy.
Email: Through their website, you can also send Nationwide an email, which may help if you dislike talking with someone over the phone. You have the option of choosing your topic as well as choosing the method they will contact you back (on phone or email).
Social Media: You can always contact Nationwide through social media (Facebook, Instagram, Twitter). Although you may just be rerouted to someone else, it's an easy point of contact, and something we can all do as we're scrolling through a feed.
Nationwide portrays itself as a company that is ahead of the curve with technology.
It recently rolled out a digital interview system for its life insurance policy applicants, something that makes it easier on both the applicants and agents, and allegedly is more accurate.
Commercials
As a good man once said, "You probably won't find families talking about car insurance over the dinner table." Car insurance can be a dry topic that some might find, well, boring. That's why insurance companies don't talk endlessly about this premium or that claim process on national television commercials: people will snooze or change the channel.
Instead, they bring the funny.
Nationwide has a particular aspect of their commercials associated with it for decades. If you hear it, you may just start humming along to it. It's the Nationwide jingle. The Nationwide jingle has been around since the 1970s.
There seems to be some debate who wrote it—NPR lists legendary jingle composer Steve Karmen while others list Kentucky-native J.D. Miller—there is one certainty:
It is catchy and somewhat irresistible.
For the last few years, Nationwide has partnered with celebrities from sports and music to deliver entertaining jingle commercials.
Here are some.
With former NFL quaterback Peyton Manning and country music star Brad Paisley:
Nationwide, in the last two, aims its message towards families, with a show of its holistic insurance packages—life, home, auto—and retirement packages.
In this case, like most insurance companies, Nationwide is a protector, generally against financial losses, which can affect the whole family.
On average, between 2012 and 2015, Nationwide spent $300 million on advertising per year.
This seems like a lot but Nationwide is ranked only fifth for 2013, with Berkshire Hathaway (Geico) coming in at over $900 million and Allstate, State Farm, and Progressive all coming in at over $600 million.
Nationwide also does well in terms of popularity: Its YouTube channel has over 21,000 subscribers and some of its videos reach hundreds of thousands of views.
How this impacts market share is an interesting question; with a falling market share, does Nationwide shake things up to gain ground?
Either way, it's likely their jingle will stay.
Community Service
If you want to know, in part, the character of a company, it's important to look at the work they do in the community.
Nationwide has a philosophy of giving back to the community:
We combine philanthropy, workplace giving and volunteerism to make a powerful impact, and we focus our efforts on important priorities like emergencies, basic needs and crisis stabilization.
What kind of work do they do?
Nationwide Foundation: Founded in 2000, it gives to accredited higher education schools, matches dollar-for-dollar employees or retirees donations to United Way, and granted $50 million to the Nationwide Children's Hospital in 2006
American Red Cross: Nationwide has contributed $18.7 million to the ARC for disaster relief since 2000. It is also a founder of the Annual Disaster Giving Program.
Feeding America: Nationwide was an original contributor to the Mid-Ohio's Foodbank Operation Feed campaign. Since 2009, it has partnered with Feeding America to alleviate hunger nationally. Nationwide associates have contributed 43.8 million meals.
It also has a community service award to one employee per year:
How is Nationwide Positioned for the Future?
The answer, at least for auto insurance: Not well, according to some projections. And it may not have anything to do with Nationwide itself.
KMPG, which is a multinational professional services network (along with one of the Big Four accounting agencies that include PricewaterhouseCoopers) formed in 1818, forecasts turmoil and chaos in the auto insurance markets for the following reasons:
Autonomous technology will make automobiles safer, resulting in fewer accidents
OEMs (original equipment manufacturers) could take advantage of this to offer alternatives to standard car insurance for buyers
Mobility demands and ride-sharing have created new economic models that threaten private passenger car ownership
All told, the KMPG believes that the auto insurance market could shrink 71 percent or $137 billion by 2050.
Keeping in mind that Nationwide is losing market share in the auto insurance industry, at least for the past few years.
So, while Nationwide Mutual Group Insurance has strong financial ratings, catchy commercials, and many things working for it, the market itself and Nationwide's flagging market share pose a small degree of trouble.
Working at Nationwide
One way to check out the character of an organization is to look at how they treat their employees.
Or, in particular, how their employees feel about them.
The numbers here for Nationwide are high.
The vast majority of employees feel Nationwide is a good place to work in, that their management is ethical and honest, and that they feel proud to tell others they work for Nationwide.
Seventy-seven percent of employees were born between 1965 and 1997. That is fairly typical of companies today.
The distribution of tenure is fairly balanced; There is a good portion of new employees, those that have been there for a number of years, and some elder statesmen/women.
Awards and Accolades
Another way to check out a company's character is to look at what awards they have won.
And Nationwide has won quite a few.
To start with, Nationwide won the Glassdoor: Best Places to Interview 2017 (#59), which is indicative of how they treat applicants or future employees.
Nationwide has also cleaned up on other publications' lists. Check out this award list compiled from Great Place to Work:
A quick glimpse shows that Nationwide is a good environment for millennials, women, and diversity.
It is also a consistent top company rated in Fortune Magazine's Top 100 Companies to work for, which includes survey data (such as responses about diversity or fairness) and anonymous statements submitted by employees.
A closer view of Nationwide's diversity and women awards shows that Nationwide does an awful lot for both:
Nationwide partners with the Human Rights Campaign and provides funding for programs aimed at LGBTQ equality. The HRC has given Nationwide a perfect score on the Corporate Equality Index, and, further, Nationwide offers special rates to the members and supporters of the HRC.
In 2018, Nationwide joined the Hispanic Heritage Foundation as a broadcast sponsor for its awards, support the Code-as-a-Second-Language program, and host a show aimed at Latinos about financial education.
Nationwide has released some videos about their programs.
All of these are positives signs about a large company moving into the modern age, both in terms of diversity and inclusion, and, as the earlier section showed, technology. Nationwide isn't content to sit still and let the times pass them by; It's consistently evolving in terms of its practices, trying to get ahead of the curve and ahead of its competitors.
It's falling behind at the moment, but perhaps its innovation will get it to catch up.
Free Car Insurance Comparison
Enter your ZIP code below to view companies that have cheap car insurance rates.
Secured with SHA-256 Encryption
Canceling Your Policy
You never necessarily want to reach the point where you need to cancel a policy. Issues with agents, complaints about customer service, too high rates and not enough coverage, these problems with car insurance can lead to wanting a cancellation—just to get rid of the headache.
If you've reached this place with Nationwide, don't fear.
Unlike many insurance companies who have bells and whistles or hoops to jump through, Nationwide makes the cancellation process seamless and easy.
Cancellation Fee
Many companies charge a cancellation fee, which can range from $25 to even higher, or a percentage of your car insurance premium.
Nationwide, fortunately, does not.
Is there a refund?
Nationwide, like other companies, will give you a refund when you cancel—prorated from your last premium.
How to Cancel
Many companies may make it difficult to actually cancel a policy. We all know from less reputable websites that a sign-up can mean a long time of unwanted fees and attempted cancellations.
Nationwide makes it simple compared to others.
There are just really a couple of steps: Talking with someone and filing a written notice.
When you talk a representative of Nationwide (either an agent or a customer service representative), they will give you all the information you need to cancel your policy; in particular, how to put that into writing.
To contact Nationwide, here is their customer service number:
1 (877) 669-6877
Then you'll mail the written document to the Nationwide Headquarters:
1 Nationwide Plaza, Columbus, OH 43215
Simple. You can also talk to an agent in person.
When can I cancel?
With car insurance, you have the right to cancel any time. You will, however, likely need to contact your local DMV and give them a cancellation notice. As car insurance is mandated by law, you'll need additional car insurance before your policy is canceled.
In general, there are many situations in which a person might want to change car insurance companies, including making a big life change or searching for a company that provides coverages for your general needs.
If you are doing so, there are some guides about insurance coverage or how to get quotes about different companies that might help:
Nationwide makes it easy, which is important. Some companies are less so.
How to Make a Claim
The last thing you want, as you've just gotten into an accident or have had your vehicle vandalized, is to sit over a mountain of paperwork, just to get your money back.
When thinking about your next car insurance company, ease of claim is important.
As is, how many claims an insurance company is actually paying out; known as the loss ratio. We've put together this section to cover them both.
Ease of Making a Claim
Nationwide gives three options for filing a claim.
Log in to your online account to file it through the online system
Call the Nationwide claims phone number (1-800-421-3535)
File through the Nationwide App
If you speak to an agent (or a customer service representative), they will ask you questions about your incident, explain your coverages and how they apply, arrange for a rental vehicle, or schedule a date for inspection.
The process is straightforward, and you can choose the method of filing that works for you.
Premiums Written and Loss Ratio
Nationwide writes millions of premiums each year, which can lead to hundreds of thousands (or even millions) of claims.
Loss ratio is the percentage of claims that are paid off in ratio to the number of written premiums.
If the number is above one, the company is paying out more money on claims than they are bringing in premiums
If the number is below .5, they are not paying out on many claims, which can be a negative sign
Loss ratios are a quick way to see if a company is solvent.
Nationwide's loss ratio is generally within a 20 percent range for the four years, both for private passenger auto lines and total lines.
This range—between .76 and .58—is generally healthy, although .58 dips a little closer to that .5 mark, where few claims are being paid out.
How to Get a Quote Online
Step #1 — Get to Know Nationwide
As one of the top providers in America, Nationwide is a reliable company that isn't going anywhere anytime soon. They're financially secure and have a wide selection of policies that can match the coverage needs of a wide variety of consumers.
Nationwide is a staple in the car insurance industry, so it's a good idea to request a free quote from them even if you are undecided.
Getting quotes from top companies and comparing coverage details with rates from other agencies can help you find the average cost of insuring your vehicle and settle on the best offer.
Follow along this step-by-step guide on Nationwide's quote request process to easily find out how much your car would cost to insure.
Keep in mind that car insurance quotes are just estimates, and if you are really interested in a company, you should reach out to an agent and discuss details and negotiables with them before closing a deal.
Visit Nationwide.com and take a look around. There's a lot to explore, and even if you're only in the market for car insurance, understanding how they market themselves and the types of products and services they provide can help you gain a better impression on who Nationwide is as a company.
The Nationwide blog is a great way to meet Nationwide on a more conversational level; read through some of their auto insurance posts and get a feel for what they value and how they help their customers.
Step #2 — Enter Your ZIP Code and Provide Your Basic Info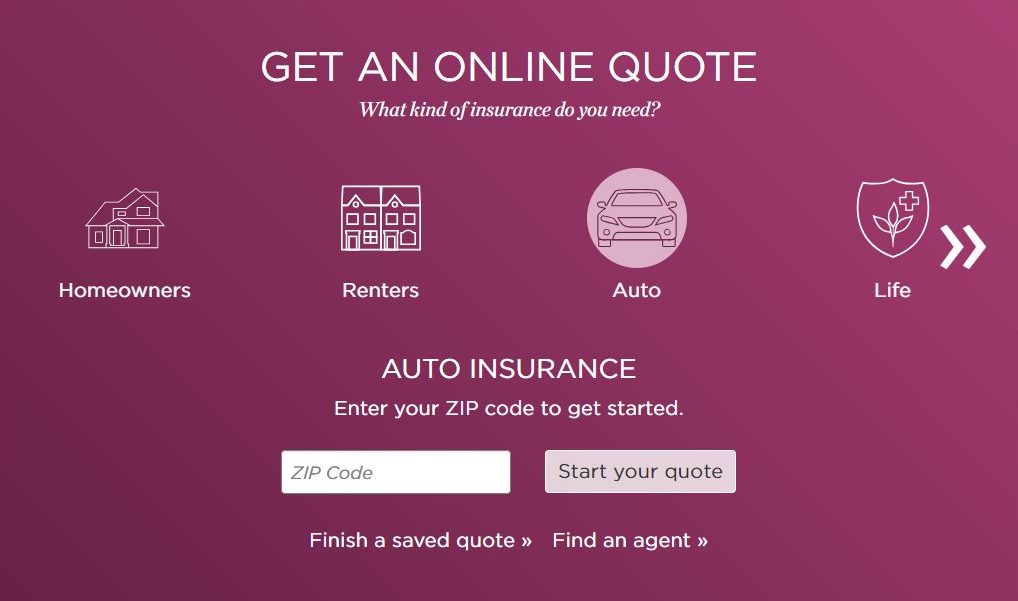 When you're ready to get a quote, head back to the homepage, scroll down and click auto in the box. Enter your ZIP code. You'll be directed to the first page of the Nationwide quote wizard, which will require you to enter your first and last names, age, address, and phone number.
Step #3 — Get Assistance and Ask Questions
On the first page, you'll notice that Nationwide offers two ways to get help — calling their customer service line or using the live chat. Each of these features makes it easy to get real assistance and fast answers to any questions you may have.
Step #4 — Stay Informed
Before you proceed, take a look at Nationwide's Privacy Policy and terms and conditions. When you hit "Continue", you're allowing them permission to use the information you provide. While their site is secure and they have a good reputation, it's good to build the habit of always reading the fine print when it comes to insurance.
Step #5 — Add Vehicle Details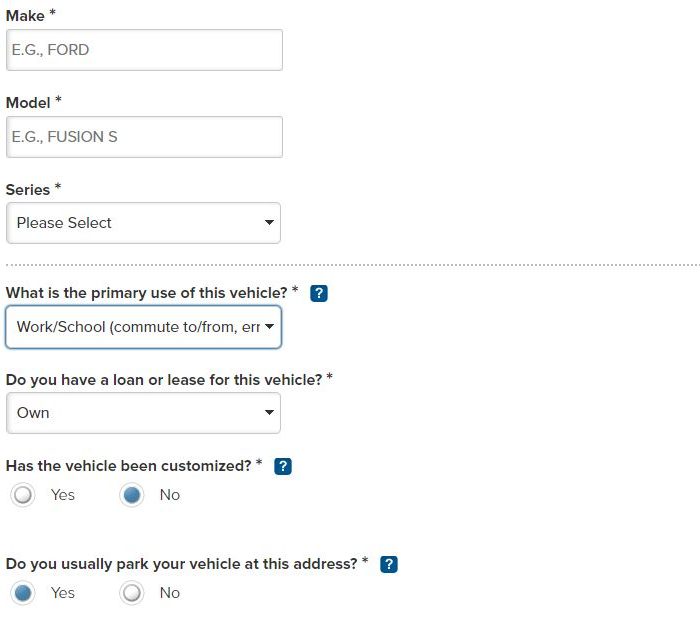 Once you've given your basic information, it's time to talk about what matters most with auto insurance — the car! Nationwide has an autocomplete form that helps you easily input key vehicle details like the make and model.
If you aren't 100 percent sure about the details, either mark down your quote ID at the bottom of the screen so you can check and return later, or step away and find that information by entering your car's Vehicle Identification Number (VIN) or checking your registration.
Step #7 — Learn as You Go
Click on one of the blue question marks at any time to receive additional information about why Nationwide requests this and how your answer influences your quote.
Step #6 — Add Driver Info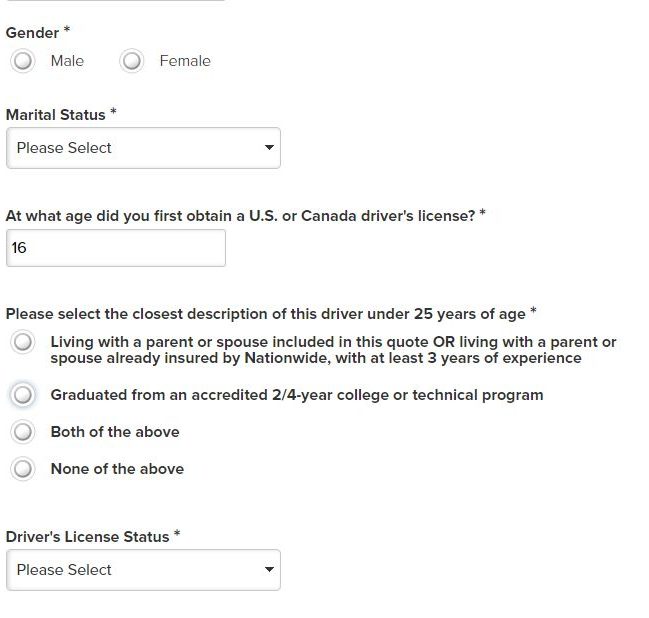 Providing information about all the drivers in your household can help qualify you for discounts and ensure that your rates are accurate; when you reach this part of the quote request process, you'll be asked to provide questions about the following:
Your marital status (if you're married, then you'll need to provide your spouse's information as well)
License status — Active, suspended, revoked
SR-22 requirements (for drivers with a previous DUI/DWI conviction)
Multiple drivers in one household using the same vehicle(s)
If You're Under 25
Drivers under 25 will be asked if they live with a parent or spouse and whether or not they have graduated from an accredited two or four-year degree program.
Having a college education or living with parents or a spouse can affect your rates and potentially qualify you for additional discounts.
Car insurance for college students or graduates varies, so it's important to shop around and compare coverage. Being a young adult driver can be expensive even with a good driving record, so take advantage of every discount opportunity available.
Step #8 — Switching insurance providers? Know How to Cancel and Buy a New Policy
Switching coverage doesn't have to be as complicated as you might think; typically, you should provide your current provider with at least 30 days notice that you plan on switching to a new provider. Ask about their cancellation policies and any fees you may incur.
Nationwide asks if you've been with or without car insurance for the last six months, and their answers regarding continuous coverage will impact your eligibility for a quote.
Typically, those who have not had continuous coverage for the last six months or possessed an inactive driver's license will be redirected to an associate company.
Should you cancel your car insurance policy?
There are many reasons why you might want to switch car insurance providers and cancel a policy, but sometimes the cons outweigh the pros. Typically, finding new coverage from a reliable company can be difficult if there has been a lapse in continued coverage for at least six months.
Therefore, if you're in the midst of a six-month policy, it would be a better idea to provide a 30-day notice during month five so you can seamlessly transfer to a new provider as soon as your current policy ends
If you have been with the same provider for over six months or even several years, switching to a new provider may provide you with lower premiums, greater benefits, and better customer support.
The most important thing to do is communicate with your current provider and the new company you're considering.
Speak to your agent or a customer service rep at your current company and express your dissatisfaction to see if they can work out a better deal.
Talk to new potential providers about their qualifying criteria and make sure that switching from your current company abruptly won't disqualify you for coverage.
If you're contemplating switching to a direct competitor, bringing up a quote you were offered may inspire your current company to lower your rates and price match the better deal to keep you as a customer.
Step #9 — Discover Discounts
Nationwide's system will let you know if you automatically qualify for certain discounts like accident-free and passive restraint.
If you live over 100 miles away from home, are an active duty service member, a full-time high school or college student with at least a 3.0 GPA, you can qualify for a variety of specific discounts that can lower your monthly premiums and allow you to afford better coverage.
Step #10 — Learn About SmartRide
You can save more on Nationwide car insurance by enrolling in the SmartRide program; similar to Allstate's Drivewise and State Farm's Stay Safe & Save initiatives, SmartRide is a discount program that gives drivers an automatic 10 percent discount with an opportunity to save up to 40 percent on their policy.
To use SmartRide, you'll install a device in your vehicle that monitors your driving habits over the course of four months.
At the end of the evaluation period, your results will be analyzed and Nationwide will give you any additional discounts that you qualify for. You can literally save hundreds of dollars just buy driving responsibility.
Step #11 — Denied a Quote?
For some people, Nationwide may inform them at the end of the process that they are ineligible for a quote. You'll then be automatically redirected to an affiliate of theirs such as National General. If this happens, don't worry.
As frustrating as it is to have wasted all that time filling out forms for nothing, you can go back a few pages on your browser and call the customer support line, get in touch with a local agent, or live chat with a representative to figure out why you were denied an estimate.
Two primary reasons for denial are being without continuous coverage for any period in the last six months and having greater than two accidents in the past three years.
Step #12 — Compare Quotes to Save Most
Whether you're actively looking for a new policy or just shopping around, comparison shopping for car insurance is best done with free online quotes. You can use our site to get estimates from multiple insurers sent directly to you, free of charge. Just enter your ZIP code below to start.
Free Car Insurance Comparison
Enter your ZIP code below to view companies that have cheap car insurance rates.
Secured with SHA-256 Encryption
Design of Website/App
When researching car insurance companies, finding a company that has an easy-to-use website (and general digital interface) is important.
We all spend time on our computers and usually, it's the fastest way to find information, especially about technical topics like claims, quotes, different coverages, and more.
How does Nationwide's website stack up?
In general, it is very intuitive. The website has four top categories (for personal clients, rather than business) and clicking each one brings up a host of options. There are also the quick, easy buttons of Claims and Pay a Bill, which are probably two of the most trafficked on the site.
Once you click on Auto, you get:
It immediately takes you to a quote banner, with options to type in your ZIP code and quickly get a quote.
Under it, you'll see:
Coverages, accident forgiveness, and auto insurance discounts are displayed most prominently, as they are likely the sections people want to read the most about, and what'll entice people to buy.
If you get in trouble, you can always use the search bar at the top right (the magnifying glass) in pictures one and two:
It'll give you quick links, where you can jump to whichever topic you want to.
In general, the layout of the website is very intuitive and very engaging.
There aren't huge flashy colors; in fact, most of the site is colored in a kind of white/gravel-ish tone.
The blues are either soft or bold, but typically soft except when Nationwide wants to highlight something.
Information is easy to find and not overwhelming; they tend to keep the sections fairly short without a ton of detail.
All good it seems on the website.
But websites are just one way that people find information now.
The mobile application (app) is popular for finding information about companies, and for forming relationships with them.
A user-friendly app has the ability to make the customer experience much better with situations like trouble-shooting, filing a claim, having a question about coverage, or paying a bill.
With the Nationwide App, you can file or check on a claim, view or pay your bill, view your insurance card without logging in, and call for roadside assistance, among others uses.
Ratings:
Apple Store Ratings: 4.3 stars (out of 5), 1.5K ratings, #174 in Finance
From CT Ballroom Dancer:
Nationwide knocks it out of the park in the completeness of options; offers balances, due dates, roadside assistance, policy listings, bill pay…
Google Store Ratings: 3.6 stars (out of 5), 3K ratings
From Mike Eden:
app is terrible… would be a 0 if possible. I can only login when the app decides to work. Touch sensitivity is terrible, ID cards do not have the bookmark option for offline…
Nationwide also has a SmartRide app for their program.
This app tracks miles that are driven, hard braking incidents, nighttime driving, and idle time, which all, in their view, lead to more accidents.

Apple Store Ratings: 2.2 (out of 5), 129 reviews
From JR-JR-JR:
I have used the mobile app on my phone for a couple months now and have noticed that it incorrectly logs rapid acceleration/hard braking events.
Google Store Ratings: 2.3 (out of 5) 302 reviews
From Shiloh Loveless:
While the app is easy to use, it doesn't record my trips properly. I drive a total of roughly 60 miles total, every day, to and from work. (30 there, 30 back) and it seems to only calculate a mile or two of it.
Pros and Cons
After a holistic look at Nationwide…
As we can see, there are many strong advantages to getting Nationwide coverage, mainly how many discounts the company offers.
Free Car Insurance Comparison
Enter your ZIP code below to view companies that have cheap car insurance rates.
Secured with SHA-256 Encryption
The Bottom Line
Nationwide is a good company: It's strong financially, has a depth and breadth of options for insurance and investing, and has superior customer service.
For auto insurance, it is active in 80 percent of states, meaning you can move and take your plan with you. It also has reasonable rates: It is close with Geico and much lower than Allstate, American Family, and Liberty Mutual. It has strong digital options, including a website and a reasonably rated app that allows for the ability to get things done, easily and quickly.
However, and there's always a however, Nationwide over the past four years has lost market share, both in the total lines market and the private passenger car insurance market.
For the private passenger car insurance market, Nationwide has lost a percentage point or about 800,000 premiums (customers).
That is indicative that its customers are not happy—and are going somewhere else.
Everything looks good for Nationwide holistically, except for that problem.
But it's the biggest and most important.
FAQs
If I get into an accident and need a rental car, will my Nationwide insurance cover that car?
Yes, if you are in an accident, file a claim, and have to put your car into the shop for something related to that claim, your Nationwide insurance can cover your rental car. This is, however, an optional coverage which you'll need to add to your policy. It will then be covered up to the specified limit as long as your car is still being repaired, in most states.
My credit score is inflating my rates. Will Nationwide work with me at all?
Nationwide will provide some leeway when it comes to using your credit score to determine your rates if there is evidence of an extraordinary life circumstance. These can include a catastrophic event, a divorce, death of a spouse, child, or parent, serious illness, identity theft, and more.
How does accident forgiveness work?
Accident forgiveness is an add-on to your Nationwide insurance plan. It costs a little bit more but it can protect you from your rates spiking hundreds of dollars if you get into an accident.
How much is Nationwide's market share declining?
Quite a bit, especially if the sample is larger than just the past few years. Over the past 18 years, from 2000 to 2018, Nationwide has lost 40 percent of its share in the private passenger car auto industry market. In that period, Geico, Progressive, and Liberty Mutual have all raised their share at least 100 percent.
That's it! Now you should know enough to consider Nationwide as your company for car insurance. Clear eyes, full hearts. Happy driving.
Ready to compare rates? Try our FREE online tool.