Cars with the Most Self-driving Features (Top 30 Brands)
Ford is the top car company in the US for cars with self-driving features. The Ford Fusion has level two autonomy and a high number of self-driving features.
Free Car Insurance Comparison
Secured with SHA-256 Encryption
UPDATED: Mar 23, 2021
It's all about you. We want to help you make the right coverage choices.
Advertiser Disclosure: We strive to help you make confident car insurance decisions. Comparison shopping should be easy. We are not affiliated with any one car insurance company and cannot guarantee quotes from any single company.
Our partnerships don't influence our content. Our opinions are our own. To compare quotes from top car companies please enter your ZIP code above to use the free quote tool. The more quotes you compare, the more chances to save.
Editorial Guidelines: We are a free online resource for anyone interested in learning more about auto insurance. Our goal is to be an objective, third-party resource for everything auto insurance related. We update our site regularly, and all content is reviewed by auto insurance experts.
Here's what you need to know...
Most of our childhood dreams of the future included flying cars. Well, the future is here. Flying cars have arrived.
And, we can now do even better than cars that fly — cars that drive themselves.
People have concerns about the dangers of driverless cars especially after a self-driving Uber killed a pedestrian in Arizona on March 18, 2018.
The Tempe Police Department provided this video which gives a clear view of the interior and exterior of the self-driving car during the horrific crash. *Viewer discretion advised*
Clearly, there are deadly human detection kinks that need to be fixed, but before you let fear take the wheel, here are four overwhelming benefits of automation from the NHTSA that are difficult to ignore:
Now that you know why self-driving cars are beneficial and taking over the roads, let's ensure you don't get left behind.
Read on to get all the info you need on what autonomous features the top car brands in the U.S. have now.
The 30 Top Car Brands' Autonomous Car Safety Features
The below eye-opening countdown will take you from #30 right down to the top five car brands in America (ranked by 2017 U.S. sales), with a clear explanation of exactly where each auto brand stands in the race to fully autonomous cars. Read our detailed study and ranking methodology here.
For all 30 auto brands, you will learn what autonomous level (0 to 5) they have reached and what autonomous features (18 possible) they offer as of August 2018. Keep in mind, only select models and trim levels will have all of the advanced features listed.
#30 – MINI
MINI claims to have "world-famous handling and numerous Active Safety features," but they fail to offer 11 key autonomous features. The seven features they do have available allow them to reach level two autonomy.
In comparison to the other 29 car brands we are about to discuss, MINIs are missing many helpful features most cars now offer including blind-spot warning, lane centering, lane keeping, and lane/road departure warning.
#29 – Tesla
Although many people think of this brand as having the most advanced self-driving cars, Tesla has not exceeded level two, partial autonomy.
Tesla, ranked 29th by U.S. sales, is the only top 30 manufacturer to offer autopilot, but it's missing key autonomous features: rear cross-traffic warning, cross-car communication, traffic light timing, and rear automatic braking.
Fortunately, in September of 2016, the autopilot hardware in Tesla models was updated to add the essential ability to also spot humans.
#28 – Porsche
Like every brand on this top 30 list, Porsche offers the hot autonomous feature, adaptive cruise control. Here's how they describe theirs:
"Imagine…a speed restriction is in force further along the route but the traffic sign is not yet in sight of the driver: the system already knows that deceleration will be required and initiates a fuel-saving coasting maneuver."
Sounds nice, doesn't it?
Porsche also makes level two autonomous cars, but some key features this brand has yet to offer are automatic parking, lane centering, and rear automatic braking.
#27 – Land Rover
"All-New Discovery," what Land Rover calls its safety features, includes automatic emergency braking, traffic sign recognition, and a surround camera.
Land Rover's Product Engineering Director, Nick Rogers said:
"It's only right All-New Discovery continues to lead the way with new safety-focused technologies that meet and exceed global safety standards."
Its safety package might have gotten a five-star rating in Europe, but here in the U.S., Land Rover isn't keeping up with its competitors when it comes to self-driving capabilities.
Although they have reached level two autonomy, Land Rover doesn't have lane centering, rear automatic braking, or steering assist in any of its vehicles.
#26 – Volvo
So far, Volvo has reached level two for its autonomous capabilities, but this top-selling brand has more in the works. On Volvo's official website they discuss what will soon be the new norm:
"People on board the vehicle are not expected to have control of the car. . . . At Volvo Cars we believe that our first unsupervised autonomous vehicles will be in the market by 2021."
Volvo already offers all of the common autonomous driving features available in 2018. The more elite features they are missing as of August this year are autopilot, cross-car communication, hands-free steering, rear automatic braking, and traffic light timing.
#25 – Mitsubishi
In 2017, the Renault-Nissan-Mitsubishi alliance was able to surpass VW and become the world's top-selling automakers with sales just under 11 million.
This dream team will also be working together on designing self-driving cars. According to a CNNtech article published September of 2017:
"The automakers plan to release their first fully autonomous car, requiring no human driver at all, in about five years." That's about four years behind Volvo's estimations.
Currently, Mitsubishi only offers six of the 18 autonomous features in our study but has managed to reach level two in its vehicles. This brand is missing all sorts of features from automatic parking to pedestrian detection.
#24 – Lincoln
Unlike most car brands, Lincoln's official website hardly has any information on its available autonomous features. Under their "Why Lincoln" section, "effortless ownership" and the "interior sanctuary" are the focus.
With some digging we were able to determine that Lincoln has reached level two autonomy and offers nine of the self-driving features that are quickly becoming common in newer vehicles.
The significant self-driving features Lincoln is missing are lane centering, pedestrian detection, rear automatic braking, and traffic sign recognition.
#23 – Infinity
Only missing six of the 18 autonomous features focused on in this study, Infinity is working diligently to master self-driving capabilities.
A big focus of Infinity's recent marketing has been on its autonomous driving suite: ProPilot Assist. On the Infinity website there is a whole section dedicated to "Autonomous Drive Technologies" where it is explained:
"INFINITI ProPILOT Assist will act as a 'co-pilot' and 'delegate' more onerous driving tasks to the car – such as navigating stop-start traffic on the highway or keeping track of the positions of surrounding vehicles."
Having achieved level two autonomy, the only more common autonomous features Infinity has yet to offer are hands-free steering, traffic sign recognition, and throttle/speed management.
#22 – Acura
Also manufacturing level two autonomous cars, the 22nd highest selling car brand in the U.S. has what they call AcuraWatch for its driver-assistance technologies.
Lacking automatic parking, pedestrian detection, and rear automatic braking, along with six other autonomous features offered by its competitors, it doesn't seem like Acura will be winning the self-driving car race.
The Acura philosophy is to "help protect everyone." Hopefully, they will get more innovative in their future vehicles so a decent portion of "everyone" will still choose their cars.
#21 – Cadillac
In September 2017, hands-free steering became a reality for Caddy drivers. "With Cadillac's long-awaited Super Cruise feature . . . drivers will be able to buy a car that can drive itself on many highways" Car and Driver reports.
Why are the car fanatics so excited about Cadillac's Super Cruise? Car and Driver explains:
"Unlike existing semi-autonomous driver-assistance systems from Tesla, Mercedes-Benz, BMW, and Volvo, you don't have to keep a hand on the wheel or retake control of the car after a few seconds. Super Cruise is designed to drive the car by itself for hours on end without driver intervention."
But Cadillac hasn't been able to surpass level two autonomy in its vehicles yet.
#20 – Chrysler
The minivan is about to get a whole lot cooler. Out of all the Chrysler vehicles, the minivan will be first in line to get Chrysler's most advanced autonomous driving features.
According to CNBC, "Waymo, formerly known as the Google self-driving car project, is preparing to roll out more than 62,000 autonomous Chrysler Pacifica hybrid minivans."
Chrysler's partnership with Waymo is monumental. As of May 31, 2018, 600 self-driving Pacificas were being tested on the public roadways of California and Arizona.
Seven out of the 18 autonomous features being discussed today are not yet implemented in Chrysler vehicles, including pedestrian detection, rear automatic braking, and traffic sign recognition; however, Chrysler has achieved level two autonomy.
#19 – Buick
Failing to offer lane centering, rear automatic braking, steering assist, and six other enticing autonomous features, Buick is falling behind in the autonomous race. Nonetheless, Buick does offer level two partially autonomous.
Not only does Buick not offer nine of the prime self-driving features available in newer cars today, but the more advanced features Buick does offer are rather pricey.
Car and Driver gave the 2018 Buick Enclave's safety and driver assistance only three out of five stars and listed their "dislikes" to be: "expensive active safety technology." The most advanced driver assisted technology package Buick offers adds $2,095 to the MSRP sticker price.
#18 – Audi
The car brand ranked 18th for U.S. sales has made historic accomplishments in the race to driverless automobiles. It is the ONLY automaker to offer traffic light timing and even more impressively, the first IN THE WORLD to release a level three autonomous vehicle.
The Audi A8 is featured in the AutoNation Drive's automotive blog:
"For perspective on how cool a level 3 self driving car is, Tesla's current Autopilot is a Level 2. The difference is, drivers have to pay attention at all times with Level 2, whereas with Level 3 and Audi's Traffic Jam Pilot, the driver's assist features include fully automated steering, braking, acceleration, and start-up, all without requiring the driver's participation."
But no brand has it all (yet). As of August 2018, Audi didn't offer pedestrian detection, rear automatic braking, or autopilot.
#17 – Mazda
Only half of the car brands on this list offer the autonomous feature, Traffic Sign Recognition, and beginning with the 2017 Mazda6, the brand ranking 17th for sales last year did just that.
Mazdas do a lot more than just recognize signs. The Forward Sensing Camera reads the sign, an image of the sign is shown on the Active Driving Display, and when the driver exceeds the speed limit, the display will flash and beep.
Mazda has yet to offer nine of the self-driving features focused on in our study, and this brand hasn't surpassed level two autonomy in its vehicles.
#16 – Lexus
Although this car brand offers 14 of the autonomous features in our study—all but autopilot, cross-car communication, rear automatic braking, and traffic light timing, Lexus has chosen not to refer to them as self-driving features.
Lexus explained:
"To avoid any misunderstanding…that this technology means 'the driver doesn't have to do anything,' and to prevent overconfidence in such, we have decided to intentionally not refer to this technology as automated driving."
Like Tesla, Lexus has accomplished manufacturing a level two autonomous vehicle, but unlike Tesla, Lexus isn't giving drivers the impression the vehicle can drive itself.
#15 – BMW
BMW has an entire section on its website dedicated to illustrating its "path to autonomous driving" which uses simulation videos to help explain the five levels of autonomy.
Here's some of what BMW gives its customers to look forward to:
Level 4

: "[T]he driver would be able to sleep temporarily."

Level 5

: "Drivers don't need to be fit to drive and don't even need to have a license…there isn't even a cockpit. Everyone in the car is a passenger."
With level two BMW self-driving cars on the road today, this brand set a goal of releasing a level three in 2021.
#14 – Volkswagen
The car brand ranked 14th by 2017 U.S. sales produced an impressive video explaining what stands between 2018's partial automation to 2050's driverless cars.
The video below cleverly ends, "Automated cars. Are we there yet? No, but we're on our way."
Volkswagen vehicles are lacking eight of the autonomous features that are currently offered by the other top 30 brands, but it has achieved level two autonomy and has head-turning futuristic concept cars including a self-driving Vizzion with no steering wheel or pedals.
#13 – Mercedes-Benz
Back in 1999 Mercedes-Benz was winning the autonomous car race when it accomplished releasing the world's first ever adaptive cruise control system, Distronic, for passenger vehicles.
Today, Mercedes-Benz might not be in the lead, but its cars have reached level two autonomy and are only missing four of the 18 autonomous features in our study.
Mercedes-Benz has an Autonomous Driving Team which has been testing their self-driving technologies on public roadways. Click here to watch an exciting video showing the S500 Intelligent Drive being tested on public roadways in Germany.
#12 – Dodge
Dodge doesn't put any focus on self-driving features on its website. That's no big surprise since Dodge only offers half of the autonomous features many automakers already have up and running on the roads.
The technology section of Dodge's official website is dedicated to the navigation and entertainment features inside the car. To sum up their technology package it reads: "The best technology is the kind that makes your life easier."
We agree. Too bad Dodge isn't making our lives easier with lane centering, pedestrian detection, steering assist or the six other autonomous features it's lacking. Fortunately, when suited with the self-driving features Dodge does offer, their vehicles can meet level two's criteria.
#11 – Ram
Out of our entire list of the 30 top sellers in America, Ram has the worst lineup of self-driving features (by far).
Considering the vast majority of the automakers on this list have over nine, it's quite embarrassing that Ram only offers three autonomous features.
Every other car brand on this countdown has vehicles on the market with at least double the autonomous capabilities than any Ram has to offer.
Missing 15 features including automatic braking, blind spot warning, lane keep assist, and speed management, it's surprising Ram has been able to reach level two autonomy.
#10 – GMC
GMC might be a top ten automaker in the U.S. by sales currently, but if they continue to be stuck on the technology of the past, we predict their sales will suffer.
Currently, GMC is failing to offer eleven of the eighteen key self-driving features that are available in the other most popular cars in America.
Although this brand has reached level two autonomy, it has yet to offer automatic parking, lane centering, pedestrian detection, and more handy features thousands of drivers now depend on.
#9 – Kia
Kia has stalled at autonomy level two with its eleven autonomous features.
This automaker promises partial autonomy in the near future:
"By 2020, Kia will commercialize the partially autonomous driving technology so that drivers can be free not only from risk of accidents but also from burdens and stress in driving."
And, although further out than other brands, Kia does have a fully self-driving car in the works:
"By 2030, Kia will bring the fully autonomous driving technology to the market, thereby boosting quality of life for all the customers."
12 years is certainly better than nothing.
#8 – Subaru
Subaru created a detailed video with remarkable real-time road examples of all that its driver assistance package, EyeSight, can do.
In the video below, Subaru's narrator says: "No technology is as good as the driver behind the wheel…" Hopefully Subaru realizes that automakers around the globe are working to create autonomous vehicles that are far better than a human behind the wheel.
Currently, Subaru sits at level two autonomy and fails to offer half of the autonomous features highlighted in this study.
#7 – Hyundai
Hyundai took major leaps in the autonomous car race in 2018 with its strategic partnerships with Aurora (led by autonomy experts from Google, Tesla, and Uber) and Autotalks (vehicle-to-everything communication technology company).
As of Jan 2018, Hyundai USA predicts:
"Hyundai Motor Company and Aurora, a leader in autonomous vehicle technology, announced a strategic partnership to bring self-driving Hyundai vehicles to market by 2021."
Like most car brands, Hyundai is currently stuck at level two autonomy, but this 7th best-seller in the U.S. has great things to come.
In the spring of 2018, Hyundai had level four electric cars complete a 118 mile journey marking "the first time in the world that level 4 autonomous driving has been achieved with fuel cell electric cars."
#6 – Jeep
Also having accomplished level two autonomy, Jeep currently has 10 of the 18 self-driving features to offer. Currently, Jeep fails to offer lane centering, pedestrian detection, traffic sign recognition, and five other important autonomous features already on U.S. roads.
With a level two autopilot not planned to be released for another two years, it doesn't seem likely Jeep will be winning the AV race. Although, they are working with BMW to create a level three self-driving car they hope to release in 2021.
#5 – Nissan
On Nissan USA's official website they have "Nissan Blog" where there's lots of talk on self-driving technology: "The building blocks of autonomous driving technology have existed in Nissan vehicles for years, in the form of Nissan Safety Shield technologies."
Nissan states, "The future is now: Nissan plans to build commercially viable autonomous-drive vehicles on the road by 2020."
They have been testing their self-driving cars on public roads in America, Europe, and Japan. But the Nissans on the market today haven't exceeded level two autonomy.
#4 – Honda
Waymo has also teamed up with Honda, still building autonomous vehicles only with a different function.
The Chrysler/Waymo partnership is working towards autonomous cars that transport people, whereas the Honda/Waymo partnership is working on autonomous cars that transport goods: self-driving delivery vehicles.
Currently, Honda is keeping up in the driverless car race, with level two cars on the roads, and only missing eight of the autonomous features highlighted in this study.
#3 – Chevrolet
In under a year, GM plans to release their Cruise AV, their fully electric and fully autonomous Chevy Bolt — we're talking no steering wheels, no pedals . . . as driverless as they come!
Here's a video by Roadshow explaining how it got here, what it is, and how it works:
If the ride-sharing Cruise AV is released in 2019 and is as life-changing as predicted, it will make billions for GM and will brand Chevy as autonomous vehicle leader.
But for 2018, Chevrolet is lacking ten self-driving features and is also stuck at level two autonomy.
#2 – Toyota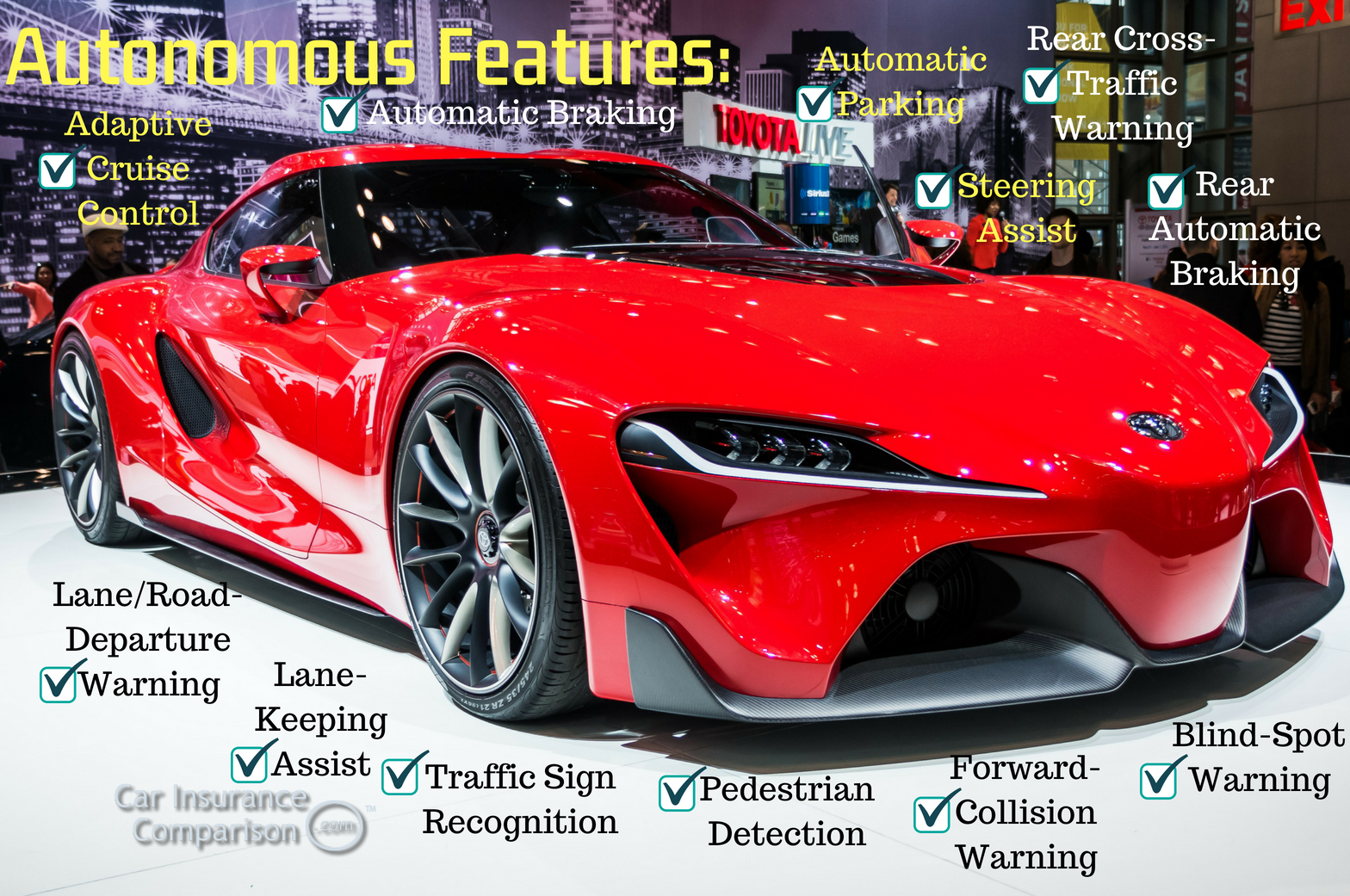 The 2nd best-selling brand in America is not only working at building self-driving cars, they're dedicated to keeping the stick shift alive.
The Corolla is one of the only vehicles sold in the U.S. with autonomous features and a six-speed manual transmission. On March 2, 2018, they announced:
"Toyota will establish a new company in Tokyo in the latter part of this month named 'Toyota Research Institute-Advanced Development' (TRI-AD) that will accelerate its efforts in advanced development for automated driving."
Currently at level two autonomy and only missing six of the 18 autonomous features, we see Toyota being a front-runner in the driverless car race.
#1 – Ford
The top-selling car brand in America has autonomous cars at level two and is only missing five of the 18 self-driving features focused on in this study.
Ford plans "to be a leader in autonomy, connectivity, mobility, customer experience and analytics" with fully autonomous level four vehicles expected to be released in 2021. They also further explain, "The vehicle will operate without a steering wheel, gas pedal or brake pedal…that can complete all aspects of driving without a human driver to intervene."
Since the start of 2018, Ford has maintained a momentous AV task force including nearly 100 self-driving Ford Fusions being tested on public roads in Arizona, California, and Michigan.
Taking the Driver OUT of Driving
Autonomous Vehicle being Tested in the UK
As we learned by the man killed in 2016 while trusting Tesla's autopilot to do the driving, and from the woman struck and killed by the self-driving Volvo, the early autonomous features haven't been as autonomous as advertised.
Nevertheless, our team at CarInsuranceComparison.com believes the driverless cars of the (very near) future have incredible benefits.
Volvo says, "Unsupervised autonomous cars will revolutionise society, boost global economies and transform the way we manage our time. As the biggest change to personal mobility since the invention of the car 130 years ago, we think there's a lot to look forward to."
Matthias Muller, VW's Board of Management Chairman, says, "Unlike a person, a self-driving car is always wide awake, never distracted and never tired."
Did you notice with our above countdown, as the list went down to the top-selling brands there were more autonomous features offered? Coincidence? We think not. People want a smart, safe car that does the work for them.
Many automakers have plans to release autonomous vehicles within the next few years that will allow its passengers to eat, sleep, work, read etc all while "driving" to their destination.
The AARP reports,
"Nearly 10 million cars with self-driving features will be on the road by 2020, says BI Intelligence, a leading market research firm. Just a couple of years after 2020, the firm predicts, we'll see fully autonomous vehicles that can drive on roads and handle a range of scenarios with little or no interaction from the driver."
We believe with The Economist that "Self-driving cars will profoundly change the way people live."
Are you ready to hop on board?
Free Car Insurance Comparison
Enter your ZIP code below to view companies that have cheap car insurance rates.
Secured with SHA-256 Encryption
Methodology
The above 30 to 1 ranking was based on 2017 U.S. sales. This study focused on 18 autonomous features, all of which at least one of the 30 U.S. top sellers currently offers.
The autonomous features printed on the above custom vehicle images are what the automaker had available in its various models that were on the market as of August 2018. All of our sources are listed with direct links on our study sheet and provided throughout this article.
Disclaimers:
Many car companies have coined their own unique names for their various autonomous features and safety packages.
Most of the autonomous features above are only available in particular models and trim levels.
"Automatic Parking" in this study means more than just blind spot alerts and 360 cameras, but steering assist up to full automation for the parking.
If a feature is listed as "NA" on our study sheet, that means the autonomous feature wasn't published as available for that car brand as of August 2018.
The 30 custom car brand images above were created by our skilled graphics team here at CarInsuranceComparison.com, but 19 of the original vehicle photos were taken by talented photographers on Flickr who deserve credit. Here are those original images in order of appearance in this article: MINI, Porsche, Mitsubishi, Lincoln, Cadillac, Buick, Audi, Mazda, Lexus, BMW, Volkswagen, Dodge, Ram, Subaru, Hyundai, Nissan, Honda, and Toyota.