10 Benefits of the Coronavirus Pandemic [Can't Miss Insurance Details]
With all the negative, it's difficult to see the benefits of the coronavirus pandemic, but they do exist. In Los Angeles alone, car crashes have dropped by 60 percent. Hundreds of deaths have already been avoided simply by people staying home. Traffic is down, travel time is shorter, greenhouse gas emissions are dropping, and car insurance companies are providing refunds to their customers. Read on to learn about more positive outcomes of the albeit challenging, COVID-19 pandemic.
Free Car Insurance Comparison
Secured with SHA-256 Encryption
UPDATED: Jun 29, 2021
It's all about you. We want to help you make the right coverage choices.
Advertiser Disclosure: We strive to help you make confident car insurance decisions. Comparison shopping should be easy. We are not affiliated with any one car insurance company and cannot guarantee quotes from any single company.
Our partnerships don't influence our content. Our opinions are our own. To compare quotes from top car companies please enter your ZIP code above to use the free quote tool. The more quotes you compare, the more chances to save.
Editorial Guidelines: We are a free online resource for anyone interested in learning more about auto insurance. Our goal is to be an objective, third-party resource for everything auto insurance related. We update our site regularly, and all content is reviewed by auto insurance experts.
Here's what you need to know...
Traffic collisions have dropped over 65 percent in major cities
Satellite images show pollution has decreased worldwide
Hand sanitizer sales grew 417 percent compared to the previous year
Car insurance companies are giving back hundreds of millions of dollars
We know what you're thinking: With all the death and infections and the scares from the news, how could there be anything positive about the coronavirus? It's the truth. We are bombarded by news that's almost always negative.
There are the statistics of people who have died, the number of coronavirus cases, the struggles of countries like Italy and Spain. So what do we have to be happy about? This list is here to answer that.
In it, you'll find 10 benefits of the coronavirus pandemic. These COVID-19 benefits range from fatal crash declines to cleaner air, fewer heart attacks, strokes, even how communities are coming together to fight this virus.
We also cover car insurance and the role car insurance companies are playing for their customers by issuing refunds. As shown in the above graphic, car insurance companies are issuing sometimes hundreds of dollars to individual customers.
We'll cover some demographics and average insurance premiums of the top 10 car insurance companies to give you an idea of what refund you might expect.
These demographics include average insurance rates for young female drivers compared to young male drivers and both gender for other ages.
As you will learn by scrolling down, this pandemic has meant several insurance savings for countless Americans — that's one of the benefits of the COVID-19 pandemic.
Are you being overcharged for your car insurance? You might just be. The best way to figure that out is by comparing live auto insurance quotes from different companies.
Enter your ZIP code into our free online quote comparison tool to do just that and start saving on auto insurance today.
#1 – Deadly Car Crashes Have Declined
Quarantines. It's become a familiar term, used by doctors, governments, and news organizations, to describe a state of entrapment. We are confined to our homes, going out just for groceries or exercise.
Quarantines, while reviled as a necessary evil, have many positive benefits, including our first benefit on this list: Crashes have declined.
Why? Simply, because there aren't as many people on the road. According to INRIX, personal travel has been reduced 47 percent since the beginning of March, with personal vehicle travel in some states dropping over 60 percent. This lack of vehicles on the road has reduced the number of collisions. But by how much, you might ask?
The answer: quite a bit. To investigate, we turned to the local police and fire departments in four major American cities to see how many calls coming in were from vehicle collisions.
We looked at the last Tuesday through Thursday set for both March 2020 (March 24-26) and March 2019 (March 26-28). What we found is that the number of crashes called in were reduced by a minimum of 60.5 percent.
The city out of our subset with the smallest reduction in crashes called in to the police department was Los Angeles at 60.5 percent. It is also a city in a state (California) that bars car insurance companies from using factors unrelated to driving, like jobs, as a way to set premiums.
The largest reduction of crashes called in occurred in Austin, Texas, with 68.5 percent. Chicago and San Francisco were in the middle. It may be this way across most of the United States, at least those major cities where there is a stay-at-home or quarantine order.
For instance, some news outlets have reported that New York City, which has become the epicenter for the coronavirus pandemic in the United States, has had a reduction of 50 percent in terms of traffic collisions.
Each of the four cities on this list is and has been for weeks under a stay-at-home order, likely contributing to the drop in traffic collisions. These statistics go hand-in-hand with a study done by the Road Ecology Center at the University of California, Berkeley.
There, researchers found that traffic accidents, injuries, and deaths were down 50 percent between February 27 and April 11. This is likely due to California's shelter-in-place order, which caused a drop in traffic.
Less traffic has had other benefits as well. Some truckers have reported much greater ease of traveling, making deliveries of food, hand sanitizer, and other goods essential to the country during the pandemic easier.
This makes it our first positive benefit of the coronavirus pandemic—the lack of crashes called in, which indicate a lack of traffic accidents, which likely reduces the number of fatal crashes. And in a country with over 30,000 fatal crashes per year, that's a good thing.
In this video, a news organization takes viewers through a drive of Los Angeles, where the traffic is markedly lower than during normal periods. It makes a point to share that the novel coronavirus has caused quarantines that have all but cleared out California's roads, leaving just essential workers and people looking to get essential goods on the streets.
If you are an essential worker, you might be asking what happens if your car breaks down. Insurance companies and their contracted tow workers might be covered under the "essential" umbrella, and if you have the right insurance package, they can tow your car, even if that means towing your caravan.
For anyone who has known or lived in Los Angeles, this is a highly unusual occurrence.
Free Car Insurance Comparison
Enter your ZIP code below to view companies that have cheap car insurance rates.
Secured with SHA-256 Encryption
#2 – Car Insurance Companies Are Giving Refunds
The world is replete with examples of corporate stewardship, from Airbnb issuing refunds to those affected by the coronavirus pandemic to companies turning their manufacturing plants from producing regular products to medical supplies.
But what about those sometimes stingy car insurance companies, whose services and products are the central focus of this comparison website? Well, it turns out car insurance companies are providing substantial refunds. In fact car insurance companies have already given back over 4 billion dollars to their customers.
Check out the table below for a breakdown of what they are offering. We've tried to keep the nomenclature simple, like avoiding lingo that can be confusing like what many agents call village car insurance.
Refund Details by Car Insurance Company
| Insurance Provider | Discount | 2020 months | Savings (25-year-old male) |
| --- | --- | --- | --- |
| Allstate | 15% credit | April-May | $89 |
| American Family | $50 rebate | April | $50 |
| Farmers | 25% credit | April | $63 |
| Geico | 15% credit upon renewal | till April '21 | $198 |
| Liberty Mutual | 15% credit | April-May | $113 |
| Nationwide | $50 rebate | April | $50 |
| Progressive | 20% credit | April-May | $92 |
| State Farm | 25% credit | March-May | $160 |
| Travelers | 15% credit | April-May | $62 |
| USAA | 20% credit | April-May | $71 |
| | #blank# | #blank# | #blank# |
The companies are divided into three categories: those that offer one-time rebates, others are offering credits, and others that are offering reductions for future rates. How do the rebates, credits, or reductions affect your savings?
We can see with the table above, which isolates the demographic as a 25-year-old single male, that the savings vary significantly depending on the provider and what type of offer they are making. Geico and State Farm, the two largest car insurance companies, are well ahead of the pack, offering the most savings.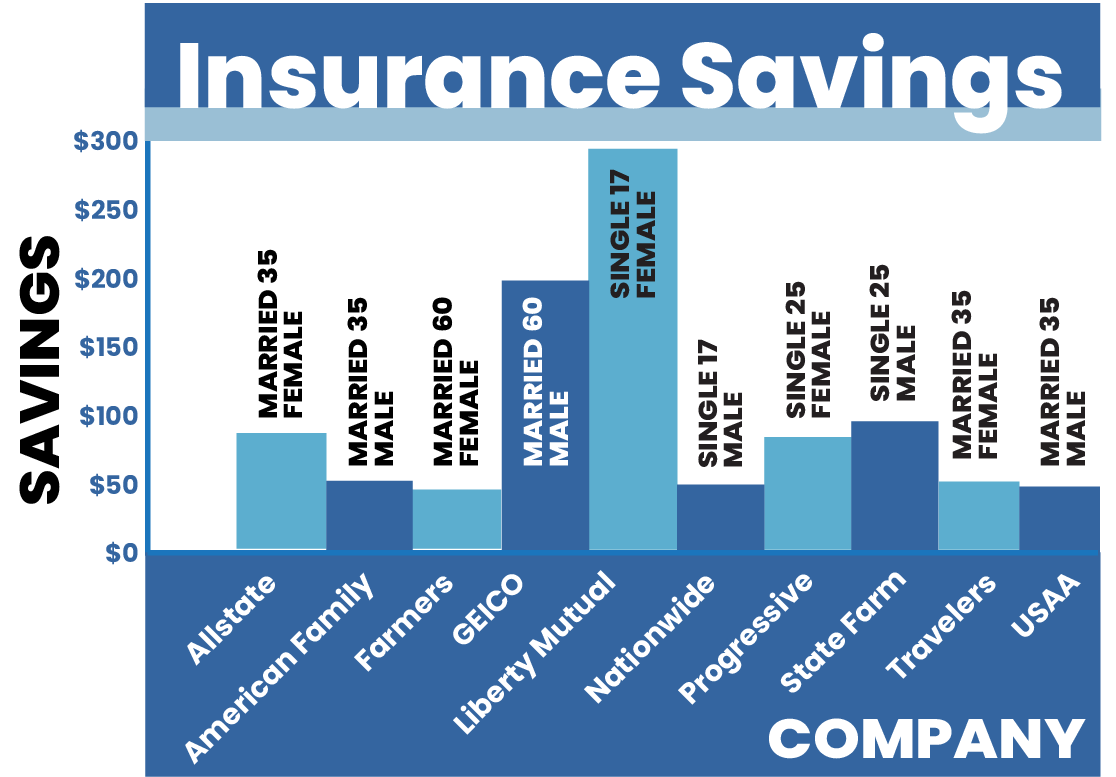 The spread is $148, with Geico coming in at savings of $198 and the two companies that are offering the smallest (and fixed) rebates in American Family and Nationwide at $50.
Five out of the 10 companies actually offer savings of $71 or lower. There are only three car insurance companies that offer savings of $100 or more.
Now, that's just for the 25-year-old single male. We have data on seven other demographics than that. To get an answer about the amount of savings for those other seven demographics, we applied the rebates, credits, and reductions to each demographic for all top 10 companies. The table below has that data. Use the scroll bar at the bottom of the table to look at the far right columns.
Car Insurance Refunds by Demographic
| Insurance Provider | Average Discount | Married Female (35 yr old) | Married Male (35 yr old) | Married Female (60 yr old) | Married Male (60 yr old) | Single Female (17 yr old) | Single Male (17 yr old) | Single Female (25 yr old) | Single Male (25 yr old) |
| --- | --- | --- | --- | --- | --- | --- | --- | --- | --- |
| Allstate | $122 | $79 | $78 | $73 | $75 | $232 | $266 | $86 | $89 |
| American Family | $50 | $50 | $50 | $50 | $50 | $50 | $50 | $50 | $50 |
| Farmers | $87 | $53 | $53 | $49 | $51 | $178 | $191 | $61 | $63 |
| GEICO | $281 | $202 | $202 | $196 | $200 | $495 | $549 | $208 | $198 |
| Liberty Mutual | $152 | $95 | $96 | $86 | $92 | $291 | $343 | $99 | $113 |
| Nationwide | $50 | $50 | $50 | $50 | $50 | $50 | $50 | $50 | $50 |
| Progressive | $135 | $77 | $73 | $66 | $68 | $290 | $321 | $90 | $92 |
| State Farm | $153 | $130 | $87 | $78 | $117 | $248 | $305 | $97 | $160 |
| Travelers | $111 | $54 | $55 | $51 | $52 | $233 | $321 | $58 | $62 |
| USAA | $85 | $52 | $51 | $48 | $48 | $160 | $180 | $66 | $71 |
| Average Discount | $123 | $84 | $80 | $75 | $80 | $223 | $258 | $87 | $95 |
| | #blank# | #blank# | #blank# | #blank# | #blank# | #blank# | #blank# | #blank# | #blank# |
17-year-olds have the highest discount because they have the highest rates. After them, the discounts dip sharply, with 25-year-olds being separated from 60-year-olds (the lowest-discount group) by roughly $15.
Unlike the data in the previous analysis, this data shows the average discount for all available demographics from 17-year-olds to 60-year-olds. Here, it's clear that Geico offers the largest total discount at $281 and it's not even close. This is in large part due to the length of Geico's 15 percent credit, as it runs from April to October.
The company with the next highest discount is State Farm at $153, followed by Liberty Mutual at $152 and Progressive at $135. So what about your personal discount?
Your personal discount will depend a great deal on what premium you pay. That's determined in part by your age, gender, and geographic location, just to name three characteristics.
An example would be the amount that you'd pay for insurance in Saint Paul, Minnesota would be different than the amount you'd pay in Detroit, Michigan. It would vary even further if you were a 17-year-old male in St. Paul and a 40-year-old living in Detroit.
If you're not satisfied with your premium, you might consider switching providers. If you want to find out what insurance costs in your area, you can use this car insurance rate calculator. Now, back to the savings.
https://www.youtube.com/watch?v=8ueT76GBUEU&t=6s
This wild savings range may be due to Geico and State Farm being the two largest insurance providers and having more cash resources. This also brings up a larger issue: Car insurance companies are taking in a windfall.
This is because as fewer people drive, there are fewer accidents and fewer claims. Claims cost insurance companies money and are the primary cause of expenses for an insurance company.
With fewer claims but the same premiums, insurance companies are raking in money, benefiting off the coronavirus crisis like few other industries are.
For that reason, they have the cash reserves and the profit to give these rebates, credits, and reductions to their customers.
There are other examples of corporate stewardship without much of a profit gain. For instance, McDonald's locations are shuttered throughout the country and in many places worldwide.
In response, it has given paid sick leave to their employees that are not able to work, creating a safety net that had been long pushed for but not acted upon. This is, in a sense, admirable. The same goes for Starbucks and other locations where fewer workers are needed, and the ones who aren't need to make rent or feed their kids.
Car insurance companies, still, are doing their part. This positive display of corporate stewardship from them and from others is a heartwarming part of the coronavirus pandemic, one that may have been unexpected given the state of the economic and social climate in America. This is what makes it our second positive benefit of the coronavirus pandemic.
Looking for a car insurance company that has been around for over 150 years? Check out our review of Mercer Insurance Group.
In the video above, a local news station covers the news that two car insurance companies—in this case Allstate and American Family—are offering refunds, suggesting that other companies would follow suit, which they later would.
The station interviews an insurance agent who talks about how some of his clients are wanting to take their vehicle off their insurance policy because they are just not driving it.
The insurance agent notes that he told his clients that there are other ways of reducing the cost of their car insurance, including asking for a deferral on payment or suspending the car insurance altogether. He may or may not be a practitioner of these honest ways to sell car insurance.
It's helpful to note at the end of this section that those are the numbers for just the top 10 insurance companies. Local and state insurance companies may be offering credits and rebates as well, though you'd need to call them to find out.
One way to get a head start is to check out our company reviews such as this review of Mutual of Omaha car insurance. We profile companies in an in-depth way, often including average rates based on demographics.
#3 – There Have Been Fewer Heart Attacks and Strokes
A caveat here: No one knows the reason why this is happening. However, one thing is undeniable—fewer patients are being admitted for heart attacks and strokes, and the reasons might not be as obvious as they seem.
According to an informal Twitter poll and various news outlets throughout the country, fewer people are receiving treatment in hospitals for both common and uncommon ailments. As Manda Chelednik, a surgery resident at Missouri University, tweeted about the lack of patients:
Acute cholecystitis. Appendicitis. Gone. Strangulated hernias. Bowel perfs. Nowhere to be found. Where is my EGS??😩 https://t.co/6D9Hi04hiF

— Manda Chelednik (@MandaChelednik) April 5, 2020
EGS stands for emergency general surgery, which includes acute appendicitis, bowel obstructions, and gastrointestinal perforations.
To add further credence to this subject, a doctor wrote an op-ed in the New York Times titled "Where Have All the Heart Attacks Gone?" stating that hospitals are "eerily empty" except for coronavirus patients. This includes a reduction at times, around the country, of 60 percent of cardiology patients, including heart attack and stroke victims.
Jim Dahle, an emergency physician with over 12 years of residency and the person behind The White Coat Investor, stated on Twitter:
Where did all these people with chest pain and belly pain go? Because they are no longer in my ER. It's amazing how much less health care people consume when they are motivated not to.

— White Coat Investor (@WCInvestor) April 4, 2020
While there is a debate about what is causing this—most notably that patients are fearing becoming infected with the coronavirus and stay away from the hospital—one idea floated is that people are simply having fewer heart attacks and strokes. This may be caused by a reduction in the risk factors that make people more likely to have heart attacks and strokes.
Three, in particular, might be reduced: excessive eating, excessive drinking, and less physical exertion. Let's start with the first. According to numerous studies, there is a clear link between heart attacks and eating heavy meals.
This was noted by the American Heart Association, which authored a study that linked eating an unusually heavy meal with greater heart risk, in particular up to four hours after the meal. The researchers write:
"Eating and digesting food releases many hormones into the bloodstream. Those substances increase the heart rate and blood pressure and may increase the substances that help form clots. The temporary rise in blood pressure increases the oxygen requirements and creates an extra burden on the heart."
People stuck in the house might be required to cook more than order out constantly or eat in restaurants. This may lead to healthier eating habits and fewer unusually heavy meals, which would reduce heart attacks and strokes.
The second is excessive drinking. According to the American College of Cardiology cited a medical study that looked at the link between excessive drinking and heart attacks. The study found that while any alcohol consumption caused an increase in heart attack risk, heavy drinking, in particular, was the most hazardous.
https://www.youtube.com/watch?v=UxXiJMRkO2k
A heavy-drinking period (6–9 drinks) doubled the heart attack and stroke risk and created two to six times the heart attack risk compared to non-drinkers throughout the following week.
Although certainly some people are drinking beer for lunch to stave off the boredom from quarantine, it's possible that alcohol consumption has been reduced overall, especially as bars and restaurants have been closed and people are staying indoors as much as possible.
Then, there is the third factor: physical exertion. Numerous studies have linked physical exertion—in particular, overexertion—to increased heart risk as the heart is put under enormous strain when someone overexerts themselves physically. The Harvard Medical School states:
"Shoveling snow, lifting heavy objects, running, and other types of strenuous physical activity can trigger heart attacks, strokes, and cardiac arrests."
According to a study titled "When and Why Do Heart Attacks Occur?: Cardiovascular Triggers and Their Potential Role," which appeared in the academic journal Hospital Practice, overexertion influences numerous factors in the body, including blood pressure, heart rate, epinephrine levels, and coronary blood flow.
This can cause a problem with oxygen in the blood, which can lead to heart attacks.
It's possible that with people stuck in their homes that people are doing less physical activity, which leads to a decrease in overexertion as a heart attack risk factor. This might lead to fewer heart attacks.
It's certainly a working theory and there are probably a few reasons why admissions for heart attacks and strokes have dropped. Likely, the answer will be found well after the coronavirus pandemic ends.
There is a fourth reason as well: fewer people on the road, which reduces the number of events that are stressful while driving. This can include accidents, swerving due to animals, and even blown tires. These issues cause stress, including in the aftermath if you don't have insurance.
Fortunately, there are insurance packages to cover all that, including insurance covering blown tires.
In the video above, a representative from the American Heart Association talks about the mysterious drop in heart attack admissions, stating that while it is presumed that many people are delaying going to the hospital for risk of being infected, the true reasons for the drop are at this point unclear.
She also talks a little bit about how a bad heart history does not interact well with the novel coronavirus.
#4 – Air Pollution is Down Across the World
You may have noticed it in your early morning commute or seen pictures on social media of the animals taking over city centers. One thing is for certain about the coronavirus pandemic: Nature is getting a reprieve from some of the damage we've caused.
This is no more apparent than a quick look at our skies from our streets. Or by taking a look at some satellite images. Across the world, air pollution is down.
How much is it down? In major cities around the world, generally choked by pollution, you can see the sky. As for the numbers, we took a look at various research studies from environmental scientists around the world and organizations aimed at analyzing air quality.
Here are their results in three cities throughout the world, in both pictures and numbers, starting with imagery of the reduction in China air pollution from NASA by lead visualizer Joshua Stevens.
With much of China under a total lockdown to stop the spread of coronavirus, factories and other industrial plants were shuttered. As an effect, air was cleared up around much of China, including a 30 percent reduction of nitrogen dioxide, which is often used as the sole measure of air pollution.
When the coronavirus made its way to Europe, Italy, France, and Spain were hit harder than most countries. All of them would eventually impose a complete lockdown, allowing citizens to go out just for essential items like groceries and to exercise once per day. Major creators of pollution were shut down, clearing the air.
In northern Italy, nitrogen dioxide was actually down more than China—40 percent in total. And then there was Delhi, a city in India and one of the most polluted cities in the world.
Delhi's percentage of particulate matter 2.5—a dangerous combination of small particles that can cause serious health problems—and carbon dioxide, two other measures of pollution, were down 70 percent with sporadic quarantines in the city.
Finally, there was the United States, where researchers in different cities across the country measured air pollution and compared it to the same period for 2019. The following graph shows what they found.
The five cities are down between 15 and 40 percent, based on different metrics for each city from basic carbon monoxide to nitrogen oxides to particulate matter 2.5. Anecdotal reports show that the Los Angeles and New York City skies have cleared. Why has this happened?
It's not just due to the shuttering of industrial plants. As noted in the first section, personal travel has dropped 47 percent, leading to fewer cars on the road and fewer emissions. Although this quarantine may have people climbing the walls and wondering how to juggle taking care of their kids with full-time work, it has been a benefit to the environment and to our skies.
This makes many activities more pleasurable, such as driving down the street, knowing you have the safety of car insurance like full glass coverage, and seeing the sky. That makes it good for the fourth positive benefit of the coronavirus pandemic—good coronavirus numbers for a change.
In the video above, NBC News covers the fallout from the coronavirus in terms of its effect on air pollution and climate change. Part of what is discussed in the video includes the reference of historical events that have reduced air pollution, including the 2008 recession and even the fall of the Berlin Wall.
The climate scientist interviewed for the piece raises a series of questions for when the coronavirus pandemic has ended, including the changes we can make to society to avoid a return to previous emission levels.
Free Car Insurance Comparison
Enter your ZIP code below to view companies that have cheap car insurance rates.
Secured with SHA-256 Encryption
#5 – There is More Health Consciousness in the United States
In the past, people have been accused of being germophobes for carrying around hand sanitizer in their purse or pocket. Some people have been looked at strangely for bleaching their homes once per week or wearing gloves while cleaning. In this day and age? You might be the sanest person in the household.
Since the coronavirus pandemic started, a new wave of health consciousness has grown, partly out of fastidiousness and partly out of fear.
We're all scared of catching the virus or at least transmitting to a family member or friend who might suffer from its symptoms.
In that vein, people have started to practice everyday health-conscious measures such as washing their hands for 20 seconds or placing their shoes at the foot of the door. It has also, naturally, become the victim of capitalist endeavors such as the hoarders of hygienic and protective items like hand sanitizer and medical masks.
Never before has being healthy and practicing good healthy habits ever been more vogue, and the data proves it. The following table shows just how much demand has grown for these health products by comparing March 2020 sales to March 2019 sales. The "%" is the percentage growth when comparing March 2020 to March 2019.
Health Product Sales Growth During COVID-19 Pandemic
| Time Period | Hand Sanitizer | Spray Disinfectants | Rubbing Alcohol |
| --- | --- | --- | --- |
| February 29 | 314% | 99% | 66% |
| March 7 | 471% | 382% | 255% |
| March 14 | 208% | 517% | 279% |
| March 21 | 193% | 267% | 192% |
| March 28 | 63% | 152% | 90% |
| April 4 | 98% | 104% | 44% |
| | #blank# | #blank# | #blank# |
These numbers, provided by Nielsen, shows that these three items—hand sanitizer, aerosol disinfectants, and rubbing alcohol—were overall well above 100 percent sales growth from February 29 to April 4.
Aerosol disinfectants were the most in-demand, reaching 517 percentage sales growth on March 14. While they all dipped as the month went on, likely to people having enough of a supply, they all remained above 40 percent sales growth by April 4.
Nielsen had data as well on the sales growth of medical masks, household masks, and thermometers for February 2020 compared to February 2019.
Medical masks: up 319 percent
Household masks: up 262 percent
Thermometers: up 47 percent
Statista, a statistics organization, also kept track of sales trends during the start of the coronavirus peak in America, looking at different products than Nielsen to show that people were concerned not just about preventative measures, but about remedies themselves.
The following table shows the sales growth of health-product categories, comparing sales of February 2020 to February 2019.
Health Products Sales Growth Feb 2019 vs Feb 2020
| Category | Sales Growth |
| --- | --- |
| Medical Supplies | 85% |
| First-Aid Kits | 52% |
| Cold & Flu Remedies | 18% |
| Cough Remedies | 17% |
| Antibiotics | 15% |
| | #blank# |
There is certainly a clear trend within the coronavirus pandemic: Health-related products are selling at much higher quantities and rates than the previous year.
While part of this may be the natural reaction to the pandemic and the fear it has inspired, there may be a silver lining at the end. People will become more health-conscious and practice hygienic habits such as washing hands and using hand sanitizer.
This could lead to a reduction of deaths during regular illness seasons like the flu season. And it may carry over if we have another pandemic, even if it is generations down the road.
There is somewhat a dark side to all this health-conscious is that people are buying lots of it as coronavirus cases have risen, even much more than they need. Pharmacists have told customers not to hoard, and Purel has reported that its sales of hand sanitizer, as seen above, has jumped 300 percent or higher compared to the previous year.
Even as the video above shows, prisoners are making hand sanitizer, with New York State giving them away for free. And there are people who have raised the prices of hand sanitizer significantly online, sometimes as high as $50 a bottle compared to the typical $5 price.
#6 – The Internet is Beating the Quarantine
Quarantines aren't necessarily new. In fact, they stretch back centuries and surely millenniums: times when viruses and illnesses were so contagious and deadly that everyone was confined to their houses, waiting for them to go away.
Now, here in the 21st century, we have our first full-blown pandemic, one that has shut down cities all across the globe and has people confined to their houses in a way that would have been unthinkable six months ago.
What is the difference between those times and this time? It is a single word: internet. Often necessary and sometimes reviled, the internet has allowed us to stay connected when we are all physically very much not.
Whether we're talking to family members, spending virtual happy hours video conferencing, or connecting with friends from all over the globe, the internet has changed the game when it comes to quarantines.
Quarantines are simply not as bad as they could be. We are connected with family hundreds of miles away, people from other countries, and even our friends across town. That is not a luxury our ancestors had.
Fortunately, there have been some organizations tracking internet usage during the coronavirus pandemic to shine a light on this novelty.
One of those is Statista, which conducted a global survey in March 2020 to determine how users were using the internet. The following graph shows the result for four categories: watching shows on streaming services, spending more time on messenger services, spending more time on social media, and listening to more streaming services.
Of the four categories, respondents said they were watching shows on streaming services the most, with spending more time on messaging services and social media #2 and #3 respectively, with listening to more streaming services coming in last.
The study found that watching streaming shows and spending time on social media increased up to 42 percent.
Listening to more streaming services increased 18 percent and spending more time on messenger services increased up to 18 percent. None of this counts directly toward video conferencing.
For that, we turn to the companies themselves and what they have announced about what has been so far a record year. The following numbers show the increase in users for Zoom and new users for Google Meet (the date to the side is the end of the reporting period for those numbers):
Zoom: +2.2 million users per month (February)
Google Meet: +2 million users per day (March)
And then there's competitor Cisco Webex, which has seen an increase in billions in meeting minutes in the first 11 days of March. Further, Facebook-owned WhatsApp reached 2 billion users in February, which may have been helped as a result of the pandemic.
At the moment, both are driving like a sports car. There are stories of people using these video conferencing apps to connect with family and friends and hold meetings with team members that are working remotely.
Related article: How do insurance companies classify sports cars?
These, in general, have been good uses of technology and good coronavirus numbers. There is, of course, a downside, and they have come in the form of security concerns and people spreading racist or hateful speech on hacked or public video chats.
Overall, it seems to have fostered connections, allowed for the education of our students, and kept our businesses running, which, in this situation, would have been all but unthinkable just two decades ago, when the internet was just taking off.
In this video by CNET, the publication interviews people to see if the internet can handle the increased load placed on the digital infrastructure. It talks about how government agencies have asked companies such as Netflix to use a lower resolution on their videos to lower the amount of bandwidth use.
There might be problems as well with work-related meetings and telemedicine. The people interviewed in the video talk about the digital infrastructure as well and where noise might congest the channels, which would lower the speed. This could possibly occur if the number of coronavirus cases continues to rise and the number of people in quarantine rises with it.
Free Car Insurance Comparison
Enter your ZIP code below to view companies that have cheap car insurance rates.
Secured with SHA-256 Encryption
#7 – There is an Increased Appreciation for Health Care Workers
Normally, when we speak of front lines, we refer to war zones where there is a demarcated line of one group of soldiers versus another group of soldiers. That is, quite literally, where the battle is fought.
However, we have another front line in our pandemic time, and it occurs in the hospitals that wage war against the coronavirus.
And it is quite a war: doctors and nurses working around the clock to treat patients, masks and scrubs running out, more bodies coming in every day as the pandemic starts to spread.
It is a seemingly thankless job, made all the more difficult by the possibility that they could come down with the novel coronavirus just by treating people, putting their lives at risk. People have begun to realize this, and a hashtag has been created—#WeApplaud.
Word circulated through social media and group chats, where people would all get together at a specific time and simply applaud. The following video shows the citizens of Spain applauding on all their balconies, a practice that has grown as long as the quarantine has gone on.
This movement, which started (some people say) in France and Spain, has spread all across the world, with people in Europe, the Middle East, and the United States all clapping for health care workers. It is a show of community spirit and support, one that has brought communities and countries together during the battle against the novel coronavirus.
In the following video, people in Italy, one of the hardest-hit countries, are shown clapping from their balconies, windows, and porches, showing appreciation for health care workers.
And then there is New York City, which has become the third epicenter of the coronavirus pandemic and the city in the United States with the largest number of people infected.
New York, which has is considered to be one of the densest cities in the world, has faced significant challenges due to the volume of people infected by the novel coronavirus seeking treatment. Makeshift hospitals have been set up in stadiums, arenas, and fields.
Here, in this video, New Yorkers are shown standing on porches and leaning out of windows, clapping for health care workers on the frontlines of this struggle in their city.
On top of that, other hashtags have been started at raising support for health care workers, such as #VegasGoesBlue and #healthcareheroes in Ohio. All around the world, the profile of health care workers is being raised, with an understanding of the sacrifice they are making by putting themselves at risk while saving the lives of others.
Free Car Insurance Comparison
Enter your ZIP code below to view companies that have cheap car insurance rates.
Secured with SHA-256 Encryption
#8 – Communities are Uniting Throughout the World
In dark times, communities often come together to support each other through trying times. While this statement may be overused and is sometimes exaggerated, it has been very much true during the coronavirus pandemic.
Confined to our houses during the pandemic, neighbors, families, and communities have staged events, used props to make children happier, and converted buildings for use to create more masks and medical equipment.
Take the instance of Ireland, where a family put together a miniature St. Patrick's day parade for their children because St. Patrick's Day was spent under quarantine.
Then take a look at San Francisco, where a neighborhood put teddy bears in their windows so that children who were walking by with their parents would feel a little extra cheer and forget, at least for the moment, about the crisis facing the world.
Then look to Iran, where mosques have been converted into mask factories, where women who had served on the battlefield of wars turned their skills into sewing masks for medical personnel in a battle that has grown as arduous as it has been nerve-wracking.
Why do people come together in times of need? Why aren't these displays of kindness available during basic hours, when they are the same people and the same communities? There may be no clear answer to that.
Ultimately, trying times bring out seemingly the best and the worst in people, with the hope that the best will linger on while the worst will be snuffed out by the time the pandemic ends. The best provides both comfort and hope that we will get through this struggle, no matter how difficult it is.
That is seen on some levels on the international scale as well. China, though perhaps as a political stunt, has shipped masks, ventilators, and medical equipment to countries around the world. Some of them have been broken, which has led to angry accusations from other countries.
Some countries, however, have welcomed them with open arms. Mexico, for instance, has purchased or used millions worth of medical supplies from China, as its hospitals were incredibly underfunded and unprepared for the coronavirus pandemic and the number of coronavirus cases.
Within weeks of the pandemic, medical researchers across the world quickly turned to work around the clock to create a vaccine. The genetic structure of the novel coronavirus pandemic was mapped quickly, the work of Chinese researchers.
Soon, work began in Israel and other countries in what would be a race to create the vaccine that could save millions of lives (and get a nice profit from whichever company comes up with it first). Countries have stepped in to help their workers, small businesses, and large employers.
In the U.S., a $1 trillion stimulus package was rolled out to keep the economy from crumbling, help people to pay rent, and offset the losses from trillion-dollar industries like aerospace.
From families to neighborhoods, from scientific communities to governments, and even perhaps on the world scale, some people are uniting to face a threat not seen in a century, one that has the ability to destroy countries and the people that reside within them.
In this video by CBS New York, a reporter covers the number of people that are helping the community, whether that's through parades for the kids, making masks for health care workers, organizing food drops for health care workers, or people just showing support for their community and essential workers through signs.
It ends with a story about a birthday party thrown for a young boy who turned 7. It had to be canceled due to the coronavirus pandemic but in the end his entire class showed up and celebrated with him in the yard and street in front of his house.
#9 – "Essential" Has Been Redefined
When societies and business communities began getting shut down, with workers forced to stay home, certain governments began using the word "essential" to describe the industries and companies that were allowed to operate, with staff still coming into work in person rather than online.
In essence, the word "essential" has come to mean the industries that without those the society would collapse. It was whittled down to just a few in most countries, and while there were some choices that certainly seemed suspect (or interesting at best), most revolved around a few key industries:
Shipping/transportation
Grocery stores
Hospital workers
Pharmacies
Manufacturing
News organizations
There were, of course, add-ons such as gun stores and churches, which some people found a little questionable, but some members of those communities deemed them essential to the functioning of society. However, the six above are not typically disputed. All play a crucial role in keeping us healthy, fully stocked with food, and having our packages delivered on time.
Fortunately, more and more people are recognizing the contributions of the workers in these industries to society, as they are often thankless jobs that often require difficult work but provide a less of functionality to society that often does not get noticed. How does this manifest itself?
Take truckers for instance, who, like all the rest of the essential workers, are putting their lives on the line while moving cargo—often needed medical goods or food—across the country to maintain our health and keep our refrigerators stocked.
Recently, there have been movements to thank them, from some restaurants offering free "trucker lanes" so that truckers can grab a quick meal and get on the road again. There are truck stops that have tried offering more amenities, even as their own businesses suffer. There have even been individual people helping them in various parts of the United States.
Industries who are entwined in our daily lives but we rarely notice are getting their five minutes of fame, brought of course by a virus that is all but grounding societies and economies to a halt. Will this appreciation, like the community unity we saw in the previous section, continue after the end of the pandemic? There's no certain answer. But it's there now for sure.
In this video, Forbes covers the new situation of the trucking industry, where open roads and frenzied buying have combined to keep truckers very busy. Trucking driving companies are offering bonuses to their workers, including truck drivers, for the hard work that they are doing.
The contributors in the video share that truck drivers face unique challenges of the changes in their industry, including closed truck stops, closed gyms, and showers that are in short supply.
Are you an essential worker and need temporary insurance? This guide is for you: Temporary Car Insurance Coverage (How to Find Cheap Rates)
#10 – Virtual Schooling Allowed for Continued Education
Then there are the students. With the coronavirus pandemic starting to run full swing in the United States, various municipalities took the immediate action of closing their schools, which, in a time past, would have meant students would have a vacation.
As we saw in the section about the internet, something else happened: students who would otherwise be left to their own devices during a quarantine or overseen by parents were able to learn. Why was that possible?
The answer: videoconferencing. Apps such as Zoom and Google Meet, which had been used but not widely, suddenly became indispensable, with teachers holding classes of dozens of students, the routine of education going on even though neither the teachers nor the students were together in a room with actual walls.
Distance learning is perhaps a 21st-century invention. And it took off, mostly to success, especially as the coronavirus numbers rose. With students taking classes online, parents were able to work for a minute uninterrupted.
Attention spans were occupied. And the learning continued, keeping schedules on time, making graduations possible, and preventing a fall back of having to repeat the same year over again.
Of course, this was not necessarily possible for all students and all communities. Some students are being home-schooled by their parents. Some are likely balking due to the security problems.
Those include people hacking Zoom video conferencing, joining up on public channels, all to spread racist or hateful speech or pornography. But work is still getting done, and that's one positive benefit of the coronavirus pandemic.
It has forced schools to think outside of the box when educating students, even if that means conducting classes where there are no official buildings, walls, or desks. It may in the future be used for snow days or other events when in-person lessons might be canceled.
In this video, Scattered Solutions runs through a quick video showing parents and students how to set up Zoom to continue their education. The video covers various topics, including how to troubleshoot if you are unable to download the app.
It also covers ways to send messages to specific people like the teacher if you need to inform them about a particular instance or situation regarding your education or personal life.
Free Car Insurance Comparison
Enter your ZIP code below to view companies that have cheap car insurance rates.
Secured with SHA-256 Encryption
Personal Stories of the Benefits of the COVID-19 Pandemic
When we started the preparation for this article, we decided to send out a list of questions to people all over the world. The subjects of the questions were how has the coronavirus pandemic positively impacted the world, their communities, and themselves amidst all the difficulties and tragedies of that seems to impact us daily?
They answered in-depth. Here are your personal stories from people just like us who have managed to turn their lives in a positive direction during this crisis or have seen positive signs in the world around us.
"I started a global branding and marketing firm 19 years ago in Cambridge, Massachusetts. I am very concerned about the spread of this virus and the impact it will have on the global economy. This is so much bigger than 9/11 or Hurricane Katrina (I grew up in New Orleans).
Time will tell how long the lockdown ultimately lasts, whether there will be another surge in cases, and what the world will look like after.
But I think it is safe to say that there will be a global recession, the elderly and people with chronic health issues will be out of circulation until there is a vaccine, and the cruise business will be dead.
Travel/tourism will be slow to come back, restaurants will be doing more take-out than dine-in, concerts and conferences will be virtual events for a while, air travel will be cut back significantly, more work will be done virtually, home entertainment surpasses box office and theme parks, and sports will be played in empty arenas for a while.
People doing activities to enjoy nature and the outdoors has skyrocketed and several areas of the economy will be forever and dramatically changed including online education, online shopping, telehealth, etc."
How has the coronavirus pandemic impacted the environment in a positive way?
"We have seen the air quality and water improve significantly in China, Europe, Los Angeles, India, and elsewhere by running a climate change study that could've never happened had the world not been forced to hit the pause button this winter. Now we know for sure it is a problem we can fix if we make it a global priority."
How has the coronavirus pandemic impacted communities as a whole in a positive way?
"I have started a movement for smaller businesses in my community to be part of the solution by looking at all the groups we are a part of (industry, trade, neighborhood, alumni, women, hobby, religious, nonprofit, etc.) and starting our own stimulus package by agreeing to support/buy from each other directly and refer business proactively to each other too.
Cross-promoting our products and services in our newsletters, follow/like/retweet on social media, and vice versa.
Whether you need to buy food, a book or a gift, office supplies/equipment, update your website, or create a video, there is probably someone in your network who is more than happy to get the business right now.
You can always buy gift certificates from them too which is thoughtful and very much appreciated in times like these.
I bought gift certificates for my favorite neighborhood restaurants a few weeks ago, in fact. The corner store would probably even carry out your bag to your car if you called them and said you needed some cereal, milk, candy, and lottery tickets if you asked. Help your neighbors and network thrive and we will all get through this together stronger."
How has technology played a positive role during the coronavirus pandemic?
"I have had more Zoom and Skype calls with clients and colleagues in the past 15 days than the prior six months. It works with friends and family too.
I have been catching up with college roommates, cousins, camp friends from childhood, basically everyone you always say let's catch up/grab coffee/a drink but never have or make time to do. Well, now there is no excuse. A virtual coffee date or cocktail is easy to plan and fun to do.
Outside of chatting by phone and online, I have a list of ideas to keep me busy—read, knit, clean out my basement, finally organize the photos and scrapbook, do craft projects, play board games, binge watch shows and movies I missed, and do puzzles with my fellow quarantines.
My knitting groups and the tai chi studio have been meeting at our regular times online too, which has been great. The quarantine is starting to feel like the new normal by leveraging technology to build and maintain my relationships.
Finding routines and things we can control helps I think. Once we lay this groundwork it all will be in place to continue moving forward as the economy reopens and some businesses come back quicker than others. For professional service firms like mine, we will recover even if our revenues slow from the crisis.
Online meetings, webinars, social media, etc. are a smart and productive way companies can continue to have conversations that educate and inform, build relationships, and move forward during this crisis period. Maybe the silver lining is that this crisis reminds us that technology does not have to be isolating; it can be used to build our real-world communities and relationships too."
How have quarantines impacted people in a positive way?
"The current crisis has also provided a stage for our political and business leaders to rise to the occasion. Between the pandemic and the possible recession, leaders and brands have an opportunity to further connect with anxious people and focus on the true relevance of their message.
We have to acknowledge that now things are different so we need to communicate in a way that will give our audiences better focus, helping them to create a bridge from today to the future.
We need to communicate in a way that combines information and need, synthesizing both feelings and facts. I feel leaders have a tremendous responsibility because never before has communications had the power to help society in the way that it does right now.
Words are part of the healing process and we can see which leaders and brands are doing the best job every day with messages that touch not only the mind, but also the heart and soul.
There has never been a more important time to provide accurate, empathetic communication with transparency, truthfulness, and timeliness.
I do not live in New York, but I think many would agree that Governor Andrew Cuomo is the best example of a leader today. He is authentic, confident, empathetic, provides substance, relevant, all the qualities we need right now.
The people at companies like Procter & Gamble, Coca-Cola, Ford, GM, and New Balance among countless others have stepped up too. I give them all an A+ for their efforts in addressing this global challenge in our moment of need."
How has the coronavirus pandemic impacted you (if at all) in a positive way?
"When this crisis is over, if my husband and I remain healthy and have stayed tight with our inner circle of people who mean the most to us and we all find a way to incorporate the lessons of gratitude, simplicity, friendship, and love into the new normal, I will be incredibly happy that we did not waste the crisis.
I do not want to waste one minute of my life after this with people or things that do not matter.
I have heard several people from all walks of life and ages comment recently that being forced to slow down and reconnect with the people who you really care about, spending time reading, sleeping more, eating healthier, has been great.
It has been great at the same time to not be obsessively on social media with FOMO has been a welcome byproduct of this crisis. If we can hold on to the very best parts of this lockdown personally and professionally the world will be a better place for it."
Paige Arnof-Fenn is the CEO of global marketing and branding firm Mavens & Moguls.
Her clients include Microsoft & The NY Times. She's been featured on Entrepreneur and Forbes.
---
"One of the positive outcomes of coronavirus pandemic is that all counseling and therapy sessions are now being conducted online through video or phone. This has normalized online counseling and has made more people understand that therapy is just as effective over phone or video.
Online counseling is getting a positive name, which it would not have otherwise unless this occurred. Now, texting therapy is also very popular and is getting more popular as a result of this current time.
Online counseling can allow families, adolescents, and couples to receive adequate and consistent care for their mental health. Without regular routines, depression and anxiety can get much worse.
For example, some of my current clients have reported trouble sleeping due to having a change in their regular routines such as those with school and work. Another positive outcome of the virus is that people are spending more time with their family and less time at work.
People are getting a reality check when it comes to meaningful connections, and spending time together as a family is so important.
Now you can spend all day with your family if you are at home. Family time is important, and this virus time has allowed us to have more time with our loved ones. Being at home more, you can spend more time with your pets, and laugh and joke with your loved ones.
Also, if someone in a family is used to going out to the casino or staying out late after work, this forces them to stay home and spend time with their loved ones. Family time and building meaningful memories are benefits of this virus."
Katie Ziskind is a licensed therapist and the owner of Wisdom Within Counseling.
Katie does anxiety counseling through creative arts, outdoor nature therapies, and yoga.
---
"Though the coronavirus has been harmful to many communities, families, and lifestyles, there have been aspects of the community that have been strengthened because of the virus. It's important to always look at both positives and negatives, not just the bad stuff:
Though unemployment has risen and finances may be strapped, this has provided communities an opportunity to come together and build each other up. Families have been forced to stay indoors, allowing them to grow closer and work together to overcome financial and personal anxieties.
Companies have been forced to go the extra mile to help their customers, such as banks providing debt relief, credit cards offering 0 percent interest rates or extending sign up bonus windows. Various banks, such as Amex, have created online coronavirus support systems to better serve their customers and provide resources to overcome their financial stresses.
Some banks are approaching the financial stresses of their customers on a case-by-case basis. Depending on where the individual or family is at, they may even provide debt relief or other methods to improve the individual's standing.
Credit unions often provide more personalized support than larger bank chains anyway, but if you have an account with a credit union, contact your representative right away to see what options you might have.
People have learned how to better utilize new technology such as mobile wallets to decrease in-person contact and help with the rise in online shopping. The online community has surged and grown tremendously.
Because of online shopping, companies like Amazon have been hiring instead of laying off others. A push for supporting banks by using credit cards and other forms of loans has also increased, allowing individuals to make it through the financial crisis easier."
Mason Miranda is a credit industry specialist with Credit Card Insider.
This company aims to empower people to use credit cards to their advantage, with confidence.
---
"During this pandemic, people have been complaining about the life they wish they were living.
We, as a people, have become more appreciative of our lives pre-corona. Seeing friends and family was taken for granted, but not anymore. Social distancing and staying home have in a way frozen time.
The daily hustle and bustle of packing lunch, going to the gym, commuting to a job you never loved have now been slowed down. People can now see things more clearly. You may have even wished for this life without realizing it. If you live every day waiting for the weekend, is that really a life worth living?
Life isn't only about the weekends. It's about every day. This pandemic has made every day of the week equal and all of us more sympathetic to others.
We could live on opposite sides of the country or Earth, but we all now have something in common. We are more united than ever.
It's with this attitude of unity that many of us will come out of this pandemic stronger as individuals and as communities. People are not only adopting this attitude but actively encouraging others to do the same which creates a wonderful ripple effect.
This allows for a natural spread of positivity, alongside an awareness that maybe the way that things were before the pandemic just wasn't working.
There is a newfound space for reprioritization that will hopefully last long after this pandemic is over and the world returns to its new (and hopefully improved!) normal."
Claire Barber is the founder of Treeological, a resource for living a holistic lifestyle.
She is a certified mental health consultant, relationship expert, and family care specialist.
---
"​We respect teachers so much more these days. I now find myself home-schooling at least one day per week. I think every parent will agree with me here—teachers are incredible people and society would not survive without them.
Trying to work from home whilst taking care of one or more children is challenging (if not impossible if I am to be completely honest). My kids don't understand that they should still complete their schooling duties.
On most days, they think they're on a holiday because they're home with me. I can definitely say I respect teachers on a whole different level now and appreciate the love and care they provide for my children on a daily basis.
And this has been perhaps the biggest benefit of COVID-19. Things and people we used to put up on a pedestal (celebrities, influencers, etc.) have become peripheral and people who add true value to society (nurses, teachers, doctors, pharmacists, small business owners, etc.) are getting the attention they deserve.
The local community has come together stronger. In times of crisis and challenge, the human spirit becomes evident. But I'd be lying if things didn't get ugly before we gained our senses (e.g., panic buying). From my observations, my local community has banded together to support each other.
In particular, I have seen neighbors coming together with bear hunts—even neighbors without children! It has been so heart-warming to see people do their best for each other.
Another benefit of COVID-19 has been our realization that small local businesses matter. We know many are struggling and some have already had to go out of business.
Of the cafes and restaurants that remain, local communities are eating out and ordering via takeaway as much as possible. I think most people have taken cafes and restaurants for granted and the coronavirus pandemic has reminded us to not take these luxury things for granted."
Josephine Ison is a vocalist and Director at Event Entertainers.
Event Entertainers supplies musicians and artists for weddings and corporate events.
---
"I have acknowledged my privilege and not let it become a barrier to being kind to others. As an entrepreneur, I have started a few business ventures since the pandemic. But paying for a new domain name, server costs, and other services is a luxury that many do not have.
And unlike many people, I still have a full-time job. As someone who works in the digital marketing space and continues to have a job and regular salary, I know I am incredibly fortunate to have a job.
Perhaps the biggest positive to have come out of the coronavirus pandemic is being reminded how lucky I am to have shelter, to have a job, to have a stocked pantry, and the luxury of stocking up when I want because I have funds to do so.
Every day, the news shows how many people in the world are in less fortunate conditions—out of no fault of their own and this has given me a resolve to be grateful and to tackle each day to see how I can add value to others instead of seeing the negatives.
I know a lot of people are uncomfortable with acknowledging their privilege but that is exactly what COVID-19 has done for me.
I know I am privileged; I was born to the right set of parents, at the right time, in the right country and this winning trifecta is something that the majority of the world's population does not have.
It is a humbling thought because as much as I work hard for what I have, I know I have had a significant advantage handed to me since birth."
Daniel Cheung is the Founder of HARO Liaison.
His company offers business owners and marketers done-for-you PR style mentions.
---
How has the coronavirus pandemic impacted the environment in a positive way?
"I have colleagues all over the world and I must say that all of them can attest what difference this pandemic made in terms of making the environment cleaner. Air is cleaner to the point that huge buildings and tall mountains can now be seen from afar. The water of the rivers, oceans, and seas are now clearer and trash in the streets is now less."
How has the coronavirus pandemic impacted communities as a whole in a positive way?
"Communities started to connect with each other to find help and support with one another. Before this crisis happened, everyone lived on their own and ignored each other but now that everyone seems vulnerable and blind about what's happening outside and needs support from their nearest neighbor.
Everyone loses their pride to seek help and also help other people. A lot of people learn what's essential and what's not, and we value life more than material things. We learned to help each other instead of being selfish, and all of a sudden life becomes fragile and time becomes free for all of us."
How has technology played a positive role during the coronavirus pandemic?
"Back when the world had this pandemic, communication, work, and most transactions were harder. Now that we have technology, everything is faster, easier, and more convenient.
We can buy food/essentials delivered cashless and contactless. Work from home is now possible and more efficient with all the available tools and technology we are enjoying at the moment.
E-commerce is helping the economy little by little. Finally, communication and relationships aren't hard to maintain because of technology. You won't even feel the distance because of our technology nowadays.
Money and bank transactions are more accurate and now with less-worries, Finally, seeing the outside world is now easier and with more noise because of social media and tons of bloggers worldwide. Fake news is widely spread as well because of technology, but more eyes are open and more mouths now have voices.
Can you imagine the world right now without technology? We are surviving this better and stronger because we have e-commerce, online banking, work from home, and online entertainment. Everything is now extra dependent on information technology."
How have quarantines impacted people in a positive way?
"Because people are now oddly at home, they can now start organizing their homes, spend more time with family and pets, and learn and improve new skills.
People are now drawn more closer to God knowing that their hope isn't on temporal things but on eternal now. We are in uncertain times now, people started to live one day at a time and appreciate even the littlest things in life.
People are now more health-conscious, eating vegetables and cooking on their own. They sleep more and despite the stress, they force themselves to really be healthy and with better mental health.
All of a sudden, we focused more on ourselves and our household instead of our jobs and what people think about us. We all became prayerful, we learned to think twice before doing something potentially dangerous, and I'm sure we all became at least 2x more hygienic than we were last year."
Daisy Jing is a YouTube vlogger with over 70 million viewers.
She is the CEO and Founder of Banish and was included in Forbes 30 under 30. 
---
"My company is Order For Me. Normally we are a software for sit-down restaurant customers to order and pay on their phones.
We recently added a pickup ordering option that is touchless (no cash or card swipes) that we're giving away to restaurants for free for life (no commission or fees, forever). We have seen delivery apps charge 20-30 percent for pickup orders and want to help the industry as much as we can."
How has the coronavirus pandemic impacted the environment in a positive way?
"The hospitality industry has celebrated human interaction as a key ingredient to customer experience. In the blink of an eye that seemingly changed, people are social-distancing and wary of physical contact. The effects of the coronavirus quarantine will linger long after restaurants and bars open their doors again in the future, and the industry will undergo further adaptations.
But right now, we're seeing evidence of human compassion that is the foundation of hospitality. Customers are donating money to restaurants, buying gift cards, ordering food in support of local businesses.
People who are facing their own economic struggles are finding ways to be loud on social media and collectively care about those that have cared for them through Food & Beverage over the years. I saw a customer tip $50 on a $17 total with the note "Stay strong!" and believe that compassion is growing under the surface of this superficial bleakness."
How has the coronavirus pandemic impacted communities as a whole in a positive way?
"People are coming together in the community to not just do the right things, but to champion the actions of others. There are posts on social media about people going to the grocery store and asking if anyone needs something if they can't go outside.
People are trading supplies by leaving them outside for pickup. There is also a mass consciousness that bears down on those who are going against the common good."
How has technology played a positive role during the coronavirus pandemic?
"Cash transactions are an enemy during a pandemic. Payment platforms are extremely helpful when they are on a customer's personal device. Our company stepped up immediately with a pivot towards helping restaurants with a free-for-life, touchless ordering system for pickup.
Currently, we're not generating any revenue, but it's the right thing to do. We're not alone either, countless others have changed their business to take losses to do the right thing."
How have quarantines impacted people in a positive way?
"There is a strange unity in being isolated 'together.' If nothing else, this is empowering our sense of communal strength. I have spoken to more neighbors during this time than before Stay-At-Home."
How has the coronavirus pandemic impacted you (if at all) in a positive way?
"Our company is generating zero profit while we offer a free pickup ordering system to restaurants. But we are growing quickly and that is good, not just for us, but for the restaurants we partner with.
Every order that comes through Order For Me saves them 20-30 percent in commission paid to other platforms. So the more restaurants we are in, and the more of their customers that transition to us, will be hugely beneficial, especially long term. I'm proud to be in a position to assist in such a drastic way."
Michael Jordan is the founder of Order for Me, a multi-restaurant order & pay software.
Through its software, Order for Me is offering a free, touchless ordering option to restaurants.
---
"As someone weathering this pandemic storm on my own, I'm really missing actual face-to-face human contact. While I have tendencies toward introversion, I also really love people, and I am really missing face-to-face contact, hugging people, and playing music with my band.
To combat the loneliness and stir craziness from the quarantine and to stay sane, I'm working on several creative projects in my spare time. I'm recording music and collaborating with others on recording projects, working on some gardening projects, and I just ordered a chicken coop to start raising chickens and producing eggs in my backyard.
I'm also doing a lot of video chatting, whether with my mom, my extended family, band family, friends, and coworkers via Google Hangouts, Zoom, FaceTime, or other video chat platforms. While seeing peoples' faces over video chat is nice, a good friend surprised me with a driveway visit yesterday and we chatted for an hour from 10 feet apart. That was such a great surprise!
In addition, there are opportunities for connection, introspection, and creation that we wouldn't have had otherwise. How many times have we all wished we had more time to read, write, make music, paint, draw, garden, exercise, or just spend some quiet time with our families…or whatever? Well, now we have it, and we should take advantage of it.
Relationships will be tested, some ended and some renewed. People will learn the depth and breadth of their own minds, and will certainly create some beautiful art.
Like folks in all other walks of life, we are seeing conferences and trainings canceled or changed to remote formats and cutbacks in travel, and we have had to delay team-building events. But cybercrime continues to thrive.
Much of the incident response work we do to support ransomware victims and other clients can be done remotely, thankfully.
Our team has been very flexible, responsive, and understanding about the additional challenges COVID-19 adds to what are already extremely stressful events for our customers. For our team, our generous time-off policies and remote work options help to deal with sudden child care challenges due to school closures and other cancellations."
Cindy Murphy is the president at Tetra Defense.
Tetra is a world-class digital forensics lab and incident response firm.
---
"At a time when our country is so divided, politically, it is sad that it has taken a global pandemic to bring us together. While there have been many illnesses and deaths, there has also been tremendous goodness emerging.
There are many positive examples of people helping others in this crisis. As humans, we're social beings and for many, the idea of isolation is just torture. Adding the ban on travel and holidays that are usually spent with families to the mix can truly make things feel unbearable.
Yet, there are celebrities welcoming us into their living room giving virtual concerts, random people offering to shop for the elderly, and even newly approved legislation to help with financial support.
With more time, many are choosing to take on a healthier lifestyle and begin an exercise regimen even utilizing technology to get together with friends to do it together. We have so much more time to appreciate the little things.
Families and religious institutions are also getting in on the technology by creating meetings using Zoom so that everyone can benefit and stay in touch. Kids are remotely helping their grandparents learn the technology and thus also remaining in touch.
Another benefit to this quarantine may be that many of us are actually saving money. True, this has affected many small businesses in a negative way, but as a whole, we're saving.
This may mean a new outlook on our lifestyle and what is really needed, and the realization that we can live happily with less."
Katie Dames is the founder of Feely Feelings, a site dedicated to wellness.
Katie is a relationship consultant, spiritual coach, and women's health expert.

---
"I've never seen so many people outside before in my entire life. When I was younger, my parents would always say to me, 'When we were your age, we would spend our entire day outside walking, running, playing sports. You kids nowadays are always inside on your phones and computers.' Their comments never resonated with me until now.
In the weeks since the novel coronavirus has transformed our lives, I've spent more time outside than ever before in my life. In doing so, I've noticed that many of my neighbors are spending more time outdoors as well.
Whether it be for a stroll in the neighborhood, a hike at a nearby trail, or even laps at the local high school track—I've never seen so many people (all six feet away from each other) outside at once.
This is a silver lining amidst the tremendous challenges and devastation the novel coronavirus has brought to our lives. Over the past few weeks, we've also seen carbon emissions decline considerably. You can't help but connect the drop in emissions with the fact that more people are spending time outdoors.
Being outside and in nature has many benefits, and even if you don't realize it, the novel coronavirus has brought about some positive changes to our communities.
A drop in emissions means better air quality. Better air quality means more accessibility outdoors. More time outdoors equates to a happier and healthier existence.
Yes, times are undoubtedly tough, and no, we can't look past the terrible challenges individual families are enduring, but, for even just a fleeting moment, we can appreciate one of the few benefits we've experienced over the past few weeks—enjoying more time in nature."
Zach Shefska is founder and CEO at Your Auto Advocate.
His company researches, locates, and negotiates car deals on behalf of its customers.
---
How has the coronavirus pandemic impacted the environment in a positive way?
"We are seeing carbon dioxide emissions around the country being drastically reduced. Because of less production with factory plants, there are fewer toxins being flushed down the drain and into streams and large manufacturing plants are producing less air-polluting emissions."
How has the coronavirus pandemic impacted communities as a whole in a positive way?
"We are kinder and more helpful with one another. My neighbors barely spoke in the mornings before COVID-19, now I hear greetings and see waves. I have even been invited to neighborhood zoom meetings to check in on one another. We are truly being neighborly in the old fashion sense of the word."
How has technology played a positive role during the coronavirus pandemic?
"Everyone is using virtual meetings for professional and personal use. My family used a meeting app to eulogize my 98-year-old aunt who was considered the matriarch of the family on Saturday. Because of COVID-19, we did not have a funeral, but the family wanted to be able to say goodbye. It was different but it did bring closure."
How have quarantines impacted people in a positive way?
"Yes, I see less partisanship bickering in my Facebook news feed. And I see more people sharing intimate details of their lives than I have seen previously. People are realizing everyone has been impacted in a negative way so it seems if that is all the negativity we can bear at the moment so they are staying positive."
How has the coronavirus pandemic impacted you in a positive way?
"I am spending more time with my adult children. Usually this time of year, I am on the road 3-4 days a week. Since COVID19, I have been home cooking, cleaning, journaling vs. recuperating from jet lag or packing to go to another city. Amazing what I have accomplished in the last several weeks. And I have saved money. Eating out was an expense that I did calculate weekly until now."
Genma Holmes is a serial entrepreneur and owner of Holmes Pest Control.
She is also the executive producer of Living Your Best Life Radio and Editor-in-Chief of GSH Media.
---
"Carbon dioxide emissions have decreased significantly, due to factories being shut, people staying at home and not commuting, air travel decreasing to a record low and so on.
It's fantastic to see how fast our planet recovers: Dolphins and swans are enjoying the channels of Venice in Italy, wild elephants roam the streets of Kerala in India, people in Wuhan are seeing the blue sky for the first time in years.
It indeed offers hope that climate change still can be averted if we all act as decisively as we did during the coronavirus pandemic. And talking about climate change: COVID-19 has made all of us aware that a global crisis is not fun. It hence is an excellent wake-up call to decisively act against climate change where we can.
Scientists state we only have a few years (something between six and 12 is the common line) left before our planet is 1.5° C warmer (which is the threshold from which there is no turning back). That's not much, but potentially just enough if we all start acting now, by planting more trees, acting more responsibly, and re-thinking our lifestyle choices.
Despite social distancing being the norm at the moment in many places, the coronavirus has had a very positive social impact overall:
People stand together supporting local shop owners, staying at home offers you tons of quality time with your partner and family, and due to the virus we now call many people we haven't spoken to in a long time, or haven't spoken to as frequently as we do now.
It's a shame it needs such a disaster to make us realize that what truly matters are social connections, but better we realize it now than never. Admittedly, there are not many benefits to the economy due to the coronavirus outbreak. But one important learning is that we have lived in luxury for the past years, and can all survive on a lot less than we thought we'd need.
It helps us cut our spending, save more money, and focus on the things that actually matter in life, which very rarely is an excess in consumer goods. It helps us become more focused and helps our planet since we don't buy loads of stuff we don't need."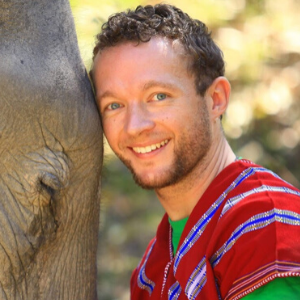 Chris Kaiser, pictured above hugging an elephant, is the founder and CEO of Click A Tree.
His company aims to create habitats for endangered animals and jobs for local communities.
---
"One positive outcome of the current situation is that people are able to take a step back and look at their current life and happiness in a new way. Most of the time people are rushing around, always busy for no real reason. For the first time in a while, the entire world has been forced to slow down, stop, and not be busy anymore.
This is a great chance to review your life and its direction. You can decide what is really important to you and where you want your life to go once the business resumes.
Don't waste this time or spend it stressed or sorrowful, instead take it as a blessing and a time to review where you are and where you are headed so you can start to live the life you want.
Most people tend to rush about to and fro, always saying in response to how they are, 'I'm busy.' But busy doing what? If you look at what you are usually busy doing each day, it is rushing about from place to place doing small tasks in response to what others ask of you, not what you really want to be doing or spending your time doing or working toward.
Due to the crisis, people are now being given a chance to look at their lives and decide what is really important to them, so use this time wisely to reflect on your own life and adjust its direction accordingly."
Stacy Caprio is a writer at Deals Scoop where you can find great savings and coupons.
A part of their proceeds goes to Empower Illinois to ensure all children have a proper education.
---
"Although the world is panicking about the coronavirus and what it means for the society in the short and long term, there's one thing that the majority of society has definitely learned already: appreciating and being more grateful for what the health care staff all over the world.
Messages from all corners of the world show gratitude to the doctors and nurses that work tirelessly to ensure our society is free from the virus.
Although we cannot contain it 100 percent, the medical staff are sending messages of hope and positivity to everyone whether in quarantine or worried about their livelihood.
Another positive out of this pandemic is the time we get to spend with our families. We work long hours to ensure we provide the best for our families.
Now we can definitely enjoy days with the ones we love the most, showing our care and the reason we are here. I think everyone will remember after what has happened this year, family comes first.
People are coming together, not only caring for their families but the wider community. Social media snapshots of people dropping their contact details and offers of help on cards through their neighbor's doors.
As an aside, hand washing (has rightly) come to more prominence and the importance of not spreading germs. After the coronavirus pandemic has died down, I'd expect to see a downturn in contagious illnesses, at least initially, of flu, colds, and other ailments.
Even if just 10 percent of people wash their hands more frequently in the future, we will see an exponential decrease in spreading ailments, due to the contagion effect being reduced."
Michael Lowe is the CEO of Car Passionate, a resource for car lovers.
His company gives car repair lessons and reviews auto parts and products.
---
"While the coronavirus is an evil, scary disease there are some positive outcomes. For instance, social distancing and sheltering in place has helped many to slow down and to bond with their children and spouses.
Likewise, the pandemic has made many of us realize that we still have a lot to be grateful for. For my spouse and me, it's that having retired twice with pensions and other funds from both careers, we don't have to worry about our livelihood.
Being an author, freelance writer, and owner of a small one-woman business, it adds to my financial wellbeing while doing what I love, which keeps me as busy as I want to be.
Staying in has improved the environment of air pollution as we are not driving hardly at all. And when I do have to go out I love there isn't much traffic. Living in Atlanta for 30 years I've never seen anything like this traffic-wise.
I recently realized that nearly empty buildings mean you don't have to deal with lots of other people. Social distancing has required us to be creative in so many ways: home-schooling, cooking, keeping the family entertained.
Raised by a mother who survived the Great Depression, and stationed in foreign countries where familiar products or items weren't often available, using my imagination, recycling, repurposing or simply 'making do' is in my DNA so not able to go out and shop has not been a hardship. Finding the 'silver lining' in daily life also helps."
Carol Gee is an author and owner of the writing service Venus Chronicles.
She researches and writes business case studies that are taught in universities nationwide.
---
How has the coronavirus pandemic impacted communities as a whole in a positive way?
"Past historic events have shown us that difficult times unite us. We start to remember our shared humanity. We become more willing and open to taking care of those who are less fortunate.
We have gratitude for those who are making sacrifices for our safety, such as the front line workers, including the medical doctors and the grocery store workers.
We donate to organizations that support causes we value, such as the foster care system, homeless, or resources for domestic violence. We take better care of each other and pick each other up."
How has technology played a positive role during the coronavirus pandemic?
"It is important that this time of social isolation does not mean social disconnection. While we maintain our distance physically, we need to feel emotionally connected to our loved ones, family, friends, and community. Technology has supported us to stay connected.
Technology truly has become the bridge between the outside world and us. The virtual resources, such as academic classrooms, recreational activities like yoga and dance, mental and medical appointments online, have helped people cope with the pandemic.
While things are changing rapidly, the technology has allowed people to maintain some level of normalcy as people can continue to attend work, provide education to their children, and have online holiday gatherings.
Through technology, we have the means to continue to practice things we value and maintain the quality of our lives to a certain extent."
How have quarantines impacted people in a positive way?
"During quarantine, people had an opportunity to turn self-isolation into self-discovery and self-awareness. Pre-quarantine, we were leading busy lives that required us to multitask and leaving us often feeling exhausted and burnout.
The quarantine gave people permission to slow down and let go off their commitments and the pressure. The quarantine has also reminded people of the power of gratitude.
People are more than ever valuing the importance of connection and recognizing that their lives are richer when they experience a deep connection.
It reminded us that while our plans may be canceled, our need for connection, tradition, and happiness is not canceled. We can create happiness and joy exactly where we are in the present moment."
How has the coronavirus pandemic impacted you in a positive way?
"On a personal level, I had the chance to engage in self-reflection, practice my gratitude and meditation daily, and be present with my family that consists of my husband and our 3-year-old daughter.
Professionally, being able to offer therapy virtually and provide resources to people via social media has allowed me to continue to bring awareness to mental health. Because by now we know that COVID-19 is not just a physical health issue but also a mental health one.
It is important that we speak openly about our feelings whether we feel lost or anxious, and be vulnerable and brave enough to ask for help and seek support."
Dr. Menije Boduryan-Turner is the owner of Embracing You Therapy.
The goal of her private practice is to turn judgment into compassion and pain into purpose.
---
Silver Linings to the Tragedy: Positive Outcomes of Coronavirus
At the beginning of this, you might have wondered, "How are there 10 benefits of the coronavirus pandemic?" After all, this is a difficult, sometimes horrible period of our history, a devastating strike against some major countries and the beginning of what will be a long fight against this virus and any other pandemics that we might meet.
But those are the 10 positive benefits and they are not small—from a reduction in crashes and the internet beating the quarantine to communities coming together and the word "essential" being redefined when it comes to economies all around the world.
We've gone through the first months of this with fear and courage, despair and optimism, unity and divergence. And there remains a long road ahead.
Thank you for reading and if you're driving, drive safe. Use your hand sanitizer and wear your mask. Spend time with family and do the things you've been neglecting. Signing off. Clear eyes, full hearts.
Methodology: Surprising Benefits of the Coronavirus
For this article, we collected over 2,500 data points specifically for the first six benefits on the list. They ranged from the number of crashes called in, the average insurance rates for different age groups with different companies, pollution data, and internet usage data. The primary five sections where data was collected were:
Crashes Have Declined
Car Insurance Companies as Corporate Stewards
The Air Is Cleaner
Being Health-Conscious Has Gained Importance
The Internet Is Beating Quarantine
Crashes Have Declined: For this section, we looked at four cities—Los Angeles, Chicago, San Francisco, and Austin. For LA, Chicago, and Austin, we used open data portals to find the number of traffic calls reporting accidents for our two samples (one in 2019 and one in 2020). For San Francisco, we looked at the fire department statistics.
We gathered data on crashes called in for the last Tuesday-Thursday of the month: March 24-26 for 2020 and March 26-28 for 2019. We then subtracted the values in 2020 from the values in 2019. We divided that difference by the 2019 total number for each respective city and came up with the percentage reduction.
Car Insurance Companies as Corporate Stewards: Here, we looked at each individual companies' rebates, discounts, or reductions—of which each top 10 car insurance provider had one of.
We then took individual rates from four different age groups, each with a male subcategory and a female subcategory. Then, by comparing the rates to the discounts, we found how much each discount would mean in terms of savings for each category.
The Air Is Cleaner: For this section, we gathered data from different publications and studies to find out how clean the air was in the United States and worldwide, before and after the coronavirus pandemic.
Resources included individual studies by local researchers, information from observatories, and NASA.
Being Health-Conscious Has Gained Importance: To come up with the numbers in this section, we turned to two different sources—Statista and Nielsen, two companies that deal with statistics surrounding businesses and consumer buying trends.
Each had information about what consumers have been buying since the start of the coronavirus pandemic and compared that information to the same time period for the previous year.
The Internet Is Beating the Quarantine: This information came strictly from Statista, which shows which types of entertainment or modes of communication that people worldwide were turning to up until the month of March.
Statista's data was gathered through a survey of numerous different countries, with the original table from Statista having 13 categories of media usage.
Those were the data-heavy parts of the article, from which we derived statistics from numerous sources, often combining one set of data with another set of data to come up with our own results.
This article also came together by families and people uniting and wanting to share their stories. We are all in this struggle against the coronavirus together and that showed in our section about personal testimonials from business leaders, small business owners, and people all around the world.
As we found in our study and experts have shared above, the COVID-19 pandemic has caused increased awareness of health and safety across our nation. Have you done all you can to protect those you love and secure your assets?
We are here to help when it comes to car insurance. Be on your way to finding the best policies at the most affordable rates in your area in a matter of minutes with our free quote tool below. Just plug your ZIP code in to get started.