Fictional Cars That Have Gone Down In History
Check out this list of famous TV and film cars, including the General Lee from the Dukes of Hazzard. It would cost you $1,943.01 a year in car insurance.
Free Car Insurance Comparison
Secured with SHA-256 Encryption
UPDATED: Sep 4, 2020
It's all about you. We want to help you make the right coverage choices.
Advertiser Disclosure: We strive to help you make confident car insurance decisions. Comparison shopping should be easy. We are not affiliated with any one car insurance company and cannot guarantee quotes from any single company.
Our partnerships don't influence our content. Our opinions are our own. To compare quotes from top car companies please enter your ZIP code above to use the free quote tool. The more quotes you compare, the more chances to save.
Editorial Guidelines: We are a free online resource for anyone interested in learning more about auto insurance. Our goal is to be an objective, third-party resource for everything auto insurance related. We update our site regularly, and all content is reviewed by auto insurance experts.
Ah, if only we could be driving one of these famous film cars (except for maybe the Flintstones car, of course, because who exercises these days, anyway?)
Check out the famous fictional cars found in film and on TV below and then be sure to enter your ZIP above for FREE car insurance quotes.
EMBED THE IMAGE BELOW ON YOUR SITE
EMBED THE IMAGE BELOW ON YOUR SITE
Famous Hollywood Movie Cars
In an effort to go green, there's a large debate going on about whether more people should opt for public transit over driving. Others are excited about the cars of the future that require less gas or run completely on electricity.
While the debate continues about how we should be using our cars and how they might evolve, there's no denying that cars can be really cool. Especially fictional cars.
The cool thing about fictional cars is that price is no factor. It's quite possible to tear up just watching movie car crash scenes when expensive cars are destroyed without even a second thought from the director or producer.
Take a look at this list of cool fictional movie cars (in no particular order):
DeLorean Time Machine from the Back to the Future Movies
Built using a DeLorean DMC-12, this is undoubtedly the most futuristic-looking car on the list. According to Doc Emmit Brown, the stainless steel construction was better for the flux capacitor and if you're going to make a time machine out of a car, why not do it with some style?
The car underwent numerous changes throughout the three classic sci-fi films (it also spawned a Saturday morning spin-off which was "okay," a slew of pretty sorry video games, and a video game series reboot that debuted to above average ratings).
It started off just running on normal gasoline (to power the engine) with plutonium to power the flux capacitor that makes time travel possible.
When the events of the first movie made getting nuclear fuel a little difficult, the heroes were forced to use lightning instead.
In the future, Doc gets the car a flight conversion and a "Mr. Fusion" device that can turn garbage into energy.
When the flight circuits get fried and the car gets stuck in the wild west, Doc and Marty hijack a train and use it to push the car over the mythical 88 miles per hour necessary for time travel.
The coolest thing about this fictional car is that you can buy a rebuilt DMC-12 directly from the company. Flux capacitor not included.
General Lee from The Dukes of Hazzard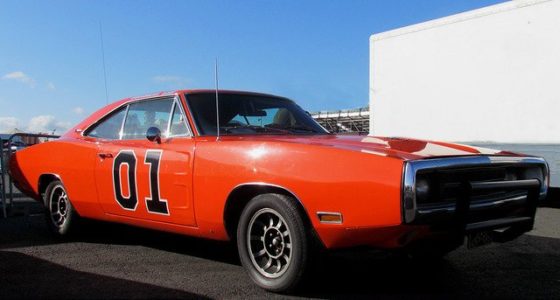 While unable to travel through time, the classic styling of this 1969 Dodge Charger will take you on a journey to a bygone era.
While the DeLorean could literally fly, the General Lee got airborne at least once per episode. With its powerful engine and safety-cage welded-shut doors, this was one serious piece of hardware.
The Duke boys' various dangerous exploits invariably saw the General Lee get smashed up, usually about once an episode. This resulted in the series using up 321 General Lees in the course of the 1980's series.
Ecto-1 from the Ghostbusters films
You can't chase ghosts in your mom's Nissan Stanza – you need a serious ride if you're going to take down ghouls from beyond the grave.
The brave boys of Ghostbusters 1 and 2 (arguably the finest paranormal movies that the 1980s had to offer) chose to soup up a 1959 Cadillac Miller-Meteor.
It was part car, part ambulance, and all awesome. With a top-mounted proton cannon and custom Ghostbusters logo, it was a sight to behold.
Under the hood, however, it was reportedly a little less than premium. According to the characters, it needed "suspension work…shocks, brakes…" and a whole slew of other work to make it worthy of combatting New York's other-worldly horrors.
K.I.T.T. from Knight Rider (1980s TV Show)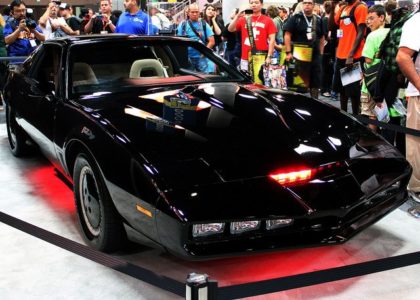 Okay, everybody loves a talking car and K.I.T.T. was the car who started it all. With a rocket-power propulsion system and a turbo boost that could usually be used only once an episode, he had brains and brawn.
Voiced by William Daniels (Mr. Feeny from Boy Meets World — yeah, you know who I'm talking about), this smart-mouthed computer-car had all the answers and got his human driver, Michael Knight (the 'Hoff!), out of trouble on more than one occasion.
Armor-plated and nearly indestructible, this powerful machine's one weakness was his inability to scan anything lined with lead.
Despite the many rough-and-tumble situations that the car was put through, the mechanics crew of Knight Rider lovingly rebuilt K.I.T.T. in between every episode.
Herbie from Disney
Herbie the Love Bug had the ability to win any race and possessed a strong moral compass. The major downfall of this sweet ride is his not-so-sweet temper.
Herbie has a will of his own and when he wants to do something, he will — and you're stuck going along for the ride.
While the series reboot in 2005 wasn't the grand-slam that Disney probably hoped it would be, they did give out free tickets to the preview screening to anyone named Herbie.
The Batmobile