How Self-Driving Cars Could Impact Your Commute [New Study]
Self-driving cars will impact your commute by giving you more free time in the car. Americans spend nine-and-a-half hours on average commuting each month.
Free Car Insurance Comparison
Secured with SHA-256 Encryption
UPDATED: Jan 27, 2021
It's all about you. We want to help you make the right coverage choices.
Advertiser Disclosure: We strive to help you make confident car insurance decisions. Comparison shopping should be easy. We are not affiliated with any one car insurance company and cannot guarantee quotes from any single company.
Our partnerships don't influence our content. Our opinions are our own. To compare quotes from top car companies please enter your ZIP code above to use the free quote tool. The more quotes you compare, the more chances to save.
Editorial Guidelines: We are a free online resource for anyone interested in learning more about auto insurance. Our goal is to be an objective, third-party resource for everything auto insurance related. We update our site regularly, and all content is reviewed by auto insurance experts.
Here's what you need to know...
Self-driving cars are finally becoming a reality in the United States
Autonomous vehicles have the potential to drastically decrease traffic
AVs could save each driver 150+ hours and over $2k in just one year
Read on to learn how people across the U.S. feel about these robo-cars
How will you use the free time you gain when your car drives you around?

Snail speeds, horns blaring, and hours upon hours of wasted time. If there's one thing Americans are sure to agree on, it's that commuting to and from work is a giant pain. For decades, people have fantasized about lying back, eating breakfast, and letting the car do all the driving. In an ideal world, rush-hour traffic would run smoothly, and stress levels would be nonexistent.
But as autonomous cars finally become a reality, are people still on board with the benefits?
We surveyed about 1,000 people about the time they spend commuting, their opinions of autonomous vehicles, and the money their drive to work really costs them. We defined autonomous vehicles as a self-driving car, also known as a robot car, or driverless car. That said, the future of commutes is just beginning – keep reading to see what it could bring.
Too Much Time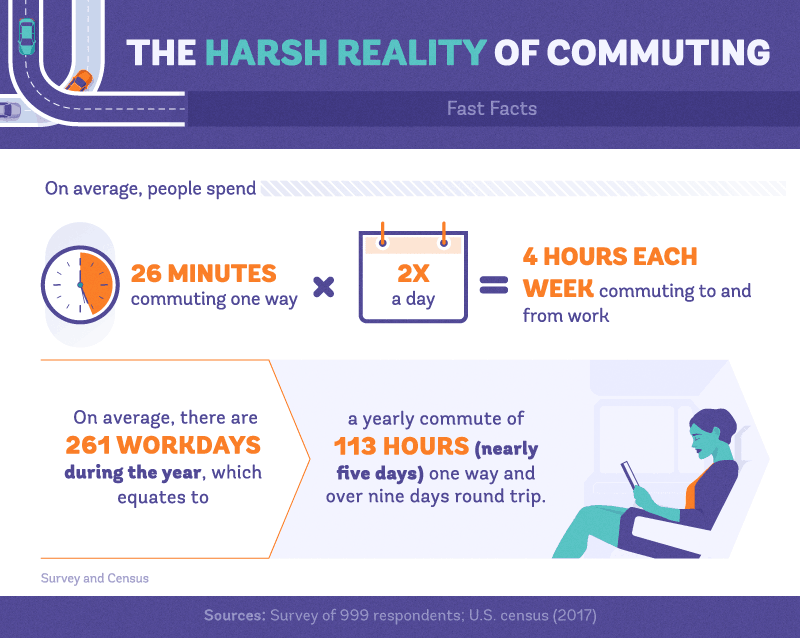 On average, Americans spent 26 minutes commuting to work one way. Thirty minutes of your day may not sound like a lot, but add a two-way trip five days each week, and you'll wish for that time back. In fact, people spent four hours each week and over nine days each year commuting to and from work.
Considering most employees get a limited number of paid days off, their commutes equate to 67% of two weeks. And unlike in Norway, commuting to and from work in America isn't considered working time and, therefore, isn't compensated.
Free Car Insurance Comparison
Enter your ZIP code below to view companies that have cheap car insurance rates.
Secured with SHA-256 Encryption
Ease With Autonomous
Getting paid for commuting may take away some of the aggravation brought on by rush-hour traffic, but so too would autonomous cars. That being said, nearly 40% of respondents would be willing to increase their commute if they had an autonomous car. Less than 20% thought an autonomous car would save them money, but almost 67% thought it would be easier.
Being able to rely on your car to do the driving and not having to be alert constantly could free up a bunch of time – but would people take this opportunity to get some shut-eye or eat breakfast?
Surprisingly, the majority of respondents said they would listen to the radio or music. Drivers may not think about it when they get inside the car – it's almost automatic for some to hit the radio and turn up the volume – but driving while listening to music can be a distraction, decreasing driving performance and increasing errors and aggression.
On the other hand, nearly 59% of people said they would spend that time reading or answering emails, which a recent study says should count as work time. Almost 38% said they would sleep, but over 37% said they would continue to stay alert as if driving.
Letting the car take control left some people willing to give up a little too much control. Nearly 13% of people said they would consume drugs and/or alcohol during their commute if they had an autonomous car. While autonomous cars may operate themselves, getting behind the wheel while intoxicated is still dangerous and a crime.
Time Is Money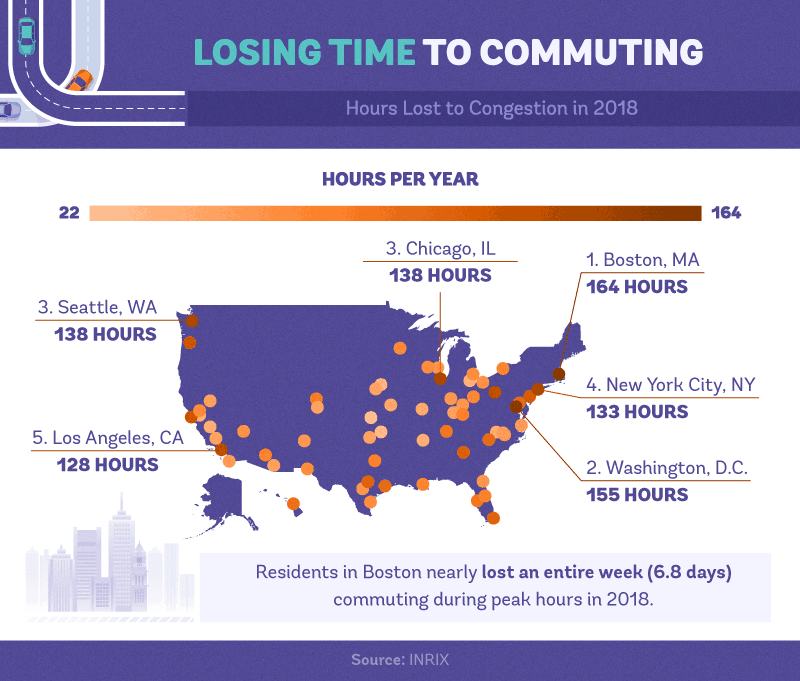 Autonomous cars may not bring all the freedom people want, but they could make traffic and commuting a bit less stressful. And in some states, they're bound to benefit drivers more than others. Most people may think of Los Angeles' bumper-to-bumper highways or New York's horn-blaring streets, but aside from the total cost of congestion in 2018, the two cities weren't home to the worst traffic.
In fact, Boston, Massachusetts, topped the chart for the longest time spent commuting with 164 hours each year. Residents of Boston lost nearly an entire week of their year commuting during peak hours in 2018.
With the average length of a baseball game being 3.04 hours, Boston drivers could watch nearly 54 Red Sox games (one-third of the season) with all that lost time.
Washington, D.C., wasn't too far behind, with residents spending 155 hours commuting. These cities also cost drivers the most money (fuel and social cost): In Boston, $2,291 was lost per driver, and $2,161 was lost per Washington, D.C., driver.
| CITIES | HOURS PER YEAR | MONEY LOST PER DRIVER | TOTAL MONEY LOST IN 2018 |
| --- | --- | --- | --- |
| Boston, MA | 164 | $2,291 | $4,100,000,000 |
| Washington, DC | 155 | $2,161 | $5,000,000,000 |
| Chicago, IL | 138 | $1,920 | $6,600,000,000 |
| Seattle, WA | 138 | $1,932 | $2,800,000,000 |
| New York City, NY | 133 | $1,859 | $9,600,000,000 |
| Los Angeles, CA | 128 | $1,788 | $9,200,000,000 |
| Pittsburgh, PA | 127 | $1,776 | $1,600,000,000 |
| Portland, OR | 116 | $1,625 | $1,500,000,000 |
| San Francisco, CA | 116 | $1,624 | $2,400,000,000 |
| Philadelphia, PA | 112 | $1,568 | $3,500,000,000 |
| Atlanta, GA | 108 | $1,505 | $3,500,000,000 |
| Miami, FL | 105 | $1,470 | $3,500,000,000 |
| Austin, TX | 104 | $1,452 | $1,300,000,000 |
| Houston, TX | 98 | $1,365 | $3,700,000,000 |
| Charlotte, NC | 95 | $1,332 | $1,400,000,000 |
| Baltimore, MD | 94 | $1,315 | $1,500,000,000 |
| Honolulu, HI | 92 | $1,282 | $500,000,000 |
| Nashville, TN | 87 | $1,221 | $1,000,000,000 |
| Tampa, FL | 87 | $1,216 | $1,400,000,000 |
| Denver, CO | 83 | $1,152 | $1,400,000,000 |
| | #blank# | #blank# | #blank# |
While New York City may be jam-packed with taxis carrying tourists, the traffic in Los Angeles may be less about tourism and more about its growing population and subsequent increase in car ownership.
However, looking at the overall cost of congestion in 2018, traffic in Los Angeles and New York City cost significantly more than any other city. Compared to $4.1 billion lost in Boston, the Big Apple and City of Angels lost $9.6 billion and $9.2 billion, respectively.
Turning to autonomous cars may be a solution for the clogged roads of LA, but the city is looking at a more quick-but-controversial fix: a congestion pricing policy that would charge drivers for using traffic-ridden roadways.
Los Angeles isn't the only city in California with a congestion problem, though. San Francisco ranked in at No. 9, with residents losing 116 hours commuting each year. That's almost enough time for residents to listen to the "Game of Thrones: A Song of Ice and Fire" audiobook 3.5 times.
Changes in Congestion
The highest rates of congestion don't necessarily mean they've gotten worse. For Boston, the opposite was actually true. From 2017 to 2018, the congestion rate decreased by 10%, putting Boston in the top five for the largest decrease. New York City also saw a slight change, with congestion decreasing by 4%.
Traffic in Los Angeles, on the other hand, didn't change a bit. Along with Seattle, Philadelphia, Charlotte, and Bakersfield, traffic remained the same from 2017 to 2018.
Nashville, Tennessee, and Tulsa, Oklahoma, saw the greatest increase in congestion year over year, increasing by 20%.
Memphis closely followed with a 19% increase. Tennessee faces a similar problem as Los Angeles, in that the booming population simply doesn't have enough roads to support it. Not only is congestion worsening on Tennessee's roads, but car crashes have also been on the rise.
Free Car Insurance Comparison
Enter your ZIP code below to view companies that have cheap car insurance rates.
Secured with SHA-256 Encryption
Two Sides of Autonomous Driving
Of course, as with any new technology, there are ups and downs to autonomous cars. However, the majority of people who commuted 10 to 50 miles one way agreed autonomous cars would allow them to be more productive. Just under a third also thought there would be fewer accidents, and over 22% thought their insurance rates would decrease.
On the more negative side, 43% of commuters said they would be less aware of their surroundings, and nearly 41% said they would no longer pay attention to the road.
While there have been self-driving car accidents, a recent study found that the autonomous system wasn't at fault. When self-driving cars become the norm, it isn't faulty technology we have to look out for. It's humans.
Sit Back and Relax
Self-driving cars are no longer a dream of the past, but congestion is increasing faster than autonomous cars can roll out. As some state populations increase, commuters' need for autonomous vehicles may become more and more apparent. But that extra time won't necessarily eliminate the fear associated with giving up control. People may want to eat breakfast, check their emails, and even sleep during their commute to work, but not everyone will automatically be on board.
The newness of autonomous cars may be intimidating, but the productivity they could allow, the decrease in congestion they could bring, and the monetary savings experienced by making the leap might be worth it.
If you don't have an autonomous vehicle quite yet, though, you can still cut costs associated with driving. You should start by comparing top providers and plans to ensure you're meeting your needs without breaking the bank.
Methodology
This study used two data sources. The first data source was INRIX, and the second was a survey from Amazon's Mechanical Turk. In the survey, we gathered 999 respondents. The respondents who were excluded missed an attention-check question. Throughout the survey, any outliers were excluded from our data. From the able respondents, 47% were women, and 53% were men. Our respondents ranged in age from 19 to 68 with a mean of 34 and a standard deviation of 10.1.
INRIX Global Traffic Scorecard calculates time lost in congestion by employing peak, off-peak, and free-flow data. Peak corresponds to the absolute worst portion of the morning and afternoon commute. Off-peak is the low point between the peak periods.
An economic analysis was performed to estimate the total cost to the average driver in a city and a total cost to the city population.
The direct costs are borne directly by the car driver through their use of the roads in congestion, and include the value or opportunity cost of the time they spent needlessly in congestion, plus the additional fuel cost and the social cost of emissions released by the vehicle to calculate the cost of congestion for each city, we multiplied the number of commuters in the city by the money lost per driver.
In this survey, there are a number of calculations. These calculations used the average time (26.1 minutes, according to Census.gov) it takes to commute to and from work to estimate how many hours/days people are commuting.
Also, we calculated the things commuters could do with their yearly commute time by using the average length of a baseball game and the length of the Game of Thrones audiobook.
Free Car Insurance Comparison
Enter your ZIP code below to view companies that have cheap car insurance rates.
Secured with SHA-256 Encryption
Limitations
The survey data we are presenting are self-reported. There are many issues with self-reported data. These issues include but are not limited to selective memory, telescoping, attribution, and exaggeration. As a result, the outliers in this study have been excluded.
Fair Use Statement
Interested in sharing our findings on congested commutes and autonomous cars? The graphics and information from this project are available for non-commercial reuse. Feel free to share them as much as you'd like across the web, on social media, and at work. Just don't forget to link back to this page to give the authors proper credit.