Location, ZIP Code, and Car Insurance Rates [New Guide]
Car insurance companies use ZIP codes to look at crime, traffic, and parking in your area. The 24450 area in VA has the lowest average rates in the US at $168.18/mo.
Free Car Insurance Comparison
Secured with SHA-256 Encryption
Did you know that where you live affects your car insurance rates? Finding a home can be challenging, and it's even more stressful to realize your dream home will raise your car insurance rates hundreds or thousands of dollars.
To help you find a home that doesn't raise your rates through the roof, we are going to cover everything you need to know about location and car insurance rates.
So stick with us as we go through why rates change based on location, and how you can lower your car insurance costs. Let's jump right in. If you want to start comparison shopping today, you can enter your ZIP code in our free online tool above.
How Location Affects Car Insurance Rates
A move to a new state or city can result in your car insurance rates increasing. If your new car insurance bill shocks you, keep reading. This section will cover everything you need to know about how location affects car insurance rates.
From crime to fraud, multiple factors going on in your state or city influence what rates insurers charge drivers. By being aware of location factors, you can work to reduce your car insurance costs. Let's jump right into it.
How does crime affect car insurance rates?
Crime is an important location factor. High rates of crime in a state, a city, or even a neighborhood will result in insurers raising rates. Why? Because insurers are taking on the risk of having to pay multiple claims for theft or vandalism.
If you come outside and find your tires missing or graffiti spraypainted on your windshield, insurers are stuck paying for repairs or a new car. So insurers charge more to make up potential losses from criminal activity.
Generally, crime will raise the rates of comprehensive coverage, which is a standard on most policies.
Comprehensive coverage covers vehicle theft, vandalism, and damages from natural disasters or animal collisions.
So which states have the worst crime rates? Neighborhood Scout lists the following numbers for crimes by state in 2017.
Alaska has the highest crime rate, even though its number of total crimes is low. This is because Alaska has a small population, so just one crime in Alaska has more impact on the insurer's overall rates than one crime in a place like New York, New York.
As for the state with the most total crimes, California wins that contest. In 2017, California had over one million crimes. As you can imagine, this makes car insurance more expensive in California.
In fact, where there is a higher population, there will be higher car insurance rates.
Urban areas are more likely to have more car thefts and vandalism, which make car insurance rates rise.
Now that we know what the worst states are for crime, let's take a look at the Insurance Information Institute's 2018 data on the worst and best states for vehicle theft.
You've probably noticed that the worst states for vehicle theft are also the largest states. Whenever there are more vehicles on the streets, there will be more vehicles stolen. So if you live in one of the worst states for vehicle theft or general crime, your insurance rates will be a little higher.
Safest and Most Dangerous Cities in the U.S.
So where are the safest places to live in the U.S.? The graphic below shows the safest neighborhoods according to Neighborhood Scout's 2019 assessment. We've also included the average cost of car insurance.
A number of the safest cities are in Massachusetts. This could be part of the reason why the rates in these cities are fairly low. Of course, other factors also influence the cost of car insurance, but crime will impact the price of comprehensive insurance.
Don't believe us? Take a look at the average rates in the most dangerous cities in the U.S.
Most of the rates are much higher than in the safest cities. However, there may be a smaller correlation between crime and the average overall rates in Michigan, as that state already has the highest rates in the U.S. So while crime will raise the cost of comprehensive insurance in Michigan, the overall rate is already high to begin with.
The countrywide average for full coverage car insurance is $954.99. Detriot and Flint's averages are thousands more.
Rates will be lower in other parts of Michigan but expect the costs to be high in Detriot and Flint, as well as in other dangerous cities.
How do road fatalities affect car insurance rates?
Insurers are well aware of how many claims are made in different areas. There are multiple sets of data that can contribute to a high number of fatalities in a state, such as the following:
Crash data: How many crashes occur in your state? The more crashes there are, the more an insurer will charge.
Road conditions: How well-repaired are your roads? Are there massive potholes or poorly-designed intersections? Factors like these could contribute to a higher number of crashes.
Driving laws: How strict are your state's laws on distracted driving, drunk driving, and speeding? A state with stricter laws should have less fatal crashes.
Insurers will look at all of the above factors to determine their rates in an area. So let's jump right into looking at these factors and how they influence rates.
Fatal Crashes by State and Road Type
Before we get into what causes crashes by states, we want to look at how many crashes are happening. Let's start by examining the National Highway Traffic Safety Administration's (NHTSA) crash data by state.
In 2017, Texas and California had the most fatal crashes in the U.S. This isn't necessarily a reflection of Texas and California's drivers and laws. These two states are the most populated states in the U.S., which means there are more people to get into crashes.
So if you live in a larger state with more traffic, you can expect to pay more for car insurance. However, insurers don't just look at a state's population size and crash records.
Even if you live in an area that isn't densely populated, dangerous roads in your area could cause your rates could go up. The NHTSA's data on the most dangerous road types are below.
The road type terms shown above can be explained as the following:
An arterial road is a high-traffic road like a highway.
A minor arterial road is a high-traffic road that isn't a highway or interstate.
A collecter arterial road is a road that collects local traffic and transports it to arterial or minor arterial roads.
The number and type of dangerous roads depend on a state's topography. If a state is made up of rural roads, there will be more crashes on rural interstates and local roads then on urban roads.
So take a close look at the fatalities by road type in your state to see what the most dangerous roads are to drive on.
Drunk Driving and Road Fatalities
Another factor that influences crashes, and therefore, rates, is how strict a state's laws are and how many crashes occur.
A state with strict DUI laws is going to have less drunk driving crashes than a state with lax laws.
In 2013, 28.7 million people admitted that they have driven under the influence of alcohol.
This is a scary number. To put it into perspective, a person is injured in a drunk driving crash every two minutes, and 27 people die as a result of drunk driving crashes every day.
As well, not only does drunk driving cost lives, but it costs each American adult over $500 a year and the entire U.S. $132 billion a year. That's a lot of money spent on drunk drivers.
We want to see what the worst states are for drunk driving fatalities. Take a look at our interactive graph here to see where states rank.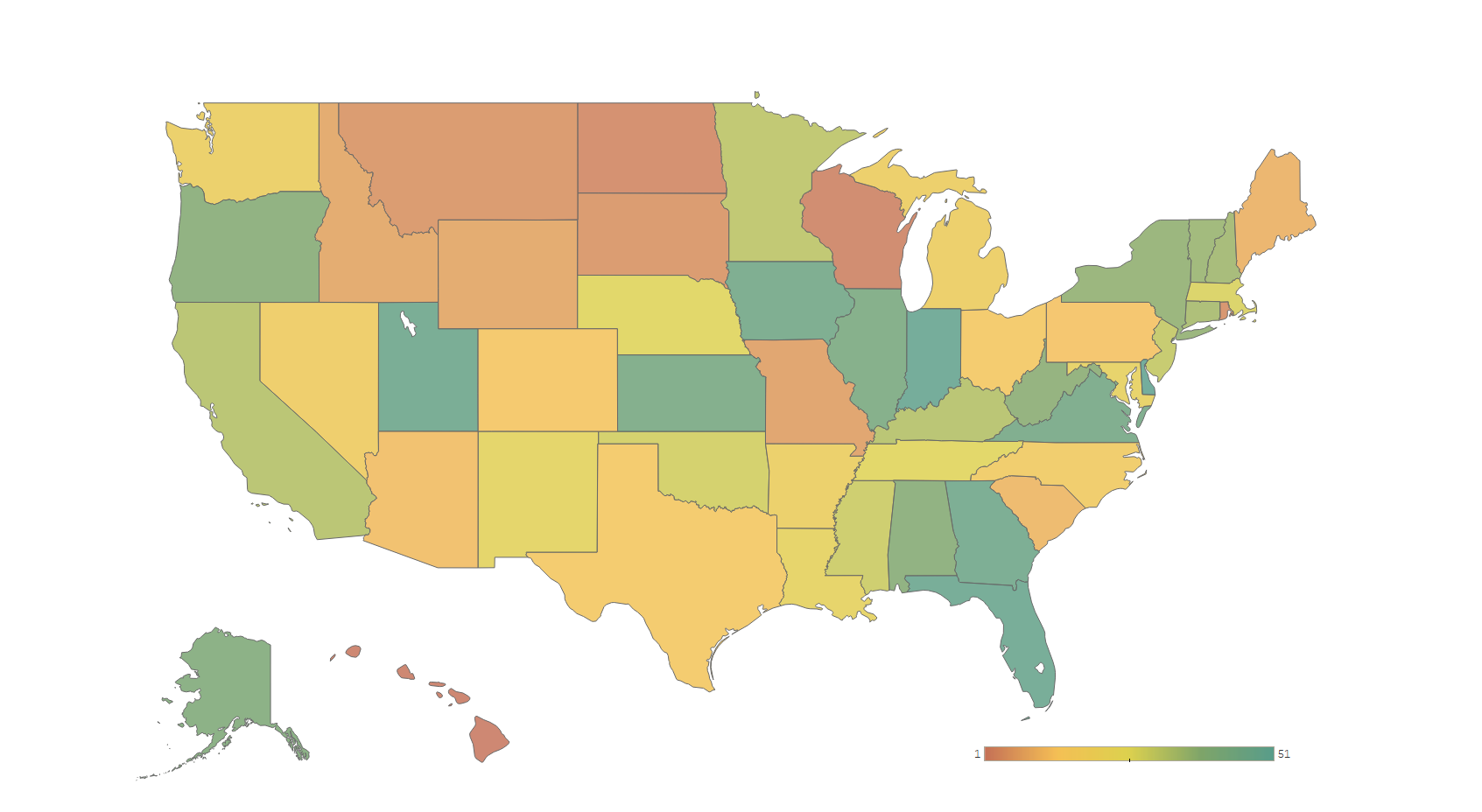 The ten deadliest states in 2017?
Hawaii
Wisconsin
North Dakota
Rhode Island
Montana
South Dakota
Missouri
Idaho
Wyoming
Maine
These states had the worst fatality rates in the U.S. Let's take a closer look at the facts behind each state's ranking so you can see where your state stands.
The best states for drunk driving are Delaware, Indiana, and Florida. So if you live in a state with fewer drunk driving fatalities, insurers probably aren't raising rates based on drunk driving risks.
Of course, if you commit the offense of drunk driving yourself, you can expect your rates to increase substantially no matter where you live. In most states, the lookback period is several years to a decade, which means a DUI will be on your driving record for a long time.
Distracted Driving and Road Fatalities
Distracted driving is another factor that contributes to fatal crashes. The NHTSA said that in 2017 alone, there were 3,166 fatalities from distracted driving.
So what counts as distracted driving?
The NHTSA describes distracted driving as "any activity that diverts attention from driving."
While texting may be the first thing that comes to mind, distracted driving includes a wide range of activities.
Talking or texting on a phone
Talking to passengers
Eating or drinking
Changing the music
Basically, if it takes your attention off the road, it is distracted driving. If an officer sees you brushing your hair or downing a taco while driving, you may receive a distracted driving charge.
So which states have lax laws on distracted driving? We took a look at III's data on cellphone use laws to find out which laws have the poorest laws on texting, one of the most significant reasons behind crashes.
We discovered that the following states have the laxest laws on texting:
Missouri — The texting ban only applies to drivers under 21.
Montana — Not only does Montana have no texting ban, but it has no laws regulating cellphone use (such as hand-held use).
The majority of states have texting bans, which means that rates in these two states will likely be higher. Because cellphone use and texting is allowed in Missouri and Montana, there is more risk of drivers getting into a distracted driving crash.
Even if you always have your phone tucked away while you drive, this won't be true of all the other drivers on the road with you. Missouri and Montana really need to join the rest of the U.S. in banning texting, in order to make the streets safer for everyone.
Speeding and Road Fatalities
If a state has high-speed limits, insurers may bump up their prices. We want to see how many speed-related fatalities happen in each state, according to the NHTSA's 2017 crash data.
In 2017, there were 9,717 fatalities caused by speeding in the U.S. The worst states were California, Texas, Pennsylvania, and North Carolina.
Remember, this is just a broad analysis of speeding fatalities. Insurers will also look at other crash statistics in your city or county to determine rates.
How do natural disasters affect car insurance rates?
Do you live in an area prone to flooding or fires? Or perhaps your streets are covered in icy snow each year? If so, your insurer will charge more to take on the risk of having to pay claims for damage from natural disasters.
According to Climate.gov, in 2018, the U.S. had 14 major natural disasters. These 14 natural disasters cost the U.S. billions of dollars.
Take a look below to see where and when these 2018 disasters occurred.
If you live in Southern states, you'll face disasters like wildfires and hailstorms. Further east, you'll have to contend with winter storms and severe weather.
The milder the weather is where you live, the less you'll have to pay on coverages like comprehensive insurance. This is because comprehensive coverage covers damages from natural disasters, so if your car is flooded in a hurricane, your insurer is stuck paying the bill.
Collision coverage may also cost more in states with severe weather, as a collision between two vehicles slipping on icy roads will be under collision coverage.
Bottom line?
If you live in a state with multiple natural disasters or frequent inclement weather, such as snow or rain, your collision and comprehensive coverages will cost more.
How does fraud affect car insurance rates?
According to the III, property and casualty fraud amounts to about $30 billion a year. Common types of fraud committed by customers are:
Lying about personal information. For example, customers may lie about how many miles they drive every year or who the primary driver is. Customers do this to get a better rate on car insurance.
Adding prior damages to a claim. If a customer backs into a telephone pole but pretends the damage is from a later run-in with a vehicle, this is fraud. Two accidents require two separate claims.
Staging an accident. Customers may set their cars on fire, roll them into lakes, or pretend their cars are stolen. Or a customer may pull directly in front of another vehicle and slam on the brakes, making it seem like the other driver's fault.
Adding fake damages/injuries onto a real claim. This is the classic case of the customer who wears a fake neck brace and complains of emotional distress after a slight bump from another vehicle that didn't even set off the airbags.
If multiple cases of fraud are happening in your area, insurers will increase their prices to make up the losses.
The III stated that Florida has "the highest rates of fraud and buildup in both bodily injury (BI) and personal injury protection (PIP) claims."
The states with the lowest rates of fraud were North Dakota (lowest rates for bodily injury fraud) and Kansas (lowest rates for personal injury protection fraud).
Remember, fraud may not seem to affect you directly, but the insurers who suffer from multiple cases of fraud will raise their insurance rates to the disadvantage of everyone.
Free Car Insurance Comparison
Enter your ZIP code below to view companies that have cheap car insurance rates.
Secured with SHA-256 Encryption
How to Lower Location Car Insurance Costs
We've talked a lot about what increases your costs at locations. If you feel overwhelmed by these multiple factors that are outside of your control and don't know how you'll pay the higher prices, don't worry.
We are going to go through various ways to lower your car insurance costs, such as the cheapest places to live. So keep reading to find out ways you can save on your location costs.
Let's dive right in.
Where can you live that offers lower car insurance premiums?
We aren't suggesting that you immediately start packing your bags to move to a cheaper area, but it is important to consider car insurance costs in addition to living costs when moving. So the next time you are looking for a new job or considering a move, check out the insurance prices in potential areas.
Keep reading to learn about the cheapest and most expensive places for car insurance in the U.S., so that you can plan your budget ahead of time.
Rates by ZIP Code
To start, we want to see what the most expensive ZIP code is in each state. To bring you the best data possible, we've partnered with Quadrant.
Take a look at the table below to see if your ZIP code makes the list.
The worst ZIP code is 48201. Situated in Detriot, Michigan, car insurance at this ZIP code costs over $20,000 more than the second most expensive ZIP code (in Louisiana).
The good news is that not all of the most expensive ZIP codes are outrageously priced. A few ZIP codes aren't that much more than their least-expensive counterparts.
To show you what we mean, take a look at the list of cheapest ZIP codes below.
In a few states, the difference between the most expensive and least expensive ZIP code is less than $1,000. This is good, as it means your rates shouldn't change too drastically if you move around within these states.
However, there are a few states (like Michigan) where you need to be aware of how much rates increase by ZIP code. Checking ZIP code rates before you move will help you keep costs low.
Rates by State
While we've covered what the rates are by ZIP codes, we want to broaden that information a little. Take a look at the National Association of Insurance Commissioner's (NAIC) information on full coverage rates below.
The most expensive average for full coverage is in New Jersey, followed by Lousiana. You may recall that one of Lousiana's ZIP codes was the second-most expensive in the U.S.
The averages should give you a good idea of what car insurance will cost in your state.
Does overnight parking affect the price of car insurance?
Where you park your car can raise or lower your rates. A car parked on the street is much more likely to be stolen than a car parked in a locked garage. Not all insurers ask where you park your car at night, but if an insurer asks, you can expect your rates to be raised or lowered based on your answer.
Keep reading to learn about the different places to park and how they change your rates.
Parking on the Street
Parking your car on the street overnight is by far the riskiest situation from the insurance coverage standpoint. Your car insurance company hates to see your vehicle left unprotected at night when it's most vulnerable.
If your car is parked on the street, you'll be paying the highest possible premium, at least for that portion of the policy.
On the bright side, you can realize insurance premium reductions, even if your car is parked on the street, if you install certain anti-theft devices. An alarm system and a steering wheel lock are just two examples.
Cars with anti-theft devices are harder to steal and, therefore, less of a risk to the insurance company.
Unfortunately, these devices don't prevent other drivers from colliding with your vehicle while it's parked on the street, so you still won't see the maximum benefit that you would if your car were garaged.
Parking your car in the garage overnight is always a good idea if you can manage it. For many of us, the garages on our personal property have become storage areas for all sorts of things, rather than the space for our cars. Check with your insurance company to find out how much you could save by changing that. It just might be significant enough to cause you to clean out the junk and make space for the car.
Parking in a Company Garage
This is one of the options that is going to save you the most on car insurance (compared to parking on a street). If you are parking in a company garage, you may assume your car is as safe as possible.
However, the location of the company garage that you use during the day can affect your car insurance rates. For instance, if your company garage is located in a high crime area, you might not save as much money as someone whose employer uses a garage that is in a safer area.
However, choosing to park in the garage in the high crime rate area is a better choice than leaving your car in the street.
The savings might be minimal, but you should always mention where your car is parked during working hours to see if your insurer will offer you a discount.
They should also consider the alternative of parking in the street. The insurance company will make this determination depending on the ZIP code of the location of the garage.
Parking in a Public Garage
For many residents of large urban centers, parking in a public garage is the norm. In such cases, it is highly likely that your insurance company will not consider your car to be "garaged" because it's in publicly accessible space.
While your car may be safer in the garage that would be on the street, it is still susceptible to theft, vandalism, and collision with other cars being driven through the area.
In a public garage situation, you most likely will see no insurance benefit.
Semi-privates garages are another option for some residents. In a semi-private arrangement, you might be parking your car in a garage shared by only two or three other residents in your building.
This type of garage is not open to public access and is therefore considered somewhat safer than a public garage or the street.
It's likely your insurance company will take a semi-private garage into account and reduce your car insurance rates. However, don't expect the same benefit drivers with a private garage qualify for.
Parking in a Personal Garage
Out of all the garage parking options, this is the best. From an insurance perspective, any garage located on the premises of your single-family home is the best option. Besides being attached to your house, there are some other private garage options.
Stand-alone garage – So whether your garage is attached to your house or a standalone unit, as long as it's on property you own, you'll get the maximum benefit in reduced car insurance rates.
Garage on adjacent property – A garage you own that is located on an adjacent property is still good, but may not afford you the same amount of savings.
Garage far away – Where this gets sticky is when your car is normally garaged on someone else's property, or your property is located a considerable distance from your home. In these cases, the insurance companies sometimes consider this scenario no better than parking your car on the street.
If it is not close by where you can keep an eye on it, it becomes a greater insurance risk. Obviously, such a garage could be modified with fences and security systems in order to reduce the risk.
What are other ways to lower car insurance costs?
While paying attention to location rates is a great way to keep costs down, there are other tricks you can take advantage of to lower costs.
Shop around based on your demographic, driving record, and credit history. Don't just look at what an insurer says it charges on average. See what it's rates are for your gender, age, driving record, and credit history. For example, if you have an at-fault accident on your record that is raising your rates, checking rates for at-fault accidents at other providers may help you lower costs.
Take advantage of discounts and money-saving programs. Make sure you are receiving all the discounts you are eligible for at a provider. There are also programs that may save you money, such as accident forgiveness or safe driving programs.
Keeping a clean driving record will also help, so stay alert when driving. While you don't have much control over what your location costs are if you're moving for a new job, cutting back on other car insurance costs through discounts and other tricks can help lower costs.
Car Insurance Location and ZIP Code FAQs
Do you still have questions about locations and ZIP codes in relation to car insurance rates? Fear not. Before we end this guide, we will take a look at the most common questions others are asking.
So keep reading to see the answers to others' frequently asked questions about location rates.
Does changing my address affect car insurance rates?
If you move within the same ZIP code, your rates should stay the same. However, a move to a new ZIP code, city, or state will definitely raise your rates.
This isn't always a bad thing, as sometimes your rates will decrease. Planning ahead and looking at rates by ZIP code or city in your state will help you find a home in an area with lower car insurance rates.
What if I don't tell my insurer I moved?
You are required to tell your insurer about your new address. Not doing so could have you persecuted for insurance fraud (as location changes rates). Your insurer also needs to know of your new address so you can receive a new insurance ID card.
So do the right thing, and tell your insurer of your move. Otherwise, you could be paying for a lawyer instead.
How do I know if my insurer raised or lowered my rates after I moved?
Check your account to see what insurers are currently charging you and compare it to your past rate. You can also call your insurer directly and ask about price increases for a different address.
As well, if you called earlier with your change of address, insurers should be able to give you an estimate of how much your rates will change at your new address.
What if I can't afford insurance?
If you move to a new area and find that your rates are too expensive to afford, there a few options. Shopping around at providers may help you find a more affordable rate, and a few states have low-cost insurance programs.
California, Hawaii, and New Jersey all have government-sponsored programs that focus on providing low-cost insurance to low-income families.
If you don't live in one of those three states, your best option is to shop around for a cheaper rate. Just make sure that you don't have a lapse in insurance, as this will raise your rates even more.
Does it cost more to insure a car in a city?
The short answer is yes. Often, it costs more to insure a vehicle in a city than in a rural or suburban area. Why? Because there are factors that make it riskier to insure a vehicle in a densely populated area.
Parking: Often, cars in cities are parked in the streets, which makes it easier to steal or vandalize cars. In contrast, most cars are parked in garages in suburban areas.
Crime: Likewise, there is more crime in areas with more people, raising the risk of your vehicle being stolen.
Drivers: There are more drivers on the streets in cities, which means you are more at risk of crashing into another driver.
Of course, rural driving has its own risks, such as increased wildlife on the roads. But insurers view city cars as riskier to the insurer, and most will raise their rates after a customer's move to a city.
What if something happens to my car when parked in a garage?
If you parked your car in a garage to lower insurance rates, there are still a few risks. If your car is damaged while in a parking garage, you have two options. First, you can file a claim with your insurance company, or you can get the car fixed on your own.
If the person who damaged your car left a note, you could file the claim with his or her insurance company. However, if not, you must either file it with your company or handle it on your own.
If your car is stolen out of a parking garage, be sure and file a claim with your insurance company after reporting it to the police.
The same would apply if your car was broken into or vandalized. You should also notify the owner of the garage. They may have a visual record of the incident caught on camera.
We hope this guide to location and car insurance rates was helpful to you. Let us know if we missed anything. Hopefully, you are now ready to tackle how to reduce your rates based on our tips.
If you want to start shopping for providers, enter your ZIP code in our free rate tool below.