West Virginia Car Insurance [Everything You Need to Know]
West Virginia car insurance will cost you around $85/month. WV car insurance requires a minimum of 25/50/25 for bodily injury and property damage coverage and Uninsured Motorist coverage.
UPDATED: May 15, 2021
It's all about you. We want to help you make the right coverage choices.
Advertiser Disclosure: We strive to help you make confident car insurance decisions. Comparison shopping should be easy. We are not affiliated with any one car insurance company and cannot guarantee quotes from any single company.
Our partnerships don't influence our content. Our opinions are our own. To compare quotes from top car companies please enter your ZIP code above to use the free quote tool. The more quotes you compare, the more chances to save.
Editorial Guidelines: We are a free online resource for anyone interested in learning more about auto insurance. Our goal is to be an objective, third-party resource for everything auto insurance related. We update our site regularly, and all content is reviewed by auto insurance experts.
West Virginia Summary Statistics
Details
Annual Road Miles
Total in State: 38,760
Vehicle Miles Driven: 19.1 billion
Vehicles
Registered: 1.5 million
Total Stolen: 938
State Population
1,848,514
Most Popular Vehicle
Chevy Silverado 1500
Uninsured Drivers
10.1 percent
State Rank: 32nd

Traffic Fatalities
Total: 303
Speeding: 84
Drunk Driving: 101
Average Annual Premium
Combined $1,103.05
Liability $491.83
Collision $330
Comprehensive $204.28
Cheapest Providers
State Farm and USAA
West Virginia, the Mountain State, is known fondly for its mining towns, its Appalachian music, and its love of high school and college football.
Whether you're traveling through the Blue Ridge Mountains or along the Shenandoah River, you will want to make sure you have the best coverage while driving on those country roads.
The best way to assure yourself that you're getting the proper coverage for your situation at the best possible rates is to compare car insurance rates from multiple companies.
You might be wondering:
Who has the cheapest car insurance in West Virginia?
Does West Virginia require car insurance?
We can answer these questions and more. Ready to find the cheapest car insurance in West Virginia? We've got you covered with our free and easy tool. Enter your ZIP code below and get your FREE quotes today!
West Virginia Insurance Coverage and Rates
Whether you are of the Hatfield bloodline or are a sprouting branch of the McCoy tree, chances are you do a fair amount of driving if you're a resident of West Virginia. West Virginians drive about 14,283 miles each year, which is a smidge below the national average of 14,485.
Due to having a shorter than average commute time, Mountain State residents are on the road less than most of their fellow drivers on the East Coast. Every mile that you drive is a mile of potential risk in the eyes of the auto insurers. You need the proper amount of car insurance to mitigate that risk.
But wading through all the minutiae of the various regulations, requirements, and rates can be burdensome. No need to worry. We'll help you learn what is required, what you might want, and where you can find it for the best price.
West Virginia Minimum Coverage
West Virginis is a "fault" state meaning that it follows a traditional fault-based system when it comes to financial responsibility for property damage and injuries resulting from a crash.
Basic coverage in West Virginia increased in 2016 to a required minimum car of 25/50/20 for all motorists. This mandates that all car owners carry the following minimum levels of liability insurance:
$25,000 for bodily injury or death of one person in an accident caused by the owner of the insured vehicle, $50,000 for total bodily injury or death in an accident caused by the owner of the insured vehicle, and $20,000 for property damage per accident caused by the owner of the insured vehicle.
West Virginia does not require you to carry Uninsured/Underinsured Motorist coverage, but legislators do mandate all auto insurance companies in the state to offer consumers the optional maximum coverage of 100/300/50.
Declining to carry any form of uninsured/underinsured coverage means that you're foregoing insurance that can protect you and your passengers if the at-fault driver has no insurance, or if you're the victim of a hit-and-run.
Type of Coverage
Prior to January 1, 2016
As of January 1, 2016
Increase
Bodily Injury Liability
$20,000 per person
$40,000 per accident
$25,000 per person
$50,000 per accident
$5,000 per person
$10,000 per accident
Property Damage Liability
$10,000 per accident
$20,000 per accident
$10,000 per accident
Uninsured/Underinsured Motorist Coverage
Optional
Optional
Cannot be be determined
Is it wise for any West Virginian to choose the bare minimum coverage? Maybe. Maybe not.
If you have assets or future assets that you wish to protect, you may wish to reconsider settling for only basic liability coverage.
The experts at the Wall Street Journal recommend increasing your liability limits to the maximum optional offering of 100/300/50, and they offer the following advice for choosing your coverage limits:
Make sure you're covered for an amount equal to the total value of your assets (Add up the dollar values of your house, your car, savings, and investments).
Please be aware that basic coverage only provides you with liability protection; It will not pay to repair or replace your car for an accident that you cause.
If you're looking to repair or replace your car after an accident, then collision and comprehensive coverage are worth the investment. These policies come with a deductible and they pay out based on the current value of your car, not necessarily the price you might have paid for it.
Next, we will take a look at the what average motorist in West Virginia pays for car insurance. The actual amount you will pay will vary from these amounts; however, the upcoming figures will give you a strong foundation from which you can build.
Premiums as a Percentage of Income
When asked about his success, longevity, and wealth in the music and entertainment industry, Hip hop superproducer and entrepreneurial mogul, Dr. Dre, stated that "Money is easy to make, but harder to keep."
The entertainer, born Andre Young, also claimed that "The only two things that scare me are God and the IRS."
Both of these quotes illustrate the concept and importance of your Disposable Personal Income (DPI), which is the money you retain after taxes and other expenditures.
| Type | Insurance Versus Income |
| --- | --- |
| Annual Full Coverage Average Premiums | $1,032.45 |
| Monthly Full Coverage Average Premiums | $86.04 |
| Annual Per Capita Disposable Personal Income | $32,277.00 |
| Monthly Per Capita Disposable Personal Income | $2,689.75 |
| Percentage of Income | 3.20 percent |
You are mandated by law to carry at least the basic coverage. A full coverage policy includes liability, comprehensive, and collision insurance.
Let's take a look at some important statistics about the car insurance companies themselves since we are now caught up on some important data for the individual customer.
Up first is loss ratio.
Loss Ratio
What is loss ratio? And how exactly does it impact your rate quotes?
The insurance loss ratio is the loss to the insurance company for claims that were paid out, divided by the premiums collected. A high loss ratio means that an insurance company has too many customers filing claims, which will subsequently lead to a rise in future premiums for all consumers.
Loss ratios are measurements used by insurers to assess the profitability of their businesses or policies. A loss ratio is a single number that can be used to identify performance: the lower the number, the better the performance.
Example: Suppose the owner of a small car dealership pays $50,000 in annual premiums to insure his or her inventory. Then, a polar vortex causes $75,000 in damages, for which the business owner submits a claim. The insured's one-year loss ratio becomes $75,000 / $50,000, or 150 percent.
Add-ons, Endorsements, Riders
Just over 10 percent of drivers in West Virginia don't have insurance, which is the 32nd highest total in the United States. This stat alone should make you reconsider declining the optional (but recommended) Uninsured Motorist Coverage.
Medical Payments Coverage is optional in West Virginia. Med Pay insurance applies regardless of whether the insured or another driver was at fault. This kind of coverage can protect motorists for damage and injuries caused by the increasing collisions involving the deer population in West Virginia.
Pay-by-the-mile car insurance plans offered by companies like Metromile are gaining in popularity daily; however, they are currently unavailable in West Virginia.
Other Usage-Based Insurance programs (UBI) are active and available to residents of West Virginia. Programs like Drivewise from Allstate or Snapshot from Progressive offer discounts to drivers based on how well and how often they drive.
Additionally, there are a handful of alternative enhancements that you can research to decide if any of them makes sense in your circumstance:
Guaranteed Auto Protection (GAP)
Personal Umbrella Policy (PUP)
Rental Reimbursement
Emergency Roadside Assistance
Mechanical Breakdown Insurance
Modified Car Insurance Coverage
Average Monthly Car Insurance Rates by Age & Gender in WV
On September 20, 1973, Billie Jean King soundly defeated Bobby Riggs in an epic, intergender tennis match dubbed as the "Battle of the Sexes" in straight sets. That triumph on the tennis court by King sounded a forceful blow for women's rights and equality that reverberated beyond the world of athletic competition.
We compared rates for 25-year-old drivers with identical backgrounds, location, and driving history, using gender as the only independent variable. Here is what we found:
| Gender | Geico | Progressive |
| --- | --- | --- |
| 25-Year-Old Male | $72.96 | $93.19 |
| 25-Year-Old Female | $97.41 | $94.64 |
When we extended our research by comparing rates for 55-year-old men and women with identical driving records and demographic information, the battle for equality did not fare any better:
| Gender | Geico | Progressive |
| --- | --- | --- |
| 55-Year-Old Male | $42.80 | $65.30 |
| 55-Year-Old Female | $52.80 | $66.94 |
Maybe if Serena Williams and Naomi Osaka team up to defeat the McEnroe Brothers (John and Patrick) in a doubles match, then we'll inch closer to equal premium rate quotes for men and women drivers.
Cheapest West Virginia Insurance Rates by Location
| City | Annual Cost for Liability Coverage |
| --- | --- |
| Beckley | $1,078 |
| Bluefield | $1,037 |
| Charleston | $1,070 |
| Clarksburg | $931.94 |
| Huntington | $1,061 |
| Martinsburg | $884.23 |
| Morgantown | $936 |
| Parkersburg | $1,031 |
| Wheeling | $977 |
| Williamson | $1,291 |
Did you know that Wheeling was once the capital of West Virginia? Having your vehicle registered in the former capital as opposed to the current capital of Charleston will save you nearly $100 annually in premiums.
West Virginia Car Insurance Companies
Sifting through all of the information available for each car insurance company in order to select the most suitable one for your circumstance can be an arduous endeavor.
What company will give you the best rate? Who has the most competent customer service representatives? Will you qualify for any discounts or upgrades? Unlike the familiar country roads of the place you belong, finding the answers to these questions can be difficult to navigate.
We will help you to choose the company that will best suit your specific needs.
When selecting the car insurance company that you'll ultimately give your business, you should look for the company (or companies) that you know that you can lean on.
The public's perception of a company can sometimes be an indicator of the quality of rates it offers to its customers. We'll show how the largest companies rate in the areas of financial stability and customer satisfaction.
Financial Ratings
AM Best is a credit rating agency. It evaluates insurance companies and grades them based on their financial stability. The table below shows the ten largest insurance companies in West Virginia as measured by direct premiums written with their AM Best rating.
| Company | Direct Premiums Written | AM Best Rating |
| --- | --- | --- |
| Allstate Insurance Group | $92,007 | A+ |
| Erie Insurance Group | $182,120 | A+ |
| Geico | $124,709 | A++ |
| Hartford Fire & Casualty Group | $38,099 | A+ |
| Liberty Mutual Group | $54,356 | A |
| Nationwide Corp Group | $145,858 | A+ |
| Progressive Group | $84,332 | A+ |
| State Farm Group | $329,651 | A++ |
| USAA Group | $48,434 | A |
| Westfield Group | $30,163 | A |
Customer Satisfaction Ratings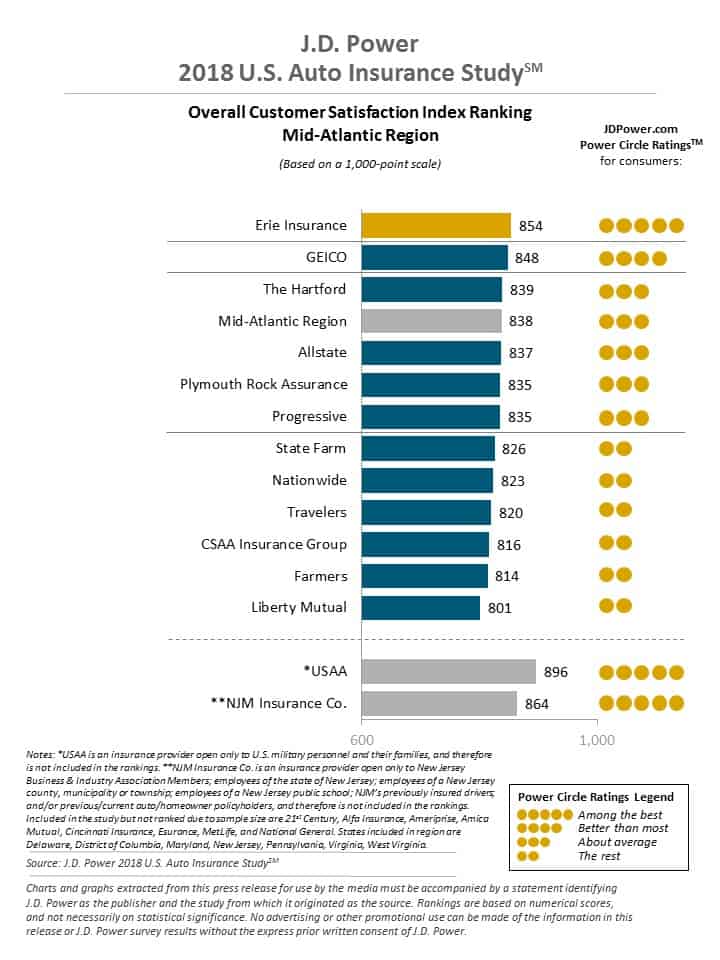 Companies in West Virginia with the Least and Most Complaints
Trust is essential in any long-lasting relationship. Mutual satisfaction has to be a priority for both parties.
One hundred percent satisfaction is a lofty and elusive goal. When a customer has a negative experience with an insurance company, he or she can file a complaint. Those complaints, warranted or not, are factored into a company's complaint ratios.
West Virginia permits customers to file a complaint both electronically or by paper application.
The complaint ratio is how many complaints a company receives per one million dollars of business.
Due to the sheer volume of business they conduct, a large insurance company will have more complaints than a smaller company; thus, what matters more than the number of complaints is the complaint ratio.
These are the companies that had the best complaint ratios in the state.
Name of Insurer
Complaint Ratio
(Best)
Name of Insurer
Complaint Ratio
(Worst)
AmTrust
0
QBE Insurance
32.86
Farmers Insurance Group
0
J. Whited Group
7.43
Southern Farm Bureau
0
Sentry Insurance
6.53
Georgia Farm Bureau
0
Mapfre Insurance
6.25
Island Insurance Company
0
Liberty Mutual
5.95
MS & AD Insurance Group
0
Hartford Fire & Casualty
4.68
Indiana Farm Bureau
0
CSAA Insurance
3.97
Safety Group
0
IMT Mutual Holding
3.45
North Dakota Mutual
0
The Hanover Insurance Group
2.43
Center Mutual
0
Infinity Property & Casualty
2.03
De Smet Farm Insurance
0
GoAuto Insurance
1.93
Bear River Mutual
0
State Auto Mutual
1.74
Co-Operative Insurance
0
Safeway Insurance
1.6
Kentucky Farm Bureau
0.02
Mountain West Farm
1.47
New Jersey Manufacturers Group
0.03
Arbella Insurance
1.33
Grinnell Mutual
0.07
Metropolitan
1.3
Travelers
0.09
Plymouth Rock Insurance
1.16
Consumers County Mutual
0.1
Horace Mann
0.79
Pemco Mutual
0.14
American Family Insurance
0.79
Alfa Insurance
0.16
Automobil Club of Michigan
0.78
Texas Farm Bureau Mutual
0.16
Iowa Farm Bureau
0.77
Oklahoma Farm Bureau
0.21
Progressive
0.75
Michigan Farm Bureau
0.26
Westfield
0.75
Vermont Mutual
0.26
USAA
0.74
Frankenmuth
0.27
Tokio Marine Holdings
0.71
Complaint Ratios for West Virginia's 10 Largest Auto Insurers
Here's how the biggest auto insurance companies in West Virginia compare with one another in terms of complaint ratios.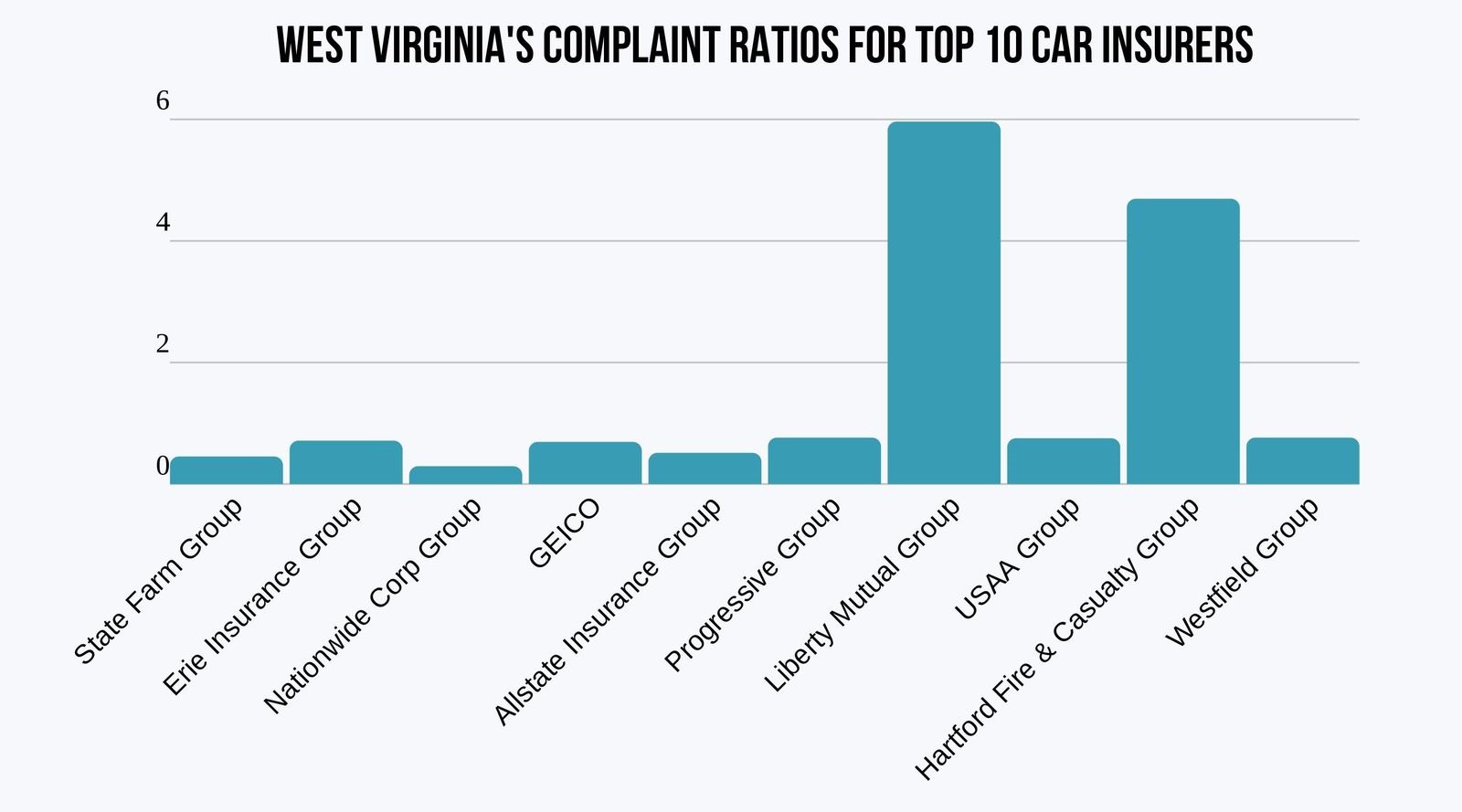 For more information on this topic, take a look at the most recently released annual report from the state insurance commissioner.
West Virginia Car Insurance Rates by Company
Below is a list of the most expensive and the cheapest car insurance companies in West Virginina by their average premiums.

| Cheapest Companies | Rate | Most Expensive Companies | Rate |
| --- | --- | --- | --- |
| USAA | $269.35 | Liberty | $2,737.48 |
| Metropolitan | $409.62 | Peak Propery & Casualty | $2,101.87 |
| Erie Insurance | $429.91 | Liberty Mutual | $2,057.99 |
| Garrison Property & Casualty | $492.08 | West Virginia Nationall Auto | $1,591.26 |
| Property & Casualty Insurance Company Of Hartford | $518.40 | Esurance | $1,532.24 |
| Trumbull | $562.10 | Progressive | $1,525.66 |
| American National Property & Casualty | $583.94 | Allstate | $1,505.84 |
| Hartford Of The Midwest | $584.50 | First Liberty | $1,295.34 |
| Twin City Fire Insurance | $610.25 | Motorists Mutual | $1,241.32 |
| Encompass | $632.18 | Westfield Insurance Company | $1,200.00 |
We can also take a look at how the rates in the state compare to its neighboring states.
It's also important to know all the different factors that can make your rates hike up. Some factors, like commute distance, have only a small impact, while something on the level of a DUI can shoot your rates right up through the roof!

Largest Car Insurance Companies in West Virginia
Have you been up and back on the Appalachian Trail in search of a licensed auto insurer? You've got 812 options from which to pick. Of all those companies, 19 of them are homegrown talent. But the bulk of them, 793 to be exact, are based out of the state of West Virginia.
Whether you go with a locally-based company or an out-of-state option, the best way to guarantee you're getting the most suitable coverage at the most competitive prices is to shop around.
You should make a habit of comparing quotes every six months to a year.
Knowledge of your state's regulations for the road (and applying that knowledge) is powerful enough to help save you money on your car insurance premiums.
Let's take a look at the laws of the land to keep you knowledgeable and to ensure your dollar will go further when purchasing insurance.
West Virginia Laws
No need to list every traffic law in West Virginia. We'll go over some of the most important ones that all West Virginians should know.
Car Insurance Laws
Car insurance companies in West Virginia have a lot of latitude to set the premium rates they will offer to consumers.
Yet even with this much authority, these companies must adhere to the regulations and expectations set by the National Association of Insurance Commissioners (NAIC), which acts as a self-regulatory governing body.
Car Insurance Rate-Setting Regulations
"Open competition" is the capitalistic process in which rates are formed; however, if the insurance commissioner decides that rates are excessive or could be harmful to the company's solvency, he or she will step in and adjust those figures.
High-Risk Insurance
West Virginia State Code §33-6-31c. states that an individual may be considered a substandard risk if:
They have a record of traffic accidents;
Have a record of traffic law violations;
Have undesirable occupational circumstances; or
Have any other valid underwriting consideration.
In many other states in the US, an SR-22 form is mandatory for motorists deemed "substandard or high risk" after having committed serious moving violations, insurance violations, or after the suspension of a license in order to be reinstated.
However, there is no such requirement in West Virginia to obtain an SR-22 form.
While an SR-22 form isn't a requirement in West Virginia in order to reinstate driving privileges, you will still need to meet other requirements. The requirements will vary based on the nature of the offense.
Depending on the severity of the crime and conviction, you may be required to serve a period of incarceration and have your license revoked temporarily before you can re-apply for a new license. Plus, you may be responsible for both court fines and reinstatement fees.
You can track and monitor what type of offenses will earn you points on your license by checking the DMV's Point System.
In West Virginia the following violations may lead to your license being revoked or suspended:
Point accumulation according to the DMV Point System
Falsely obtaining a license
Driving with a suspended or revoked license
Failure to drive according to the restrictions on your license
Failing to pay any type of court fees or court-ordered payment (such as child support)
Failure to provide proof of insurance
DUI offenses, such as driving with a blood alcohol content (BAC) over the legal limit, or refusing to test for BAC
Leaving an accident scene that resulted in personal injury or death
Failing to satisfy any civil judgment made against you due to your involvement in an accident
Negligent homicide or manslaughter involving a motor vehicle
Note: This list is representative and by no means exhaustive.
Windshield Coverage
West Virginia mandates that for all cars less than three years old insurers must use original equipment manufacturers (OEM) replacement parts unless the consumer agrees in writing.
Automobile Insurance Fraud in West Virginia
Did you know that fraud accounts for roughly 10 percent of operating costs for the insurance industry as a whole? Why does that matter to you as a consumer?
That 10 percent that insurance companies use to investigate, combat, and pay to fraudulent claims is essentially 10 percent of your premiums that are wasted.
And if those fraud numbers continue to escalate, it is more likely that the insurance will pass on some of that cost to you as the consumer in the form of increased premiums.
If companies didn't have to waste your premium dollars on false claims, you could see a reduction in the rates you pay.
There are two classifications of fraud: hard and soft.
Hard Fraud – A purposefully fabricated claim or accident
Soft Fraud – A misrepresentation of information to the insurance company
Soft fraud is more common than hard fraud. Twenty to 40 percent of consumers admitted to lying to their insurer about one of the following:
Number of annual miles driven
Number of drivers in the household
How the vehicle would be used
Insurance fraud is a crime no matter how you slice it. Even the "little, white lie" you tell to get a lower rate can lead to harmful consequences. That kind of willful misrepresentation of facts is called known as "rate evasion" and is $16 billion annual expense to auto insurers.
If you suspect insurance fraud, you can report it through the Office of the Inspector General (OIG) Fraud Unit.
To learn more about how to spot and prevent insurance fraud, visit the Coalition Against Insurance Fraud.
Statute of Limitations
The statute of limitations for filing a claim in West Virginia is as follows:
| Coverage | Years |
| --- | --- |
| Property Damage | Two years |
| Personal Injury | Two years |
Vehicle Licensing Laws
When rumbling through the multitude of country roads, make sure your vehicle is registered and that you can brandish proof of insurance. Otherwise, you might suffer some costly consequences.
Penalties for Driving Without Insurance
The West Virginia DMV has an online portal for motorists to access forms and services that will allow you to renew your registrations and drivers' licenses, update or change your address, pay your personal property taxes, and retrieve your driving history.
Penalty
First Offense
Second Offense
Fine
$200 to $5,000
– $200 penalty reinstatement fee if no proof of insurance
$200 to $5,000 fine and/or 15 days to one year in jail if second offense occurs within five years
License Suspension
30 days with reinstatement fees, unless there's proof of insurance
90 days and registration revoked until proof of insurance
West Virginia Automobile Insurance Plan
Car insurance companies in West Virginia can refuse coverage to high-risk or substandard drivers like motorists with poor driving records.
If you are having a difficult time finding car insurance on the open market, you may apply for insurance through the West Virginia Automobile Insurance Plan (WVAIP), which helps guarantee that all licensed drivers have access to car insurance.
Teen Driver Laws
West Virginia utilizes a Graduate Driver's Licensing (GDL) program. These laws were implemented to reduce fatalities, lower injuries, and have been proven to result in safer highways and roadways.
New drivers who participate in the GDL system must reach various milestones before they are allowed to graduate to a less restrictive license level, and eventually, receive a full unrestricted license.
Teen drivers must also provide a valid Driver's Eligibility Certificate, which is issued by the local school board and proves the teen driver's attendance.
All teenage applicants for a driver's permit must have parental consent when submitting their applications, unless they are married, in which case, parental consent is waived.
There are three levels of driving permissions available for teens in West Virginia. They are Instruction Permit (Level 1), Intermediate License (Level 2), and Class E License (Level 3).
Instruction Permit – An instruction permit is valid until the young driver reaches the age of 18. After the person turns 18, they have 30 days period to complete the road skills examination, which is required to qualify for the Intermediate License.

The Level 1 permit can't be renewed. If the permit expires, the teen driver must reapply for a permit and hold it in good standing without a traffic conviction for at least 180 days before applying for an Intermediate License.

Intermediate License – Teen drivers between the ages of 16-18 who have completed all the Instruction Permit requirements are eligible for an Intermediate License.

To apply for a Level 2 License, the teen driver must complete either a driver's education course approved by the State Department of Education or 50 hours of behind-the-wheel experience (including at least ten hours of night driving) certified by a parent, legal guardian, or another responsible adult who is older than 21.
Applicants must provide valid identification and proof of residency and have at least 180 days of consecutive driving without a traffic conviction immediately prior to submitting their application for a Level 2 License.
Drivers with an Intermediate License may drive alone only between the hours of 5:00 a.m. and 10:00 p.m. Outside of those hours, the teen driver must be accompanied by a licensed driver at least 21 years of age, unless one of the exceptions applies.
The exceptions include driving to and from a place of employment, driving to and from school and religious activities, and driving during emergency situations to prevent bodily injury or death of another.

Class E License – Teens in West Virginia are eligible to apply for a Level 3 License once they've turned 17, have completed a driver's improvement program, have earned a valid Driver's Eligibility Certificate or proof of having completed school, have a clean driving record for the one-year prior to submitting their applications, and submitting the applications with all necessary licensing fees.

A driver who turns 18 years old while holding an Intermediate License need only complete the application and pay the fees to get a Class E license.
A Level 3 License is valid until 30 days after the licensee turn 21 years old. The driver and all passengers must wear seat belts at all times.
Restrictions
Level 1
Level 2
Level 3
Age
15
15 1/2 – must have held an Instruction Permit for a minimum of six months prior
16 – must have held an Intermediate License for a minimum of six months prior
Passengers
No more than two passengers and must be supervised by a licensed adult
First six months or until age 18 – no passengers younger than 20
Second six months – no more than one passenger younger than 20
All restrictions lifted when 17 AND have license for 12 months or 18 (whichever comes first)
Hours
Under age 18 – no driving between 10 p.m. and 5 a.m.
All restrictions lifted when 17 AND have license for 12 months or 18 (whichever comes first)
All restrictions lifted when 17 AND have license for 12 months or 18 (whichever comes first)
Cell Phone Use
Handheld ban
Texting prohibited for all drivers
Handheld ban
Texting prohibited for all drivers
Handheld ban
Texting prohibited for all drivers
Pre-requisites
If under 18, must provide a valid Driver's Eligibility Certificate, which is issued by the local school board and proves attendance record
50 total hours supervised driving, 10 must be at night
Must have Driver's Eligibility Certificate and clean driving record for up to a year prior
Older Driver License Renewal
When it comes to its driving laws, West Virginia can never be accused of ageism. Older drivers in the Mountain State must renew their licenses every eight years, just like the rest of the general population.
Older motorists must also show proof of adequate vision at every renewal and are eligible to renew online every other renewal, just like every other motorist.
New Resident Licensing
New residents of West Virginia may have lots of questions about how and when to apply for a new license. According to the DMV:
A new resident who does not have possession of the out-of-state license or if it has expired, must obtain a certified driving record, dated no more than 30 days from the date of the application, from the state in which they were previously licensed.
If your out-of-state license is suspended or revoked, you cannot be licensed in West Virginia, until you receive clearance in the Problem Driver Points System (PDPS).
It is illegal to drive in West Virginia with a suspended or revoked license. All applicants must be verified with the PDPS. It is important to confirm that you are not under suspension in any other jurisdiction before attempting to obtain a license in West Virginia.
License Renewal
All motorists in West Virginia must renew their licenses every eight years, regardless of age. All must show proof of adequate vision at the time of renewal. And all are eligible for online renewal, every other renewal period.
Rules of the Road
West Virginia is a fault state, meaning that the driver at fault in an accident is responsible to pay for damages done to the other party. This is also commonly referred to as a tort state.
Keep Right and Move Over Laws
West Virginia law requires that you keep to the right, to the right if driving slower than the average speed of traffic around you. Driving in the left lane is only permissible when passing or when turning left.
Move Over laws means exactly what it says: a motorist should move his/her vehicle over whenever approaching a stopped emergency vehicle with its lights on.
"If possible with regard to safety and traffic conditions, slow down and change lanes whenever possible for all law enforcement, emergency vehicles, first responders and tow trucks when they are flashing their lights."
Speed Limits
| Type of Roadway | Speed Limit |
| --- | --- |
| Rural Interstates | 70 mph |
| Urban Interstates | 55 mph |
| Other Limited Access Roads | 65 mph |
| Other Roads | 55 mph |
Seat Belt Laws
West Virginia requires front-seat passengers eight years old and older to wear a seat belt. All other passengers between the ages of eight and 17 must also wear a seat belt. A violation is not a primary offense.
Not wearing a seat belt by itself cannot be a cause for your getting pulled over but should you be stopped for some other traffic violation, you can be ticketed for failure to wear a seat belt. The minimum fine is $25.
Car Seat Laws
All children seven years old or younger and less than four feet, nine inches tall are required to be seated in a child safety seat. West Virginia law states no preference for rear-facing car seats.
Ridesharing
As of now, State Farm, Progressive, USAA and Geico are the only auto insurers in West Virginia offering insurance specifically for ride sharing
Automation on the Road
Currently, West Virginia has no laws or testing or deployment of any on automation on the road.
Safety Laws
The Governor's Highway Safety Program (GHSP) exists is to encourage, promote, and support highway safety throughout West Virginia. The Traffic Safety Resource Prosecutor is another valuable resource that provides safety training, education, and technical support to West Virginians.
DUI Laws
DUI laws in West Virginia are appropriately strict. The Blood-Alcohol Content (BAC) limit in West Virginia is 0.08 percent; the High BAC limit is 0.15 percent. The first two offenses are misdemeanors and every subsequent offense will be a felony. After a second offense, an Ignition Interlock Device (IID) will be required.
| Penalty Type | First Driving Under the Influence (DUI) | Second DUI | Third and Subsequent DUIs |
| --- | --- | --- | --- |
| Revoked License | 15 days | One year | One year |
| Imprisonment | No minimum, but up to six months | Six to 12 months of jail | One to three years |
| Fine | $100–$500 | $1000–$3000 | $3000 –$5000 |
| Other | IID possible | IID required | IID required |
Drug-Impaired Driving Laws
West Virginia has a marijuana-impaired limit of THC per se (3 nanograms).
West Virginia Can't-Miss Facts
Here are some interesting tidbits for motorists in the state of West Virginia.
Vehicle Theft in West Virginia
Auto theft is a major problem for consumers. The one whose property is pilfered isn't the only victim; customers all over a given municipality are penalized with higher premiums when the frequency of auto theft increases.
Top Cities for Stolen Vehicles in West Virginia
This chart below shows of the top cities for auto theft within the state.
Top 10 Stolen Vehicles in West Virginia
Have you ever wondered if the vehicle you're currently driving makes you more attractive to car thieves? Check out the table below to find out.
| Model | Number of Thefts |
| --- | --- |
| 2003 Ford Pickup (Full Size) | 87 |
| 2000 Chevrolet Pickup (Full Size) | 76 |
| 1996 Jeep Cherokee/Grand Cherokee | 36 |
| 2003 Dodge Pickup (Full Size) | 29 |
| 1999 Chevrolet Pickup (Small Size) | 29 |
| 2006 Chevrolet Impala | 24 |
| 2014 Toyota Camry | 20 |
| 1995 Ford Taurus | 19 |
| 2011 GMC Pickup (Full Size) | 18 |
| 2002 Chevrolet Cavalier | 17 |
Risky and Harmful Behavior
For your information, we've compiled a list of all driving-related fatalities in West Virginia. One of the main factors influencing traffic deaths in West Virginia is the weather. In our article that details 20 facts about driving in bad weather, West Virginia ranks the worst out of all states.
Fatalities Involving Speeding by County
| County | 2015 | 2016 | 2017 |
| --- | --- | --- | --- |
| Barbour | 0 | 0 | 1 |
| Berkeley | 4 | 4 | 3 |
| Boone | 0 | 0 | 0 |
| Braxton | 2 | 1 | 0 |
| Brooke | 0 | 0 | 0 |
| Cabell | 6 | 1 | 1 |
| Calhoun | 0 | 0 | 1 |
| Clay | 1 | 2 | 0 |
| Doddridge | 0 | 0 | 2 |
| Fayette | 2 | 1 | 2 |
| Gilmer | 0 | 2 | 3 |
| Grant | 2 | 2 | 1 |
| Greenbrier | 0 | 1 | 1 |
| Hampshire | 1 | 1 | 1 |
| Hancock | 1 | 1 | 2 |
| Hardy | 0 | 0 | 1 |
| Harrison | 3 | 1 | 4 |
| Jackson | 2 | 1 | 2 |
| Jefferson | 2 | 3 | 2 |
| Kanawha | 8 | 4 | 13 |
| Lewis | 3 | 4 | 0 |
| Lincoln | 1 | 0 | 0 |
| Logan | 2 | 1 | 3 |
| Marion | 3 | 5 | 1 |
| Marshall | 2 | 0 | 2 |
Fatalities by DUI by County
| County | 2015 | 2016 | 2017 |
| --- | --- | --- | --- |
| Barbour | 0 | 2 | 1 |
| Berkeley | 2 | 3 | 2 |
| Boone | 0 | 0 | 0 |
| Braxton | 3 | 0 | 0 |
| Brooke | 0 | 0 | 1 |
| Cabell | 3 | 3 | 7 |
| Calhoun | 0 | 0 | 0 |
| Clay | 1 | 0 | 0 |
| Doddridge | 0 | 0 | 0 |
| Fayette | 3 | 0 | 0 |
| Gilmer | 0 | 2 | 0 |
| Grant | 0 | 0 | 1 |
| Greenbrier | 2 | 1 | 1 |
| Hampshire | 1 | 3 | 1 |
| Hancock | 0 | 1 | 0 |
| Hardy | 2 | 0 | 0 |
| Harrison | 5 | 2 | 6 |
| Jackson | 2 | 1 | 1 |
| Jefferson | 4 | 3 | 1 |
| Kanawha | 7 | 7 | 6 |
| Lewis | 2 | 1 | 1 |
| Lincoln | 0 | 0 | 2 |
| Logan | 2 | 1 | 3 |
| Marion | 0 | 3 | 1 |
| Marshall | 1 | 1 | 2 |
Fatality Rates Rural Vs. Urban
| Roadway Type | 2008 | 2009 | 2010 | 2011 | 2012 | 2013 | 2014 | 2015 | 2016 | 2017 |
| --- | --- | --- | --- | --- | --- | --- | --- | --- | --- | --- |
| Rural | 217 | 223 | 206 | 218 | 235 | 215 | 183 | 195 | 169 | 91 |
| Urban | 200 | 137 | 153 | 137 | 184 | 184 | 200 | 214 | 222 | 60 |
Fatalities by Person Type
| Person Type | 2013 | 2014 | 2015 | 2016 | 2017 |
| --- | --- | --- | --- | --- | --- |
| Passenger Vehicle Occupant | 247 | 202 | 192 | 186 | 218 |
| Motorcyclist | 24 | 26 | 32 | 29 | 26 |
| Pedestrian | 28 | 19 | 19 | 24 | 26 |
| Bicyclist and Other Cyclist | 0 | 2 | 1 | 1 | 3 |
EMS Response Time
| Location | Time of Crash to EMS Notification | Notification to Arrival | Arrival at Scene to Hospital Arrival | Time of Crash to Time of Hospital Arrival |
| --- | --- | --- | --- | --- |
| Rural | 8.98 | 16.16 | 39.61 | 55.00 |
| Urban | 5.36 | 10.22 | 29.23 | 42.48 |
Transportation
Where does West Virginia rank in commute time? How does rush-hour traffic compare to the rest of the nation? What methods do they use to get to work? We'll answer those questions and more.
Car Ownership
Commute Time
Workers in West Virginia have a shorter average commute time than the normal US worker (25.3 minutes). Additionally, 3.3 percent of the workforce in West Virginia have "super commutes" in excess of 90 minutes.
Commuter Transportation
You now have comprehensive knowledge of what you need for insurance, what you can expect your rates to be, and how to safely obey the traffic laws governing your great state of West Virginia.
Enter your ZIP code below to compare car insurance quotes to ensure the vehicle that takes you home to the place where you belong has the proper coverage at rates that are almost heaven.