Most Dangerous States for Drunk Driving (2017 Study)
Free Car Insurance Comparison
Secured with SHA-256 Encryption
UPDATED: Sep 15, 2020
It's all about you. We want to help you make the right coverage choices.
Advertiser Disclosure: We strive to help you make confident car insurance decisions. Comparison shopping should be easy. We are not affiliated with any one car insurance company and cannot guarantee quotes from any single company.
Our partnerships don't influence our content. Our opinions are our own. To compare quotes from top car companies please enter your ZIP code above to use the free quote tool. The more quotes you compare, the more chances to save.
Editorial Guidelines: We are a free online resource for anyone interested in learning more about auto insurance. Our goal is to be an objective, third-party resource for everything auto insurance related. We update our site regularly, and all content is reviewed by auto insurance experts.
View rankings table here and interactive map here.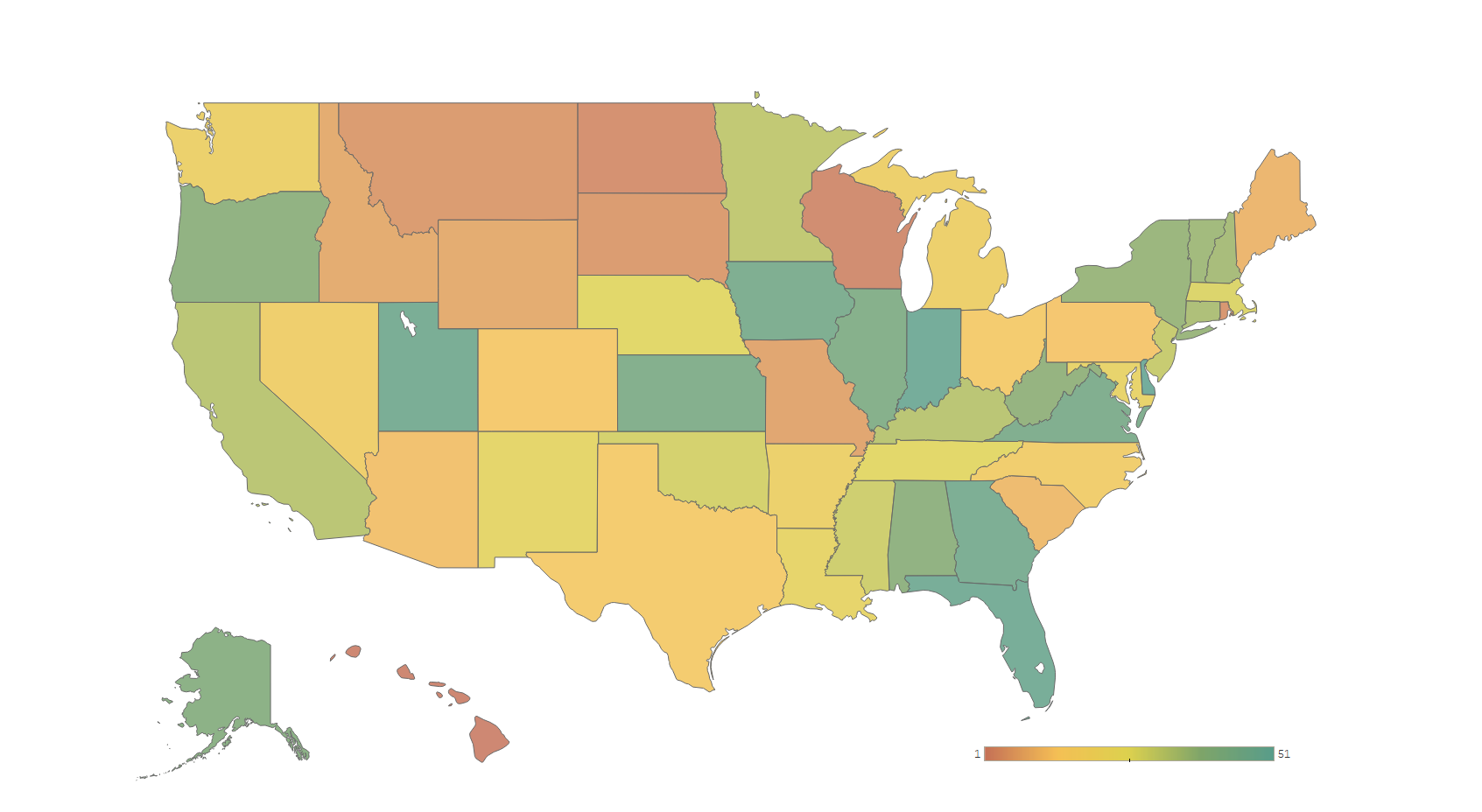 Downing a few drinks may sound like an appealing way to kick back and relax, but drunk driving can have fatal repercussions. In 2013, 28.7 million people admitted to driving under the influence of alcohol; that's more than the population of Texas!
Every two minutes, a person is injured in a drunk driving crash. Every day in the United States, another 27 people die as a result of drunk driving crashes.
Not only can drunk driving injure you and others, but it can also hurt your bank account and those of your fellow hard-working Americans. Drunk driving costs each American adult over $500 a year and the entire U.S. $132 billion a year.
If you've ever wondered about the chances of encountering drunk drivers in your state and how much they cost you as a taxpayer, keep reading to learn about the most dangerous states for drunk driving.
Review your auto policy every six months and compare three to four policies. Don't allow the price to be the only factor. Use our FREE comparison tool to get started today!
Methodology
We based our drunk driving rankings on the following categories:
Cost per Fatality by State – Drunk Driving Fatalities per 1,000,000 Population and Taxpayer Subsidy per Drunk Driving Fatality by State
Drunk Driving – Percentage of Fatal Crashes that Involved Alcohol
DUI Arrests – Arrests of Minors and Adults that were Driving Under the Influence ("DUI") related per 1,000,000 Population
DUI Penalties – State Penalties for 1st-time DUI Offenders and Repeat DUI Offenders ranked against the Nation's Average Penalties
Laws/Statutes – Percentage of Drunk Driving Fatalities by State per State's amount of Drunk Driving Laws and Statutes
We weighted the categories below and tallied for a total score. Find out more details about our categories here. The worst states received the lowest score.
[wpdatatable id=8]
For example, South Dakota was the state with the worst rating for DUI arrests (total DUI arrests per population) in 2015 and received only seven points for this category. The District of Columbia, however, had the lowest amount of DUI arrests and earned a score of 255.
We compiled all of our information using the following sources:
United States Census Bureau
Free Car Insurance Comparison
Enter your ZIP code below to view companies that have cheap car insurance rates.
Secured with SHA-256 Encryption
Top 10 Most Dangerous States for Drunk Driving

Our article will focus on the top 10 most dangerous states for drunk driving. However, you can access the rankings for all 50 states, plus the District of Columbia. Simply click here to view the rest of the data.
Although Utah didn't make this year's top ten list, it's worthwhile to note that they are in the process of trying to lower their blood alcohol limit from .08 to .05. That would be the lowest limit in America. That change will be worth watching for next year's study.

#10 - Maine
Best Ranking Factor:
DUI Penalties: 35th
Worst Ranking Factor:
DUI Arrests: 5th
Coming in at #10, Maine has the fifth highest amount of DUI arrests. Perhaps that's why it also ranks higher for DUI Penalties.
A penalty for the first offense did not have a mandatory minimum, which contributed to Maine ranking better for DUI Penalties.
This state — known for lighthouses, lobsters, L.L. Bean, and famous writers — may not boast much good news when it comes to DUIs, but hopefully next year, we'll get to kick Maine off the list.
#8 - Wyoming (tie)
Best Ranking Factor:
Fatality Rank: 30th
Worst Ranking Factor:
DUI Arrests: 3rd
Wyoming sits right behind North Dakota (2nd place) and South Dakota (1st place) as the worst for DUI arrests. Fifty-four percent of Wyoming's population (586,107 total population) was arrested for a DUI in 2015. You read that right!
Wyoming is also in 4th place for Laws/Statutes. Yikes.
Thankfully, their fatalities aren't as numerous as some other states, but "The Equality State" still has much to improve on when it comes to DUIs.
#8 - Idaho (tie)
Best Ranking Factor:
Cost per Fatality: 28th
Worst Ranking Factor:
DUI Penalties: 3rd
Sliding in at the 24th spot, Idaho also did decently well for Fatality Rank. It could have been much worse!
Other than DUI Penalties, Laws/Statutes needs some work, as Idaho placed 7th in this category.
Their motto may be, "It is forever," but hopefully that won't be the case for DUIs! We would love to see a positive shift in their scores going forward.
#7 - Missouri
Best Ranking Factor:
Laws/Statutes: 49th
Worst Ranking Factor:
Fatality Rank: 5th
Missouri was one of three states — the other two being South Dakota and Vermont — that all shared one thing in common: no mandatory minimum sentencing for a DUI's second and third offense.
However, the laws against drunk driving don't seem to be saving lives, which is surprising, as there are only two DUI laws that Missouri doesn't enforce.
Or maybe what Missouri ranks in fatalities is why they have so many laws against drunk driving.
"The Show-Me State" shows some promise of inhibiting DUIs, but the people of Missouri need to carefully follow the laws to decrease fatalities.
#5 - South Dakota (tie)
Best Ranking Factor: DUI Penalties: 47th
Worst Ranking Factor: Laws/Statutes, DUI Arrests: 1st
In South Dakota, it looks like the laws enforced to fight drunk driving are not making an impact, as SD also has the worst score for DUI arrests.
But heavy penalties may make people think twice before driving drunk. After all, this state shares the 47th spot for DUI Penalties with Alaska.
Both South Dakota and Alaska have a $4,000 minimum fine for a DUI's third offense, which is the second highest minimum fine in the country.
Indiana and Texas hold the number one spot for the most expensive minimum fine for a third offense at $10,000.
#5 - Montata (tie)
Best Ranking Factor:
Fatality Rank: 27th
Worst Ranking Factor:
Cost per Fatality: 1st
Montana's total score of 15 points tied with South Dakota's. But since this state is the only one that tops North Dakota with a $435.65 taxpayer subsidy, Montana ranks the worst in Cost per Fatality.
There may be more daredevils in Montana costing their fellow taxpayers the highest price per fatality in the U.S., which is not surprising considering this state is home to famed daredevil Evel Knievel.
#4 - Rhode Island
Best Ranking Factor:
DUI Arrests: 37th
Worst Ranking Factor:
Fatality Rank: 1st
Rhode Island may only be 1,214 square miles total, but it still packs a punch. People flock to major metro areas like Providence. More people and congested streets could equal trouble.
On the downside, Rhode Island tied with Hawaii for first place in fatalities. Unfortunately, Rhode Island also got second place for Laws/Statutes. Although this state is best at keeping down DUI arrests, its people need to brush up on the laws before hitting the road.
#3 - North Dakota

Best Ranking Factor:
DUI Penalties: 22nd
Worst Ranking Factor:
Cost per Fatality, DUI Arrests: 2nd
North Dakota might be massive as far as land mass is concerned (the 19th largest in the U.S.), but it only has a total population of 756,927.
At a close 21st place, Fatality Rank was North Dakota's second best ranking factor.
But both the Cost Per Fatality and DUI Arrest numbers are too high. As a taxpayer, each North Dakota state resident has to pay an average subsidy estimate of $400.30 because of drunk driving fatalities.
North Dakota, please don't drink and drive!
#2 - Wisconsin
Best Ranking Factor:
Cost per Fatality: 31st
Worst Ranking Factor:
Fatality Rank: 3rd
It's not surprising that Wisconsin holds the second spot in our top ten, considering the role alcohol plays in this state:
Copious amounts of alcohol are expected at tailgating parties for the Green Bay Packers.
Wisconsinites love brandy.
If they plan on sobering up, they switch to beer.
Cheeseheads are all about the beer and cheese tastings; there's no need for the fancy wine and cheese parties.
Along with Wyoming and Idaho, "The Badger State" also holds third place in a Worst Ranking Factor. Overall, Wisconsin didn't do well in the worst ranking categories: It's also seventh in DUI Penalties and ninth in DUI Arrests.
Step it up, guys!
#1 - Hawaii
Best Ranking Factor: Laws/Statutes: 35th
Worst Ranking Factor: Fatality Rank: 1st
Now we've made it to number one on our list. Unfortunately for Hawaii, this list isn't for top vacation spots.
If you've dreamed of saying "aloha" to this vacation destination, keep in mind that you may be in jeopardy while on the road, as Hawaii ranks number one for drunk driving fatalities.
Consequently, Hawaii's best ranking factor is their laws and statutes against drunk driving. The only law they don't have on the books is an increased penalty for refusing to take a breathalyzer test. This law could help a little, but there's still much to do to prevent people from driving drunk.
Beautiful Hawaii, let's see some major improvements by next year!
Highlights and Trends
North Dakota, South Dakota, and Wyoming are neighbors and share the top three of the top four spots for DUI Arrests. It's worth noting here that these three neighboring states all ranked on last year's top 10 list. They also shared three out of the top six for DUI Arrests.
What's more, this study from 2016 (see also, this study from 2015 and this study from 2014) have these three states ranked high for alcohol consumption.
The most recent study points out cultural factors may be in play as well geography — rural western states tend to drink more beer. We can conclude that the higher rate of consumption is leading to more arrests based on this year-to-year trend.
Next, small states with a large population generally have a higher fatality rank.
Rhode Island and Hawaii both share the number one spot for Fatality Rank. Rhode Island is the smallest U.S. state in land area, and Hawaii is the eighth smallest state. With a population of 1,431,603 as of 2015, Hawaii is the 13th most populated state, and Rhode Island has a population of 1,056,298.
There are 26 states — over half of the U.S. — with no mandatory minimum sentencing for a DUI's first offense. No mandatory minimum sentencing means that a judge could sentence a defendant to "0 days" or a fine of "$0." Although this might be rare, the possibility of lower penalties might not discourage drunk driving like we would like.
Eight out of the top 10 most dangerous states for drunk driving held first through third places in their worst factors, except for Maine and Missouri, which both got fifth place in their category.
Don't Drink and Drive
You can make an impact by choosing not to drink and drive. And if you live in one of these most dangerous states, be vigilant and encourage your friends and family to practice safe driving and — better yet — self-control with alcohol consumption.
Here are some tips if you're drinking with friends or family:
Plan ahead by collecting car keys when guest arrive
Drink responsibly / pace yourself when drinking
Cut off drinks an hour before your gathering ends
Always offer non-alcoholic drinks
Always have food along with drinks
Arrange for alternate transportation (i.e., taxi, Uber, Lyft, designated driver, etc)
Offer to let people stay with you if necessary
State Farm gives these tips if you're on the road. Watch for drivers who are:
"Making wide turns
Weaving, swerving, drifting, or straddling the center line
Almost striking an object or vehicle
Driving on the wrong side of the road
Driving at a very slow speed
Stopping without cause
Braking erratically
Responding slowly to traffic signals
Turning abruptly or illegally
Driving after dark with headlights off"
Call 9-1-1 if you see these signs while driving or if you have a friend who you know is driving under the influence and cannot be immediately stopped.
Free Car Insurance Comparison
Enter your ZIP code below to view companies that have cheap car insurance rates.
Secured with SHA-256 Encryption
Complete Rankings: Worst on Combating Drunk Driving
– To view and sort the table by category, click on header columns.
– Click here for the full stats and sources for each category.
For all media inquiries, please email: Joshua Barnes

Our study implemented weighted measures to demonstrate the impact each manifestation of a category can have on a person, community, and state. Each weight represents the severity of the category. Definitions for each category can be found here.
| STATE | COST PER FATALITY | DUI ARRESTS | DUI PENALTIES | LAWS & STATUTES | TOTAL SCORE | RANK |
| --- | --- | --- | --- | --- | --- | --- |
| Alabama | 0.50 | 11.25 | 6.60 | 4.10 | 30.15 | 39 |
| Alaska | 4.60 | 1.75 | 10.00 | 0.80 | 31.50 | 41 |
| Arizona | 3.90 | 5.00 | 2.20 | 3.80 | 18.75 | 12 |
| Arkansas | 2.40 | 10.00 | 3.00 | 3.30 | 23.95 | 20 |
| California | 3.40 | 3.75 | 6.20 | 3.60 | 28.85 | 32 |
| Colorado | 3.60 | 1.00 | 4.80 | 4.00 | 21.10 | 14 |
| Connecticut | 0.80 | 10.25 | 8.80 | 2.60 | 29.10 | 34 |
| Delaware | 4.80 | 12.25 | 6.80 | 2.80 | 42.05 | 51 |
| District of Columbia | 1.30 | 12.75 | 4.40 | 1.90 | 32.25 | 42 |
| Florida | 2.70 | 11.75 | 8.60 | 4.80 | 41.85 | 49 |
| Georgia | 4.40 | 10.75 | 5.80 | 3.10 | 38.40 | 47 |
| Hawaii | 2.20 | 2.50 | 1.00 | 3.50 | 9.55 | 1 |
| Idaho | 2.80 | 3.25 | 0.60 | 0.70 | 15.75 | 8 |
| Illinois | 4.30 | 12.50 | 9.80 | 4.40 | 32.40 | 43 |
| Indiana | 3.20 | 10.50 | 9.40 | 4.50 | 41.95 | 50 |
| Iowa | 1.90 | 6.25 | 9.00 | 1.60 | 34.85 | 46 |
| Kansas | 1.80 | 7.50 | 6.20 | 4.70 | 33.85 | 44 |
| Kentucky | 2.40 | 4.75 | 0.80 | 3.40 | 28.85 | 32 |
| Louisiana | 0.80 | 12.00 | 7.20 | 2.10 | 24.55 | 23 |
| Maine | 2.20 | 1.25 | 7.00 | 2.40 | 17.40 | 10 |
| Maryland | 4.60 | 7.75 | 4.00 | 1.40 | 24.40 | 22 |
| Massachusetts | 3.80 | 11.50 | 7.40 | 1.30 | 27.50 | 27 |
| Michigan | 4.00 | 7.25 | 0.20 | 2.60 | 23.50 | 19 |
| Minnesota | 5.00 | 1.50 | 9.20 | 2.20 | 28.75 | 31 |
| Mississippi | 0.30 | 9.00 | 5.20 | 3.70 | 28.35 | 29 |
| Missouri | 1.40 | 5.25 | 2.40 | 4.90 | 15.70 | 7 |
| Montana | 0.10 | 1.75 | 3.40 | 0.30 | 15.00 | 5 |
| Nebraska | 3.30 | 5.50 | 3.00 | 1.70 | 26.10 | 26 |
| Nevada | 3.70 | 8.75 | 5.00 | 1.00 | 22.65 | 18 |
| New Hampshire | 1.50 | 3.50 | 8.40 | 4.20 | 29.15 | 35 |
| New Jersey | 4.00 | 8.25 | 5.40 | 5.00 | 28.60 | 30 |
| New Mexico | 1.00 | 2.75 | 3.60 | 1.20 | 24.65 | 24 |
| New York | 3.40 | 11.00 | 2.80 | 3.90 | 29.50 | 37 |
| North Carolina | 1.90 | 3.00 | 0.40 | 1.10 | 22.50 | 17 |
| North Dakota | 0.20 | 0.50 | 4.40 | 0.90 | 13.35 | 3 |
| Ohio | 4.90 | 6.75 | 1.40 | 3.10 | 22.10 | 15 |
| Oklahoma | 1.20 | 7.00 | 1.80 | 2.90 | 28.30 | 28 |
| Oregon | 4.20 | 8.50 | 10.20 | 2.00 | 30.15 | 39 |
| Pennsylvania | 2.80 | 4.00 | 1.20 | 0.60 | 19.80 | 13 |
| Rhode Island | 3.00 | 9.25 | 1.80 | 0.20 | 14.60 | 4 |
| South Carolina | 0.40 | 5.75 | 7.60 | 2.20 | 17.70 | 11 |
| South Dakota | 0.70 | 0.25 | 9.40 | 0.10 | 15.00 | 5 |
| Tennessee | 1.50 | 6.25 | 5.60 | 3.00 | 24.75 | 25 |
| Texas | 1.10 | 9.50 | 8.20 | 0.50 | 22.10 | 15 |
| Utah | 5.10 | 6.00 | 5.80 | 5.10 | 39.85 | 48 |
| Vermont | 2.10 | 4.50 | 3.80 | 1.80 | 29.35 | 36 |
| Virginia | 2.40 | 9.75 | 7.80 | 1.50 | 34.75 | 45 |
| Washington | 4.40 | 4.25 | 8.00 | 4.50 | 23.95 | 20 |
| West Virginia | 0.60 | 8.00 | 4.20 | 4.30 | 29.70 | 38 |
| Wisconsin | 3.10 | 2.25 | 1.40 | 2.40 | 10.20 | 2 |
| Wyoming | 1.50 | 0.75 | 2.60 | 0.40 | 15.75 | 8 |