The World's Worst Drivers (With Video Proof)
This list of the world's worst drivers will inspire you to pay closer attention the next time you're on the road.
Free Car Insurance Comparison
Secured with SHA-256 Encryption
UPDATED: May 22, 2020
It's all about you. We want to help you make the right coverage choices.
Advertiser Disclosure: We strive to help you make confident car insurance decisions. Comparison shopping should be easy. We are not affiliated with any one car insurance company and cannot guarantee quotes from any single company.
Our partnerships don't influence our content. Our opinions are our own. To compare quotes from top car companies please enter your ZIP code above to use the free quote tool. The more quotes you compare, the more chances to save.
Editorial Guidelines: We are a free online resource for anyone interested in learning more about auto insurance. Our goal is to be an objective, third-party resource for everything auto insurance related. We update our site regularly, and all content is reviewed by auto insurance experts.
Here's what you need to know...
Most people claim to be good drivers but fail to disclose the details of the last accident
Haphazard driving can have serious consequences
Defensive driving courses can help you avoid causing accidents
Everyone says they are good drivers, but you'll notice they don't tell you about their missing front bumper or dents in their car door. Being a good driver is more than parallel parking. It takes you paying full attention when you are behind the wheel.
Don't think that you need car insurance? Think again. With these people on the road, you can't be too careful…
It's sad but true: not everyone can be a good driver. Here's a look at some of the worst car fails ever, just to show you that it's better to be safe than sorry out on the road. This is how not to drive your car.
#1 – Oil Change Flop
Did you know that when you go to get your oil changed, and you drive your car into the service bay, there's a big, gaping hole in the floor for the service technicians to work on your car? Maybe that's not common knowledge for terrible drivers.
That's going to end up costing more than the regular $29.99 service, but thanks for trying.
Free Car Insurance Comparison
Enter your ZIP code below to view companies that have cheap car insurance rates.
Secured with SHA-256 Encryption
#2 – Mall Drive-Through
If you're going to do some late night shopping, you might as well do it in style. This logic must have been the thought behind this guy's decision to drive his SUV right through a mall. Fortunately, security cameras captured all the action, including some pretty weak entrance doors that this SUV busts through.
At the end of the clip, you can see the man resisting arrest. Apparently, he is convinced that he's an awesome driver instead of a felonious fool.
#3 – Right into the Restaurant
About a dozen people were enjoying their meal at a pizzeria when a car came right into the restaurant. Witnesses say that a woman was attempting to move the car to a close spot in the parking lot while in the passenger seat.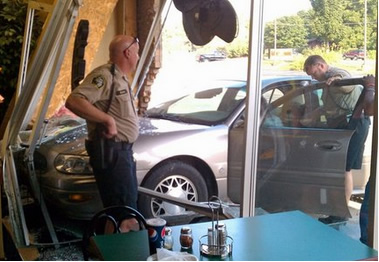 In related news, automakers have created a new safety feature that requires someone to be in the driver's seat to operate a vehicle, in order to prevent pure stupidity.
#4 – Screw Paying this Toll!
Sick of paying for tolls? Well, what are you going to do about it? You could try driving really fast in the hope of launching yourself right over the toll. If you've seen enough action movies, you know that's gotta work.
And, of course, the aftermath:
Free Car Insurance Comparison
Enter your ZIP code below to view companies that have cheap car insurance rates.
Secured with SHA-256 Encryption
#5 – Six-Year-Old Drives Car to School after Missing Bus
A six-year-old boy hit a telephone pole on his way to school after he missed the bus and decided to take his mom's Ford Taurus so that he could get there. He almost made it, too: The accident happened about a mile and a half from the school, after a ten-mile journey.
How did the boy learn how to drive? The video games Grand Theft Auto and Monster Truck Jam, of course. So, the next time you see a really bad driver out on the road, it may be your typical six-year-old that didn't make the bus, just trying to make sure he gets his education.
#6 – Crashing Into a House is Not Enough, You've Got to Level Up!
Yeah, we've all seen those silly pictures of some car crashed into a house. But how about a car that hits a dirt berm, launching itself into the second story of a house. It's true, even though the picture looks like something out of a movie.
#7 – ???
We're not sure what it would take to be a worse driver than this, but we're certainly open for some suggestions. With pictures. Or video.
Now that you have seen video PROOF of the crazies that are driving around why not do some comparison shopping to get the best car insurance coverage possible? Enter your zip to compare quotes from many different car insurance companies now!