Marijuana, Driving and Car Insurance [Complete Guide 2020]
Crash rates increase by about 30% and fatalities involving THC-positive drivers more than double after legalization. Get all the details you need to be a safe user and a safe driver.
Free Car Insurance Comparison
Secured with SHA-256 Encryption
It really doesn't matter what you call it — marijuana, grass, pot, weed, ganja, Mary Jane, dope, chronic, reefer, skunk, wacky tobaccy, or hash — how you use it or what state you live in doesn't prevent penalties or provide protection when you get behind the wheel.
Unfortunately, we aren't here to reveal the uber-magic secret to how much weed you can smoke and how long to wait after your high to prevent an accident, DUI, or fatality — in fact, no one has determined the exact science behind it all.
However, we're here to outline and describe:
State laws regardless of legalization status
What drug-impaired driving looks like
What to expect if you're pulled over while driving high
The various types of observational and chemical testing
How your chances of a car crash or fatality (your own or others) increase while driving high
How marijuana use or conviction affects your car insurance rates
So, dude — sit back, pack a bowl, and experience true enlightenment. Just promise us you don't plan to get behind the wheel for at least two to five hours after smoking or 10 hours after consuming an edible.
Start comparison shopping today by entering your ZIP code in our FREE online tool above.
Marijuana and Driving — States at a Glance
As a marijuana consumer, before you get behind the wheel, know the laws in your state. And if you plan to visit a state in which possession, consumption, or sales are legal, be sure to be familiar with their laws as well.
Laws differ for those who are recreational, adult consumers and those who have been prescribed medicinal marijuana or are registered consumers of medical marijuana.
In this article, we focus mainly on adults with an intent to consume marijuana recreationally. We also don't include laws regarding possession of plants for cultivation.
What states have legalized and decriminalized marijuana?
As of 2019, 11 states and the District of Columbia have legalized both medicinal and recreational marijuana. However, not all have begun selling it at retail outlets. For states that haven't established recreational dispensaries, your purchase will still be made "on the streets."
If you live in one of the states in the table below, the recreational or medicinal use of marijuana is completely legal.
Consequently, each state has its own regulations on the amount and forms of consumables that can be on your person and where the weed must be stored if in your vehicle.
In fact, several states permit medicinal users to possess nearly twice as much marijuana or permit at-home cultivation.
Possession of marijuana is legal only for those who are 21 years and older. Anyone younger than 21 or anyone of legal age and providing pot to a minor will likely pay a fine or may serve jail time.
As you can see in the table above, most states that have legalized recreational use of marijuana limit, at a minimum, total real-time possession to 28 grams.
How much weed is 28 grams? To find out, watch this video from the Colorado Pot Guide.
You can see that 28 grams (one ounce) is at least 30 buds, if not more. Even if you consume marijuana responsibly at home and not get behind the wheel, it would be difficult to consume that much in only one day, which is the typical purchase and possession limit in most states that permit retail dispensaries.
In general, marijuana can't cross state lines (even if it's legal in the next state).
If you're going to make a purchase, be sure to purchase only the amount you plan to consume during your visit.
And don't try to mail it to yourself either — you will get caught.
What states have not legalized or decriminalized marijuana?
So what's the story on the other 40 U.S. states?
Purchasing and transporting CBD oil containing 0.3 percent of THC or less is legal across all states. Some states have legalized medicinal marijuana, which requires a prescription or state-regulated user registration.
Many of the states that permit sales of medicinal or recreational marijuana have initiated partnerships with other states in which medicinal marijuana is legalized, but they don't permit or manage dispensaries.
Free Car Insurance Comparison
Enter your ZIP code below to view companies that have cheap car insurance rates.
Secured with SHA-256 Encryption
Marijuana and Impaired Driving
Now, here comes the fun part.
You now know where and how it's legal, but the big question is what happens when marijuana and driving collide?
In the following sections, we'll examine how marijuana use affects driving, how authorities test for it, what driving under the influence of drugs (DUID) looks like, and how this could affect your car insurance policy and rates.
Does marijuana use affect driving?
Shoulder shrug? We get it.
To begin to answer this question, we can turn our attention to the states that have legalized recreational cannabis within the last eight years or so: Washington state and Colorado.
Both states legalized recreational marijuana in 2012, so they're beginning to collect data that looks at the relationship between feeling high and the ability to drive.
Interestingly, surveys with Washington state residents in 2014 revealed that many people feel they drive better when high.
The same survey showed that 44 percent of drivers reported that they had driven within two hours of using marijuana in the past year.
To understand the difference between perception and reality, we need to dig into the science behind it all.
Check out this experiment to begin to understand the inconsistency between perceived high, actual blood level content, and how it affects different types of people.
As you can see in the video, many (quite unpredictable) factors go into measuring that high feeling and correlating it with driving skills.
However, one thing is most certainly clear:
Driving while high impairs several psychomotor skills and cognitive functions as shown in the graphic below.
Andrew Kukawka, Founder and CEO of a company that developed the cognitive impairment detection app called Otorize, explains it this way:
"… in the chemistry of cannabis, the THC gets attached to the protein in fat cells; and in that case, every one of us is completely different. So that means that the THC stays in your body and physiologically affects the individual differently from person to person… two people can smoke at 8 a.m., one could be fine two hours later while the other person will have to wait 12 hours, simply because it affects their systems differently."
How high is too high to drive?
The easy answer is no high at all because the majority of adults in the United States must operate a vehicle to maintain a reasonable livelihood, and you've already seen how marijuana use impairs driving.
The truth is that, in 19 states, a specified amount of THC in the blood can result in a driving under the influence of drugs (DUID) charge, even if the driver didn't recently consume marijuana.
However, a great deal must be done to prove that a driver's blood contains THC, even in the 33 states where there is no specified drugged driving law.
Later in this article, we take a closer look at the THC blood levels permitted in those 19 states.
The bottom line:
If there's a fatality involved, whether it's the driver or a passenger in any vehicle or pedestrian, the chances are good that THC blood level testing will be conducted.
We dig into the science behind THC blood level testing later in this article.
As mentioned previously, marijuana impairs some of the psychomotor skills and cognitive functions needed for driving. Closed environment testing is certainly enlightening, but is that truly practical for everyday users?
If you do consume marijuana occasionally or regularly and you question your driving ability, there's an app for that.
Believe it or not, an app can actually test some of the skills needed to drive, which may include:
Motor coordination
Divided attention
Alertness
Reaction time
The app DRUID® measures the effects of alcohol, drugs, fatigue, or injury based on reaction time, balance, and performing divided attention on tasks.
Check out their video to learn more about how this app measures impairment to keep you from getting behind the wheel while high.
For only 99 cents on iPhone or Android phones, you can get results in as little as 2 minutes. That's only 10 percent of the average price of a pre-rolled joint of one gram of marijuana, which is about $10.
We'll spare you the math if you cause a fatal accident driving while high.
How long should I wait after smoking marijuana before I drive?
Published research says that for some people, after using marijuana, it can take up to three hours for THC levels to drop below five ng/ml, which is the maximum legal limit in the four states that have specific drug-impaired driving laws.
THC levels could take longer to drop depending on body size and gender.
In the next section, we'll investigate the wide variety of police-trained observation methods and what various tests will (or won't) determine.
For now, let's take a look at the assumptions and findings researchers and legal authorities have had about THC levels, perceived high, and driving skill.
The cross-analysis of three different studies shows the inconsistent correlation between THC blood levels, subjective high, and performance, as shown in the graph below.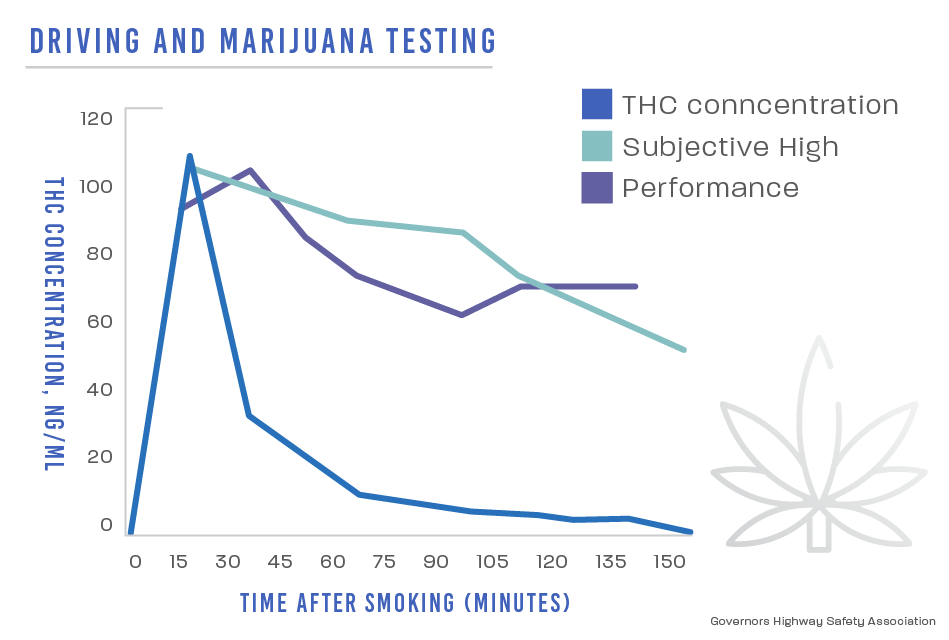 To give you an idea of how quickly THC levels increase in your blood, eight puffs were taken in the first 10-15 minutes.
Here are a few interesting conclusions pulled from the study:
Within the first 20 minutes, THC levels are highest.
Between 20 minutes and 40 minutes, performance ability increases but then begins to decrease, leveling out around two hours.
Subjective high is highest when THC levels are highest. However, THC levels drop more rapidly and more quickly than subjective high.
THC levels max out at over 100 ng/ml within the first 20 minutes but continue to exceed five ng/ml well into two hours after eight puffs.
The graph from the study shows only results for smoking weed and not consuming edible forms, which may take longer to initiate a subjective high and stay in your system much longer.
The Washington State Liquor and Cannabis Board encourages marijuana smokers or vapors to wait at least five hours before getting behind the wheel and recommends those who consume edibles to wait 10 hours.
So what happens if you underestimate and get behind the wheel? What risks are you taking?
What happens if I get pulled over while driving high?
Many officers are trained to recognize symptoms of impairment. However, it's fairly easy to prove impairment from alcohol with a breathalyzer. Detecting marijuana is a little more scientific and challenging, as evidenced by Canadian officials.
All jokes aside, the American Addiction Centers reports that signs of marijuana use may include:
Bloodshot eyes
Increased heart rate
Sleepiness
Poor coordination
Delayed reaction time
Increased appetite
You may be thinking… duh. But here's the truth:
An officer can't convict you of driving while impaired by marijuana by making only these observations.
Besides, you may have just gotten off work, haven't slept in 18 hours, your lunch break was six hours ago, and you have severe allergies. And most people don't have a normal heart rate when pulled over.
So what would be an officer's next step?
Do standardized field sobriety tests really determine if someone is impaired?
Officers are much like doctors:
They need to rule out other complications before making an official diagnosis. Often times, an officer will default to a standardized field sobriety test (SFST) which might include a Preliminary Breath Test (PBT).
If a driver blows higher than the nationwide legal alcohol limit of 0.08 percent BAC, typically, the officer will charge the driver with a DUI and not even worry about moving further, even if the officer suspects marijuana use.
Testing of other impairment-inducing drugs (including marijuana) is initiated only if alcohol use isn't present or if the observed impairment doesn't correspond to the driver's BAC level as detected by a PBT.
In essence, an SFST or PBT is only the first step in detecting any form of impairment.
What else can an officer do? Let's investigate this a little further.
Why is it so difficult to properly identify stoned drivers?
A 2014 study conducted in the Miami area determined that around 20 percent of drivers are under the influence of alcohol AND marijuana or another drug.
So what about the remaining 80 percent? How does an officer determine if a driver is under the influence of drugs if little or no BAC level is detected?
Every officer that completes basic police academy training will have the skills and equipment to perform an SFST and PBT.
However, additional training is common and comes from Advanced Roadside Impaired Driving Enforcement (ARIDE), a 16-hour course that includes training in recognizing signs and symptoms of marijuana and opioid use based more closely on specific observed behaviors.
In 2018, 17 states reported that more than 20 percent of their officers were ARIDE trained. In 2015 alone, over 10,350 officers completed the training.
Based on 2015 figures alone, an average of 207 officers per state have undergone advanced roadside impaired driving detection training.
Officers that were ARIDE trained from 2009 to 2015 was estimated to total over 55,000.
We doubt you want to take that chance.
Beyond SFSTs, PBTs, and ARIDE training, there's even more that officers can do to detect marijuana use.
What happens if I'm arrested for driving while high?
If an officer has ruled out alcohol or deduces that your behavior doesn't indicate alcohol impairment, then expect to be sent down to the station for further examination.
At the station, you'll undergo a 90-minute, 12-step examination by a drug evaluation and classification-certified drug recognition expert (DRE).
Officers with the DRE credential have completed 72 hours of training in the classroom and 40 to 60 hours of field training.
DREs are specially trained to identify signs and symptoms of impairment caused by various categories of drugs (especially marijuana). The 12 steps of the evaluation include:
Breath alcohol test
Interview of the arresting officer
Preliminary examination and first pulse
Eye examination
Divided attention psychophysical tests
Vital signs and second pulse
Dark room examinations
Examination for muscle tone
Check for injection sites and third pulse
Subject's statements and other observations
Analysis and opinions of the evaluator
Toxicological examination
Surprisingly, there isn't a direct correlation between the legalization of marijuana to the total number of DREs in each state, as shown in the table below. Those states marked with an asterisk (*) are those which have legalized recreational marijuana use.
For example, in Colorado and Washington, where recreational marijuana use has been legalized since 2012, there is less than half the number of DREs as there are in California, which legalized recreational marijuana use two years later in 2014.
Both Texas and New Jersey (extremely different in size and population) fall within the range of the second largest number of DREs in the nation.
Individual states may seek funding from different sources or put greater importance on convicting those who drive under the influence of drugs due to perceived or actual crime rates.
Let's now take a closer look at the various types of chemical tests used by an arresting officer or DRE.
Driving, Marijuana Testing and DUID
There are several ways to test for drugs in the system — some are more reliable and accurate than others. Three types of tests are currently in use:
Oral fluid screening
Urine test
Blood test
As of 2018, 45 states permit electronic warrants for a blood test, which is the most accurate test of THC levels, though results will differ from person to person. Electronic warrants can be requested and issued fairly quickly, particularly if there's a fatal car crash.
What evidence can be used to convict someone of a drug DUI?
Oral fluid screenings can certainly test for the presence of marijuana or opioids, but they can't measure the amount of THC or provide admissible evidence. However, in states with a zero-tolerance for THC, it's all that's needed.
As of 2017, 14 states permit officers to collect roadside oral fluid tests. They're quite affordable at $20 per test and produce results in under five minutes.
The 14 states that permit roadside oral fluid tests aren't provided in our source, but the 11 zero-tolerance states are listed below. Those states marked with an asterisk (*) are those which have legalized recreational marijuana use.
Arizona
Georgia
Delaware
Indiana
Iowa
Michigan*
Oklahoma
Rhode Island
South Dakota (applies only to drivers under age 21)
Utah
Wisconsin
Urine tests aren't commonly used to identify drug-impaired drivers due to limited (timely) access to specialized analytical equipment.
Blood tests are the most accurate. However, without a phlebotomist at the station or a certified DRE, the driver will need to be taken to a hospital or clinic, which will cause further delay and give drug concentrations significant time to decrease.
The downside to blood tests is that they're very expensive, ranging between $250 and $300 in states such as Vermont and Colorado.
In some cases, private laboratories must be used, which can cost even more. Plus, these labs are often backlogged up to six months and drug detection thresholds aren't standardized statewide.
Is there a pot breathalyzer test?
Yes, and it may become available as early as January 2020. The Hound Labs breathalyzer tests the presence of THC in the breath as well as BAC alcohol limits.
So how does it work?
The device is said to measure THC accurately in breath molecules in parts per trillion. Dr. Lynn tells NPR, "THC is something like a billion times less concentrated than alcohol. That's why it hasn't been done before because it's really hard. It's taken us five years to overcome those scientific obstacles."
With a retail price of $5,000 per unit and $20 each for a single-use cartridge, the device will likely be most used (at least at first) by manufacturing and construction companies with employees responsible for operating heavy equipment.
Hound Labs founder and CEO, Dr. Mike Lynn, claims his device can detect if marijuana (through smoking, vaping, or ingesting) has been consumed within the last two to three hours.
The weakness of the device is that it doesn't report the amount of THC in the breath, the amount of THC that was consumed, or the presence of behavioral impairment.
Therefore, the Hound Labs pot breathalyzer doesn't satisfy current per se laws in 19 states — four of which have legalized recreational use of marijuana.
Watch the following story from the Today Show to get the details.
Another company, Cannabix Technologies, has also created a pot breathalyzer but has not announced it as available on the market.
Can a driver refuse to be tested for marijuana?
Most states operate under implied consent because when individuals apply for a driver's license, they give consent to field sobriety tests and chemical tests, but it depends on the state which tests fall under implied consent. Those states marked with an asterisk (*) are those which have legalized recreational marijuana use.
Implied consent doesn't extend to drug testing (only to alcohol) in only four states: Alaska*, New Jersey, Massachusetts*, and Alabama.
Implied consent extends to urine testing but not blood testing in Oregon*.
Implied consent extends to blood testing but not urine testing in:
Maryland
New Mexico
Pennsylvania
Tennessee
Texas
Vermont*
Virginia
Washington*
West Virginia
Also, if you live in any of the following states, implied consent applies to an oral fluid or saliva drug test:
Arkansas
Colorado*
Michigan*
Missouri
New York
North Dakota
Oklahoma
Utah
If your state isn't included in the lists above, that means by getting a driver's license, you consent to the testing of drugs in your blood, urine, and the arbitrary category of other bodily substances.
A driver can still refuse a DRE evaluation or chemical test if no warrant is issued. Many states have established consequences for refusal, which may equal the consequences for failing the test or may result in immediate suspension of their driver's license.
In 2015, 31 percent of Colorado drivers arrested for a possible DUID actually did refuse to submit to a chemical drug test.
With an electronic warrant system in use in some states, it doesn't take much time for a judge to issue a warrant to a roadside officer via a mobile device no matter what type of test is used or whether you refuse.
What are the cutoff concentrations for drug tests?
It depends…
The laws differ from state to state (regardless of legalization). Interestingly, 33 states don't have specific drug-impaired driving laws, but a statute does exist that requires proof of impairment based on documented behavior and documented drug use.
However, 19 states do have specific laws regarding levels of THC in the blood.
Those states in the table below marked with an asterisk (*) are those which have legalized recreational marijuana use.
Five nanograms per milliliter of blood is the highest level of THC any state that has legalized recreational marijuana will allow before issuing a DUID.
Some states issue a DUID for having as little as 1 ng/ml while others hold a zero-tolerance for any amount of THC in the blood.
You may be asking: How are nanograms measured?
A nanogram is one billionth of a gram. A gram is about 1/30 of an ounce, but the way a person metabolizes THC can vary.
Observational research reports that some people may still exhibit impaired behavior with less than five ng/ml of THC in their blood.
The graph we displayed earlier shows that within the first 20 minutes of taking eight puffs, THC blood levels spike as high as 100 ng/ml.
You just can't risk it.
Do I get off the hook if I use medical marijuana?
Though more states have legalized medical marijuana than have legalized recreational marijuana, there is no need to keep your state registration card as a medical marijuana user in your car — it will serve no purpose except to purchase.
Driving while impaired laws apply to everyone, no matter the law regarding marijuana use. Your doctor may write a prescription for you, but they have no authority when it comes to the law.
What are the penalties of a DUID conviction?
Each state's law on DUID conviction is specific to that state regardless of the status of the legalization of recreational or medical marijuana use.
Some states enforce the same penalties no matter what impairs a driver — alcohol, marijuana, or other types of drugs. Other states have standardized additional drug-impaired driving penalties on top of the penalties for a DUI-alcohol.
Those states that don't specify a difference between an alcohol DUI and a marijuana DUI will leave your fate to the discretion of a judge.
If a roadside oral fluid screening is positive in a zero-tolerance state, or a blood test reveals THC levels in excess of state law, you can bet you'll face the consequences.
However, there are often bleaker penalties for driving while high.
Marijuana, Car Accidents and Fatalities
Now that you know the details on DUIs, let's examine a more extreme consequence of driving while high.
States that have legalized recreational marijuana have been tracking crash rates and fatality rates even before it was legalized.
The comparisons are quite striking.
What do studies show about how marijuana use and driving affects car crash rates?
A direct correlation between recreational marijuana legalization and increased crash rates can't be determined; however, the IIHS does provide data on crashes that are reported by police in three states to neighboring control states.
Colorado, Oregon, and Washington experienced a 5.2 percent increase in police-reported crash rates per registered vehicle after retail sales of marijuana began.
In addition, the GHSA report published in 2018 estimated that the effects of marijuana may generally increase crash risk by 25 to 35 percent.
GHSA's estimation is echoed by an NHTSA study conducted in 2015 which determined the crash risk to increase by 25 percent.
Several other researchers in meta-analyses of 68 independent studies found the crash risk increase to be somewhere between 20 and 36 percent.
Car insurance companies may already be in the know and have already adjusted rates based on the increased risk of crashes, but it's difficult to say conclusively.
Does marijuana use in legal states lead to higher car accident fatalities?
GHSA, yet again, brings us some telling information about THC-positive drivers who are involved in fatal crashes.
The Colorado Department of Transportation tracked crash fatalities involving THC-positive drivers and saw the total number of instances increase from 18 to 77 from 2013 to 2016.
In comparison to data from four years before the legalization of marijuana (2009-2012), THC-related traffic deaths increased by 66 percent while all traffic deaths increased by only 16 percent.
Rocky Mountain High Intensity Drug Trafficking Area (RMHIDTA) of Colorado reported that in 2009, only 9 percent of crash fatalities involved THC-positive drivers. Just seven years later in 2016, that figure increased to 21 percent.
Washington state data reveals similar results.
The percent of THC-positive Washington state drivers involved in fatal crashes increased from around 8 percent in 2013 to 17 percent in 2014.
It appears that evidence concludes that marijuana use increases crash rates and fatality rates, but what about your car insurance rates?
Free Car Insurance Comparison
Enter your ZIP code below to view companies that have cheap car insurance rates.
Secured with SHA-256 Encryption
Marijuana, Driving, and Car Insurance
It seems to be a big secret when it comes to how the legalization of marijuana and driving while high can statistically affect your car insurance rate (especially if you get caught).
In the following sections, we make both observations and assumptions about how this may be so.
How does the legalization of marijuana affect car insurance?
Many residents and news sources have questioned if the drastic increases in rates in Colorado have anything to do with the legalization of recreational marijuana.
From 2012 to 2015, full coverage rates increased by nearly 16 percent in Colorado while Washington state experienced an increase by just over 8 percent.
It's likely that many other factors have gone into increased rates rather than just the legalization and sales of recreational marijuana.
However, with research results on increased crash risk and increased fatalities as outlined earlier, it may not be long before insurance companies catch on — if they haven't already.
Unfortunately, without insurance companies specifically reporting the reason for increased rates to such agencies as NAIC, it's difficult to confirm that the legalization of recreational marijuana affects car insurance rates.
However, if rates are increasing due to the legalization of recreational marijuana, we can make some basic assumptions as to why.
Most drivers know that rates are determined based on 8-10 factors, though some states have instituted laws that prevent insurance companies from using such factors as gender, marital status, and/or credit history to assign rates. These factors are:
Where you live
Age or total years of driving experience
Gender
Marital status
Homeownership
Level of education
Vehicle year, make and model
Credit score
Driving record
Commute distance
Survey results and research studies published by agencies such as the Substance Abuse and Mental Health Services Administration (SAMHSA), the National Survey on Drug Use and Health (NSDUH), and the Insurance Institute for Highway Safety (IIHS) all verify:
Increased marijuana use in all age brackets
Increased marijuana use by drivers involved in arrests and crashes
Overall increases in collision claim frequency in states that have legalized recreational use
Marijuana Use by Age
NSDUH survey results in 2016 report 24 million users age 12 and older, which is 8.9 percent of the U.S. population. The breakdown by age bracket is as follows:
The RMHIDTA reported for 2016, overall and within age brackets, increases in marijuana use before and after the legalization of recreational marijuana in Colorado.
In Colorado, there's a stark increase in reported use after legalization in 2012, and the fastest-growing population is those 26 years of age and older, though all three age brackets experienced significant growth.
On a national level, NSDUH survey results show a strong correlation between legalization status and reported use in each age group. What is most interesting in the following table is the age group with the highest reported usage is those age 18 to 25.
Drivers age 18 to 25 already pay higher car insurance rates due to the additional risk companies must take based on inexperience, poor judgment, and increased fatality rates (without considering marijuana use).
Marijuana Use in Arrests and Crashes
GHSA released a report in March of 2018 that reported an increase in arrests and crashes in Washington state involving drivers impaired by marijuana use.
Data from 2009 to 2012 (just before recreational marijuana was legalized) showed that THC-positive impaired driving cases averaged around 19.1 percent.
In 2013, after legalization in Washington state, this statistic rose to 24.9 percent, 28 percent in 2014, and topped off at 33 percent during the first four months of 2015.
Collisions were tracked in Washington state from 2005 to 2014 and showed a 10 percent increase in those drivers that were positive for THC with alcohol-positive drivers excluded.
In the same Washington state collision cases, the average THC level increased from 4.0 ng/mL in 2005 to 5.6 ng/mL in 2015, just over the legal limit of 5 ng/mL.
A rise in collision claims overall in a state can also influence car insurance rates.
The IIHS compared collision claim frequency in Colorado, Nevada, Oregon, and Washington to neighboring control states and found the frequency increased by about 6 percent after retail sales began in these four states.
Will smoking marijuana raise my car insurance rates?
Even if you smoke up with your car insurance agent, the answer is no.
With so many of the major car insurance companies providing online services to policyholders, it's obvious that passing a drug test isn't required to buy a car insurance policy.
Penalties for smoking weed can be prevented by using marijuana responsibly in your own home and not getting behind the wheel.
Will my car insurance go up if I'm arrested with weed in my car?
If you're not impaired in any way, if an officer isn't able to determine impairment, and if chemical tests come back negative, then no. As long as there is no admissible evidence that you were driving while impaired, then no.
If you're charged with marijuana possession, your car insurance company can't increase your rates because they don't require a criminal background check to purchase a policy or conduct criminal background checks on policyholders.
The only penalty you will face is possession charges based on your state.
Aside from any type of legalization or illegalization of marijuana (medicinal or recreational), 15 states have reduced the criminalization of marijuana use and/or possession but have not completely decriminalized it.
Marijuana Conviction and Car Insurance
We can make all of the observations and assumptions we want about how the legalization of marijuana and driving while high may affect your car insurance.
However, your car insurance rates are no secret when it comes to drug-impaired convictions.
What is the difference between a DUI involving marijuana and a DUI involving alcohol?
The term DUI is used on a national level to mean driving under the influence, and influence can generally apply to impairment caused by the consumption of alcohol, marijuana, opioids, inhalants, prescription drugs, etc.
Other names across states include (in a difficult list to alphabetize):
DUAC — driving with unlawful alcohol concentration
DUID — driving under the influence of drugs
DUII — driving under the influence of intoxicants
DWAI — driving while ability impaired
DWI — driving while impaired
OUI — operating under the influence
OVI — operating a vehicle under the influence
OVUII — operating a vehicle under the influence of an intoxicant
OWI — operating while intoxicated
OWPD — operating with any presence of a drug
OWVI — operating while visibly impaired
Therefore, driving under the influence of marijuana (a drug) is most commonly called a DUID. Each state has various levels of convictions for driving while impaired no matter if weed is legalized for medicinal purposes, recreational purposes, or outlawed altogether.
Some states lump it all together and apply the same penalties no matter what impairs a driver (Illinois, for example).
Other states apply drug-impaired driving penalties in addition to the penalties for a DUI-alcohol (Alaska, for example).
Alternatives may be to determine completely different standardized penalties for DUI-drugs (Colorado, for example).
Michigan laws really get into the "weeds" in outlining the differences.
Those states that don't define or specify a difference between driving under the influence of alcohol and marijuana will depend on judges to determine penalties.
It really all depends on the laws in your state.
How much will I pay for car insurance after a DUI?
Honestly, if you're convicted of a DUI (no matter what type of impairment), your rate all depends on the car insurance company you're with.
In general, and on a national level, our data shows that Allstate and Liberty Mutual are the most stringent and State Farm and Progressive are the most lenient when it comes to DUI charges.
USAA has, by far, the lowest rates across the board, but these policies are available only to military personnel and their immediate family members.
However, you should check out our article about your state specifically to get a more precise idea.
What is high-risk insurance and how will it affect your rates?
If you have a DUI on your record and you're having a difficult time finding rates you can afford, be sure to read about high-risk insurance in our article about your state.
In most states, various car insurance companies participate in an assigned pool to help those that have a DUI conviction who seek affordable rates.
You can consult with an agent for any car insurance company, and if you qualify, you'll be assigned to a non-elective company and ultimately get a more affordable rate.
Bottom Line
No matter if it's legal in your state, whether you're a medical marijuana user, or even how high you feel, there are major risks and consequences you take if you get behind the wheel after lighting up.
Now we'd like to hear from you.
Which pieces of information were the most helpful?
How will this information affect your decision to (or not to) drive while high?
We'd love to see your comment below.
Start comparison shopping today using our FREE online tool. Enter your zip code below to get started.