Car insurance in Fort Lauderdale, Florida [Rates + Comparison Guide 2020]
The average rates for car insurance in Fort Lauderdale, FL, are $400.81/mo. Florida requires $10K (PIP) and $10K (PDL) as minimum coverage for all drivers.
Free Car Insurance Comparison
Secured with SHA-256 Encryption

[three_fourth_last]
Fort Lauderdale is known for its deepsea fishing, sunny skies, beaches, and as a spring break destination. Like Venice, Italy, it has lots of canals. About 165 miles of them run through Fort Lauderdale, which is why it's called "the Venice of America."
If you're looking for the best car insurance rates, your search might not always be smooth sailing. With the many options available and the time it can take to research them, the waters can start to become choppy pretty quickly.
Whether you want to visit Fort Lauderdale, move there, or are simply looking for better car insurance rates there, welcome aboard! You've come to the right place.
This comprehensive guide will explore the factors insurance rates are based on, including risks, state laws, noteworthy attractions, and other interesting aspects of the city.
The surf's up, so get ready to ride the tide. Enter your zip code above to start car insurance shopping today.
What's the cost of car insurance in Fort Lauderdale?
In recent years, Fort Lauderdale has landed on lists of the most dangerous cities for drivers. You don't want to become another statistic, so it's crucial that you stay safe to avoid accidents, which can become very costly for uninsured drivers or if you lack enough coverage.
We don't want that to happen to you. Our goal is to keep you safe and well-informed. You want to know that the insurance coverage you buy will protect you in case of an accident, so we've gathered the information you need to get the right insurance.
Read on to find out the factors that can affect your rates, such as your age, gender, credit history, and driving record.
Free Car Insurance Comparison
Enter your ZIP code below to view companies that have cheap car insurance rates.
Secured with SHA-256 Encryption
Do gender and age influence car insurance rates in Fort Lauderdale?
The gender gap appears to be closing in car insurance, yet age remains a determining factor in setting rates.  Generally speaking, younger, less experienced drivers tend to pay more than veteran, well-traveled drivers. Drivers in their 50s enjoy affordable rates while those in their 60s pay slightly more.
Teen drivers pay the most expensive auto insurance rates.
Sometimes, the marital status and gender may affect the auto insurance rates you pay. Married drivers pay about $100 less than their single counterparts in many locations. Widowed people also pay less than those who are single.
In Fort Lauderdale, the median age is 42 years and two months.  It's almost literally in the middle for drivers and is a yardstick that other drivers can use to see if they're getting the average rate.
We've partnered with Quadrant Information Services to bring you the average annual rates for drivers of different ages in Fort Lauderdale below:
Drivers age 60 have the cheapest rates, followed by those age 35. These numbers show that most drivers of the median age pay lower rates.
There is, however, a slight gender gap in Fort Lauderdale, with females paying $300 less than their male counterparts.
Male's Average Premium: $5,863
Female's Average Premium: $5,544
Risk is a key factor in setting insurance rates, and insurers consider accident data into the equation, resulting in higher premiums for males.
The chart below expands on that data, and compares not just age and gender but marital status:
As shown, regardless of age and gender, single adults tend to pay more for premiums than married drivers, who are considered more financially stable and capable of paying premiums.
Now, let's check out how where you live can also influence your rates.
What are the cheapest Zip codes in Fort Lauderdale?
Your rates, as it turns out, can even vary by your neighborhood. That can happen because some areas are safer than others, whether it's because of accident rates, crime, or natural disasters, which can make them riskier to insure.
How does your zip code compare?
Fort Lauderdale's insurance premiums are fairly consistent among the different zip codes across the city.
What's the best auto insurance company in Fort Lauderdale?
That's a great question to think about. Reading up about different insurers and getting insurance quotes from them can help you find the best car insurance companies.
Below, we'll explore the differences among providers, including their financial resources and how your commute and your credit history, together with other factors, can change your rates.
Free Car Insurance Comparison
Enter your ZIP code below to view companies that have cheap car insurance rates.
Secured with SHA-256 Encryption
What are the cheapest car insurance rates by company in Fort Lauderdale?
Rates are one of the top concerns for insurance shoppers, which is why we've covered the cheapest ones in Fort Lauderdale first.
Of course, rates are just one ingredient in the mix, and as shown below, they can vary based on other factors, such as your commute.
What's the best car insurance for commute rates in Fort Lauderdale?
The longer you drive regularly, the more you can end up paying for your insurance.
The average Floridian drives as much as 14,465 miles a year and has a long commute.
Below insurers' average rates by average commute distance and mileage:
Most of the companies listed, except for Nationwide and Progressive, raise their prices according to the commute distance. Liberty Mutual shows a $400 difference for those who drive from 10-25 miles regularly. Not every auto insurance company changes its rates based on commute times, so it can pay to shop around if you drive long distances.
What's the best car insurance for coverage level rates in Fort Lauderdale?
Lower coverage levels aren't always worth the lower cost. If you pay just a little more, you can avoid the nasty surprise of having less coverage than you should have had after an accident.
Here are some of the different costs for different coverage levels in Fort Lauderdale.
You can pay anywhere from $1,000 to $2,000 for higher coverage, but medium coverage can be a good alternative if it's more affordable for you.
Free Car Insurance Comparison
Enter your ZIP code below to view companies that have cheap car insurance rates.
Secured with SHA-256 Encryption
What's the best car insurance for credit history rates in Fort Lauderdale?
Often, insurance companies will offer lower rates to customers with high credit scores.
The good news is that not all providers consider poor credit a high risk in setting their rates. So, you may still be able to get a decent deal with a poor score.
In Fort Lauderdale, the price difference between poor and good credit can amount to as much as $2,500 on up. State Farm is among the few that don't increase rates for drivers with poor credit compared to other providers.
What's the best car insurance for driving record rates in Fort Lauderdale?
Just one driving violation — whether it's an accident, a speeding ticket, or a DUI — can skyrocket your rates. These are some rates for common driving infractions.
The more serious the offense, the more you'll tend to pay. As shown, even with one DUI under Liberty Mutual, your rates can rise by $4,500. It literally makes cents to drive safely and maintain a clean driving record. Maintaining a clean record is an effective way to reduce car insurance costs. At fault accidents, DWIs, citations for reckless driving, and speeding tickets can all increase car insurance rates.
What are the car insurance factors in Fort Lauderdale?
Insurers don't just take into account the above factors. They also consider other indicators such as household income, the local economy, and occupation in setting their rates.
Below you'll find major financial factors that affect car insurance rates in Fort Lauderdale.
Free Car Insurance Comparison
Enter your ZIP code below to view companies that have cheap car insurance rates.
Secured with SHA-256 Encryption
Growth and Prosperity in Fort Lauderdale
The local economy can affect employment, businesses, and even the local tax base. And, of course, your insurance premiums.
Here are findings from Metro's report on prosperity:
Productivity: -3.5 percent (85th of 100)
Standard of living: +2.5 percent (69th of 100)
Average annual wage: +3.7 percent (60th of 100)
Though productivity decreased, the average standard of living and annual wages have risen.
Below are some figures that reflect Fort Lauderdale's overall growth:
Jobs: +14.3 percent (21st of 100)
Gross metropolitan product (GMP): +10.4 percent (42nd of 100)
Jobs at young firms: +14.7 percent (15th of 100)
The city has produced some solid numbers for job growth and GMP, including the number of jobs at "young" firms. Overall, the economic signs are trending upward.
What's the median household income in Fort Lauderdale?
The chart below compares the average median income for the state of Florida with that of several cities and the nationwide average.
Fort Lauderdale residents earn less than the average American, but more than their fellow Floridians, at $52,315 per year.
The average Fort Lauderdale resident pays $4,809 yearly on car insurance, or over nine percent of their income.
That can vary depending on how much you pay for your premiums. Want to find out how much of your income goes to car insurance? Try our free calculator below.
To dig deeper on a financial level, next we'll look at how many Fort Lauderdale residents own homes.
What's the percentage of homeownership in Fort Lauderdale?
Insurance providers can see homeowners as a huge asset and reward them with lower rates. They can consider homeownership as taking on more responsibility than renting, and therefore, believe that home dwellers are more likely to pay on time.
And with homeownership, you can potentially bundle your home and car insurance for lower premiums.
When it comes to homeownership in Fort Lauderdale, the city ranks below the statewide average numbers. In the city, 52.4 percent of residents owned homes in 2017, slightly lower than the 2016 figure of 52.6 percent.  Florida's homeownership average is 64.8 percent.
With an average value of $297,200, home values in Fort Lauderdale tend to be higher, which can influence the rate of homeownership.
Free Car Insurance Comparison
Enter your ZIP code below to view companies that have cheap car insurance rates.
Secured with SHA-256 Encryption
What's education in Fort Lauderdale like?
Fort Lauderdale is no slouch when it comes to getting a good education. The city's six colleges awarded 18,920 degrees in 2016.
The largest school, Broward College, granted 13,141 degrees in 2016. The Aspen Institute recently recognized this community college as one of the top schools in the nation for its affordability, high graduation rate, and other factors.
Below Broward, Keiser University-Ft Lauderdale ranked a distant second in size at 26.3 percent and the number of degrees awarded (4,969).
Is wage affected by race and ethnicity in common jobs?
How much you earn can affect how much you can pay for car insurance.  Let's look at the average earnings for Fort Lauderdale residents by race and ethnicity in different management jobs.
The highest-earning race or ethnicity, Asians, tend to pay less for car insurance while those at the bottom of the income bracket often pay more.
Is wage affected by gender in common jobs?
A wage gap exists between men and women in the same fields, but it varies by the job.  Let's explore the differences in their incomes.
Female elementary and middle school teachers and customer service representatives had the shortest gaps in their pay scales compared to males, with a difference of $3,000 to $4,000. The biggest gap was nearly $26,000 between males and females in miscellaneous management positions, which shows that a "glass ceiling" still exists at the top.
These are the average salaries by gender in Fort Lauderdale.
Males' Average Salary: $58,931
Females' Average Salary: $44,078
Below, we'll examine the poverty rates by age and gender in Fort Lauderdale.
Free Car Insurance Comparison
Enter your ZIP code below to view companies that have cheap car insurance rates.
Secured with SHA-256 Encryption
What's the percentage of poverty by age and gender in Fort Lauderdale?
As with the differences in wages, females again ranked below males, this time in poverty rates. Poverty affects more adult females than males in Fort Lauderdale.
The majority of females living in poverty are 25 to 34 years old. Overall, 19.3 percent live below the poverty line, which outranks the national average of 13.4 percent.
What's the percentage of poverty by race and ethnicity in Fort Lauderdale?
Below we breakdown the poverty rates by race and ethnicity: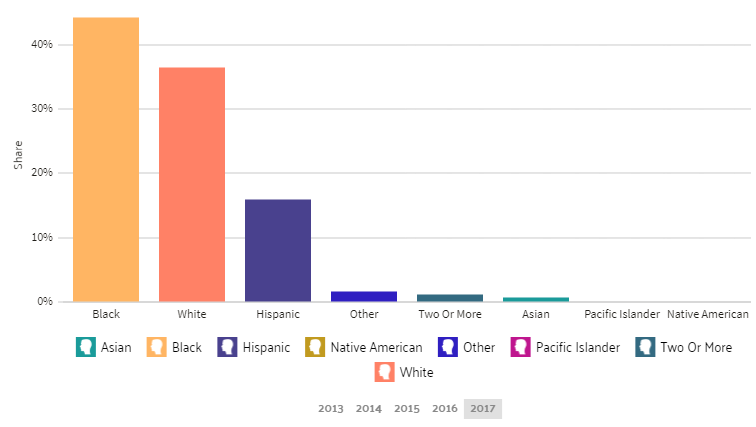 More than 40 percent of black Fort Lauderdale residents live in poverty (17,742). Whites ranked just below them at 14,620, and Hispanics placed third (6,397 residents).
What's the percentage of employment by occupations in Fort Louderdale?
According to Data USA, from 2016 to 2017, employment in Fort Lauderdale grew at a rate of 2.5 percent, from 87,600 employees to 89,800 employees.
These are the most common jobs in Fort Lauderdale by population:
Management Occupations (11,876 people)
Sales and Related Occupations (11,672 people)
Office and Administrative Support Occupations (9,856 people)
Next, we'll look at the thrills and spills of driving in Fort Lauderdale.
What's driving in Fort Lauderdale like?
As we stated earlier, Fort Lauderdale has its share of accidents. Taking precautions can minimize the dangers, and that includes buying the right coverage for your needs to protect yourself and your loved ones.
To show how unsafe driving and road conditions can affect your rates, we'll cover the state of traffic and roads in Fort Lauderdale, major highways, and more.  We'll also cover some fun things to do, such as popular road trips.
So, get ready for some interesting information that will also help you stay safe behind the wheel.
What are the roads in Fort Lauderdale like?
Roads take us where we need to go. Like the drivers they carry, they can tell many a tale about the misadventures that occurred throughout their existence.
To help you steer through the cluster of data about Fort Lauderdale's streets, we'll examine everything from the major highways to speeding and red light cameras.
So, scroll onward to become a true "road" scholar.
Which are the major highways near Fort Lauderdale?
Florida has 12 active highways which span 1,497 miles of roadway.  Two of the most active highways that run through Fort Lauderdale include I-595 and I-95, the latter of which extends from Florida through Maine.
Florida has more toll roads than any other state — over 700 miles — and Fort Lauderdale has its share. The two major toll roads are Alligator Alley, Interstate 75, and the Florida Turnpike.
A SunPass, accepted at cashless toll booths across Florida, lets you pay less than you would with cash.  The average cost is $20, and the pass can automatically bill your account. No muss, no fuss.
What are the most popular road trip sites near Fort Lauderdale?
Whether you want to do something different or take some time to make a getaway, you'll find plenty of things to see and do throughout Fort Lauderdale and the Sunshine State.  These are some of the most exciting stops to add to your "bucket list."
Broward County A1A Scenic Highway – If you live in Fort Lauderdale and want to stay close to home, this 32-mile stretch of State Road A1A from Deerfield Beach to Hallandale Beach offers beautiful views of the local beaches and shoreline.
The 10 Happiest Cities in Florida – Based on such factors as crime rates, income, housing, and commute times, Fort Lauderdale is among the cities in the Sunshine State that rank highly as places that can make you smile.
10 Places In Florida That Are Better Than Anywhere Else In The Country – The obvious places feature on this list, such as the stunning Everglades and the antiquities of St. Augustine, but you shouldn't overlook the wondrous Ancient Spanish Monastery, Devil's Den's natural springs, and other amazing sites.
These attractions are a good excuse to get "out and about" and take some time to relax and enjoy everything Florida and Fort Lauderdale has to offer.
Are there any speeding and red light cameras in Fort Lauderdale?
Red-light cameras take a picture when a car runs a red light and speeding cameras catch drivers who exceed local speed limits. As a result of these automated methods of law enforcement, the offenders receive tickets in the mail.
Fort Lauderdale uses red-light cameras, but no speeding cameras.
What's the percentage of vehicle ownership in Fort Lauderdale?
Vehicle ownership, speed traps, and thefts are all common in city life. Buying your first car is a traditional American "rite of passage," and part of the country's spirit of freedom.
But vehicle ownership has its drawbacks. Speeding is a risky driving habit that many drivers with "lead feet" can overlook until they got caught in a speed trap.  Thefts are another problem.
In this section, we'll explore these issues that come with the responsibility of owning a vehicle in Fort Lauderdale. Read on for more insights.
How many Fort Lauderdale cars per household?
Over 36,000 households in Fort Lauderdale own two cars, which matches the national average.  About 28,000 Fort Lauderdale residents own one car.  A fair amount of citizens — 13,000 — ranked in third place with ownership of three cars.
How many households without a car in Fort Lauderdale?
A small number of Fort Lauderdale residents get by without a car, whether they carpool, use public transportation, taxis or rideshare services, bike, or walk.
The percent dropped slightly from 2015 to 2016, which may mean that more people there have chosen to buy cars.
Are there any speed traps in Fort Lauderdale?
If you've seen a police car in a median or parked back from the road, you know that law enforcement has set up a speed trap to catch speeders.
Fortunately, Fort Lauderdale hasn't made the list of the 10 Worst Florida Speed Trap Cities.
The easiest way to avoid a ticket (and to stay safe) is to obey speed limits so that you won't even have to worry about speed traps in Fort Lauderdale.
Is there a vehicle theft in Fort Lauderdale?
Let's see how safe the neighborhoods of Fort Lauderdale and how this ties into local crime rates.
In 2013, the FBI reported that 567 vehicles were stolen in the Fort Lauderdale area, and in recent years, this number has risen.  According to Neighborhood Scout 936 vehicle thefts occurred in 2017, which is almost double the number of vehicles stolen in 2013.
Neighborhood Scout also keeps track of the safest places to live.  Below is a map of Fort Lauderdale's safest neighborhood, Riverland Rd./SW 34th Avenue.
Other safe Fort Lauderdale neighborhoods include:
N Ocean Blvd/Galt Ocean Drive
SE 5th Ct/N Rio Vista Blvd
Harbor Beach/Harbor Heights
Nurmi Isles
SW 4th Ave/SW 24th St
Imperial Point
Bayview Dr/NE 49th St
Bayview Dr/NE 26th St
Sunrise
With lower crime rates, your chances of being a victim of vehicle theft or a violent crime may be lower, but the risk remains.
These neighborhoods are the safest places to live in Fort Lauderdale, as the crime rates are lower. That doesn't mean that your chances of being the victim of violent crime are eliminated, though.
Your chances, unfortunately, are higher in Fort Lauderdale than in Florida overall.  In Fort Lauderdale, you have a one in 162 chance of being the victim of a violent crime compared to the statewide average of one in 245.
Out of a population of 180,072, the violent crime rates per 1,000 people are pretty high.
With a high amount of violent and property crimes in Fort Lauderdale, it's easy to see why the city's crime rate index is a two out of 100.  At only 2 percent safer than all U.S. cities, this makes living in a safe neighborhood in Fort Lauderdale a priority to decrease your chances of being a victim.
What's traffic in Fort Lauderdale like?
Traffic congestion and accidents are some of the worst hazards on the road. Fort Lauderdale has its share of these risks, and some drivers can worry about staying safe.
To help protect you and your loved ones, we'll cover the facts and figures of all things traffic related in Fort Lauderdale, including the best repair shops.
So, buckle up and get ready to learn more about Fort Lauderdale's traffic hazards.
Is there a traffic congestion in Fort Lauderdale?
Nearby cities Jacksonville and Miami are among the most heavily congested in Florida, yet Fort Lauderdale isn't one of them.
That doesn't mean that you won't face some challenges in your daily commute, even if you deal with average traffic flows. Regardless, it makes sense to plan ahead and avoid peak traffic times during the morning and the evening to stay out of any potential snarls.
What's transportation in Fort Lauderdale like?
Most Fort Lauderdale residents drive alone, and a significantly lower number carpool or work at home. The high number of drivers is reflected in the average commute times.
Fort Lauderdale workers face a shorter commute time (24.6 minutes) than the average American worker (25.1 minutes). Nearly three percent of those workers experience "super commutes" longer than 90 minutes.
Let's look more closely at the statistics below to learn more about how Fort Lauderdale residents commute.
How safe are Fort Lauderdale's streets and roads?
As safe as someone can drive, you can't always avoid an accident. Which parts of the city are more dangerous than others? Which types of accidents are the worst in Fort Lauderdale?
National Highway Traffic Safety Administration's (NHTSA) data below on fatalities in Broward County will answer those questions and reveal more about the state of driving in the city.
Now, let's look at the number of fatal crashes.
From 2013 to 2017, unfortunately, the number of accident deaths increased in Fort Lauderdale.  Let's look more closely at the root of the problem.
Single-vehicle crashes and intersection-related crashes accounted for much of the rise in traffic fatalities in Broward County.
Passenger and pedestrian fatalities were higher than those for bicyclists.
Many of the 2,922 total fatal crashes in 2017 happened on minor arterial roads, while rural roads saw the fewest accidents.  Arterial roads, or highways, are built to carry high volumes of traffic.  Collector roads, which followed closely behind in the numbers, feed traffic through arterial roads.
Below, we've broken down the most dangerous types of roads in Fort Lauderdale for a bigger picture of the crash figures.
Among railroad and highway crash incidents, US DOT information reveals that most of the accidents occurred on Cypress Creek Road and on Airport Crossing.  Take extra precautions when you drive in those areas.
Allstate America's Best Drivers Report
Below is data from Allstate's Best Driver's Report on Americans' driving habits, which includes Fort Lauderdale.
The average time between claims in Fort Lauderdale is nine years, and the likelihood of drivers filing insurance claims there is fairly low, at about nine percent (compared to the national average). Fort Lauderdale drivers are more likely to engage in hard-braking "events," but that doesn't necessarily mean that they'll lead to accidents.
Such incidents can happen when someone slams on the brakes to avoid hitting a car, but they can also happen when someone isn't paying attention.
Overall, these numbers are a sign that Fort Lauderdale drivers aren't at a high risk of filing accident claims and that they try to stay safe when they're on the road.
Is ridesharing in Fort Lauderdale available?
Before ridesharing services hit the ground, buses and taxis were common alternate forms of transportation.  These are some of the bigger ridesharing services that operate in Fort Lauderdale, organized from the least to most expensive.
Taxis — Plain old taxi rides are often cheaper than taking a rideshare in Fort Lauderdale.
Curb — Curb is another Fort Lauderdale taxi service that offers lower rates than Uber or Lyft.
Uber — Uber and its luxury service, Uber X, tend to cost more than traditional taxi rides.
Lyft — Lyft will not just take you for a ride through Fort Lauderdale, you will also want to watch how much you pay for their service, which can cost more than others.
To keep your ridesharing rates low, check out RideGuru to look over your options.
Are there EStar repair shops in Fort Lauderdale?
Esurance rates repair shops through their EStar network. These are the top 10 EStar repair shops in the Fort Lauderdale area.
What's the weather in Fort Lauderdale like?
Fort Lauderdale's weather is much like that of the entire Sunshine State. Let's see what the U.S. Climate data on the city's average weather shows below.
With average highs of 83 degrees Fahrenheit and lows of 68 degrees, Fort Lauderdale's temperatures are not too hot and not too cold. It's often sunny and unlikely to snow, though the city receives a fair amount of rainfall, at an average of 66 inches yearly.
Like other parts of Florida, Fort Lauderdale is susceptible to natural disasters. An average of 24 occur in Broward County yearly, almost double the national average (13).  The majority of natural disasters are hurricanes, followed by fires, floods, tornadoes, freezes, tropical storms, heavy rain, storms, and wind.
In case of damage from a natural disaster, you should make sure you have comprehensive insurance coverage. It will pay for the costs of damage or replacement of your vehicle in case of theft or vandalism and any other incidents that don't involve a collision — essentially those "Acts of God" you have on control over.
For instance, if hail dents your car, you can collect for the damage. It makes sense to be prepared to prevent paying for costly repairs out of pocket.
Is public transit in Fort Lauderdale available?
For Fort Lauderdale citizens who don't own a car or don't want to use their cars, the city offers a variety of alternative forms of transportation. These include travel on land or water: buses, carpooling, bike sharing, trains, trolley cars, and water taxis.
Basic prices for adults on the main bus system in Fort Lauderdale, Broward County Transit are listed below (rates change for youth, seniors, and college students).
One Way Pass — $2
All Day Pass — $5
3 Day Pass — $12
7 Day Pass (or ten-ride pass) — $20
31 Day Pass — $70
Among your other transportation options are Amtrak, Brightline, the Riverwalk Water Trolley, the Sun Trolley, Tri-Rail, and Water Taxi.
Regardless of where you need to go, you should be able to find the right form of transit for you.
Is there an alternate transportation in Fort Lauderdale?
A comfortable bike or scooter ride might just be the type of transportation you're looking for.  Lime and Bird are among the companies that offer these services.
Contact Lime for bike and scooter rentals, and see Bird for scooters only. These companies request a small fee for access and then charge per minute. They use mobile device apps to activate your account and track your mileage and payments.
Is parking in metro areas in Fort Lauderdale available?
Here we'll cover everything you need to know about parking in Fort Lauderdale, from the best places to park to fees and special requirements for electric vehicles.
On-street parking is available throughout the city, but it's often metered, with a maximum time limit. You can use Fort Lauderdale's meter app to pay anywhere and even increase your parking time to avoid a ticket. Another option is a local parking garage, which offers 12 to 24-hour parking.
Fort Lauderdale's airport offers satellite parking where you can leave your car long-term while you travel.
Drivers of electric vehicles will find 227 total Level 2 and Level 3 charging station ports throughout the city, and 62 of them are free of charge.
What's the air quality in Fort Lauderdale like?
One of the byproducts of cars with internal combustion engines is air pollution, which can affect Fort Lauderdale citizens' health and their overall quality of life.
This urban dilemma comes with high traffic flows and congestion.  Below is air quality data from the U.S. Environmental Protection Agency (EPA).
Fortunately, from 2016 to 2018, Fort Lauderdale didn't have any unhealthy or very unhealthy air quality days. However, in 2017, the city experienced five days that were unhealthy for sensitive groups.
This information is especially important for people with asthma and others who have breathing problems who are sensitive to air quality issues.
Are there military/veteran bases in Fort Lauderdale?
Car insurance can be expensive, even for members of the military. Our nation's military is there to protect us and to serve us in times of war and peace.
To honor them, we'll go over some of the insurance options available to active military and veterans in Fort Lauderdale, together with potential auto insurance discounts.
Read on to learn more out about local bases, the eras Fort Lauderdale military personnel served in, and car insurance options for them.
What's the percentage of veterans by service period?
Like the U.S. as a whole, more veterans from the Vietnam War (3,270) live in Fort Lauderdale compared to those from other conflicts. Gulf War (1990s) veterans, 1,156, numbered a distant second.
Are there any military bases within an hour?
One major military base is within an hour away from Fort Lauderdale, the United States Southern Command.
USSOUTHCOM, as it's known, is the unified command responsible for all U.S. Military activities on land in Latin America, south of Mexico, the waters next to Central and South America, the Caribbean Sea, European, and U.S. territories. It also covers the Gulf of Mexico and part of the Atlantic Ocean.
What military discounts are available by providers?
As shown below, members of our armed forces can take advantage of discounts some insurance providers offer to honor them.
USAA provides a military garaging discount, where you can save on parking in garages. If the insurer you're looking for isn't listed above, including local companies, you can still ask them about potential auto insurance discounts.
Is USAA available in Fort Lauderdale?
USAA offers car insurance to military personnel and veterans only, with reduced premiums, so members of our armed forces can pay less. Here's how their rates compare to other insurers:
USAA has the cheapest annual premiums in The Sunshine State at 64 percent less on average.
What are some unique Fort Lauderdale laws?
Driving laws can be different in each city and in every state. It can be hard to keep track of hands-free and parking laws, among others unique to each location.
We'll go through some of the laws you should be aware of in Fort Lauderdale and some you might not know about, but may find helpful, such as those covering tiny homes and food trucks.
Keep scrolling to find out more.
What's the hands-free law in Fort Lauderdale?
Texting while driving is illegal throughout Florida, including Fort Lauderdale. The state allows hands-free devices while driving, and the city doesn't hasn't enacted its own laws against them. The below video goes into more detail about Florida's new "texting while driving" law:
What are the laws for food trucks in Fort Lauderdale?
If you want to run a mobile restaurant service, this is the section for you. Food trucks, where you can buy burgers and fries, wraps, and just about any menu item imaginable, are more than just a fad on city streets.
Like other places, Broward County has enacted laws food truck operators must follow to stay in business. To run these businesses year-round in Fort Lauderdale, you'll need to meet these requirements:
File a business tax application
Complete a permit application for a street vendor
Provide proof of insurance
Place your business name and phone number on the vehicle
Submit pictures of the vehicle, a driver's license, and vehicle registration
Obey county health code regulations and parking laws
Once you've fully complied, you'll be ready to launch your business officially.
Are there many tiny homes in Fort Lauderdale?
Tiny homes are a popular option for people who want to save space and live more simply. Because of their smaller stature, they don't always easily comply with local building codes.
If your tiny home is on land, you'll need access to a septic tank, water, and other utilities before Fort Lauderdale can legally approve you to live on the land.
Sometimes, to get around the laws and qualify as recreational vehicles, people put them on wheels.
In Fort Lauderdale, a tiny home with wheels is considered a mobile home and must follow the same laws. That doesn't mean that you need to move it to a mobile home park, but you will need to have the right permits on file and follow local zoning laws.
What are the parking laws in Fort Lauderdale?
Parking the wrong way is illegal in Florida and will generate a ticket. It's safer to park your vehicle facing the direction of traffic, as the law dictates.
If you can't reserve a spot on the street, you may be able to find a space in a parking garage instead.
Fort Lauderdale Car Insurance FAQs
You may have questions about Fort Lauderdale and car insurance. Perhaps you're curious about moving to the city.
These are among the questions people ask frequently about the city and the car insurance available there.
We're here to provide some answers, so read on below for information.
Is Fort Lauderdale a great place to raise a family?
According to a recent opinion survey, residents say that Fort Lauderdale is a great place to visit, live, work, and retire, but not to raise kids. That might be because of the high crime rates in some neighborhoods.
Where should I live in Fort Lauderdale?
These neighborhoods are among those that top the lists of the best in the city (in no particular order):
Colee Hammock – A mile and a half from the ocean, this development was said to have been built on a rise, or "hammock," in the ground around marshes and waterways. As one of the oldest Fort Lauderdale neighborhoods, it houses the wealthy and the working class.
Tarpon River – This neighborhood of parks and single-family homes near the downtown is also conveniently located near supermarkets, shopping centers, and the water.
Victoria Park – A historic neighborhood in eastern Fort Lauderdale, Victoria Park hosts a diverse community of about 10,000 residents and an active civic association.
Harbor Beach – This gated community of families, professionals, and retirees features a private beach club with a marina and is known as a "boater's paradise."
Las Olas Isles – Located in an area of the larger Venice community which has more than 300 miles of inland waterways, this neighborhood is said to be one of the most "sought-after pieces of real estate in the country."
Does Fort Lauderdale have good beaches?
According to SmarterTravel, Lauderdale-By-The-Sea, located just north of Fort Lauderdale Beach and south of Pompano Beach, is one of the best beaches in Fort Lauderdale for snorkeling and diving. Other popular beaches include Delray Beach, Hollywood Beach, and Fort Lauderdale Beach.
Where is Fort Lauderdale, Florida?
Fort Lauderdale is on the lower east coast of Florida, 28 miles north of Miami. Part of the Miami metropolitan area, it's the county seat of Broward County.
Why is it called Fort Lauderdale?
The city of Fort Lauderdale was named for a Second Seminole War fortification built on the banks of New River in 1838. In that year, Major William Lauderdale led a detachment of Tennessee volunteers south along the east coast of Florida to capture Seminole farmlands and battle the elusive Indian warriors.
Altogether, three Fort Lauderdales would be built: the first at the fork of New River, the second at Tarpon Bend, and the largest on the beach at the site of today's Bahia Mar.
Is Fort Lauderdale car insurance expensive?
It depends on your needs, your situation, and how much you can afford.
We suggest that you buy more than the state-required minimums of $10,000 personal injury protection (PIP) and $10,000 property damage liability (PDL) for drivers with a valid Florida license plate. You should have more coverage for any additional damages you may have to pay out of pocket.
Above, we listed the cheapest car insurance rates by company to help you see how much the average premiums cost.
What other types of car insurance should I buy?
Beyond the minimum liability coverage to cover damage to your vehicle, you should consider buying comprehensive coverage (natural disasters, theft, and vandalism) and MedPay (covers medical expenses for you and your passengers).
Who has the cheapest auto insurance in Fort Lauderdale?
Generally, USAA, an insurer that serves active military personnel and veterans, offers the cheapest rates at 64 percent less than the state average, followed by State Farm (38 percent lower than the average). But, don't just take our word for it. We encourage you to shop around to find the best rates. The best way to save money and find affordable car insurance rates is to compare rates from different insurance companies, and then choose te provider that offers the most affordable quote.
Now that you've reached the end of this comprehensive guide feel free to enter your zip code below to start comparison shopping today.