10 Easy Steps to Get The General Car Insurance Quote Online (Photos)
Get The General car insurance quotes in two minutes. Just follow these 10 steps to get your free insurance quote online.
Free Car Insurance Comparison
Secured with SHA-256 Encryption
UPDATED: Sep 23, 2021
It's all about you. We want to help you make the right coverage choices.
Advertiser Disclosure: We strive to help you make confident car insurance decisions. Comparison shopping should be easy. We are not affiliated with any one car insurance company and cannot guarantee quotes from any single company.
Our partnerships don't influence our content. Our opinions are our own. To compare quotes from top car companies please enter your ZIP code above to use the free quote tool. The more quotes you compare, the more chances to save.
Editorial Guidelines: We are a free online resource for anyone interested in learning more about auto insurance. Our goal is to be an objective, third-party resource for everything auto insurance related. We update our site regularly, and all content is reviewed by auto insurance experts.
Here's what you need to know...
The General Automobile Insurance Services, Inc. is a subsidiary of PGC Holdings Corp.
The company has been in business since 1963 and houses its headquarters in Nashville, Tennessee
You can get a free car insurance quote online from The General in under 2 minutes
Comparison shopping is an essential part of the car insurance buying process. If you're a high-risk driver or have poor credit, you may have been recommended to try The General as they're known to offer coverage to drivers who have certain factors working against them.
Read on to find out how you can get a free quote from The General in just a few minutes.
Then, enter your zip code on our site and answer a few questions to get matched with free, personalized auto insurance quotes. Doing so will help you weigh coverage limits and costs from various companies in order to settle on the best deal.
How do you get an online insurance quote from The General?
We're going to break down exactly how to get an online quote from The General in just 10 simple steps.
Free Car Insurance Comparison
Enter your ZIP code below to view companies that have cheap car insurance rates.
Secured with SHA-256 Encryption
Step #1 – Learn About The General
When you first land on The General's site, it's impossible to miss the picture of Shaq posing with the company mascot. The Basketball Hall of Fame star partnered with the company and has been featured in commercials and promotional ads.
Celebrity endorsements might not sway you when it comes to finding a good car insurance provider, but it's an interesting endeavor worth checking out when you're evaluating The General.
Read the company's About page and find out about its origins and core values today.
When investigating a car insurance company, ask yourself:
What is their primary goal?
Are they more concerned with customers or coverage?
What value do they offer me as a prospective buyer, and how do they seem to keep that value over time?
Step #2 – Get Connected
At the top of the screen, you can find The General's customer service number, schedule a call, or start a live chat with a representative who can answer any questions about auto insurance, costs, or the quotes process you might have.
Step #3 – Learn More about The General's Auto Insurance Coverage Options
The General is known for its willingness to offer coverage to high-risk drivers who typically face extremely high premiums or flat-out rejections. The General specializes in high-risk car insurance policies and SR-22 insurance.
If you've had your license suspended or revoked or been charged for a DUI/DWI, then it will be difficult for you to obtain car insurance.
The General is one company known to offer quotes to drivers with bad records or poor credit histories, and the company can help walk you through the process of filing your SR-22 form and staying properly insured to avoid any further penalties.
Free Car Insurance Comparison
Enter your ZIP code below to view companies that have cheap car insurance rates.
Secured with SHA-256 Encryption
Step #4 – Enter Your Zip Code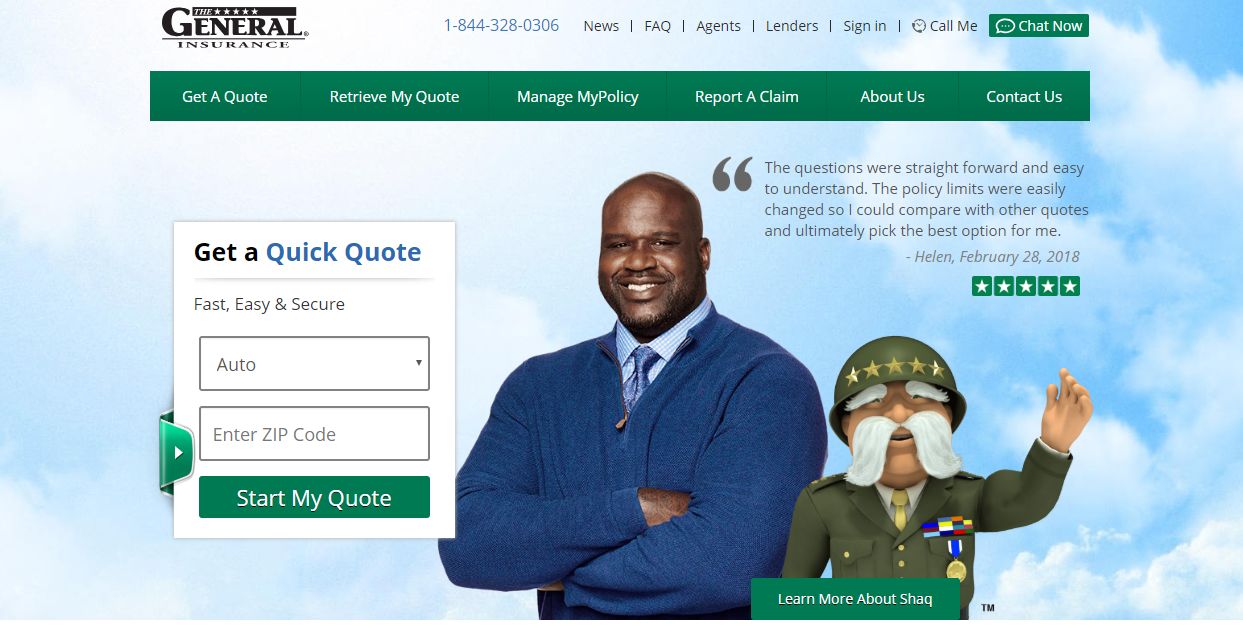 Enter your zip code on the homepage to start your request.
Step #5 – Enter Basic Information
The General has one of the fastest and efficient quotes processes we've encountered. The system cuts right to the chase and uses the minimal personal information to get you a personalized quote fast.
Step #6 – Add Driver Info
Now you'll want to provide some details about yourself and any other members of your household. All drivers of your vehicle should be included, but you should also list anyone who lives with you that's over age 14.
You can choose to exclude them later, but they should always be reported on quote requests unless otherwise stated.
Free Car Insurance Comparison
Enter your ZIP code below to view companies that have cheap car insurance rates.
Secured with SHA-256 Encryption
Step #7 – Provide Vehicle Details
You'll want your vehicle registration on hand for this part of the process. Enter your car's year, make, and model using the assistance of the drop-down menus.
If you aren't 100 percent sure on the exact type, it's okay to guess and make a final adjustment with the correct details with an agent when you purchase a policy.
If you have an anti-theft device, make sure you select "Yes" so you can qualify for a discount.
You can repeat this process for multiple vehicles in your household.
Step #8 – Get Your Quote
You'll be presented with an estimate for a 12-month policy that features only the minimum standard liability your state requires. If your car is financed or leased, then comprehensive and collision coverage will also be included in your estimate.
Step #9 – Review the Breakdown of Costs
To the right of your quote, you'll find a breakdown of the costs. You can click "Quote Details" to view a complete breakdown of coverages.
Free Car Insurance Comparison
Enter your ZIP code below to view companies that have cheap car insurance rates.
Secured with SHA-256 Encryption
Step #10 – Assess Your Needs
Because The General's initial quote only includes basic liability insurance (bodily injury liability coverage and property damage liability coverage), it isn't ideal for those who want full car insurance coverage estimates for fast comparison.
Full coverage consists of liability, along with collision and comprehensive coverage.
If your car is paid off and you don't feel like you need the extended coverage of comprehensive and collision insurance, then The General might be a good choice.
If you're a high-risk driver or you have a poor credit score and you're having difficulty securing an auto insurance quote because of this, then the company might be worth exploring more.
We recommend contacting an insurance agent from The General and getting an estimated monthly rate for collision and comprehensive insurance in addition to your state's liability requirements.
The General also offers medical payments coverage and uninsured motorist coverage.
How can you get more affordable coverage from The General?
Like most auto insurance companies, The General offers a few discounts you can take advantage of to save money on your auto insurance policy. The General's insurance discounts include:
Good student discount
Vehicle safety features discount
Defensive driving course discount
Safe driver discount
If you qualify for one or more of these discounts, you'll be entitled to a cheaper insurance rate from The General.
How can you save money with comparison shopping?
It might be tempting to go with the first affordable rate for car insurance you see online, especially if you're dealing with an SR-22 certification, but the least expensive policies usually come at a higher cost elsewhere. Without adequate coverage, even a minor accident can leave you financially devastated.
We don't recommend buying coverage you don't need out of fear, but you should find a healthy medium that gives you solid car insurance coverage for a reasonable price.
Let us help you strike the right balance. Enter your zip code below to get free, personalized auto insurance rates today that you can compare. Then, when you're ready, you can directly reach out to a local agent and seal the deal.