Distracted Driving and Car Insurance Rates (Costs & Penalties)
Distracted driving can increase your car insurance rates by 41% on average. Keep your rates low by avoiding texting, watching videos, or drinking and driving.
Free Car Insurance Comparison
Secured with SHA-256 Encryption
Did you know that putting on makeup or drinking coffee while driving are both considered distractions? And that you could be pulled over by a police officer for engaging in these activities while driving?
It's true. It may seem like everybody does these things, but you could still end up getting in trouble with law enforcement if you're caught.
Unfortunately, distracted driving is on the rise like never before, which makes it necessary to enact laws to ensure that everyone stays safe on the road. Almost 9 percent of all fatal crashes in the country are caused by distractions.
Talking on the phone or texting is still one of the major factors contributing to distracted driving crashes, but there are other activities as well that can cause you to take your eyes off the roads for a couple of seconds. And those few seconds are a lot when you're driving on a freeway at 85 mph.
Distractions can also make you miss a signal or someone braking suddenly in front of you. That's why we want to discuss in detail what exactly driving distractions are and how they can impact your insurance rates in the long run.
You can find insurance rates in your area by entering your ZIP code in the box above.
What is Considered a Distraction While Driving
Delving deep into the points we made previously, we'll focus on every activity that can be a distraction for motorists, including those that are considered illegal while driving. Though not every distraction is banned by law, it's important to limit absolutely any behavior that could cause you to lose focus while driving.
For instance, you might not take your eyes off the road while talking to your passengers normally, but if you're disciplining your kids in the back seat, you might automatically turn to look at them. You may not think you're distracted in that moment, but you absolutely are.
Types of Distraction
Distracted driving can be anything that takes your attention away from driving even if it happens for a millisecond. As per the Centers for Disease Control and Prevention (CDC), usually, there are three types of distractions — visual, manual, and cognitive.
When a driver takes their eyes off the road or hands off the steering wheel or attention away from driving, it can be called distracted driving. Texting while driving is one activity that involves all three types of distraction, which is why it's banned almost everywhere in the U.S.
Though many people avoid using their phones while driving, there are plenty of other activities that can cause accidents if they take your mind, sight, or hands off of driving. Some of these activities include:
Talking to passengers
Smoking
Looking at your phone, even to use GPS
Eating or drinking
We understand that there are some things you can't avoid, but try to minimize distractions as much as possible so you can stay safe on the road.
Using Cellphone While Driving
Possibly the most common distraction is the use of a cellphone by drivers for either calling or texting, with a growing number of people even browsing YouTube while behind the wheel. As much as people may claim that they can multitask, using your cellphone while driving is never a good idea, except in emergencies.
So, what do different state laws have to say about cellphone use while driving?
Texting: Because texting is the most hazardous activity, 48 states, D.C., Puerto Rico, Guam, and the U.S. Virgin Islands ban it for all drivers.
Hand-held cellphone use: Holding a cellphone to make a call or engage in other activities such as browsing or texting is banned in 20 states, D.C., Puerto Rico, Guam, and the U.S. Virgin Islands.
Complete cellphone ban: None of the states completely ban the use of a cellphone while driving, but some do prohibit teenagers from using cellphones. Teen drivers aren't allowed to use cellphones while driving in 38 states and D.C.
We know that it can be difficult to concentrate on driving when your cellphone is buzzing constantly, but if you take your eyes off driving, it can be dangerous. Here's a great video about how you can avoid looking at your cellphone when driving.
Driving Under the Influence of Alcohol/Other Substances (DUI)
One of the worst kinds of distraction is driving under the influence of alcohol (DUI) or any other substance that impairs your ability to drive or slows down your reflexes. Car insurance companies usually heavily penalize motorists who are convicted of DUI or involved in accidents as a result of alcohol-impaired driving.
The consequences of drunk driving in America are deadly. As per the National Highway Traffic Safety Administration (NHTSA), around 30 people die every day due to drunk driving crashes. That's an alarming state of affairs.
In the year 2018, around 10,511 people died as a result of alcohol-impaired driving accidents.
In 2017, alcohol-impaired driving accounted for around 29 percent of the total fatalities from crashes, according to the U.S. Department of Transportation, National Highway Traffic Safety Administration.
Since alcohol impairs a person's reasoning, thinking, and muscle coordination, every state has strict laws about how much a person can drink and still get behind the wheel. To enforce these laws, the state allows police officers to measure the level of alcohol in a driver's blood.
Across all states and the District of Columbia, it's illegal to drive with a blood alcohol concentration (BAC) level of 0.08 or more, as the probability of a crash increases beyond this limit.
Though state laws permit motorists to drive with a BAC below 0.08, any amount of alcohol can be dangerous for you on the road. In 2017, around 1,837 people died in alcohol-impaired crashes where drivers had a BAC between 0.01 and 0.07.
Drunk driving among teenagers or young drivers is another rising problem in the U.S. Coupled with inexperience, intoxicated young drivers are a huge threat to safety on the roads.
In 2017, young drivers (between the ages of 16-24) accounted for 42 percent of fatal drunk-driving crashes.
In 2018, young drivers aged 21-24 accounted for the largest segment of drunk drivers at 27 percent, followed by drivers aged 25-34 at 26 percent.
When it comes to gender, men are more likely to be involved in drunk driving accidents than women.
Top Distractions While Driving
Apart from driving drunk or using a cellphone, motorists can get distracted from a multitude of activities without realizing how much they're risking their own and everyone else's safety.
So, what are the top distractions while driving?
Take a look at the list below.
Adjusting controls in your car: The control panel in your car lets you adjust music volume, change channels on the radio, increase your seat's heating, switch on the air conditioner, and much more. Though these might seem like small tasks, any one of them can cause you to take your eyes or attention off driving, which can lead to crashes.
Talking to passengers: Chit-chatting a bit with your passengers is usually harmless; however, make sure you can do so without looking around at the people you're talking to. Also, having a heated discussion is a bad idea, as it takes your mind off driving.
Personal grooming: Maybe you're running late and didn't have time to go through your whole morning routine before you left the house. Maybe you think there's no harm in applying makeup while you're cruising down the highway. Wrong. If you're looking at your own face in the rearview mirror, you're not looking at the road. It is highly recommended you do not attempt to apply makeup while driving, and doing so is illegal in Washington state.
Discipling your children: Even when your children are screaming or demanding attention, you should try to ignore their tantrums while driving. The same goes for pets, as they can be very demanding of your attention. It's never a good idea to drive with your pet on your lap.
Thinking intently: It's easy to get lost in thought while driving, but thinking about something too intensely can cause you to lose focus. Driving requires your complete attention, as you need to be able to react quickly to events unfolding around you.
Checking directions: Modern times have made us dependent on GPS to figure out where we're going. You may often find yourself typing on Google Maps to get directions while driving. Instead of doing this, plug in the address before you leave, and pull over if you need to make adjustments along the way.
Dangers of Distracted Driving
Car accident-related fatalities and injuries are at an all-time high due to distractions while driving, which can include any of the activities we've discussed in the previous section.
In 2017, 3,166 people died in distracted driving crashes.
Distracted drivers are responsible for nine fatalities and thousands of injuries every day.
Drivers under the age of 20 are responsible for the largest share of fatal crashes due to distracted driving.
Apart from the risk of crashes, distracted driving can also cause drivers to miss signals or exceed the speed limit, leading to traffic violation tickets. These will cause your insurance premium to rise.
Free Car Insurance Comparison
Enter your ZIP code below to view companies that have cheap car insurance rates.
Secured with SHA-256 Encryption
Distracted Driving Laws for Cellphone Use
Merely issuing warnings or recommendations rarely works in curtailing distracted driving. That's why most states have stringent laws against cellphone use while driving.
Using a cellphone while driving for either texting or calling can lead to one or more of these penalties:
Monetary fines
License suspension
Prison time in the event of a fatal crash
Cellphone Use While Driving Laws by State
Let's look at laws about cellphone usage while driving in different states.
For teenagers, the use of a cellphone while driving is completely banned in most states. There are a few states that allow adults to use cellphones to some extent while driving; however, texting isn't allowed anywhere except Missouri and Montana.
In fact, Montana is the only state that doesn't have a state-wide law to ban the use of cellphones while driving.
Where cellphone ban laws are in place, they are usually rigidly enforced. In states that ban the use of hand-held phones, using one while driving is a primary offense, meaning a police officer can cite motorists if they're caught. In most states with a text messaging ban, this law is also under primary enforcement.
Penalties for Using Cellphone and Texting while Driving
Since texting is the most dangerous distraction — taking your mind, as well as your hands, off of driving — it is banned in almost all states.
You can see the penalties for texting or using a cellphone while driving for each state in the table below. The penalties increase with each subsequent violation.
Can a Cop Pull You Over for Texting while Driving?
Even in states where using a cellphone while driving is not illegal, texting is usually banned. As we discussed earlier, in most states, texting is a primary enforcement law.
If your state has a primary enforcement law, police officers can and will pull you over if they see you texting while driving. The penalty will not be as severe as it is in cases where texting causes an accident, but you can still receive a ticket just for violating the law.
How Long Does a Cellphone or Texting Ticket Stay on Your Driving Record?
Tickets not only cost you money or license suspensions but can also raise your auto insurance premiums. And, as long as the offense stays on your driving record, insurance companies will keep charging you high premiums.
Insurance companies believe that people who have been charged with distracted driving in the past may be more likely to cause an accident, and thus more likely to file a claim
If a distracted driving or moving violation has been cleared from your driving record, it won't impact your rates. But insurance companies have their own criteria for issuing rates based on your prior offenses.
While the impact on insurance rates varies by state, by insurance company, and by type of violation, you should ask your insurance agent about how much they raise rates after any incidence. Here's a look at how insurance premiums increase at different companies when you have a violation on your driving record.
Although insurance companies refrain from providing any information on how long your rates would be impacted by a violation, they usually increase your premiums for a minimum of three years. Some companies also offer the option of accident-forgiveness if you're in a minor accident after having been have been accident-free for the past three to five years.
Drunk Driving Laws or DUI Laws by State
Driving under the influence of alcohol is one of the worst things you can do — not only does it substantially increase the chance of violations and (potentially fatal) accidents, but a DUI record doesn't go down well with insurance companies.
Simply put, if you're caught driving drunk, you will not like your car insurance bill in the next cycle.
Let's look at the DUI laws by state.
Because of the risks involved with drunk driving, all states have strict laws in place to combat this behavior. Many states have a high BAC limit law as well, which attracts harsher penalties.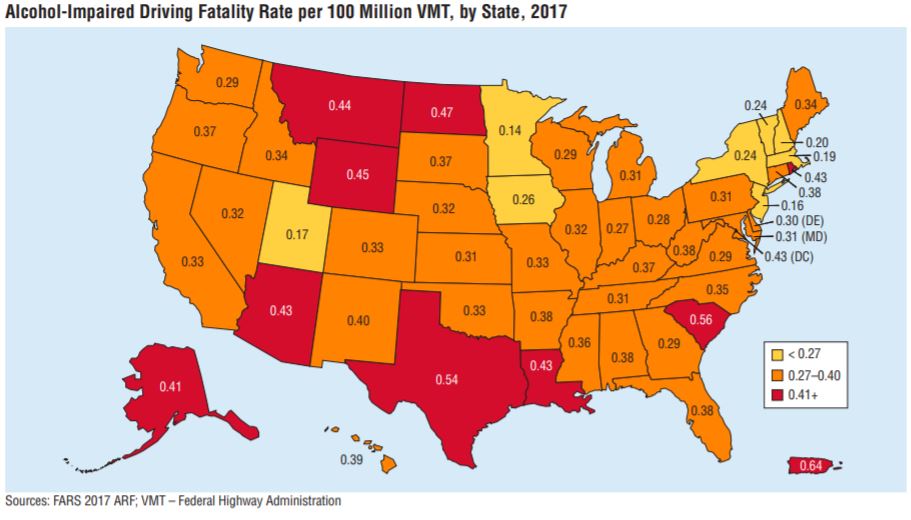 Note that some states also have a washout/lookback period, which determines how long the DUI conviction stays on your record. In states where there's no washout period, like Massachusetts, the DUI offense will remain on your record in perpetuity, and any subsequent conviction will be counted as a repeat offense.
Penalties for Drunk Driving by State
Penalties can include fines, imprisonment, license suspensions, and vehicle impoundment, depending on the severity of your offense.
In the table, you can see the penalties for just the first offense; in each state, you face fines, prison time, revocations, and/or mandatory DUI classes. With every additional offense, the severity of these penalties increases.
Can a Cop Pull You Over for Suspicions About Driving Drunk?
To stop any motorist for a DUI offense, police officers must have reasonable suspension and probable cause. You can't be stopped by a cop without any reason or arbitrarily for an alcohol test, except at certain checkpoints.
A reasonable suspension means that your actions (such as erratic driving or speeding) led the police officers to believe you were in violation of the DUI law. Probable cause is considered by the jury when they evaluate arrests for drunk driving. If there's an objective belief that a motorist has committed a crime, there is probable cause.
Impact of Distracted Driving Laws
To reduce the impact of distracted driving, all states have been slowly implementing regulations to ensure that motorists focus their minds and eyes on driving while they're behind the wheel. The most common legislation includes bans on texting and hand-held phone use, which have been enacted by a majority of states.
For certain motorist groups, such as teen drivers and school bus drivers, the distracted driving legislation is stricter and bans all cellphone use while driving.
In fact, most of the states are continuously updating their distracted driving laws by increasing penalties to reduce the number of violations. In 2017, the texting while driving penalty was increased to $300 from $50 in Colorado. Even Arkansas updated its texting ban to include social media use while driving.
But are these laws effective in combating distracted driving? 
As per a study published in 2014 by the University of Alabama-Birmingham (UAB), primary texting bans led to a 3 percent drop in accidents. Texting bans for young drivers were effective in bringing down fatalities by 11 percent.
For drivers above the age of 21, the most effective regulation was a ban on the use of hand-held devices. When you look at these results, you will notice that the effectiveness of a law is related to the type of ban enforced.
In another study conducted by the Center for Injury Research and Policy at Nationwide Children's Hospital, it was found that the law's effectiveness depended on two things — whether it was just a texting ban or a total hand-held phone ban and who was targeted by the ban.
In states where there's a complete ban on hand-held phone use, around 55 percent fewer phone conversations were reported among teenage drivers.
Universal bans on all use of hand-held devices do impact the use of cellphones while driving for teenagers. However, texting bans aren't really effective in discouraging teens from texting while driving.
Bans targeted at just young drivers weren't effective in either reducing phone conversations or texting among this age group.
Usually, when there's a universal hand-held phone ban, motorists forgo calling or texting because they can't explain their behavior if caught. However, if there's just a texting ban, they might make claims about using the phone for calling instead of texting when caught.
In addition, it's simpler for police officers to enforce cellphone ban regulations if there's a universal ban on the use of hand-held phones, as they will not be required to assess each case differently.
Free Car Insurance Comparison
Enter your ZIP code below to view companies that have cheap car insurance rates.
Secured with SHA-256 Encryption
Distracted Driving Among Teenagers
Young drivers with little experience are more likely to be involved in a fatal accident if they use a cellphone while driving. The likelihood of engaging in distracted driving is pretty high among teens, as they're constantly using social media and watching videos on their phones these days.
As per the Journal of Adolescent Health, around 40 percent of teenage drivers have used their cellphone for texting or emailing while driving in the past 30 days.
In this survey cohort, around 38 percent of the young drivers said that they texted at least once, around 22 percent texted sometimes, while 16 percent of the drivers texted frequently.
Texting while driving among young drivers was highest in South Dakota and the lowest in Maryland. In Montana, Nebraska, North Dakota, and Wyoming, more than 50 percent of the teenagers reported texting or emailing at least once a day while driving in the past month.
Distracted Driving Laws for Teenagers
For novice drivers, cellphone use is completely banned across 39 states and Washington D.C. Because of the dangers associated with teenage distracted driving, most of the states have enacted strict laws to curtail this particular distraction.
Other than the restrictions on cellphone use, many states also have the Graduated Driver Licensing (GDL) laws to ensure the safety of everyone on the roads when teens start driving.
The GDL program divides driver training for teenagers into phases, i.e., learner stage, intermediate stage, and full privilege stage. During each stage, young drivers are required to abide by certain restrictions and avoid violations to progress to the next stage.
In the intermediate stage, 46 states and Washington D.C. restrict the number of passengers who can accompany a young driver in the car. Engaging in conversations with fellow passengers is one of the major causes of distracted driving accidents, and by restricting the number of passengers, lawmakers intend to help drivers stay focused on driving.
Young drivers are also required to be accompanied by a licensed driver above the age of 21 who can keep an eye on things.
When it comes to DUI laws for underage drivers, lawmakers have no tolerance for any trace of alcohol in a driving teenager's system. It's illegal to drink under age 21 anyway, and drinking and driving is particularly dangerous for inexperienced drivers.
The penalties for underage DUI can be pretty harsh and might include fines, license suspensions until the age of 21, vehicle impoundment, points on the individual's driving record, community service, and imprisonment.
Teen Driver Safety
Distracted driving is the cause of six out of 10 serious accidents among teenagers. It's important to talk to your children about staying focused when they're behind the wheel; their life may depend on it. Drivers in the age group of 16-19 are much more likely to be involved in fatal crashes than drivers over the age of 20.
Studies show that only 25 percent of parents talk to their kids about safe driving habits. Many parents think their children understand they need to be safe on the road; however, you'd be surprised what kids get up to when they're out with their friends. Have this conversation, even if you don't think you need to.
Know the GDL laws in your state and make sure that your children are abiding by each one of them while they first start driving. A single violation at the learner's or intermediate stage can ruin their record for a long time.
Being a good role model and avoiding distractions like cellphones goes a long way toward instilling the right behavior in your kids. No matter how important a call from your work might be, just avoid it while you're driving with your kids.
You may also consider drawing out a parent-teen driving agreement to lay out the rules that you expect them to follow when they're learning to drive.
Car Insurance Rates
If you're involved in an accident or you get a ticket for distracted driving, your insurance company will take notice, as these increase the likelihood of a claim. If you're caught time and again using your cellphone or drinking and driving, you might be categorized as a high-risk driver.
As a high-risk driver, it's exceedingly difficult to get car insurance, especially at a reasonable rate.
Distracted Driving vs. Drunk Driving
Although both cellphone use while driving and drunk driving can be dangerous depending on the situation, DUI usually has harsher penalties because it's considered riskier and claims more lives.
However, according to a survey by Cambridge Mobile Telematics, people are more afraid of distracted drivers than drunk drivers. That might just be the fear of people in this survey cohort, as the number of fatalities from drunk driving is much higher than distracted driving.
Distracted driving led to 3,166 fatalities in 2017, while drunk driving claims more than 10,000 lives in a year. By that number only, we can assess that drunk driving can be much more dangerous.
Distracted driving is, however, not easy to prove and each state has varying laws over the use of a cellphone while driving. Moreover, it's difficult to track the number of accidents as a result of distracted driving because motorists may lie or believe their cellphone use was not the cause of an accident.
All the states have laws banning the consumption of alcohol before/while driving and police officers can enforce this law by checking the BAC levels of motorists. This makes it easier to record drunk driving crashes.
How does a Ticket/Violation Impact Car Insurance Rates
You might fight in court to reduce your penalties for DUI or using your cellphone while driving, but there's one thing that you will not able to change — an increase in your car insurance premiums.
The moment a ticket or violation is reflected on your record, insurance companies consider you a potential risk for future accidents, and that impacts your rate now.
We have done some research to show you how distracted or drunk driving violations can impact your rates in three states — South Carolina, California, and Florida. Keeping the driver profile the same in every scenario, we have taken quotes from four insurance providers. This data clearly shows that DUI violations lead to higher rates, and if you're in California, you will see a significant rise in premiums after any violation.
Distracted driving laws are constantly evolving with the intention to make the roads safer for everyone. Though prison time for texting might seem a little harsh, it's for your own good, as taking your eyes or mind off of driving can be fatal.
Frequently Asked Questions
Can speed cameras catch you on your phone?
None of the speed or red-light cameras are used to catch motorists using their cellphones as of now. However, a Maryland suburb is considering installing highway cameras to capture violators who use cellphones while driving. If implemented, this would be a first in the country.
Can law enforcement obtain cell phone records for someone who texted behind the wheel?
The simple answer is: police officers can obtain call records after an accident if there was evidence of distracted driving. Though it involves getting permission from the court, it's not uncommon to search the phone records of motorists after major accidents.
Can a police officer check your phone to see if you were using it while driving?
Just like obtaining cellphone records, police officers need search permission to check your cellphone, but that usually doesn't happen because of privacy laws. If they need information about your activities, they usually order a call record.
Can you get a ticket for texting at a red light?
It's a gray area — some states clearly state that the vehicle must be in motion for a texting while driving violation, while other states don't mention anything about a red-light stop. It's always better to abstain from using your cellphone when you're behind the wheel, no matter what.
Ready to start your car insurance search? Use our FREE online tool below to get going.