Car Insurance in San Jose, California [Rates + Comparison Guide 2020]
The average rates for car insurance in San Jose, CA, are $385.03/mo. California requires 15/30/5 in minimum liability coverage. Compare quotes online to reduce your rates.
Free Car Insurance Comparison
Secured with SHA-256 Encryption

From eBay to Cisco, and from Adobe to PayPal. It's no wonder San Jose, California is referred to as the "Capital of Silicon Valley."
Nestled in South Bay, the city is home to some of the world's largest tech companies, including Apple in nearby Cupertino, and Facebook in nearby Menlo Park. Indeed, San Jose is not only known for being a hub of innovation, but it's also earned the distinction of having the fastest-growing economy in the United States.
Moving beyond the technological, San Jose's 1.03 million residents can be found working in a variety of industries, ranging from Health Care to Food Services, and living throughout the city and its suburbs.
In spite of their differences, much of San Jose's population has something in common — a need for car insurance. And in a city of nearly 180 square miles, getting on the road with reliable coverage is imperative. But if choosing the right provider seems as complex as computer code, you're not alone.
The good news? When it comes to car insurance in San Jose, we've cracked the code.
Through this comprehensive guide, we're getting to the bottom of your questions — from cheap rates, to texting and driving laws, and to the common factors that influence your premiums.
And that's not all. We're also taking a closer look at the topics that matter to you, like crime in San Jose, traffic hotspots, toll roads, and workforce trends.
As if that weren't enough, we're also wrapping up this guide with a list of FAQs.
Bottom line? We're making everything you need to know about driving in San Jose simple, accessible, and convenient.
You can shop rates now by entering your zip code into our FREE car insurance comparison tool. Now, let's begin by taking a closer look at the cost of car insurance in San Jose.
The Cost of Car Insurance in San Jose
We get it — trying to figure out just how much you'll be paying in car insurance premiums doesn't always come easily. And for drivers living in San Jose, a variety of factors will come into play, including your age, zip code, and whether or not you have a clean driving record.
Which city you live in will have a major affect on car insurance. That's why it's essential to compare San Jose, California against other top US metro areas' auto insurance rates.
Thankfully, you can get more insight into your rates. Through our in-depth analysis of Quadrant data, we're shining a light on what premiums really look like for typical San Jose drivers.
– San Jose Rates by Age, Gender, and Marital Status
In the eyes of insurance providers, it's all about risk. And believe it or not, factors like age, gender, and your marital status serve as indicators as to whether companies think you're more or less likely to file a claim.
These states no longer use gender to calculate your auto insurance rates — Hawaii, Massachusetts, Michigan, Montana, and North Carolina, Pennsylvania. But age is still a big factor because young drivers are considered high-risk drivers in San Jose. California does use gender, so check out the average monthly auto insurance rates by age and gender in San Jose, CA.
Rates by Age in San Jose
The fact that younger drivers tend to pay the highest rates is the norm in the car insurance industry. But this is especially noteworthy for San Jose residents, as more and more millennials are flocking to the city.
San Jose, California auto insurance rates by company and age is an essential comparison because the top auto insurance company for one age group may not be the best company for another age group.
Data USA reports that the median age for San Jose is 36.8. So what does that mean in terms of car insurance premiums? Here's a look at some of the average rates among four distinct age groups:
We can see that even though 35-year-old drivers in San Jose aren't paying the lowest rates, they are paying among the lowest at an average of just over $2,400. The age group paying the least in premiums is 60-year-olds, who are averaging $2,172.39 annually.
We can also see a clear demonstration of San Jose's youngest drivers paying the highest rates. At an average rate of $6,822.04, 17-year-olds are paying more than three times what their 60-year-old counterparts pay — amounting to a steep $4,600+ increase.
Rates by Gender (Male vs. Female)
Gender can also play a role in what you pay in car insurance rates. In fact, experts with the Insurance Information Institute say statistics prove that women tend to have fewer accidents and fewer DUIs than men, and therefore, tend to pay lower rates.
In comparing the average rates between male and female drivers in San Jose, we found this pattern to be true — male drivers are paying more than female drivers, by about $174.
But here's something important — the use of gender as a determining factor for car insurance is changing in the state of California.
As of January 1, 2019, the Gender Non-Discrimination in Automobile Insurance Rating Regulation bans the use of gender in setting insurance rates for private passenger cars. In fact, state officials say that car insurance companies operating in the state will have to file a "revised class plan" removing the use of gender in their ratings.
Rates by Marital Status, Gender, and Age
Throw your marital status into the mix, and now you have another factor that can impact your rates. Why? Because car insurance companies tend to see married couples as more stable than single drivers, and far less likely to file a claim.
We decided to compare rates among both married and single drivers living in San Jose:
In averaging the rates among married drivers and single drivers, the difference is obvious, with married drivers averaging $2,304 in rates, and single drivers averaging $4,973.18 in rates.
Beyond that, we can also see that the differences in rates among married drivers, whether male or female, are minimal. Case in point — 60-year-old married males are paying just $5.84 more than their female counterparts, and 35-year-old females are paying just $44.47 more than their male counterparts.
Cheapest Zip Codes in San Jose
Zip codes do much more than reveal where you live — they also give car insurance providers clues as to whether you reside in an area prone to more crime, more accidents, or even more inclement weather. In short, car insurance companies take where you live into consideration when setting your rates. MoneyCrashers.com provides this explanation:
"Because most traffic accidents occur close to home, the area you live in greatly affects your rates. More densely populated neighborhoods with more cars mean you are at a higher risk of accidents, theft, and collisions with injuries."
We compiled the average car insurance rates for every zip code in San Jose. You can search for yours by using the "search" field:
Find more info about the monthly San Jose, CA car insurance rates by ZIP Code below:
Immediately we found that the rates among San Jose's zip codes appear to be fairly consistent. In fact, the difference between the most expensive zip code and the least expensive zip code was less than one thousand dollars, at $771.37.
Based on this data, the cheapest zip codes for car insurance in San Jose are:
95130 (including Bucknall and Castro) at $4,620.35
95129 (including West Valley and West San Jose) at $4,645.96
95124 (including Cambrian Park and around the Good Samaritan Hospital) at $4,646.04
On the flip side, the most expensive zip codes for car insurance in San Jose are:
95121 (near Evergreen) at $5,359.80
95111 (including South San Jose) at $5,367.68
95122 (including East San Jose) at $5,391.72
–
What's the best car insurance company in San Jose?
Here's the deal — when it comes to what San Jose drivers pay in premiums, it doesn't stop with age, gender and zip code. Your commute, driving record, and of course, which company you choose, will all have an impact on your bottom line.
The cheapest San Jose, CA auto insurance company can be discovered below. You then might be asking, "How do those rates compare against the average California auto insurance company rates?" We cover that as well.
Cheapest Car Insurance Rates by Company
Let's begin by comparing rates among some of the largest car insurance providers in San Jose:
We can see that the cheapest car insurance provider on this list is USAA — but not by a longshot. Geico and Progressive come in at a close second and third to the insurance provider's average rate of $2,652.57.
Conversely, Farmers has the highest average rate in this group. In fact, it's the only provider on this list with an average rate exceeding $5,000 — 1.9 times higher than that of USAA.
Best Car Insurance Rates by Commute
Just how many miles are California residents putting on their cars each year? According to the U.S. Department of Transportation's Federal Highway Administration, the answer is 13,414. It's a pretty significant number when you consider that insurance companies take a close look at how much their customers drive. Allstate puts it simply:
"Someone who has a long commute to work may pay more for insurance than someone who only uses their vehicle to run errands on weekends — since more miles behind the wheel mean more exposure to risk."
In comparing San Jose drivers who have 10-mile commutes to those who have 25-mile commutes, we found that the longer commute consistently translated into higher rates:
While every insurance provider on this list is charging a higher rate for a longer commute, San Jose drivers with Nationwide are paying the biggest difference. The difference between a 10-mile commute and a 25-mile commute for Nationwide drivers in San Jose is $1,123.64.
On the flip side, the smallest difference in commute rates can be seen among State Farm drivers. The difference between a 10-mile-commute and a 25-mile commute is $297.06.
Best Car Insurance Rates by Coverage Level
How much car insurance San Jose drivers choose to purchase will hinge on a number of factors, primarily, whether they want to go beyond the state's minimum car insurance requirements.
Your coverage level will play a significant role in your San Jose, CA auto insurance rates. Find the cheapest San Jose, California auto insurance rates by coverage level below:
And at the end of the day, it's pretty simple — San Jose drivers who opt for more insurance coverage will tend to pay higher rates. Therefore, it should come as no surprise that when we compared what San Jose drivers with high, medium, and low coverage levels are paying, we saw a distinct pattern:
Bottom line — no matter what insurance provider San Jose drivers are insured with, they are paying higher rates for high coverage, and lower rates for low coverage.
Of those opting for higher levels of car insurance coverage, drivers with Farmers are paying the most, at $5,389.92. Of those opting for the lowest levels of coverage, drivers with USAA are paying the least, at $2,830.82. The difference between the two? $2,963.21.
Best Car Insurance Rates by Credit History
Whether you're buying a home or applying for a loan — your credit score often serves as a barometer to lenders. And while most car insurance providers look to your credit score when determining risk, this practice is prohibited in the state of California.
Best Car Insurance Rates by Driving Record
A speeding ticket, a traffic accident, or a DUI (driving under the influence) citation — an infraction on your driving record can increase your odds of higher rates.
Your driving record will affect your San Jose auto insurance rates. For example, a San Jose, California DUI may increase your auto insurance rates 40 to 50 percent. Find the cheapest San Jose, California auto insurance rates by driving record.
To see how this plays out among drivers in San Jose, we compared rates among those with clean records, one speeding violation, one accident, and one DUI:
For the most part, we see that rates increase as drivers progress from a clean record, to one speeding violation, to one accident, and to one DUI. However, an exception can be seen with Liberty Mutual, where drivers who have had one accident are paying higher rates than those with one DUI.
Another notable takeaway? The lowest averages across the board can be seen with Geico, and the highest with Farmers.
–
Car Insurance Factors in San Jose
"A desirable place to live, a strong job market, and a high quality of life."
Factors affecting auto insurance rates in San Jose, CA may include your commute, coverage level, tickets, DUIs, and credit. Controlling these risk factors will ensure you have the cheapest San Jose, California auto insurance.
They're all reasons why experts with U.S. News and World Report have placed San Jose, California on its list of the "Best Places to Live in the USA." In spite of the city's high cost of living, San Jose continues to experience significant growth across multiple sectors.
–
San Jose Growth & Prosperity
When it comes to the strength city's economy, growth is always a positive indicator. According to the Brookings Institution, a city's economic growth creates new opportunities, and helps it become more efficient. We looked at the institution's Metro Monitor and found that San Jose:
Ranks fifth (out of 100) in overall growth
Jobs are up 18.7 percent (ranked ninth)
The Gross Metropolitan Product (GMP) is up 51.8 percent (ranked first)
Jobs at young firms are up 3.0 percent (ranked 10th)
Now, onto prosperity. According to Brookings, prosperity "captures changes in the average wealth and income produced by an economy." We quickly learned that when it comes to prosperity, San Jose is unmatched, ranking first in every category:
San Jose ranks first (out of 100) in prosperity
Productivity is up 27.8 percent (ranked first)
The standard of living is up 32.8 percent (ranked first)
The average annual wage is up 32.5 percent (ranked first)
–
Median Household Income in San Jose
In 2017, the median annual income for San Jose households was $104,675. As illustrated in the graph below, this figure was 1.7 times higher than the national median income of $60,336.
But the good news for San Jose doesn't stop there. The previous year's median income was $101,940, which amounts to a 2.68 percent increase for San Jose residents.
Based upon an average insurance rate of $4,20.35, we can conclude that a San Jose resident with a median salary of $104,675 is spending 4.41 percent of their income on car insurance.
Want to know how much of your income is going toward your premium? Simply enter your data in the free Calculator Pro tool below:
Homeownership in San Jose
Does owning a home affect your car insurance rates? The answer is yes, and in a good way. In fact, a Consumer Federation of America study found that drivers who rent averaged about $112 more in premiums when compared to drivers who own homes.
In the city of San Jose, Data USA reports that homeownership is on the rise, with the percentage of homeowners increasing from 56.9 percent in 2016 to 57.4 percent in 2017.
Yet despite this increase of homeownership, these figures remained lower than the national average of 63.9 percent. And when looking at the median property values in San Jose, one might begin to understand why.
In 2017, the median property value in San Jose was $854,700. As illustrated in the bar chart, the largest share of San Jose households had a property value in the $750,000 to $1,000,000 range.
Education in San Jose
Here's an interesting fact — many car insurance companies will award lower rates to those who have college degrees.
This leads us to our next subject — the state of education in San Jose.
City-Data reveals the top five colleges and universities in San Jose by enrollment:
San Jose State University
Evergreen Valley College
San Jose City College
University of Phoenix-Bay Area Campus
Carrington College California-San Jose
As for the largest universities by the number of degrees awarded, Data USA reports they are:
San Jose State University (9,010 degrees awarded)
San Jose City College (1,022 degrees awarded)
International Technological University (759 degrees awarded)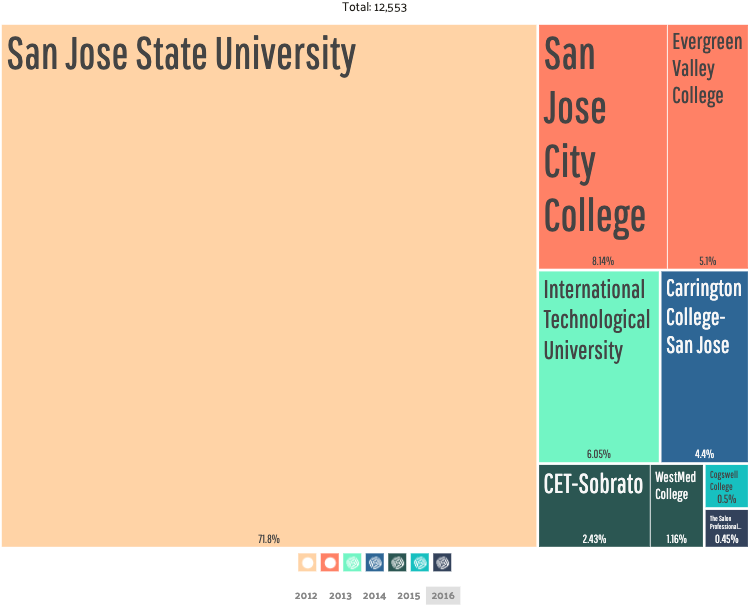 Finally, here's a look at the city's largest community colleges by enrollment:
Evergreen Valley College
San Jose City College
Mission College
West Valley College
De Anza College
Wage by Race & Ethnicity in Common Jobs
In going from college to career, we're now examining average salaries among the most common jobs by race and ethnicity. While we don't have data specific to San Jose, we do have data specific to the state. According to Data USA, California's highest paid race/ethnicity in 2017 was Asian, with an average salary of $ 69,782.
We decided to take a closer look at the average salaries made among workers in the "Miscellaneous Managers" category, putting them against the average car insurance rate in San Jose ($4,20.35,):
Our analysis shows that, based upon these estimations, the racial/ethnic group paying the least toward car insurance is Native Hawaiian and other Pacific Islander, at 3.6 percent of their income. Those paying the highest percentage of their income toward car insurance, at 7.1 percent, are those categorized as "other."
Wage by Gender in Common Jobs
In breaking down pay by gender, we once again look to data specific to the state. In 2017, male employees in California made 1.26 times more than females, at an average salary of $75,050.
We compared the salaries among male and female workers in the "Miscellaneous Managers" category, and put them against the average car insurance rate in San Jose ($4,20.35,). We determined that, in spite of a lower salary, women were paying a higher percentage of their income toward car insurance, at 4.88 percent.
Poverty by Age and Gender
If we're being honest, "poverty" probably isn't a word most would use in describing anything to do with San Jose.
But the reality is that 2017 data points to a sizable portion of the city's population living below the poverty line — 10 percent, to be exact. Statistics go on to show that in 2017, the largest group of San Jose residents living in poverty were females ages 18 – 24, followed by females ages 25 – 34, and males ages 18 – 24.
Poverty by Race and Ethnicity
As for the most common racial or ethnic group living below the poverty line? Data USA experts say that was Hispanics, followed by Whites and Asians.
Employment by Occupations
By now, it should come as no surprise that employment in San Jose is expanding.
From 2016 to 2017, employment in San Jose grew from 528,000 employees to 544,000 employees — a 2.97 percent increase,
The most common job groups by the number of people are:
Management Occupations (66,166 people)
Office & Administrative Support Occupations (58,313 people)
Computer & Mathematical Occupations (46,389 people)
Free Car Insurance Comparison
Enter your ZIP code below to view companies that have cheap car insurance rates.
Secured with SHA-256 Encryption
Driving in San Jose
Most would agree — California has earned a reputation for having some of the nation's busiest roads. In fact, state officials say it best:
"California's freeways and major thoroughfares are among the most congested in the nation."
Knowing that San Jose's roads may come with traffic jams and headaches can certainly make for an uneasy driver. But that's exactly why we're taking the time to highlight San Jose's freeways and streets — to increase your knowledge and understanding before you hit the road.
Roads in San Jose
Indeed, it's difficult to discuss San Jose's roads without first taking a look at its highways. While San Jose's traffic may not rise to the level of cities like Los Angeles, knowing the ins and outs of the city's major thoroughfares can help motorists stay informed, and ahead of the game.
Major Highways in San Jose
According to the Interstate Guide, the state of California has 12 active routes spanning 2,457.34 miles. Of those 12 major routes, I-280, I-680, and I-880 all make their way through San Jose.
Interstate 280 — With its north end in San Francisco and its south end in San Jose, I-280 spans a total of 57.22 miles.
Interstate 680 — This 70.52-mile interstate has its northern end in Fairfield and its southern end in San Jose.
Interstate 880 — The shortest of the three interstates, I-880 stretches 47.22 miles from Oakland to San Jose.
https://www.youtube.com/watch?v=Szx5OFzD7Cg
Tolled Express Lanes can be found on State Road 237. While rates will vary based on congestion, they range from a minimum of $0.30 to a maximum of $8.00.
Drivers can pay cash on the spot, or get a FasTrak® transponder for their cars. To learn more, visit this site.
– Popular Road Trips and Sites in San Jose
San Jose is not without its share of tourists' spots and road trips. Among some of the top attractions:
Happy Hollow Park and Zoo — A 16-acre zoo and amusement park.
Mission Peak — A public park operated by the East Bay Regional Park District, and the northern summit on a ridge that includes Mount Allison and Monument Peak.
Santana Row — An entertainment district that includes dozens of shops, restaurants, and a movie theater.
San Jose Museum of Art — A museum with many exhibitions dedicated to California artists.
Lake Cunningham Park — A public park with a 50-acre lake.
Free Car Insurance Comparison
Enter your ZIP code below to view companies that have cheap car insurance rates.
Secured with SHA-256 Encryption
–
Road Conditions
Potholes, bumps, cracks, and openings. You name it, and San Jose drivers have probably encountered it on the road.
To better analyze San Jose's roads, we examined data from TRIP, a national transportation research group. Based on TRIP's 2018 Urban Roads Report, a majority of San Jose's roads are not in good shape. Here's the group's breakdown of the city's road conditions;
Poor – 64 percent
Mediocre – 18 percent
Fair – 9 percent
Good – 9 percent
Vehicle Operating Costs – $983
The City of San Jose has provided several online tools to help residents monitor progress on road repairs:
This document contains a comprehensive list of streets with a low Pavement Condition Index (PCI). In other words, local experts consider these roads to be in poor condition.
This Department of Transportation page details a list of ongoing pavement projects
Residents who want to report a pothole can do so by heading to this page and filling out the service request form, downloading an application, or calling the city.
Unfortunately, poor roads are not an issue exclusive to the city of San Jose.
In 2017, Senate Bill 1, also known as the "Road Repair and Accountability Act," set forth sweeping measures to increase funding for transportation projects, including road repair, throughout the state of California.
Among those measures? Gas taxes. If fact, as of July 1, 2019, California's gas tax increased 5.6 cents a gallon — giving the state the distinction of having the "highest taxes and fees on gas in the country."
San Jose Speeding and Red Light Cameras
While a number of California cities do have red-light cameras in place, San Jose is not one of them — even though the cameras were once an option explored by city leaders.
What San Jose drivers may see, however, are traffic cameras, much like those highlighted in the news report below:
Vehicles in San Jose
When it comes to the frequency of car thefts in San Jose, police report that they have "doubled in the past 15 years."
It's from here we can begin to look at key statistics and data surrounding vehicles in San Jose including thefts, trends in ownership, and crime.
– Most Popular Vehicles Owned
When you consider that San Jose tops 24/7 Wall Street's list of America's richest cities, one begins to expect that luxury cars are commonplace. We checked in with YourMechanic and discovered that the most popular car in San Jose is, in fact, a luxury car — the BMW 540i.
Besides carrying a hefty price tag (J.D. Power lists a cost of just under $60,000 for a 2019 model), we wanted to dig deeper into the BMW's safety and fuel economy. We found that:
Number of Cars per Household
How many cars does the average San Jose household have?
While the largest share of San Jose households (38.2 percent) has two cars, Data USA reports the next highest share isn't in owning one car, but rather, in owning three cars (21.9 percent).
Households Without a Car
When looking at the share of San Jose households without a car, the figures become even smaller. Our data shows that from 2015 to 2016, the number of households without a vehicle dipped slightly from 5.5 percent to 5.1 percent.
Speed Traps in San Jose
The National Motorists Association manages a website known as The National Speedtrap Exchange (SpeedTrap.org), giving drivers from all over the country a place to submit and confirm speed traps in their communities.
The good news for San Jose? It does not make the site's list of the 10 Worst California Speed Trap Cities. However, nearby San Fransisco ranks seventh on this list, with three reported speed traps.
Vehicle Theft in San Jose
A startling statistic for the city of San Jose — data from the FBI's Uniform Crime Reporting Program shows that in 2013, the city ranked second in the state for car thefts, with 7,926 reported stolen. Los Angeles claimed the top spot, with numbers nearly twice that of San Jose's, at 14,382.
Safest Neighborhoods in San Jose
There's no other way to say it — knowing that your home and your vehicle are in a safe neighborhood is important.
Neighborhood Scout is a platform in which residents can take a closer look at crime in their communities. In taking a closer look at San Jose's profile, we uncovered data tied to a number of key categories — ranging from incidents of violent crime, to your chances of becoming a victim of crime.
Violent Crime Comparisons Per 1,000 Residents
In looking at San Jose's rate of violent crime per 1,000 residents, we discovered the city has a lower rate than the state (at 4.14 per 1,000 residents versus 4.49 per 1,000 residents). However, San Joe's rate is slightly higher than the national median of four per 1,000 residents.
What are your chances of becoming a crime victim in San Jose? According to Neighborhood Scout, the odds are one out of 242, lower than the statewide probability of one in 223.
And then there's San Jose's Crime Index. The site has assigned San Jose an 18 out of 100, meaning the city is considered safer than 18 percent of U.S. Cities.
Finally, we've complied Neighborhood Scout's data for the city's violent and property crimes:
– Traffic
Thirty minutes, sixty minutes, or an hour-and-a-half — just how much time are San Jose drivers spending stuck in traffic? And more importantly, how safe are San Jose's drivers?
By examining data from the TomTom Traffic Index, the National Highway Traffic Safety Administration (NHTSA) and more, we're painting a clearer picture of what traffic in San Jose really looks like.
Traffic Congestion in San Jose
The TomTom Traffic Index provides in-depth congestion data for more than 400 cities in six continents. Congestion levels are measured in percentages, indicating the extra amount of time drivers are spending on the roads.
TomTom's congestion levels can be found in four "tiers":
More than 50 percent
Between 25-50 percent
Between 15-25 percent
Less than 15 percent
As you can guess, cities with more than 50 percent congestion have the highest levels of traffic. San Jose falls in the index's second-highest tier, with an overall congestion level of 32 percent.
– Transportation
Data USA reports that San Jose drivers have longer commute times than the typical U.S. worker — at 30 minutes, versus the national average of 25.5 minutes. In addition, 3.05 percent of San Jose's workforce has a "super commute" in excess of 90 minutes.
More than three-quarters of San Jose drivers drive alone, compared to 11.9 percent who carpool, and just over 5 percent who use public transit.
Busiest Highways
In comparing San Jose's roads to the rest of the state, we looked to the California Department of Transportation, also known as Caltrans.
The department's Annual Vehicle Delay report presents data for congested freeways organized by county and route, and ranked by Vehicle Hours of Delay (VHD). The department defines "delay" as moving at speeds below 35 miles per hour.
Of the 180 ranked locations in the 2017 Caltrans Annual Vehicle Delay report, 11 Santa Clara County roads are listed:
San Jose's Interstate 280 also makes an appearance on the Federal Highway Administration's list of Urban Highways with the Most Lanes. Much like many of interstates on this list, I-280 is noted for having 12 lanes (total lanes in both directions, not including tolls).
How Safe Are San Jose's Streets and Roads?
In reviewing data from the National Highway Traffic Safety Administration (NHTSA), we gain a closer look at road-fatality trends in San Jose — how often they're happening, and where they're taking place. The following data is specific to Santa Clara County.
First, we're looking at fatal crashes countywide. Though fatalities increased from 2013 to 2015, statistics show a decline from 2015 to 2017.
In looking at fatalities in crashes involving an alcohol-impaired driver (with a blood-alcohol content of over .08) between 2013 and 2017, we see patterns of both increase and decrease.
Santa Clara County has seen a steady decline in the number of single-vehicle crash fatalities since 2015.
The same can be said for fatalities in crashes involving speeding.
Though the number of fatalities in crashes involving a roadway departure decreased from 2015 to 2017, the lowest number of fatalities in this time period was in 2014.
Fatalities resulting from crashes involving an intersection, or that are intersection related, increased from 2016 to 2017.
The number of passenger car occupant fatalities have declined from 2015 to 2017.
Pedestrian fatalities in Santa Clara County dropped to 25 in 2017, marking the first time fatalities were below 30 in the 2013-2017 time period.
Santa Clara County had five pedalcylclist fatalities in 2017 — the county's lowest since 2014.
NHTSA's Fatality Analysis Reporting System (FARS) provides fatality data specific to certain road types. Among them are:
Arterial roads, which carry large amounts of traffic, like highways.
Minor arterials, or smaller roads linking cities, towns, and geographical areas.
Collector roads in urban areas "collect" local traffic to arterial roads. Collector roads in rural areas serve as intra-county connections.
Finally, here's a look at county-wide railroad crash data provided by the U.S. Department of Transportation:
Allstate's America's Best Drivers Report
Allstate annually produces an "America's Best Driver's" Report highlighting cities where experts say drivers are less likely to experience collisions. San Jose has maintained the same ranking from 2017 to 2018, and with a 44.7 percent likelihood of collision:
Ridesharing in San Jose
RideGuru reports that San Jose residents looking to take advantage of ridesharing services have the following options:
Uber
Lyft
HopSkipDrive Rideshare for Kids
Traditional Taxis
In searching RideGuru, we see that prices among rideshare companies and traditional taxis will differ —with some rideshare companies offering lower prices, and others offering higher prices, depending on levels of service. Our advice? Compare plenty of offers before making a final decision.
EStar Repair Shops
San Jose drivers looking for a reputable car repair shop have a resource in the Esurance E-Star Direct Repair Program. The company's "E-Star" network of more than 1,400 shops not only provides customers with online car-repair monitoring, but it also ensures repairs are guaranteed.
We searched the E-Star network for shops within 20 miles of downtown San Jose:
Weather in San Jose
Without a doubt — sunny skies and pleasant temperatures are synonymous with California living. In researching the typical weather in San Jose, we turned to U.S. Climate Data:
In spite of its idyllic climate, San Jose is not immune to inclement weather. City-Data records 15 natural disasters in Santa Clara County ranging from floods, to fires, and to winter storms. While these weather events may appear to be sporadic in nature, the unpredictability makes a solid case to have comprehensive car insurance coverage in the instance your car is damaged.
Public Transit in San Jose
Light rails, buses, and downtown shuttles — San Jose residents looking to take advantage of public transportation have options through the Valley Transportation Authority, or VTA.
Among the modes of transportation offered are light rails, buses, and the Dash (Downtown Area Shuttle). Though rates will vary among ridership (youth, elderly & disabled, etc) and routes, basic adult fares are as follows:
Single Ride – $2.50
8-Hour Light Rail Pass – $5
Day Pass – $7.50
Monthly Pass – $90
Annual Pass – $990
San Jose residents looking for a complete list of rates can visit this VTA page for more. Residents who additionally want to take advantage of VTA's mobile fare payment system, EZfare, can learn more here, or download the app through the Apple App Store or Google Play.
Alternate Transportation
San Jose residents looking to hit the road by bike or scooter can do so through Lime or Bird — both rental programs available in the city. Renting through the companies begins with downloading their respective apps, and locating available bikes and scooters. Participants are typically charged a $1 unlocking fee, and then charged by the minute.
Those for looking for a more detailed list of biking resources and services can visit the Team San Jose's "Bike San Jose" site (of the San Jose Convention and Visitors Bureau) for more on rentals and recreation.
Finally, Eco City Cycles brands itself as a zero-emissions pedicab company. Learn more about the company's services here.
Parking in Metro Areas
San Jose's Department of Transportation manages roughly 2,600 metered parking spots in the downtown area, Japantown, San Jose State University, and around the county civic center. Most operate Monday through Saturday 9:00 a.m. to 6:00 p.m., except on city holidays, and during some special events in the HP Arena areas. When it comes to time limits, officials say —
They vary from 12 minutes up to four hours
The majority are set for one hour
The maximum time limit will be indicated on the meter and by posted signs
And, when it comes to cost —
Most meters will cost between $1-$2 per hour
Metered parking during events in the SAP Arena area or around the Convention Center will range from $0-$25 depending upon the event
The city also operates and maintains nine surface lots, approximately 7,500 parking spaces (primarily located downtown), and eight parking garages. For a complete list of garages, both city and privately-owned, click here
Discounted monthly parking for San Jose residents who live downtown is available in the following garages:
Market & San Pedro Street Garage
Third Street Garage between Santa Clara and St. John streets
Second & San Carlos Street Garage
Fourth Street Garage at San Fernando Street
To learn more about rates, click here.
Finally, San Jose drivers can reserve parking through the ParkMobile app. You can begin by heading to this site.
Air Quality in San Jose
That cars have an impact on air quality is common knowledge, and San Jose is no exception. Experts with the United States Environmental Protection Agency (EPA) put it simply:
"Air pollution emitted from transportation contributes to smog, and to poor air quality, which has negative impacts on the health and welfare of U.S. citizens."
We took a closer look at San Jose's most recent Air Quality Index (AQI) trends from the EPA. AQI is a numerical figure that measures air pollutants in a certain area. The lower the AQI, the fewer pollutants.
In the table below, we see a demonstration of days with lower AQI values (i.e., "good" and "moderate"), and days with higher AQI levels ("days unhealthy for sensitive groups," "unhealthy," and "very unhealthy.")
Some takeaways include —
There have been no "very unhealthy days" from 2016 to 2018
The number of "unhealthy days" has increased from zero in 2016, to 11 in 2018.
The number of "unhealthy days for sensitive groups" has fluctuated, decreasing in 2018.
The number of "moderate days" has also increased in this time period
The number of "good days" has decreased since 2016
Military Veterans
There's no question about it — the military has made its mark in California. According to the Governor's Military Council —
"California is home to more than 30 federal military installations that are vital to our national security and the United States Department of Defense directly employs more than 236,000 people in California."
San Jose drivers with ties to the military will want to know whether they qualify for car insurance discounts. While searching multiple car insurance sites for discount information may seem tedious, we've compiled it all below.
But first, more on the military community in San Jose.
– Veterans in San Jose
In looking at where military personnel living in San Jose have served, we learned the largest share — approximately 9,200 people — served in Vietnam. The next highest shares are among those who served in the Gulf War of the 2000s, and in the Gulf War of the 1990s.
Military Bases
While there are no military bases in San Jose, there is a military presence with the San Jose Military Entrance Processing Station in nearby Mountain View.
Military Discounts by Provider
We researched which car insurance providers offer discounts to military personnel living in California. They are:
Famers
Geico
Liberty Mutual
Met Life
Safeco
USAA
USAA Availability in San Jose
San Jose drivers with ties to the military will no doubt consider coverage with USAA. After all, USAA exclusively serves members of the military and their families.
We compiled data comparing USAA's California rates to other large car insurance providers in the state. We also took note of how much higher or lower each company's rates are when compared to the state average:
USAA not only has the lowest average rate on this list, but USAA's rate is also the lowest compared to the state average — nearly $1,000 less. On the flip side, Farmers boasts the highest average rate at just under $5,000 — a 35.51 percent increase over the state average.
Unique City Laws
When it comes to the laws that govern California drivers, here's what you need to know — they can differ from city to city. It's why we're taking the time to highlight a handful of important driving laws — some you may even consider "unique" — in order to keep you up-to-date, and in-the-know.
Car Seat Laws
The San Jose Police Department is making an effort to remind drivers of the importance of properly securing young passengers.
State law dictates that any child who is under eight-years-old must be in a child rear seat and in an appropriate child passenger restraint system that meets all federal motor vehicle safety standards.
The California Highway Patrol goes on to say:
Children under 2 must ride in a rear-facing car seat, unless the child weighs 40 or more pounds OR is 40 or more inches tall.
Children who are 8 years old OR have reached 4'9" in height may be secured by a booster seat, but at a minimum must be secured by a safety belt.
Passengers who are ages 16 and up must comply with California's Mandatory Seat Belt law.
You can learn more by going to the state's "Child Safety Seats" page.
School Zones
The San Jose Police Department will regularly conduct the "Operation Safe Passage" Program as a means of emphasizing and enforcing traffic laws around school zones. San Jose drivers can expect to see an increased number of motorcycle officers conducting patrols in the morning and afternoon hours.
Hands-Free Laws
California law is pretty cut and dry in terms of cell phone use while driving—
Drivers may not use handheld wireless phones or cell phones (some exceptions apply, predominantly in emergency situations)
Drivers under 18 are prohibited from using hands-free cell phones
Texting and driving is illegal (again, some exceptions apply for certain emergency situations)
Food Trucks in San Jose
Food trucks may be popular, but they are not without legal oversight in San Jose.
According to the Office of the City Manager, mobile vendors must:
Have a permit from the San Jose Police Department
Must move every 15 minutes
Must move 500' from the last spot
Cannot stop to vend within 500' of a school
Cannot vend within 200' of another vendor
Cannot trespass on private property
For a full list of guidelines, click here.
Fixed-location vendors must:
Have their permit issued by, and location approved by the SJPD
Must have a maximum site size of 100 square feet
Remain limited to the sidewalk portion of the public right-of-way
Park 150' from Residential Zone or Use (except in Downtown)
More detailed regulations can be found here.
Tiny Homes in San Jose
The national interest in tiny homes is far from small, and they're beginning to make their mark in San Jose. In fact, a simple internet search revealed a planned tiny home community in San Jose specifically for the homeless:
The legal site Nolo reports that the California Department of Housing and Community Development dictates that tiny houses must fall into one of the following categories:
Recreational Vehicle
Park Trailer
Manufactured Home
Factory-Built Housing
Camping Cabin
Site-Built Dwelling built in conformance with the California Building Standards Code.
Bottom line? Before pursuing a tiny home in San Jose, you'll want to make sure you align with San Jose city ordinances, and research your insurance requirements.
San Jose Parking Laws
Finally, for the San Jose driver looking to brave the city's streets, the Department of Transportation offers a few parking regulation reminders (a complete list can be found here):
Fire Hydrants – It is illegal to park within 15 feet of a fire hydrant, whether the curb is marked red or not. Park at least one car length away from fire hydrants.
Parking on, or Blocking Sidewalks – Vehicles may not block, or park on or across a sidewalk or walkway intended for pedestrian travel.
Resident Parking Permits – Be aware that certain neighborhoods only allow parking for residents. Look for signs to gauge if parking is restricted, and where you can park.
Parked on Parkways – Drivers may not park between the curb and sidewalk (this area is known as a parkstrip), whether paved or unpaved.
Free Car Insurance Comparison
Enter your ZIP code below to view companies that have cheap car insurance rates.
Secured with SHA-256 Encryption
San Jose Car Insurance FAQs
As we conclude this comprehensive guide to car insurance in San Jose, we want to address some frequently asked questions.
How Much Car Insurance Coverage Do I Need in San Jose?
California state law dictates the following minimum liability insurance requirements:
$15,000 for injury/death per person.
$30,000 for total injury/death per accident.
$5,000 for damage to property per accident.
Remember, these are minimum requirements. It's always advisable to explore additional coverages such as towing or GAP liability insurance.
If I'm New to the Area, Do I Have to Take the California Driver Test?
Taking a California Driver Test is required if you meet one of these criteria:
You've never been licensed in California, or in any other state
You hold a driver license from a foreign country.
You have a vision-related problem.
You have a limited-term DL for specified physical and mental conditions.
You have a physical condition (except corrective lenses) for which DMV imposes a restriction
You have a restriction on your DL that you wish to be removed.
You have an out-of-state junior, provisional, or probationary DL.
You've been licensed out-of-state but do not have the DL to surrender.
However, it's important to know that the DMV may require a driving test at any time.
To begin reading the state handbook, click here
For a list of important driver test FAQs, click here.
Is Living in San Jose Expensive?
Housing costs are high in San Jose, and the website Payscale.com confirms this. In fact, the bar graph below illustrates how San Jose compares against the national averages in the overall cost of living, housing, utilities, and groceries:
Where San Jose's housing costs are 148 percent higher than the national average, the difference is much less dramatic (though still higher) in the other listed categories.
Payscale also reports the overall average salary in San Jose is $84,525. Some of the top jobs in the city and their average salaries include Software Engineer ($111,277), Senior Software Engineer ($138,396), and Mechanical Engineer ($78,560).
Is There an Airport in San Jose?
Yes — The San Jose International Airport is located at 1701 Airport Blvd.
You've officially reached the end of our complete guide to car insurance in San Jose. You are now equipped with the essentials you need in making more informed decisions about your car insurance.
Now is the time to start searching out the best rates and providers. Comparing is easy — just enter your zip code into our free comparison tool.