Car insurance in Amarillo, Texas [Rates + Comparison Guide 2020]
Average rates for car insurance in Amarillo, TX are $514.08/mo. Texas requires 30/60/25 in minimum liability coverage.
Free Car Insurance Comparison
Secured with SHA-256 Encryption

Whether you're new to the area or have lived in Amarillo for years, you have questions. What's the cheapest car insurance company? How can I get lower rates? What kind of coverage is best for my situation?
Whether you're a cowboy, a student, a manager or anything in between, we'll break it down so you can purchase the right car insurance coverage with confidence.
You can get a personalized quote comparison right now to get started. Just enter your zip code into our rate box above.
What's the cost of car insurance in Amarillo?
Like most people, you probably don't want to overspend for anything, much less car insurance. By breaking down the actual car insurance costs by company and age bracket and more, you'll be able to gain a good understanding of which car insurance companies cater to your situation.
Free Car Insurance Comparison
Enter your ZIP code below to view companies that have cheap car insurance rates.
Secured with SHA-256 Encryption
Do gender and age influence insurance rates in Amarillo?
The median age in Amarillo is about 34 years old. That means there is an equal number of people older and younger than that. So, if you're 33 to 34 years old, you're right there in the middle.
In Amarillo, you're going to be hurting as a 17-year-old looking for insurance. A high school student with a part-time job probably wouldn't even be able to afford car insurance coverage. Thankfully there are auto insurance discounts available, and not all companies are so exorbitant. Remember, these are averages!
The good news is, though, that rates tend to drop the older you get, so the future looks bright.
As is clear to see, rates stay fairly steady, with just a slight decrease once you turn 25.
Good news for Amarillo ladies. On average, ladies pay $247 less annually on car insurance. Some states have banned insurance companies from using gender to formulate car insurance rates, but in Texas, it's allowed and it's happening.
The biggest rate discrepancy between genders is for teens. A teen male will pay on average, $1500 more annually than a teenage female. The age where the genders pay the closest is 35, where the price difference is only $87 a year. But the one constant is that males pay more.
What are the cheapest zip codes in Amarillo?
As crazy as it sounds, you could pay more than a neighbor a block away simply because of your zip code. Some argue that this is discrimination. The insurance companies argue that the risk they take on to insure cars in certain zip codes is higher, so they have to charge higher rates.
No matter how you feel about it, the fact is that in Amarillo, annual rates vary $500 based solely on zip code.
What's the best car insurance company in Amarillo?
Tough question. It's overwhelming when you consider how many insurance options you have! And there's not just one universal right answer. We'll break it down by rates based on several factors so you can place yourself in the closest category to see which company would likely be the cheapest for you.
Free Car Insurance Comparison
Enter your ZIP code below to view companies that have cheap car insurance rates.
Secured with SHA-256 Encryption
What are the cheapest car insurance rates by company?
In most places in the U.S., USAA is the cheapest car insurance company. But it's not available for everyone. You have to be connected to the military to be an eligible customer. If you have military affiliations, they're definitely one of the top contenders available.
If you don't, there are other companies that are pretty competitive.
We partnered with Quadrant Data Solutions to bring you these figures. They're based on averages, and so depending on how much your situation varies from the average rate, you could pay significantly less (or more – but let's stay positive, here).
By checking out this chart, some things are clear, if you're a teenager, you'll steer clear of Allstate, American Family, Nationwide, and Progressive, unless you're able to find some whopping discounts. The other three companies in our study charge about half of what the above-listed ones do for teenagers.
If you're in the median age group for Amarillo (about 33-34 years old), you could expect to find an auto insurance policy in the $2000-3000 range.
The rates we presented to you above are averages, and there are numerous factors that impact your unique auto insurance rates. Read on as we explore a few of these specific factors so you can see how much difference they make.
What are the best car insurance for commute rates?
You might be surprised that the number of miles you drive to work doesn't make more of a difference in your rates. More miles on the road equals more opportunities to be in an accident. But, four of our studied companies didn't change the rate at all based on commute.
This chart shows that even the companies that charge more for a longer commute don't charge a high cost.
In Texas, the average licensed driver puts on 15,533 annual miles. That's a lot of miles. But then again, everything in Texas is big.
In fact, the average Texan puts on far more miles than the longer commute distance in our data. Perhaps there are so few people who drive 6,000 miles or fewer per year the companies don't waste their time offering them lower rates.
What's the best car insurance for coverage level rates?
As you would expect, rates usually rise as you purchase higher levels of coverage. More coverage for you means more at stake for the insurance company.
You may be surprised that Nationwide gets cheaper as the coverage level increases. This seems crazy. Based on this information, you're better off with more coverage from Nationwide. You'll have to get an insurance quote for yourself to see if this holds true in real life quotes.
In this chart below, you'll see how much your coverage level will affect your rates.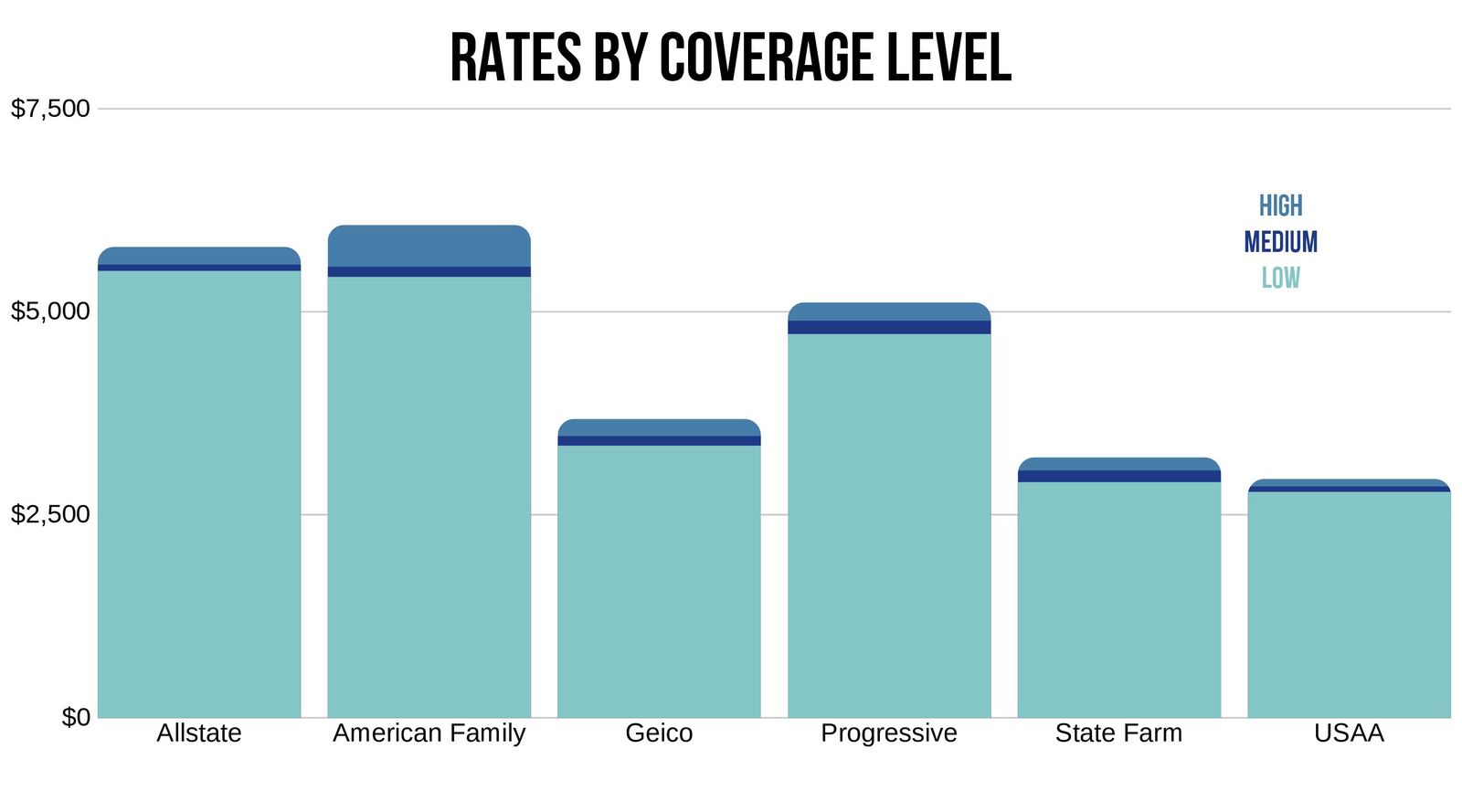 You'll experience the biggest difference between coverage levels with American Family where you'll pay about $53 more per month for high coverage than you will for low. The difference in USAA's rates for low to high coverage levels is just $13 monthly. That's a low price to pay for the increased protection.
Free Car Insurance Comparison
Enter your ZIP code below to view companies that have cheap car insurance rates.
Secured with SHA-256 Encryption
What's the best car insurance for credit history rates?
Along with rates based on gender, this is one of the most hotly debated subjects in car insurance rates. Some states have moved to ban credit history in rate formulation. Insurance companies have an argument, of course, and that is that they say those with poor credit are statistically more likely to file a claim.
In the states that allow it, credit history is one of the biggest influencing factors in your rate. Sometimes it makes more of a difference than your driving history.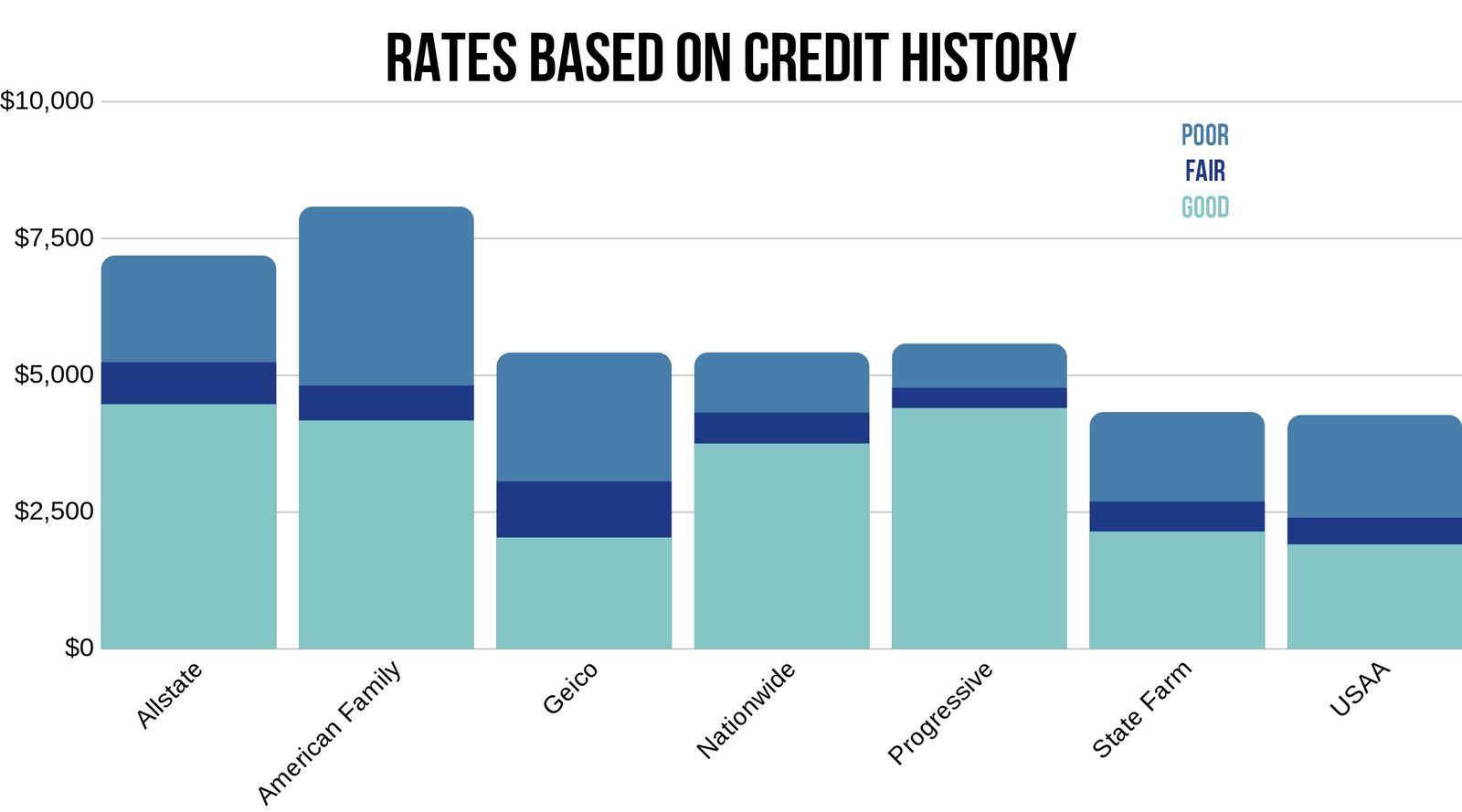 With American Family Insurance, a poor credit rating could cost you nearly $4000 more per year. That's $333 a month. That's out of control. If you have poor credit, you might want to look into other insurance options.
The company most forgiving of credit history is Progressive where poor credit will cost you $1,175 more per year. Still, USAA and State Farm are cheaper insurance options for those with poor credit.
What's the best car insurance for driving record rates?
It only makes sense that your driving record will affect your rates. It makes sense that drivers with a bad history have a higher risk of making a future claim. So, just how much will that ticket hurt you in Amarillo? We'll show you that next.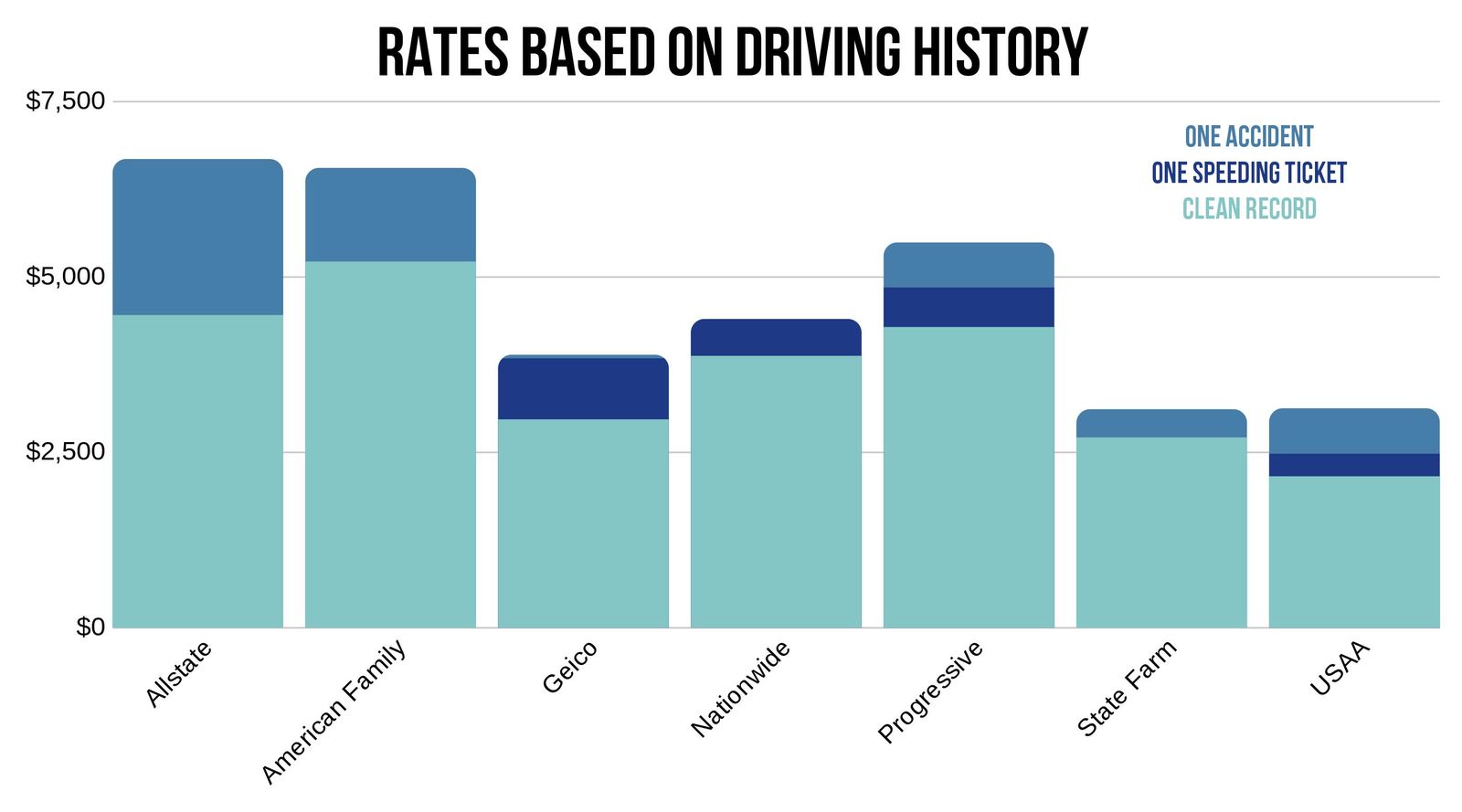 There are some surprising figures in the chart. First off, several companies don't up your rates for a speeding ticket:
Allstate
American Family
State Farm
Nationwide doesn't increase your rates for an accident. And several companies increase rates by a lesser margin for a DUI than they do for an accident.
The craziest thing of all is that each of these companies charges their customers more for having poor credit than they do for having a DUI.
What are the car insurance factors in Amarillo?
If you're wondering how your car insurance rates are calculated, you're not alone. Each company has a little bit different way of doing it, which is why it's so important for you to shop around. You need to find the company that caters to your situation.
Next, we'll look at some statistics and how they impact your rates.
Free Car Insurance Comparison
Enter your ZIP code below to view companies that have cheap car insurance rates.
Secured with SHA-256 Encryption
What's the median household income in Amarillo?
The median household in Amarillo brings in $51,198. Median income means that an equal number of households make more money than that and less money than that. It's not necessarily an average. The national median income
According to our data, the average Amarillo resident has to pay $6,196 per year for car insurance. That figures to be about 12 percent of the median income. That's a lot of money going towards insurance.
You can enter your income and car insurance rates into our calculator to see if you're doing better than our ballpark figure.
What's the percentage of homeownership in Amarillo?
Nationally, homeownership is at 63.9 percent, and Amarillo sits right under that at 61.2 percent. The median home cost is $123,200, nationally the median property cost is $217,600. So, if you're looking to buy a house in Amarillo, things are looking better for you than they are for the rest of the country as a whole.
If you have homeowner's insurance and purchase car insurance through the same company, you'll almost always get a discount.
Sometimes just owning a home helps your rates go down because homeownership shows the insurance company that you're responsible.
What's education in Amarillo like?
The largest colleges in Amarillo are the following:
West Texas A&M is located just south of Amarillo and offers four-year degrees and graduate programs.
Free Car Insurance Comparison
Enter your ZIP code below to view companies that have cheap car insurance rates.
Secured with SHA-256 Encryption
Do race and ethnicity influence wage in common jobs?
When it comes to ethnicity and income in Amarillo, Asians come out on top, pulling in an average of $64,947 a year. The second-highest earners are whites, making $52,072, followed by American Indians earning $45,538 annually.
When you look at average income and average car insurance rates, here's how the percentages vary based on ethnicity.
Asian – 9.5 percent
White – 11.85 percent
American Indian – 13.55 percent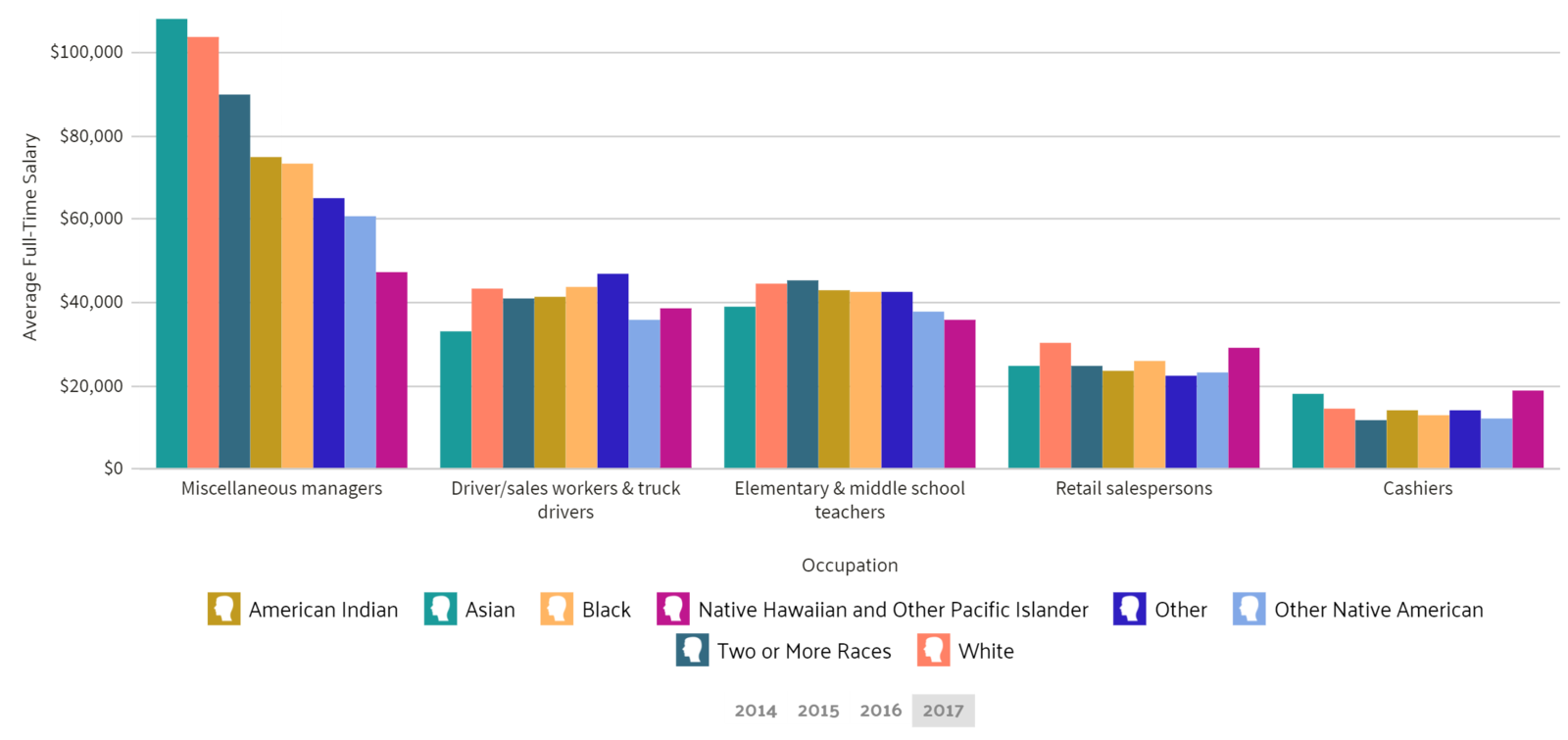 Does gender influence wage in common jobs?
What's the poverty rate by age and gender in Amarillo?
The top four demographic groupings living in poverty are female. These are the age groups:
25-34 year old
18-24 year old
<5 year old
6-11 year old
The fact that more women are in poverty than men should come as no surprise when you consider that the average woman makes nearly $20,000 less annually than her male counterpart.
The overall poverty rate is 16.4 percent which is quite a bit higher than the national average of 13.4 percent
Free Car Insurance Comparison
Enter your ZIP code below to view companies that have cheap car insurance rates.
Secured with SHA-256 Encryption
What's the poverty rate by race and ethnicity in Amarillo?
White – 49.5 percent of the total below the poverty line
Hispanic – 32.2 percent of the total below the poverty line
Black – 8.02 percent of the total below the poverty line
What's the percentage of employment by occupations in Amarillo?
The top three occupations by the number of workers are
Office and Administrative Support Occupations – 12,915 individuals
Sales and Related Occupations – 10,985 individuals
Management Occupations – 7,771 individuals
What's driving in Amarillo like?
Here's where the rubber meets the road…literally. Driving is the very reason you have to have car insurance. What do you need to know about the roads in Amarillo? We'll cover that right now.
What are the roads in Amarillo like?
Here's what you need to know about the roads in town so you can have the best driving experience.
What are the major highways near Amarillo?
Interstate 27 begins – or ends, depending on your perspective – in the heart of Amarillo. It heads south from there to Lubbock, TX. The other Interstate, this one going east/west, is Interstate 40, which bisects the city.
If you want to take a virtual drive across I 40 through Amarillo, this video will do it for you.
The other highways that go through Amarillo are
There's also State Loop 335 which makes a 40-mile loop on the outskirts of the city.
The city of Amarillo maintains 1023 miles of streets and 496 miles of alleys.
Lucky for you residents, there are no toll roads in town.
What are the most popular road trip sites near Amarillo?
There is plenty to do in and around Amarillo. Here are some of the most popular destinations:
Palo Duro Canyon – State Park featuring an 800-foot canyon. Twenty-five miles from downtown Amarillo.
Cadillac Ranch – Art installation featuring half-buried Cadillacs with graffiti. Don't forget your spray paint.
U.S. Route 66-6th Street Historic District – Commercial building with historical ties to the famous Route 66.
What are the road conditions in Amarillo like?
If you're new to the area, you may think, "This is Texas, I don't have to worry about snow." But if you've been around for a while, you know that's not how things work in Amarillo.
While summers are hot, winters bring snow. Snow doesn't usually last long, so if the roads are icy today, they probably won't be tomorrow.
While storms dropping 12 inches of snow are rare, they do happen.
Yes…for now, anyway. The governor of Texas signed a bill on June 2, 2019, banning red-light cameras in the state. However, there is an exception. Cities that had contracts in place before May 7 of 2019, can keep using red light cameras within the bounds of their contract.
Amarillo's contract is up in 2022. Since most residents hate the cameras, this is good news.
There are no automatic cameras to catch speeding being used in Amarillo.
What are the most popular vehicles sold in Amarillo?
What's the most popular car? How many vehicles do most households have? Do you own a car that's a favorite of thieves? We'll answer those questions now.
The Ford F-150 is the most popular vehicle sold each year in Texas. For many Amarillans, owning a truck is a way of life. Texans buy one out of every six pickup trucks sold in the United States each year. And most manufacturers have a "Texas Edition" trim package for their highest levels.
Let's look at the Ford F-150 for a minute. It is an Insurance Institute for Highway Safety (IIHS) Top Safety Pick. That's an important honor to receive.
Your fuel efficiency will vary depending on which engine you drive. If you drive a 2WD 3.0 L diesel F150, you'll get 25 mpg combined city/highway. The worst fuel efficiency for an F-150 is the gas 2WD FFV Base Payload LT, which gets a combined 21 mpg.
What's the average number of cars per household in Amarillo?
About 45 percent of households in Amarillo has two vehicles. The national average bis about 41 percent. If your family owns two vehicles, that's pretty normal in your city.
How many households without a car in Amarillo?
Less than two percent of households (about 1,790 households) in Amarillo don't have a vehicle compared with over four percent nationwide.
Are there any speed traps in Amarillo?
Speed traps that have no traffic justification and are only made so that police can nab more speeders are illegal. So, these "speed traps" mentioned next are places where traffic needs to slow down for safety but tends not to. So there tend to be more motorists given speeding tickets in these spots.
Some of the places you need to carefully watch your speed include:
I40 through the city. The speed limit changes from 75 mph to 60 mph.
School zones.
I27 near I40
Is there a vehicle theft in Amarillo?
Nine hundred ninety vehicles were stolen in one year according to the FBI's 2017 statistics. You're over two times more likely to have a vehicle stolen in Amarillo than in the rest of the country as a whole.
Amarillo is, in fact, the worst city for car thefts in Texas. This clip below has helpful tips for preventing your car from being stolen.
Unfortunately, Amarillo scored a five out of a possible 100 for the crime index. That means it's only safer than five percent of U.S. cities. Comparing Amarillo to the rest of Texas, Amarillo is more dangerous than 97 percent of all the other communities in Texas.
Comprehensive car insurance coverage will protect you financially if your vehicle is stolen. If you're on the fence, maybe your risk of having a vehicle stolen will push you over.
What's the traffic in Amarillo like?
Amarillo has its problems with city traffic, traffic lights not in sync, and construction. It can be frustrating to drive in traffic, so make sure you leave yourself plenty of time so that you don't have to add the stress of being late to the stress from traffic.
What's transportation in Amarillo like?
The average commute time in Amarillo is 17.3 minutes which is almost three minutes shorter than the national average of 20.1 minutes.
Eighty-two percent of Amarillans drive alone to work. Public transportation isn't an option in Amarillo, so the best you can do if you don't want to drive yourself is to find someone to carpool with, as 12 percent of the population there does.
What are the busiest highways near Amarillo?
Amarillo doesn't have any roadways in the top 100 most congested roadways in Texas. The busiest highways through town are the two Interstates: I40 and I27. As you sit in city traffic, just tell yourself, "It could be worse!"
How safe are Amarillo streets and roads?
Most of Amarillo is in Potter County, but some of it extends into Randall County, and its suburbs also include Armstrong, Carson, and Oldham Counties.
We'll look at the statistics for all five counties.
In Texas, in 2017, there were 3,722 traffic fatalities that happened in 3,343 crashes.
It makes sense that the majority of fatal crashes happen on major arteries because that's where the majority of people are traveling.
With a major railway line going right through the city, there are bound to be railroad accidents. They aren't common, but since 2012 there have been six railroad crossing accidents in Amarillo.
One of those incidents involved a pedestrian injury.
One involved a truck trailer and a fatality
Three resulted in injuries
Two incidences resulted in no injuries or fatalities
Allstate America's best drivers report
2018 Best
Drivers Report
Ranking
18
Average Years between Claims
10.4
Relative Claim Likelihood (Compared to National Average)
-3.60%
2017 Best Drivers Report Ranking
28
Change in
Ranking from
2017 to 2018
10
2018 Ranking after Controlling for Population Density
22
2018 Ranking after Controlling for Average Annual Precipitation
20
Average Years between Claims (Suburban Metro Area)
13.4
#blank#
Coming in at number 18 for the best drivers in U.S. cities is a great ranking. Drivers in Amarillo file fewer claims and go longer between claims than the national average.
Is ridesharing available in Amarillo?
You have a few rideshare options in Amarillo:
Traditional Taxi
Uber
Lyft
It's nice to know you can get a ride to the airport, home from the bar, or anywhere else you need through one of these services.
Are there any E-Star repair shops in Amarillo?
E-star repair shops have Esurance's stamp of approval. You don't have to use Esurance as your insurance provider to find their recommendation helpful.
There is just one E-star repair shop in Amarillo:
Drury Body Shop
3214 Commerce
Amarillo, TX 79109
P: (806) 358-8134
What's the weather in Amarillo like?
The panhandle of Texas gets a significant amount of snow in an average winter. Amarillo residents can expect somewhere around 19 inches a winter.
As far as natural disasters go, Amarillo has a 65 percent more tornados than the U.S. average. They have had 13 natural disasters which is right in line with the national average for a city.
Major Disasters (Presidential) Declared – 4
Emergencies Declared – 6
The causes of these disasters and emergencies are as follows:
Fires – 6
Hurricanes – 5
Flood – 1
Tornado – 1
Winter Storm – 1
Comprehensive insurance will protect you from financial loss following a natural disaster. Amarillo doesn't have a higher rate of weather-related incidents than average. So, basically, if you decide you need comprehensive insurance, you should get it, but don't base it on any increased risk from where you live.
One area of weather stands out more than the rest in Amarillo, and that is the wind. It's one of the windiest cities in the U.S. In fact, MSN put Amarillo at the number six spot for the windiest cities in America.
Is there a public transportation in Amarillo?
Amarillo has a bus service that students at Amarillo College can take advantage of for free for the 2019-2020 school year. For everyone else, these are the fares:
Standard Fare – 75 cents
Students – 60 cents
Senior Citizens – 35 cents
Persons with Disabilities – 35 cents
Children five years of age and under – free
In comparison to other cities, these fares are quite low.
Is parking in metro areas available in Amarillo?
This map shows you exactly where the parking is metered, where the city-owned paid public parking garage.
According to the city of Amarillo web page, these are the parking costs:
On-Street: Each zone (indicated on the signage) will allow for parking in one-hour increments, up to three hours total before a vehicle must relocate to a new zone.  The charge for parking is 75 cents per hour plus a 25 cent transaction charge.  Paid parking is only required Monday-Friday between 8 AM and 5 PM for these zones.

Parking Garage: The parking garage located at 600 S. Buchanan is open to the public 24 hours a day, seven days a week.  The current pricing is $2 per hour, with a max of $7 per hour with the exception of special pricing for event days.  The parking garage is unmanned and only payable via credit card.
You must pay for metered parking with the ParkMobile App. There are no physical meters or kiosks. If you don't have a smartphone or a wireless-enabled tablet, you are out of luck and will not be able to park in the metered parking zone.
If you have an electric vehicle, you'll need to know where the charging stations are. Amarillo has three:
Tesla Charging Station, 8231 W Amarillo Blvd – Off of I 40 on the west end of town
Electronic Vehicle Charging Station, 4401 Georgia St S – Off of I 27
Tesla Charging Station, 7777 I-40 – On I 40 on the east end of town
What's the air quality in Amarillo like?
One of the contributing factors to air pollution is vehicle emissions. And Texas has a lot of trucks, which definitely contribute to pollution to a greater degree than hybrid and electric vehicles.
The vast majority of days in Amarillo have a good air quality index (AQI).
Are there any military and veterans bases in Amarillo?
If you're active or retired military, you should be made to feel appreciated. We have some good news for you. Most car insurance companies offer a military discount, and one company caters specifically to the military.
We'll explain what you need to go to make sure you're getting the rewards you're entitled to.
An estimated 3,378 Vietnam veterans live in Amarillo. The city is also home to about 4,000 Gulf War Veterans. There are even about 1,000 Korean War and 500 World War II vets in the Amarillo.
Here is a list of major companies that offer military discounts:
Allstate
Farmers
Geico
Liberty Mutual
MetLife
SafeCo
State Farm
USAA
USAA is hard to beat where rates are concerned. They're a company that serves only active and retired military and their families. In the table below, you'll see that the other major car insurance companies in Texas are all more expensive than USAA.
What are some unique Amarillo laws?
There are a lot of laws in Amarillo. Some of them are on the books but no longer enforced, and some of them you might not know about but they are strictly enforced. We'll cover driving laws in Amarillo that you need to know about.
Handheld ban in Amarillo
Amarillo has a city ordinance that bans handheld electronics (smartphone, tablet, etc) use. If you're caught with a violation of this ordinance, the penalty is steep – up to $200 plus court costs. It's not a moving violation, though, so it's unlikely that an offense will be shared with your insurer.
Texas has a texting while driving ban, but the state law allows for texting while stopped in traffic. Amarillo's city ordinance does not.
This discrepancy has led to some confusion over the issue, but the state law supersedes the ordinance, and so you can't receive a citation for texting at a red light once the state law went into effect.
Food trucks in Amarillo
Food trucks are growing wildly in popularity. Where once they had to be tied to a brick and mortar restaurant, Amarillo has loosened those requirements in recent years. Food trucks no longer have to be tied to a physical restaurant, but they have to pass health inspections just like any other eating establishment.
Tiny homes in Amarillo
The city approved plans to re-zone a section of the city to be used for tiny homes in an effort to help homeless individuals get on their feet.
What are the paarking laws in Amarillo?
Texas law states that the right side wheels of a vehicle must be within 18 inches of the curb when parked. This clearly eliminates wrong-way parking as being allowed. Your car is wider than 18 inches, so you can't park the wrong way or the right side wheels will be too far from the curb.
You're also not allowed to block the sidewalk with a vehicle, even if your vehicle is in the driveway.
Amarillo car insurance FAQs
It's likely you still have questions. Don't worry, we're going to cover a lot of ground fast, here, and we may just have the answer you're looking for.
What are the best neighborhoods in Amarillo?
The five safest neighborhoods are probably where you'd start when looking for the best neighborhoods.
Georgia St./W Farmers Ave.
W McCormick Rd./S Georgia St.
Lake Tanglewood/Palisades
Broadway Dr./W Cherry Ave.
Bishop Hills
How do I find out if I have an open parking violation in Amarillo?
You can go to the Amarillo City website and search for your name.
How do I report a pothole in Amarillo?
Call this number: 806-378-6815
How do I get an accident report in Amarillo?
If you were involved in a car accident and the law enforcement officers filed a report with the state, you can purchase that report here.
What does Amarillo mean?
It means yellow! Amarillo is known as "the yellow rose of texas."
What's the closest metropolitan area to Amarillo?
Oklahoma City and it's not even that close. It's over 260 miles away.
How soon after moving to Texas do I have to get a Texas driver's license?
Now you have the information you need to get started finding the best insurance for you. Try a comparison search right here. Then you'll be able to narrow down your list of potentials.