Good2Go Car Insurance Review [2021]
The average Good2Go car insurance rates range from $196 in VA to $875/mo in MI. Good2Go car insurance was rated C+ by AM Best and given an A from the Better Business Bureau.
Free Car Insurance Comparison
Secured with SHA-256 Encryption
Are you good to go? You've probably heard this on more than one occasion and answered yes, no, or somewhere in between. It's a term usually meant to determine if everything is in order and departure is imminent.
Good2Go car insurance? What's that all about? How long have they been selling insurance? Do they have affordable rates? Do they settle claims quickly? Do they answer the telephone when you need to speak to someone?
In this guide, we're going to answer all those questions and provide you with everything you need to know, including history, ratings, coverage options for your auto insurance policy, and more.
Want to start comparison shopping today? You can take advantage of our FREE online tool to start comparing rates in your area.
Let's get started.
What is the Good2Go's Rating by Agency?
Let's see what multiple independent agencies have to say about Good2Go Insurance Inc. and whether it's the right provider for your car insurance needs. Comparing the pros and cons is an essential factor in determining which auto insurer is best for you.
Good2Go Insurance conducts business under several names.
The National Associations of Insurance Commissioners lists the following companies as doing business under the Good2Go brand.
A.M. Best
A.M. Best is a worldwide rating business that focuses primarily on the insurance industry. The companies affiliated with Good2Go listed above withdrew from the A.M. Best rating in 2017.
At the time of the withdrawal, Good2Go companies had a C+ rating. A rating of C+ is a marginal rating, and we often suggest finding companies with higher ratings to ensure a strong financial standing.
Better Business Bureau
This rating looks at multiple aspects of a business, although the most crucial element is the insurer's complaint history. A complaint history shows how satisfied customers are with the service they receive.
The Better Business Bureau gives Good2Go an A rating. However, customers were less than thrilled with the auto insurance coverage, giving it a one-star rating out of five stars on 39 reviews.
S&P Rating
Standard & Poor's is a global rating agency using research and financial criteria to rate businesses in more than 28 countries across the world.
S&P no longer rates Good2Go auto insurance companies. While the rating agency may not rate them, S&P does have concerns regarding the Good2Go insurance company and American Independent Insurance Company, its parent company. S&P also noted a $40.4 million net loss in 2016 alone.
Up next, we're going to take a look at how Good2Go started and where the insurer is headed.
Free Car Insurance Comparison
Enter your ZIP code below to view companies that have cheap car insurance rates.
Secured with SHA-256 Encryption
What is the Company's History?
Good2Go's history is minimal and difficult to understand. The American Independent Insurance Company was formed 25 years ago, and Good2Go, along with several other companies, developed under this parent company.
Other than the beginning date, there isn't much information regarding the founding of the business. Let's take a look at Good2Go's employees and what the future looks like for the business.
What is Good2Go's Position for the Future?
Financial ratings for Good2Go aren't the best and are challenging to find. That may not concern some policyholders who are just looking for car insurance products.
The company advertises itself as an insurer for high-risk drivers. If you don't have a clean driving record and have received multiple tickets or had a DUI, Good2Go, financially stable or not, might be for you.
What is Good2Go's Online Presence?
Good2Go pushes all contact through email, mail, or phone. Finding a physical location to speak with a Good2Go licensed agent is difficult because there are few options to choose from.
The insurer can quote and sell policies through the internet. You can find them on the below online outlets:
Free Car Insurance Comparison
Enter your ZIP code below to view companies that have cheap car insurance rates.
Secured with SHA-256 Encryption
How are Good2Go's Commercials?
Like a good neighbor being in good hands, we've all laughed along with the commercials when calamity strikes. Good2Go car insurance takes a different approach.
When basic and affordable are all you need to get off the bus, Good2Go gets straight to the point:
Your insurance needs may differ, and we encourage you to check out the auto policy options available and buy the protection that works best for your personal needs.
Are Good2Go's Employees Happy?
Let's take a look at what employees think of Good2Go. This will give us insight into the insurer's values and employee satisfaction levels.
Here are the ratings from Indeed:
The overall rating is 2.5 out of five stars. While not all reviews were bad, none were that great, either.
We also looked at Glassdoor reviews of Good2Go.
The results are similar to those on Indeed: Low wages, poor management, and no training are all things mentioned in reviews of the company.
Does Good2Go Offer Cheap Car Insurance Rates?
Good2Go prides itself on having the lowest rates. They are preferred by high-risk drivers because of this.
But cheap doesn't always mean the best. Cheap usually implies state minimum limits. States have minimum coverage limits required on vehicles driven on roadways.
We have data from the top 10 companies in all 50 states from our friends at Quadrant. Showing you the rates of the top 10 major companies will explain how your Good2Go quote compares.
In the following section, we're going to show where Good2Go car insurance is available and rates for specific demographic categories.
Let's go.
Free Car Insurance Comparison
Enter your ZIP code below to view companies that have cheap car insurance rates.
Secured with SHA-256 Encryption
What Are Good2Go's Availability and Rates by State?
Good2Go is available in all 50 states.
Good2Go advertises cheap insurance rates, but let's see how their rates compare to the average rate of the top 10 insurance providers in the nation.
The average rate for car insurance in all 50 states is $3,661 a year. If Good2Go is to be the lowest car insurance company, their average rates will need to be below this figure.
What are the Average Good2Go Male vs. Female Car Insurance Rates?
You may be surprised to learn that gender affects the cost of car insurance in the country. Excluding seven states (California, Hawaii, Massachusetts, Montana, Pennsylvania, North Carolina, and parts of Michigan), insurance rates differ by gender across the country. The following chart details the average rates by gender from the top 10 companies.
Although the amount of $40 is low, males pay more than females.
What are the Average Good2Go Rates by Make and Model?
We're all looking for ways to save money. Did you know what kind of vehicle you drive can affect your car insurance? The following chart details the average rates for certain makes and models of vehicles.
Free Car Insurance Comparison
Enter your ZIP code below to view companies that have cheap car insurance rates.
Secured with SHA-256 Encryption
What is the Average Good2Go Commute Rates?
If you drive more than 12,000 miles a year, you may also see your car insurance rates start to rise. The chart below shows rates based on how far you commute.
Liberty Mutual and State Farm have the largest difference in commute rates of over $200 yearly. Good2Go needs to be lower than these two providers to live up to its promise.
What Are the Average Good2Go Coverage Level Rates?
You might think that having the lowest minimum coverage in your state is the best way to ensure that you and your family are protected. But that's not necessarily the case, because sometimes the difference in low to high coverage is less than you think.
What Are the Average Good2Go Good Credit History Rates?
You've seen all of the commercials to check your score, but have you ever wondered why?
Besides not being able to secure a car loan or a mortgage, poor credit can also have an impact on how much you pay for car insurance. The table below reflects what you'll pay for car insurance if you have good, fair, or poor credit.
The average credit score in the U.S. is 675. If your credit score is lower than this, you may face increased rates on car insurance. In some states, poor credit can raise your rates by thousands of dollars. If your insurance provider is State Farm and you have poor credit, your rates can be $2,800 more than someone with good credit.
Free Car Insurance Comparison
Enter your ZIP code below to view companies that have cheap car insurance rates.
Secured with SHA-256 Encryption
What are the Average Good2Go Driving Record Rates?
If you get a speeding ticket, have an accident, or get a DUI, your rates will probably increase in most situations. The table below shows rates with these three violations compared to the rate for a clean record.
What are the Coverages Offered?
Good2Go advertises itself as offering auto insurance at an affordable price. But how do they keep rates so low?
Most companies offer bundling options, discounts, and incentive programs to help customers keep rates affordable. In this next section, we're going to look at different options Good2Go offers customers to keep prices low.
What are Good2Go's Bundling Options?
Larger insurance companies offer bundling options for clients. This means when a client has multiple policies, for instance, home and car insurance they can bundle their policies and offer a lower rate for the bundle.
Free Car Insurance Comparison
Enter your ZIP code below to view companies that have cheap car insurance rates.
Secured with SHA-256 Encryption
What are Good2Go's Discounts?
We're all looking for ways to save money, whether it's brown-bagging to work or skipping a day or two getting a cup of Joe at Starbucks. Let's take a look at which discounts Good2Go offers its customers.
What are Driver Discounts?
The safer you drive, the better the chances are that your car insurance rates will be lower. Good2Go offers the following discounts for drivers:
Defensive driving course discounts — Average discount: 5-15 percent
Good driver discounts — Average discount: 10-35 percent
Student driver discounts — Average discount: 5-20 percent
Cell phone safety — Average discount: 5 percent
Cell phone safety is a new program being offered by Good2Go. We will cover the program in the next section, but enrolling in this option can save you 5 percent on your car insurance premium.
What are Policy Discounts?
You can also get discounts based on your policy. Good2Go doesn't offer coverage for other lines of business, but they do offer a discount for being a homeowner.
The insurer also offers other incentives, such as paying in full and renewing discounts. Below is a complete list of policy discounts offered.
Homeownership discounts
Multi-vehicle discounts
Paid-in-full discounts
Renewal discounts
Policy discounts can give you up to a 25 percent discount on your premium.
What are Vehicle Discounts?
You can also get discounts just for the features included in your car. Here are two discounts Good2Go offers for vehicles.
Airbag and passive restraint discounts
Anti-theft system and VIN etching discounts
These discounts can save drivers up to 5 percent on their car insurance rates.
What are Good2Go's Programs?
Good2Go has designed a new program to help drivers stay focused on the road. To participate, you must download the Lifesaver mobile app on your cellular device.
The Good2Go Auto Insurance LifeSaver app allows the driver to receive hands-free calls, use maps/navigation, and listen to music while driving if the mobile app is set up completely before driving and used with the phone passcode locked.
How Do You Cancel Your Policy?
Sometimes you may need to cancel your insurance policy. Here are four examples which may apply to you:
You're selling a car and not replacing it.
You're storing a classic or antique vehicle.
A teen is heading to college and will no longer be driving the vehicle.
A vehicle has been paid off and no longer requires comprehensive coverage.
While Good2Go does not have much information on canceling your policy, we're going to walk you through the steps of cancellation.
Is There a Cancellation Fee?
We suggest calling Good2Go directly to start the steps of canceling your insurance. Some insurance companies charge a cancellation fee if you cancel before the end of your policy. While no fee is listed on the Good2Go website, we still suggest calling your agent to verify.
Is there a refund?
Depending on how much you've paid, and when you are canceling, you might get a refund. If you paid your policy in full and cancel coverage before the end of the policy period, you should receive a partial refund.
How Can I Cancel?
Most companies require a signed cancellation letter. This letter should include your name and address along with your policy number and the date you'd like your policy to be canceled.
The following contact information is listed on the Good2Go website:
Call: 800-777-6664, Monday–Friday 8 a.m. to 7 p.m., Saturday 9 a.m. to 2 p.m. Eastern Standard Time. They are closed on Sunday.
Email anytime: [email protected]
Customer service fax: 855-999-9203
Mail: Good2Go Auto Insurance, PO Box 1890, Blue Bell, PA 19422-0479
How Do I Make a Claim?
Uh, oh. You've been in an accident and need to file a claim. How does that work? In the following section, we're going to show you the steps of filing a claim with Good2Go car insurance.
Is Making a Claim Easy?
Good2Go offers several options for filing a claim. You can report claims to them 24 hours a day, seven days a week.
If it's during normal business hours, you can call Good2Go at 1-888-925-6547 Monday through Friday from 8 am to 7:20 p.m. EST. If it's after hours, you can call the automated phone system and give information for a claim representative to review.
To make the process easier, you can email the Good2Go claims department at [email protected], or you can easily log in to your online policy portal and file the claim.
Once your claim has been submitted, a claim representative should contact you within one business day.
How Can I Get a Quote Online?
Many companies make getting a quote online simple and easy. With Good2Go, it can be confusing, because you don't know where your quote is coming from. We're going to walk you through the steps of getting an online quote.
Go to the Good2Go Homepage
It pulls up like this, with an easily accessible way to get a quote. Enter your ZIP code in the bar and click Go.
Insert Your Personal Information
If you're successful in finding coverage with Good2Go, it'll take you to this page.
Look for the word direct in your address bar to make sure you're still with Good2Go.
Vehicle Information
Once you enter your basic personal information, you have to give your vehicle information.
Driver Information
Next, you must supply driver information. This will include information for the insurer to run your driving record.
Finish Your Quote
Review your vehicle information and answer additional driver information questions.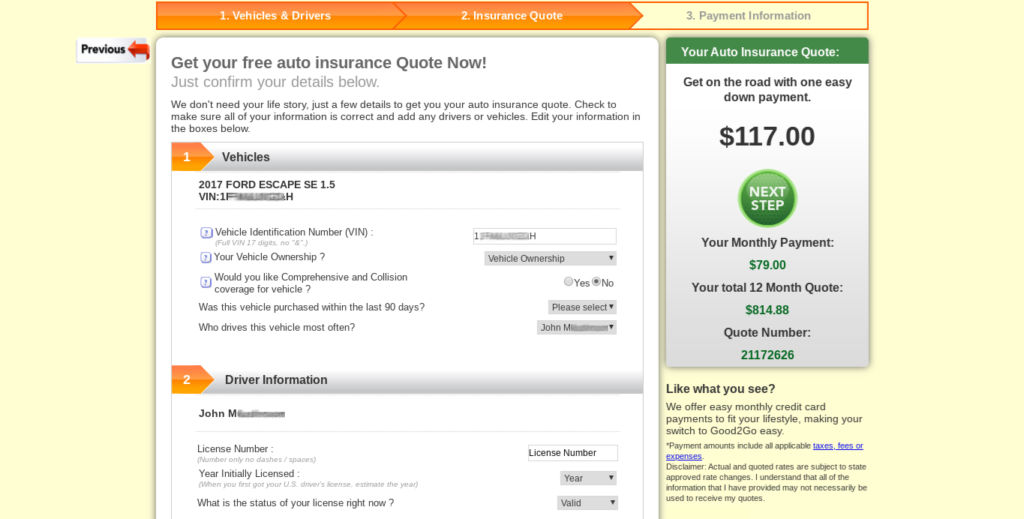 Answer some policy questions and make adjustments to your policy.
Finish with your payment method.
It's that simple to get a quote from Good2Go auto insurance. Remember, to make sure you are still on the website and haven't been transferred to another site like EverQuote.
How is the Design of the Website and App?
Buying car insurance is not something any of us want to spend too much time doing. And we know there is nothing more frustrating than trying to find answers through an insurer's website if the site is confusing and poorly designed.
In this section, we take a look at Good2Go's website and mobile app to see if they are user-friendly.
Website
How does Good2Go's website rank? First, when you type in https://www.good2go.com you'll be brought to the homepage. You have a couple of options from there. If you're looking to manage your account, you click on the orange tab that says Manage Your Policy. It takes you to this page:
If you want to contact the insurer, click on the orange contact tab. It takes you to this page.
If you're looking for general information about car insurance topics, you'll want to scroll down on the homepage and find the blog link. It takes you here:
How easily can you find answers?
Unless you're a customer of Good2Go, it's difficult to find answers on the website. The site needs to be updated. When compared to other insurance sites, Good2Go lacks content and functionality for things other than basic tasks.
In a world where everyone is looking for easier ways to conduct business, Good2Go has no mobile apps available for policyholders.
What are the Pros and Cons?
Now that we have covered everything you need to know about Good2Go, let's check out the biggest takeaways in terms of pros and cons.
Good2Go Car Insurance Review: What is the Bottom Line?
Good2Go is a great insurer for drivers that may have a difficult time finding insurance. For high-risk drivers who want minimal limits required by state law or may require SR-22 insurance, Good2Go is a low-cost, easy way to get insurance.
We've shown you everything you need to know about Good2Go car insurance. Have we missed anything?
One thing to consider is that everyone's needs are different, and rates can vary significantly based on individual factors.
As thorough as this guide is, we still strongly suggest that you shop around with your personal details and specific vehicle information before you choose an auto insurance provider.
Get quotes today to find out how much you could save on car insurance.
Who owns Good2Go?
Good2Go's ultimate parent company is Inverness Management LLC, which is "a privately held investment firm that provides equity for leveraged acquisitions, recapitalizations, and companies seeking additional strategic capital."
What are Good2Go Car Insurance's Payment Options?
Good2Go offers customers three billing, or payment options to fit their needs.
The economy plan allows you to pay your annual premium throughout the year. To start your policy, you must pay your down payment. Following that payment, you can have installment payments every month.
Good2Go also offers a quarterly payment. Every three months, an installment is due. You can also opt for the annual payment. One payment and you're done for the year with Good2Go bills.
Whatever option you choose, be sure to pay on time to avoid penalties, like late fees.
What is an SR-22 filing?
Good2Go is great for drivers needing to file SR-22. In some cases, drivers are mandated to file an SR-22 after certain traffic-related incidents and will be notified to do so by their state licensing department. This is not a form of insurance. Your insurer, like Good2Go, will file with the state showing you have the minimum required liability limits.
How Do I Get Instant Proof of Insurance?
All drivers will need to keep proof of insurance in their car. If you're pulled over or asked by a police officer, you must show proof of coverage.
Once you've accepted the quote from Good2Go, you'll receive instant proof of insurance at your email address or by fax.
What Happens If I Buy or Sell a Car?
As with any changes, you should always inform your insurer immediately to make the change. You'll need to provide the new car information such as make, model, and VIN.
We hope you found this Good2Go company review helpful. Are you still looking for quotes? Enter your ZIP code here and use our free comparison quote tool.